Unexplained Mystery of Burke & Hare Murderdolls
Set in Scotland's magnificent capital, Edinburgh, Murder dolls is a tale of serial killers, Bodysnatchers and grisly science. The story begins on a misty morning in 1836 with the discovery of 17 miniature wooden coffins. Inside each one, is an eerie, dressed doll. The discovery of the dolls has led to some interesting theories – everything from the work of a madman to tales of witchcraft. But some believe that Edinburgh's miniature coffins may be connected to Scotland's most notorious serial killers –Burke and Hare – two Irish laborers who murdered seventeen victims in the 1800's. But how are the dolls connected to the 17 murder victims – and who made them?
Burke and Hare are notorious even today, but in the time of Ghosts of Albion their crimes are a matter of relatively recent memory. Their murder spree, known as the West Port murders, began in Edinburgh from late 1827 and continued for most of 1828. Their victims were drugged and suffocated to keep them intact; the bodies were sold to a Dr Robert Knox for dissection. In the end, a neighbour discovered the body of their last victim and alerted the police. However, the evidence of murder wasn't actually that good, and Hare was offered immunity if he confessed and testified against Burke. Burke made his own confession – in which he claimed that Dr Knox knew nothing of the origin of the bodies they sold him – but was sentenced to death and hanged in January 1829.
Less well known is that Burke's lover (Helen M'Dougal) and Hare's wife (Margaret, née Laird) were also implicated, though they were released for lack of proof – both narrowly escaped death from an outraged public – M'Dougal is thought to have left the country, while Margaret Hare's dropped off the map. William Hare also dropped off the map, though popular folklore invented a variety of painful ends for him. Despite Burke's claim that Dr Knox was not involved, the scandal destroyed his reputation in Edinburgh, and he went to London, and died in 1862.
At first theories on the dolls significance ranged from witchcraft to child's toys, but eventually it began to seem that the 17 tiny figures could be effigies for the 17 murder victims a decade earlier.
Between 1827-1828 William Burke and William Hare lured in and murdered their lodgers in a scheme to provide fresh bodies to the local anatomy school. Dr. Robert Knox, a brilliant and well known local anatomy lecturer purchased the bodies, and most likely knew that something was a bit suspicious about his supply chain.
The crimes were exposed when another lodger discovered the body of a previous tenant, and reported it to the police. Burke and Hare were apprehended along with Burke's mistress, Helen McDougal, and Hare's wife, Margaret Laird. Despite finding the body of this last lodger in Knox's classroom, ready for dissection, the evidence was not truly damning until Hare turned on Burke, and gave a full confession. William Burke was hanged in Jan, 1829. His body was handed over for dissection, and his skeleton and a book bound from his skin remain in the collection of the Royal College of Surgeons, Edinburgh.
The four inch long dolls were in the hands of a private collector until 1901, when eight of them were handed over to the the National Museum Scotland, where they can be visited today. Although it is generally agreed that the mysterious little dolls are associated with the crimes of Burke & Hare, no one is certain who among the killers created them. DNA studies conducted in 2005 using DNA extracted from Burke's skeleton attempted to prove that they had been created to assuage the guilty conscience of William Burke, but the test proved inconclusive, so the truth of their creation may never be known.
The story of the Burke and Hare Murderdolls starts with a series of murders committed in Edinburgh, Scotland that occurred in the late 1820s. The mystery of the murder dolls begins around the same time and continues until this day. It is a strange mystery that may have some connection to the guilt or sadistic obsessions of one of the killers.
Not long after a series of murders took place in Edinburgh, Scotland, a boy found an interesting group of dolls in tiny coffins. They found the dolls in a cave on Arthur's Seat at Holyrood Park in Edinburgh. Initially, the dolls appeared odd, but did not seem to have any significance beyond their oddness and the location in which they were found. Over time, it became obvious that they were very similar in number and appearance to the victims of the recent killing spree.
William Burke and William Hare were two Irishmen who met in Scotland and became friends sometime in the 1820s. Hare ran a boarding house with his wife. There, in 1828, one of the tenants died of natural causes. Burke and Hare sold the body of the man to a doctor at Edinburgh University to be used as a medical school cadaver.
At the time, the medical schools had a shortage of bodies to use for dissection. They were only allowed to use executed criminals and criminals were being executed less frequently. Doctors were sometimes resorting to purchasing bodies from so-called body snatchers or, more accurately, grave robbers. It appears that one Dr. Knox of the University of Edinburgh was not averse to purchasing the bodies of murder victims, either, though it is not absolutely certain that he was aware of the fact when he started doing it.
Before 1832, there were insufficient cadavers legitimately available for the study and teaching of anatomy in Britain's medical schools. As medical science began to flourish in the early nineteenth century, the demand for cadavers rose sharply, but at the same time the legal supply failed to keep pace. One of the main sources—the bodies of executed criminals—had begun to dry up owing to a reduction in the number of executions being carried out in the early nineteenth century. The situation of too few corpses available to doctors for demonstrating anatomical dissection to growing numbers of students attracted criminal elements willing to obtain specimens by any means. As at similar institutions, doctors teaching at the Edinburgh Medical School, which was universally renowned for medical sciences, relied increasingly on body-snatchers for a steady supply of "anatomical subjects". The activities of these "resurrectionists" gave rise to particular public fear and revulsion, but, such were the financial inducements, the illegal trade continued to grow. It was a short step from grave-robbing to anatomy murder.
After selling the body of the deceased tenant, Burke and Hare realized that they could make a living off selling the bodies of the dead. They were making less than the equivalent of 1,500 USD in modern currency per body, but that was enough to compel them to kill 16 individuals. Many were killed by smothering, though one was given a medication overdose and a little boy had his back broken. Eventually, a tenant found a body underneath a bed at the boarding house and turned the pair into the police. The body was gone by the time the police got there. However, Hare made a deal and told all in exchange for his freedom. Burke was executed and dissected publicly and several of his body parts, included a death mask of his face, were saved. Hare walked. No one knows what happened to him.
The dolls discovered in the cave numbered 17. They also appeared to represent each of the bodies sold to Dr. Knox — who was not charged with any crime. The dolls are roughly 4 inches long each and have their own individual coffins. Dating puts them around the same time as the murders and many assume that one of the killers is responsible for carving the dolls. Modern DNA testing conducted on the body of Burke and on the dolls found no connection, but that is because there was nothing to find on the dolls after all this time.
If indeed the dolls were made during the killings, only a handful of people could have done the carving. There was Dr. Knox, who likely knew the cadavers he was purchasing were murder victims. There were Burke and Hare, Hare's mistress and Burke's wife. Dr. Knox's brother possibly knew as well, but there were almost certainly no more people who could have made the dolls. One of these people could have made the dolls out of guilt. Of course, one of the killers could have made the dolls as souvenirs and stashed them in the cave when the murders were discovered. Hare could have made them after Burke's murder trial and stashed them as well. If they were made after the murders were discovered, it could have been anybody.
There are currently only 8 of the original 17 murder dolls left. They are kept at the National Museum of Scotland in Edinburgh. The dissected remains of one of the men who killed the people the dolls reportedly represent — Burke — are kept at the University of Edinburgh.
Burke and Hare's first murder victim was a sick tenant named Joseph, a miller by trade, whom they plied with whisky and then suffocated. When there were no other sickly tenants, they decided to lure a victim from the street. In February 1828, they invited pensioner Abigail Simpson to spend the night before her return home to the village of Gilmerton. The following morning they employed the same modus operandi, serving her with alcohol to intoxicate her, and then smothering her. This time they placed the body in a tea-chest and handed it over to a porter sent to meet them "at the back of the Castle". They were paid £10. Mary Paterson
Two further undated murders took place that Spring. One victim was invited into the house by Mrs Hare and plied with drink until Hare's arrival; the other was despatched in similar circumstances by Burke acting on his own. Next, Burke encountered two women, Mary Paterson and Janet Brown, in the section of Edinburgh known as the Canongate. He invited them to breakfast at his brother's house in Gibb's Close, but Brown left when an argument broke out between McDougal and Burke. When she returned, she was told that Paterson had left with Burke; in fact, she, too, had been taken to Dr. Knox's rooms in a tea-chest. The two women were described as prostitutes in contemporary accounts. The story later arose that one of Knox's students had recognized the dead Paterson, whose acquaintance he had made a few days earlier. Daft Jamie
One victim was an acquaintance of Burke, a woman called Effie who scavenged for a living and was in the habit of selling him scraps of leather she found which he could use for his cobbling. They were paid £10 for her body. Then Burke "saved" an inebriated woman from being held by a policeman and his assisting neighbour by claiming that he knew her and could take her back to her lodging. He delivered her body to the medical school just hours later. The next two victims were an old woman and her mute son or grandson, aged about 12. While the woman died from an overdose on painkillers, Hare took the young boy and stretched him over his knee, then proceeded to break his back. He later said that this was the murder that disturbed him the most, as he was haunted by his recollection of the boy's expression. The customary tea-chest being found inadequate, both bodies were forced into a herring barrel and conveyed to Surgeons' Square, where they fetched £8 each. According to Burke, the barrel was loaded onto a cart which Hare's horse refused to pull uphill from the Cowgate, so that Hare had to call a porter to help him drag it the rest of the way on a sled. Once back in Tanner's Close, Hare took his anger out on the horse by shooting it dead in the yard. Mrs Docherty
Two more victims were Burke's acquaintance, Mrs. Hostler, and one of McDougal's relatives, Ann Dougal, a cousin from Falkirk. Burke later claimed that about this time Mrs Hare suggested converting Helen McDougal into merchandise on the grounds that "they could not trust her, as she was a Scotch woman"; but he refused.
Another victim was Mary Haldane, a former lodger who, down on her luck, asked to sleep in Hare's stable. Burke and Hare also murdered her daughter Peggy Haldane when she called a few days later to inquire after her mother's whereabouts.
Burke and Hare's next victim was a familiar figure in the streets of Edinburgh, a mentally retarded young man with a limp, named James Wilson. "Daft Jamie", as he was known locally, was 18 at the time of his murder. The boy resisted, and the pair had to kill him together, though later each blamed the other for taking the main part in the crime. His mother began searching and asking for him. When Dr. Knox uncovered the body the next morning, several students recognized Jamie. Knox denied that it was the missing boy, and was reported to have dissected the body ahead of others to render the remains unrecognisable. While Hare was in the habit of disposing of victims' clothing in the Union Canal, Burke passed Jamie's clothes to his nephews, leaving behind material evidence which was recovered before the trial.
Burke stated later that he and Hare were "generally in a state of intoxication" when the murders were carried out, and that he "could not sleep at night without a bottle of whisky by his bedside, and a twopenny candle to burn all night beside him; when he awoke he would take a draught of the bottle—sometimes half a bottle at a draught—and that would make him sleep".
The last victim was Mrs Mary Docherty. Burke lured her into the lodging house by claiming that his mother was also a Docherty, but he had to wait to complete his murderous task because of the presence of lodgers James and Ann Gray. The Grays left for the night and neighbours later reported having heard the sounds of a struggle and even a woman's voice crying "murder!"
New Evidence: Secret Past of Antarctica and Buried City Is True After All
The mysteries surrounding the Antarctic are many, answers are few, but theories abound which connect Operations Paperclip and High-Jump, to secret hidden facilities and ancient technologies, human experimentation and discovered hidden entrances, in a region that may hold the true secrets to mankind's past and present, and which could determine our future.
While the mainstream news recently reported on further explorations in the Antarctica which they claim "holds the key" to mankind's future", what they do not do is connect the many dots which build a picture that appears to blur the lines between conspiracy and reality.
GERMAN NAZIS ANTARCTICA CONNECTION
There are claims that as early as the 1930's the German Nazis built self-sufficient underground research factories in the Antarctic, with some believing those "bases" were already built, found by the Nazis, who then utilized the ancient technologies to experiment with UFOs and other scientific experiments using advanced tech that mankind simply wasn't capable of creating at the time.
More can be seen on that in the documentary below, but first it is imperative to know about Operation Paperclip, where 1,500 German scientists, technicians, and engineers from Nazi Germany and other foreign countries were brought to the United States for employment in the aftermath of World War II and integrated into the US military. Many of who it is believed by some, continued their work with those ancient technologies for the US government.
Below the documentary we will explore Operation High-Jump and it's connection to those secret facilities, Admiral Richard B. Byrd's explorations and secret diary, and the Hollow Earth theory.
OPERATION HIGH-JUMP – Via Steve Quayle's "High-Jump – Mysteries of the Antarctic portion of his website:
In 1947 Secretary of the Navy James Forrestal sent a naval task force to Antarctic including Admiral Nimitz, Admiral Krusen and Admiral Byrd, called "Operation Highjump". It was touted to be an expedition to find "coal deposits" and other valuable resources, but in actuality they were trying to find the underground base of the nazis (aryans) in Neuschwabenlandt. The nazis had done a very detailed study of Antarctic and were alleged to have built an underground base there.
In this regard however, the aryans have had an underground habitation in Antarctic for more than a million years.
The task force of OVER 40 SHIPS, included the flagship "Mount Olympus", the aircraft carrier "Philipine Sea", the seaplane tender "Pine Sea", the submarine "Senate", the destroyer "Bronson", the ice breaker "Northwind", and other tanker and supply ships. An armed contingent of 1400 sailors, and three dog sled teams were also on board.
Other resources – Wiki and http://www.thule.org/highjump.html
ADMIRAL RICHARD E. BYRD AND HOLLOW EARTH
Before delving into what is claimed to be the secret diary of Admiral Byrd, it is noteworthy that this was not some crackpot but was a medal of honor recipient which is the highest honor for heroism given by the United States.
In a log entry titled "Flight Log: Base Camp Artic – 2/19/1947 (Full entry found here) the following portion was made at 1130 HOURS – 1145 HOURS:
1130 HOURS– Countryside below is more level and normal (if I may use that word). Ahead we spot what seems to be a city! This is impossible! Aircraft seems light and oddly buoyant. The controls refuse to respond! My GOD! Off our port and star board wings are a strange type of aircraft. They are closing rapidly alongside! They are disc-shaped and have a radiant quality to them. They are close enough now to see the markings on them. It is a type of Swastika!!! This is fantastic. Where are we! What has happened. I tug at the controls again. They will not respond! We are caught in an invisible vice grip of some type!
1135 HOURS– Our radio crackles and a voice comes through in English with what perhaps is a slight Nordic or Germanic accent! The message is: "Welcome, Admiral, to our domain. We shall land you in exactly seven minutes! Relax, Admiral, you are in good hands." I note the engines of our plane have stopped running! The aircraft is under some strange control and is now turning itself. The controls are useless.
1140 HOURS– Another radio message received. We begin the landing process now, and in moments the plane shudders slightly, and begins a descent as though caught in some great unseen elevator! The downward motion is negligible, and we touch down with only a slight jolt!
1145 HOURS– I am making a hasty last entry in the flight log. Several men are approaching on foot toward our aircraft. They are tall with blond hair. In the distance is a large shimmering city pulsating with rainbow hues of color. I do not know what is going to happen now, but I see no signs of weapons on those approaching. I hear now a voice ordering me by name to open the cargo door. I comply. END LOG
Admiral Byrd's description of what he experienced between 1145 HOURS and when the official flight log started again at 220 HOURS is described in his diary entry as defying "the imagination and would seem all but madness if it had not happened," as he goes on to explain his visit to "the domain of the Arianni, the Inner World of the Earth."
Below are a number of videos, including Admiral Byrd's Hollow Earth video interview and Hollow Earth – The Biggest Cover Up- Full Documentary.
Before watching them it is also noteworthy to mention the reports of a discovery made in 2013, using Google Earth, which purports to show and previously undiscovered hidden entrance to a secret underground base in the Antarctica.
After clicking through to all of the links provided above and watching the videos, interviews and documentaries, it is easy to understand why the Antarctica is perhaps the largest missing piece of history and how it could affect everything we have been taught about history and determine our very future should the hidden secrets of the Antarctica ever truly be revealed.
We will end with what is purported to be Admiral Byrd's final entry into his diary, dated 30/12/56, which states the following:
These last few years elapsed since 1947 have not been kind…I now make my final entry in this singular diary. In closing, I must state that I have faithfully kept this matter secret as directed all these years. It has been completely against my values of moral right. Now, I seem to sense the long night coming on and this secret will not die with me, but as all truth shall, it will triumph and so it shall.
This can be the only hope for mankind. I have seen the truth and it has quickened my spirit and has set me free! I have done my duty toward the monstrous military industrial complex. Now, the long night begins to approach, but there shall be no end. Just as the long night of the Arctic ends, the brilliant sunshine of Truth shall come again….and those who are of darkness shall fall in it's Light. FOR I HAVE SEEN THAT LAND BEYOND THE POLE, THAT CENTER OF THE GREAT UNKNOWN.
ADMIRAL RICHARD E. BYRD
United States Navy
Byrd died on March 11, 1957, he was 68 years old.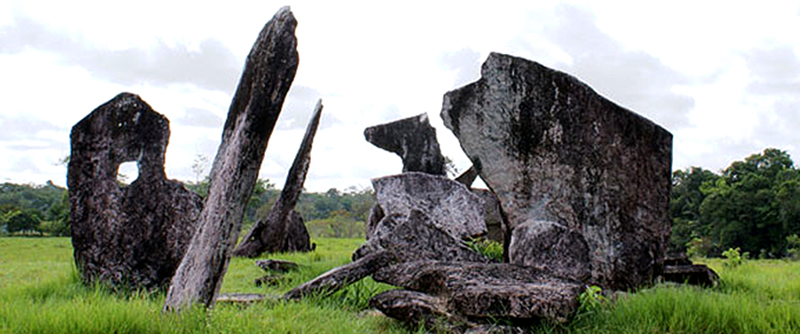 By Leonard Farra
Brazil, the largest country in South America, borders all South American countries, other than Chile and Ecuador, and it's the largest Portuguese speaking country in the world.
It has a huge tropical forest in its Amazon Basin which is home to a diverse wildlife population. When the Europeans arrived in Central America, and Peru, they encountered advanced civilisations but in Brazil they only saw native people living close to nature. Over recent years, however, researchers have found that this huge country had a fascinating past.
The Amazon jungle is very dense but, in cleared areas, on the border with northern Bolivia, there are traces of a lost civilisation. Only part of it has so far been uncovered but its population has been estimated at 60,000. In this region there were structures formed by a network of trenches, about 36ft wide and several feet deep, lined by low banks. Some were surrounded by low mounds that contained ceramics and stone tools. More than two hundred geometric structures have so far been discovered and some date back 1700 years. The geometric shapes are in the form of huge circles and squares. In the upper Xingu region of southern Brazil, a community, of thousands of people, previously lived in large villages, in an organised grid-like pattern, linked by a network of roads. The villages were enclosed within huge ditches and there were bridges and moats in wetland areas.
According to Professor Homet :
' there is a whole chain of burial urns which reaches from the Mediterranean via Brazil and Argentina, these ceramic coffins are often decorated with human faces and are therefore called portrait burial urns'.
Homet concludes that:
'When one considers the chain of places where they are found and which connects the continents we are obliged to that this custom could only have been spread by a single civilisation'. (1)
On the coastal island of Santa Caterina, in the Brazilian province of the same name, there are rock drawings consisting of double ring concentric circles, wavy lines, and diamond shapes all of which appeared in Stone Age art on the other side of the Atlantic.
There were stone circles in many parts of the world with the highest concentration in the British Isles. Some have been found in North America, Peru, and on Easter Island. Many early sites were aligned to the solstices when religious rituals appear to have been enacted. Stonehenge, England's 5,000 year old famous circle, for example is aligned to the summer and winter solstices. On a hilltop, in the Brazilian state of Amapa, there's a stone circle, made up of 127 rough stones, which is aligned to the winter solstice. It's believed to be at least 2,000 years old.
Brazilian archaeologists have found a well-defined ancient stone structure on a hill top in the Amazon. Specifically, this amazing discovery is located in the state of Amapá in the northern reaches of the Brazilian Amazon. Could primitive Indians living in the jungles of the Amazon have constructed this site?   Source >>
Dolmens, huge blocks of rock, usually supported by three or more upright stones, have also been found in many parts of the world including in New England in North America.
In the Brazilian state of Rio Grande de Sul, there are dolmens which are similar to those of early Europe.
Dolmens near Rio Grande de Sul, Brazil
Trilith of Río Grande do Sul of Southern Brazil.
Homet, says that the ones that he saw in Brazil are comparable to the thousands in Algeria. (2)
Various travellers, in Brazil's jungle area, have reported sightings of red-haired white Indians. Harold T. Wilkins , renowned for his research on South America, reported that in 1929, the American traveller Lawrence Griswold was captured by Shuara Indians who took him up the Rio Juara, When the hunting party arrived at the ruins of an ancient city, where  built by tall, 'red-haired', people who were changed into his tribe 'because of their wicked behaviour before the Flood'. (3) There are also traces of red-haired, white, people in Peru and of others of this description were also living in other parts of the world. Tall, white, red-heads formed part of the pre-Spanish Guanche population in the Canary Islands who claimed to be survivors of the Flood. Various early legends say that people of this description were involved in a violent conflict in the pre-deluge era. This is also suggested in a famous, misinterpreted, allegorical, Ancient Egyptian legend. (4)
The Guarani Indians, in Brazil, Uruguay, and Paraguay, claim that their ancestors came from a distant country and that they crossed an ocean before they arrived in their present lands. There were hundreds of allegorical flood legends around the world, including among Native Americans, and a typical one, which is popular among the native Brazilians, tells of a great flood in which only two brothers and their wives survived. There is evidence to suggest that the Great Flood happened 5,000 years ago when there was climate change, and substantial flooding, in different parts of the world. In that era, several civilisations arose 'fully developed' and the indications are that this was the rebirth of civilisation after the destruction of the previous age. Along Brazil's southern coast, mainly in the state of Catarina, archaeologists have discovered as many as 1,000 square pyramids, built from sea shells, and the earliest ones date back to the critical era around 5,000 years ago. In some of these pyramid mounds there were human burials and amazing grave goods including shell breast plates depicting various animals and birds. Nobody knows who these people were or where they came from.
The Sumerian scribes said that the Annunaki caused the Flood because of the evil behaviour of man. Many Early World legends were based on the story of the Annunaki leaders. Adapted to local culture, this trend has continued in many parts of the world right through to present times (5) including among the Guarani in Brazil. Did the Guarani adopt it from an earlier people and could it be that this widespread legend, stone circles, dolmens, and the red-haired white race on both sides of the Atlantic, are evidence of early contact between the Old and New Worlds as many alternative scholars believe?
2015 by Leonard Farra
References:
Marcel.F. Homet : 'Sons of the Sun. (p162)
Do (p12 )
Harold.T.Wilkins,

Mysteries

of South America.(p44)
Leonard Farra, The Pleiades Legacy (The Old World) (p92)
Leonard Farra, The Pleiades Legacy (The Old World) and The Pleiades legacy (The New World)
About the author
Leonard Farra – is the author of the books The Pleiades Legacy and The Pleiades Legacy (The Stone Age) – The Return of the Gods and The Pleiades Legacy ( The New World). All his books can be purchased Online from Blurb.Com. His E-books can be viewed on Apple Ipad, Iphone and Ipad touch.
Leonard Farra has researched the Ancient Astronaut theory for 35 years and written four books on the subject.
Mysterious 'X-Files' sounds heard miles above the Earth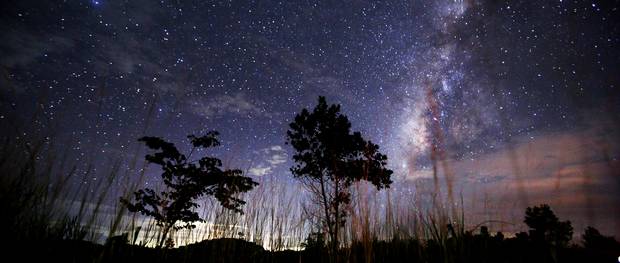 'Alien' sounds have been captured at the edge of space.
The hisses and whistles heard in the recordings were captured 22 miles above Earth, by a student last year. The recording equipment was sent up by a graduate student as part of a Nasa project to record sound from the edges of the atmosphere.
The microphones picked up "infrasound" — frequencies so low that they can't be heard by human ears. But speeding up the recordings means that the sounds can be heard.
The recordings were taken from a helium balloon in August last year. The microphones dangled over New Mexico and Arizona and were one of 10 sent out by Nasa as part of the High Altitude Student Platform.
That helped get the first infrasound recordings ever taken at such altitudes, according to Daniel Bowman, the University of North Carolina student who captured the sounds.
Bowman described the sounds as "like the X-Files", and scientists aren't sure where they came from.