Unexplained Cave Creatures
When I started doing some research into ancient giant skeletons found in caves and those who have theories of a hollow earth and societies living deep in the earth through cave systems, I began to have a lot of questions about what else might be happening caves. Then, I started discovering more and more cases of Lizardmen, Bat-women and all kinds of wild beings. Let's cover some of these freaking scary cases –
At my favorite site for collecting witness accounts, Phantoms and Monsters, you find stories of an Austrian geologist who encountered Lizard people in a cave and some spelunkers in Missouri who also ran into these Lizard people. "About 30 ft away they saw two creatures, one was very tall (at least 7 ft, maybe more) and very powerfully built and reddish in color. The other was smaller (about 6 ft tall) and was a pale, almost albino color. This one was not as powerfully built as the other. Both beings resembled large reptiles."  Both described similar organized groups, living down there, even using technology.
Ghoststudy offered an interesting posting about this picture above.  The report was a man went into a cave, a flash went off, screams were heard and he wasn't found, but his camera with this photo in it was.  Later, this story was discovered to be an urban legend hoax. It was a display that was briefly lit by a flashing light and someone took a picture of it.
Some of the more interesting cryptids that show up in stories around the world including a 4-foot spider in caves deep in the African Congo.  How about a 12-foot bat reported in West Africa?
Stollenwurm is a Swiss monster described as 2-6 feet long, a lizard with the face of a cat, and scales all over, believed to live in Alpine passes and can stand up to threaten others.
If you like dinosaurs, Papua, New Guinea has the Ropen, a supposed enormous prehistoric bird said to live in caves.
Wichtlein and Tommyknockers, both gnome-like fellows said to inhabit caves.
Ancient giant skeletons were found in caves in the western USA and said to have lived in underground caves throughout southern California.
From the land of my grandmother in Swedish Lapland, the Uldru were said to burrow underground and when the nomadic lapps set up their camps, if they heard them digging, they left. They were considered to be troublemakers.
For the best collection of cave monsters on the Internet, check this link.
I find this fascinating because who isn't creeped out by caves and the unexplored ones especially. I believe that caves definitely hold cryptids, what kind I can't say, but it is a most excellent place to retreat, be protected from the elements, and rarely come upon.
Some suggested cave movies
The Descent: Women descend into cave with humanoid cryptids
The Cave: Team researches cave and face terror
Catacombs: Woman stuck in catacombs being tormented
Gargoyles: Cryptid in cave
Lost Boys: Vampire in cave
The F.B.I. Once Helped in the Hunt for Bigfoot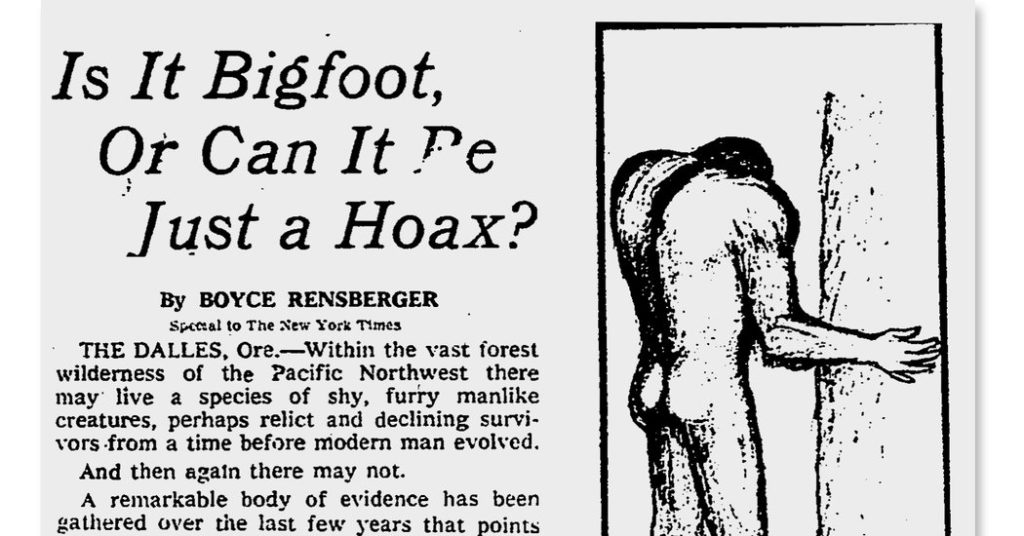 Bigfoot.That is all the F.B.I. said (well,
tweeted
) Wednesday when it released 22 pages of eyebrow-raising documents related to a 1970s hair analysis it conducted at the request of a well-known Bigfoot researcher.
The researcher, Peter Byrne, then the director of the Bigfoot Information Center and Exhibition in The Dalles, Ore., had a simple question for Jay Cochran Jr., the assistant director of the F.B.I. laboratory division: Have you been testing possible Bigfoot hair samples? And if not, would you like to start?
The 1970s were something of a heyday for Bigfoot researchers — the grainy Patterson-Gimlin film, which claimed to show one of the creatures strolling through a California streambed, was shot in 1967. Mr. Cochran did not seem terribly surprised by the question.
The F.B.I. had been asked several times in the past year whether it had been testing hair samples for possible Bigfoots, Mr. Cochran replied. "However, we have been unable to locate any references to such examinations in our files," he wrote.
Mr. Byrne had a sample he wanted the F.B.I. to examine. It was 15 strands of hair attached to a small piece of skin that was "the first that we have obtained in six years which we feel may be of importance," he wrote.
The F.B.I. laboratory was not normally in the business of examining tufts of hair for their potentially fantastical origins — it was more focused on criminal investigations, Mr. Cochran said — but for a reason that may be lost to history, he agreed.
"Occasionally, on a case-by-case basis, in the interest of research and scientific inquiry, we make exceptions to this general policy," he wrote. "With this understanding, we will examine the hairs and tissue mentioned in your letter."
Today, the idea of an earnest search for Bigfoot has become the province of reality TV shows like "MonsterQuest" and "Finding Bigfoot." Not very many people take it seriously. But the 1970s were a different time.
The documents released by the F.B.I. on Wednesday included a long New York Times feature from June 1976 that described Mr. Byrne's work, including "a handful" of Bigfoot sightings that "hold up and are given high credibility."
The article, which Mr. Byrne sent to the F.B.I. to illustrate the seriousness of his endeavor, also bemoaned the paltry state of Bigfoot studies in the United States.
The Times said interest in "America's own 'monster'" could not hold a candle to the "increasing sums of money" that were "being spent by reputable scientists to investigate Loch Ness."
In this one instance, at least, it appears that the F.B.I. tried to do its part in the hunt for Bigfoot.
According to the documents released Wednesday, the hairs sent by Mr. Byrne were subjected to a battery of tests, including examinations of root structure, medullary structure and cuticle thickness.
But when the results came back, they were bad news for Bigfoot hunters.
"It was concluded as a result of those examinations that the hairs are of deer family origin," Mr. Cochran wrote in February 1977. "The hair sample you submitted is being returned as an enclosure to this letter."
Melissa Hovey-Larsen, the president and founder of the American Bigfoot Society, said she was not surprised that the hair turned out to be from a deer.
"What we hear a lot when we get back hair samples is horse or deer or cow or bear," she said. "We hear everything. But every so often you get one that comes back and it says 'unknown source,' and then nothing ever comes of it from there."
What was more noteworthy, Ms. Hovey-Larsen said, was that Mr. Byrne turned to the federal government in his search for the truth.
"As researchers go, Peter Byrne blazed more trails to get respect for this field than anyone else in that time period, so I am not shocked he went to the F.B.I. but I am surprised," she said.
She said most Bigfoot researchers eschew that path.
"As I always say to people, 'What are they going to tell you?' First of all, we have no proof that this exists," she said. "We can't even get a clear picture. Most of us think we'll just be laughed right out of the room."
The documents, which an F.B.I. spokeswoman described as "newly released information," appeared to be the first time that federal law enforcement had acknowledged conducting any Bigfoot-related inquiry.
The spokeswoman said the release of the documents on Twitter was not intended to be an "X-Files"-style big reveal.
The account that published them, @FBIRecordsVault, automatically tweets documents that have been entered into the agency's Freedom of Information Act library after a successful FOIA request, she said.
Some at the agency were amused at the public interest sparked by the documents and the cryptic tweet that announced their arrival.
"Oh, my God," a receptionist at the F.B.I. press office said to a reporter who called to ask about Bigfoot. "I cannot believe that is why you are calling."
The Case Of The Chicago Mothman
Editor's Note: Listen to the kid-friendly version of the audio story here. 
The Chicago region has been experiencing a collective case of the heebie-jeebies in recent years, ever since reports of a giant, flying, winged humanoid began surfacing in 2011.
The reports, which peaked in 2017, inspired Chicago-based comics artist Sarah Becan to bring Curious City this question:
There was a rash of sightings in Chicago of a creature that people then called the "Chicago Mothman." Did we ever find out what it was?
Well, despite exhaustive research, interviews with witnesses and cryptozoologists, and one good old-fashioned monster hunt (for more on that, listen to the SHOCKING audio story!), we were unable to get to the bottom of this mystery. But, for the sake of science, we've compiled everything we were able to surmise into a digital case file. Our hope is that Chicagoans will be able to keep this investigation going so that we may one day meet our winged friend and ride upon him like a luck dragon.
DISCLAIMER: We are not responsible for any laws that are broken in the pursuit of Mothman, nor are we responsible for the factualness of any of the information contained herein. The following information should not be used as an excuse to trespass on private property or ensnare your hairier relatives with a comically large butterfly net.
Subject profile:
In the late 1960s, people around Point Pleasant, West Virginia, began reporting sightings of a creature that would later be dubbed "Mothman." It would reportedly emerge, fly as fast as 100 mph and, oftentimes, leave witnesses with a deep sense of dread. It was later suggested by some locals that Mothman was trying to warn humans of an impending nearby tragedy: the 1967 Silver Bridge collapse, which killed 46 people. However, others posit that this supposed supernatural connection was simply a way for people to make sense of a tragedy without meaning, as one would think there are more direct ways to warn people of danger than just being spooky.
In the intervening years, Mothman's cult fame grew, becoming the subject of an annual festival, a museum and even a 2002 movie starring Richard Gere.
More recently, new reports have emerged. Starting in 2011 and peaking in 2017, sightings of a Mothman-like creature began surfacing all over Chicagoland.
It still remains unknown whether Chicago Mothman is a subspecies of the West Virginia Mothman or the same species — or whether it is, perhaps, just a heron that got caught in a garbage bag.
Below are some clues we've gathered based on reported sightings and interviews.
Physical characteristics:
Size and shape: between 6 and 10 feet tall, 10+ foot wingspan.
Species it's been compared to: a big owl, a pterosaur, a bat.
Eye color: "Red eyes," "green eyes," "yellow eyes" and "orange eyes" have all been reported. Probably all the other colors, too.
Other reported features: fur, leather-like skin, bat wings, no neck.
Possibly confused with: a barred owl, a shitepoke, a sandhill crane, a drone costume, another Chicago cryptid.
Behavior:
Screaming, flying toward lake, disappearing, going real fast, portenting, looking at people with eyeballs.
Diet:
Mothman was alleged to have eaten a German shepherd belonging to Newell Partridge of Salem, West Virginia, in 1967. It is unclear if they eat German shepherds exclusively or rather just the pets of Newell Partridge.
Sightings:
In the city, Mothfolk are spotted all over, though most often by bodies of water. Sightings collected via the Phantoms & Monsters website are compiled here and in this map. Standout witness statements are excerpted below:
Witness: Anonymous
Date: Aug. 21, 2017
Location: Northerly Island during solar eclipse
As reported to: Phantoms & Monsters website
"We were watching and observing as the moon begin its transit when we heard a very loud scream. This sounded like squeaky truck brakes that squeal when you're pressing hard on them. At first we thought that's what it was…maybe a CTA bus or big truck with brakes that needed changing or maintenance.
We heard it again, this time it lasted about 3 seconds, where as the previous sound was brief. I looked up to see a large object flying low over the docks that stick out in to Burnham Harbor from across the water… This object looked like a large black bat, but also had humanoid features such as pronounced arms and legs."
Witness: Erin Drain
Date: August 2017
Location: West Town neighborhood, Chicago
As reported to: Curious City
"I was spending the afternoon on a rooftop, and I saw something in the sky fairly high up and fairly far away. It wasn't being buffeted about by the wind. It was moving slowly but not randomly."
Witness: "Jeff"
Date: Oct. 26, 2017
Location: Fulton Market Street near the corner of Morgan
As reported to: The Chicago Reader
"At first I thought it was a bird, but none I'd seen before, because it was just so huge and the way it was flapping its wings… The longer I watched it, it was like… what the hell is that thing? It was freaky."
The search continues, with your help
Have you seen Chicago Mothman? If you have a lead, a video, a sketch or a theory regarding what impending doom Mothman might be warning Chicagoans to avoid, please share it with us using #ChicagoMothman on Facebook or Twitter. We can only solve this mystery together.
More about our questioner
Sarah Becan is a Chicago comics artist who draws mostly food and monsters (including many "Monsterffirmations," as she calls them).
Mothman has been a favorite of hers for some time, and so when people began reporting sightings in Chicago, she says she became a little obsessed.
"When I first started reading about all of the different sightings, I was very excited about it. I definitely kept my eyes on the sky hoping to see something," she says.
But she did more than just keep her eyes on the sky; she went searching.
"In the summer of 2017 … there was a partial solar eclipse that passed over Chicago, and I deliberately went down to the lakefront because I thought, 'If I was the Chicago Mothman, I would make an appearance at the solar eclipse.'" she says. "And I believe he did, but it was down at Northerly Island … and I was up at Montrose Beach."
When pressed about what she thinks people could be seeing, after all our detective work, she suggested a large bird, like a sandhill crane, or an owl — or even a prankster with a drone.
But that's far less fun.
As part of her obsession with Chicago Mothman, Sarah created a series of comics of the creature visiting different iconic sites in our fair city and having a great time.
Robbie Telfer is a performance poet, teacher and conservationist. Follow him on Twitter or Instagram @RobbieQT.
Watch Out, Dogman — Cougars Are On the Loose in Michigan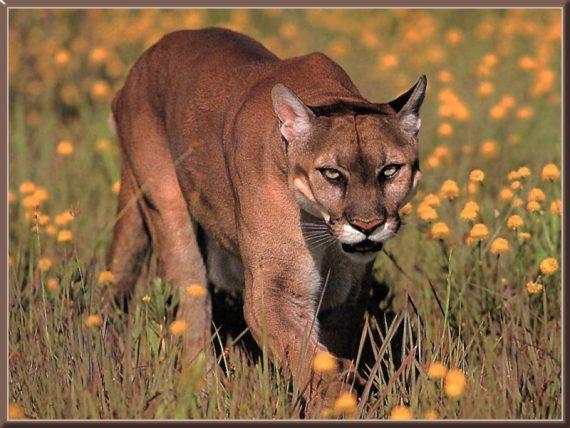 Two creatures the state of Michigan is known for are the wolverine (University of Michigan's mascot) and the Dogman – a werewolf-like cryptid reportedly seen many times in the northern part of the state's Lower Peninsula. Another may soon be joining their ranks and it may be far scarier than the foam-headed football game wolverine or the mythical Dogman. In 2019, there have been five cougar sightings in the state, with two occurring in the past few weeks and the year is far from being over. Should Michigan residents be worried? Should Dogman? (The Wolverines aren't worried about anything right now except defeating Ohio State.)
"The Michigan Department of Natural Resources said two trail cameras, located approximately 14 miles apart, captured the cougars in northern Delta County on Sept. 18 and southern Marquette County on Oct. 6. With these new additions, the DNR has verified 43 cougar reports since 2008; five of which were confirmed this year. Nos. 39 and 40 were confirmed in August."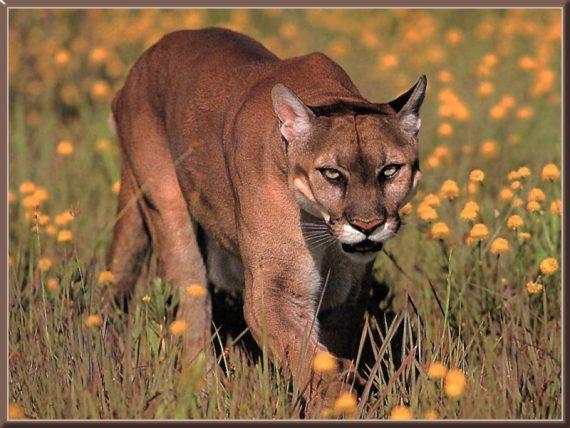 On October 23rd, the Detroit Free Press reported the latest cougar (a.k.a. mountain lion, panther, puma) sightings in the central part of the Upper Peninsula. The large cats were once native to Michigan but are now an endangered species or extinct in every U.S. state where they were once abundant. The Michigan Department of Natural Resources tried to calm the population in the Upper Peninsula – only one cougar of the recent bunch has been seen in the Lower Peninsula across the Straits of Mackinac – by assuring them that the big cats were probably escaped or released pets. Really? Five escaped cougars in one year? Get another hobby, people! The terrain has supported a large cougar population before and not much has changed in the Upper Peninsula since the last of that group was killed in 1906, according the DNR. They could also have migrated from the Dakotas – about 900 miles – which has the nearest breeding population. So far, there is no conclusive evidence of a Michigan breeding population of mountain lions.
The DNR also points out that the closest known breeding population of cougars is in North and South Dakota – over 900 miles away. Really again? In 2011, the DNA of a cougar killed when hit by an SUV in Connecticut was traced to that Dakota breeding population — 1,800 miles away! What's a few miles through the dense forests of the northern Midwest to a horny cougar?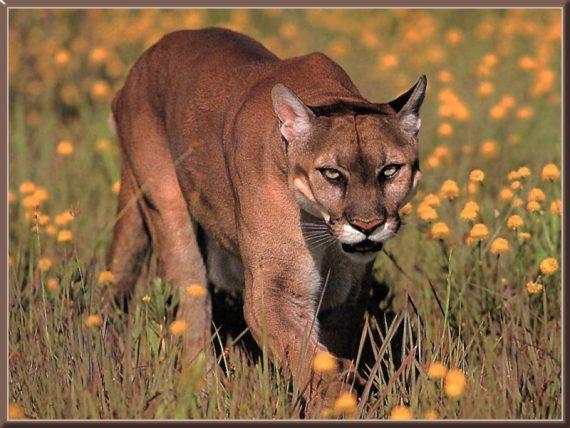 On the other hand, perhaps the Michigan Dogman is keeping the cougars out of Michigan – or at least out of the Lower Peninsula. A seven-foot tall wolf on two legs should frighten a cougar, shouldn't it? There was a Dogman report in 1967 in Cross Village, just across the straits from the Upper Peninsula. Does the howling keep the cougars from swimming across them? Yes, they're excellent swimmers!
So, what have these cougar sightings taught us? Humans are not responsible cougar owners. The Michigan Department of Natural Resources is possibly underestimating their threat. Dogmen may be our best defense.
Anything else?
Source: Mysterious Universe