UK Artist Reveals Himself as the Original Banksy
"When the system got involved in the Banksy myth, they're quite happy to put it on the front page of The Daily Mail. It doesn't happen if you're a true revolutionary. They don't do that." ~Michael Shurman
The world desperately needs an anti-hero, but in our consumer world of fake news, fake foods, and fake creativity, the artist known as Bansky has come to play this role by harassing the establishment and the status quo with cutting wit delivered in the form of street art.
But who is Bansky? Is Banksy even a single, real person? It would seem that with so many Banksy art projects popping up all over the world, including theme parks and hotels, that Banksy is now more of a consumer brand. Something that is being mass-produced for the masses, so that the masses can carry on with business as usual with the comfort of knowing that someone else is waging the revolution, and they don't have to. In other words, Banksy has become just another symbol of consumerism; the very thing Banksy is supposed to be standing against.
In recent years a number of people have come forward claiming to be the real Bansky, but so far, none of them have yet to be proven as the real thing. After all, with so  much hype and so much mass produced Banksy art, it would be ridiculous to think that one shadowy individual can pull it all off without being outed on today's internet. But hey, Santa Claus is also very popular.
The Banksy brand is worth millions today, and someone is cashing in big time. It's not Michael Shurman, though, a Glastonbury, UK artist who has for years claimed to be the original Banksy. That is, the one who started all the hype by producing thought-provoking street art which got the attention of major media and the UK art scene.
In a recent interview, podcaster Jason Liosatos interviews Shurman, who discusses how the myth of Banksy was stolen from him and then fostered into the global brand we all see today.
So, is Shurman the real Banksy? You decide, but what is clear from this interview is the reminder that we live in a world where corporations and hustlers steal ideas from people in order to cash in on someone else's creative genius. In the interview, Shurman says that the name Banksy is a code for for making money. That is, once people in the art world realized that
He says he's been blacklisted and threatened by the art community for trying to spread the truth that Banksy is just another marketing tool to cash in on people's emotions and desires. He believes Banksy is now a conglomerate, or a think-tank, of a number of marketers who come up with the politically and socially challenging pieces in order to make money.
And it's working. Banksy art is now being bought up by celebrities and has gone totally mainstream in all the major corporate press. Just recently a piece was sold at an auction then self-destructed, creating massive publicity and even greater brand awareness. Banksy is a gold mine in the art world.
We live in a culture that is constantly being raped and plundered by corporations. Anything original created by real people is co-opted and stolen and repurposed for mass appeal, then sold at the highest price the market will bring. In short, we are cultural slaves to a world focused on money, and if Shurman is the original Banksy, his story fairly describes this cultural dynamic.
As Shurman points out, true revolutionaries are not supported by the mainstream media, as Banksy is today.
So, is this the real Banksy? You decide, and leave a comment below.
About the Author
Vic Bishop is a staff writer for WakingTimes.com. He is an observer of people, animals, nature, and he loves to ponder the connection and relationship between them all. A believer in always striving to becoming self-sufficient and free from the matrix, please track him down on Facebook.
This article (UK Artist Reveals Himself as the Original Banksy – Explains Why True Revolutionaries Are Never Mainstreamed) was originally created and published by Waking Times and is published here under a Creative Commons license with attribution to Vic Bishop and WakingTimes.com. It may be re-posted freely with proper attribution, author bio and internal links. 
1,500-year-old Mummy Wearing 'adidas Sneakers' Believed To Be A Time Traveler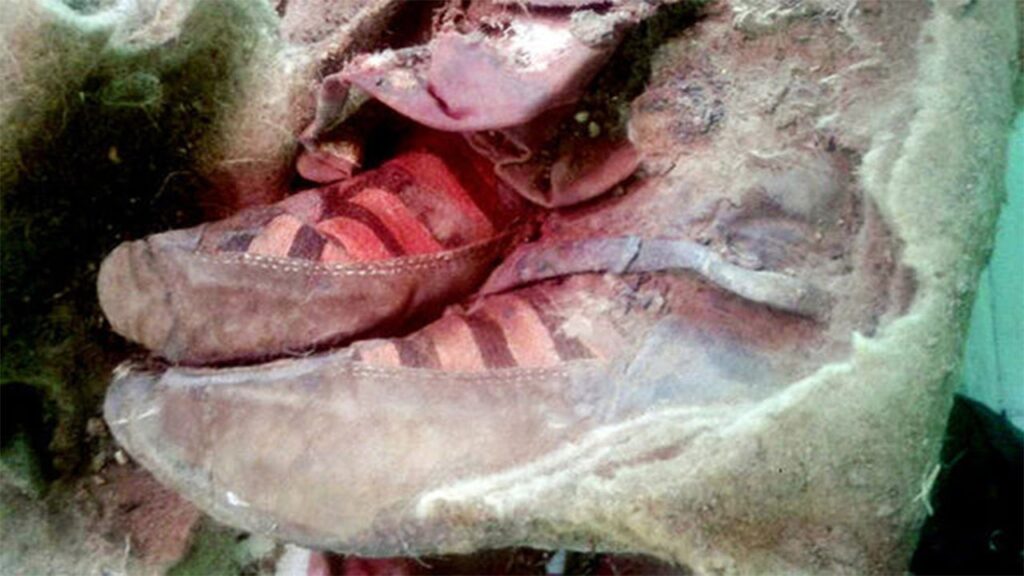 A recently unearthed mummy equipped with a well-preserved pair of 'Adidas sneaker' has intrigued archaeologists and conspiracy theorists alike. While some consider it to be only a lucky find, others have brought conclusive arguments as to why this could be the remnants of an actual time traveler.
Time travel has always been a fascinating topic, especially in present days when this concept doesn't look so futuristic after all. With our current development in technology, we can dream of cruising through time in a couple hundred years. Until that day arrives, we'll need to focus our attention on a very bizarre archaeological find from the Altai Mountains in Siberia, where an unusual mummy had recently been discovered.
So, what's the connection between those mummified remains and time travel? Well, there's a certain item on the deceased body that's strongly resembling a pair of – you guessed it – Adidas sneakers. If the pair of shoes prove to be authentic, then the world will know that time travel is a real phenomenon. However, I'm inclined to think that people at that time were only skilled shoemakers. Or were they really?
The extremely well-preserved remains belong to a Turkik person that lived some 1,500 years ago in central Asia. The body was found alongside the remains of a horse, a pillow, and a sheep's head. Archaeologists also found a saddle, bridle, clay vase, wooden bowl, trough, iron kettle, and four different 'Dool' (Mongolian clothes).

"It is the first complete Turkik burial at least in Mongolia – and probably in all Central Asia. This is a very rare phenomenon. These finds show us the beliefs and rituals of Turkiks," said B. Sukhbaatar, researcher at Khovd Museum. "We can see clearly that the horse was deliberately sacrificed. It was a mare, between four and eight years old. Four coats we found were made of cotton."
Researchers haven't been able to determine the genre of the deceased so far, but they believe the remains belonged to a woman because they found no trace of a weapon inside the tomb, where male warriors were always buried alongside their bow.
The resting place was found at an altitude of 2,803 meters, and the mummy – still wrapped in felt – was resting its bones inside a 3-metre-deep grave. The body preserved extremely well because of the cold temperatures, together with the belongings and horse remains.
"The grave was located 2803 meters above sea level.This fact and the cool temperatures helped to preserve the grave," said Sukhbaatar. "The grave was three meters deep. The finds show us that these people were very skilled craftsmen. Given that this was the grave of a simple person, we understand that craft skills were rather well developed."
There are several things that don't add up here. First of all, Mongolians are well-known for their herds of horses, which in turn determines the wealth of their people. These noble animals were (and still are) essential to them, meaning that whenever someone died, they would leave behind a substantial herd.
The grave of the Turkik mummy is considered to be rich in possessions, but since only the remains of a horse were found inside, researchers are now insinuating that the mummy didn't belong to the elitist class of the region. But how is that possible if four different garbs, together with a presumed pair of 'Adidas sneakers' and numerous other items including the wool originating from a camel were discovered inside the tomb? Could it be that this woman was of a different culture? A distant traveler with knowledge of time manipulation?
A Romanian archaeologist explains more about the burial ceremony in his book about Turkik nomads. It reveals that Turkik people preferred being buried with far less material possessions, but they sacrificed their horses to accompany them on the other side.
"When a man died, the survivors dug a pit as large as a house, in which they laid the deceased holding in his hand a wooden cup filled with a drink, as well as his belt, bow, and money…Following that, the dead man's horses were killed, the number of horses sacrificed being an indication of his personal wealth."
So how does a not-so-wealthy Turk woman end up in a strategically-placed grave atop of the Altai Mountains, together with rich possessions and a pair of sneakers from the future? Is it possible that archaeologists really stumbled across the mummified remains of a time traveler, or is this but a mere coincidence?
More images from inside the tomb can be found HERE.
MH370 sighting claimed to be spotted on NASA satellite photo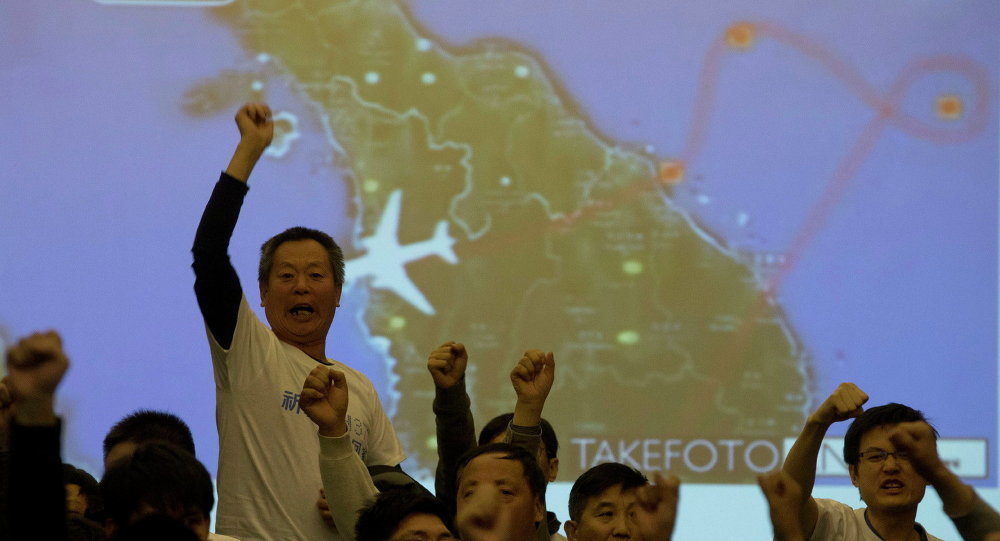 © AP Photo / Ng Han Guan, File
Although the 5-year anniversary of the disappearance of the Malaysia Airlines Boeing 777 that vanished with 239 people aboard en route from Kuala Lumpur to Beijing is on the horizon, the mystery remains unsolved. Despite the country's government having halted the search, enthusiasts continue to look for clues using everything at their disposal.
A video has been posted on YouTube pinning a possible sighting of the MH370 that went off radars on 8 March 2014. The user with the handle Darren Bailey, who uploaded the clip, claims to have used NASA Satellite Data provided by Zoom Earth. The screen capture coincides with the day of the plane's mysterious disappearance.
On the photo, the creator of the clip ringed a plane-shaped object, which could easily be a cloud, in the area of the Indian Ocean west of Malaysia and Indonesia. The coordinates of the possible MH370 sighting are 3'00.549'S and 86'21.943'E.
Malaysia Airlines Flight MH370 with 239 passengers on board disappeared on 8 March 2014 on its way from Kuala Lumpur to Beijing. In 2015, a fragment of the plane wing was discovered east of Madagascar on Reunion Island and confirmed as coming from the missing aircraft. Malaysia, China, and Australia have conducted a nearly three-year, $144-milllion surface and underwater search in the southern part of the Indian Ocean, which was called off in January 2017 after yielding no results.
Last May, the US tech firm Ocean Infinity also ended its operations. The company searched over 112,000 square kilometres of ocean floor but ended up finding nothing as well.
In July 2018, Malaysian investigators issued a lengthy report, saying the Boeing was likely deliberately steered off course under manual control, but they failed to say who was responsible.
Over the years, multiple aviation experts and enthusiasts have come up with various explanations for the incident and multiple hypotheses as to the MH370's crash site, varying from the bottom of the Indian Ocean to deep inside the Cambodian jungle.
Mysterious Radar Anomalies Reported Near Sydney Australia
Late in 2018, a series of anomalies appeared on weather radar systems over the US states of Illinois, Kentucky, Maine, Florida, and Indiana. The anomalies were eventually blamed on a new experimental type of chaff, an aircraft countermeasure designed to mask aircraft activity over a given area and generally confuse enemy radar systems.
While that explanation may have been sufficient for that week's news cycle, many aviation experts noted that chaff usually doesn't linger in place as these mysterious clouds seemed to. Were these anomalies indeed the product of chaff testing, or was military activity merely a convenient scapegoat as has been alleged in many other anomalies aerial phenomena?
The mystery deepened this week as similar radar anomalies were reported in Australia and again blamed on chaff. Many Sydney residents were startled when they saw weather radar displaying what appeared to be ominous rain clouds heading their way when a glance outside revealed crystal blue skies. Australian Broadcasting Corporation meteorologist Graham Creed quickly explained the radar anomaly on social media, stating that like in the American radar anomalies, this was the product of chaff:
It's the Williamtown RAAF base and they're putting what's known as chaff in the atmosphere. The idea of it is that it hides what they're doing underneath it. They're doing manoeuvres with their aircraft. They drop this chaff and it spreads out and then it creates an echo so you can't see individual movements.
The Williamtown RAAF base and Australian Department of Defence were contacted by the ABC but did not comment on the anomaly. What was the RAAF hiding, and from whom?
Like in the case of last year's radar anomalies in America, I'm left to wonder why experimental aircraft technology would be tested near densely populated areas where weather radar systems are so common. If you wanted to hide experimental aircraft tests, why not do it somewhere more secretive? Or was that the point: to determine how well civilian radar systems can be fooled? To what end?
SOURCE: Mysterious Universe