The Disclosure Project
The Disclosure Project is a nonprofit research project working to fully disclose the facts about UFOs, extraterrestrial intelligence, and classified advanced energy and propulsion systems. They have over 400 government, military, and intelligence community witnesses testifying to their direct, personal, first hand experience with UFOs, ETs, ET technology, and the cover-up that keeps this information secret. 
PROJECT BACKGROUND
[from the Executive Summary, Important Editorial Notice]
by Steven M. Greer, M.D.
Beginning in 1993, I started an effort that was designed to identify firsthand military and government witnesses to UFO events and projects, as well as other evidence to be used in a public disclosure. From 1993, we spent considerable time and resources briefing the Clinton Administration, including CIA Director James Woolsey, senior military officials at the Pentagon, and select members of Congress, among others. In April of 1997, more than a dozen such government and military witnesses were assembled in Washington DC for briefings with Congressmen, Pentagon officials and others. There, we specifically requested open Congressional Hearings on the subject. None were forthcoming.
In 1998, we set out to "privatize" the disclosure process by raising the funds to videotape, edit, and organize over 100 military and government witnesses to UFO events and projects. We had estimated that between $2 million and $4 million would be needed to do this on a worldwide basis. By August of 2000 only about 5% of this amount had been raised but we decided to proceed since further delay was deemed imprudent given the serious issues involved here. So beginning in August we began creating the Witness Archive Project and we set about the task of traveling all over the world to interview these witnesses in broadcast quality digital video format. Due to the severe limitation of funds, this effort was predominantly prepared by myself and a few other volunteers roughly from August 2000 through December 2000.

Beginning in late December 2000, I began editing over 120 hours of raw digital video testimony at home. I should note that I am a medical doctor and not an editor. Nevertheless, from late December 2000 until late February 2001 the 120 hours were reduced first to 33 hours of select testimony and then 18 hours of super-select testimony. The 33 hours of select testimony were dubbed to audiotape and transcribed resulting in approximately 1200 pages of testimony transcripts. In March and early April, 2001 I edited these transcripts into a readable form, which appear herein.
I must emphasize that this has been done under the most severe time and funding constraints, working 7 days a week and mostly 18 hours a day. And I thought the Emergency Department was tough!
I share this only so the reader will understand that these transcripts and other materials are very likely to contain errors. These include likely errors in proper names arising from the phonetic spelling of such names directly from transcribed audio tapes of testimony. I apologize in advance for these.
The transcripts (that appear in the Briefing Document) have only been altered to correct for a) length and b) grammar and readability. I have assiduously avoided changing the meaning of testimony at all times. Statements in brackets [ ] are for clarification. Statements in italics and brackets [ ] reflect commentary on my part and are followed by my initials, SG.
These materials are, as you can now discern, only the tip of the iceberg of what we have recorded on digital videotape. That is, from over 120 hours of testimony by over 100 witnesses we transcribed only 33 hours and then further edited materials down to a fraction of that amount. Moreover, the full archive represents the testimony of only 100 witnesses of the more than 400 identified to date. The edited testimony will be appearing in book form. A portion of it appears in The Disclosure Project Briefing Document and only small excerpts and summary bios of testimony appear in this Executive summary. We hope in the future to secure funding for a 5-6 part broadcast quality video documentary series to be made from the videotaped testimony we have as the impact of hearing and seeing these witnesses speak is very moving.
As you read this testimony remember that it is indeed only the beginning. The rest is up to you: Call and demand that Congress and the President and the leaders of other countries hold hearings into this subject without delay. These witnesses welcome a subpoena so that they may officially testify under oath to what they have experienced and said here. Indeed, the most revealing testimony waits to be seen since the deepest sources are refusing to come forward until protected through official Congressional hearings.
This then brings me to my last point: The witnesses who have given testimony to date are extraordinarily brave men and women – heroes in my eyes – who have taken great personal risks in coming forward. Some have been threatened and intimidated. All are risking the ever-present ridicule that attends this subject. Not a single one of them has been paid for his or her testimony: It has been given freely and without reservation for the good of humanity. I wish to personally thank them here and extend to them my personal, highest respect and gratitude.
Please, I implore you not to let this effort and their sacrifice be in vain. Help us place this matter in front of the public, the media, and our elected representatives so that the full truth may be disclosed, so that those Earth-saving technologies now classified may be released, and so humanity may enter a new chapter in its evolution as one of many people in the cosmos.
This summary is focusing on the testimony of important first-hand witnesses. We have thousands of government documents, hundreds of photographs, trace landing cases and more, but it is impossible to include them in a summary of this length. These materials will be made available for any serious scientific or Congressional inquiry.
Steven M. Greer, M.D. http://www.disclosureproject.org/
Campaign for Disclosure Witnesses Panel
On Wednesday, May 9th, over twenty military, intelligence, government, corporate and scientific witnesses came forward at the National Press Club in Washington, DC to establish the reality of UFOs or extraterrestrial vehicles, extraterrestrial life forms, and resulting advanced energy and propulsion technologies. The weight of this first-hand testimony, along with supporting government documentation and other evidence, will establish without any doubt the reality of these phenomena, according to Dr. Steven M. Greer, director of the Disclosure Project which hosted the event.
Note: Audio has been remastered in this version.
[youtube https://www.youtube.com/watch?v=lkswXVmG4xM]
On Wednesday, May 9th, 2001, over twenty military, intelligence, government, corporate and scientific witnesses came forward at the National Press Club in Washington, DC to establish the reality of UFOs or extraterrestrial vehicles, extraterrestrial life forms, and resulting advanced energy and propulsion technologies. The weight of this first-hand testimony, along with supporting government documentation and other evidence, will establish without any doubt the reality of these phenomena. DVD is available to order at:  http://www.DisclosureProject.org
UFOs – Secret Access
This is a good documentary about credible reports and investigations on unidentified flying objects.
This documentary features people who worked for the Department of Defense in the UK, it features high ranking Army personnel and other very credible people who's claims are backed up by radar confirmations and/or other witnesses sometimes numbering into the hundreds reporting the same thing at the same time. It is most definitely worth your time.
[youtube https://www.youtube.com/watch?v=iOVcTHvJMn8]
UFO FILES Russian Roswell
Full Documentary
The History Channel's UFO Files continues with its theme of worldwide 'Roswells', after bringing us Britain's Roswell, Mexico's Roswell and Texas' Roswell. This latest episode tells us all about the Russian Roswell
Kapustin Yar was the former Soviet Union's most sensitive air base,even exceeding America's Area 51 for the levels of secrecy that shrouded it. UFO Files claimed that it was to present never-before-seen footage of the base, reconnaissance photos and even a virtual tour of its hidden depths. Kapustin Yar was created as the site for the development of the Soviet Union's space program after the end of World War II. It lies over 500 miles south of Moscow and about 60 miles east of Volgograd, the former Stalingrad. These days it lies close to the Kazakhstan border, but back in those days, the base was deep inside Soviet territory. It was here that captured V2 rockets and the German scientists that created them were set to work with not only the single task of getting into space before the Americans, but also designing and testing new aircraft, missiles and other weapons systems. The base was deemed so secret that the nearby town of Zhitkur was emptied of its population and leveled because it was too close. In 1948, less than a year after the famed Roswell Incident, the base's radar operators picked up an unidentified object. At the same time,a fighter pilot flying close to the base had a visual sighting of a silver,cigar-shaped object. Reporting that he was being blinded by rays from the UFO, the pilot was ordered to engage with it and, after a three minute dogfight, a missile successfully brought down the object. It seems that the UFO fired some sort of energy weapon at the MiG and both craft crashed to the ground.
[youtube https://www.youtube.com/watch?v=3ekQK1Lsuu8]
UFO caught on camera in Kamloops, British Columbia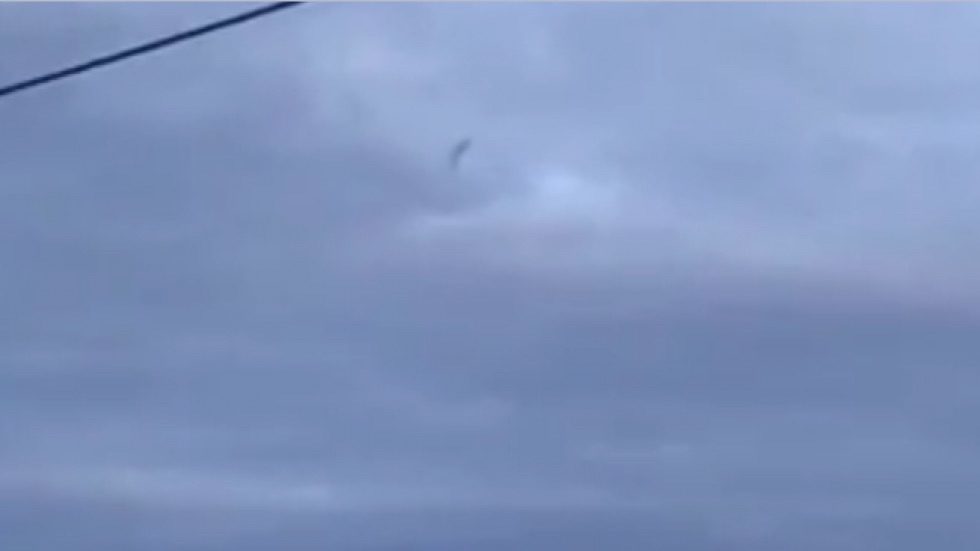 Harprit Singh swears he is not one to make bogus UFO sightings.
That's why what he saw in the sky above Kamloops baffles him.
Singh sent CFJC Today video he recorded at 4:15 p.m. Saturday, Nov. 10, at the New Afton mine just west of Kamloops, where he works.
The video seems to show a strange movement behind the clouds.
WATCH: The strange movement can be seen in the upper half of the frame, near the middle. (Video Credit: Contributed / Harprit Singh) LANGUAGE WARNING
Singh says the disc-shaped object moved upward very quickly, which is when he took out his phone to record what he was seeing.
Singh says the disc-shaped object moved upward very quickly, which is when he took out his phone to record what he was seeing.
"I thought it would be some smoke that would disappear soon," said Singh, "but when I watched continuously, it was something behind the clouds. It didn't disappear and I got shocked when it moved up in a very quick movement."
"At that moment, I realized it was something different; something strange. When it gave some different movements, I started recording this video. It was some sort of disc that moved into a vertical and horizontal position afterward," he said.
Singh is hesitant to call the object a UFO because of the skepticism associated with UFO sightings, but he doesn't know how else to explain what he saw.
"I don't want to say that it's a sort of UFO. But I have seen some videos similar to this kind of thing, that's why I said it's some sort of UFO," said Singh. "I know it's awkward to say this, but seriously, after seeing this… it was really strange."
"I have never seen these things in the sky. Never. This was really something different."
The Extraterrestrial Find Of The Aztecs In Ojuelos De Jalisco (Mexico)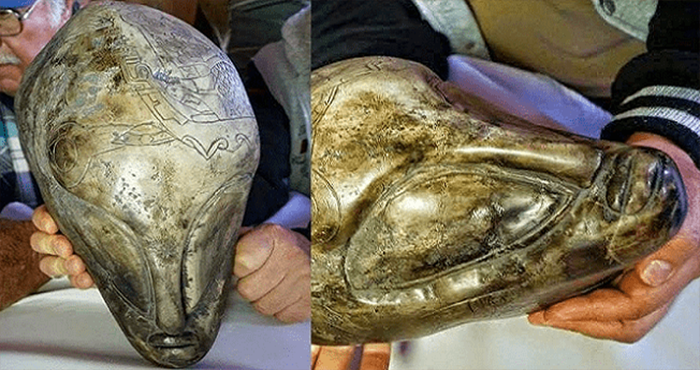 Our ancestors may have had a constant relationship with extraterrestrial beings. We informed you about the material that made one of Tutankhamun's daggers.
However, this is not the only unique discovery, since a surprising series of archaeological objects is the clear proof of the existence of a remote pre-Mayan culture (possibly the ancient gods with elongated skulls or cone-shaped heads), hidden by those who rule the world and forgotten by humanity.
Several families from the city of Ojuelos in the province of Jalisco, Mexico, have been collecting for approximately 50-60 years a total of approximately 400 extraordinary archaeological objects, with the dream of one day opening their own museum and becoming known by the public. said objects.
The Collection Consists Of Tablets:
Knives, plates, figurines, rings and jade pendants, made of stone or metal, which clearly describe how these ancient extraterrestrial extraterrestrial gods (of elongated skulls and large slanted eyes, with a high degree of intelligence).
A high state of consciousness and a deep spirituality and connection with the universe, traveled in their spaceships.
Through the high technological development of their UFOs, they knew very well not only our solar system, in which they traveled between the Earth and their planets of origin, but could also come from beyond our solar system or from our galaxy.
They have also discovered a series of skulls discovered in several Latin American countries, especially Paracas – Peru, called "Paracas Elongatus".
Also in Bolivia, Ecuador, Colombia and Mexico, have been in recent years, a series of skulls and skulls in the shape of a cone, which have left scientists without words.
In the last dates also one was found in Australia, that received the name of "Australian Elongatus".
What do you think? or forget to leave us your comments below and spread the information with your friends
Montana Air Base Suffers Power Outage as Giant Circular UFO Hovers Overhead
You would think events like this would have been all over the news at the time when it had occurred.
According to a report published by The Mutual UFO Network a Montana witness near Great Falls reported that a contact on the Malmstrom Air Force Base described a 10-minute power outage after a circular-shaped object "over a half-acre in size" hovered over the base" on January 24, 2018.
"My base contact described the object only as black," the reporting witness stated. "If contacted, Malmstrom AFB will confirm the power outage but nothing more. Investigators are on their way. Last sighting was in May 2017. This source is reliable and confirmed as am I."
The witness describes himself as a retired police detective "not given to exaggerations."
The filed report indicates the object was black in color with no structural features. The object size was larger than 300 feet. No exterior lights. No emissions. The object was hovering at less than 500 feet in altitude. The object was over one mile away from the witness. No landing was observed.
Investigators contacted the media relations department at Malmstrom and did not receive a reply. The power outage may have been limited to the launch site area and not the entire base. '
MUFON CAG Investigator Marie Cisneros and Montana State Director John Gagnon closed this case as Information Only.
"Ruled out for astronomical or weather anomalies," Cisneros and Gagnon stated in their report. "Ruled out for bolides or fireball activity. Ruled out for obvious hoax.
"Our conclusion: Unidentified object. Size, shape, flight pattern and path does not fit with known conventional aircraft. Because this was reported by someone other than the witness, this case has to be filed as an Information Only unless further information is forthcoming by the witness."
Malmstrom Air Force Base is in Cascade County, Montana, adjacent to Great Falls. It is the home of the 341st Missile Wing (341 MW) of the Air Force Global Strike Command (AFGSC). As a census-designated place, it has a population of 3,472.
ufosightingshotspot