UFO's in ancient paintings
The appearance of fiery chariots and hovering discs in Renaissance Era paintings – as well as beings working their controls and/or attired in garb that we commonly recognize today as spacesuits – proves, at least, that UFOs were being sighted in medieval times. While no direct connection can be isolated from this, between space aliens and religious icons, there certainly is a lot of supernatural phenomena associated in and around these depictions. The common images of one or more hovering saucer shaped metallic craft, often with highly intense beams of light emanating from the bottom, intelligently controlled and traveling at outrageous speeds – as if the artists witnessed these things first hand – are not in any sense ordinary events, even in modern times. It is extremely hard to find mention of these events, but they do exist – as scattered fragments, vague remnants, survivors of censorship.
One possible explanation is that these paintings were commissioned (by the church or the state) to place these phenomena in a deified context. Officially declared to be the vessels of angels, the peasants would ask fewer annoying questions – that likely, the clergy of the day had scant answers for themselves. It is likely that ancient UFO sightings coincided with important historical and political events – and just as likely that the sightings impressed, or pressured, leaders of the day to take bold, or unusual actions.
One set of images depicts a late 8th century battle, in which Saxon Crusaders besieged and surrounded the people of Sigiburg Castle, in France – when suddenly a group of saucers appeared in the sky, apparently hovering over the top of the church. The Saxons fled, believing that the French were being protected by the "flaming shields."
It was a very superstitious time – but people, as today, knew what they saw – though they probably had little context to associate with it. While there were certainly no flying machines (designed by humans) in those times, there were sailing ships – people were familiar with portholes. Some depictions illustrate these and other classic UFO details – begging the question: what did the ancients think of flying saucers?
An unusual source of UFO evidence in Ancient Art can be found in artwork which stretches back over thousands of years. It often seems to contain "anomalous" figures and extraterrestrial craft. Even with such a large amount of evidence available it is hard to understand what the artists were trying to depict.
A cave painting from Val Camonica, Italy dated 10,000 BC appears to depict two beings in protective suits holding strange implements. Another cave painting from Tassili, Africa shows humanoids wearing round helmets with a disc flying in the sky. This dates from 6000BC. There are further UFOs on per-renaissance paintings.
A 15th century tapestry entitled "The Magnificat" from Burgundy depicts the life of Mary, mother of Jesus. However in the background is a flying hat shaped object and there is no explanation of its appearance. One of the most startling anomalies appears on a Yugoslavian fresco entitled "The Crucifixion" which was painted in 1350. Two objects can be seen on the painting, resembling flaming stars with a person inside. They look like spacecraft with a pilot!
What seems evident in all of the weird and wonderful examples of these kinds of paintings is that the artists witnessed, or at least were aware of, sightings of aerial phenomena.
There were no airplanes, weather balloons, or experimental military jets to explain away the UFOs native to the skies of the pre industrial aeons. Events such as these would not have been as easily dismissed. Would those who witnessed such craft or encountered such beings first hand, be feared as witches, seen as cursed ~ or even blessed? A medieval abductee might descend from the mountain saying, in a reverent but dazed tone, "I have been touched by the angels."
Quantum physicist makes impressive predictions about UFOs
A "time capsule of the mind" by the physicist Deep Prasad serves as a kind of mission statement for an in-depth exploration of technology related to unexplained sightings of UFOs on the west coast of the United States.
Prasad, vice president of technology at UAP Expedition Group and CEO of ReactiveQ, expects big things to happen in the next 5 to 10 years. The synopsis of what he is trying to do appears on the site Medium.com.
He predicts that "we will discover that we are not alone in the universe." But it goes beyond that. Before he even lists 10 points he intends to explore, he insinuates about an agenda to find out the truth he seeks:
If it turns out that a secret group of humans has surpassed every single country, military capability and private industry on the planet in an insurmountable leap, we will report.
His predictions suggest that he has a different understanding of what extraterrestrial life means, using the alien term "for lack of a better word."
The website Mystery wire previously reported the emergence of UAP Expedition Group in the UFO research scenario. The composition of the group includes people who were on board the USS Princeton at the time of the Tic Tac UFO report, which was reported by New York Times in December 2017 and recognized as 'real' by the US Navy earlier this year. The Dave Fravor's Navy Commander's visual observation in 2004 off the coast near San Diego sparked interest in understanding UFOs.
The group told the vice.com that aims to exploit technology to revolutionize travel.
The website punkrockandufos.com interviewed Prasad in June. He explained his interest in the topic then. The article states:
The young innovation star is also an avid UFO advocate; He is one of us.
Below are the impressive predictions of quantum physicist Deep Prasad, followed by a video of his interview on the channel. Townhall media:
We will find that we are not alone in the universe.
This will become a familiar fact sometime in the next 5 to 10 years. Some will naturally debate this, no matter how much science and evidence is presented. After all, we still have people who believe in Terra Plana to this day.
We will find that the engineers of these advanced technologies are not human, but they are NOT extraterrestrial as we define them.
We will find that words like extraterrestrial, ultra-terrestrial, and interdimensional are inaccurate descriptions of what the beings behind these UFOs really are. From what I have seen in terms of data, it seems that the answer will be complicated, if not totally impossible to fully understand with our current knowledge of physics and philosophy.
We will find that an unfortunate amount of human mythology and folklore is the result of intelligent nonhumans messing with holographic technology for some unknown reason.
Let's find out much, much more about ourselves, who and what we really are.
Such revelations will shock virtually every living sentient person. Depress some while releasing others (I would bet more…).
Finally, there will be communication between human civilization and alien civilization, for lack of a better word, once enough humans are psychologically ready for the first contact.
UFOs will be formally recognized as a valid doctoral and masters topic in the fields of Quantum Information, Quantum Gravity, Condensed Matter Physics, High Energy Physics, Sociology, History, Literature, Engineering and even Biology.
Sometimes things we cannot change, end up changing us.
Scientific study reveals: Alien Artificial Structures are found on the dark side of the Moon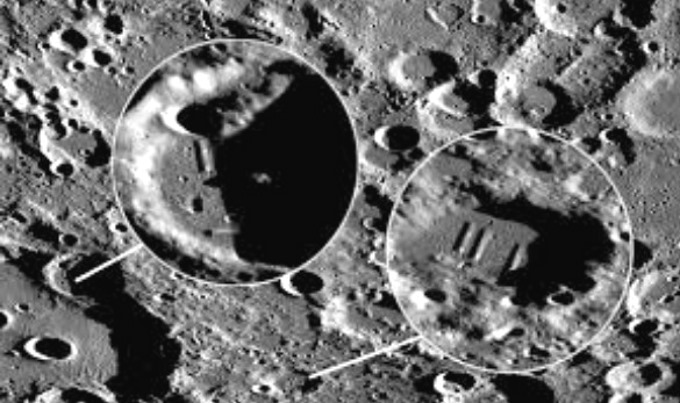 The Society for Planetary SETI Research (SPSR) has published a report in which it states that the mysterious structures found on the dark side of the Moon may have been built by alien races, so not of human origin.
A scientific study presented in Journal of Space Exploration found several anomalous structures on the hidden face of the Moon. Some scientists claim that unusual structures on the Moon are artificial and are not the result of any natural processes known. So if mother nature did not create these enigmatic structures, and human beings have not yet traveled to the opposite side of the moon, who created them?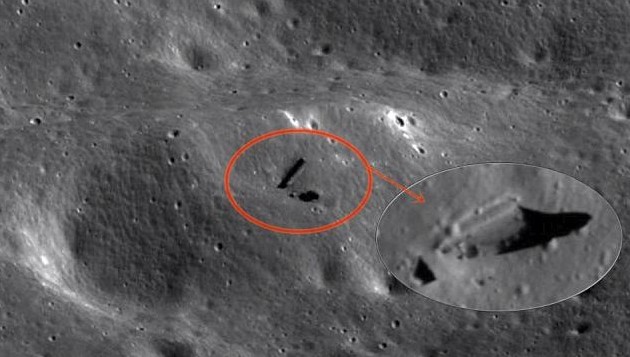 This scientific study published by members of the Society for Planetary SETI Research refers to some unusual features on the far side of the Moon and specifically in the Paracelsus C crater.
The study entitled Analysis of Unusual Structures on the Far Side of the Moon in the Crater Paracelsus C argues that unusual structures are artificial in nature, and are not the result of any known natural processes on the Moon. So we reiterate: If these mysterious structures were not created by natural processes and not even by human beings who never went to the opposite side of the Moon, who was able to create them?
The truth is that similar reports have been made over the years. NASA knows a lot about what exists on the Moon and has never said how things are. One of the first people to talk about the strange structures on the Moon is Georga Leonard, in a book written in 1976 with the title Someone else is on the moon.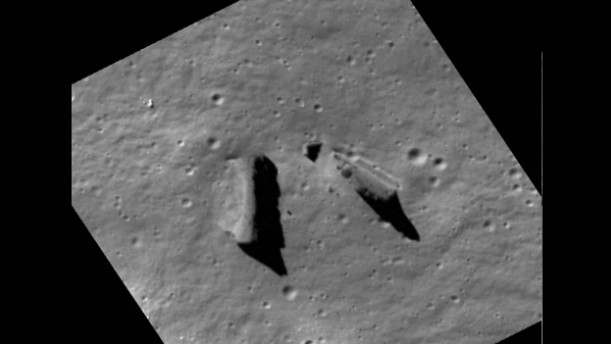 5 years later, Fred Steckling published another book, We discovered alien bases on the moon, with curious details about the mysterious formations existing on the lunar surface.
As noted by the experts in the scientific study published a few years ago, we say: Huge amounts of lunar and planetary images are available to the public via the Internet. While allowing for a civilian 'scientific approach' to SETI, the availability of so much data also tends to generate new 'discoveries' on a regular basis by those who want to discover something like alien bases, towers, buildings and other activities on the surface of the moon.
Although most of these results reveal image aberrations due to the cameras, compression / transmission image errors, improvement of image artifacts, or simply misconceptions of the unusual surface features imprinted in an unusual way, some of these formations remain inexplicable.
Definitely, the mainstream conservatives of the scientific institution often reject anomalies that are based on the subject matter, that is, there can be no alien artifacts on the Moon because there are no alien artifacts on the moon (or other planets). This view is an example of circular reasoning, based on the belief that there are no extraterrestrials or, if they exist, that they could not have traveled in our solar system ".
If we take a look at recent history, we will face the Clementine mission and comments made by Dr. John Brandenburg, who has a Ph.D. in plasma physics, and working as a consultant at Morningstar Applied Physics LLC, and how part-time instructor of Astronomy, Physics, Mathematics at Madison College. Dr. Brandenburg is convinced that NASA's Clementine mission to the Moon was a joint space project with US military agencies. For example, the Ballistic Missile Defense Organization (BMDO) participated together with NASA to do some research on the Moon. The Clementine mission is important because it found water on some craters on the hidden side of the Moon.
Dr. Brandenburg says: "It was the Clementine mission to take  reconnaissance photos during the mission, basically to check if someone was building bases on the Moon that we don't know. Of all the photos I have seen of the Moon that show possible structures, the most impressive is the image of a broad, mile long rectangular structure. This seemed unmistakably artificial, and should not be there. When someone in the defense space community looked at this structure on the moon, said with great concern: That thing is not ours … there is no way we could build such a thing. It means that someone else is up there. "
Dr. Brandenburg also stated that, once the Clementine mission was completed, the images taken from the Moon were analyzed by "a team" of an elite department that possessed the maximum document "security clearance": "… Essentially these people have kept the photographic documents and Clementine's analyzes hidden and as soon as they did their job they told us not to interfere with them …". It is interesting to note that Brandenburg also stated: "We were aware that there was a possibility of an unknown presence, perhaps alien / extraterrestrial near Earth …".
On one occasion Brandenburg said: "… I find myself sitting in a room of retired generals from both the army and the aviation and with a couple of admirals we were looking at what appeared to be a gunfight in space. The older general … turned to me and said, "Where do you think they come from?" And I said: I don't know, sir, I heard that I'm 40 light years from here. " But Brandenburg, who was heavily criticized for his comments and views on the Aliens, was not the only one who spoke of alien life.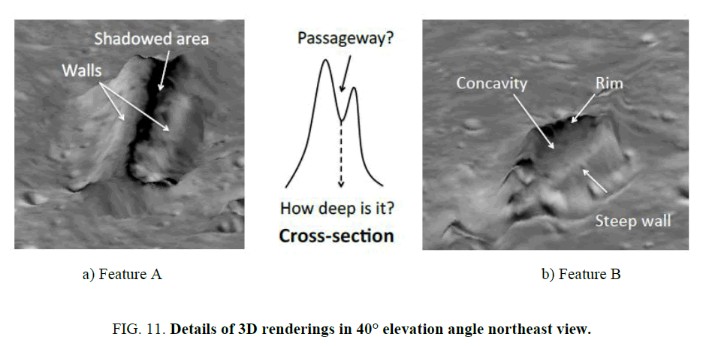 Returning to the scientific study presented in a Pdf document, this team of scientists analyzed different images taken at different times on the Moon, with different Sun angles, which allowed experts to predict an approximate shape of unusual structures, using different models of computer. The 3D representation allowed them to recreate how the objects appear in their localization within the south-western quadrant of the Paracelsus C crater, which has an area of ​​about 25 kilometers in diameter.
The researchers concluded:
"Based on the evidence presented in this document, we believe that this area of ​​Paracelsus C crater is a candidate worthy of a future study of orbital missions and surface rovers. Both features analyzed in this area are statistically different from the surrounding terrain. This is a structure that differs from any characteristic view of the Moon to date. Its relationship with the surrounding land suggests an entrance and a corridor that can lead to an underground base and the 3D tests tell us that there are signs of excavation on both sides of the crater ".
Alien Abductions: extraterrestrial implants found in some patients undergoing surgery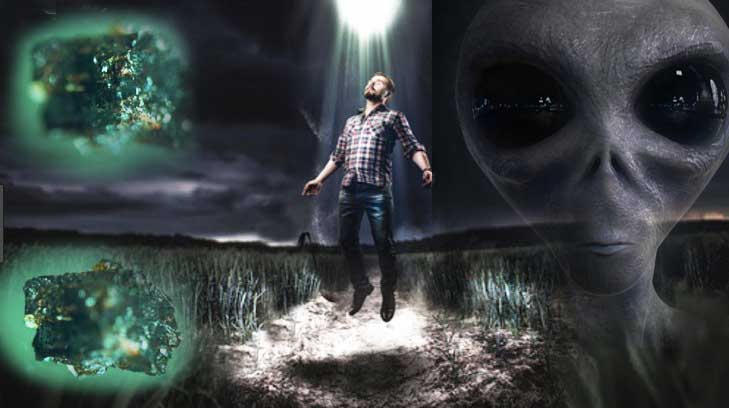 Most implants or microchips identified in the body of those who claim to have been abducted by aliens, are similar: they are smaller than the head of a screw, and have always been found on the same part of the "abductees", both in the head and on other parts of the body.
Dr. Roger Leir (who died in 2014) a podiatrist from Thousand Oaks, California, founder of FIRST (Fund for Interactive Research and Space Technology) and Dr. Derrel Sims, C.Ht., R.H.A., a certified hypnotherapist and co-founder of FIRST and experienced UFO Investigator of over 27 year, are the best known specialists in the world in the research and study of alien implants: The first was a prestigious specialist in foot surgery as well as a follower of the UFO phenomenon from a young age. When for the first, he saw an X-ray with an abnormal graft time belonging to one of his patients, he specialized in this phenomenon, through the recovery of more than 20 abductee implants, extracting this technology from his patients, recording all his tests and surgical interventions.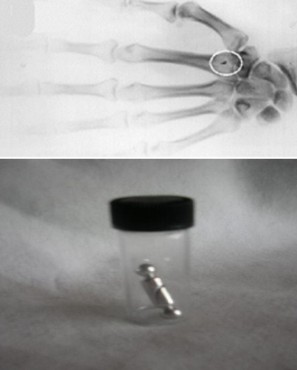 The objects extracted by Dr. Leir produced a surprising result: while they were still inside the patient, the objects maintained an anomalous magnetism, and while extracted they adhered to surgical instruments, and then disappeared once the extraction had been performed. 
The result of surgery
Dr. Leir, reported on these surgeries:
"The findings of these implant surgeries are highly unusual. In all these cases, there was virtually no inflammatory response." This is not the usual finding in foreign tissue reactions. Normally, foreign bodies embedded in tissues result in some type of acute or chronic inflammatory response, and may include fibrosis and cyst formation. Such was not the case here. The pathology reports of the first two surgeries revealed that the metallic objects were encased in a very dense, tough, grey membrane consisting of proteinaceous coagulum, hemoseridin and pure keratin. More simply, blood protein and skin cells that are usually found in the superficial layer of the skin. The tough, biological "cocoons" encasing the implants were also found to contain nerve proprioceptors – nerve and pressure cells of the wrong tissue type for that part of the body. These implant cocoons also fluoresced a bright green color in the presence of an ultraviolet light source."
The implants therefore lacked the expected inflammatory response in the operations, according to the pathological reports. The device removed by one foot, in the most recent surgical intervention, also lacked the resistant gray outer membrane: the results on the first series of grafts also revealed that the metal devices are of "meteoric" origin, with as many as eleven different elements analyzed in the content.
Derrel Sims commented on the uncommon, non-rejecting human response to the implants: "It seems that the dense fibrous membrane may have been the person's own surface skin. If this is the case, it appears that the metallic objects are wrapped in a sheath of keratinaceous material (surface skin). Nerve fibers then surround the tissue and appear to be attached to larger nerves. The fact that both persons (from the first set of surgeries) objected verbally and physically could be an indication of this (nervous system) connection."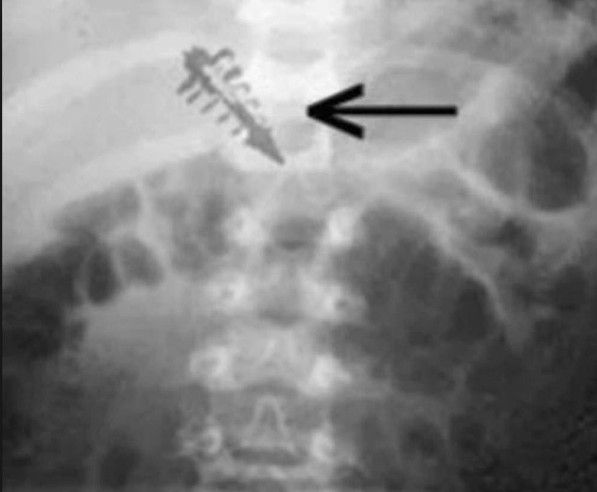 Mr. Sims believes the indications are very strong that these implants are extraterrestrial in origin. "But", Mr. Sims concedes, "Whatever the scientists say who have examined the objects say, is what we will say."
Derrel Sims has stated that a scientific peer review of all tests must be done before more specifics can be released. This is the standard course of action taken in any scientific endeavor: A series of simple questions were posed to each of the participants. When asked as to how and when their implants might have been inserted, Pat Parrinellio from Houston, Texas believed his implant could have been inserted during a UFO encounter he had in 1954, at six years of age . Mary Jones recalls two UFO encounters when her metallic objects could have been implanted, in 1969. "In the first frightening UFO encounter", Mary commented, "I was on a camping trip with my family while pregnant with my third child." Oddly enough, one month after Mary's child was born, she had another alien encounter while at home during the night. Conversely, Dorothy O'Hara from Palm Springs, California and Licia Davidson also from California both replied, "I have no idea when the object was inserted." Alice Leavy commented that she first noticed the lump on her leg following a UFO encounter involving other witnesses in San Diego, in 1993. "I actually noticed the lump" Alice clarified, "when I discovered the scoop mark also on my left leg, after the UFO encounter."
The facilities
They almost always have a behavior that seems to be intelligent, they live through the blood of the 'hosts', in addition to adopting their DNA through biological membranes. When they are in human tissue, the implants are surrounded by an unusual and strong coating composed of proteins and keratin. This type of coating adapts to DNA, through biological membranes: This prevents rejection by the body, since it does not produce any immune response; moreover, it is such a rigid material that it cannot be cut by a hardened steel scalpel, but only with a laser. So far, no prosthetic or medical implant has been built with this material.
The devices are located in areas of the body, such as the back of the hand or in the jaw: some of them emit FM electromagnetic radiation signals at 93 MHz, 15 MHz and even frequencies used in space satellite communications before they are removed. The surface coating they possess is sensitive to phonons, apparently used for the purpose of retransmitting sound waves. They have also been found to include Single–walled carbon nano tubes: Steve Colbern, a scientist specializing in chemical materials and nanotechnologies, admits he has never seen such advanced surgical technology on the planet.
Moreover, they are almost always composed of meteoric iron, cobalt and iridium, and some also contain orthorhombic crystal structures of sodium chloride and boron. The isotopic relationships they show are not found on Earth, but a similar structure was found in a meteorite formed by nickel and iron.
The implants have been examined by many of the most important laboratories in the world, such as Los Alamos, in New Mexico, where it is concluded that their nature is weathering, since the metal isotopes they contain were not found on Earth. The metallurgy laboratory of the University of San Diego, California, concluded that the metal isotopes were "extraterrestrial".