Are ancient sites such as stone circles and Ley lines invisible powers pulsating with a mystical energy that UFOs and their Extra-Terrestrial visitors use to navigate Earth?

We know that there are thousands of report and confirmed UFO sightings connected to these sites and areas, and with more and more being witnessed is the energy being used as a way of navigation or a way of connection by the Extra-Terrestrial craft?
I believe that they are…
Let me use Stonehenge as my first example:

Stonehenge on Sailsbury Plain took approx 300 years to build (so it is said), starting around 2000BC. Why it was built is not really known, but what is undeniable is the fact that it lines up with another five prehistoric and religious landmarks.
Stonehenge is part of a 30km long ley line…
Ley Lines are invisible alignments of landmarks. Typical features on a ley line include stone circles, standing stones, pagan alters and burial sites. Churches, holy wells, hill tops, cairns can also be points on a ley.
The theory of the ley line is that they may have been used as a route laid out by line of sight, but on some type of mystical or magnetic energy areas in pre Bronze and Iron Ages. These were forgotten in modern times, but the network of leys were accidentally preserved as many medieval churches were built on top of pagan sites, which were monuments on a ley.
Stonehenge was built so that at dawn on midsummer morning, 21st June, the sun rose over the circles Heel Stone.
What about Mitchells Fold my second example?
Ley lines could be used by Extra-Terrestrial craft to refuel by tapping in to them. I believe that Extra-Terrestrail craft and UFOs use electromagnetic energy and gyroscopes to power their craft and to navigate using the Earths own magnetic fields. They also use Ley Lines as a point of navigation, which may also suggest that if 'wormhole' type travel is being used, then they could be linked to the stone circle sites such as the case at Mitchells Fold in Shropshire.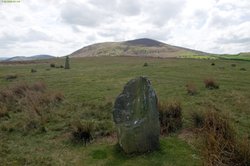 Mitchells Fold stone circle is a location of high UFO activity as well as animal mutilation. The circle is said to date back beyond 3000BC which means it is far older than Stonehenge.
Read more about Mitchells Fold Stone Circle: http://www.shropshiretourism.co.uk/south-shropshire/mitchell_fold/

The stone circle at Mitchells Fold lies within the general area of the Montgomery Ley, on the Welsh border. It is one of the less clear cut Leys and the actual exact path cannot be confirmed. However in this area there are numerous stone circles, cairns and standing stones.
Over the years there have been sightings of structured disc and triangle shaped craft as well as one farmer in 2011 reporting that he had encountered Reptilian type Extra-Terrestrials who were more than interested in his sheep during the early hours of the morning. This lead to the discovery of a mutilated sheep who had had all its internal organs removed and its tongue cut out by what could only be described as a laser type device. Again in this case there was the small cricular incision hole towards the hind of the animal but no traces of blood…
Read More about UFO Investiagtion and Research by UFO Shropshire: http://www.ufoshropshire.co.uk/
It is clear that the connection between ancient sites, Ley lines and UFOs exists. We just neeed to understand and confirm why our Extra-Terrestrial visitors really do use them and for what purpose…
I feature in a new BBC3 documentary called Conspiracy Coach Trip and you will be able to view this when it's aired in Autum 2012.
I am commited to investigating and researching the UFO phenomena, and along with my group UFO Shropshire we strive to provide the public with as much information as we can on this subject.
Times are changing and this subject is becoming much bigger with an ever growing amount of people in search of the truth. The people have a right to know what's really going on regarding Extra-Terrestrials and UFOs and it will only be a matter of time before we as a race move forward and take the next step…