UFO researchers' computers hacked over mysterious "Roswell slides"
Jack Brewer The UFO Trail
Comment: The 'Roswell slides' story is the latest ufological brouhaha making waves online. In a word, some people are claiming to have a series of slides from 1947 showing alien bodies, but have not released them. Roswell researcher Tom Carey claims to have the slides, and is planning to release them next year (see the link for more background). Real? More COINTELPRO? We'll see (or not)!
More alien autopsy images in the pipeline?
Ross, a commenter at the 'UFO Conjecture(s)' blog, stated today in an email exchange with 'The UFO Trail' that his email and the accounts of some high profile UFO-researchers were hacked in relation to the alleged Roswell slides. Ross further stated that he believed "a three letter agency" was responsible.
Ross stated that he assumed he was initially targeted due to his involvement in email exchanges about the slides. He first got involved in the saga, he indicated, about 18 months ago through reading 'UFO Conjecture(s)' and exchanging emails with its author, Rich Reynolds.
"The 'hacking' thing involved Tony Bragalia, Rich Reynolds, Nick Redfern and myself," Ross wrote.
"Based on the resources required to do what I think they were doing; intercepting our comms as opposed to just 'hacking' and just the way things transpired I'm of the opinion this was a three letter agency," he added.
The party responsible for compromising the emails was obviously interested in the slides, Ross explained, and generally caused disruption.
"My instinct was that whoever we were dealing with had a sophisticated operation behind them," Ross wrote, "and figured I may as well try communicating to see what they have to say (the hacker used various safe-mail accounts to interact with us)."
Ross continued, "The first response I received to a communication I had initiated was a list of emails which were mostly discussions about the slides, but there was some unrelated material there (which I discarded). This was obviously the hacker wanting to let me know the extent of the surveillance. There was a lot of smoke and mirrors, but overall the story was that these slides were of interest to certain three letter agencies. There were offers of money, a sit down meeting with someone fully briefed in what the government really knows about UFOs, and even the opportunity to see for real what the slides supposedly depict. All these offers were related to my acting as a conduit to arrange a meeting between the people handling the slides and the party/parties doing the 'hacking'. This wasn't something I was in a position to set up not being in contact with or on good terms with the people involved."
Ross alleged that further intrusions involved telephone disruptions, explaining, "I got some strange calls and some even stranger interruptions into calls I was making. It would be things like 'have you considered our offer', 'we can help each other', that kind of thing. I had kept that part quiet because people just tend to write people who say stuff like that off as loons."
Comment: Telephone disruption has long been one of the things to look forward to in UFO research. See John Keel's take on the subject, starting here.
The events unfolded "over the last few months," subsiding in the last six weeks or so. Ross interpreted that computer experts and the FBI were alerted to the circumstances but investigations resulted in "dead ends".
"It was clear to me that what they were engaged in was a labor, it wasn't recreational, it was a case of this is how we do this and it has to be done. For example, 'these issues crop up from time to time and it is important that we deal with them so they can be managed in a way consistent with established practices', which was an answer as to what was with all the smoke and mirrors and bullshit riddles."
"I think the goal was to spook people," Ross concluded, "to derail the slides investigation and to attempt to recruit people into a conspiracy with the ultimate goal of securing the slide material on their behalf."
Prior to the email exchange with Ross, attempts were made to obtain comments from writer/researcher Thomas Carey about his statements about the slides during his recent appearance at American University. Carey was emailed Nov. 13 and permission was requested to submit a few questions, to which Carey replied the same day, "Sure."
The questions, which included inquiries about what evidence he felt existed that directly linked the alleged slides to Roswell and what he would say to critics that assert the slides only contain images of unknown circumstances that cannot be conclusively demonstrated to involve an ET life form, were emailed Nov. 14. After receiving no responses, a reminder that his comments would be appreciated was sent Nov. 18. As of this post, no further emails have been received from Carey.
Comment: Nick Redfern commented on the above here:
You'll see a reference in the link to various people having been hacked by someone trying to secure more info on the slides. You'll also see a reference to one of those people who got hacked being me – which is absolutely true.

All of this occurred back in the summer…but the matter is far from over…
Full Disclosure: Navy Commander Details His Bizarre UFO Encounter
A retired Navy Commander released his official statement about that one time he had a UFO encounter, witnessing a bizarre craft rising out of the ocean and flying past his plane.
On February 10, 1951, Navy pilot and officer Graham Bethune, along with his crew, was flying in a mission from Iceland to Newfoundland.
While finishing the mission, they experienced something rather inexplicable. This event marked the whole life of the ex-Navy commander and the rest of the crew as well.
Namely, the members of the mission noticed a bizarre light on the ocean's watery surface around 300 miles from Newfoundland.
These lights were so eminent and scattered throughout a large area hence the men felt like they were flying over a city.
During the Disclosure Project Conference in Washington DC in 2001, ex-commander Bethune explained his weird  UFO encounter.
"As we approached this glow it turned to a monstrous circle of white lights on the water. Then we saw a yellow halo, small, much smaller than whatever it was launched from, about fifteen miles away."
In only a matter of seconds, the gleaming UFO equaled their altitude. Thus, Bethune had to free the autopilot and draw the plane's nose down in order to dodge a crash. But soon, the object shifted going towards them.
"As the UFO approached my plane and flew alongside it, we could see the domed craft which had a corona discharge," he said.
At the same time, certain plane instruments started failing due to the powerful electromagnetic disruptions the UFO generated.
The plane had 31 passengers, a psychiatrist and of course, the crew aboard. All of them watched as the event was unrolling.
As soon as the plane landed, the witnesses were questioned and pressured on signing a non-disclosure form. Their testimonies, however, were upheld by radar data from an Air Force station in Goose Bay, Labrador.
Do you believe Mr. Bethune and his crew really experienced a true UFO encounter? Tell us your opinion.
Will Vladimir Putin Disclose Alien Presence?
A couple of major news outlets today tossed up headlines saying Vladimir Putin is about to disclose the reality of alien presence on earth. A potential Putin UFO disclosure statement would be world-changing.
The claim comes from the Paradigm Research Group founder, Stephen Bassett. Bassett is a US lobbyist on the issue of alien disclosure (he's the only one).
If I had two minutes with Putin, my only question would be why do you not tell people about the ET presence. I believe Vladimir Putin is well aware of the ET presence. ~Stephen Bassett in a Russian Network TV interview.
Essentially, Bassett believes a global gag order keeps world leaders from disclosing the truth about aliens and UFOs.
Where's the Evidence?
I went over all the news articles I could find regarding this revelation and there's not as much interesting to it as I'd hoped.
Bassett traveled to Russia hoping to convince Putin to disclose what he knows, if anything, about aliens. He never actually got to speak to Putin though. He only had an interview with a Russian television network where he explained his beliefs.
Unfortunately, regardless of what Vladimir Putin knows, there's nothing in Bassett's interview to suggest he might be considering any type of UFO disclosure.
Putin UFO Disclosure?
So what might Putin know about UFOs?
Well, he sure as hell knows more about what's going on than I do. The Russian interest in possible extraterrestrial technology is unquestioned. If there was anything going on, Putin would be one of the first to be grabbing the intel.
I believe Vladimir Putin is well aware of the ET presence. ~Bassett
Whether it happens or not, once one leader spills the beans it's likely that more will follow. I'd love for Putin or Trump to come out and say, "yes aliens are visiting us and here's proof." It's highly unlikely though. There's always the possibility that our world leaders don't even have proof.

Perhaps one day this will be the image with the headline: "Vladimir Putin provides proof of alien involvement on Earth"
Conclusion
The articles I found touting the Putin UFO disclosure seem to really be reporting the beliefs of a specific researcher. But it turns out, he doesn't have any real information about Putin's intentions.
I would still be cool though if he said something. It's fun to think about. I'll keep hoping that one day it happens.
Mysterious underwater object link to 'Tic Tac' UFO sighting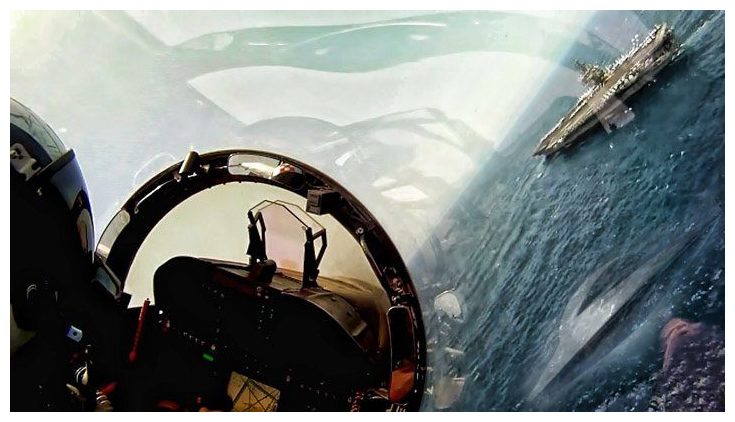 Remember that undated report on the Nimitz UFO incident discovered by a news team in Las Vegas?
Not only did it detail the capabilities of the supposed alien craft, it also hinted at another mysterious object encountered by a different pilot during the training exercises: Something huge and submerged beneath the waves encountered by a Navy fighter pilot.
The details are vague, but they certainly deepen the mystery of what happened off the coast of San Diego.
According to the report (turn to page 6), a Lt. Col. was doing a Function Test Flight (a test to see if the plane was fully functional after being repaired) when he was asked to go check out an "unidentified airborne contact," along with two other pilots.
He was asked if he had any ordnance (weapons) on board, to which he replied no.
Officials say this was a strange question; no air controller had ever asked him that when dealing with an unknown contact situation.
Soon after, he came close to the coordinates of the unknown object and was told to "skip it" and head back by the controller.
Instead, the Lt. Col. decided to go check it out.
What he found was a "disturbance" in the water between 50 and 100 meters in diameter that was close to a round shape.
It created a large area of frothing white water, and reminded the pilot of "something rapidly submerging from the surface like a submarine or a ship sinking."
Soon after, he looked toward the area again and found no trace of the disturbance or any craft near the spot.
According to the report, the disturbance may have been caused by an AAV that was 'cloaked' or 'invisible to the human eye.'
The report came to light roughly a month ago when it was published by I-Team, a Las Vegas investigative news team that covers everything from crime to local events.
It's still unclear whether the document is authentic, but if it is, it's one of the most persuasive pieces of evidence for modern UFOs.