UFO Or A Meteorite? Mystery Surrounded Patomskiy Crater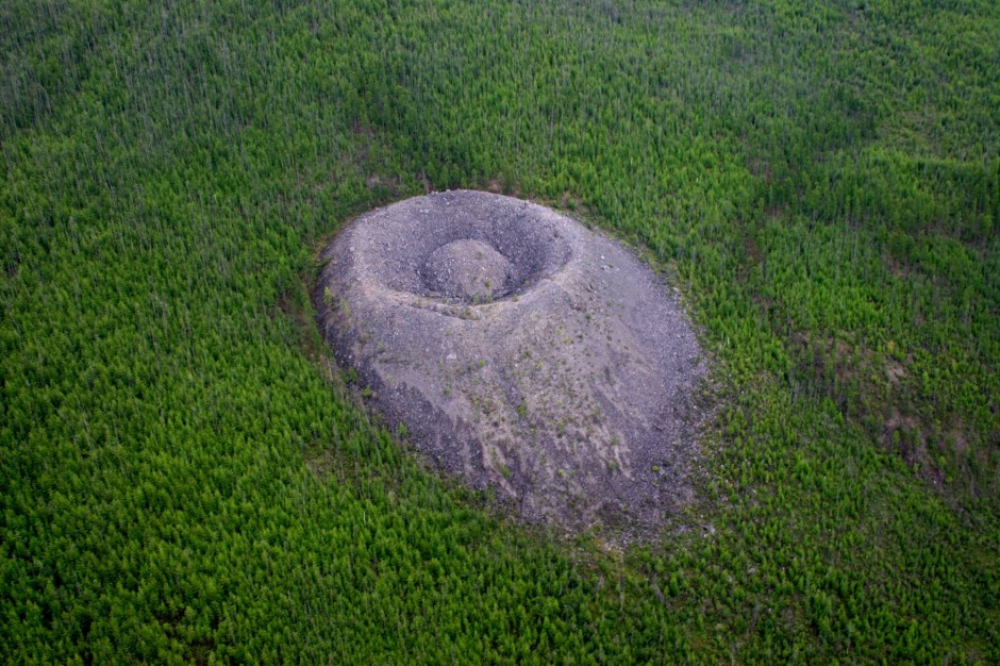 What landed here – a UFO or a meteorite? This 40 meter high geological formation was never thoroughly investigated until the 2000s but Russian scientists seem to have found an explanation.
A gloomy dark mount towers over the bright green landscape of the dense Russian taiga. Looking like a giant speaker – 40 meters high and 100 meters wide – it's an unexpected site to see in a remote area in the north of Irkutsk region, some 210 km north of the town of Bodaibo.
Until 1949 only a few locals knew about it. They call it the "Fire Eagle's Nest" and used to think of it as a bad place that even animals avoided. Some who visit this place die a strange death and household animals vanish without a trace. What's the mystery behind this crater and is there a rational explanation for the all the mysterious activity?
How it was discovered
The scientist who first chanced upon this unique formation was Russian geologist Vadim Kolpakov. In 1949 he came here to conduct research and couldn't believe his eyes when he saw the crater.
"I thought I was mad," he recalled. "From a distance it reminded me of a giant pit mine and I even wondered if people were there. Why would they be? This is a dense area of the taiga. Plus there were no NKVD labor camps around here – I knew it for sure. Secondly, I thought that it might be an archeological artefact, but the local Evenk and Yakut people were not ancient Egyptians. They can't built rock pyramids."
A closer examination showed that the crater was a large mound made of shattered limestone blocks with a diameter of around 160 meters, with an estimated weight of about one million tons. The crater was coined "Patom" (the name of a nearby river), but wasn't examined thoroughly until the 2000s due to a lack of funding.
Photograph of Patom Crater (made by M.V. Antipin, view from Dzhebaldo Mount). The diameter of the basement is 125 × 155 m, and the diameter of the annular swell is 80 m. The inset shows the geographical position of Patom Crater (asterisk). (Image Source)
Theories
The mystery of "Fire Eagle's Nest" has fueled various theories, from an alien ship landing to an underground nuclear reaction. Some, including Kolpakov himself, supported the idea that the crater was formed by a meteorite falling on the Patom Highland – people thought it might be a fragment of the Tunguska meteorite that fell in the Siberian taiga in 1908. Others suggested that the crater is a volcanic structure that formed due to gas steam jets from a significant depth along fault zones.
The first complex scientific expedition that visited the site in 2005 didn't get any answers. The head of the expedition died of a heart attack – a tragedy that some believed was a bad omen.
Still, the scientists continued to examine the area. Subsequent expeditions in the years that followed (2006, 2008, 2010) were more successful. Gathered material from the site showed that the crater formed around 500 years ago (way earlier than the Tunguska meteorite) and that it has a zoned ring structure with individual zones formed at different times.
The scientists eventually discarded the meteoritic theory and cryogenic formation hypothesis (suggesting that the cone formed by the freezing of aquifer sequence) and came to the conclusion that the Patom Crater formed by a phreatic (steam) explosion, that happened either during magma emplacement into hydrous rocks or due to the faulting and decompression of heated hydrous rocks.
Despite this, some prefer to believe in more exciting, farfetched explanations like a tiny fragment of a neutron star falling to Earth – so massive that it punched straight through the Earth and out the other side, through the Patom Crater. It's not completely unrealistic – two similar events happened in 1993 in different parts of the planet, both within a month of each other.
There's still no explanation for strange events reportedly happening in the crater's vicinity. Apart from the magnetic anomaly that was detected during one of the first expeditions there is no confirmed evidence that something big is buried in the center of the crater.
Whichever theory one chooses to believe, the crater will most likely remain one of the most mysterious places in Siberia.
Source: RussiaBeyond
NASA scientists BAFFLED by perfectly rectangular MILE-WIDE iceberg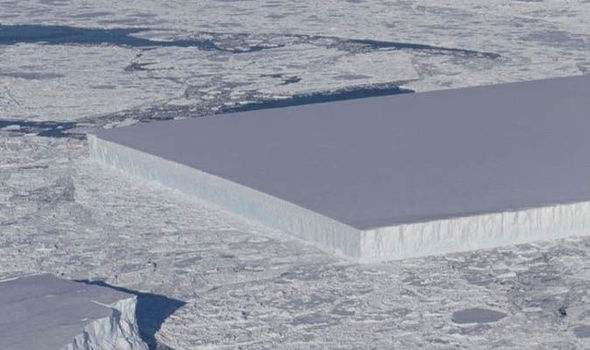 NASA has made a remarkable discovery of a mile-wide rectangular iceberg with perfect right-angled corners in Antarctica. The stunning iceberg was spotted floating in the Weddell Sea last week by scientists on a NASA research plane.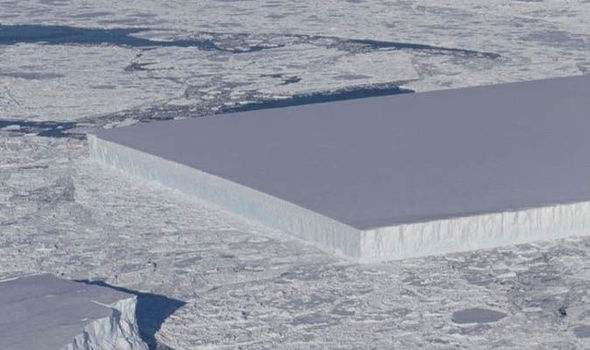 The US space agency said the object's sharp angles and flat surface suggested it had recently broken away from the Larsen C ice shelf.
It is estimated to be around 1 mile (1.6km) wide.
However its true size may never be known with only 10 percent of its total mass showing above the water.
The iceberg found is known as a "tabular iceberg" instantly recognisable by its smooth clean-cut edges as if carved with a knife.
It's perfect edges are formed by breaking off ice shelfs with clear precision but are rarely kept in that state for very long.
In an interview to Live Science Kelly Brunt, a glaciologist at the University of Maryland and NASA was left stunned by the "unusual" discovery.
She said: "We get two types of icebergs. We get the type that everyone can envision in their head that sank the Titanic, and they look like prisms or triangles at the surface and you know they have a crazy subsurface."And then you have what are called 'tabular icebergs.
"What makes this one a bit unusual is that it looks almost like a square."
This is not the first time the Larsen C ice shelf has shed a large iceberg.
Last summer an iceberg known as A-68 detached itself and had a surface area of over 2,000 miles.
The discovery was made as part of Operation IceBridge, the largest ever aerial survey of the planet's ice around Greenland and in Antartica.
The survey is building a three-dimensional map of the ice at both poles.
Source: https://www.express.co.uk
Strange lights filmed during storm over Myrtle Beach, South Carolina spark UFO theories
© Screenshot/UFOZone
Mysterious lights caught on a time-lapse video recorded from a pier in Myrtle Beach, South Carolina, in early August have triggered conspiracy theorists who claim the footage is evidence of a UFO sighting.
The recording, which shows lights hovering in the night sky above a Myrtle Beach pier, was captured on August 5 and later uploaded onto website Mutual UFO Network (MUFON) on October 4.
The footage was also shared on YouTube on Sunday by user UFO Zone, who stated in the video's description that it shows a "massive 'spaceship'" lingering above the area during a thunderstorm.
​"I was taking the pictures off the edge of a long pier after dark, so there were no reflective surfaces around," the unidentified filmer who shared the recording with the site wrote. "I did not notice the objects until I returned home and checked the photograph and video."
The individual noted that they had been intending to simply capture "pictures and time-lapse of the incoming storm."
Commenters on both MUFON and UFO Zone's page were quick to shut down the claims being made, with some suggesting the lights were "all internal camera lens reflections."
"It's just lens flare from the bright pinpoint lights below in one of the lens elements," Buzz K wrote on YouTube. "Nothing to see here. Move along back to your Bud Light. Dilly dilly. "
Another unconvinced user wrote, "I think I saw bigfoot on the ferris wheel."
The latest reporting on puzzling and eyebrow-raising content comes days after a "mysterious object" washed ashore on South Carolina's Seabrook Island. Photos of the suspicious object were uploaded and shared on Facebook by the state's Lowcountry Marine Mammal Network, a nonprofit tasked with increasing awareness and education regarding marine mammals of the Palmetto State.
"There's no metal on it. The whole thing is just layers of foam," Lauren Rust, founder and executive director of the nonprofit, told the Charleston Post and Courier. "It also doesn't look like it's been in the water that long. You'd think if it were in the water [for a long period of time], it would be covered in barnacles and all sorts of [sea life]."
Officials have since taken the strange object away in order to investigate the matter and possibly solve the mystery of its origins.
The mysterious Min Min lights of Australia: Is there a scientific explanation for the phenomenon?
© ABC/supplied
Molly Hunt
abc.net.au
Min Min lights are a mysterious phenomenon that have spooked many people in the outback of Australia.
But is there any scientific proof that Min Min lights exist? Or is it simply an Aboriginal folktale that has been passed down for generations?
The lights have been described by witnesses as floating, fast-moving balls of colour that glow in the night sky and stalk people, leaving some feeling confused and frightened.
Sometimes the lights are blue and other times they are white or yellow.
In Queensland, the Boulia Shire Council notifies visitors "in the interest of tourism" that they are in the land of the Min Min lights and that they may spot them as they drive for the next 120 kilometres.
In the Kimberley in Western Australia some Aboriginal people believe the Min Min lights are the spirits of elders.
"As a kid growing up the old people used to tell me, they [Min Min lights] were old people's spirits looking after country," Wyndham local James Birch said.
Mr Birch, a Balanggarra ranger, said everyone from his childhood grew up hearing the stories.
"If you've lived in the Kimberley you would have experienced spotting a Min Min light once in your life," he said.
Mr Birch has not seen the Min Min lights for two years but said the lights tend to distract people and take them off their chosen path.
We were heading back into town after hunting. I was driving towards town when all of sudden a Min Min light appeared," he said.
"We all stared at the light and all of a sudden we were going in the opposite way, going back into the bush and following the light without even realising."
What does science say?
Curtis Roman, a senior lecturer at Charles Darwin University, is gathering stories from Indigenous Australians about Min Min lights as part of an ongoing research project.
Dr Roman said there were several scientific theories that could explain the phenomenon.
"One is that they're a mirage, [caused by] natural gases or warm air and cold coming together," Dr Roman said.
Some of the other theories are that they are bio-luminous insects, owls or birds.
Although he is only in the early stages of his research, Dr Roman said that all the Indigenous people he had interviewed so far had described how frightened they felt when they saw the lights.
Outback lights star in movie
From a young age, writer and director Jub Clerc heard the tales about the Min Min lights and how they would follow people and take them if they stopped to watch the lights.
In 2015, Ms Clerc directed a short film called Min Min Light based upon her own experiences of the lights when she was growing up in the Pilbara.
"When I was a young girl lying in my backyard, these lights came down," Ms Clerc said.
Two of them came down in front of me and then suddenly shot off. I was in awe.
"It could be our spirits that look after country. Who knows what it is? I like to think there's more to life that what we think."