Uber's CEO Knows We Need Equality To Move The World Forward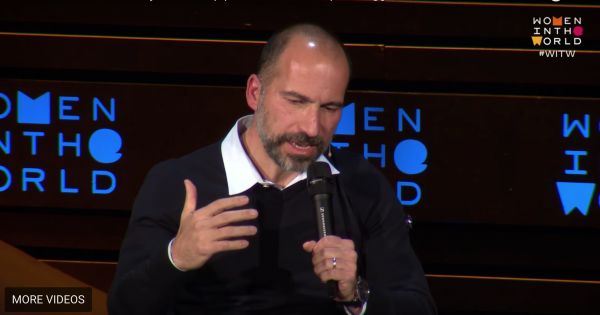 Shortly after taking the helm as CEO of Uber, Dara Khosrowshahi read the now-infamous report on the beleaguered company's culture, it was bad. Real bad. He had to take breaks, he admitted in an on-stage interview with legendary journalist Tina Brown yesterday at the Women in the World conference in New York City.
Uber has had to do a bit of soul-searching in the past year or so. There was the viral blog post from female engineer Susan Fowler that revealed the company's toxic culture of serial harassment, eventually leading to the ousting Khosrowshahi's predecessor Travis Kalanick. There was a massive data breach that came to light more than a year after it happened, and the lawsuit against self-driving car company Waymo. And most recently, an autonomous vehicle killed a pedestrian in Arizona. All this has been, understandably, bad for business — users have been deleting the app in droves, and the company's stock tanked.
Khosrowshahi knew the company was in crisis, of course (though some of the above happened after he became CEO). But in some ways, that makes things easier to shake up. "The crisis was so big that I didn't have to convince anyone to change things," he said. He was drawn to the company because it presented a unique opportunity to make a difference in the world; if Uber was going to do that, Khosrowshahi knew the company's values had to shift.
Late last year, after extensive crowdsourcing, voting, and focus group testing, Khosrowshahi released the company's new norms, such as "We celebrate differences" and "We do the right thing." Yes, these new values sound cheesy, but it's a dramatic shift from the "hustlin'" and "toe-stepping" of the past that allowed such rampant and destructive behavior at the company.
"It's clear that the culture and approach that got Uber where it is today is not what will get us to the next level," Khosrowshahi wrote in a post about the new norms on LinkedIn.
At the Women in the World event, Khosrowshahi elaborated a bit on what exactly that means. "There are so many women who are COOs of these companies, but they never get to be CEO," Brown said, pointing out that male CEOs always talk about their "great pipeline of women." "But that pipeline seems pretty congested. My question is: How is your pipeline, Dara?"
Khosrowshahi noted that this takes time and investment. Too many companies focus on recruitment when they talk about women in leadership. Uber has done that, he said, but he's really most interested in development "Recruitment is like a sugar high," he said — if you really want women to be in charge, it takes years. He points to his time at Expedia, in which he put forth a conscious effort to raise the number of women in charge from about 15 percent to 25 percent. "It took years to do so because it took developing women, shaping them, working with our culture, making sure you move them to the right places in the company," Khosrowshahi said. He seems to imply that they could do the same at Uber.
But true equality goes beyond gender — it means making a more equal society for everyone. And that fits into Uber's larger vision of taking you wherever you need to go, no matter how you do it, even if it's not in a car. Cars sit idle 95 percent of the time, Khosrowshahi said, and parking takes up 25 to 30 percent of space in cities. He envisions a future without car ownership. "If mobility and movement is available to everybody, the delta between the value of real estate in Manhattan vs Queens starts diminishing," Khosrowshahi said. "Bringing the cost of movement down creates a society that is more equal, and creates opportunity for more people on broader basis."
And why should you trust Uber to get us to that future? Khosrowshahi's ready. "Because I'm in charge."
New Physics: Mysterious radiation pointed to the verge of discovering a "ghost" particle that makes up dark matter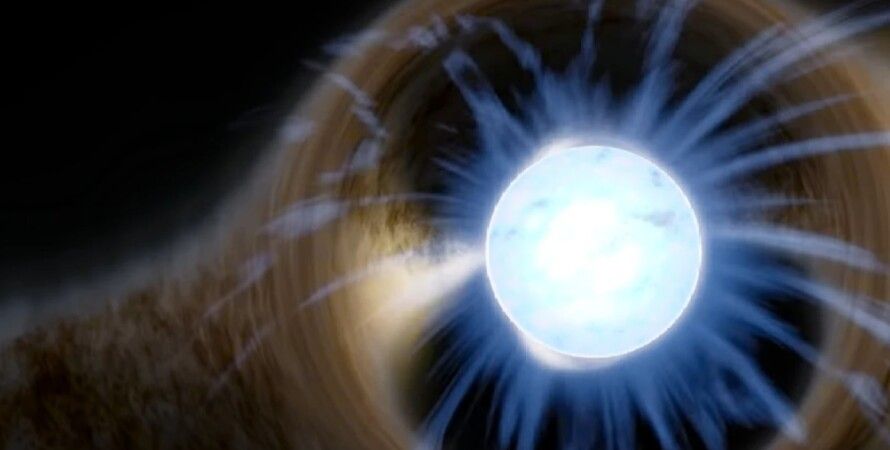 Physicists at the Lawrence Berkeley National Laboratory in the United States have found that the mysterious high-energy radiation emitted from the vicinity of a group of neutron stars may indicate the existence of axions – not yet discovered particles within the framework of New Physics, the search for which has been going on since 1977. It is assumed that special types of axions form dark matter. This is reported in an article published in the journal Physical Review Letters. The research is summarized in a press release on Phys.org.
It is believed that axions can form in the core of neutron stars and transform into photons in the presence of a powerful magnetic field. To detect the electromagnetic radiation associated with axions, you need to find stars that do not emit radiation at different wavelengths that can mask the desired signal. 
These objects include the Magnificent Seven neutron stars that emit only X-ray and ultraviolet radiation. They are located at a distance of 200-500 parsecs from the Earth.
The researchers ruled out the scenario that the excess X-rays produced by the Magnificent Seven are actually emitted by other, more distant objects. These sources would be found in datasets from the XMM-Newton and Chandra X-ray space telescopes.
The extra X-rays likely originate from axions hitting an extremely strong electromagnetic field billions of times stronger than the magnetic fields that could be created on Earth, the scientists concluded. The axions themselves resemble neutrinos in their properties, since both have insignificant masses and rarely and weakly interact with matter.
The axion is currently viewed as the most promising candidate for dark matter particles, since another hypothetical candidate, the massive WIMP particle, has gone unnoticed in experiments aimed at detecting it. 
In addition, there may be a whole family of axion-like particles that form dark matter, as suggested by string theory. If axions are found, it will prove that there is a whole new area of ​​physics outside the Standard Model describing the properties of all known particles.
To find out, the next step will be to study white dwarfs, which are not expected to emit X-rays.
"If we see an abundance of X-rays there too, our arguments will be pretty compelling," said lead author Benjamin Safdie.
The goal of human civilization is to create AI and disappear?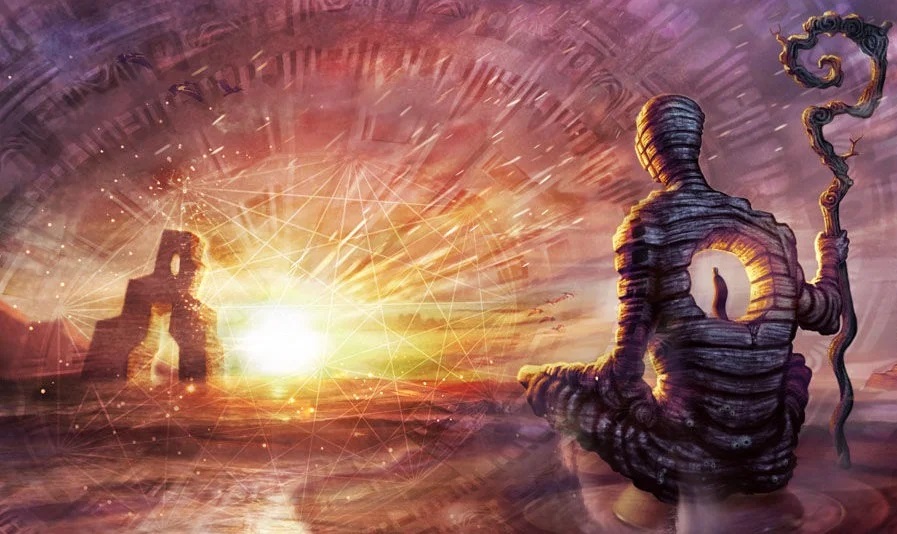 Various sources often talk about civilizations that lived long before us. They all developed, prospered for a while, and then disappeared in an incomprehensible way.
What is the reason for their decline, we probably will not know. All we can do is admire the remains of stone buildings, over which time has almost no power.
While looking for an answer, we somehow accidentally stumbled upon an interesting saying about the life of Japanese samurai: "A samurai has no goal, but a path." In the end, the "path of the samurai" ended in what is known – death. The path of any civilization ended in the same way.
If you look at the issue through the prism of a samurai saying, then there is no point in looking for why and how civilization ended its existence. Probably, the process itself and its result are important here. But to whom is it important and what result does it expect?
Mysterious director
Apparently, behind the curtains of this "ancient theater" there is a mysterious "director" who periodically makes necessary adjustments to the history of civilization.
To figure out what's what, you need to look at current trends in science. Where does a person strive with such an irresistible desire to "play God." This attracts him and at the same time frightens him, but in no way turns him away from the intended path. Most likely, artificial intelligence (AI) is the purpose of our civilization's existence.
About 50 years ago it would have seemed nonsense, but to someone, perhaps even now. However, if you trace the last 100 years of the life of our civilization, you get the feeling that most of the discoveries were given to mankind at the same time. A powerful leap has taken place in a hundred years. Why did it happen?
At the beginning of the last century, scientists recognized the existence of fields that have memory and the ability to store and transmit information. It is very likely that such or a similar field can be around the Earth and, more interesting, possess intelligence. Isn't this the same "Director" hiding behind the screen of the "ancient theater"?
If this is so, then at a certain moment the "Director" gives the selected scientist "access" to certain knowledge (perhaps even in a dream, like Mendeleev), and another scientific breakthrough occurs in the world. Step by step, discovery after discovery, humanity is steadily moving towards the creation of AI. The trend is already well visible.
AI is probably the next "Babylon", which will combine all the knowledge, culture and accumulated experience of civilization. In the future, the neural network will enter into a connection with the general information field and leave humanity without knowledge, technology, and even a spoken language. This will be the next decline of civilization. And the "Director" will receive another array of new data (experience) in order to start creating a new civilization.
If someone believes that past civilizations ended in large-scale conflicts, then most likely this is already the consequences of "turning off" AI.
Co-founder of Skype talked about the threat of AI to humanity
One of the creators of the Skype internet call service, Jaan Ta
llinn, said that the development of artificial intelligence (AI) threatens humanity. According to him, humans face three key threats, but it is AI that should be feared most of all, the expert said.
Tallinn explained that at the moment, no one can predict what development AI will achieve in the next decades. In addition, the fact that scientists are creating artificial intelligence that can form a new AI without human intervention is also a cause for concern.
In addition, as the co-founder of the popular video calling service noted, the development of synthetic biology also causes concern. According to him, this direction in science allows the creation of artificial DNA sequences and biological systems that may not exist in nature.
Tallinn also drew attention to the fact that he fears we are entering an era of "unknown unknowns", things that people are not even able to imagine right now.
Volkswagen robot will autonomously charge cars: a working prototype presented
The renowned German car manufacturer announced a new development. This time, engineers have created a unique robot capable of autonomously charging electric vehicles. 
For more than a year, specialists have been developing this project, but only now the concern was ready to demonstrate the first working prototype. The robot is ready to charge electric vehicles and has shown the high efficiency of this process.
It is called the Mobile Charging Robot, and experts have already compared it to the R2-D2 droid from Star Wars, including squeaks and clangs. Indeed, there is a similarity. Before implementing this idea, the engineers decided that robots should be allowed to charge cars parked in large residential complexes.
This will save their owners from leaving in order to find a gas station. Another advantage is that large parking lots and garages do not have to contain several expensive charging points for electric cars. The car company said in a press release that the robot works exclusively autonomously.
It independently controls and interacts with the vehicle being charged. It opens the cover of the charging socket and independently connects the power plug, then disconnects it. The robot looks like a trailer, which is a mobile energy storage.
It is capable of charging multiple electric vehicles at the same time. Despite the fact that the manufacturer confidently praises its concept, experts saw inefficiency in the fact that first it is necessary to charge the robot's battery, which is then used to recharge electric cars.
Volkswagen Group Components CEO Thomas Schmall noted that creating an efficient charging infrastructure for the cars of the future is an important step in the company's development.
Its engineers focus on finding solutions to avoid costly do-it-yourself measures. The mobile robot is only part of the concept that will continue to be developed.