Trump's 'Space Force' Is Serious And We Just Got a Bunch of New Details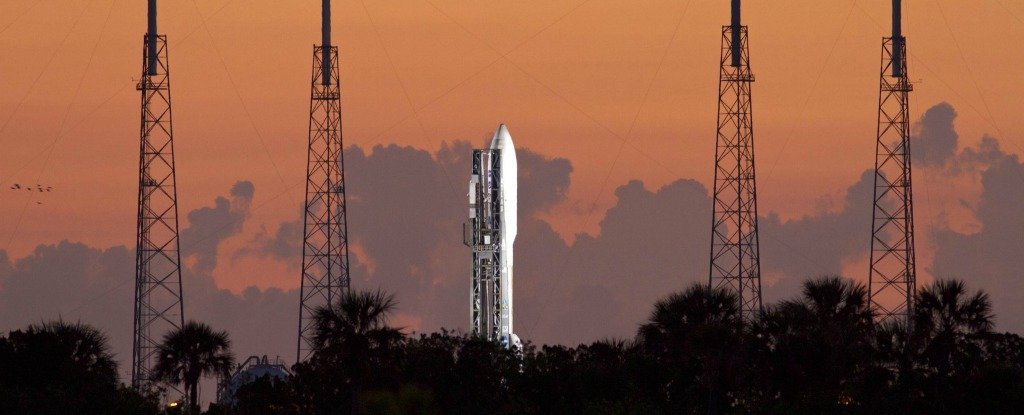 Vice President Pence laid out an ambitious plan Thursday that would begin creating a military command dedicated to space and establish a "Space Force" as the sixth branch of the US military as soon as 2020, the first since the Air Force was formed shortly after World War II.
Pence warned of the advancements that potential adversaries are making and issued what amounted to a call to arms to preserve the military's dominance in space.
"Just as we've done in ages past, the United States will meet the emerging threats on this new battlefield," he said in a speech at the Pentagon.
"The time has come to establish the United States Space Force."
But the monumental task of standing up a new military department, which would require approval by a Congress that shelved the idea last year, may require significant new spending and a reorganization of the largest bureaucracy in the world.
And the idea has already run into fierce opposition inside and outside the Pentagon, particularly from the Air Force, which could lose some of its responsibilities.
Defense Secretary Jim Mattis last year said he opposed a new department of the military "at a time when we are focused on reducing overhead and integrating joint warfighting functions."
This week, Mattis said the Pentagon and the White House "are in complete alignment" on the need to view space as a warfighting domain. But he stopped short of endorsing a full-fledged Space Force.
In a briefing with reporters after Pence's speech, Deputy Defense Secretary Patrick Shanahan suggested that Mattis's comments opposing the Space Force were made at a different time, before the Pentagon received a bolstered budget.
White House officials have been working with national security leaders to aggressively move ahead without Congress.
The first step is creating a new US Space Command by the end of the year, which would be led by a four-star general, the way the Pentagon's Indo-Pacific Command oversees those regions.
The new command would pull space experts from across the armed services, and there would be a separate acquisitions office, dedicated to buying satellites and developing new technology to help the military win wars in space.
After the announcement Thursday, President Trump tweeted, "Space Force all the way!"
For months, Trump has been calling for a Space Force, a new, free-standing military department, with its own chain of command and uniforms.
In a letter to supporters Thursday, the Trump 2020 campaign said it would sell a line of gear that could come with a logo of their choosing – including one labeled "Mars Awaits" – to commemorate "President Trump's new Space Force," according to a copy of the email – a move that fueled criticism that the effort was motivated by politics.
The White House intends to work with lawmakers to introduce legislation by early next year, a senior administration official said, with the hope of standing up the first new military department since the Air Force was formed in 1947.
Some members of Congress and military leaders have been warning that space is no longer a peaceful sanctuary, but a domain of conflict that needs more attention and resources.
Space is vital to the way the United States wages war; the Pentagon's satellites are used for missile defense warnings, guiding precision munitions and providing communications and reconnaissance.
Russia and China have made significant advancements, challenging the United States' assets in space.
In 2007, China blew up a dead weather satellite with a missile, creating a massive debris cloud in orbit, which Pence called "a highly provocative demonstration of China's growing capability to militarize space".
China also has demonstrated the ability to hit satellites in a much deeper orbit where the military parks some of its most sensitive assets.
In his speech, Pence acknowledged the difficulties in establishing a new service, and said the Pentagon would create an assistant secretary of defense for space, a top-level civilian who will report to the defense secretary "to oversee the growth and expansion of the sixth branch of service."
The official must sort out many details, including how the Pentagon would recruit for the Space Force and compete for resources within the Pentagon. Even basic details, such as what uniforms and what rank structure the Space Force would use, must be decided.
Some members of Congress advocated last year for creating a Space Corps in the Air Force Department, similar to how the Marine Corps is part of the Navy Department. Elevating the proposal to create a new department will mean additional Pentagon bureaucracy, critics say.
Deborah James, who served as Air Force secretary in the Obama administration, said Trump's decision to create a full new department is "a solution in search of a problem."
Before Trump's announcement in June that he wanted a Space Force, Mattis and Air Force Secretary Heather Wilson had cautioned against creating new Pentagon bureaucracy to address space issues. James said she thinks they're now "stuck because the president announced this by surprise."
Efforts to reach several senior Air Force officials were not successful Thursday. Wilson was traveling on business and not at the Pentagon when Pence made his announcement.
Gen. David L. Goldfein, the Air Force's top officer, and Gen. Stephen Wilson, the vice chief, sat quietly in the Pentagon auditorium as Pence spoke.
Air Force Gen. Paul Selva, the Pentagon's vice chairman of the Joint Chiefs of Staff, said in a briefing with reporters that the Pentagon is very much in favor of establishing a Space Command as a way to speed up efforts in space.
But when it comes to establishing a new branch of the military, Selva said, "there's an obligation" to present a set of options that can be presented to Congress.
"He's the commander in chief," Selva said of the president.
The White House has pushed for Congress to invest an additional US$8 billion in national security space systems over the next five years.
The new command and reorganization "should be budget-neutral," Scott Pace, the executive secretary of the National Space Council, said in an interview.
"However, going forward, there probably will need to be an increase in resources to buy improved capabilities and more warfighters as the Space Force matures."
After Pence's speech, Reps. Mike D. Rogers and Jim Cooper, members of the House Armed Services Committee, praised the move, saying a Space Force "will result in a safer, stronger America."
"We have been warning for years of the need to protect our space assets and to develop more capable space systems," they said in a joint statement.
In his speech, Pence urged the audience to support the administration's effort to create the department.
Speaking to a room made up mostly of US troops in uniform, Pence said their "commander in chief is going to continue to work tirelessly toward this goal, and we expect you all to do the same."
"The only thing we can't afford is inaction," he said.
2018 © The Washington Post
This article was originally published by The Washington Post.
Martian sand dune looks like Starfleet logo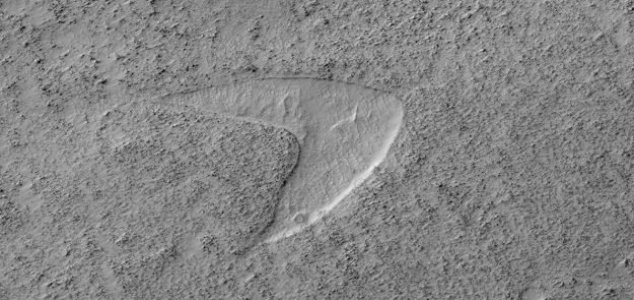 Image Credit: NASA
The dune looks very similar to the Starfleet logo. 
New images taken by NASA's MRO HiRise camera show a sand dune formation with a rather familiar shape.
The photographs, which were captured by NASA's Mars Reconnaissance Orbiter, have prompted some rather tongue-in-cheek references to Star Trek's iconic insignia.
"Enterprising viewers will make the discovery that these features look conspicuously like a famous logo," the HiRise team at the University of Arizona wrote in a Tweet.
Star Trek references aside, this intriguing formation and others like it have been helping scientists to learn more about the Red Planet's atmosphere, temperature and topography.
This, in turn, will also help NASA to better plan out future manned missions.
Caption Spotlight (12 Jun 2019): Dune Footprints in Hellas

Enterprising viewers will make the discovery that these features look conspicuously like a famous logo.

More: https://t.co/CAq5xBbDwf

NASA/JPL/University of Arizona#Mars #science pic.twitter.com/N5MfKQPiYt

— HiRISE (NASA) (@HiRISE) June 12, 2019
Source:
IB Times
Why Lockheed Martin Is Designing A Tiny Home To Orbit The Moon
NASA wants to build another space station, but this one won't live in a close orbit around Earth. Within the last year, NASA has begun planning for a much smaller astronaut outpost in orbit around the Moon, a new destination dubbed the Gateway. The idea is for this space station, which will be a fraction of the size of the International Space Station, to serve as a place for astronauts to live and train for excursions to and from the lunar surface.
A crucial piece of hardware needed for this Gateway will, of course, be habitats — spaces for a handful of astronauts to do research, exercise, sleep, and eat. But what exactly does it take to build a habitat for deep space? NASA has tasked six companies with figuring that out, through the space agency's NextSTEP program. Through a public-private partnership, companies like Boeing and Bigelow Aerospace are creating and executing their own designs for modules that could house astronauts in the environment around the Moon.
Another one of those companies is Lockheed Martin, a longtime contractor for NASA located in Colorado. Lockheed is currently working on a cylindrical deep-space habitat that will provide about 882 cubic feet of livable space, which is about the size of a bedroom for up to four astronauts to roam around in.
And just like designing a tiny home, Lockheed has gotten creative with storage. For instance, the design calls for water to surround the hull of the habitat, to be used as drinking water but also to be used as shielding for deep-space radiation. The habitat also has a treadmill on its ceiling; but, in orbit around the Moon, the microgravity environment means there is no ceiling. So every bit of exposed wall is used for a different purpose. The habitat will also include a workstation, as well as sleeping bags for the crew and storage for food and other essential living materials.
In the third episode of Space Craft season 2, we got to visit a mockup of Lockheed Martin's deep-space habitat at the company's headquarters in Denver. However, what we saw was just for show: a glimpse of what the final design might look like. We also were able to use augmented reality and virtual reality to get a better feel of what the final look of the habitat will be like. Currently, Lockheed Martin is building its first prototype of the habitat in Florida, so that NASA can analyze its design by 2019.
Meanwhile, Lockheed is also building another key piece of spacecraft hardware for NASA, one that will be used to potentially transport astronauts to and from this deep-space habitat. It's a capsule called Orion, and it's become a big part of NASA's plans for the future. We also got to test out a simulation of what it might be like to dock the Orion capsule to the habitat — what future astronauts will do to get to their deep-space home.

Source www.theverge.com
Your name can be on Mars in the year 2021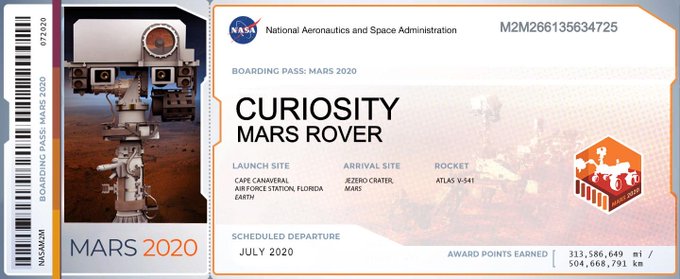 NASA has launched a campaign for anyone who wishes to send their name to Mars, in the form of a boarding pass digitized on a chip incorporated in the next Mars 2020 mission. 
«Do you want to accompany me on Mars? Send your name to the surface of the red planet with the next rover of NASA, Mars 2020 », published the Twitter account of Curiosity, which explores our planetary neighbor since 2012.Ver imagen en Twitter
The tweet is completed with a link to a website that offers the form to fill out for the issuance of the personalized boarding pass. For example, we have completed ours, and Mystery Planet will be included among the names that will appear on the chip of the new rover to explore Mars.The ticket also includes "frequent flyer points", which add to the previous ones if you were attentive and participated, for example, in similar initiatives for other NASA missions, such as InSight and Parker Solar Probe al Sol (in our case we have accumulated more than 614,000 million kilometers!).
To send your name CLICK HERE . You have time until September 30.
Mars 2020
The Mars 2020 mission is scheduled to be launched in July 2020 from Cape Canaveral, and its arrival is expected in February 2021 in the Jezero crater.
The rover, which weighs about 1,000 kilograms, will look for signs of microbial life, as well as make climatic and geological investigations, collect samples and pave the way for future human exploration and colonization.
Source: NASA