Trump's 'Space Force' Is Serious And We Just Got a Bunch of New Details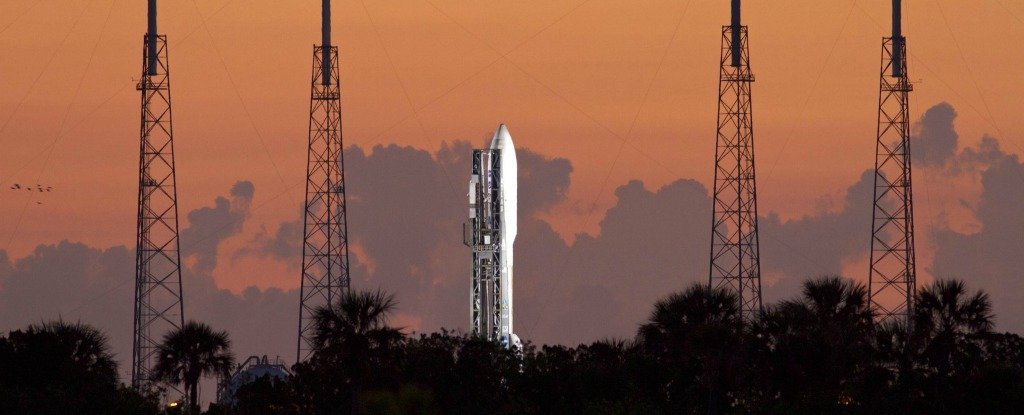 Vice President Pence laid out an ambitious plan Thursday that would begin creating a military command dedicated to space and establish a "Space Force" as the sixth branch of the US military as soon as 2020, the first since the Air Force was formed shortly after World War II.
Pence warned of the advancements that potential adversaries are making and issued what amounted to a call to arms to preserve the military's dominance in space.
"Just as we've done in ages past, the United States will meet the emerging threats on this new battlefield," he said in a speech at the Pentagon.
"The time has come to establish the United States Space Force."
But the monumental task of standing up a new military department, which would require approval by a Congress that shelved the idea last year, may require significant new spending and a reorganization of the largest bureaucracy in the world.
And the idea has already run into fierce opposition inside and outside the Pentagon, particularly from the Air Force, which could lose some of its responsibilities.
Defense Secretary Jim Mattis last year said he opposed a new department of the military "at a time when we are focused on reducing overhead and integrating joint warfighting functions."
This week, Mattis said the Pentagon and the White House "are in complete alignment" on the need to view space as a warfighting domain. But he stopped short of endorsing a full-fledged Space Force.
In a briefing with reporters after Pence's speech, Deputy Defense Secretary Patrick Shanahan suggested that Mattis's comments opposing the Space Force were made at a different time, before the Pentagon received a bolstered budget.
White House officials have been working with national security leaders to aggressively move ahead without Congress.
The first step is creating a new US Space Command by the end of the year, which would be led by a four-star general, the way the Pentagon's Indo-Pacific Command oversees those regions.
The new command would pull space experts from across the armed services, and there would be a separate acquisitions office, dedicated to buying satellites and developing new technology to help the military win wars in space.
After the announcement Thursday, President Trump tweeted, "Space Force all the way!"
For months, Trump has been calling for a Space Force, a new, free-standing military department, with its own chain of command and uniforms.
In a letter to supporters Thursday, the Trump 2020 campaign said it would sell a line of gear that could come with a logo of their choosing – including one labeled "Mars Awaits" – to commemorate "President Trump's new Space Force," according to a copy of the email – a move that fueled criticism that the effort was motivated by politics.
The White House intends to work with lawmakers to introduce legislation by early next year, a senior administration official said, with the hope of standing up the first new military department since the Air Force was formed in 1947.
Some members of Congress and military leaders have been warning that space is no longer a peaceful sanctuary, but a domain of conflict that needs more attention and resources.
Space is vital to the way the United States wages war; the Pentagon's satellites are used for missile defense warnings, guiding precision munitions and providing communications and reconnaissance.
Russia and China have made significant advancements, challenging the United States' assets in space.
In 2007, China blew up a dead weather satellite with a missile, creating a massive debris cloud in orbit, which Pence called "a highly provocative demonstration of China's growing capability to militarize space".
China also has demonstrated the ability to hit satellites in a much deeper orbit where the military parks some of its most sensitive assets.
In his speech, Pence acknowledged the difficulties in establishing a new service, and said the Pentagon would create an assistant secretary of defense for space, a top-level civilian who will report to the defense secretary "to oversee the growth and expansion of the sixth branch of service."
The official must sort out many details, including how the Pentagon would recruit for the Space Force and compete for resources within the Pentagon. Even basic details, such as what uniforms and what rank structure the Space Force would use, must be decided.
Some members of Congress advocated last year for creating a Space Corps in the Air Force Department, similar to how the Marine Corps is part of the Navy Department. Elevating the proposal to create a new department will mean additional Pentagon bureaucracy, critics say.
Deborah James, who served as Air Force secretary in the Obama administration, said Trump's decision to create a full new department is "a solution in search of a problem."
Before Trump's announcement in June that he wanted a Space Force, Mattis and Air Force Secretary Heather Wilson had cautioned against creating new Pentagon bureaucracy to address space issues. James said she thinks they're now "stuck because the president announced this by surprise."
Efforts to reach several senior Air Force officials were not successful Thursday. Wilson was traveling on business and not at the Pentagon when Pence made his announcement.
Gen. David L. Goldfein, the Air Force's top officer, and Gen. Stephen Wilson, the vice chief, sat quietly in the Pentagon auditorium as Pence spoke.
Air Force Gen. Paul Selva, the Pentagon's vice chairman of the Joint Chiefs of Staff, said in a briefing with reporters that the Pentagon is very much in favor of establishing a Space Command as a way to speed up efforts in space.
But when it comes to establishing a new branch of the military, Selva said, "there's an obligation" to present a set of options that can be presented to Congress.
"He's the commander in chief," Selva said of the president.
The White House has pushed for Congress to invest an additional US$8 billion in national security space systems over the next five years.
The new command and reorganization "should be budget-neutral," Scott Pace, the executive secretary of the National Space Council, said in an interview.
"However, going forward, there probably will need to be an increase in resources to buy improved capabilities and more warfighters as the Space Force matures."
After Pence's speech, Reps. Mike D. Rogers and Jim Cooper, members of the House Armed Services Committee, praised the move, saying a Space Force "will result in a safer, stronger America."
"We have been warning for years of the need to protect our space assets and to develop more capable space systems," they said in a joint statement.
In his speech, Pence urged the audience to support the administration's effort to create the department.
Speaking to a room made up mostly of US troops in uniform, Pence said their "commander in chief is going to continue to work tirelessly toward this goal, and we expect you all to do the same."
"The only thing we can't afford is inaction," he said.
2018 © The Washington Post
This article was originally published by The Washington Post.
Milky Way galaxy is warped and twisted, not flat
Our galaxy, the Milky Way, is "warped and twisted" and not flat as previously thought, new research shows.
Analysis of the brightest stars in the galaxy shows that they do not lie on a flat plane as shown in academic texts and popular science books.
Astronomers from Warsaw University speculate that it might have been bent out of shape by past interactions with nearby galaxies.
The new three dimensional map has been published in the journal Science.
The popular picture of the Milky Way as a flat disc is based on the observation of 2.5 million stars out of a possible 2.5 billion. The artists' impressions are therefore rough approximations of the truer shape of our galaxy, according to Dr Dorota Skowron of Warsaw University.
"The internal structure and history of the Milky Way is still far from being understood, in part because it is extremely difficult to measure distances to stars at the outer regions of our galaxy," she said.
To gain a more accurate picture, Dr Skowron and her colleagues measured the distances of some of the brightest stars in the Milky Way, called Cepheid variable stars. These are massive young stars that burn hundreds, if not thousands, of times brighter than our own Sun. They can be so bright that they can be observed at the very edge of the galaxy.
Not only that, they also pulsate at regular intervals at a rate that is directly related to their brightness.
This enables astronomers to calculate their distance with great precision.
Most of the stars were identified by the Optical Gravitational Lensing Experiment (OGLE) at Las Campanas Observatory (LCO) in Chile's southern Atacama Desert. Przemek Mroz, a member of the OGLE team, said that the results were surprising.
"Our results show that the Milky Way Galaxy is not flat. It is warped and twisted far away from the galactic centre. Warping may have happened through past interactions with satellite galaxies, intergalactic gas or dark matter (invisible material present in galaxies about which little in known)."
The Polish results support an analysis of Cepheid variable stars published in February in Nature Astronomy journal by astronomers from Macquarie University in Australia and the Chinese Academy of Sciences.
Source www.bbc.co.uk
SpaceX Starship update coming later this month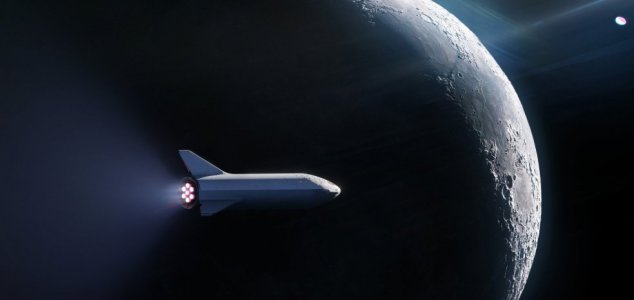 Image Credit: SpaceX / Elon Musk
Starship could carry the first astronauts back to the Moon.
Elon Musk's private space firm has been developing a spacecraft capable of landing humans on other worlds.
Designed to serve as the reusable second stage of the Big Falcon Rocket (BFR), Starship will also be able to carry astronauts and cargo all the way to the surface of Mars.
The spacecraft has undergone several name changes since it was first announced, having previously transitioned from Mars Colonial Transporter (MCT) to Interplanetary Transport System (ITS).
Now Elon Musk has revealed that a full update on the project will be coming on August 24th at either Cape Canaveral in Florida or Boca Chica in Texas, which is where a prototype was recently tested.
Writing on Twitter, he stated that the update would include a "detailed review of the first orbital Starship, explaining the pros and cons of each design decision."
"We should have Starship Mk1 with 3 Raptors almost ready to fly by then," he said.
It will certainly be interesting to see how things are progressing.
Source: Ars Technica
Exoplanet With 3 Suns a Great Site to Search for Alien Life
A newly discovered planet with three suns is exciting scientists for its close proximity to Earth and its potential for future observation, including possible signs of extraterrestrial life.
LTT 1445Ab is just 22.5 light-years away and was found using data gathered by NASA's Transiting Exoplanet Survey Satellite (TESS), which searches for exoplanets.
The planet orbits just one of its three red dwarf stars, circling it every five days. It's thought to be a third bigger than Earth, but has about eight times the mass of our planet and a temperature of about 320 degrees Fahrenheit.
"If you're standing on the surface of that planet, there are three suns in the sky, but two of them are pretty far away and small-looking," research co-author Jennifer Winters told New Scientist. "They're like two red, ominous eyes in the sky."
Because of its relative proximity to Earth, LTT 1445Ab could be used to look for potential signs of alien life.
Scientists think the planet could potentially have an atmosphere, and that they can examine the area for gases like carbon dioxide using new detection tools ready in the near future. LTT 1445AB will present plenty of opportunities for observations because of its speedy orbits around its sun.
RT
IMAGE © NASA/JPL-Caltech