Top 8 Of The Most Bizarre Cursed Lakes Worldwide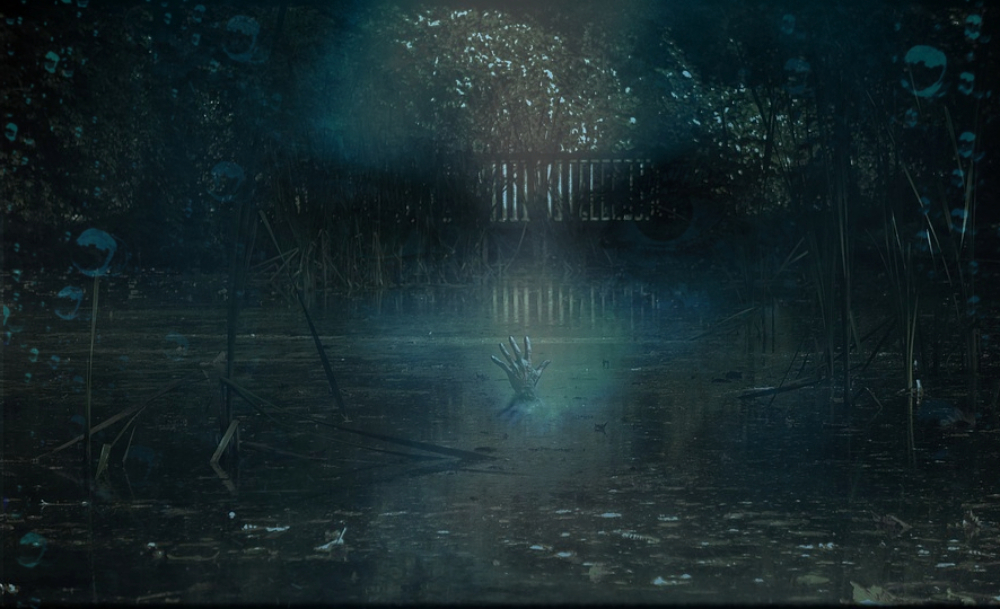 It sometimes seems the world is full of supernatural mysteries which may never be solved. Numerous tales of the strange and paranormal are often link to bodies of water, and especially lakes which by all accounts seem to be cursed, haunted or even both. Although scientists have been trying to unravel some of mysteries for years, no investigations have yielded any rational answers.
These bizarre eight lakes are actually cursed…or so the legends go.
1 – Llyn Idwal – The lake where no birds will fly, Wales, UK
Llyn Idwal, North Wales
A the head of Cwn Idwal is a dramatic gash in the cliffs that is known as Y Twll Du (Black Hoel). Alternatively it is called 'Cegin y Cythraul', but is more popularly know as the 'Devil's Kitchen'.
The place has a forbidding appearance and it is easy to understand how it was once regarded by local people as a demons' haunt. An ancient legend tells us that Cwn Idwal is named after Idwal, son of the Owen Gwynedd, Prince of North Wales. Young Idwal was untrsuted tio the care of Nefydd the Handsome of Nant Conwy, but Nefydd oredered his son Phun to murder the young prince.  His body is said to have been thrown into the lake and since that day no bird will fly over Llyn Idwal.
2 – Lake Sidney Lanier, USA
Lake Lanier, North Georgia, USA
Lake Lanier has a deadly reputation, and an examination at the statistics suggests it's warranted. Since 1994, northeast Georgia's favorite manmade lake — which touches parts of Gwinnett, Hall, Forsyth, Dawson and Lumpkin counties — has seen at least 160 people die under mysterious circumstances.
It is perhaps this tumultuous history that has led to the supposed curse of Lake Lanier, which has been fueled by an usually high rate of deaths by drowning, freak accidents, and unsolved crimes. Over the years, there have been an inordinate amount of deaths associated with the lake, ranging from boating accidents, drownings, and even a fair number of drivers who have lost control of their vehicles to go careening off of roads to crash into the water. Many of the drowning cases are somewhat odd in that they have happened very close to shore with strong swimmers and in calm conditions, which considering the history of the lake have given rise to rumors that Lake Lanier is somehow haunted or cursed. As with Round Valley Reservoir, there have been those who have described unseen hands pulling at them from below or even scarier the sensation of something covering their mouth to prevent them from breathing. There are various stories of boats hitting something in the water only for it to turn out there was nothing there, boats or other watercraft capsizing for no apparent reason, and sudden, dangerous rogue waves that seem to come from nowhere without warning to maraud across the surface before vanishing as suddenly as they formed.
3 – Fundudzi Africa, Limpopo Province, South Africa
Lake Fundudzi, South Africa
The lake is said to be protected by a python god who lives in the hills around the lake. After bathing in the lake he beats his drums – large stones near the shore, and resident say they can hear the sound. He is celebrated annually with the Domba, or Python Dance performed by young adolescent girls from the villages close by. The level and colour of the lake's water are said to reflect his mood. Although three rivers flow into Lake Fundudzi, it never overflows.
Adding to the lake's sacred status is the mystery of the water level, which rises and falls independently of rainfall. Locals can recount recent tales of a foreign developer who wanted to build a resort on the edge of Lake Fundudzi. After construction had begun, the lake's waters rose to submerge the building site. Not to be that easily put off, the developer simply moved further up the shore and began again. Once more, the level of Lake Fundudzi rose to submerge the site. Frustrated, the developer left and the waters receded.
Interestingly, the curse of Lake Fundudzi only seems to affect outsiders, with no locals known to have been subjected to its wrath. Indeed, the locals claim that although crocodiles inhabit these waters they will casually ignore any from the area, while attacking foreigners.
4 – "Smerdyachee"  – Stinking Lake, Russia
"Smerdyachee" ("Stinking Lake" in Russian)
The Smerdyachee Lake is located in the Moscow district in Shatura region, approximately 140 km east of Moscow city. Scientist suggest the lake was formed as a result of big meteorite impact, however it is one of the existing theories.
Local fishermen had reported strange pungent smell of hydrogen sulfide emanates from the lake. That is why the lake has got its name "Smerdyachee" ("Stinking Lake" in Russian). There are a lot of myths associated with this strange place as well as numerous reports of supernatural disturbances and other paranormal activities.
Local residents claim there was a church right on the place where lake is located. One day it has vanished without any trace along with the priest, and a smelly lake appeared instead. Since than  the reflection of sunk church is coming up to the surface.
There some claims Smerdyachee lake has a double bottom, which, rising and sinking alternately. At a depth of roughly 20 metres into the lake, there is a so-called thermocline – the water below this level has a very low oxygen content and a higher than normal hydrogen sulphide content. Any objects that have ended up in the hydrogen sulphide water over thousands of years may have been preserved virtually unchanged. Scientists hope one day some rare artifacts would be unearthed from the bottom of mysterious lake.
5 – Dallas's White Rock Lake, Texas, USA
White Rock Lake, Dallas Texas
White Rock Lake is a reservoir located in north-east Dallas, Texas (United States). The lake was formed by damming White Rock Creek, which today widens into the lake before continuing south out of the spillway and emptying into the Trinity River. This year it was named as one of the world's top 14 most haunted bodies of water.
They say Dallas's White Rock Lake is haunted by a young woman wearing a soaking-wet evening dress. "Apparently, the girl tells people she was involved in a boating accident and needs to get to an address on Gaston Avenue. When she gets into a car's back seat, she disappears," the Dallas News reports. These encounters have been reported off and on since 1964, although no one knows who the woman is or whether a woman in an evening dress actually drowned there. Don't miss these strange urban legends that turned out to be true.
 6 – Otjikoto  – Bottomless lake in Namibia, Africa
Otjikoto Lake, Region of Oshikoto, Namibia
Otjikoto Lake of Namibia, which is a small lake with a diameter of only 102 meters (335 ft) and an average depth of 45 meters (148 ft), and is only one of two permanent natural lakes in the entire country. Although it is mostly shallow, there are areas that drop off into dizzying depths that have yet to be determined, with possibly vast underwater cavern systems. Indeed, according to legend the lake is bottomless, and the home to all manner of supernatural creatures, which reportedly have the habit of grabbing anyone who enters to pull them down to their doom.
Lake Otjikoto has a colorful history as well. During World War I, the Germans used the lake as a dumping ground for all manner of discarded war materials including cannons, firearms, ammunition, and countless others, which was all unceremoniously thrown into the lake before their surrender in 1915, in order to keep the enemy from using them. While this is all true, and much of this World War I ordinance and equipment can still be seen rather well-preserved in these depths, if rumors are correct, the Germans also dumped other things they didn't want found as well, including a vast treasure of 6 million gold marks.
The stories of such a large treasure lying at the bottom of this relatively small lake has proven to be irresistible to numerous treasure hunters, which has also proven that perhaps the myths that the lake is a cursed place full of vengeful spirits as well. Many would-be treasure hunters are said to have met their fates in the lake, often very experienced and seasoned divers, further enforcing the idea that the lake claims those who would challenge it. So many people have died trying to get to the treasure that the lake has gained a reputation for being a cursed death trap, and it was the focus of an episode of the Travel Channel's Expedition Unknown, with Josh Gates. Whether the tales of this lake's cursed treasure are real are not is up or debate.
7 – Llangorse Lake – Drowned city beneath the waters, Wales, UK
Both Bala and Llangorse lakes are said to cover "drowned cities", the bells of their churches audible to the human ear whenever conditions are right. That may be mere legend but the waters of Kenfig Pool do cover the long-lost town of Kenfig, a habitation covered first by the sand, then by the water of the area.
Nowadays, all that remains is the seemingly-peaceful lake, though strange events here are not unknown. 12th-century travel writer Gerald of Wales recorded that the lake had "miraculous properties such that local inhabitants have witnessed it completely covered with buildings, that in winter when covered with ice it emits a loud groaning noise and that the lake sometimes turns green." Other local tales say that church bells can sometimes be heard ringing beneath the waves.
8 – Poyang Lake  – "The Waters of Death", China
Rains Swell Poyang Lake. Credit: NASA images courtesy LANCE MODIS Rapid Response Team at NASA GSFC. (Image Source)
From the early 1960s to the late 1980s, more than 200 ships sank in the mysterious waters of Poyang Lake, which is known as China's Bermuda Triangle. The incidents have resulted in numerous ships and more than 1,600 people gone missing, with over 30 survivors driven insane.
Poyang Lake is the largest freshwater lake in China, and is located in Jiangxi Province in the southeast of China. The lake's actual size fluctuates tremendously. According to the Encyclopædia Britannica, at its fullest in summer, "it is 1,385 square miles (3,585 square km), but precise measurement is impossible because the difference between flood level and low-water level is sometimes as much as 25 feet (8 meters)."
According to the department in charge of maritime affairs, large ships with payloads as heavy as 2,000 tons have sunk in Poyang Lake. On Aug. 3, 1985, 13 ships were lost on a single day, which is an extremely rare event in maritime history.
Scientists have been trying to unravel Poyang Lake's mysteries for years, but no investigations have yielded any concrete conclusions.
The ice blue fire of the stone once shone like a star on the forehead of an Indian temple statue until the day when it was ruthlessly torn out by a French adventurer. He would pay a high price for his actions and would later die painful death. The stone would become known as the Hope Diamond but what it brought most of its owners was despair.
While the Hope Diamond is regarded as the most beautiful and precious diamond in the world – at the same time it is to be the most dangerous. Since its theft from India a deadly curse is to live on within it. European kings, the richest woman in America as well as other owners all suffered terrible bad luck: They went bankrupt, were murdered, committed suicide or died in an accident.
This is the beginning of the dark story of a famous as well as notorious gemstone, which we know as Hope Diamond.
The Hope Diamond is believed to have come from the Kallur mine in the Golconda Region, on the river Kistna, in southwest India. In 1642 it appeared for the first time in Europe in the possession of a French merchant named Jean-Baptist Tavernier, who is said to have stolen it from the headband of the statue of the goddess Sita consort of the god Rama.
In 1668 he sold the stone – now known as the Tavinier Blue – for a significant amount to King Louis XIV of France. The diamond was originally 115 carats but was recut in the western style resulting in a 69 karat masterpiece called the "French Blue" which became part of the French crown jewels.
Jean-Baptist Tavernier was not able to enjoy his profit and, in the process of try to save his son from debtor's jail, he himself lost much of his fortune. In the hope of making up for his loss, Tavernier traveled to India. It was here that the curse struck again and after he died of a raging fever his body was torn to bits by a pack of wild dogs.
The Sun King (Louis XIV) himself died horribly of gangrene caused by an infected wound and all of his legitimate children died in childhood, except for one. (Anne-Élisabeth, Marie-Anne and Louis-François all died before the age of two.)
Nicholas Fouquet, who worked for King Louis XIV, wore the gem to a special occasion and wound up spending 15 years in a prison at the fortress of Pignerol.
The diamond, on the other hand, was passed from one king to the next, and each of these kings suffered a tragic fate.
King Louis XV is said not to have much liked the gemstone and wore it rarely. Nevertheless the curse caught up with him and he contracted a virulent form of smallpox that turned every inch of his skin into a blackened scab of blood. His death was said to be excruciatingly painful.
King Louis XVI lost a large part of his empire and later fell out of favour with the people of France. Both he and Marie Antoinette wore the jewel and died on the Guillotine during the French revolution.
Princess de Lamballe was a courtier of Marie Antoinette and would often handle the Hope Diamond and the Order of the Golden Fleece. She was killed by a mob during the revolution in a most horrific fashion including being stripped, raped, beaten, tortured and eventually disemboweled.
The cursed diamond disappeared after the royal storehouse (the Garde-Meuble) was robbed in 1792.
There is a strong suggestion that it may have found its way to Queen Maria Louisa of Spain around 1800. The curse followed quickly and she lost popularity with the people of Spain becoming one of the most hated people in the land. In 1808 she and her husband were forced into exile shortly before Napoleon invaded Spain.
One version of the legend claims that Napoleon Bonaparte himself took the jewel from the Spanish around 1809 and from the moment he owned it all his military campaigns turned sour leading to the disastrous invasion of Russia in 1812 and his ultimate defeat in 1813 when Paris fell to his enemies. Napoleon would ultimately die as a prisoner on the island of St. Helena under mysterious circumstances after a horrible sickness – some say arsenic poisoning. It's been suggested that the stone was stolen from Napoleon's treasury around 1810 and sold for a pittance to a string of middlemen.
The Hope Diamond seems to have resurfaced in the possession of a Dutch jeweler known as Wilhelm Fals sometime around 1810. He drastically recut the diamond – possibly to disguise its origin. The larger piece would later become known as the Hope Diamond. This was soon stolen from him by his son Hendrik Fals who also murdered his fathered for good measure. The legend states that Hendrik sold the stone to a French diamond merchant called Francis Beaulieu for a fraction of its value and used the money to live a life of sin and debauchery. He was eventually driven mad by his own alcoholism, STD's and guilt. Hendrik Fals killed himself in 1830.
The size and style of the gem made it difficult to sell in France where it might still be linked to the robbery of the Garde-Meuble. Together with an unknown French diamond cutter, Francis Beaulieu split off a small section of the stone and used this to fund a trip to London. He struggled to find someone he trusted to buy the gem and became ever more impoverished, paranoid and physically wasted. Eventually, he settled on Daniel Eliason a well-respected Hatton Garden jeweler. He showed Eliason the stone and offered it for 5,000 pounds (around £200,000 today). Eliason wanted time to think it over but when he went back the next day he found Francis Beaulieu dead on his bed. The stone was clutched in Beaulieu's hand but the young man was dead of starvation. This was almost exactly 20 years after the robbery of the French Blue – just when the statute of limitations on the theft were expiring.
Some sources claim that Eliason sold the stone to King George III in 1814 where it became known as the 'London Blue'. If this is true it was bad luck for King George III. His compulsive and unexplained madness returned and he was dead by 1820. Some say the stone passed to King George IV who kept it for ten years until 1830. During this time he became an alcoholic, possibly addicted to a heroin type drug called laudanum, so obese his cloths no longer fitted, partially blind from cataracts, mentally unstable and plagued by gout.
The stone eventually passed into the ownership of the rich banker Henry Philip Hope for £18,000. Some believe it was sold off by George VI's mistress, Lady Conyngham. One version goes that George had left all his jewels to her in his will but for some reason she refused to take them. Perhaps she had heard of the curse and no longer wanted it anywhere near her. (She also needed money to pay off some of the King's debts) Some versions of the story claim that Eliason himself went mad later but there is no hard evidence for this. The stone was later revalued at £30,000. From this point on the stone would be known as the Hope Diamond. Not surprisingly, while Henry Hope owned the diamond he suffered a long series of misfortunes, including the death of his only son.
In 1887 his grandson, Lord Francis Hope, inherited the cursed diamond. He spent almost all of his fortune on his extravagant and reckless lifestyle and had to sell the diamond in 1901 to Adolf Weil of Hatton Garden to pay off gambling debts. He also lost his foot in a hunting accident and his wife cheated on him. He later died as a poor man.
While he owned the diamond he became infatuated with an American actress May Yohé who he later married. May didn't like the diamond and claimed it exuded an evil spell on people. She blamed the diamond for corrupting her and driving her to have the affair that ended in her divorce from Lord Francis. She is said to have died poverty stricken after the failure of an early film about the Hope Diamond Mystery (1921) and its now well-known curse. There have been some suggestions that Yohé might have tried to kill her second husband – Captain John Smuts.
It passed on to Jaques Colot, a broker who struggled to sell it on. The worry of his investment took the pleasure out of his life and even after he did sell it he declined into madness when he found out he would not receive full payment for the gem. He finally committed suicide.
In 1902 Jaques Colot sold the Hope Diamond to Ivan Kanitowsky, a Russian prince. In 1908 Kanitowsky then gave it (loaned it) to the celebrated actress Mademoiselle Lorens Ladue of the Folies Bergère in Paris. The first time she wore the stone on stage she was shot by a man in the audience some people claim was an ex-lover. Some versions of the story claim that it was Kanitowsky himself that pulled the trigger. Some weeks later the prince himself was stabbed to death as he walked along a Parisian street. The work some believe of Russian revolutionary agitators.
During late 1908, a well-known Greek jewel broker by the name of Simon Maoncharides acquired the stone. History, as always, is uncertain but it appears that he sold it to Habib Bey – a Persian diamond merchant. On the night that the deal was concluded, Maoncharides accidentally drove his carriage over a precipice, killing himself, his wife and child.
Habib Bey quickly sold the stone to Salomon Habib who was acting on behalf of Abdul Hamid II, the Sultan of Turkey. Within months Habib Bey drowned during the sinking of a French steamer in 1909.
Abdul (The Damned) paid $400,000 and gave it Salma Zubayaba (Zubaidah) his favourite concubine with orders that it be protected by Kulub Bey, his favourite eunuch and guardian of the Sultan's treasures. Mere months afterwards, while Kulub Bey was distracted Jehver Agha, a low official in the treasury, stabbed and killed Zubayda and tried to steal the jewel. He was caught by Kulub Bey and hanged after being tortured. Abu Sabir, the man who had polished the stone for Sultan was unfairly accused of working with Jehver Agha and was tortured and executed. Shortly after this incident Abdul Hamid II was overthrown during the Young Turks Rebellion of 27 April 1909. He was later captured and imprisoned at Beylerbeyi Palace in the Bosphorus. Legend has it that Kulub Bey was captured by a mob after the uprising and slowly strangled to death.
The Hope Diamond vanishes from history for a while until it appears in the hands of Pierre Cartier of the famous Cartier Jewelers family. On 28 January 1911 he sold it to Edward B. McLean on behalf of his wife Evalyn who became owner of the diamond and mocked the curse joking that things that brought other people bad luck brought her good luck. Perhaps Edward wasn't convinced though as the original contract with Cartier did include a clause stating: Should any fatality occur to the family of Edward B. McLean within six months, the said Hope Diamond is agreed to be exchanged for jewelry of equal value".
Well, Evalyn may have joked about the Hope Diamond but it didn't care. Shortly after she acquired it her mother-in-law died. Her eldest son, Vinson, often referred to as the Billion Dollar Baby, ran in front of a car and was killed. He was only nine. Edward McLean went off with another woman and even claimed to have married her although he hadn't. Evalyn continued to spend money recklessly as did Edward who eventually wound up in a mental asylum where he died from brain atrophy brought on by alcoholism. Aged only 25, Evalyn's only daughter died from a drug overdose. Debts eventually forced her to sell the Washington Post. Aged just 60, she died of pneumonia soon after her daughter and was buried in Rock Creek Cemetery, Washington D.C. Evalyn's grandson Lt. Ronald Walsh McLean was killed during the Vietnam War while leading a five man recon in Quảng Trị Province.
Harry Winston, a New York diamond merchant, bought the gem in 1949. He exhibited it around the world but in 1958 he was persuaded to donate it to the Smithsonian Museum, where it has resided to this day.
The curse wasn't quite finished yet. James Todd, the mailman who took the Hope Diamond to the Smithsonian later crushed his leg in a truck accident, injured his head in an automobile accident and then lost his home in a fire.
There is only one person who has been spared the "curse" of the diamond – the American jeweler Harry Winston. After buying the diamond, he donated it to the Smithsonian Institution who still possess the diamond to this day.
Is this all just coincidence or is the Hope Diamond actually cursed? Some researchers dispute many of the facts in the story such as the fact that Marie Antoinette may never have actually worn the jewel and that Tavinier may have lived a long and prosperous life. Still there is no denying that people associated with the stone – even if they weren't the owners – have had uncommonly bad luck.
Footnote: This is the legend of the Hope Diamond and its curse. Please note that many researchers and authors disagree with this version of events and claim that the entire story of misfortune was probably made up by Pierre Cartier and later May Yohe. Cartier wanted to sell the gem and need a fantastical back-story while Yohe was trying to promote the film about the diamond that she co-wrote. For a very detailed and less sensationalist version of what really happened please read the book – 'Hope Diamond: The Legendary History of a Cursed Gem' by Richard Kurin.
Abraham Lincoln Ghost Photograph
Abraham Lincoln White House Ghost Photograph
During 1950, major renovation work was carried out at the White House in the Capital of the USA – Washington DC. Abbie Rowe, the official photographer of the presidential residence, wished to immortalize this period.
One of the photographs has attracted a very special interest and even been featured in a range of international newspapers. It was originally published in 1992 and is said to have received the Pulitzer Prize. However, it was only in 2008 that a strange translucent silhouette was noticed in the background.
It is possible that Abbie Rowe inserted the image while developing the negative.  However, there is no evidence whatsoever that this happened.  The general agreement is that the images shown are the originals and can be seen in their initial form on the Abie Rowe website.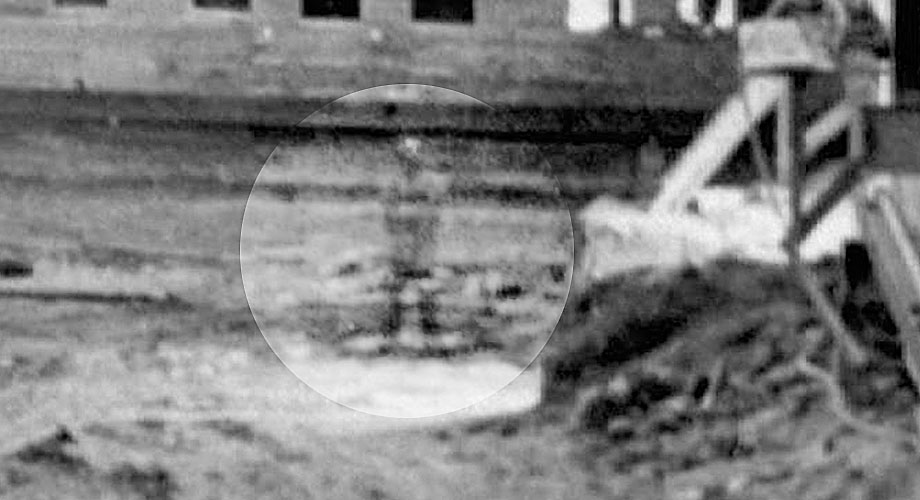 PHOTO ENHANCEMENT

With the exception of the original image, all the others have been enhanced by processing the brightness, contrast and shadows of the images to create slightly clearer images of the figure referred to as Lincoln's ghost. Specifically, the image was brightened and then adjusted by increasing the contrast. The 'curves' tool was used to focus the density of the image and create clarity of depth. Shadows were darkened and the entire image was sharpened using both the unsharp mask tool and the smart sharp tool. Essentially the images are the same just clearer to see.
Specialists of paranormal phenomena believe that this is the irrefutable proof of a ghost. It is difficult to investigate the actual negatives as they have mysteriously vanished.  According to some researchers, they have been classified and will not be released for a further 50 years.  If this is so then the reasons for this decisions remain very unclear.
However, it is important to note that the photographer did not use a long exposure time: the shot was taken in broad daylight on a site that was also illuminated by work lamps. The mysterious form appears fixed and immobile, so investigators believe it cannot be a residual image.
Ghost hunter Joshua P Warren is said to have stated that it was the "most amazing ghost picture" he'd ever seen.  He went on to explain that there is a legend that the White House is allegedly haunted by the spirit of President Abraham Lincoln who was assassinated in 1865 at Ford's Theatre.
The image of the figure is looking towards Ford's Theatre which is precisely 1000 metres to the East of where the photo was taken.  Is it then just a coincidence that the ghostly figure is located directly under the section of the White House where Lincoln had his bedroom?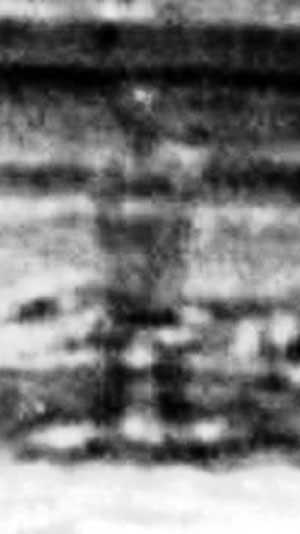 In the images above you can clearly see that the image is a man with a beard and a distinctly erect posture.  He apppears shorter than he is because the image has been taken from a high angle.  In actual fact, the figure is tall and slender.
Lady Eleanor Roosevelt, wife of President Roosevelt often used the Lincoln Bedroom as her study.  She claimed that she would feel his presence when she worked there late into night.
Winston Churchill, British Prime Minister, who visited the White House on several occasions during World War II, told a tale of emerging naked from his evening bath only to find a ghostly Lincoln sitting by the fireplace in his room.
Ghostly Apparition Appears From Nowhere Only To Vanish Into Thin Air (Video)
In this footage we can see this figure just materialise on the left of the screen and just casually walking but we can see it slowly dissolving into the night.
This footage was caught by security officer Francisco Javier from the surveillance camera at his work in a warehouse in Metepec, Mexico.
Source: The Hidden Underbelly 2.0