Top 8 Of The Most Bizarre Cursed Lakes Worldwide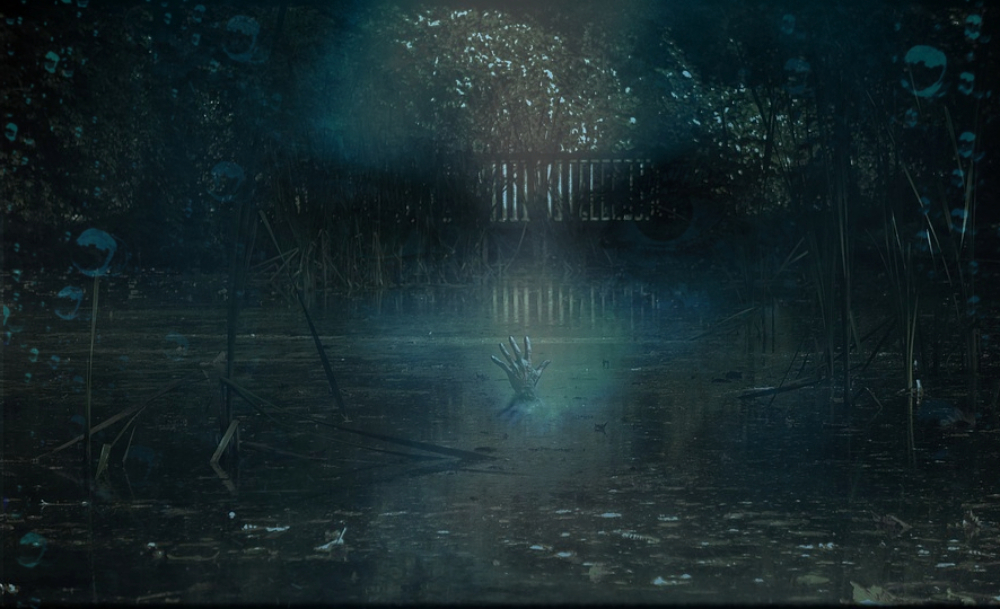 It sometimes seems the world is full of supernatural mysteries which may never be solved. Numerous tales of the strange and paranormal are often link to bodies of water, and especially lakes which by all accounts seem to be cursed, haunted or even both. Although scientists have been trying to unravel some of mysteries for years, no investigations have yielded any rational answers.
These bizarre eight lakes are actually cursed…or so the legends go.
1 – Llyn Idwal – The lake where no birds will fly, Wales, UK
Llyn Idwal, North Wales
A the head of Cwn Idwal is a dramatic gash in the cliffs that is known as Y Twll Du (Black Hoel). Alternatively it is called 'Cegin y Cythraul', but is more popularly know as the 'Devil's Kitchen'.
The place has a forbidding appearance and it is easy to understand how it was once regarded by local people as a demons' haunt. An ancient legend tells us that Cwn Idwal is named after Idwal, son of the Owen Gwynedd, Prince of North Wales. Young Idwal was untrsuted tio the care of Nefydd the Handsome of Nant Conwy, but Nefydd oredered his son Phun to murder the young prince.  His body is said to have been thrown into the lake and since that day no bird will fly over Llyn Idwal.
2 – Lake Sidney Lanier, USA
Lake Lanier, North Georgia, USA
Lake Lanier has a deadly reputation, and an examination at the statistics suggests it's warranted. Since 1994, northeast Georgia's favorite manmade lake — which touches parts of Gwinnett, Hall, Forsyth, Dawson and Lumpkin counties — has seen at least 160 people die under mysterious circumstances.
It is perhaps this tumultuous history that has led to the supposed curse of Lake Lanier, which has been fueled by an usually high rate of deaths by drowning, freak accidents, and unsolved crimes. Over the years, there have been an inordinate amount of deaths associated with the lake, ranging from boating accidents, drownings, and even a fair number of drivers who have lost control of their vehicles to go careening off of roads to crash into the water. Many of the drowning cases are somewhat odd in that they have happened very close to shore with strong swimmers and in calm conditions, which considering the history of the lake have given rise to rumors that Lake Lanier is somehow haunted or cursed. As with Round Valley Reservoir, there have been those who have described unseen hands pulling at them from below or even scarier the sensation of something covering their mouth to prevent them from breathing. There are various stories of boats hitting something in the water only for it to turn out there was nothing there, boats or other watercraft capsizing for no apparent reason, and sudden, dangerous rogue waves that seem to come from nowhere without warning to maraud across the surface before vanishing as suddenly as they formed.
3 – Fundudzi Africa, Limpopo Province, South Africa
Lake Fundudzi, South Africa
The lake is said to be protected by a python god who lives in the hills around the lake. After bathing in the lake he beats his drums – large stones near the shore, and resident say they can hear the sound. He is celebrated annually with the Domba, or Python Dance performed by young adolescent girls from the villages close by. The level and colour of the lake's water are said to reflect his mood. Although three rivers flow into Lake Fundudzi, it never overflows.
Adding to the lake's sacred status is the mystery of the water level, which rises and falls independently of rainfall. Locals can recount recent tales of a foreign developer who wanted to build a resort on the edge of Lake Fundudzi. After construction had begun, the lake's waters rose to submerge the building site. Not to be that easily put off, the developer simply moved further up the shore and began again. Once more, the level of Lake Fundudzi rose to submerge the site. Frustrated, the developer left and the waters receded.
Interestingly, the curse of Lake Fundudzi only seems to affect outsiders, with no locals known to have been subjected to its wrath. Indeed, the locals claim that although crocodiles inhabit these waters they will casually ignore any from the area, while attacking foreigners.
4 – "Smerdyachee"  – Stinking Lake, Russia
"Smerdyachee" ("Stinking Lake" in Russian)
The Smerdyachee Lake is located in the Moscow district in Shatura region, approximately 140 km east of Moscow city. Scientist suggest the lake was formed as a result of big meteorite impact, however it is one of the existing theories.
Local fishermen had reported strange pungent smell of hydrogen sulfide emanates from the lake. That is why the lake has got its name "Smerdyachee" ("Stinking Lake" in Russian). There are a lot of myths associated with this strange place as well as numerous reports of supernatural disturbances and other paranormal activities.
Local residents claim there was a church right on the place where lake is located. One day it has vanished without any trace along with the priest, and a smelly lake appeared instead. Since than  the reflection of sunk church is coming up to the surface.
There some claims Smerdyachee lake has a double bottom, which, rising and sinking alternately. At a depth of roughly 20 metres into the lake, there is a so-called thermocline – the water below this level has a very low oxygen content and a higher than normal hydrogen sulphide content. Any objects that have ended up in the hydrogen sulphide water over thousands of years may have been preserved virtually unchanged. Scientists hope one day some rare artifacts would be unearthed from the bottom of mysterious lake.
5 – Dallas's White Rock Lake, Texas, USA
White Rock Lake, Dallas Texas
White Rock Lake is a reservoir located in north-east Dallas, Texas (United States). The lake was formed by damming White Rock Creek, which today widens into the lake before continuing south out of the spillway and emptying into the Trinity River. This year it was named as one of the world's top 14 most haunted bodies of water.
They say Dallas's White Rock Lake is haunted by a young woman wearing a soaking-wet evening dress. "Apparently, the girl tells people she was involved in a boating accident and needs to get to an address on Gaston Avenue. When she gets into a car's back seat, she disappears," the Dallas News reports. These encounters have been reported off and on since 1964, although no one knows who the woman is or whether a woman in an evening dress actually drowned there. Don't miss these strange urban legends that turned out to be true.
 6 – Otjikoto  – Bottomless lake in Namibia, Africa
Otjikoto Lake, Region of Oshikoto, Namibia
Otjikoto Lake of Namibia, which is a small lake with a diameter of only 102 meters (335 ft) and an average depth of 45 meters (148 ft), and is only one of two permanent natural lakes in the entire country. Although it is mostly shallow, there are areas that drop off into dizzying depths that have yet to be determined, with possibly vast underwater cavern systems. Indeed, according to legend the lake is bottomless, and the home to all manner of supernatural creatures, which reportedly have the habit of grabbing anyone who enters to pull them down to their doom.
Lake Otjikoto has a colorful history as well. During World War I, the Germans used the lake as a dumping ground for all manner of discarded war materials including cannons, firearms, ammunition, and countless others, which was all unceremoniously thrown into the lake before their surrender in 1915, in order to keep the enemy from using them. While this is all true, and much of this World War I ordinance and equipment can still be seen rather well-preserved in these depths, if rumors are correct, the Germans also dumped other things they didn't want found as well, including a vast treasure of 6 million gold marks.
The stories of such a large treasure lying at the bottom of this relatively small lake has proven to be irresistible to numerous treasure hunters, which has also proven that perhaps the myths that the lake is a cursed place full of vengeful spirits as well. Many would-be treasure hunters are said to have met their fates in the lake, often very experienced and seasoned divers, further enforcing the idea that the lake claims those who would challenge it. So many people have died trying to get to the treasure that the lake has gained a reputation for being a cursed death trap, and it was the focus of an episode of the Travel Channel's Expedition Unknown, with Josh Gates. Whether the tales of this lake's cursed treasure are real are not is up or debate.
7 – Llangorse Lake – Drowned city beneath the waters, Wales, UK
Both Bala and Llangorse lakes are said to cover "drowned cities", the bells of their churches audible to the human ear whenever conditions are right. That may be mere legend but the waters of Kenfig Pool do cover the long-lost town of Kenfig, a habitation covered first by the sand, then by the water of the area.
Nowadays, all that remains is the seemingly-peaceful lake, though strange events here are not unknown. 12th-century travel writer Gerald of Wales recorded that the lake had "miraculous properties such that local inhabitants have witnessed it completely covered with buildings, that in winter when covered with ice it emits a loud groaning noise and that the lake sometimes turns green." Other local tales say that church bells can sometimes be heard ringing beneath the waves.
8 – Poyang Lake  – "The Waters of Death", China
Rains Swell Poyang Lake. Credit: NASA images courtesy LANCE MODIS Rapid Response Team at NASA GSFC. (Image Source)
From the early 1960s to the late 1980s, more than 200 ships sank in the mysterious waters of Poyang Lake, which is known as China's Bermuda Triangle. The incidents have resulted in numerous ships and more than 1,600 people gone missing, with over 30 survivors driven insane.
Poyang Lake is the largest freshwater lake in China, and is located in Jiangxi Province in the southeast of China. The lake's actual size fluctuates tremendously. According to the Encyclopædia Britannica, at its fullest in summer, "it is 1,385 square miles (3,585 square km), but precise measurement is impossible because the difference between flood level and low-water level is sometimes as much as 25 feet (8 meters)."
According to the department in charge of maritime affairs, large ships with payloads as heavy as 2,000 tons have sunk in Poyang Lake. On Aug. 3, 1985, 13 ships were lost on a single day, which is an extremely rare event in maritime history.
Scientists have been trying to unravel Poyang Lake's mysteries for years, but no investigations have yielded any concrete conclusions.
Guitar store CCTV captures ghostly activity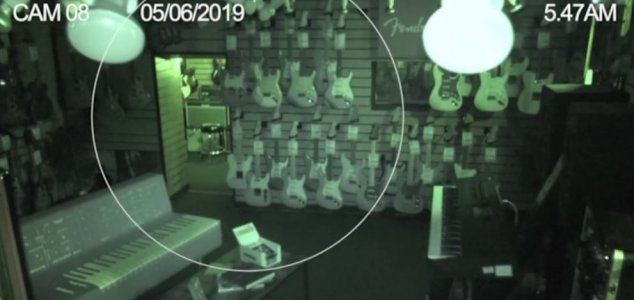 Image Credit: YouTube / GAK
A still from the footage (can be viewed below).
A store selling musical instruments in Brighton, UK has been gaining something of a haunted reputation.
The mysterious occurrences began at the Guitar, Amp and Keyboard store (or GAK) last month and culminated in an incident that happened just a few weeks ago in the early hours of the morning.
The store owners became aware that something was amiss when the motion alarm was triggered at around 5am despite there being no indication of a break-in.
After checking the CCTV footage, they noticed that two of the guitars hanging up in the store had started to swing on their own even though the other guitars next to them had remained still.
Around 30 minutes later, a price tag was also mysteriously ripped from one of the shelves.
"Some say it could be the guitars re-adjusting themselves after they were hanged incorrectly, but there is no wind there and it's not near any draft or ventilation so there aren't many suggestions," the owners told The Daily Star.
"Staff think it's odd and a bit creepy but it hasn't affected anyone coming in."
You can view the CCTV footage for yourself below.
Source: iHeartRadio
Apparitions Are Intelligent Ghosts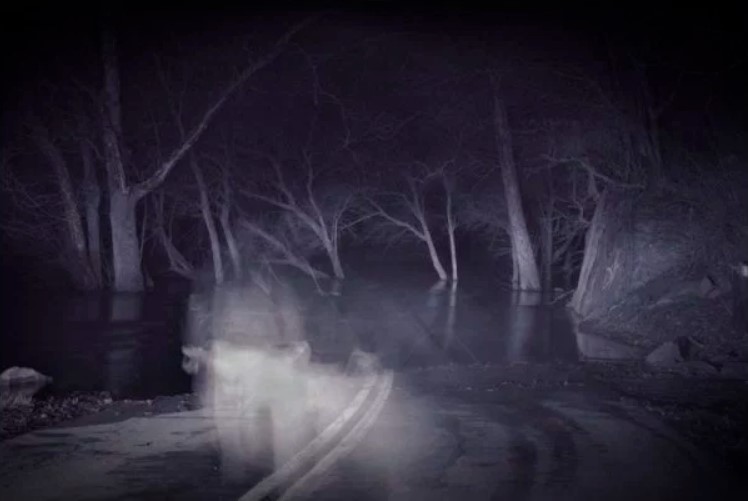 Parapsychologists have classified different types of apparitions based on documented witnesses' accounts. Experiences with these entities support survival theory.
The most popular collective generic term for parapsychological phenomena is "ghosts." Scientific investigators of "ghostly" occurrences have found activity can be attributed to one of the following phenomena.
Poltergeists are created by psychokinesis (PK), the ability of the mind to influence matter. The most common phenomena are rappings and other sounds, objects moving and electronics and electrical equipment being affected. There can be fires, water appearing or writings on walls, but these activities are rare. The agent can be a human or an entity.
Hauntings can be seen, heard, felt by touch, smelled, tasted and sensed. There is no intelligence. This is theorized to be energy imprinted on time and space.
The difference between hauntings and apparitions is that the latter have intelligence. According to survival theory, these are that part of the human which survives the death of the physical body. They can appear to experients while they are awake, sleep or in an altered state of consciousness.
Classifications of Apparitions
The Dead: Usually they appear to someone who was close to them in life and try to communicate information or comfort in times of grief or sadness. James L. Chaffin in the Chaffin Will Case: Apparition's Appearance Prevented North … appeared to his son to tell him where his new will was.
Crisis: Their purpose is to convey that fact that they are in severe trauma. Most are dying or have just died. Admiral's Ghost Tells his Death is an example of this. Vice Admiral George Tyron visited his wife's tea party in London while he was dying or had died in a shipwreck off of the coast of Syria.
Collective: These are seen by more than one person, as in the case of Admiral Tyron. Sometimes apparitions can be animals. Three women saw Fluffy, a cat's apparition rush into the room. Kitty, the living cat, wasn't in the house at the time, but when he came inside and was put into the kitchen, he immediately reacted to Fluffy's presence. Animal Psychic Phenomena describes the incident.
Deathbed: When some are dying, they see loved ones, angels or holy beings shortly before the moment of death. A man was dying and, several hours before he did, saw his Uncle Charlie and spoke with him until he died. This has also been reported in NDEs, near death experiences.
Reciprocal: These are apparitions of the living when both the experient and agent are aware of each other. The agent feels transported to where the percipient is. This may be experienced by more than one observer. Mrs. Wilmot was the agent in An Apparition of the Living.
Theories About Apparitions
Survival: What the experient witnessed was a spirit of the dead with intelligence.
Misperception: The experience was due to mistakenly experiencing that which are distortions caused by the physical environment, such as dim light, or by emotional influences.
Hallucinations: These are defined as perceiving something without a stimulus. It is one of the criteria for schizophrenia, although it can happen in other psychiatric disorders. There are physical conditions and substances that can induce hallucinations.
When investigating cases of alleged apparitions, it's of utmost importance to take all theories into consideration, not to discount the possibility of a hoax or fraud and that accounts are mostly subjective.
Horror movies love a haunted doll. So do collectors.
Thirty years ago, the world was introduced to a 29-inch-tall doll in overalls named Chucky. With eyes bluer than a White Walker's, hair more fiery than Ed Sheeran's, and a smattering of freckles à la Emma Stone, he looked like the perfect childhood buddy.
Unfortunately, Chucky, the tiny antagonist of the 1988 movie Child's Play, was possessed by a serial killer with a knack for slaughtering people with butcher knives, yo-yo strings, and anything else he could find around the house. Today, almost everyone knows that if a wild-eyed doll asks, "Wanna play?" the only acceptable response is to run as fast and far as you can.
Then there are people like Kevin Cain, a paranormal investigator in Alabama who owns hundreds of haunted dolls and other items. "I lost count a long time ago," he says. While Cain may be an especially prolific collector, he's far from the only one. In fact, there is a thriving marketplace for haunted dolls on the internet.
According to Cain, things really took off after the Annabelle doll appeared in The Conjuring (2013), followed by a solo film, Annabelle: Creation (2017). Annabelle, a vintage porcelain doll with smeared lipstick, a cracked pupil, and claw marks on her face, is possessed by a demonic spirit that enjoys ruthlessly murdering people. That she's based on a real-life haunted Raggedy Ann doll adds to the intrigue.
With the next installment of the Conjuring series, Annabelle Comes Home, and a reboot of Child's Play both hitting theaters in late June, there's sure to be a new wave of people curious about haunted dolls — and perhaps even eager to get their hands on one.
Gone are the days when you'd have to trek to a shady part of town, down a darkened alley, and into a questionable-looking antiques shop to get your haunted doll fix (although if you're ever in New Orleans, Bloody Mary's Haunted Museum and Spirit Shop is worth a visit). Etsy and eBay list thousands of dolls purportedly inhabited by everything from evil witches to judgmental spirits that might call you fat to young children and fairy spirits.
Most haunted dolls sell for around $50 plus shipping, but the most highly prized ones are priced well into the four figures. There's a formula, too, for how they're sold: Each listing contains a detailed overview of the spirit's life story, details of said spirit's death, and a description of their personality. Dolls are labeled "active" or "highly active" if paranormal phenomena are said to occur frequently in their vicinity.
Some are advertised as being able to move objects, make noises, or communicate via telepathy or Ouija board, while others are meant to act as creative muses, play matchmaker by revealing potential lovers in dreams, or emit positive energy.
Kat Blowers, whose Etsy shop FugitiveKatCreations specializes in haunted dolls, says best-sellers tend to be inhabited by female spirits that have some sort of "empowerment" angle. "We have a lot of goddess-type spirits or women who have survived terrible situations and thrived." She also sees high demand for witches around Halloween and leprechauns near St. Patrick's Day.
Best-sellers tend to be inhabited by female spirits that have some sort of "empowerment"
While there are con artists looking to take advantage of uneducated buyers, many haunted item purveyors hold themselves to what they see as high ethical and scientific standards. "It costs us a fortune in tools," says Blowers. Whenever she acquires a new doll, Blowers and her husband put it through an intense investigation that lasts one to three months.
First, the doll is separated from any other paranormal objects in the house. Then it's examined with a K-II EMF meter, a device used by paranormal investigators to detect electromagnetic energy, for a period of three to five days. Blowers then places the doll in a sound box ("basically a foam box"), with a voice-activated recorder to see if she can hear any words or phrases. "We've heard music before, which is really weird," she tells me.
Finally, they conduct lucid dreaming sessions, which involve sleeping next to the doll alongside a piece of amethyst (which is supposed to be a potent lucid dreaming crystal) to see if they have any weird dreams. Blowers typically ends up with a 15-page report by the end of each investigation.
Unlike in horror films, real-life haunted dolls aren't necessarily bloodthirsty beings with a penchant for sharp objects. "Not everything is evil," says Cain. "Yes, there are demons, and Annabelle is example number one of that, but also good spirits. If a ghost can haunt a house or building or ship, why can't it just hang around an item it once owned or reminds them of something in their past?" He theorizes that spirits like to hang around dolls and other toys because of their familiarity and strong emotional connection.
However, this doesn't mean buyers shouldn't beware. Cain routinely refuses people who email begging to purchase one of his haunted dolls. "I tell them it's not for everybody. You don't know what you're asking for," he says. "These dolls aren't for entertainment or fun. These are actual haunted items with spirits attached who want to be respected. Then you have those who, if you're not careful, are demonic and ready to tear into your soul."
He describes an episode where a young woman bought a doll online that was supposed to be haunted by a kind, positive spirit, but she ended up with something dark and malevolent. After a string of strange occurrences culminating in feeling tiny hands around her neck one night, she contacted Cain and shipped the doll off to him. Luckily, he knew how to bind the demonic spirit, ultimately sealing the doll in a box coated in holy water and storing it on the highest shelf in his home, where it remains.
Demons aside, selling haunted dolls online comes with some technical challenges. For one thing, eBay isn't too keen on the whole concept and has a policy that specifically forbids the selling of souls. According to a statement from the company back in 2000, "eBay does not allow the auctioning of human souls for the following reasons: If the soul does not exist, eBay could not allow the auctioning of the soul because there would be nothing to sell. However, if the soul does exist then, in accordance with eBay's policy on human parts and remains, we would not allow the auctioning of human souls." In 2012, eBay further banned metaphysical items including spells, hexes, potions, and magical services.
Some sellers found creative workarounds, including winking claims that their dolls are "for entertainment purposes only" or "sold as is." They also often state there's no guarantee of paranormal activity and indemnify themselves from the consequences of anything that does or doesn't happen. Others, deterred by eBay's crackdown, simply packed up and moved to Etsy.
The haunted doll market certainly isn't disappearing anytime soon. Cain expects there'll be a huge surge in demand this summer thanks to Annabelle and Chucky's big-screen appearances — something he's not particularly thrilled about. For anyone considering a haunted doll purchase, he has one message: "Be careful what you buy. It may be phony — or, worse yet, it may be something demonic."
Read More On This At "Paranormal, Ghosts, Hauntings" – Google News