Top 10 UFO sightings: from Roswell to a pub in Berkshire
As the MoD releases its final UFO files, here are the world's most famous sightings of alien spaceships – sorry, we mean unidentified flying objects. Keep watching the skies
1 Roswell, 1947
Alien autopsy? A still from the documentary The Roswell Incident Photograph: Channel 4Conspiracy theorists claimed the US military had captured a crashed alien aircraft, but "The Man" maintained it had merely recovered debris from a top secret surveillance balloon. Ask Ant & Dec – they made a film about it: 2006 flop Alien Autopsy.
2 Belgian wave, 1989-90
A sighting from the Belgian UFO wave (29 November 1989 to April 1990).Over five months, 13,500 people claimed to have witnessed large, silent, low-flying black triangles, and around 2,600 of them filed written statements. Sceptics blame helicopters or mass delusions caused by eating chips with mayonnaise.
3 Westall encounter, 1966
[youtube https://www.youtube.com/watch?v=JarEi97OsAU?enablejsapi=1&version=3]More than 200 students and teachers at two Melbourne schools saw a flying saucer descend into a grass field, then ascend over a local suburb. There are no pictures, but witnesses still gather for reunions. Some of them are probably "spunks". Others are "dags" who can "rack off".
4 Kenneth Arnold case, 1947
Pilots EJ Smith, Kenneth Arnold, and Ralph E Stevens look at a photo of a UFO that they spotted in Washington. Photograph: Bettmann/CorbisThe press first coined the term "flying saucer" after this Idaho pilot claimed he had seen a string of nine shiny, saucer-shaped objects flying at supersonic speeds near Mount Rainier, Washington. What's the frequency, Kenneth?
5 Bracknell pub pair, 2013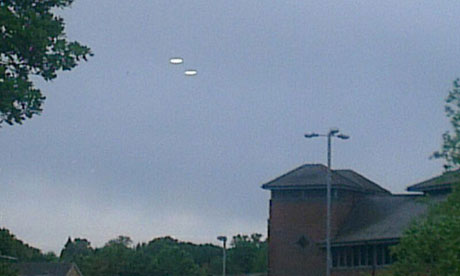 UFOs – flying discs – spotted in the sky over in Bracknell in 2013.Earlier this month, two glowing discs were photographed hovering near Bracknell, Berkshire – in the skies above a pub, spotted by a drinker in the beer garden. Hopefully he stared at the label on his bottle afterwards, like in the films.
6 Ronald Reagan, 1974
[youtube https://www.youtube.com/watch?v=f9ZoKfYCNlM?enablejsapi=1&version=3]Presidents Jimmy Carter and Ronald Regan both claim to have seen UFOs. Carter was widely mocked for his 1973 sighting, but the man who eventually succeeded him in the White House also saw a mysterious object – in 1974 above Petersfield, California. Probably wisely, the wily old cowboy kept pretty quiet about it.
7 Levelland case, 1957
Reports of a UFO sighting in Levelland, Texas in 1957. Photograph: guardian.co.ukTexas motorists reported their engines stalling after encountering a glowing, egg-shaped object – and that their vehicles restarted after it flew past. An investigation concluded that it was down to an electrical storm and "ball lightning".
8 Phoenix lights, 1997
[youtube https://www.youtube.com/watch?v=KdIdDpJYSOM?enablejsapi=1&version=3]Several witnesses spotted an "otherworldly" flying V-shaped craft, several city blocks across and with five spherical lights, in the skies over Arizona. Not to be confused with Phoenix Nights, which is a Peter Kay sitcom. Shabba!
9 Sao Paulo chase, 1986
[youtube https://www.youtube.com/watch?v=zaBBdS226Vk?enablejsapi=1&version=3]Twenty UFOs were spotted and detected by radar around Brazil but reportedly disappeared when military aircraft were sent to intercept them. Experts attributed the sighting to debris ejected by Soviet space station Salyut-7. Of course they did. They would. Right, guys? Guys?
10 Tehran incident, 1976
  US military report into a sighting of a UFO over Tehran in 1976.A UFO allegedly whizzed over Iran's capital, disabling the electronic instrumentation of two F-4 Phantom II jets and jamming ground control equipment. Iranian generals said on record that they thought the object was extra-terrestrial. Don't tell Melanie Phillips.
As Gov't Frames ET's as Threat, Many Use Higher States of Consciousness to Contact Them
Dylan Charles, Editor
Waking Times
Recent media events brought the UFO and disclosure story back into the headlines, if only for a very brief moment.
Boiled down it goes something like this: a disgruntled Pentagon employee goes public about a secretive black-budget program that looks at the UFO/alien phenomenon as a potential threat, in the process discloses new UFO footage and other vague details about the government's experience with ET's.
Mr. Elizondo, in his resignation letter of Oct. 4, said there was a need for more serious attention to "the many accounts from the Navy and other services of unusual aerial systems interfering with military weapon platforms and displaying beyond-next-generation capabilities." He expressed his frustration with the limitations placed on the program, telling Mr. Mattis that "there remains a vital need to ascertain capability and intent of these phenomena for the benefit of the armed forces and the nation." [Source]
The story doesn't hold up too well under independent scrutiny, though, and top journalists and ET researchers have been quick to call this media event a CIA covert op aimed at twisting the narrative on an issue of critical fascination. Something akin to a false flag alien invasion to help usher in new defense programs and surveillance technologies, while obfuscating the truth about advanced energy technologies.
All in the News
The news cycle works in such a way that our perception of the world is greatly influenced by the sudden appearance of news items like this, how these items are framed, and then how quickly they disappear without follow-up. A story hits all the major outlets with gale force, the pundits and spin doctors do their overnight magic, then the story disappears, leaving behind only the imprint, or the feeling it gave us.
This dramatically instructs our worldview on as issue without out ever fully informing us on the issue. Our reaction to it is thus distorted by a distorted picture. It's called framing.
This is exceptionally relevant to the UFO conversation because the story is framed as threat and as an issue on which our knowledge and experience is limited. It thereby omits broad accounts of contact and communication with alien races through altered and higher states of consciousness, such as telepathy, lucid dreaming, astral projection and astral travel, and meditation, as well as through the use of shamanic plant medicines, DMT and psilocybin containing mushrooms.
Terence McKenna spoke on this while asking the question, 'are aliens the future us?' He explains how entheogens like DMT open up a type of telepathy of the soul, allowing one to transcend space and time and to re-emerge in the here and now with information about our situation on planet earth today.
The vast majority of human encounters with extra-terrestrial intelligences happen in the form of one-to-one communication, often initiated by highly empathic or intuitive people.
Communication in this context often cites alien races like the Plaideans, the Dogons, the Arcturians, and many others. Channelers demonstrate another form of conscious, positive contact, and there are volumes written about Seth, Bashar, Ashtar, and others who transmit wisdom to earthlings who've allowed themselves to be conduits.
James Gilliland of the organization Enlightened Contact with ExtraTerrestrial Intelligence (ECETI) has been having what he claims is open contact with ET's for decades. Gilliland trains other to have ET contact, as does researcher Steven Greer, both of whom describe positive and enlightening experiences with extraterrestrials.
The Next Frontier in Human Consciousness
In this light, the extraterrestrial presence here on earth is the next frontier in the exploration of human consciousness.
Intuitive counselor Gigi Young explains how this perspective reframes the whole issue of disclosure, making it one of personal evolution rather than one of government control.
"When will governments disclose?

Like much of our experience here, we want to make disclosure an external event: files revealed, alien beings discussed and advanced tech released. The reality is that these are things that occur authentically **after** we reach a certain level of self awareness and cosmic connection ourselves and not a moment before.

Disclosure is actually a quantum leap of consciousness where in we deeply shift, begin to remember who we are, and then the external world flows with information to match.

The more that we clamour for governments to release files and "tell the truth" (Soft disclosure! Full disclosure! Medium disclosure! ) the more energy they can harvest from us and the more leverage they have to control the narrative. This includes aspects of the government that are actively pushing their distraction narratives in the New Age and Ufology, by the way.

These stories from the government/military/whistleblowers become crooked because there is no inner truth to hold them accountable; our intense external focus indicates that we are not looking inward and connecting with our own cosmic consciousness and capacity to remember.

We don't need disclosure, we don't need to be told who we are, we need to remember who we are. We need to play with our own capacities to journey beyond this world. We need to continue waking up and releasing dependancy on people to tell us who we are and what we are capable of." ~ Gigi Young
Beings of Feeling
Humans are beings of feeling. We abandon our senses when emotional. Intuition is our guide when logic and reasoning come up short, and even the cutting edges of scientific endeavor are guided by that 'gut feeling,' a form of innate curiosity.
We also abandon ourselves to fear, which is the main currency of government control. And while it would be naive to presume that all alien beings were friendly, a continually evolving body of experience suggests that there are indeed benevolent extraterrestrials positively influencing the human race.
About the Author
Dylan Charles is the editor of Waking Times and co-host of Redesigning Reality, both dedicated to ideas of personal transformation, societal awakening, and planetary renewal. His personal journey is deeply inspired by shamanic plant medicines and the arts of Kung Fu, Qi Gong and Yoga. After seven years of living in Costa Rica, he now lives in the Blue Ridge Mountains, where he practices Brazilian Jiu Jitsu and enjoys spending time with family. He has written hundreds of articles, reaching and inspiring millions of people around the world.
This article (As Gov't Frames ET's as Threat, Many Use Higher States of Consciousness to Contact Them) was originally created and published by Waking Times and is published here under a Creative Commons license with attribution to DylanCharles and WakingTimes.com. It may be re-posted freely with proper attribution, author bio, and this copyright statement.
Mysterious gamma rays are alien messages claims MIT astronomer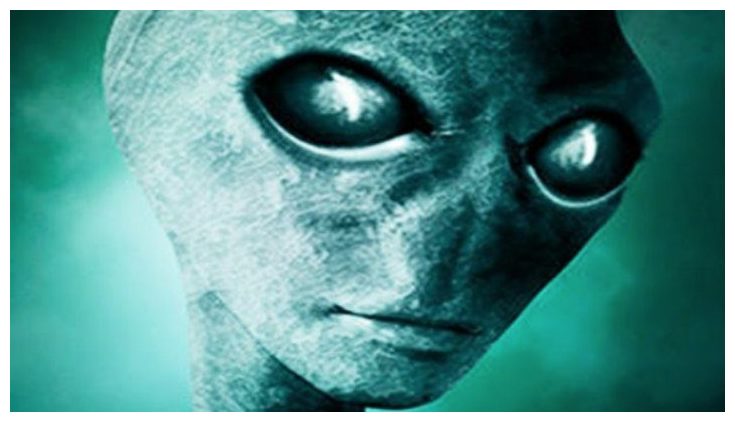 Gamma rays may be most famous for creating The Incredible Hulk, but outside of the world of fiction, they're a fantastic source of discussion among scientists who are trying to uncover the mysteries of the stars.
Gamma radiation can travel a long distance, and can potentially prove harmful under the right conditions, but its longevity means that it gives us the opportunity to learn more about distant star systems, and the enormous explosions that take may place within massive stars as they turn into supernovas or bubble away into black holes.
As exciting as these events are to observe, one MIT astronomer by the name of John A Ball has an even more intriguing theory as to what these gamma bursts are caused by. In a paper entitled Gamma Ray Bursts The ETI [extraterrestrial intelligence] Hypothesis, Ball suggests that the explosions that trigger gamma bursts might actually be communications from across the stars.
According to Ball, gamma radiation could contain 1,000,000,000,000,000,000 bits of information in a tiny two-microsecond burst, which would be "comparable to the estimated total information content of Earth's biosystem-genes and memes and including all libraries and computer media".
As far-fetched as this idea might sound, it does make a certain amount of sense.
After all, the Fermi paradox suggests that we should have come across alien signals by this point, and as we haven't noticed them, it makes sense that these aliens don't communicate using technology that's in any way comparable to our own.
Plus, if humanity had the power to blow up a star in order to issue an enormous message to the universe, we'd definitely try communicating through gamma radiation – especially considering everything we know about how these signals could last endlessly as they travel across the stars.
Indeed, other celestial anomalies that we spot across the stars could be aliens' attempts to communicate with other species. Blinking lights in space have been observed, and these do match up to a certain extent with our own species' attempts to communicate with extraterrestrial life. Heck, even a comet that behaves strangely could be an alien race's odd way of trying to make friends.
There is, though, one big challenge standing in the way of proving Ball's theory: in order to figure out whether aliens are actually trying to communicate with us, we'll need to decipher their code.
This is no easy ask-first off, we don't know which, if any, of the gamma bursts that we spot across the night's sky might contain hidden messages from aliens.
Then we have the challenge of actually trying to spot patterns in otherwise random data. It's easy to jump to conclusions when seeing a repeating pattern and assume that this is part of a message, but it could just as easily be caused by a dust cloud or a large planet obscuring our view of a natural burst of light whenever it reaches a certain point in its orbit.
For now, there's not enough concrete proof to help decide whether or not Ball's theory holds up, but this doesn't mean that it isn't worthwhile.
It's entirely possible that any strange data burst that reaches us from another star system might well be the result of aliens trying to contact us. At present, though, it's just not possible to predict what form such a communication might take.
The UFO Documentary You're Not Supposed To See
Buck Rogers, Staff Writer
Waking Times 
The Pentagon recently authorized the release of footage of a Navy pilots close encounter with an unidentified flying object. This was presented along with the implied announcement that the U.S. government has set up a secretive military program to identify and monitor extraterrestrial threats, the Advanced Aviation Threat Identification Program. The program only ran from 2012 to 2017, they say, which is a short five years in the longer timeline of U.S. government investigations into UFO activity, going back the Roswell incident in 1947.
Rather than fully disclosing the contents of the U/S. government's knowledge of ET's and UFO's, the recent announcements can be seen as psyop to confuse and misdirect the UFO research community away from other important pieces of this timeline. This type of obfuscation offers cover to black budget programs while subtly announcing the presence of a war plan against extraterrestrials.
Absent from the current conversation about UFO's is the broad body of investigation into alien activity around nuclear missile facilities, and a number of credible reports indicating that UFO's have been able to disarm ICBM's and other components of the nuclear arsenal.
This story is told in detail in a documentary film entitled UFO's and Nukes: the Secret ink Revealed. This story has a much greater significance to our world than the slow drip of information on UFO sightings and a propaganda campaign to hijack the narrative on UFO's.
The preview can be seen here, and a full version of the film is temporarily available on YouTube, below.