Top 10 Spiritual Truths We Weren't Taught in School
By Michelle Walling, CHLC
What would our world be like today of these top 10 spiritual truths were taught in our schools, in the mainstream media, and in our history books? How can we change the system to introduce these topics to our future generations? What will the world be like after successfully recognizing these spiritual truths?
1. We are spiritual beings on a human journey. Before we came down into this physical body, we planned out the point in time that we would begin to awaken to who and what we are. The womb of our mother was the tunnel of forgetting, and we knew the challenge of remembering would be tough. The biggest risk we took was never remembering. We were never disconnected from our source of light, however the connection was stretched very long and thin to reach this part of the universe in density. Our challenge is to strengthen this connection and to grow our pillar of light in remembrance and recognition of who we truly are.
2. Our souls never die– we just change our focus. As a spark of light from Source, we are infinitely connected to the flow of experience. When it is time to disconnect the cord of life from our physical body, our spark rises up and out of the human physical body. We take the experience of our lifetime with us, but our focus is changed to a slightly different level of vibration. We still exist as the person we were in human form as well as the many people we have been before. Every lifetime builds experience and wisdom.

3. Everything is energy vibrating at a certain frequency. All living things on earth have consciousness, even rocks and trees. Every-thing and every-one is connected to a "tree of life" or an infinite energy source. We can connect to the consciousness of trees and rocks and can carry on conversations with Top 10 Spiritual Truths We Weren't Taught in School | In5D.comthem by tuning in to their particular vibrational frequency. Our bodies are 90% water and can be programmed and molded to a certain vibrational frequency via thoughts, sound, color, and love. When we understand vibration, we can understand how alternative and holistic treatments can cure any disease or ailment in the body by changing the water vibration.
4. Our thoughts create our reality. All thoughts are energy which manifest into what we see as reality. Always being aware of your thoughts is one of the first steps in responsible co-creation of your reality. It is a simple concept but takes awareness and work. If every person on earth changed their thoughts towards peace and freedom there would be no war or tyranny. Focusing on negative thoughts will create a lower vibrational frequency and focusing on positive thoughts can raise the vibrational frequency. Our reality is a manifestation of what we create through thought patterns.
5. We are the ones we have been waiting for. There are many races and dimensions of beings on the planet at this time. Cherubim angels, Seraphim angels, Archangels, Pleiadians, Orions, Sirians, Arcturans, Anunnaki..…just to name a few. We volunteered to be here at this time, answering the call from the consciousness of Planet Earth as she cried out for help. We came here from other galaxies, universes, and cosmoses. Many came here each time there was a chance to achieve a "golden age" after the "fall". Although those times were not completely successful, they were all preparation for this time.
6. Most of us incarnated here before– many times, in order to prepare for this current lifetime. There are souls who are here to be wayshowers and leaders and there are souls here who just wanted to be here to witness the raising of vibration of the human race in concert with the planet, which will affect the solar system, the universe, the cosmos, and beyond. For those who lead by example, our schooling never stops. We had many "classes" to take in order to prepare to master ourselves in this incarnation. The scope of the effect this event will have on all of creation is one of the biggest secrets of all. Some say that the incarnation cycle has ended and this lifetime is the opportunity to release ourselves from the wheel of karma, or the need to balance our actions.
7. We are never alone. We could not exist here without help from our spirit guides and angels, or high vibrational beings of light who made agreements with us to help steer us on the path toward the goal of ascension. They exist in another vibrational level or dimension higher than ours- thus most of us cannot see them. They are always with us and are waiting patiently for us to ask for help, as we live on a free will planet. They abide by laws of interference because of our free will, but if we ask with our highest and best interest they do have creative ways of manifesting what you ask for. Most guidance comes from within- through a process of telepathy where you get an idea in your head. Messages can also come from other people- those who can tap into that vibrational level in order to hear what they have to say.
8. Time is an illusion. We have a past and we have already been to the future. The majority of our energy particles (our souls) exist in a place of "no time". Time is created in order to experience and is part of the controlled experiment. Meditation or "going within" is the key to returning to the place of "no time" where all the answers lie.
9. Ascension does not involve going anywhere. It is a state of being, a focus of awareness and consciousness into a higher vibrational frequency. It is what we were created for- to "go forth and experience", and return the experiences back to Source in an infinite loop of co-creation and mastery. The main reward of incarnating in the depths of "hell" at this time is rising like the phoenix from the ashes into the bliss and light of love. This is achieved by being love itself.
10. Love is all there is. Finding and reconnecting to love again is the most important thing we can do as humans. Source is unconditional love, and we are sparks of source- which means we are also love. Therefore we are that we seek. Loving ourselves unconditionally is the key to returning to source.
Change starts with each individual person recognizing these truths. We are not responsible for trying to convince others of our own truth, but instead all we have to do is to "be" truth and the rest will follow. How do we do this? Be the example by speaking your truth, and watch the world change before your eyes. By becoming responsible for ourselves, our thoughts, and our actions, we will have made one great leap toward the future of our children and the future of humanity as spiritual beings on a human journey. We have the greatest opportunity ever in the history of the earth to be the best version of a human being we can be. It is simply up to us as to how glorious we create the future of humanity existing on the spaceship we call Earth.
This article was written within the ten hours of hours of power of the author's astrological solar return, inspired by a reading by Lavandar.
About the author:
Michelle Walling is a Certified Holistic Life Coach. She has devoted her life to being a bearer and grounder of the light in service to others. As a truth seeker, she is committed to share her experiences with the world. She is also a hands-on healer, a distance healer, an empath, and an intuitive. Michelle has recently joined forces with Gregg Prescott as an admin for the In5d Facebook page and as a contributing author for www.in5d.com. Michelle also supports Gregg's endeavors in many other areas including alternative and holistic healthcare.
Source: in5d.com
Healing With Crystals – Treatment With Therapeutic Crystals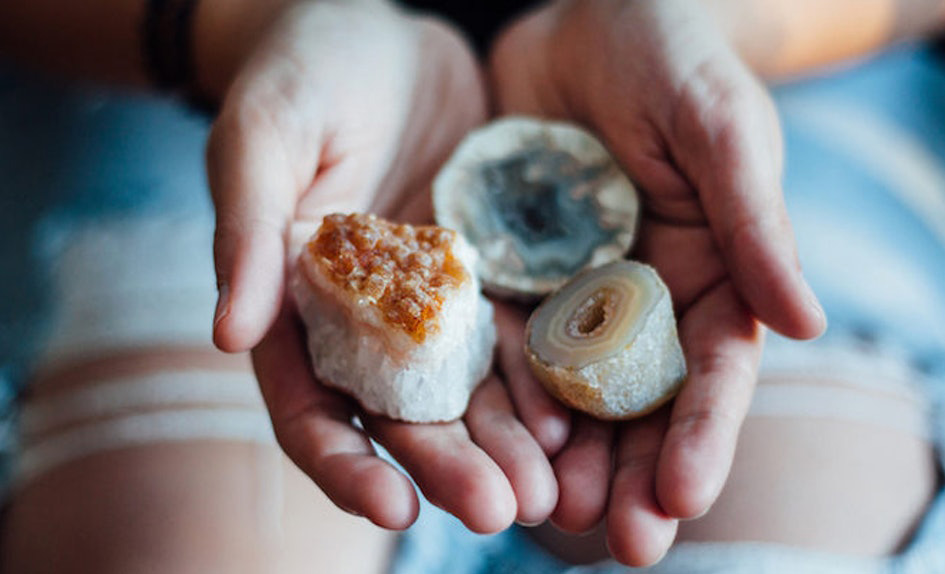 Scientists say at least 33% of the Earth's surface is made up of crystals. Crystal therapies are now known and people are becoming more and more curious and interested.
In this article, you can find some important aspects of healing crystals and semiprecious stones.
You can read about the pink quartz that attracts love, crystals that heal dizziness, insomnia and other sleep disorders, about crystals that have a beneficial effect on the physical and mental health of the body.
Healing Crystals have been used over time not only as accessories but also as "medicines".
The powers of these precious stones have been demonstrated since ancient times, and they have acted on both the mind and the physical.
Brilliant crystals have been shown to conceal unpredictable powers that people can benefit from if they know how and when to use them.
It's not enough to wear a pair of earrings, a chain, or a crystal bracelet to be protected or to fight certain illnesses.
Just like any healing therapy, and this is governed by rules to be followed.
Therefore, when you are determined, it is advisable to turn to a specialist's advice, or, why not, to attend several courses of initiation.
Obelisk for the 7 chakras
The use of crystals in a particular healing process should be done with caution.
Some crystals are extremely energizing, while others offer feelings of tranquility.
Used mistakenly, stones can amplify certain aspects that are in fact desired to be removed or can diminish elements that are desired to develop.
The power of healing crystals actually comes from their vibration that produces the balance of the human biomagnetic field, improving many states of physical and psychological harm.
In Romania, crystals are found mainly in the metallic mountains.
Crystals love to stay in the sun, to reflect the light.
Therefore, it is advisable not to keep them in the dark places.
Healing Crystal therapy specialists say crystals need to be treated with love and attention.
Healing With Crystals
During the trips, the crystals are transported wrapped in a clean cloth.
Any crystal must be purified before it is used to remove the vibrations and negative energies that exist in it
Depending on your needs, the conditions you suffer from, there are also some crystals that can improve or even heal.
It is good to know that neither the size nor the brightness of the crystal matters, the strength of which is important.
Over time, the healing power of crystals has managed to convince even the most skeptical and disbelieving, turning this therapy into a highly sought after and used one.
We also need to know that not all crystals are suitable for healing.
Cleaning the Healing Crystals Before Use
Cleaning the Healing Crystals
Although most of the crystals with curative effects are known and fairly accessible, to give them these powers, you need to know how to wear them, when to wear them most importantly, how to give them the necessary purity.
Before using any crystal for therapeutic purposes, it needs to be cleaned energetically.
The most famous crystal clearing agent is sea salt. The salt may be mixed with water or used as such.
Mix a spoonful of sea salt with cold water in a glass or ceramic cup.
Never use a plastic or metal container. Put the stones in the solution and leave to soak overnight.
If you use pure salt in a pure state, you need to "bury" the crystals with the tip down into it, leaving them overnight.
If a stone requires more time to purify it, it can be left two to three days in the sea salt.
Another cleaning agent is the moonlight.
Put the crystals out in the moonlight, preferably hanging somewhere above, so the light can penetrate them.
The earth is also an excellent purifier, especially when you feel that deep cleansing is needed.
Outside, dig a hole of crystal size, and put the crystal upside down and cover it with earth.
A quick way to clean stones is to smoke them with sage or burned cedar.
Smoking is an excellent way to make sure the stones are purified.
Crystal Care and Cleansing Mode
The crystal is held for 6 days in sea salt.
The amount of salt must be sufficient to completely cover the crystal.
A marine salt solution of approx. 25% concentration.
The crystal is kept in this solution for 3 days.
The temperature of this solution (based on sea salt and water) should be close to that of the crystal.
Finally, the crystal is washed with spring water, water from a river or cascade, and then allowed to stand in the sun.
This washing and drying process should take at least half an hour.
Thus the quartz will be charged with beneficial energies from water and the sun.
Sea salt has the ability to erase negative programs from the crystal, so it remains clean, pure.
What Not to Do: Do not place crystals in chemical detergents or ultrasonic cleaners, will damage the stones. Also, commercial salt is not recommended with different chemical compounds (anti-agglomeration, etc.). If the crystals also contain silver accessories, use a special cloth to clean the silver that does not destroy the crystal.
Moon's light:
All the crystals adore the moonlight, especially during the full moon period.
The powerful energy of the full moon actually lasts for 3 days, thus giving enough time to clean all the desired crystals, the day before the full moon, during the full moon and the day after the full moon.
Crystals will capture the energy they need even if it's raining outside or cloudy. If it still rains, be careful not to be touched by water. (Crystals that need to avoid water here).
Sunlight:
Many crystals like to bathe in the sunlight, especially red, orange or yellow (like Carneal and Stone of the Sun).
Crystals can be left in the sun for a few hours for cleaning and energizing.
Take great care with crystals placed in the sun, some crystals turn off their color or even change them.
Usually, there are crystals that are pigmented, such as the Amethyst or Florina.
Preferably do sunbathe only when it is certain that the crystal is compatible with sunlight.
Avoid sunlight:
These crystals should avoid exposure to sunlight for long periods of time.
The list includes many of the common crystals; is not complete but provides a good start in understanding which crystals should avoid sunlight for long-lasting exposures.
Aquamarine, Amethyst, Ametrine, Green Apophilite, Celestite, Citrine, Smoky Quartz, Pink Quartz, Florin, Hidenite, Kunzit, Opal (Dry), Prasiolit, Topaz, Turquoise.
In water:
A bathing in cold water is very refreshing for most crystals.
It can be running water or non-running water.
It is important to remember that the water is cold, crystals do not like hot water.
It is an easy, quick way and can be done anytime and anywhere.
While the crystals are immersed in water, they see how the water cleans them from all negative energies.
The water will clean them both physically and energetically. Water cleaning is the handiest method when it comes to cleaning the crystals in a bracelet, for example.
Keep in mind that there are certain crystals that are not cleaned in water.
As a general rule, it is advisable not to submerge the crystals with a Mohs hardness equal to or less than 5.
Also, if it is desired to keep a crystal for a longer period, it is good to make sure that the crystals do not contain iron because they can oxidize (crystals such as the Hematite, Magnetite, etc.).
Saltwater:
It's another way to clean the crystals but require extra care.
Many crystals can be damaged by salt. Crystals with a Mohs hardness of 7 or more can be washed in salt water.
It is preferable to use intuition and to the least doubt not clean with salt water.
Avoid water:
These crystals should completely avoid exposure to water.
Water may damage the crystal or even disintegrate and dissolve it.
The list is not complete but it provides a good start in understanding which crystals should avoid contact with water of any kind. Halit, Malachite, Himalayan Salt, Selenite, Desert Rose.
How to use the healing crystals
Healing Crystals helps to remove negative energy at work.
Put a quartz crystal on the work table and leave the whole day.
It can be programmed in advance to obtain optimum results in action and to give a good intellectual performance.
The crystal can function as an air ionizer. It is recommended for eliminating negative vibrations in a room where there were stressful moments or situations.
By placing crystals in the dwelling (in its corners), electromagnetic radiation can be countered.
Large crystals of about 5 cm are indicated, which have a sure tip, which should be oriented upwards.
These crystals have to be cleaned every 14 days so they can be reused.
Today people appreciate jewelry made of precious metals and stones, but also jewellery made of quartz and different semiprecious stones.
Quartz jewels have different purposes, of which we mention some therapeutics:
Purifying the aura and activating the chakras.
Balancing energy fields.
Spiritual development.
Improving the inner state and health.
Eliminating negative energy, fighting stress.
Quartz can help purify the aura from negative energies after an exhausting day. After this procedure, they must be purified and therefore kept in seawater.
Quartz can act as a talisman, providing protection to the wearer.
Such a jewel must be maintained, washed a few days with salt water and allowed to dry in the sun.
To resist over time (to avoid being blackened due to the procedure of cleaning and washing frequently), these jewels must be made of quartz and silver.
Quartz jewelry can be in different forms: earrings, rings, pendants, bracelets, amulets, ankle bracelets, chains of different sizes, brooches, tiaras, etc. Other important issues related to such jewelry:
The rings are said to increase the quartz emission, and when there is an energy drop they can be used very easily. The ring can be worn on either finger on both hands, can be moved from one finger to the other.
Amulets in quartz have magical powers, they are said to protect against all negative energies.
The quartz brooch can help activate the solar plexus chakra.
Bracelets that have quartz crystals can have a calming effect and strengthen the heart chakra.
The quartz necklace has a beneficial effect on the heart, increasing the communicating capacity of the person wearing it.
The pink quartz is called the stone of the heart or the rock of unconditional love. It is a crystal that has been associated with the heart chakra.
It is said that it can create positive and harmonious relationships, whether it is family or romantic love.
Its color may vary (maybe a lighter or darker pink, pinkish or pink-red) depending on manganese, titanium and iron impurities in its composition.
Pink Quartz – Benefits and Healing Properties:
It can be worn as a talisman because it attracts love.
It also has a good effect on the entire body, it can combat physical, nervous, and mental exhaustion.
Pink quartz is recommended for sleep disorders. It can be worn on the skin for the day because it offers a state of harmony, but also at night to have a quiet night's sleep.
During the night you can put under the pillow you are sleeping or can be held in your hand until you fall asleep.
Helps combat insomnia and nightmares.
It brings warmth to the relationships between people.
Promotes forgiveness, mercy, tolerance, love, and kindness.
Balances emotions, anxiety, stress, nervousness, depression.
Restore confidence and harmony.
It increases self-esteem, confidence, and courage.
Regulates blood circulation and heart rate.
Combats sexual dysfunction improves fertility.
It has a good effect on the skin, improves its appearance.
It can help treat adrenal gland problems.
Its vibrations reach to the cells and bring a state of joy, harmony, longevity.
The pink quartz is recommended for people born under the zodiac Taurus, Leo, Libra.
Pink quartz drops or small pink crystals are recommended to be worn at the neck or in the bag.
Such crystals are for jewelry, especially because they are very beautiful and have the advantage of stimulating the heart chakra.
Crystals that fight dizziness
For the treatment of dizziness, 4 crystals are recommended: malachite, smoky quartz, magnetite, Kunzite.
These are placed under the soles, or you can wear a crystal to your wrist like a bracelet.
Also, crystals that treat dizziness can be kept on the palm, their effect is just as good.
This stone is of green color with spots and strips of different shapes, or of a dark green, sometimes even black.
It can be translucent or opaque, contains basic copper carbonate and has special therapeutic properties.
It has been used since ancient times since the time of the Pharaohs (as crown decoration). It is said about malachite that:
It has a good effect on different mental or spiritual cleansing treatments.
Helps in making good decisions.
It increases the power of concentration, perception, imagination.
It has a soothing effect, it induces a well-being, but also emotionally.
It's a good remedy for radiation.
Only used for external use, applied to the skin. It can take negative energies and eliminate them.
It has a purifying effect on other stones.
The malachite powder is toxic and even poisonous.
It should not be purified in salt because it has little hardness and can be scratched.
It can be destroyed by excessive heat, acid and soap.
Malachite is a recommended stone for people born under zodiacal sign Capricorn, Aquarius, Taurus, Cancer, Virgo, Scorpio.
Smoky quartz is indicated for the treatment of dizziness
This quartz is brown-gray-brown, with dark, dark tones. It has very good effects on the body.
It is a powerful and effective stone against stress.
It relieves anxiety, nerves and brings a state of emotional silence.
Increases concentration. It offers a quiet, calm and patient state.
It has the ability to emit a healthy, healthy energy.
Eliminates negative thoughts, depressive states, despondency.
It gives a good mood.
Combat the tendency of suicide, the mental depression of some people.
It brings love to the heart, to the heart chakra.
It has the ability to help eliminate metabolic toxins in the body.
It has a relaxing effect, it combats stress, soothes pains and cramps, increases the resistance of the nervous system.
Keep on your feet or knees or in your hands.
When buying a smoky quartz you have to be careful that it is natural. Many quartz quarks are forged, they are made by artificial irradiation.
If you notice that they have an unnatural aspect, which is obvious, do not be fooled because it is not what you should.
Such artificially irradiated quartz is not as good as a natural quartz, it has been traumatized and should be thoroughly purified before it is used.
Lodestone is a good remedy against dizziness
Lodestone is found on sandy beaches, it has the black color and a brilliant appearance with small opaque areas.
The effects of this stones are:
Improves the inner state.
It helps us get rid of riding thoughts.
It favors telepathy and meditation.
It can calm and soften negative emotions.
It brings us extra energy.
It is held at the base of the spine or on the back in the neck.
Healing Crystals help with sleep disorders
Insomnia can be a real problem for people, especially if they persist.
Because of it, people fail to rest during the night and are always tired at work.
There are cases when it is necessary to seek help from a physician (when insomnia is caused by physical or psychological factors).
Sometimes, however, sleep problems arise due to negative thoughts, disharmony, and mental conflicts.
Such therapy with crystals or healing stones is very easy to use and is effective in treating insomnia and sleep problems.
Put the crystal or stone under the sleeping pillow, it must have the tip facing outwards. Putting six crystals around the mattress brings a well-being, sleep will be more restful.
A crystal is placed above the head, one under the feet, two on the ankles and two on the shoulders.
What are the benefits of healing stones:
They have a positive effect on people suffering from physical illnesses.
They have a relaxing, soothing effect.
The vibration of stones heals disorder and disharmony created at the physical and mental levels.
Induce sleep sensation.
The main stones with effects on dreams or having a bearing on sleep are:
Amethyst – Recommended in cases of anxiety, headaches, mental illness, hypertension, insomnia and other sleep disorders. Amethyst prevents and fights restless sleep.
Topaz – Has a good effect on the inner condition, improves sleep.
Pink quartz – Can fight negative vibrations so sleep will be soothing.
Citrine – It has a good effect on the nervous system and the stomach, combats the states of weakness and lack of confidence (which can sometimes cause unrest, negative thoughts and insomnia).
Alexandrite – May intensify dream perception and imagination.
Rock Crystals – With their help, you can remember your dreams when you wake up in the morning.
Moldavita – Encourages dreams and memories.
Dioptase – You can have intense dreams.
Black Tourmaline – Improves sleep.
Ruby – With this stone you become calm, clear, you have quiet sleep.
Sea Crystals – Dead Sea Salt
Many people wonder why Dead Sea salt is so good for the beauty of the skin?
Because it has a wide variety of active elements and beneficial properties for health:
It has many minerals and trace elements, such as potassium, magnesium, phosphorus, calcium, bromine, iron, etc.
It's 10 times salty than regular salt.
It has 3 times higher sodium concentration.
It contains 30 times more magnesium than classical salt.
It has 36 times more calcium.
It has calming, remineralizing, anti-inflammatory, decongestant, purifying, disinfecting, antifungal and relaxing properties.
Dead Sea Salt has a good effect on the skin:
Helps in the treatment of eczema, regulates sebum secretion, attenuates pigmentation.
It can relieve the symptoms of psoriasis.
It is a good remedy for skin diseases (atopic dermatitis), heals scratches, irritations, inflammation, soothes itching.
Attenuates cellulite.
Softens the skin, helps remove dead cells from its surface.
Moisturizes and improves skin appearance (elasticity and tonus).
Regenerates skin, connective tissue.
The Dead Sea Salt Bath is done as follows: dissolve 1 kg of salt in warm water, then place in bath water; the bathing water temperature should be 37-38 ° C; stays in the water for 20 minutes, the effect is very relaxing.
The benefits of this treatment:
Cleans effectively and activates skin functions.
Helps in the treatment of rheumatism.
Strengthens the immune system.
Combats psychosomatic disorders.
It has a refreshing effect on the body.
Eliminates fatigue and stress.
Relaxes body and mind, gives a pleasant feeling, a sense of comfort.
History of healing crystals
The first historical references to the use of healing crystals come from ancient Sumerians that included crystals in magical formulas.
Egyptians from antiquity used turquoise, emerald or quartz for protection and health, but also for driving evil spirits.
Also, the ancient Greeks lifted the crystals on an extremely high pedestal, attributing miraculous properties.
In fact, the word crystal comes from the Greek "ice".
It is said that the quartz stone was actually a water that froze so loudly and deeply that no one will ever melt it.
In ancient China, jade was the cornerstone. It was used to protect against kidney disease, but also as a protective amulet for the great emperors.
The Mayans, as well as other American Indians, used crystals for both diagnostic and curative purposes.
In the old villages of that geographic area, large quartz crystals were used to visualize space and time.
If you know how to choose the right crystal, if you follow the rules of purification, and if you "listen" to the voice of the stone, positive energies and vibrations will affect the body and the mind.
---
The information provided in this article is not designed as a substitute for the diagnosis, treatment or advice of a medical practitioner. The information comes as complementary options to conventional medicine (complementary = it can work with). In no way should the information be considered as "medical practice".
The site assumes no responsibility for the use of this material.
References:
The Ways Meditation Will Improve Your Sex Life
While sex and meditation are not obvious bedfellows, there's a tradition linking both which goes back for centuries. Tantric practice from the East viewed the energy generated through sexual activity as a possible springboard for specific meditative states. But that connection isn't a one-way street: Sex might be a way of improving meditation, but in case you are looking to liven up your sexual life, meditation might be the ideal route. Here is why:
1. Meditation helps with anxiety management.
Meditation is probably best known for helping to handle anxiety, and anxiety is terrible for intercourse. Anxiety is your body's response to being overwhelmed from the stress of our lives, which activates the fight-or-flight reply and makes us feel lightheaded, nervous, and even nauseous. We feel the desire to run, hide, or struggle in reaction to stress–to not make love. While this occurs, our libido takes a hammering.
Additionally, stress requires energy. Section of the physiological reaction to stress is the release of adrenaline and associated hormones. We're then primed for actions along with hypervigilance, but this takes a great deal of energy, and perhaps not surprisingly, we all feel tired long until we reach bed. To compound the issue, we do not sleep well with our mind ill at ease, relentlessly searching for answers to our problems. No energy equals "not tonight."
2. Meditation helps eliminate distractions.
Meditation aids our brains detect if we are distracted. And if one spouse is diverted during sex, it is not great for anyone. If you are considering work, finances, or life in general, your spouse will know. They might not understand what or who you are thinking about, but they know you are not entirely present. It is excruciating (to say the least) to understand your spouse isn't paying attention when you are at your most vulnerable. Meditation compels us to move our focus right back to where we need it. Become more cautious –your spouse will notice and want to reciprocate.
3. Meditation can help you get the spark back.
Listening is one of the most effective aphrodisiacs. When you first began dating, you're probably fascinated by what your partner had to say, and they had been fascinated by what you had to say. You both believed noticed, heard, and had a feeling of a strong connection. The excitement that emanates from this is our urge to physicalize the emotional union. But after months or years of being with the same person, you have probably stopped listening.
You might still have physical attraction, but over the years the emotional desire that kindles actual fire dies down a bit. Meditation teaches you how you can listen properly again by assisting you to see when your focus is no longer entirely on what they are saying and provides you with the ability to put it back. To get the spark back, begin listening fully. Meditation is the practice that shows you how.
4. Meditation can help you understand the power of now.
Meditation helps make sex special again by ripping you from your routine and waking you up to a innate present moment awareness. While automaticity is good for brushing your teeth, it is not quite as good for intimacy. Part of meditation is about being alert to right now. We attempt to sit observation of the current moment by placing our focus on things happening in the present, such as our breathing.
We see how difficult that is when we become distracted but train ourselves over and over to return our focus to learn what's going on in the moment as opposed to what is occurring in our minds. "Automaticity" is something that occurs when we slide into automatic behaviour instead of paying attention. It's the way we drive home without having to think of the route or the way we brush our teeth while considering the day ahead. Plus it may be how we end up having sex after a while. You do so, I will do so, you stroke , I'll rub there–and let's get some sleep. It is practical, efficient, and passionless. Wake up to the now thanks to meditation, and you can bring back the closeness by being completely present.
5. Meditation can help you read your partner's mind.
Most top athletes understand they need to dismiss the thinking mind and allow their natural ability come through to do at their finest. Some call this "getting out of their own way." This is all about realizing the mind as being good at a lot of things like logical thought but also it is seriously restricted. It's about recognizing our subconscious thoughts as being much faster, more aware, and much more competent at a number of different things. Meditation is the practice which could allow you to calm your thinking and help you get in contact with that awareness that stays behind your conscious brain. It's this portion of yourself which will pick up and process countless subtle cues from the partner's breathing, their entire body, sighs, and responses which the thinking mind will completely overlook. You will just instinctively understand what the ideal move is without understanding why. You might not really be psychic, but your partner might believe you're.
The Argument On Vegetarianism In Tibet
The dilemma of vegetarianism was a vexed one for Buddhists in Tibet, where the large alpine landscape is acceptable for nomadic herding and a meat-and-dairy-based diet. A folk story recounted by American writer Lama Surya Das from the publication The Snow Lion's Turquoise Mane exemplifies the tension between the Tibetan diet and Buddhist ideal of compassion. From the narrative, a sheep, an ox, and a goat listen from outside the monastery's walls to the great lamas and scholars debating the dilemma of vegetarianism. The animals are inspired to reverence and religion by the compassionate prognosis articulated from the argument, just to be picked one by one for slaughter during the lunch break. Ideals and practicalities clash as it gradually dawns on the animals the compassionate outlook espoused in the Buddhist teachings doesn't necessarily apply to"all sentient beings" in practice.
In the Food of Sinful Demons: Meat, Vegetarianism, and the Limits of Buddhism in Tibet, Geoffrey Barstow of Oregon State University tackles the history of vegetarianism in Tibet, surveying the multifaceted arguments of its proponents throughout the centuries. His in depth study relies on a broad swath of texts, such as biographies of distinguished masters, rulebooks for individual monasteries, and literature about the "three vows," which discusses the connection between the monastic code (Vinaya), the bodhisattva vow to benefit all sentient beings, and the samaya vow taken by Vajrayana initiates. These vows offer different and often contradictory viewpoints on meat-eating, complicating the formula of a coherent Buddhist position on this particular issue in Tibet. Barstow dedicates one chapter to every vow and its consequences for meat-eating in accordance with major Buddhist masters from various Tibetan traditions. This permits him to delve into particular aspects of the vegetarian argument in detail, but at the expense of a chronological sense of these ideas' development and the lived contexts where particular positions emerged.
For Tibetan Buddhist practitioners in North America, what could be surprising is the pointed criticism of consuming meat in everyday life according to a tantric paradigm. The initial two vows, related to monastic life and the bodhisattva path, are far more clear cut. As Barstow shows the monastic code permits monks and nuns to eat meat as long as they haven't seen, heard, or suspected that the creature was killed specifically for them (the tale above clearly violates this rule). However, the bodhisattva vow supersedes this in its own compassionate concern for all sentient beings along with the call for vegetarianism in many Mahayana sutras (including the Lankavatara Sutra andMahaparinirvana Sutra). That is, in large part, why Buddhist monastics in China have mainly been vegetarian. Further complicating matters, the samaya vow mandates the usage of meat and liquor in tantric feasts as a means to surpass the thoughts of purity and impurity. This creates a strain with Mahayana ideals by appearing to sanction meat-eating, though the mandate only applies in particular ritual contexts and to specific rare and repulsive types of meat.
In addressing such contradictions, Barstow deftly illuminates a selection of positions: from advocacy for vegetarianism that still requires the usage of a token amount of meat through tantric feasts (by the 18th-century Nyingma visionary Jigme Lingpa and 17th-century Kagyu master Karma Chakme) to permitting meat-eating as medication when sick (most famously, the19th-century Nyingma hermit Shabkar Tsokdruk Rangdrol) to strict vegetarianism in all contexts (for instance, Norchen Kunga Zangpo, the 15th-century founder of the Ngor branch of the Sakya tradition, along with the Eighth Karmapa Mikyo Dorje, the 16th-century head of the Karma Kagyu lineage).
Outside the monastery, the parameters were different. Not merely did non-monastic tantric professionals have fewer limitations on diet and behavior –they frequently married, and dwelt as householders–but other cultural orientations held sway.
Barstow breaks new ground in his talk of the usage of meat for medical purposes and as an element of a heroic masculine ideal. The Tibetan medical tradition asserts the necessity of meat for energy and urges the usage of particular kinds of meat to deal with specific ailments. Meanwhile, a manly ideal exemplified in the Gesar epic valorizes the control and consumption of animals in constituting strength and virility.
In the last chapter, Barstow exemplifies how Tibetans have balanced those varying viewpoints by distancing themselves from the action of slaughter or practicing partial vegetarianism by giving up meat on special holy days or during retreat. He supplies a well-rounded and extensive account of why meat-eating has remained the standard among Tibetans, even monastics, regardless of the powerful Buddhist ethos of empathy for all beings.
Matters have changed lately, however. Improved transport and the introduction of greenhouses have generated a larger assortment of vegetables and other types of protein available. Since the mid-2000s, vegetarianism has gained momentum among Tibetans, encouraged by prominent Buddhist teachers such as Khenpo Tsultrim Lodro at Larung Buddhist Academy in southern Tibet, also among the two claimants to the throne of the 17th Karmapa, Ogyen Trinley Dorje, in exile in India.
In an epilogue, Barstow delves into the possible effect of and controversy about modern vegetarianism but neglects to summarize the wider context that includes an ethical reform movement along with a new set of ten Buddhist virtues promulgated by leaders at Larung Buddhist Academy. This new pair of virtues contains novel pledges to not sell livestock for slaughter; to not smoke, drink, or gamble; to not visit prostitutes; to not fight with weapons or deal in arms; to not steal or hunt; and to not wear fur, all which refocus Buddhist ethics on modern social problems.
Now, vegetarianism has been embraced primarily by Buddhist monastics, with devout lay people giving up meat on special holy days. Therefore it remains to be seen whether Tibetans will make a considerable change in diet and what impact this could have in their way of life. For those following the vegetarian argument as it evolves on the Tibetan plateau and as Buddhism spreads to new contexts, Barstow's publication offers essential reading.