We're at an amazing time in human as well as cosmic history. What we do with it is up to each of us individually, as well as the inescapable collective of which we are all part. How we each respond individually affects the entire collective. This is our tremendous power. To do right or wrong, bring light or continued ignorance and darkness.
This responsibility is too weighty for most. They feel not just disempowered, but cowed out of their integral self soul expression. The forces are many, but playing the victim is nothing but an escape from personal responsibility. Fear, self-doubt, conditioning and subconscious inertia are difficult but not impossible to overcome. One right decision and exercise in true self affirmation leads to another, and as momentum builds it does become easier, and quite inspiring as well as horizon expanding.
All of that is co-conditional on a true willingness to let go – of past programming, false self stories, and external influences. The heart is the key; a love of truth and love itself, and for the ultimate betterment of humanity as we heal ourselves. All great and true energies align with such a spiritual disposition and the river of change and empowerment flows seemingly supernaturally in that zone, apparent parallel realities to what we witness in the external.
If we're willing and truly desire to go there.
Again, the past attachments will fall away. But there's nothing to fear, as what's real and true in your life will continue on. Not all will be lost as so many fear. Sincere heart led relationships, the means for peace, contentment and survival, everything is healthily maintained. It is all well taken care of. The dualistic realm of separation here will fight this knowing tooth and tong, but it cannot win. If we are determined.
We all must remember that this is a training place, a proving ground, with wonderful soul lessons we came here to learn. That is the purpose of life on this very challenging yet bountiful and beautiful planet. Many say that is why we chose to come here, to learn and grow. But the amnesia we experience upon re-entry and immediate psycho-social conditioning fight our waking up and remembering quite comprehensively. By design.. And it's not "bad" like we think. That too is an "allowed" construct to give us contrast and clarity, as well as soul strengthening during our adventure and lesson learning time.
Yet we are up to the challenge, otherwise we would not be here. That deep soul-sucking sense of futility we all run into and apparent meaninglessness is just a construct. It's a lie of the first order. We know that in our hearts, yet so many waver and weaken and fall back into the victim mentality in a resignation to just get by and avoid conflict and pain. But as we've all experienced, that never works. The overwhelming external, all in escape mode, keep the amusements and distractions amply offered front and center to numb the deep inner pain and longing, all the while knowing that there is something else we are here for.
Enter Religions and Belief Systems
Sublimation is an interesting concept. One definition says "Sublimation is the transformation of unwanted impulses into something less harmful. This can simply be a distracting release or may be a constructive and valuable piece of work. When we are faced with the dissonance of uncomfortable thoughts, we create psychic energy. This has to go somewhere. Sublimation channels this energy away from destructive acts and into something that is socially acceptable and/or creatively effective."
This is basically a replacement or camouflage dynamic. It is prevalent in our unconscious as we maneuver through life. It's quite stealthy until we begin to recognize it. It's sort of a "find and replace" program to help us not face the raw truth about our real selves and condition.
Religion is a perfect example. We have an innate knowing there is so much more to this life here. We sense it strongly. Society gives us labels for these feelings such as "faith" in something unseen, for which they have a ready explanation. This lower dimensional construct we live in is quick to fill in this sensation and need with religion – "faith" in the unknown, "trust" the hierarchy of those that know more than you, etc etc. A very clever design. That or sincerely relate to us "outside" formal religions and then direct or shunt humanity into one of the myriad religious practices and "alternative" belief systems of this world.
Belief systems are a bit more subtle, as they claim independence from the mainstream religions, so there's that added element of spiritual and mental pride that "I'm not going for that – I'm going for this!" An amazingly clever "catch all, clean up" dynamic, but it's just another manifestation of ignorance and pride. We've all fallen for one form or another of this. After all, throughout all this that shallow, false egoic self wants to survive no matter what. And that belief thing is fully hooked up to the veil, the matrix; i.e. the illusory testing system. But I digress, a bit.
If this is too abstract or esoteric for some, I apologize, Hence the title. I will close with something of a summary of this particular exercise:
We are way more than we can even imagine and we need to tap into it.
We need to be willing to do so at any cost. Any.
Doing so will solve any and every personal as well as global issue or problem.
Understand that limitation devices are in place for a good reason – to help us recognize false ego driven attachments – – in order to let them go.
The challenge is subtle yet plain as day. Beliefs are just that: temporal non-real constructs that offer convenience, excuses cloaked in ritual ego-based offerings based in superstition, and in most cases justifying what we want.
Reality is reality. Find it, face it, embrace it.
The illusory matrix we've encountered here is purely fear driven. When we let go of fear every door opens and the love, beauty and simplicity of true creation and who we truly are pours through.
We are the light of the world. Let it shine.
About the Author
Zen Gardner is an impactful and controversial author and speaker with a piercing philosophical viewpoint. His writings have been circulated to millions and his personal story has caused no small stir amongst entrenched alternative pundits. His book "You Are The Awakening" has met rave reviews and is available on Amazon.com.
This article (To All Who Can Hear) was originally created and published by Waking Timesand is printed here under a Creative Commons license with attribution to Zen Gardner and WakingTimes.com.
A cosmic network aware of everything
The Akashic Records are a universal memory of existence, similar to a Cosmic Internet.
They represent a multidimensional space where all the experiences of the soul are archived including all the knowledge and experiences of past lives, present life and future potentialities.
The word Akasha goes back to its Sumerian origin, where it was used to refer to the ether, both in its elementary and metaphysical sense.
Perhaps the person we should go to when we talk about Akasha or the ether is a man whose importance has not been truly appreciated: Nikola Tesla.
In an interview called 'The greatest achievement of man', Nikola Tesla said:
"Every perceivable matter comes from a primary substance, or tenuity beyond conception, that fills the entire space, the Akasha or light ether, on which the Prana or creative force acts, summoning existence, in endless cycles of all things and phenomena. "
However, even before Nikola Tesla, ancient philosophers and scholars wondered if the so-called ether existed.
If we take a look at the "Travels of the Indians of Apollonius of Tiana", we will find more mention of the so-called ether. And if we take a look at ancient Hinduism, Akash is the fifth of the "five great elements."
Akasha is a term for space in traditional Indian cosmology.
In ancient Sanskrit, it is used to describe the "ether", which is an impalpable, immaterial, subtle and intangible fluid, which the ancient Hindus believed existed through and "within" the entire universe and would be the vehicle of sound. and life
We understand that the ether or Akasha is basically the foundation of everything that exists in our material world.
In numerous ancient teachings, Akasha is considered the invisible force behind the creation of all matter.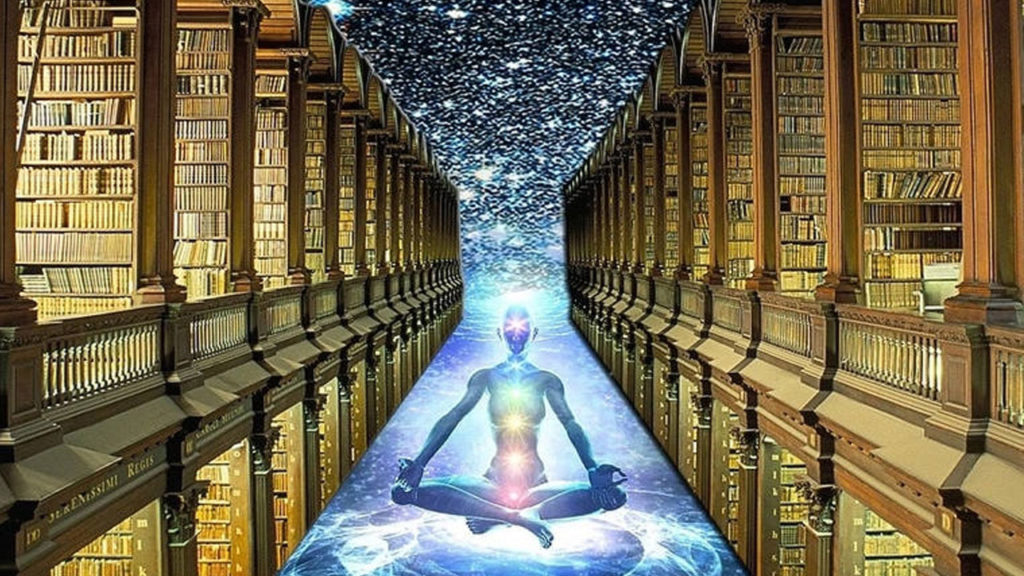 Furthermore, in Vedantic Hinduism, Akasha is translated as the basis and essence of all things in the material world; and is considered the first material element created in the astral world.
As EC points out, it is the source of energy for material manifestation. So what are the akashic records?
Alice A. Bailey wrote in her book Light of the Soul about the Yoga Sutras of Patanjali – Book 3 – Achieved Union and its results (1927):
The Akashic record is like an immense photographic film, which records all the desires and experiences of the earth of our planet.
Those who perceive it will see in it: the life experiences of each human being from the beginning of time, the reactions to the experience of the entire animal kingdom, the aggregation of the mental forms of a karmic nature (based on desire) of Every human unity through time.
Here lies the great deception of the records. Only a trained occultist can distinguish between real experience and those astral images created by imagination and living desire.
The meaning of the Akashic records can be summed up as the "data" that, in theory, exists in one place, in a non-physical way, outside of time and space.
In these, records, we can discover the absolute knowledge and experience of our soul; almost as if it were part of a supercomputer of cosmic information where our past lives reside, the present and future possibilities (which are part of the theory of reincarnation), as well as the meaning of our existence.
The Akashic records (of Akasha, in Sanskrit: heaven, space, ether), can also be summarized as a kind of memory (of everything that has happened since the beginning of time) that has been embedded and recorded in the ether.
There, everything that has happened since the beginning of time and all knowledge of the universe has been safely protected since time immemorial.
The interesting thing is that everything, absolutely everything, including you and me, arises from this matrix, from this space or subtle background.
First is the formless divine source, the origin of creation. From there arises the first crystallization of the spirit, the ether, the Akash or the primordial substance, which are the Registries.
We are made of stardust, of the same matter of creation, and the Archives make us remember.
Could UFOs help us find the meaning of life?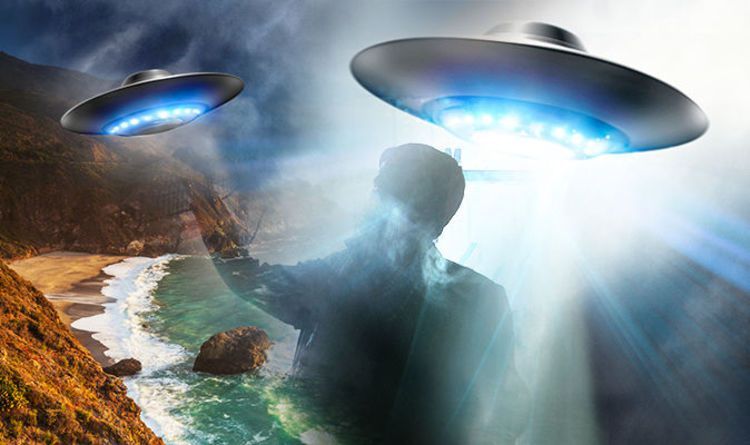 The site editor of UFO Conjectures, who constantly philosophizes about the UFO phenomenon, suspects that these mysterious objects may help us reveal the meaning of life.
I regret, intellectually, not empathetically, griping about this, but I am almost convinced that an explanation of the UFO enigma – from an actual containment, forensically, of a UFO – will provide the answers that philosophers, theologians, science, et al. ask, and have been asking for millennia, about what the purpose of this existence is.
In the periodicals and books I get and which I've gotten the past few months, arise questions that many who visit (or once visited) this blog (and others) do not wish to cope with. (Do I need to provide the names of those passive UFOers?)
Just in the recent New Yorker magazine, the TLS (Times Literary Supplement), New York Review of Books, Wired, Smithso- nian, and the books I've noted here (some recommended by my astute pals), and a few TV shows via the Science Channel, Travel, Discovery, et cetera. questions or debates have arisen or have been resurrected about The Big Bang Theory, what constitutes reality, the nature of the universe – multi or multi dimensional, the singularity (and AI), consciousness, intelligent life in the cosmos, quantum mechanics (and its reality), Einstein's perhaps errant Relativity, et cetera, et cetera.
Few coming here wish to deal with these philosophical or scientifically oriented issues.
And few are dealing with these and related issues elsewhere, Facebook taking hold of the mind and demeanor of many once curious UFO advocates, who now just ant to be "liked" or noted for what they eat or where their next trip/vacation takes them.
But the die-hards, few as they are nowadays, continue to seek the UFO answer, some with a conspiratorial mindset and addiction to the idea of "Disclosure" and others, the true seekers, wanting to know just what the hell UFOs are (or have been).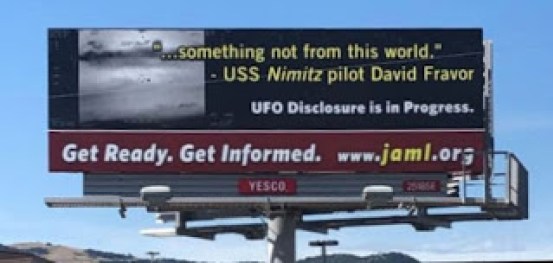 Then there's me, who thinks, madly perhaps, that UFOs hold the answer(s) to the Universe and maybe even its God (or supreme being).
Getting a hold of – as I keep suggesting, doggedly, hoping you'll forgive my obsession for the thought – a UFO, in a metaphorical sense or, better, in a real, material sense will offer answers to many of those things vibrantly being discussed in some circles.
I can't seem to get some, who show up here, to pore over books, tomes, and printed materials that deal with weighty matters, most preferring the often slip-shod and iffy presentations on the Inter- net, YouTube a repository for much nonsense being a favorite for the lazy pseudo-intellectuals ufology is awash in.
Even a few brilliant academics I contend with have been usurped by the whimsy of the internet, a few seduced by Facebook, even though their presence there is virtually unnoticed by the billion or so Facebookers on this Earth.
Anyway, let's hope that UFOs remain in the spotlight a little longer, and that some agency or Flying Saucer manics [sic] come up with a viable UFO, from which we can cull some answers about what we are and who is in charge of this mess we call existence.
Enochian Language: the mysterious lost language of fallen angels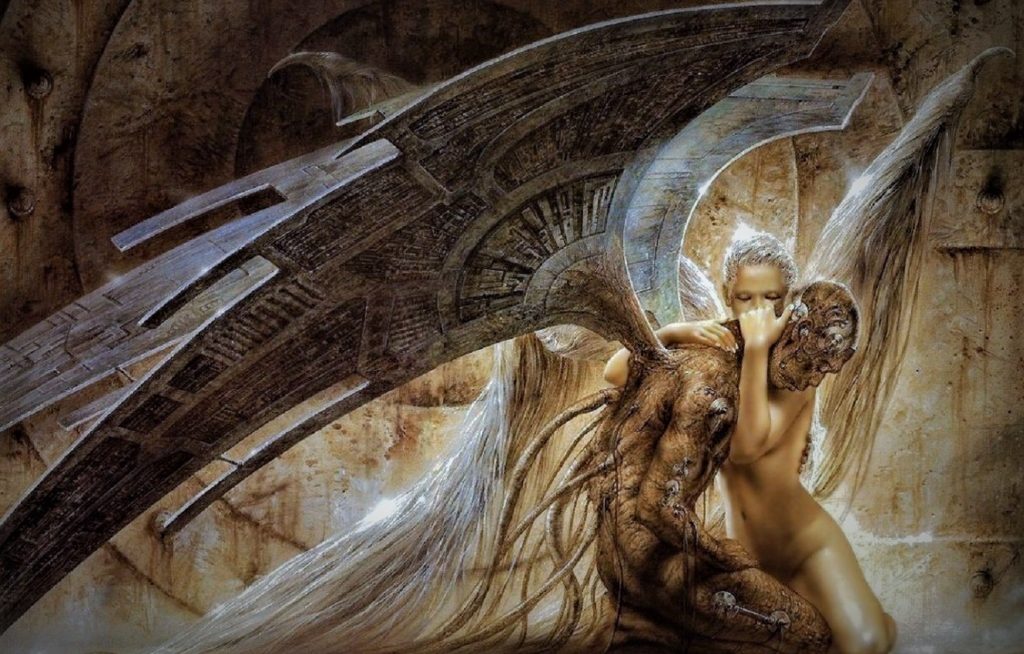 There are many mythical "languages", from the language of the witches to the unsuspected symmetries of the Voynich Manuscript. But among all these mythical languages ​​there is one that stands out: the Enochian, the language of the angels.
The Enochian comes from the private journals of the mathematician, astronomer and personal occultist of Elizabeth I, Queen of England, named John Dee; and of his successor, the enigmatic Edward Kelley, one of the most notable figures of the esoteric revival.
Both John Dee and Edward Kelley argued that the Enochian was revealed to them as part of a series of angelic messages, whose purpose was to raise human magic to a whole new level.
Centuries later a similar episode occurred, from the hand of the occultist Aleister Crowley and his contacts with the ominous angel Aiwass.
These communications led to the creation of one of the most scandalous cursed books in history: The book of the law (Liber AL vel Legis).
The Enochian survived in the diaries and notebooks of John Dee and Edward Kelley, along with some short English translations.
Currently, the Enochian continues to be closely studied by several prominent linguists, although with more detractors than followers.
Neither John Dee nor Edward Kelley ever speaks of Angry, but of Angelic, Heavenly Language, Language of the angels, the First Language of God Christ, Sacred Language, Adamic, and other epithets.
The term Enochian comes from Dee and Kelley's theories that the biblical patriarch Enoch – the same as The Book of Enoch – was the last man to know all the possibilities of that language.
The idea that an antediluvian angelic language existed was quite common in John Dee's time; and not without some logic.
If angels routinely interacted with humanity, as is clear in many passages of the Bible, then it would be possible for that interaction to occur in a kind of "common language," a low and degraded language for angels, but remarkably complex for men.
The first mention of the Enochian occurred in 1581. John Dee noted in his diary that God sent him an angel to communicate his intentions directly.
In 1582, John Dee joined Edward Kelley as a medium. Apparently, together they managed to contact that angel, who revealed some rudiments of the Enochian.
John Dee argues that the Enochian is, in short, the language of God, the language that the Creator used to give an objective form to his mind, that is, to create the universe.
The angels are able to speak that language, just like Adam, but not with the nuances and subtleties of the divine palate. And men, even less qualified than angels, must conform to a rough and inaccurate pronunciation.
By comparison, human languages ​​sound like baby babbles in the face of the complexities of the Enochian.
After the embarrassing episode of the Tree of Knowledge (and that apple that never existed), Adam and Eve were expelled from paradise, but they took with them the Enochian, the same one that Adam had used to name all things.
In a way, John Dee argues that, over time, the Enochian gradually degraded, until it became what we know as proto-Hebrew, with few links to that tongue of angels.
The supposed angels who communicated with John Dee and Edward Kelley stated that only Enoch disagreed and that he secretly wrote a forbidden book capable of evoking the most powerful primordial magic: The Loagaeth Book (the book of God's discourse).
Sadly, the angels commented with discouragement, that the book was lost during the Universal Flood due to a neglect of Noah.