Time Crystals Could Upend Physicists Theory of Time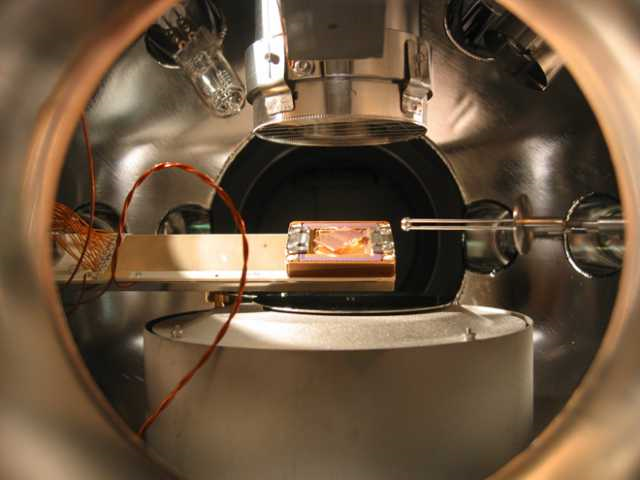 Wired relays top scientists' plan to build a microscopic "time crystal," a structure within which time would not be continuous:
In February 2012, the Nobel Prize-winning physicist Frank Wilczek decided to go public with a strange idea: Impossible as it seemed, Wilczek had developed an apparent proof of "time crystals" — physical structures that move in a repeating pattern without expending energy or ever winding down.

Unlike clocks or any other known objects, time crystals derive their movement not from stored energy but from a break in the symmetry of time, enabling a special form of perpetual motion.

The idea came to Wilczek in 2010: "I was thinking about the classification of crystals, and then it just occurred to me that it's natural to think about space and time together," he said. "So if you think about crystals in space, it's very natural also to think about the classification of crystalline behavior in time."

When matter crystallizes, its atoms spontaneously organize themselves into the rows, columns and stacks of a three-dimensional lattice. An atom occupies each "lattice point," but the balance of forces between the atoms prevents them from inhabiting the space between. Crystals are said to break the spatial symmetry of nature — the usual rule that all places in space are equivalent. But what about the temporal symmetry of nature?

Wilczek mulled over the possibility for months. Eventually, his equations indicated that atoms could indeed form a regularly repeating lattice in time, returning to their initial arrangement only after discrete (rather than continuous) intervals, thereby breaking time symmetry.

Now, a technological advance has made it possible for physicists to test the idea. They plan to build a time crystal, not in the hope that this perpetuum mobile will generate an endless supply of energy (as inventors have striven in vain to do for more than a thousand years) but that it will yield a better theory of time itself.

In June, a group of physicists led by Xiang Zhang, a nanoengineer at Berkeley, and Tongcang Li, a physicist and postdoctoral researcher in Zhang's group, proposed creating a time crystal in the form of a persistently rotating ring of charged atoms, or ions. An international team led by Berkeley scientists is preparing an elaborate lab experiment, although it may take "anywhere between three and infinity years" to complete.

The hope is that time crystals will push physics beyond the precise but seemingly imperfect laws of quantum mechanics and lead the way to a grander theory. If time crystals are able to break time symmetry in the same way that conventional crystals break space symmetry, "it tells you that in nature those two quantities seem to have similar properties, and that ultimately should reflect itself in a theory."
This is the world's first commercial flying car
The world's first commercial flying car is already on sale. It is equipped with two retractable propellers and rear wings.
The vehicle was presented during the Miami Art Week 2019 by the Dutch company PAL-V International. It is called Liberty, and its price is around 600,000 dollars.
It has Dutch engineering and Italian design, it is already in active production and has at least 70 anticipated.
"As soon as Nicolas Cugnot invented the car and the Wright brothers made their first successful flight, people began to dream of combining the two in a flying car."
'It turned out to be more complicated than initially estimated: a complex puzzle. However, once resolved, it would create maximum freedom in mobility', said the executive director of the company, Robert Dingemanse.
When will it be available?
The first units are expected to reach their owners in 2021. However, it must be borne in mind that to handle it, it is necessary to have not only the driver's license, but also the pilot's license.
The new car has two versions, the Pioneer and the sports version. Robert Dingemanse explained that the Pioneer version differs from Liberty by its a complete carbon package. He also revealed that only 90 flying cars will be manufactured in this version.
Features of the flying car
The PAL-V, a three-wheeled vehicle that can carry up to two passengers and 20 kilos of cargo, is basically a hybrid between a car and a helicopter.
According to the company website, the PAL-V has a four-cylinder engine and is capable of flying at an altitude of up to 3,500 meters. The vehicle, which is made with carbon fiber, titanium and aluminum and weighs only 664 kilograms, uses gasoline for cars and can reach maximum speeds of 180 km / h in the air and 160 km / h on land.
It also has both a ground and air system similar to that of a motorcycle in which the pilot-driver tilts the machine with a control lever.
It also stands out that the PAL-V converts from car to gyrocopter in just 10 minutes and can accelerate from 0 to 100 km / h in less than 9 seconds.
Health authorities have confirmed a case of a rare type of smallpox in a UK patient
A patient in England has been diagnosed with a rare case of monkeypox, as reported by Public Health England (PHE).
The rare viral infection is similar to smallpox, and though it is milder, it can be fatal.
It has been reported that the individual was in Nigeria and that he would have contracted the disease there. Later, upon returning to the United Kingdom, he stayed in the southwest of England where the disease occurred.
Upon symptoms, he was transferred to the Guy's and St Thomas' NHS Foundation Trust , a center specializing in infectious diseases in London.
The health authorities have taken the necessary measures to prevent the virus from spreading to other people.
The PHE said in a statement:
As a precaution, PHE experts are working closely with NHS colleagues to implement rapid infection control procedures, including contact with people who may have been in close contact with the individual to provide health information and advice. "
But experts are not very worried about contagion, because monkeypox does not spread easily among people and the risk of affecting the population is quite low, said Dr. Meera Chand , PHE consulting microbiologist.
Although the infection usually occurs mildly and people get better without treatment; Some individuals may develop very serious symptoms, with a percentage of 1 to 10 percent of patients dying from the disease during outbreaks, according to the World Health Organization .
The symptoms presented are similar to those of smallpox but milder. First, fever, headaches, muscle aches, back pain, swollen lymph nodes, chills and exhaustion. Subsequently rashes may appear on the skin , starting on the face and spreading throughout the rest of the body.
This is not the first time a patient has been infected with smallpox in the United Kingdom. In 2018, there were three cases after a person was diagnosed with the disease. The individual had also returned from Nigeria.
Source: Gov.uk / IFL Science
A cold virus can infect a pregnant woman's fetus
The study showed that the expectant mother is able to transmit a respiratory tract infection to her unborn child.
Scientists from Tulane University (Louisiana, USA) received the first evidence that the cold virus, which affects a pregnant woman, can penetrate the placenta and infect the fetus. An article about this has been published in PLOS One .
The placenta, an organ that develops in the uterine cavity of a woman during pregnancy, provides the necessary nutrition from the mother to the embryo and simultaneously performs another important task: it filters out potential pathogenic microorganisms. However, a group of pediatricians led by Professor Giovanni Piedimonte found that this natural "barrier" is not so impenetrable.
Scientists took the placenta from donors, isolated three main types of cells – cytotrophoblasts, fibroblasts and Kashchenko – Hofbauer cells – and in vitro exposed them to the human respiratory syncytial virus, which causes respiratory tract infections. Although cytotrophoblast cells supported a weak process of the spread of the virus, two other types were more susceptible to infection. So, Kashchenko-Hofbauer cells survived and allowed the virus to replicate inside the cell walls. According to scientists, then these cells, moving inside the placenta, are able to transmit the virus to the fetus.
"Such cells do not die after they become infected," Piedimonte explains. – When they enter the fetus, they are comparable to bombs stuffed with a virus. They do not spread the virus in the area of ​​the "explosion", but carry it through the intercellular channels. <…> Thus, our theory is confirmed that when a woman gets a cold during pregnancy, the virus that causes the infection can pass to the fetus and cause a pulmonary infection before the birth of a child. "
Pediatricians also suggested that the respiratory syncytial virus is able to infect the lung tissue of the unborn baby and provoke the development of an infection that will subsequently affect the predisposition to asthma. To confirm or refute their theory, the authors of the study intend to conduct clinical tests.
Last year, scientists from the University of Cambridge created an artificial and functional mini-placenta using trophoblasts, and recently it turned out that particles of air pollution can penetrate the placenta of pregnant women