Yup, it's a real word. If it is a real phenomenon is another matter.
I was watching the relatively new psychological thriller "Red Lights" the other night, and was reminded of a phenomenon of the psychic world that I have not seen addressed very much recently. Thoughtography was once a popular performance of psychic phenomena. Also called Projected Thermography.Spirit Photography and Nengraphy, from the Chinese Nensha which translates as "sense inception," Thoughtography is the process of projecting mental imagery onto photographic film.
For a demonstration here is an excerpt from Arthur C Clarke's World of Strange Powers:
But the history of Thoughtography goes back further than Ted Serios. Nikola Tesla believed there must exist some way for the imagery of the mind to be projected in the external world. His idea has a very appealing sense to it, but I fear is trying to force an understanding of physics to apply to the workings of biology.
"I became convinced that a definite image formed in thought must by reflex action produce a corresponding image on the retina, which might be read by a suitable apparatus. This brought me to my system of television which I announced at the time… My idea was to employ an artificial retina receiving an object of the image seen, an optic nerve and another retina at the place of reproduction… both being fashioned somewhat like a checker board, with the optic nerve being a part of the earth."

Nikola Tesla
Tesla's idea sounds shockingly like the research that is happening now in creating optical implants for the blind, so in a way he was not far off. But I guess the genius who conceived of AC electricity, remote control vehicles, radio and television had ideas that were so far on the fringe that even he could not make them reality in his time.
The serious, using a liberal interpretation, study of thoughtography dates back to 1910 when Professor of Psychology, Tomokichi Fukarai at Tokyo University began experiments with a group of women who claimed clairvoyant powers. While the idea of clairvoyance has pretty much always been part of human culture in one form or another, the early 20th century saw a surge in popularity for the practice, or at least a surge in its integration into popular culture. Heck, the early 20th century saw a surge in the idea of pop culture as communication began to span the globe at speeds that far outstripped the fastest steam ship or train.
Tomokichi Fukarai
Fukarai was a believer in psychic phenomena, and as such, perhaps not the most impartial observer to conduct related experiments and in the end his research led to his eventual resignation from his position but he did not give up his pursuit and in 1959 established the Fukurai Institute of Psychology to carry on with his research, as it does to this day.
Fukurai's first success was with a woman named Ikuku Nagao
Ikuku Nagao
Nagao took ill soon after her work with Fukurai began to get results and she died. Her illness was attributed by some to the stresses exerted upon her by skeptics naming her a fraud. Fukurai carried on his research and in 1913 began to get positive results once more with a new subject, Sadako Takahashi.
Sadako Takahashi
Fukurai's research at Tokyo University lasted another six years until his resignation under accusations of fraud in 1919. Ironically, the year after the birth of the next widely known practitioner of thoughtography, the earlier mentioned Ted Serios.
An alcoholic, Serios apparently was typically unable to produce results while sober, was prone to throwing demonstrative and animated fits during sessions, and always used a small cylinder that fit into the palm of his hand as a "focus." Unless you speak German, the narration of the following video will not do you much good, but it does show Serios at work, and shows something else as well.
What I see in this video is absolutely no controls being enforced in this "experiment." The men in the video are merely holding up cameras, no one is making certain that Serios could not be palming images as suggested in the Arthur C Clarke video. There is no control over the "exposed" film in evidence, and no actual evidence that the pictures shown in close up are the same taken by the cameras.
Following in the footsteps of Serios are two notably renown psychics, one you have probably heard of, Uri Geller and the other Geller's equivalent in Japan, Masuaki Kiyota.
Masuaki Kiyota
Masuaki has admitted to fraud in certain instances of his performances, and in many cases was insistent upon being given privacy while in possession of the cameras and film to be used in his demonstrations offering him ample opportunity for fraud. He is thus easily dismissed.
Uri Geller was, in his day, probably the best known psychic in the world. As such he drew the attention of perennial debunker James Randi who made Geller a special project of his, as shown in this video:
And while this video does not deal specifically with thoughtography, it does demonstrate that as soon as a few simple controls are put in place the psychics ability to produce results is significantly reduced to the point of vanishing completely.
Recently Geller is quoted in a German magazine Magische Welt (Magic World), as offering just short of an admission of fraud:
I'll no longer say that I have supernatural powers. I am an entertainer. I want to do a good show. My entire character has changed.
And that about wraps him up.
Meet Susan: how working remotely will change us in the future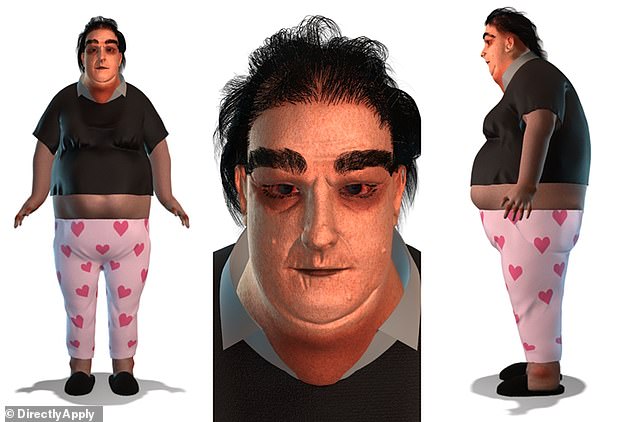 The Covid-19 pandemic has seriously affected the labor market. Employers transferred employees to a remote mode of operation, scientists are trying to understand how the new conditions will affect us and what will happen if we keep them.
Some large companies are already thinking about closing their offices and points of sale in favor of working through the Internet, and Twitter invited all employees to stay on the remote forever.
According to a study conducted by IWG (International Workplace Group) , before the pandemic, 80% of respondents would prefer a job with more flexible working conditions. In April of this year, commercial property provider Cresa presented its study, which showed that 29% of people who switched to remote work feel less productive than in the office, despite the control of their bosses.
At the same time, some companies noted that the hybrid mode of operation (combining an office and a remote office) seems to them effective, and they are going to use it further. But such a schedule can affect people's health. The DirectlyApply job search platform has shown what consequences await the "remote" workers if they do not change their daily habits.
Its creators invited a group of clinical psychologists and fitness experts to study how udalenka affects a person physically and psychologically. Experts explained what changes will occur with this mode of operation after 25 years. As a result, Susan appeared – a model of a typical remote employee of the future, on which they analyze in detail all the negative consequences.
50% of people around the world work outside the office for approximately 2.5 days
So, a constant presence in front of the monitor will cause "computer vision syndrome", in which the eyes become dry and sore, and vision – blurred. In addition, red spots will begin to appear on the squirrels, and large bruises under the eyes.
Lack of physical activity and sitting in the wrong position will lead to curvature of the spine, back and neck pain, obesity and a tech neck (the effect of constantly looking at mobile devices and tablets): the skin will sag around the neck, and a second chin will appear. From constant work on the keyboard, the hands are deformed. A lack of vitamin D will cause hair loss, the skin will turn pale, dull and wrinkle.
Finally, a person working remotely will be constantly under stress, which will cause a mode of work and lack of personal contacts. From this, in turn, blood pressure rises, and the state of health worsens even more.
To preserve it, the authors of the study advise to adhere to several rules. It is important to maintain a constant mode of work, regularly perform physical exercises and from time to time go out to recover after a day spent at the computer. Psychologist Rachel Allan notes:
"Adhering to one lifestyle and level of productivity is necessary to maintain emotional health when working remotely. Routine gives us the opportunity to manage our time and maintain our attention. Think about how you want to manage your time and what will work best in the wider context of your life."
One of the main problems that we encounter when working remotely is the lack of direct contact with people. Staying alone for long periods can increase the level of the stress hormone cortisol. Dr. Allan believes that "some of our most important professional relationships come from informal conversations and unstructured moments that organically arise in the physical workplace." According to her, "remote work may require us to consciously create opportunities for informal communication with colleagues."
1947 film predicts smartphones and other modern technology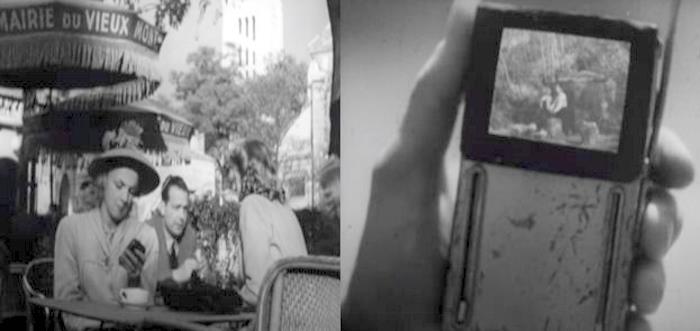 Inspired by Barjavel's essay, a 70-year-old documentary offers the evolution of portable pocket television as well as a way people interact with objects. Today, parallels are drawn between the objects, like smartphones described in a short documentary.
Anne-Katrin Weber, television historian at Lausanne University, said:
People using miniature television devices in public places; professional meetings held by telephones with a picture; cars equipped with television screens; shops that advertise their products on television: these topics are from the 1947 short film Television: Oeil de Demain. Produced and directed by Raymond-Millet.
The film combines documentary and science fiction sequences, while also offering a television image in post-war France, as well as creative speculation about future developments.
While Raymond-Millet's work is almost forgotten today, his film received a standing ovation for "predicting our present" and although the small portable devices used in the film have long retractable antennas that resemble the first cell phones, it shows that 70 years ago smartphones already existed. In fact, they mirror today's smartphones that are in the pockets of almost every person.
At the end of the film, the audience is transferred to the bedroom, where the man is having trouble sleeping. He seems to be "invoking" the hologram of a dancing woman who appears on the bed and looks at her while his wife is sleeping.
The film outline about upcoming television shows, really look like a fairly accurate forecast of modern digital media in terms of flexibility and hybridity of media technologies and their various forms of consumption.
The time when US wanted to detonate a nuclear bomb on the moon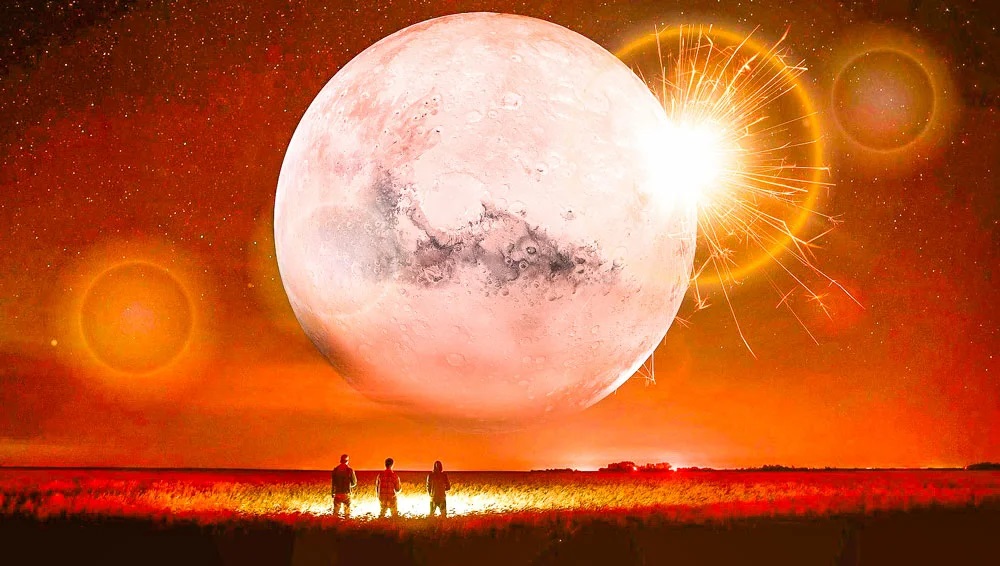 In the United States during the Cold War, there was a plan to explode a nuclear bomb on the moon as a "demonstration of dominance" before the Soviet Union. New details of the secret mission are revealed in a recently published book.
Photo: nasa.gov
The secret mission, codenamed Project A119, was conceived at the dawn of the space race between the United States and the Soviet Union in the US Air Force Division, located at the Kirtland Air Base in New Mexico.
A report written in June 1959, entitled A Study of Lunar Research Flights, outlines plans for an atomic bomb exploded on the Moon's "terminator," the region between the Sun-lit portion of the surface and the darker portion of our planet's natural satellite.
The explosion would probably be visible to the naked eye from the Earth, because the military planned to add sodium to the bomb, which was supposed to glow during the explosion.
A nuclear explosion on the lunar surface was certainly "one of the stupidest things the government could do," says John Greenwald, Jr., author of Secrets from the Vault.
According to the Daily Mail, a recently published book details some of the most surrealistic offers in history.
John Greenwald has been interested in the secrets of the US government since he was 15 and has filed more than 3,000 requests for freedom of information. He oversees The Black Vault's online repository, which has collected about 2.1 million pages of previously classified documents related to UFOs, mysterious murders and other mysterious phenomena.
According to Greenwald, the US Air Force was developing a lunar project to "show US dominance in space over the Soviet Union and, ultimately, over the whole world."
The plan, of course, has never been implemented – perhaps because of a potential "unprecedented scientific disaster," as one declassified document says.
The existence of this scheme was first discovered in 1999 in the biography of the world famous astronomer Carl Sagan, who died in 1996. Sagan was hired to work with him in Chicago by Dr. Leonard Raiffel, a physicist who was studying the possibility of creating a lunar nuclear bomb.
Leonard Raiffel (he died in 2017 at the age of 89) in an interview in 2000 claimed that the bomb would be as big as the bomb dropped on Hiroshima.
"It was clear that the main purpose of the proposed detonation was a PR act and a demonstration of sole domination," the scientist told The Observer. – The Air Force wanted the mushroom cloud to be so large that it could be seen on Earth. The United States lagged behind in the space race."
Photo: nasa.gov
In 1958, Raiffel was approached by senior US Air Force officers who asked him to "expedite" a project to study the visibility and consequences of a nuclear explosion on the moon.
According to the scientist, he made it clear that as a result, the pristine lunar environment will be destroyed, and this will be a huge damage, "but the US Air Force was mainly concerned about how a nuclear explosion would be perceived on Earth."
"If the project were made public, there would be protests," Raiffel said.
Greenwald's book also explores the 1959 Army project on building a military base on the moon, code-named Project Horizon. The aim of the project was to create a permanent lunar colony for 10-20 people by the end of 1966. To get equipment there, it was projected to require an average of 5.3 Saturn rocket launches per month from August 1964 to November 1966.
In the entire history of the American space program, only 19 Saturns were launched.
"Military power based on the moon will be a strong deterrent to war because of the extreme difficulty, from the enemy's point of view, of eliminating our ability to strike back," the project suggested.
In a 1959 memorandum, US Army Research and Development Head Lieutenant Arthur Trudeau argued that if the United States created a permanent base on the moon, the prestige and psychological advantage for the American nation would be invaluable in confronting the Soviets.
The report indicated that creating an outpost of 12 people and maintaining it in working condition over the course of the year would cost more than $ 6 billion (which is equivalent to more than $ 53 billion in modern money).