Yup, it's a real word. If it is a real phenomenon is another matter.
I was watching the relatively new psychological thriller "Red Lights" the other night, and was reminded of a phenomenon of the psychic world that I have not seen addressed very much recently. Thoughtography was once a popular performance of psychic phenomena. Also called Projected Thermography.Spirit Photography and Nengraphy, from the Chinese Nensha which translates as "sense inception," Thoughtography is the process of projecting mental imagery onto photographic film.
For a demonstration here is an excerpt from Arthur C Clarke's World of Strange Powers:
But the history of Thoughtography goes back further than Ted Serios. Nikola Tesla believed there must exist some way for the imagery of the mind to be projected in the external world. His idea has a very appealing sense to it, but I fear is trying to force an understanding of physics to apply to the workings of biology.
"I became convinced that a definite image formed in thought must by reflex action produce a corresponding image on the retina, which might be read by a suitable apparatus. This brought me to my system of television which I announced at the time… My idea was to employ an artificial retina receiving an object of the image seen, an optic nerve and another retina at the place of reproduction… both being fashioned somewhat like a checker board, with the optic nerve being a part of the earth."

Nikola Tesla
Tesla's idea sounds shockingly like the research that is happening now in creating optical implants for the blind, so in a way he was not far off. But I guess the genius who conceived of AC electricity, remote control vehicles, radio and television had ideas that were so far on the fringe that even he could not make them reality in his time.
The serious, using a liberal interpretation, study of thoughtography dates back to 1910 when Professor of Psychology, Tomokichi Fukarai at Tokyo University began experiments with a group of women who claimed clairvoyant powers. While the idea of clairvoyance has pretty much always been part of human culture in one form or another, the early 20th century saw a surge in popularity for the practice, or at least a surge in its integration into popular culture. Heck, the early 20th century saw a surge in the idea of pop culture as communication began to span the globe at speeds that far outstripped the fastest steam ship or train.
Tomokichi Fukarai
Fukarai was a believer in psychic phenomena, and as such, perhaps not the most impartial observer to conduct related experiments and in the end his research led to his eventual resignation from his position but he did not give up his pursuit and in 1959 established the Fukurai Institute of Psychology to carry on with his research, as it does to this day.
Fukurai's first success was with a woman named Ikuku Nagao
Ikuku Nagao
Nagao took ill soon after her work with Fukurai began to get results and she died. Her illness was attributed by some to the stresses exerted upon her by skeptics naming her a fraud. Fukurai carried on his research and in 1913 began to get positive results once more with a new subject, Sadako Takahashi.
Sadako Takahashi
Fukurai's research at Tokyo University lasted another six years until his resignation under accusations of fraud in 1919. Ironically, the year after the birth of the next widely known practitioner of thoughtography, the earlier mentioned Ted Serios.
An alcoholic, Serios apparently was typically unable to produce results while sober, was prone to throwing demonstrative and animated fits during sessions, and always used a small cylinder that fit into the palm of his hand as a "focus." Unless you speak German, the narration of the following video will not do you much good, but it does show Serios at work, and shows something else as well.
What I see in this video is absolutely no controls being enforced in this "experiment." The men in the video are merely holding up cameras, no one is making certain that Serios could not be palming images as suggested in the Arthur C Clarke video. There is no control over the "exposed" film in evidence, and no actual evidence that the pictures shown in close up are the same taken by the cameras.
Following in the footsteps of Serios are two notably renown psychics, one you have probably heard of, Uri Geller and the other Geller's equivalent in Japan, Masuaki Kiyota.
Masuaki Kiyota
Masuaki has admitted to fraud in certain instances of his performances, and in many cases was insistent upon being given privacy while in possession of the cameras and film to be used in his demonstrations offering him ample opportunity for fraud. He is thus easily dismissed.
Uri Geller was, in his day, probably the best known psychic in the world. As such he drew the attention of perennial debunker James Randi who made Geller a special project of his, as shown in this video:
And while this video does not deal specifically with thoughtography, it does demonstrate that as soon as a few simple controls are put in place the psychics ability to produce results is significantly reduced to the point of vanishing completely.
Recently Geller is quoted in a German magazine Magische Welt (Magic World), as offering just short of an admission of fraud:
I'll no longer say that I have supernatural powers. I am an entertainer. I want to do a good show. My entire character has changed.
And that about wraps him up.
More than 5,000 strange holes have been found at the bottom of the Pacific Ocean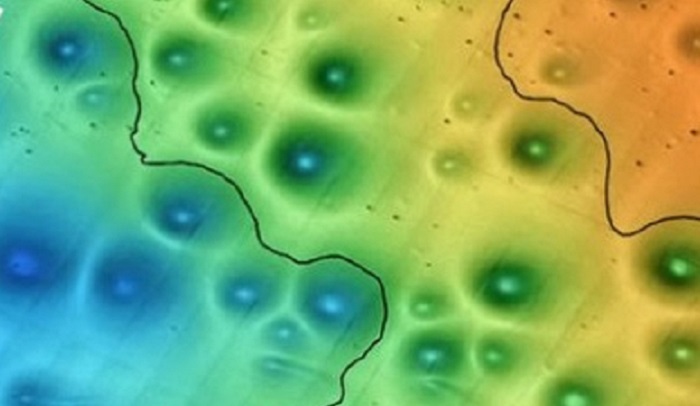 On a relatively small part of the Pacific Ocean, off the western coast of the United States, there are several thousand indentations of various sizes, the origin of which is not completely clear.
This was reported by scientists at the Monterey Bay Aquarium Research Institute (MBARI).
The larger pits have an average width of 175 meters and a depth of about five meters. Their shape is almost perfectly round.
Over the last few years, experts at MBARI and other organizations have found more than 5,200 such holes, such as smallpox, on an area of ​​approximately 1 300 square kilometers. So far, this is the largest concentration of such sites in North America.
More recently, scientists have been exploring the bottom of California in more detail. The fact is that they want to build a power plant there, but first they need to study the local conditions in detail.
Thousands of small pits or micro-depressions have been discovered using sonars mounted on autonomous submarines. Their width is about 11 meters and the depth is about a meter. Moreover, their shape is not round but oval.
Previously, similar seabed depressions have been found elsewhere in the world, and their origin is mainly due to methane emissions.
However, MBARI researchers find no evidence of this gas in the bottom sediments or in the water in this region.
Sonar data showing sludge bed layers, indicate that these points have been inactive for the last 50,000 years.
Scientists discover that the Y chromosome is disappearing from the blood of men
A study has found that Y chromosomes of men are disappearing as they get older and could put them at greater risk of cancer.
Humans have 23 pairs of chromosomes. The Y chromosome is considered the male chromosome and women don't have it: they have the XX chromosomes while men have XY.
But researchers have discovered that many men also lack Y chromosomes in some of their white blood cells.
The investigation
To reach this conclusion, scientists led by the University of Cambridge conducted a study on samples of 205,011 men, obtained from the Biobank gene bank in the United Kingdom, which contains the DNA of 500,000 volunteers.
They identified 156 autosomal genetic variants related to the loss of the Y chromosome, which were preferably close to genes involved in the regulation of the cell cycle, susceptibility to cancer or somatic drivers of tumor growth.
They found that more than four in 10 men (43.6%) had lost a notable proportion of their Y chromosomes at the age of 70.
The researchers found that one in five men in a sample of more than 200,000 had begun to lose Y chromosomes of DNA in some of their blood cells.
20% of men of all ages had lost some of the Y chromosomes in their blood and this proportion had doubled when men were 70 years old.
Subsequent analysis showed that people with high genetic predisposition to lose the Y chromosome were at greater risk of suffering from some type of cancer. The autosomal genetic variants found also influenced other aspects such as reproductive aging or type 2 diabetes.
Possible causes
The study authors believe that the loss of Y occurs through predisposition to processes that promote errors in cell division, or processes that help create an environment where aneuploid cells (cells with an abnormal number of chromosomes) are more likely to proliferate.
The team that made the discovery said that this strange change may be a sign that men's DNA was unstable and that the body was allowing random genetic mutations to accumulate.
The research has been published in the magazine Nature.
The Dani cannibal tribe and their smoky dead ancestors
In the Baliem Valley, West Papua Province in Indonesia, lives a weirdly primitive tribe called the Dani People.
A few decades ago, Dani actively practiced ritual cannibalism. It is now reported that this tradition has been discontinued.
In their recent macabre history, there is no less a frightening tradition of smoked dried carcasses of their dead relatives over a fire. And also cutting off the phalanges of women's fingers.
The phalanges were cut with a stone axe. This procedure is performed for those women who have lost a male relative: husband, son, brother or nephew, to emphasise the pain of loss and to appease the dead's spirit.
The surgery was primitive and rough, but the wounds on the hands of the women healed well and fairly quickly.
Recently, Italian photographer Gianluca Chiodini visited the village of Dani People and made unique color photographs.
Chiodini wandered in the jungle for days trying to find the tribe and finally he was lucky.
The photographer shares:
"The natives greeted me warmly and did not even try to eat me."
Gianluca was shocked to see the 250-year-old corpses of the dead, Dani's "eternal" ancestors, completely black from smoking for a long time.
The guide told the Italian that seven smoked mummies are stored in the village, but only two of them are allowed to be shown to strangers. The rest are taboos, and if the photographer tries to find them himself and photographs them, the natives could kill him.
To prevent mummies from decomposing, they are removed daily and carefully smeared with ointment of herbs and lard. Then they are hung over the fire so that the smoke can penetrate well into the body. All this has been happening daily for 250 years.
Dani people stopped eating their relatives only after 1990, at least officially. Now the meat they eat is mostly pork.
The natives hunt wild pigs with bows and arrows. After being captured and killed, the pigs are wrapped in palm leaves and allowed to be smoked by fire, like the mummies of their ancestors.
When the meat is hot, it is considered ready. Men are the first to eat, and women and children eat what is left behind.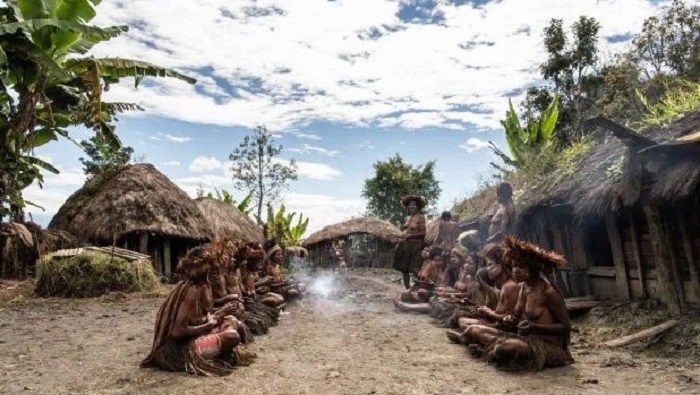 Many women in the tribe have their fingers cut off, meaning they have lost many male relatives.
Whether these deaths were in battle with neighboring tribes or through illness, history is silent …
Now, finger-cutting is also considered a forbidden procedure and in young women the fingers are already intact but you can still see the amputated hands of the older women.