This Wasn't Supposed To Happen: U.S. Employment Growth Just Plunged To The Lowest Level In 9 Years
If the U.S. economy was heading into a recession, we would expect to see a slowdown in the employment numbers, and that is precisely what is happening.  According to payroll processing firm ADP, the U.S. economy only added 27,000 new jobs in May, and that is way below the number that is needed just to keep up with population growth.  Of course some in the mainstream media are attempting to put a positive spin on this, but there really is no denying that this is a truly awful number.  In fact, we have not seen a number this bad in more than 9 years…
Job creation skidded to a near-halt in May in another sign that the U.S. economic momentum is slowing.

Companies added just 27,000 new positions during the month, according to a report Wednesday from payroll processing firm ADP and Moody's Analytics that was well below Dow Jones estimates of 173,000.

The reading was the worst since around the time the economic expansion began and the jobs market bottomed in March 2010 with a loss of 113,000.
9 years is a very long time, but this terrible employment number is perfectly consistent with all of the other horrible economic numbers that have been rolling in lately.
Time after time in recent weeks I have been using phrases such as "since the last recession" to describe what we are witnessing.  The U.S. economy has not been in such rough shape in nearly a decade, and things just keep getting worse.
So how did Wall Street respond to the latest employment news?
Actually, stock prices surged, because investors are super excited about the prospect that the Federal Reserve could soon lower interest rates…
Stocks added to strong week-to-date performance on Wednesday as investors grew even more confident that the Federal Reserve will lower interest rates this year to reignite an economy wounded by trade battles.

The Dow Jones Industrial Average rose 207.39 points to 25,539.57, while the S&P 500 advanced 0.8% to 2,826.15. The Nasdaq Composite closed 0.6% higher at 7,575.48.
Pushing interest rates all the way to the floor certainly helped the stock market recover after the last recession, but this time around there is a major twist.
The U.S. is currently engaged in a major trade war with China, and the normal tools that the Fed utilizes may not be powerful enough to overcome the negative effects of such a conflict.
And to make things worse, now the U.S. is also starting a trade war with Mexico.  On Wednesday, President Trump made it clear that "not nearly enough" progress had been achieved during negotiations with Mexican officials…
President Donald Trump said "not nearly enough" progress was made in talks with Mexico to mitigate the flow of undocumented migrants and illegal drugs, raising the likelihood that the U.S. will follow through with tariffs next week.
So tariffs will be slapped on Mexican goods starting on Monday, and President Trump seems quite excited about this…
"If no agreement is reached, Tariffs at the 5% level will begin on Monday, with monthly increases as per schedule," Trump tweeted Wednesday. "The higher the Tariffs go, the higher the number of companies that will move back to the USA!"
Of course the Mexicans will almost certainly retaliate, and both countries will start seeing higher prices and significant job losses.
In fact, one study has concluded that the U.S. economy could lose more than 400,000 jobs as a result of these tariffs on Mexico.  The following comes from CNN…
If the 5% US tariff on all goods from Mexico takes effect and is maintained, more than 400,000 jobs in the United States could be lost, an analysis released this week found.

The tariffs on Mexico, set to go in effect on Monday, would cost Texas alone more than 117,000 jobs, according to the analysis by The Perryman Group, an economic consulting firm. Texas is Mexico's largest export market, making the two economies closely intertwined.
And the truth is that those numbers could actually be on the low side.
According to Marc Thiessen, a trade war with Mexico would literally put millions of U.S. jobs at risk…
Indeed, Mexican tariffs could be even more devastating for Americans than those imposed on China. Deutsche Bank estimates the tariffs could raise the average price of automobiles sold in the United States by $1,300. Indeed, U.S. and Mexican auto-supply chains are so deeply integrated that many parts cross the border multiple times before they end up in a finished vehicle — which means they would be hit by tariffs multiple times, compounding costs. Ten million U.S. workers' jobs depend on this supply chain; tariffs would put those jobs at risk, including those of the "forgotten Americans" in the industrial Midwest whose jobs Trump vowed to protect.
We shall see what happens, but the outlook for the U.S. economy for the rest of this year is not good at all, and beyond that things look exceedingly grim.
Hopefully I am wrong, but it certainly appears that a major economic downturn is developing just in time for the 2020 presidential election.
There is one more thing that I would like to mention before I wrap up this article.  This week, a Russian news source reported that Russia and China "will sign an agreement" regarding the use of their own national currencies in bilateral trade with one another…
Russia and China will sign an agreement on possible payments in national currencies. A decree of the Russian government on signing of a relevant agreement with the Chinese side was released on the official portal of legal information on Wednesday.

According to the draft decree approved through that government document, "settlements and payments for goods, service and direct investments between economic entities of the Russian Federation and the People's Republic of China are made in accordance with the international practice and the legislation of the sides' states with the use of foreign currency, the Russian currency (rubles) and the Chinese currency (yuan)."
In other words, they are dumping the dollar in favor of their own national currencies when trading with each other.  This is a direct threat to the international dominance of the U.S. dollar, and other countries have been discussing similar moves.
For decades, the U.S. dollar has essentially been a global currency.  More dollars are actually used outside of the United States than within this country, and most Americans don't realize that.
This has given us some enormous advantages in the global marketplace, and it could be just a matter of time before those advantages begin to disappear.
Things that used to take months or years to happen are now happening in a matter of days.  The pace of change is really picking up, and right now the momentum of events is heading in a direction that is definitely not favorable to the United States.
About The Author
Michael Snyder is a nationally-syndicated writer, media personality and political activist. He is the author of four books including Get Prepared Now, The Beginning Of The End and Living A Life That Really Matters. His articles are originally published on The Economic Collapse Blog, End Of The American Dream and The Most Important News. From there, his articles are republished on dozens of other prominent websites. If you would like to republish his articles, please feel free to do so. The more people that see this information the better, and we need to wake more people up while there is still time.
Highly Unusual Creature Discovered Beneath the Antarctic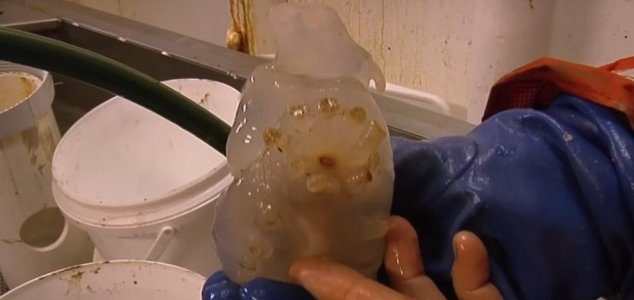 Strange gelatinous creature has been discovered by scientist 3,500 meters beneath the ocean's surface.
via Unexplained-Mysteries:
Likened by some to the terrifying alien creature in science-fiction movie 'The Thing', this never-before-seen deep-sea life form was found within a scarcely explored region of the ocean floor that is so far down that it experiences pressures 300 times those found at the surface.
It was discovered by scientists aboard the New Zealand research vessel RV Tangaroa.
"It has something quite interesting at the front which sort of likened it to a hippopotamus," said Dr Kareen Schnalbel, a marine biologist at the National Institute of Water and Atmospheric Research.

"We don't know how many are down there, we don't know how common this is."

"But I have never seen anything like this before."
You can watch a full documentary about the team's discoveries below.
Unexplained-Mysteries
Falling Fireballs Crashed in Chile Last Week. They Weren't Meteorites, Experts Say.
Chilean officials are investigating a curious collection of burning objects that fell onto parts of the country last week.
Goodness gracious! Great balls of fire rained from the sky in Chile last week, and officials are still trying to figure out what they were and where they came from.
One thing is certain: The mysterious burning objects were not meteors, according to news reports.
The fiery UFOs descended on Dalcahue City on the Chilean island of Chiloé on Sept. 25, CNET reported. . The tumbling objects crash-landed in seven locations, setting off fires that were promptly put out by volunteer firefighters. .
Geologists from Chile's National Geology and Mining Service soon arrived to examine the seven sites that had been scorched by the falling space stuff. While they conducted their analyses, the story spread through local news, social media and national outlets.
Chilean astronomer and astrophysicist José Maza told Chilean news network TVN that the blazing bodies were likely either meteorites or space debris that had detached from rockets or satellites, according to CNET. On Sept. 26, astronomer Jonathan McDowell of the Harvard-Smithsonian Center for Astrophysics chimed in on Twitter, saying that the falling objects were probably meteorites and that there were "no obvious space debris candidates that [he could] see."
"But [it] sometimes takes a few days for relevant data to come in," McDowell added.
Se reporta caída de meteorito en mocopulli chiloe pic.twitter.com/7w3KGEgnln

— marcelo macaya (@mmacaya) 25 September 2019
On Sept. 28, the geologists released their official assessment: None of the seven sites contained traces of meteorite. Since the mysterious objects weren't meteors, logic dictates that they must have been wayward space junk, but officials said they'll be conducting more detailed analyses of soil samples collected from the singed sites to make sure, according to CNET. The geologists will release their results later this month. Only time will tell what exactly fell from the heavens on that unusual September evening.
Source www.space.com
Strange Angel Hair Phenomenon
When most people hear the phase "angel hair", they immediately think of the classic pasta dish, but for the avid UFO enthusiast, it takes on an entirely different meaning.
The strange material known as "angel hair"–a light, cobweb-like substance that reportedly sometimes falls from the sky during UFO sightings–has been considered to be somewhat of a fringe element of Fortean phenomena, but this doesn't mean that occurrences of angel hair have been rare; in fact, since 1947, there have been well over 200 documented cases of this gossamer-like substance being found in direct connection with UFO sightings.
So what exactly is angel hair? It has been generally described as being fibrous and silk-like, with a remarkable consistency that on one hand can be strong and resilient, but then in an instant can dissipate into the air like fog or smoke.
Some ufologists believe that angel hair is left behind as some sort of "exhaust" from alien spacecraft, similar to carbon emissions that are produced by an automobile. Scores of eyewitness reports describe unidentified flying objects including cigar-shaped aircraft, disks and silver spheres emitting this bizarre substance, particularly after moments of rapid acceleration or complex aerial maneuvers.
The substance will slowly drop to the ground, often landing on fences, wires or trees in the area, many times covering large areas at a time. In fact, there have been several reports of angel hair covering power lines for miles on end, or blanketing several square miles of land at a time.
One report from October of 1957 describes how an area of New Mexico was draped in strands of angel hair that reached up to 50 feet in length apiece, and covered a total area of roughly 110 miles. This bizarre phenomenon is often classified as being a close encounter of the second kind, since the substance typically makes some type of physical contact with the environment.
According to a vast number of reports, one of the most interesting properties of angel hair is its ability to demonstrate sublimation, which is the ability of the substance to change directly from a solid to a gas, essentially bypassing the liquid stage altogether.
It has been described in various instances as both fine and coarse, having a consistency similar to cotton, but it often dissipates as it is being physically handled. The most commonly reported color for angel hair is white, but it has also been observed in other instances as being silver, gray, black, and even translucent.
There seems to be no one particular cause for the phenomenon, but there is an inextricable link between UFO sightings and angel hair, with roughly 57% of all angel hair cases being tied to UFO reports in some way. In addition, eyewitness accounts representing virtually every corner of the globe generally agree on both the look and the consistency of this odd substance.
There have been several cases where angel hair was not only recovered from alleged UFO sighting areas, but it has also been examined in scientific laboratories. The substance has been examined by professionals from a wide range of disciplines, with the general consensus being about the same: Nobody is quite sure what this stuff is made of.
Prominent biologists, chemists, fiber technicians, toxicologists, engineers, and so forth have all sought to gain insight into the composition of this strange substance, but to little avail. Common elements such as boron, magnesium, silicon, potassium, and calcium have been discovered in samples of angel hair, with the most notable element being boron due to its noted usage in nuclear technology.
Boron is commonly utilized as a buffer that shields and controls nuclear reactions, a fact that has prompted many researchers to speculate that angel hair may be the by-product of some type of nuclear-powered propulsion system.
Some skeptics have claimed that angel hair is nothing more than the webbing produced by ballooning spiders, which are known for producing large blankets of silk webs that are often pulled aloft by the wind.
Interestingly enough, all of the samples of angel hair that have been studied in laboratories have lacked a primary ingredient that is necessary for spiders to manufacture their webbing: Protein.
The "ballooning spider theory" also does not account for the fact that angel hair often sublimates on contact, which is almost the complete opposite of what happens when physical contact with a spider's web occurs.
While the phenomenon of angel hair definitely leaves quite a bit of room for speculation, its correlation to UFO sightings cannot be easily dismissed. In light of all that is still not known about this unique substance, it would be beneficial for more members of the UFO and scientific community to devote more time and resources towards conducting serious research of this mysterious phenomenon.