This Robotic Pollinator Is Like a Huge Bee With Wheels and an Arm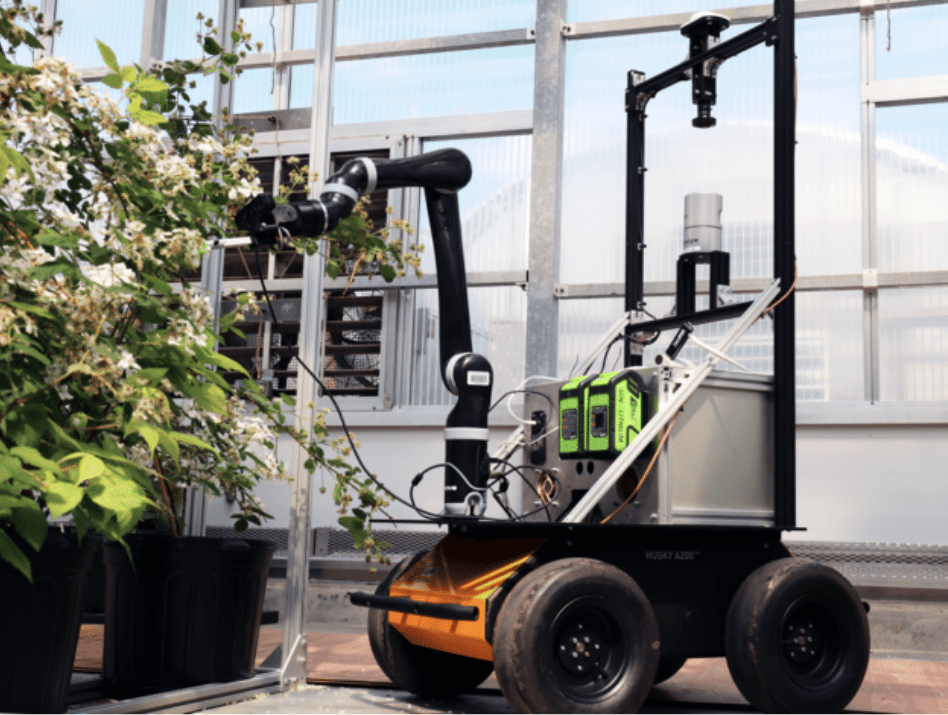 You like eating, yes? Apples, oranges, berries? For these foods we can thank bees and their extraordinary pollinating powers. Unfortunately, to show our appreciation, humans are killing off bees in staggering numbers—destroying their habitats and poisoning them with pesticides. And at the same time, our population is skyrocketing, which means if we can't get our act together, we have to somehow feed more people with fewer pollinators.
Well, living pollinators, that is. In a greenhouse at West Virginia University, a machine called the BrambleBee is learning to roll around pollinating blackberry bushes, knocking their flowers around (blackberry flowers self-pollinate, so bees or robots just have to jostle them to spread around the pollen). It's no replacement for bees, but in a world with too many humans and not enough pollinators, robots like this could help feed our kind.
The BrambleBee works not unlike a self-driving car. First it uses lidar, spraying lasers to build a 3-D map of the greenhouse so it can find its way around. For the moment, it looks for QR codes as a stand-in for flowers, but the researchers are close to getting it to snap photos of actual flowers. After traipsing through the rows, it then plans its next pass to reach as many flowers with its arm as possible. Next, once it's positioned itself in front of a plant, another camera on that arm will make an even higher-resolution 3-D map of the crop.
If BrambleBee determines a flower is ready for pollination, it will use a small 3-D printed brush of flexible polyurethane bristles on the end of its arm to gently stroke the blossom. This transfers pollen from the male reproductive organs, called anthers, to the pistils, where pollination commences. The robot will even remember what flowers it already hit, so it can make multiple runs as the plants mature in the greenhouse.
Is it more expensive than helping bees do their thing? Certainly. Does it get insects fed? Certainly not. But BrambleBee can provide something bees can't: data. "Imagine you recognize a blackberry from the stage of a bud all the way to a fruit, then you can tell how many blackberries to expect and what their quality is," says West Virginia University roboticist Yu Gu, who developed the system. And if BrambleBee can manage a manipulation as delicate as pollination, theoretically it could tend to the plants in other ways, like using a different instrument to cut away unhealthy flowers.
But, again, this machine is nowhere near a replacement for bees. Over 20,000 species of bees fly the Earth, with unique bodies and strategies for collecting pollen. "One human-engineered robot cannot improve on bees' almost 100 million years' worth of evolutionary ingenuity," says University of Minnesota entomologist Marla Spivak. "We need to figure out how to protect bees, not replace them."
Plus, BrambleBee's stature means it's no good for tree crops like almonds. And plants that don't self-pollinate are going to be trickier. Humanity still needs bees, and policy changes and research to try to save them.
And you'd have to put out a lot of pollinating robots to make a big impact. "I think it's very hard to imagine a future where robotic pollinators play a significant role in supporting food production to compensate for bee declines," says Harvard biologist James Crall, who studies colony dynamics by gluing QR codes to bees and tracking them with a camera. "In addition to honey bees, there are thousands of bee species across the globe that are crucial to supporting both crop yields and maintaining biodiversity."
But just as beekeepers rent out their hives to farmers to kickstart pollination, so too might robots like BrambleBee travel between farms to lend a hand, or labor full-time in greenhouses. Maybe BrambleBee could work alongside bees with less disruption compared to, say, tiny pollinating drones that might end up injuring bees.
So yes, humanity must save the bees. But to feed our species, perhaps the farm of the future could use a robotic hand or two.
Polar vortex: "wild" winter is coming in the US, Northern Europe and East Asia after the 16th of January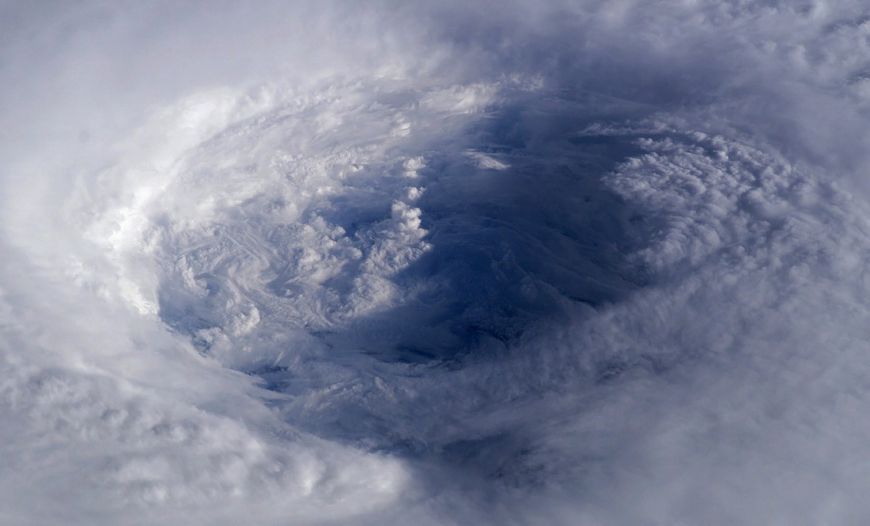 In the upper atmosphere above the North Pole, experts saw a rapidly swirling vortex of cold air that could bring severe frosts to the United States, Northern Europe and East Asia. Serious cold snap and snowy weather are expected after January the 16th.
Snowfalls and a cold snap hit South Korea since the start of 2021, hitting historic snow maximums and temperatures. In the country, for the first time since 1964, television and newer communications are sending people cold snap warnings:
The situation is similar in Japan, where a new snow storm hit historic highs:
On January 7, the thermometer In Beijing dropped to -20 degrees Celsius, breaking the 1966 record. In other regions of China, the temperature is also not sugar, and you can only move around in special uniforms:
The cold even reached Taiwan, where the temperature in some areas dropped below freezing point, snow poured down and people realized that rice terraces can be used as a ski jump:
Even more snow went to Spain, where on January 6, 2021, a temperature of -34.1 ° C was recorded – the lowest on record. After that, a snow storm hit the country, which has not been seen for 80 years:
The same thing happens in Canada and in the northern states of the United States:
It seems that after a stratospheric warming, the subpolar vortex began to split:
The vortex itself is a standard phenomenon. However, this time experts were surprised at his movement. It is possible that in the near future it will be divided into two parts. 
Scientists associate the strange behavior with the changed climate in the Arctic, which has become warmer. From September to December, the amount of ice cover decreased significantly.
The polar vortex is a low-pressure region located in the stratosphere and filled with cold air. When the jet stream of air that holds the vortex weakens, the low pressure area moves south. 
As the ice shrinks, more moisture will move inland. It will turn to snow, so snowfalls are expected. Snow, in turn, reflects heat, leading to a cold snap.
Hospital in Naples was evacuated after a new, huge sinkhole appeared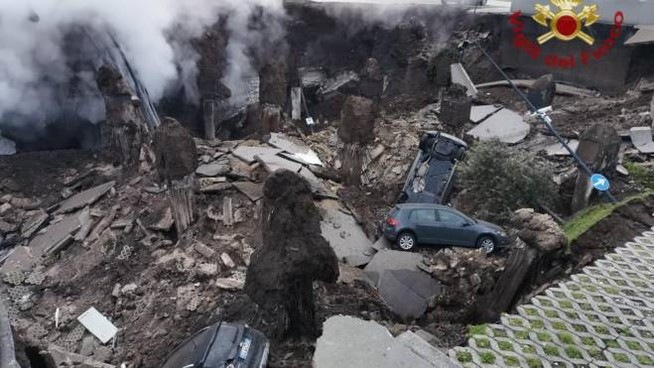 Eyewitnesses said they heard a loud crash at dawn when a huge hole in the ground formed outside the Ponticelli Ospedale del Mare hospital in eastern Naples.
Early in the morning of January 8, 2021, a sinkhole occurred in the parking lot of a clinic in Naples. The depth of the formed cavity is about 20 meters, the total area of ​​the hole is about 2,000 square meters.
No casualties were found at the scene; firefighters say the sinkhole "affected an area of ​​about 500 square meters" and engulfed several cars parked near the hospital.
As the press writes and as a little can be seen from the videos, rescuers and firefighters were running around the pit together with the governor of the area.  But who should be there in the forefront are Italian geologists, since Naples stands in the very center of the volcanic system known as the Phlegrean Fields.
If the surface collapsed, moreover – the surface reinforced with concrete and reinforced from below with some kind of communications, then we are talking about serious soil deformations caused by the activity of magma.
Italy has been in doubt since the summer of 2020, because swarms were observed there in very atypical places in May, and according to the forecasts of old Italian seismologists, who had witnessed many strong earthquakes, it should have boomed in the August region.
Fortunately, nothing bad happened to Italy and there was no big earthquake. But, since there are swarms, it means that something is being prepared, the magma is gathering strength. 
Following this particular sinkhole event – an obvious sign that a major earthquake in Italy is already very close.
A new great pandemic cycle has begun (again) in China
In the first months of 2020, the whole world with a certain fright followed the events unfolding in China, where people fell on the streets during the day and astronauts wandered, and in the evening crematoria began to smoke. And now, with the onset of December, the cycle seems to be repeating itself.
Shunyi area in Beijing, where the authorities announced "wartime status" the day before. As you can see in the videos, thousands of people are lined up in the queue for mandatory testing:
Dalian city, where "wartime" is also declared. Neighborhoods are blockaded, people are walled up in entrances, familiar characters of George Lucas roam the streets:
Chinese 'rescuers', before performing a combat mission:
Chengdu City:
Daluo Port, Yunnan – tourists came for adventure and they received the 'time of their life' after leaving the ramp:
If something happens in Beijing, it does not mean that tomorrow the same will happen everywhere. However, the trend towards such dynamics is observed and, as the practice of the first wave of the pandemic has shown, all countries and people, to one degree or another, have taken into account the 'Chinese experience'.
Therefore, one must think that everything will now be in peace, as in spring – a new global round of the fight against the Covid has begun in China, a new great pandemic cycle!