This Natural Painkiller Grows in Your Backyard
From injury to disease, pain is a very common ailment or symptom that can take down the toughest of the tough. It's so prevalent that we are seeing a major epidemic with opiate dependency.
Unfortunately, with so many needing to find relief, it's leading to a large portion of our population becoming dependent on a chemical bandage, often just masking the problem, rather than fixing the cause.
Unfortunately, it's getting so widespread that the medical field view many of those in real need as "seekers". So, instead of getting relief from tangible pain, people are being turned away. As a result, they are finding it illegally, and pain clinics and rehabs are popping up all over, trying to combat the addiction.
Wild Lettuce as a Healthy Alternative
Lactuca Virosa is the scientific term for it, and many people have used it in place of addictive prescription pain medicine. It's a leafy and tall plant, with small yellow buds, and could be grown right out your door. More commonly found in North America and England, it's a cousin to the lettuce we typically see at the grocery store. It's also referred to as bitter lettuce, or more appropriately for the purpose discussed here, opium lettuce.
The reason it's referred to as opium lettuce, is due to the pain relieving and sedative effects that it has been known to produce through a white substance found in the stem and leaves.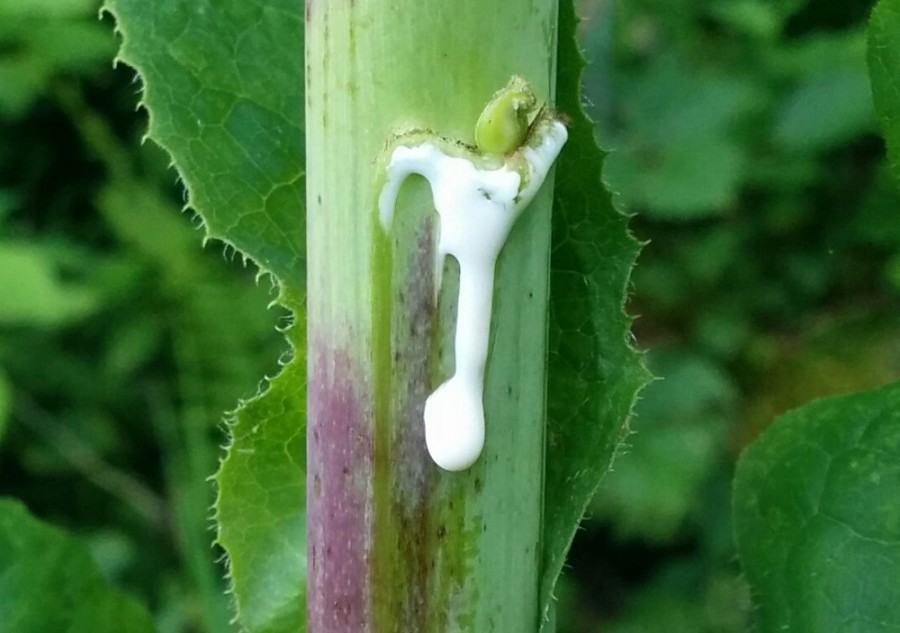 This milky substance is called lactucarium. And, while it doesn't contain any opiates, it has similar side effects when used – it acts directly on the central nervous system (CNS) to lessen the feeling of pain, just like morphine.
Even though it seems to be the best kept secret, it has a history of being used as an alternative to pain relief.
Historical Use
Back in the 19th century, wild lettuce was already being used by some as a substitute to opium. But, it was in the 70's that it started to gain significant popularity by those wanting a more natural remedy. Individuals were starting to use it for both pain relief, as well as recreational purpose.
In the earlier days, people using wild lettuce prepared it a couple different ways. One way was to cook the plant in a pan of water and sugar mix, until it reduced to a thick syrup-like consistency. While this was an effective form, it was quite bitter even with the sugar added. The most common form however, was drying the stem and leaves to use as an herbal tea.
The tea remains popular today. But, it's also being dried for smoking, or vaporizing. If you don't care to grow it yourself, it can also be purchased as a dried herb, extract, or resin substance.
Other Benefits
Here are the more popular reasons people are gravitating towards this natural pain killer and medicinal plant:
Migraines – People who use it for this purpose claim that they experience fewer migraines than they did prior to starting the herb.
Insomnia – A frequent use of wild lettuce is by people who have trouble sleeping. It produces a relaxed and euphoric feeling, helping a person fall asleep easier, without the addictive qualities of commonly prescribed sleeping aids.
Anxiety – Wild lettuce can act as a mild sedative, allowing people with anxiety to find a reprieve from the stress it causes.
Asthma and Cough – Wild lettuce has antitussive properties, which alleviates or suppresses a cough. Also, asthmatic patients who have used opiates notice more episodes if they go through opiate withdrawal. So, the use of wild lettuce instead of prescription opiates, could be a better option for them.
In addition to the above benefits, wild lettuce produces a euphoric state, similar to opiates, even though it does not contain any actual opiate… so it's perfectly legal.
Loud Boom Shook Ground as Daytime Meteor Fireball Explodes over Cape Town, South Africa
A bright meteor exploded over Cape Town, South Africa around 18:05 UTC on January 16, 2019 (20:05 local time). Bright light produced by the object was followed by very loud sound and ground shaking.
The American Meteor Society has so far received 6 reports about this event. If you witnessed it, please fill out this form.
People from all over the Cape, from Hermanus to Franschhoek, Cape Town and all the way to the Swartland, have been talking about the 'massive flash of flight' that appeared suddenly in the twilight sky, The Citizen reports.
According to witnesses, this bright object was followed by a loud bang that shook the ground and rattled houses and windows.
The South African National Space Agency (SANSA) confirmed that it had received hundreds of reports, The South African reports.
While no official statement has yet been issued by the organization, Riana Steenekamp, media spokesperson for Overstrand Municipality, says that she has been in contact with SANSA, and that they have indeed verified the event.
Initial analysis suggests parts of the object landed in the Helderberg vicinity.
I heard a loud bang, like a gas bottle exploding, but people saw it….. A flipping meteorite! pic.twitter.com/m4nHeRpLdb

— [email protected] (@dave_apter) January 16, 2019
Fireball Meteor Captured by Home Security Camera in Michigan
Last week, reports from states all over the Midwest started pouring in about a brilliantly bright meteor that streaked across the sky in the middle of the night.
Dan Kloosterman's home security camera in Byron Center was facing in just the right direction to catch the glorious sight at 3:10 a.m. Friday. In Plainfield Township, Christine Ford's security camera got the image from another angle.
The video verifies several reports filed with the Amercian Meteor Society of a fireball meteor that night.
According to the society, a meteor is considered a "fireball" if it is exceptionally bright, or as bright as the planet Venus, in the night sky. The video submitted to 24 Hour News 8 is exceptionally bright.
As with most fireball meteors when the sky is at least partially clear, reports have come in from several states.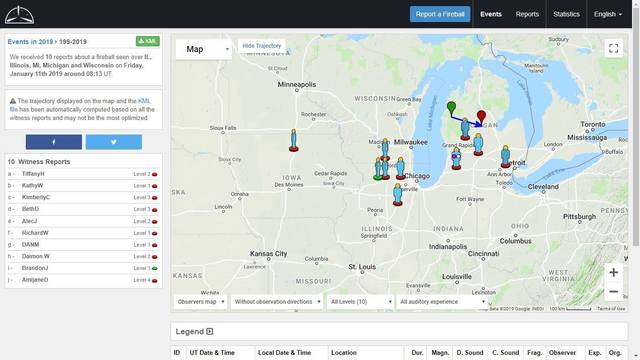 If you happen to see a fireball meteor through our mostly cloudy West Michigan skies, be sure to report it here and send any photos or video you get to ReportIt@woodtv.com
Ellen Bacca
WOOD TV
10 of Most Influential Ancient Women in History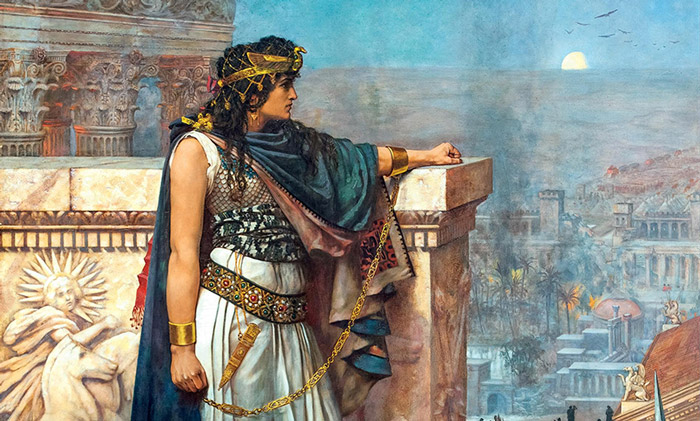 Women influenced the course of world history no less than men did. They intrigued, seized power, and changed the map of the world.
In this article, there are the most famous women who influenced the world through their activities. But before reading about ancient women, you can get some info that will break any Ukrainian woman stereotype.
1. Cleopatra
Cleopatra seduced the famous dictator Julius Caesar and gained the throne of the Egyptian queen. Also, she seduced Mark Antony and helped her son become the heir to the throne, and most importantly, contributed to the development of the history of Egypt.
Her influence leaves no doubt. Livia was originally the wife of Tiberius Claudius Nero, a Roman diplomat. From him, she bore two sons. Over time, Libya brought one of her sons to power. According to rumors, clearing the way for her children, Livia contributed to the death of all relatives of her second husband, Octavian.
3.Hypatia
As you know, ladies-scientists were something unusual for a long time because women were not allowed to study. However, it all began in ancient Greece. Few people today know the name of Hypatia, a woman-mathematician. It is interesting that we still use her inventions in everyday life.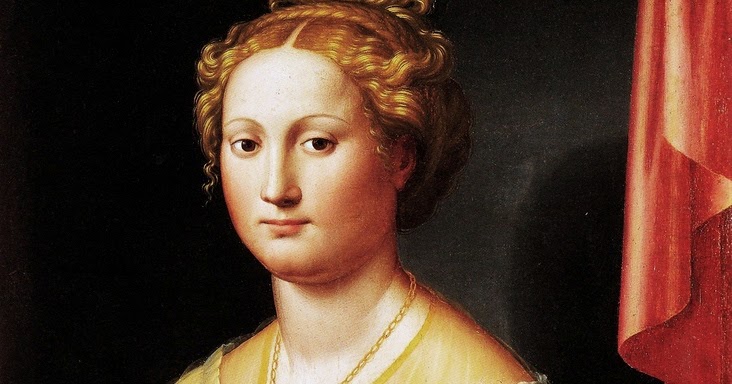 This woman became famous for her romantic relationship with Pope Alexander VI Borgia. The result of their love was four children, and Vanozza became one of the most influential women of her time. By the way, Pope officially recognized his children.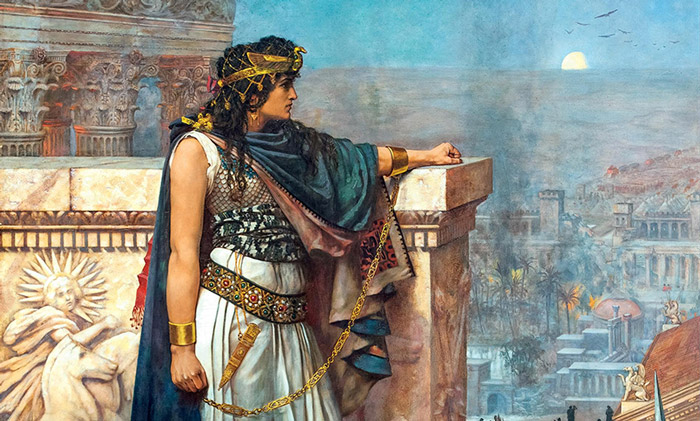 She was the second wife of King Palmyra Odenat II. However, soon Odenat dies at the hands of an assassin (there is a version that his loved wife killed him). Anyway, Zenobia became the ruler of Palmyra with her son. The famous philosopher Longinus educated him. Her troops quickly conquered Egypt, Syria and the eastern part of Asia Minor.
6. Mania
When Mania's husband Zenid died, the aggressor was awake inside her. She hired Greeks and seized several cities in the district, personally taking part in battles, giving orders, and sharing loot – in general, everything that the commander-strategist did in antiquity. Nobody managed to defeat her, but one man seduced her daughter, got into trust, and then killed Mania.
7. Lucretia
Lucretia was a wife of the commander Tarquinius Collatin, lived in the 6th century BC. She was beautiful and generous. Once, the son of the Roman king Tarquinius Proud seduced Lucretia, threatening to kill her. She didn't hide anything from her husband, but the burden of shame was great, so she committed suicide. This case was a turning point in the history of Rome.
Helena Augusta spread Christianity throughout the Roman Empire which became important in history. Under her leadership, the Life-Giving Cross and other important relics were found in Jerusalem. Thanks to this woman, a large number of Christian churches were built, some of which survived to the present day.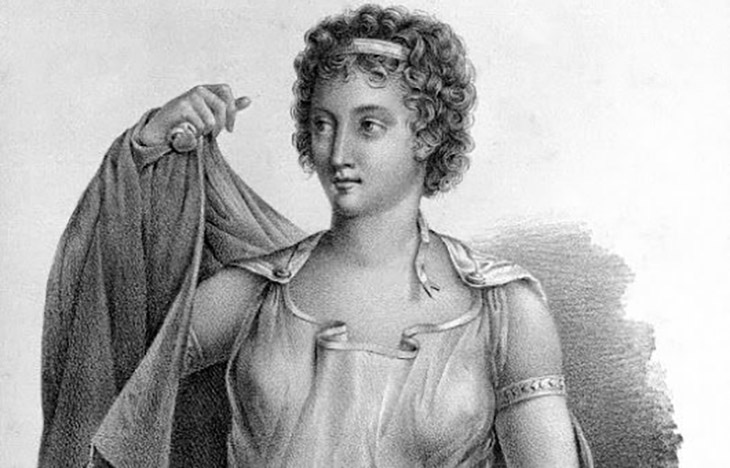 This Greek woman was the first gynecologist in the history of medicine. Agnodice, being dressed as a man, secretly attended medical classes. In the end, the fraud was revealed, and Agnodice received the right to practice medicine officially, thanks to which she opened this path to all subsequent women-doctors.
This is the woman who allegedly sat on the Pope's throne. There is neither the evidence that she is a mythical person nor the facts of her existence. Until the 15th century, there were no denials of her existence, but later, the identity of Papissa began to be questioned.