This haunted hotel houses a huge Ouija board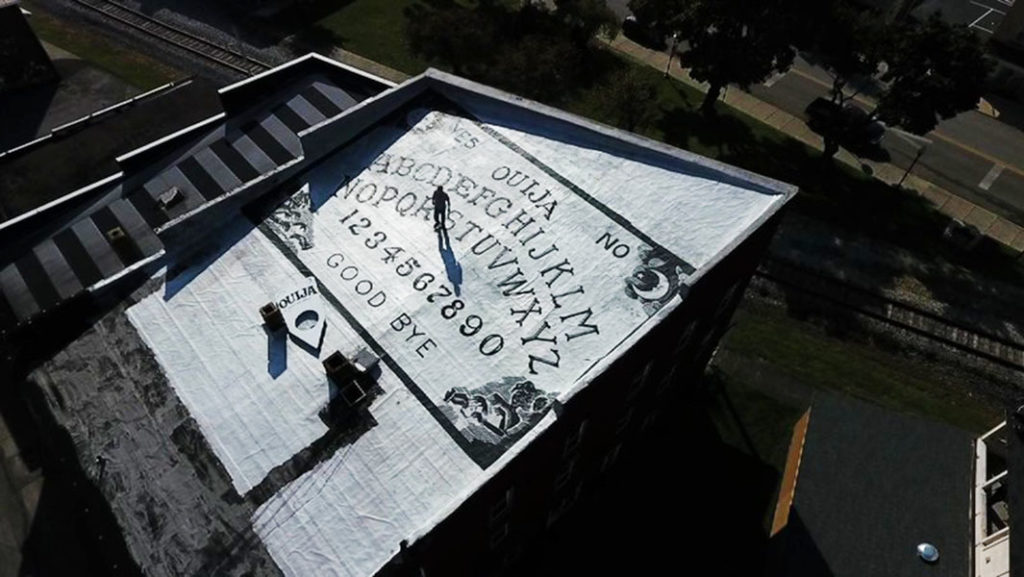 Waking up in a haunted hotel every day may seem like a living nightmare, but for Blair Murphy, it is a reality.
As the owner and operator of the Grand Midway Hotel in Windber, Pennsylvania (United States), mysterious noises and inexplicable events are only part of normal life when they live in a 130 year old historic building.
Although the walls point to the heads of taxidermed animals and show the ghost portraits that haunt the hallways – it's not the only things that make the place more frightening than an average home.
Even if it contains the formidable "Canopy Room" that most of the clients cannot bear to stay all night, there are two particular eccentricities within the structure that make the Grand Midway Hotel stand out from the rest: the grand Ouija Board and the World's Largest Tarot Card .
"The Grand Midway Hotel was a former coal mining hotel in the late 1880s," says Blair. "I could remember countless stories of meeting ghosts of people who stayed here overnight. It was actually a fascinating place to live. But then the paranormal hum became silent for about two years. "
The inspiration for the large board is the direct result of the two-year lull, when Blair and his girlfriend at the time, Camille Zamboni, decided to play with the game Ouija created by Hasbro in 2016 to see if they could boost morale.
After a night of playing the board and communicating with the spirits in the Edgar Allen Poe room, the two were left with the idea of ​​creating the world's largest board on the roof of the hotel.
"Shortly after that night, things turned upside down throughout the hotel. The energies swirled. The guests were completely panicked, "says Blair. "It seemed to kick-start a whole new level of paranormal activity. We saw people floating and hearing voices, and even the hotel pets turned and reacted to invisible forces. Our dreams were pretty crazy. "
"And it wasn't just us. Other longer-term hotel residents said "there's absolutely something going on here" and have their own strange encounters in the middle of the night. "
It took weeks to complete the final plank of 121.01 m² (1,302.54 ft²), after a lot of planning and coordination between team members Brian Cano, James Bertolasio, Mark Portante, Mark Swindler, Nova Lox, Luke Hoffman, Camille Zamboni and project manager Blair Murphy.
As a dedicated artist, Camille Zamboni directed the painting of the board, ensuring that the lettering was an exact replica of the painting as directed by Guinness World Records.
"After we finished, really strange things started to happen. Blair and I were sleeping and in the middle of the night we woke up because we both heard my son screaming. Except that he was not staying at the hotel that night. "Said Camille.
Camille also mentions it and Blair saw "angry" versions of each other while the other person was nowhere to be seen.
"I remember going to sleep and woke up screaming and yelling at the end of the bed. I was so confused because he never does that, so I asked "What's going on?" And when I looked again, he wasn't there. He had been in his office the whole time. Likewise, another day, Blair saw me in the attic talking and yelling something and began to respond to "me." However, I was not at the hotel – I went shopping when that happened. "
Now located on the hotel's third floor roof, the irony of the placement is that the inventor of the original Ouija board William Fuld died after falling from the roof of a third floor building.
Even with these frightening events and coincidences, it was not enough to stop the team at The Grand Midway from reaching other records.
As Blair himself is quite an artist and filmmaker, he decided that creating the largest tarot card of the world would be a fitting addition to all the work in progress he had done at the hotel since he acquired it in 2001.
"I always looked at it like the hotel had chosen me. I was living in Los Angeles when an ad for the historic Pennsylvania hotel appeared in my email one day like a scary witty finger from the grave, tapping my attention, saying "buy me … move here … live here. .. it will be fantastic… "It was a fantastic adventure," said Blair.
The son of two funeral directors, Blair was used to death when he was a child; something that played a big part in his interest in the many paranormal experiences that would occur regularly in his haunted house which has 32 rooms with scary themes.
These rooms have a variety of different atmospheres, ranging from the Vampire room which contains a hidden passage to the adjoining, full of coffins quarters, up to the magician's room, where one has to push through a secret library to enter the 'darkness residence.
The Canopy Room, which is said to be haunted by a ghost who died decades ago – is by far the most terrifying in the building.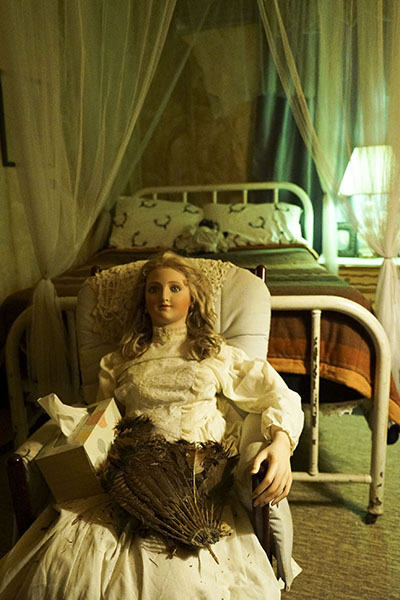 With a life-size doll and Victorian decor surrounding the area – many claim to have felt spirits touching them or to have seen ghosts appear in the room.
No wonder, then, with all of the eclectic and bizarre artifacts around the hotel – Blair would like to add another record object to the establishment.
After recruiting painter Terrence Kauffman in 2017, the couple worked together to form a 6.42 m (21 ft. 1 in.) Long and 4.87 m (16 ft. 0 in.) Wide tapestry that is now hanging from the ceiling of the library on the first floor.
Terrence and Blair chose The Universe card from the Thoth Deck as their symbol for recording.
Unlike some of the sinister components of the Grand Midway Hotel, this card symbolizes positivity and satisfaction – as it represents luck and reward for the one who comes out of the life for which he worked hard.
Similar to the woman who dances in the center of the image, this special card is representative of a celebration and the joy of making success a reality.
Since this particular card now has a Guinness World Records title, it seems to be quite effective.
This is the first time that artist Terrence has worked on a record – because his day job is being a tattoo artist.
He says he's happy to be working on one of the many projects Blair has done to put Windber, Pennsylvania on the map.
And despite recent headlines from another Ouija Board claiming to have beaten its record title, Blair still holds the official Guinness World Records title as directed and has submitted evidence.
The rivalry inspired him to continue chasing more records in the future, as he now ponders the idea of ​​creating the largest coffin in the world in the historic church he recently acquired on the rue de l hotel, which now houses the Anne Rice doll collection.
Now, many of those who have heard of extraordinary record titles have flocked to see them in person, and are impressed by the story that encompasses the historic building from 19 e century.
Longtime residents of the Grand Midway, like Synthia Berns, recognize his hard work and ambition.
"It's really great to see what Blair has done for the community, he has just gathered so many people and it is an honor for the city to be able to have two Guinness World Records titles. I'm just impressed with the incredible work he has done. "
Want to learn more about The Grand Midway Hotel? Check it out here .
Top Japanese urban legends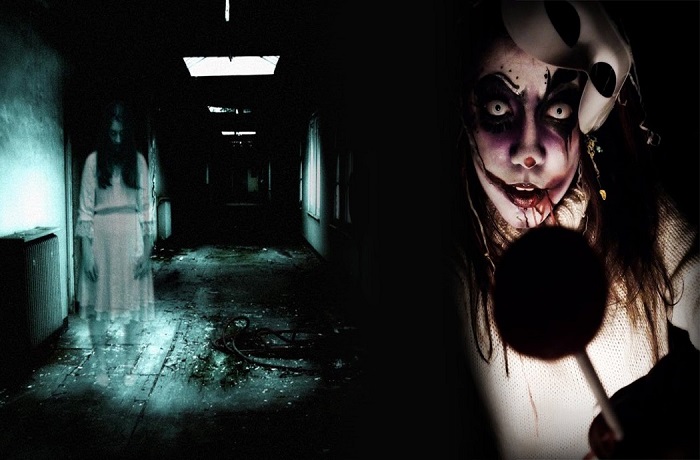 Japan is a distant and mysterious island. Before becoming a country full of buildings and businessmen, it was the land of samurai, martial arts and … urban legends.
An urban legend is a modern form of folklore, a story that is sometimes considered true, but not always, by its narrator. These legends are part of the collective memory. Obviously, despite its name, an urban legend does not necessarily take place in an urban area. The term is just used to differentiate modern history from ancient.
Japanese people are fond of urban legends and they have countless, here aew the most creepy Japanese urban legends. It's up to you if you are still ready to visit Japan after reading this.
1) Kuchisake-onna, the woman with the split mouth
During the Heian era (794-1185) there lived a very beautiful woman, wife of a very jealous samurai. But she was also not very loyal. The samurai ends up discovering the multiple deceptions of his wife. Dishonored and betrayed, he decided to kill her by slitting her mouth with commissures up to both ears, while yelling at her "Who will find you beautiful now?".
Today, it is said that the woman with the split mouth appears at night with a surgical mask to hide her "smile" and a long pair of scissors. When she meets a man, she asks him the question "Am I beautiful?". If he answers no, he is killed immediately. If he answers yes, she then removes her mask and asks "Even like that?". Answering no again means death. If the man says yes, she follows him to his home before killing him outside the door. The only way to escape her is to tell her that she is an ordinary woman, neither beautiful nor ugly.
2) Inunaki village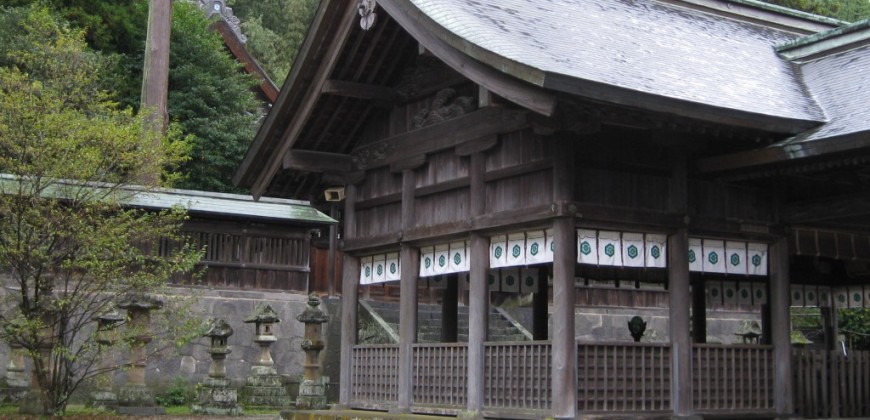 It's a mysterious village somewhere in Japan. At the entrance to the village, there would be a sign saying "the constitutional laws of Japan do not apply here". Residents of the village would live in quite a special way since incest, cannibalism and murder would be rampant there.
For unknown reasons, electronic devices would not work in the village. Everyone who has been there has never returned.
3) The O-kiku Ningyou doll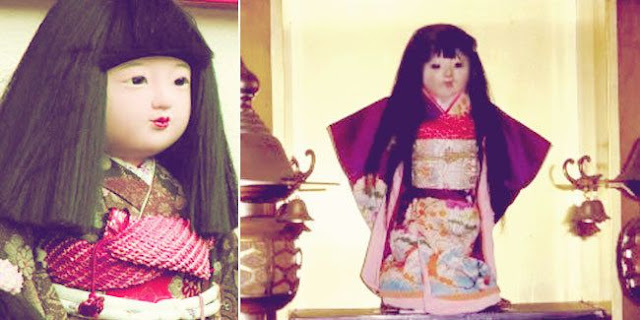 This doll belonged to a 3-year-old girl who died of illness in 1918. The family moved later and, not knowing what to do with the doll, they asked the Mannenji monastery to take care of it because it was a toy their little girl's fetish. Later, one of the monks was told that the doll's hair had grown longer. After verification, they had indeed grown!
The monk therefore decided to cut the doll's hair, but it became even longer. The hair was then analyzed and is believed to be of human origin! The doll would therefore contain the little girl's soul, and she would sometimes smile. Each year, a ceremony is held in honor of the girl, and the doll's hair is cut.
4) Hitobashira
The word Hitobashira means "human pillars". In the 17th century, it was customary in Japan to bury living people in the foundations or pillars of buildings. These sacrifices were to please the gods, who then blessed the buildings and ensured them a longer life.
But suddenly, the buildings in question would still be haunted by the spirits of the poor buggers who were buried.
5) The Kiyotaki tunnel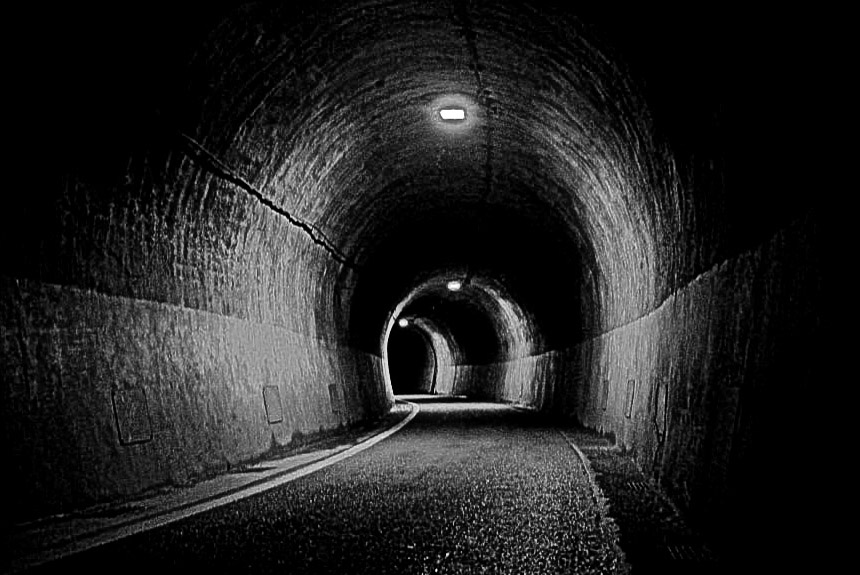 This tunnel, built in 1927, is said to be haunted by the spirits of workers who died during its construction, which took place in conditions close to slavery. The tunnel is 444 meters long, which makes it cursed since the number 4 is somewhat the equivalent of the number 13 in our country, its pronunciation being the same as the word "dead".
The ghosts of the tunnel would enter your car to scare you, causing an accident. Each new victim would be trapped in the tunnel, adding to the number of spirits. A mirror would also be placed in the tunnel. If you see a ghost looking inside, you die in excruciating pain.
And to add a layer, the length of the tunnel would change depending on the time of day!
A retired policeman spoke about how he saw a winged man in his childhood
In December 2019, the 60-year-old David Ramos, a former Chicago policeman who is now retired, contacted The Singular Fortean Society. Ramos worked in the Chicago police from 1994 to 2009, and in 1971, when he was 12 years old, he saw with his own eyes a winged humanoid creature.
"When I was a kid and I was 12 years old, we lived in the old Park Riverview Park area. A local company of teenagers usually played on the north bank of the Chicago River. That day, some of the boys had fun throwing pieces of rubble concrete into the water and competing who would make the biggest splash. I was further from the river as I didn't like being too close to the water.
At one point, I looked northward and i swear I saw there a skinny and very tall man dressed in something very black. He was about 200 feet (60 meters) from me. This man looked in my direction, and then threw up his arms, spreading his wings, and then he ran, flapped these wings and disappeared among the trees on the river bank. I looked at it, completely dumbfounded.
Then I stood up and ran to the other guys and began to ask them "Have you seen this guy?" I was not sure what I saw, I did not know what it was, maybe someone was involved in practical jokes or something like that. By the way, there always was something very creepy in that place by the river, spooky by the river, even in broad daylight. I tried to explain but [my friends] told me to shut up and didn't pay any attention to me, [since] I was smaller and younger than them

I am now 60 years old, I am a retired policeman and live in Florida. I had never told anyone about what I saw before, and I am writing to you because I stumbled upon your article (about the MothMan) now.

That event shocked me greatly, I felt somehow very angry and immediately wanted to get home almost as soon as possible. I remember trying to look at his face when he looked at me and it seemed to me scary, like a mask for Halloween. This face was not like the face of a man, he had big eyes and this is probably all of the details that I remember.

I am still scared by this memory and I know that Mothman is usually considered a harbinger of tragedy. I tried to remember what bad things happened shortly after this incident. I just remembered that one of the older boys that we were with that day shot and killed a rival gang member shortly after that sighting. He was 16 at the time and went to jail at 17 for at least five years for murder.
Researcher Tobias Weiland of The Singular Fortean Society contacted David Ramos on the telephone and learned learned from him some more details of that event.
"It was an autumn day, an ordinary gray day in Chicago, but it was still daytime. The figure I saw had something like a black cloak, but in general it resembled a very tall man in a cloak and a hood. I could see his large eyes, which from afar they looked like huge yellowish-red glasses.

When he threw up his arms and spread his wings, these wings were just huge in size! He managed to take a few steps and flap his wings before hiding behind the trees. I never came to this place when I was a child, but I know that back then a service station was built there. When I worked as a policeman and drove in there to check a car, I always remembered that day and I was very scared. "
The place where Ramos saw a flying humanoid with reddish-yellow eyes is just a few miles from Lake Michigan. Starting from 2017, at least several dozens of reports came from this area about sightings of a strange black winged creature that looked like either a huge owl or a person with wings.
Most often, this creature was seen near water and in parks. Researchers of anomalous phenomena can still only speculate on what all these people saw. Either some rare huge bird, or really something paranormal.
This story began in 1970 in Australia in the small town of Wagga-Wagga. A man named Carrie Walton arrived there for the funeral of his grandmother.
As a child, he often visited his grandma and loved to play in the yard. There, like all children, the first joys and first fears awaited him. Carrie's fear was a neighboring abandoned house. It seemed somehow ominous, the boy thought that ghosts lived there.
And so, the man decided to look into the eyes of his childhood fears and inspect the abandoned dilapidated house. Of course, this time, after many years, the house turned out to be quite a common wreck. Already at the exit from the building, where he did not find anything unusual, the man looked under the porch and found something that changed his life.
It was an old doll, a dwarf in a faded green camisole with a grin on her face. Having a huge nose and large glass eyes, she looked frightening. Carrie still, decided to take the doll, because it looked old, it could be expensive. He gave her the name Letta and took her home.
Walton's family took the doll hostilely. Dogs entered by barking at the sight of her, his daughters said that the doll was moving and were afraid to be near her. Without exception, all the neighboring households near the doll began to feel bad.
Carrie tried to sell it more than once, but even when everything was already agreed, the deal fell off at the last moment. He realized that the doll was related to otherworldly forces and decided to show it to a psychic. The medium said that this doll is about two hundred years old and there is a human soul in it, which a Romanian gypsy placed in it. Actually, Letta has human hair and there is a piece of human skin on the doll's head.
Since Carry could not get rid of the doll in any way, he decided to establish a relationship with her. Moreover, when this story became known, they began to invite him to various shows on TV, which allowed the family to have some income.
Since then, the man and the doll have found a way to coexist and live together. Carry jokingly calls her "a doll from hell."