This Geothermal Energy System Could Be Built in a Backyard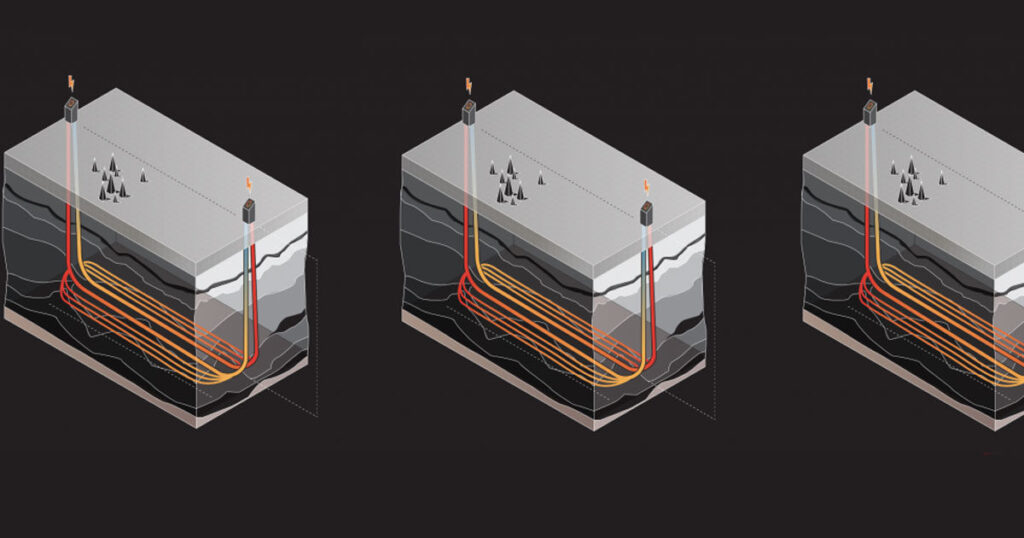 Going Geothermal
In June, a U.S. government report noted the "enormous untapped potential" of geothermal energy, the heat naturally produced beneath Earth's surface, for the generation of electricity.
Now, Canadian company Eavor Technologies is building a first-of-its-kind geothermal system in Alberta — and it could help the world finally tap into that potential.
"You can put it almost anywhere," Eavor CEO John Redfern told CBC News. "It's not like a windmill or solar panel… almost everything's underground so you can literally put it in someone's backyard."
Eavor Loop
The system is called the Eavor Loop, and to create it, Eavor is drilling two wells a few kilometers apart. Once each well is a few kilometers deep, Eavor will start drilling horizontally to connect the two.
Eavor will then circulate a proprietary fluid through the tunnel. That liquid will collect heat from below the Earth's surface, bringing it above ground where it can be transformed into usable electricity.
Clean Energy
The Eavor Loop system requires no fracking and creates no greenhouse gas emissions, meaning it could allow the world to finally tap into the energy right beneath our feet — while causing minimal damage to the environment.
"It's just a much more benign system," Redfern told CBC News, "and it's something that you can implement across 80 percent of the world instead of five percent of the world like traditional geothermal."
READ MORE: $10M first-of-its-kind geothermal pilot project underway in Alberta
Some Storms Are so Strong They Shake the Ocean Floor, Says Study
Seismic Mystery
It's easy to see the impact an off-coast storm has on the water's surface. But according to a new study, severe storms can actually shake the ocean floor as well, causing "stormquakes" — a previously unknown phenomena that solves a seismic mystery.
Scientists already knew prior to this study that the ocean produces seismic signals. But while some of those signals could be explained by the ocean's waves, there was a band of signals that occurred at a frequency between 0.02 and 0.05 hertz that were seemingly inexplicable.
Weather Connection
It was those signals that the U.S.-based researchers behind this new study, which was published in the journal Geophysical Research Letters on Monday, sought to explain — and after analyzing nearly 10 years' worth of seismic data, they noticed a strange pattern emerging.
"[The signals] were seasonal," researcher Wenyuan Fan told Science News. "Earthquakes do not have seasonality. But weather does."
That led the team to the discovery that the shaking of the ocean floor coincided with the raging of a storm above it.
Perfect Storm
However, a storm alone isn't enough to cause a stormquake — the seafloor below the storm has to be just the right shape, too.
"It's something about the shape — or the bathymetry — of the seafloor interacting with these big ocean waves that are produced during storms," researcher Wendy Bohon told Motherboard. "You're getting some kind of energy relief that's beating on the seafloor in a particular way, and those waves are moving out in all directions as coherent packages which we're then able to detect using seismometers."
READ MORE: Scientists Discover a New Phenomena Called 'Stormquakes' [Motherboard]
Amazing underwater video shows a whale using bubble nets as hunting traps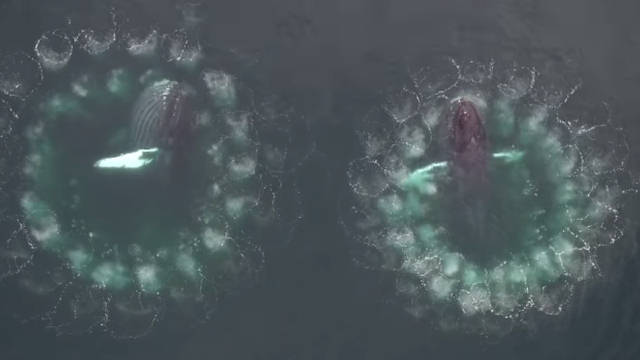 Did you know that some cetaceans use "nets" to catch their food? A good example is humpback whales or yubartas, whose size can reach 16 meters long. These whales dive and swim in circles around their prey, blowing bubbles as they do. The underwater footage shows a whale using bubble nets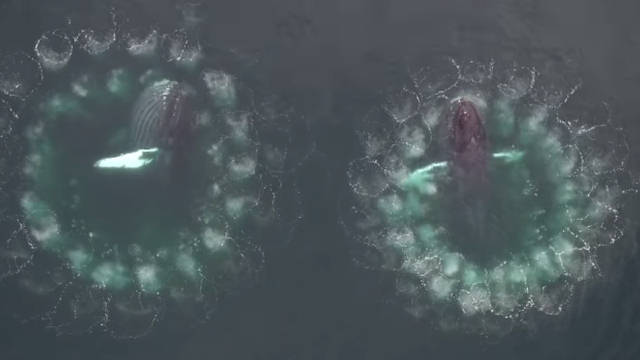 The resulting structure emerges forming a column of fish traps, allowing other members of the group to swim from below, with their mouths open, through the cylinder of bubbles to enjoy a delicacy.
The scene is captivating and fascinating to watch, and now scientists have recorded it on camera from an unprecedented angle which clearly shows whale using bubble nets.
In addition to the aerial view provided by a drone, where one of these humpback whales is seen creating the bubble trap, marine biologists at the University of Hawaii in Mānoa mounted cameras and sensors on the animals, using suction cups to collect data about this fascinating behaviour.
«We have two angles. The drone view shows us the networks of bubbles and how they emerge to the surface, while the cameras in the whales show us everything from their perspective, " explains marine biologist Lars Bejder . "Together they offer us amazing material."
Migrating yubartas visit Alaska to feed during the summer, before returning to warmer waters near Hawaii for winter, where they reproduce and breed the calves. During this last period, the whales do not eat, so they need to store large reserves of Alaskan krill to support themselves.
What is fascinating about bubble networks as a method of feeding is that it seems to be a learned behavior. Not all humpback whales hunt in this way, and those that do have varied techniques. It is also a cooperative task, where these cetaceans work together to ensure that everyone receives their ration.
The number of humpback whales has increased after the 1985 commercial hunting ban, and they are no longer considered endangered. However, in the last five years, there has been a substantial decrease in sightings of these animals. The research that recorded the videos is part of an attempt to find out why, the potential causes being changes in the food population, anthropogenic impact on their habitat and climate change.
"We are watching how these animals manipulate their prey and prepare them for capture. The films we achieve allow us to have data that we lacked before, "concludes Bejder.
Source: ScienceAlert
Extinction Rebellion: Climate Change Protests Aim To Crash Global Economy To Usher In MMT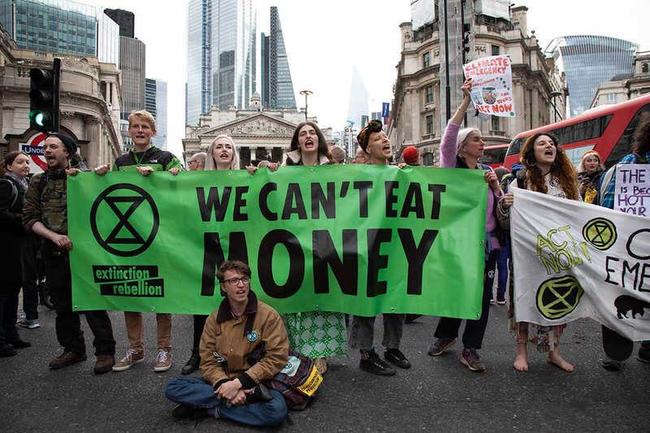 (Zero Hedge) R.T. News is reporting that 'Extinction Rebellion' protests are scheduled across 200 sites in London over the next several weeks. These protests could bring the city to a standstill as protestors demand government officials take immediate action to combat climate change.
Extinction Rebellion is expected to hold protests in 60 major cities across the world through late October. Some of the countries that could experience the most massive demonstrations are the Netherlands, Australia, Germany, Spain, France, the U.S.
These protestors have already taken over streets, blocked roadways, and disrupted public transportation in London, Sydney, Paris, and Berlin.
Trafalgar Square is completely closed to traffic.

Extinction Rebellion have set up a stage for speakers and music, first aid tent, improvised cycle lane, and snack stall.

There's also a "well-being sanctuary" in case you're feeling down. pic.twitter.com/YE6jhARVgS

— Theo Usherwood (@theousherwood) October 8, 2019
Extinction Rebellion are gloriously vibrant and peaceful protesters whether you accept or detest the disruption. I back the climate emergency urgency if fearing the tactics occasionally backfire but the good humour's welcome when Westminster's often plagued by Far Right thugs pic.twitter.com/2gNvsiNOqL

— Kevin Maguire (@Kevin_Maguire) October 7, 2019
"If we keep on destroying, we destroy what allows us to live."

'Extinction Rebellion' activists held protests around the 🌍 against climate change. Demonstrators brought London to a standstill, hundreds were arrested.

Read more: https://t.co/FmsiW0YHHR pic.twitter.com/GTRbKEPYIg

— Al Jazeera English (@AJEnglish) October 8, 2019
Extinction Rebellion's message is that climate change is an emergency that requires drastic and immediate action. And the only way to force significant policy change is to shut down parts of major infrastructure, like roads, bridges, highways, rail, airports, and ports.
"Extinction Rebellion is widely credited with accelerating policy change in the U.K.," said Robert Falkner, a fellow at Chatham House.
The group's tactics are already causing severe economic and social disruptions in major cities across the world. While specific demands are wildly unrealistic, it seems that there's a more sinister agenda at play.
The plan is to crash the global economy by unleashing climate change protestors into the streets to shut down critical parts of infrastructure. While protestors think they're in the streets to save the planet — they're really causing mini-economic shocks in cities across the world, simultaneously. These shocks are occurring in a period where the global economy has already opened up into a cycle of vulnerability, indicating the world could be one or two shocks away from a severe economic downturn.
If Extinction Rebellion succeeds in shutting down streets across the world in the next several weeks, then it could certainly point to slower economic growth for the world through year-end.
And what's the reason behind climate change protestors shutting down cities and causing economic shocks across the world? Well — it's all about crashing the global economy to install a new economic model called Modern Money Theory (MMT) that will transition the world economy into the new green era.
 "One of the obstacles that has been listed to stopping climate change is having enough money to transition away from fossil fuels and heal the damage done to our environment. It is true that in the way we currently run our economy that is not possible.We know that it's still possible to avoid the worst impacts of climate change if we transition to renewable energy sources without delay. We know that we can contribute to a just and equitable society with dignity for all, if we build this green infrastructure as rapidly as possible" said One Sustainable Planet.
So now you know the master plan of the elites, create social-economic chaos, crash the global economy, probably blame it on the trade war, then implement MMT and transition the global economy into a new green era. Buckle up; volatility is here.
The news is important to all people because it is where we come to know new things about the world, which leads to the development of more life goals that lead to life wisdom. The news is also serves as a social connection tool, as we tend to relate to those who know about and believe the things we do. With the power of an open truth-seeking mind in hand, the individual can grow wise and the collective can prosper.