This Geothermal Energy System Could Be Built in a Backyard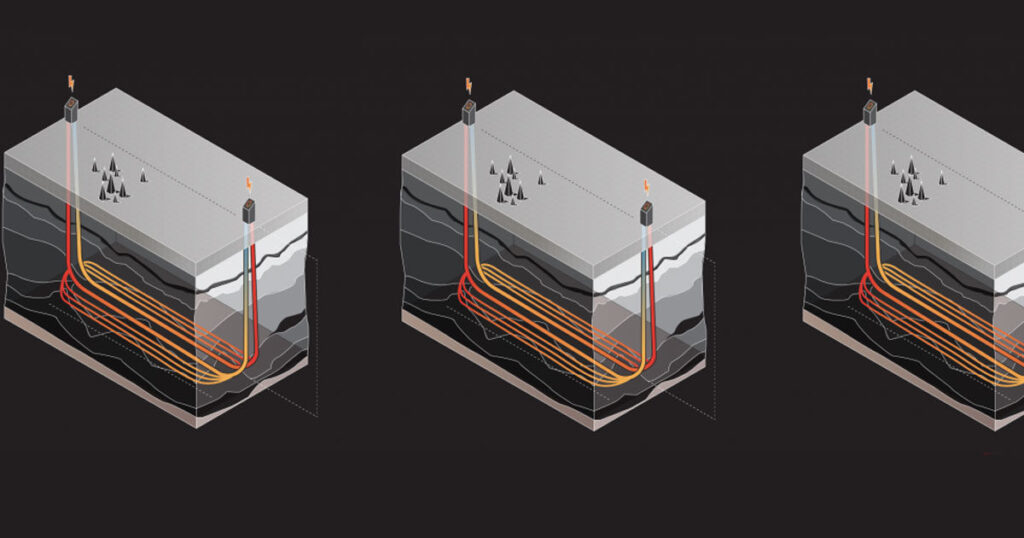 Going Geothermal
In June, a U.S. government report noted the "enormous untapped potential" of geothermal energy, the heat naturally produced beneath Earth's surface, for the generation of electricity.
Now, Canadian company Eavor Technologies is building a first-of-its-kind geothermal system in Alberta — and it could help the world finally tap into that potential.
"You can put it almost anywhere," Eavor CEO John Redfern told CBC News. "It's not like a windmill or solar panel… almost everything's underground so you can literally put it in someone's backyard."
Eavor Loop
The system is called the Eavor Loop, and to create it, Eavor is drilling two wells a few kilometers apart. Once each well is a few kilometers deep, Eavor will start drilling horizontally to connect the two.
Eavor will then circulate a proprietary fluid through the tunnel. That liquid will collect heat from below the Earth's surface, bringing it above ground where it can be transformed into usable electricity.
Clean Energy
The Eavor Loop system requires no fracking and creates no greenhouse gas emissions, meaning it could allow the world to finally tap into the energy right beneath our feet — while causing minimal damage to the environment.
"It's just a much more benign system," Redfern told CBC News, "and it's something that you can implement across 80 percent of the world instead of five percent of the world like traditional geothermal."
READ MORE: $10M first-of-its-kind geothermal pilot project underway in Alberta
Greenland is losing ice seven times faster than expected
Greenland is ceasing to be that vast white territory because it is losing ice at a speed seven times faster than in 1990.
The fatal scenario goes according to the context of global warming of Intergovernmental Panel on Climate Change (IPCC), which would expose 400 million people to coastal flooding in the year 2100.
A joint work of 96 scientists from 50 international organizations has generated the most detailed image so far of the ice loss from Greenland.
The team called Ice Sheet Mass Balance Inter-comparison Exercise (IMBIE) used 26 surveys to calculate changes in the Greenland ice sheet mass between 1992 and 2018.
The worst case scenario
The research results show that Greenland has lost so far 3.8 billion tons of ice, since 1992. This thaw is enough to raise the sea level by 10.6 millimeters.
The figures are alarming as they show a seven-fold increase in ice loss in just three decades.
In 2013, the IPCC predicted that worldwide sea level would rise 60 centimeters by 2100, leaving 360 million people at risk due to coastal flooding. However, the new study shows that the ice loss is increasing faster than expected, which would generate an increase of even 7 centimeters more at sea level.
Andrew Shepherd in the University of Leeds, lead author of the research, he said in a statement:
As a general rule, for every one-centimeter increase in global sea level, another six million people are exposed to coastal flooding across the planet.

According to current trends, the melting of ice in Greenland will cause 100 million people to flood each year at the end of the century, which adds up to 400 million in total due to all the sea level rise. These are not unlikely events or small impacts; they are happening and will be devastating for coastal communities. "
Caused by warming
The climate models regionals used by the team of researchers showed that half of the ice loss was due to rising air temperatures. The other half was caused by the rising ocean temperature.
The doctor. Erik Ivins of the Jet Propulsion Laboratory NASA and lead author of the study said in a statement:
Polar ice satellite observations are essential to monitor and predict how the climate change could affect ice losses and sea level rise. While computer simulation allows us to make projections from climate change scenarios, satellite measurements provide irrefutable evidence. "
The team expects to continue monitoring the ice reduction in Greenland to determine the possible sea surge each year.
The research findings have been published in the journal. Nature.
Source: Leeds University / Phys.org
Bright Meteor Fireball Streaks over Phoenix, Arizona
Does it seem like these are on the rise?
via AZ Central:
By now, we all know, it didn't really happen unless it's confirmed via social media.
And that's what was happening Friday night, as numerous Twitter posts surfaced from people who said they saw a bright light streak across the nighttime sky over Phoenix sometime around 9:30 p.m.
The posts described the sight as a green streak or light, possibly a large meteor or "shooting star," but definitely more than a quick flash that such a phenomenon usually produces.
The Arizona Republic could not immediately confirm the source of the bright light, but several other Twitter posts reported seeing it from vantage points such as 32nd Street and Thomas Road, near the Phoenix Art Museum, or in north Phoenix.
Fireball last night near Phoenix seen from Tucson in this video acquired by my rooftop camera☄️💫 #shootingstar #Tucson #Phoenix pic.twitter.com/QRI0D7YbKt

— Lucille Le Corre (@Callichore) December 7, 2019
Chris Coppola
AZ Central
Life on Earth can be explained by asteroid-eating bacteria
A new study suggests that asteroids can be a food source for living things, more specifically a microorganism called  Metallosphaera sedula , a metal-eating species.
Metallosphaera sedula  is a species of bacteria-like microbes, originally isolated from a volcanic field in Italy. The first part of the name can roughly be translated as a "metal mobilizing sphere," while the word "sedulus" means busy. This describes the efficiency of these organisms in mobilizing metals, including those found in asteroids.
According to research led by University of Vienna astrobiologist Tetyana Milojevic, these microbes derive their energy from inorganic substances through oxidation, and can collect energy sources faster from extraterrestrial rocks than from simple ancient terrestrial minerals. Milojevic explains that the study was conducted to find "microbial fingerprints" left in meteorites. "This should be useful for tracking life-seeking biosignatures in other parts of the universe," she concludes.
This kind of research, according to the astrobiologist, can provide her colleagues with "little tips" on what they can look for in their search for alien life. "If there was ever life on another planet, similar microbial fingerprints may still be preserved in the geological record," she said.
The team examined how Metallosphaera sedula  interacts with NWA 1172, a rocky meteorite found in northwest Africa that contains about 30 different metals. Using various spectroscopy techniques and an electron microscope, the researchers documented the signatures left by the organism. Thus, they found that M. sedula  is able to consume extraterrestrial material much faster than it does with terrestrial minerals, resulting in healthier cells.
While terrestrial minerals provide only a few nutrients for the microorganism, "NWA 1172 iron is used as an energy source to meet M. sedula's bioenergetic needs  as microbes breathe due to iron oxidation," Milojevic explained. The wide range of metals in NWA 1172 can also be used for other metabolic processes, such as accelerating vital chemical reactions within cells. And because the meteorite is so porous, it can promote M. sedula's improved growth rate.
That means iron meteorites could have brought more metal elements and phosphorus to Earth, making life's evolution easier, according to Milojevic. In addition, research may also support the panspermia hypothesis, an idea that cannot yet be substantiated, but it is not ruled out either, as scientists have not yet completely unraveled the origin of life on our planet. And Milojevic is interested in exploring this possibility: To do so, her team plans to "test the survival of  M. sedula  under simulated and real environmental conditions from outer space," the astrobiologist said. The plan, however, will have to find the funding needed to send the microorganisms into space.