A team of Japanese archaeologists plans to 'bomb' with cosmic rays, the Great Pyramid of Giza, to confirm the existence of a mysterious inner chamber that was detected in a previous investigation.
The huge building has three chambers: the underground chamber, the chamber of the Ruler and the chamber of the Pharaoh himself. All three have a common corridor, and the largest of them is the Great Gallery. Its height is almost 9 meters, length – 46, and width – 2 meters. Two chambers – the Ruler and the Pharaoh, have two, so-called, air mines. They were discovered by robots working indoors from 1990 to 2010.
In 2016, researchers from Nagoya University and the High Energy Accelerator Research Organization announced that they had discovered an unknown cavity 30 meters long right in the center of the Great Pyramid of Giza.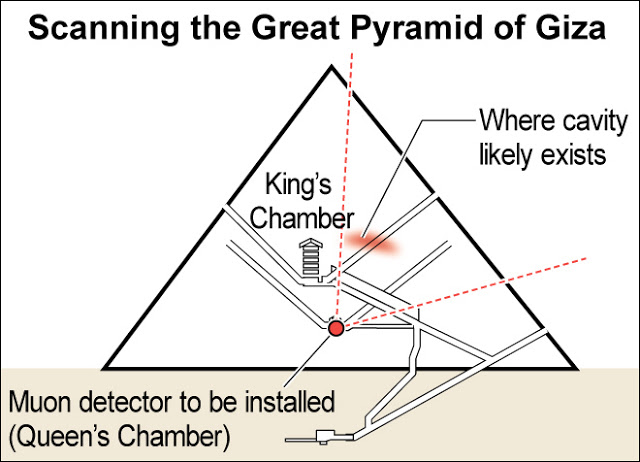 It was located on the Great Gallery, a passage that connects the burial chamber of the Pharaoh Jufu with a tunnel that leads to the outside. The chamber is now known as «the great void».
To find it, they used a technology known as 'cosmic ray images', using an imaging technique that uses subatomic particles called muons in the same way that X-ray images are used. Muons are created when cosmic rays hit our atmosphere. These subatomic particles are incredibly effective to penetrate thick layers of solid material and can cross up to a kilometer of solid mother rock.
The discovery of this unknown chamber in the Great Pyramid was taken with skepticism by some parts of the archeological community, and the Egyptian government recently asked a team of archaeologists to confirm the findings.
Resuming the investigation
Now, researchers from the University of Kyushu (Japan) expressed interest in "verifying previous findings" using the same technique used in the first study, a process that involves placing special plates in and around the pyramid, which collect particles of cosmic rays (the aforementioned muons) that rain through the atmosphere and are then absorbed or deflected by hard surfaces.
The researchers will install a muon detector in the Chamber and they will let it work for a month. Muon radiography findings will be used in combination with drone studies to determine if there really is a hidden secret chamber in the pyramid.
Sakuji Yoshimura, who directs the project and his team, is confident that this new study sheds some light on the unknown parts of the interior of this famous Egyptian structure, located on the outskirts of Cairo (Egypt) and built around the year 2,500 BC, and hope to publish their findings on this investigation.
References: The Archeology News Network