If the Donald thinks he's got problems with outsiders coming into the U.S, imagine the anxieties of Professor David M. Jacobs. After fifty years of research into the UFO phenomenon, creating the ICAR (International Center for Abduction Research) and writing four books on the subject, Jacobs is confident that aliens are here already and walking among us. And unlike Michael Rennie's character Klaatu in The Day The Earth Stood Still, they are up to NO GOOD. Even a wall won't keep them out.
We may be talking about a subject many people still find incredulous, but Dr. Jacobs has solid credits. He received his PhD from University of Wisconsin in intellectual history, but finding the UFO phenomenon fascinating, wrote his dissertation on the controversy of UFOs. He's only recently retired from Temple University in Philadelphia where his specialization was 20th century American pop culture.
With a billowy cloud of white hair, and intense bespectacled eyes, Jacobs is not exactly what one might expect in an abduction specialist. He has a good sense of humor, but then, he has to. After 900 hypnosis sessions with 140 abductee clients, he's heard it all. One of the tenets for studying the Kabbalah is that it's important to have reached one's fortieth birthday before taking on the study of this mystical part of Judaism. It's believed that by forty, a little maturity may have formed, even in men. In Jacobs' case, it is very important that he was married for a long time as well as being more mature. The sexual goings on with the aliens and their abductees is pretty heady stuff —- vulnerable subjects may be less prone to share their intimate stories as openly with younger hypnotists.
Jacobs regards hypnosis as very down to earth. He feels it's only slightly different than normal consciousness and not an altered state. The client is relaxed and better able to remember repressed abduction situations. Jacobs is not bothered by the idea of false memories. His subjects have verifiable proof of absence from locations, time lapse and bodily marks, internally and externally.
There are many therapists dealing with the subject, but according to Jacobs, they are practicing in a New Age style camp and don't realize what's at stake. Since UFO superstar Bud Hopkins' death, Jacobs is one of the only people doing this kind of research. He is emphatic about the coming danger from aliens and feels has an urgent responsibility, not only to his subjects, but to the world.
I didn't ask him for personality bios on his subjects. I've read enough to know that people from all walks of life have claimed to have had this experience, including Ronald Reagan and Simon Parkes, a city labor councilor from the UK who went public on British television. Jacobs says that there are abductees on every continent.
I mentioned a friend to him who claims to have seen extraterrestrials outside the entrance to the BMT subway one early morning on his way to a proofreading job. They appeared to Sam to be giant fruit flies with pointed teeth. Jacobs seriously doubted that they were real. According to him, one only sees aliens if they are actually being abducted. My friend might be an abuductee, but what he remembers is flawed. Plus, one is never abducted in a crowd. Good news for Trump rallies.
Now my own doubts started to simmer. Was the spaceship I spotted on my upper West side roof one July 4th actually an abduction and what seemed like only seconds passing was in fact a couple of missing hours? Was I swept away? Is that why I was late for the poker party?
Dr. Jacob's subjects have memories even I wouldn't wish on a Republican. Bug eyed aliens sticking instruments into female abductees' navels, stealing their eggs, getting them pregnant, and then a few weeks later, getting them unpregnant. It's so hideous that even with the claims of the occasional cosmic orgasm, many abductees are happy to have lost the memories. Still, it's those nagging feelings and nightmares that drive them to David's office for help.
Perhaps many of our fables are really covers for abductions. What about that flying carpet? And did Dorothy, too, eventually realize that Oz was nothing more than another galaxy and those weird cramps she had back in Kansas were symptoms of implants? Jacobs' patients' stories are filled with villainous activity even more despotic than the bad Witch.
What separates Jacobs' theories from other researchers and abductees who claim that the alien experience is benevolent, is that he's positive they are not. Based on the information given while 'under', the subjects insist that the harvesting of eggs is not merely an experiment to study the human body, but a dark project of immense proportions. Jacobs says that the aliens have been reproducing with humans for a long time making hybrids; now there's a human like group called hubrids who will assist their true alien culture into moving here and taking over ours. The purpose of the long term cross-fertilization is so they can do it without ruffling too many feathers.
I asked him what these hubrids looked like and would they stand out in a crowd? "From what I can tell, hubrids have no overt physical differences between them and humans. The only differences are in brain function, e.g. the ability to control humans neurologically.' He calls this brain scanning, something the aliens are able to do by using their big black eyes to sear right through the human psyche.
My thoughts went to artist Margaret Keane who painted faces with black limpid peepers. Had she been abducted or was she a hubrid? Was she perhaps preparing us for the onslaught?
"They might have other brain differences as well — I am not sure if they go into a sleep-like state at night or if they do not sleep at all. The best I can say is that sleep does not appear to them to be important. Also, they are very quick learners and they appear to have superior memories. If there are these differences, then there very well might be others."
A lot of my friends have sleep apnea these days. Is there a connection?
Jacobs started receiving instant messaging on his computer from someone he suspected as being the hubrid that had been hanging out with one of his clients. It was as if the alien was spying on him or perhaps trying to scare him off. The hubrid's questions had an innocent, socially undeveloped point of view that they was almost childlike. Actually, sounds like a lot of my own internet correspondence.
"They are still trying to learn our ways. We don't know what happens to a hubrid after he or she breaks off from the abductees. My assumption is that they have learned enough to be confident and that they can easily blend into any human society."
Apparently, there are a few classes of aliens. Who are the soldiers?
"I am not sure what you mean by soldiers. The top guns are insect-like and they haven't been interested in merging with our DNA. There is no evidence that the insectalins will change form to conform to human standards. They will remain in their own form. These Insectalins have put together others to help carry out their long term plans. They are crucially important cogs in the aliens' plans. They have created the hubrids (hybrids who are living here) to do those duties."
Ah, a pure race of insects. So comforting. Mothra, the singing butterly from a Japanese sci fi film comes to mind. I wondered what galaxy these super bugs are from.
"They do not discuss this. In fact would be impossible to explain this to a human because if they have a name for their planet, that name would mean nothing to us. Where they come from is useless knowledge. The only thing that is important is what these aliens are here for and what they will be doing to us. "
Dr. Jacobs speaks in a neutral tone until he talks about the scary future. I'm very good with faces and begged him for more details on their look…couldn't I pick them out at a movie line?
"Only abductees know them because they have been introduced to them on board a UFO. There might be other ways abductees can recognize them, but that is a longer story. (We never got back to that) However, non-abductees would not be able to know who they are by their physical appearance. They have been bred to look absolutely average in order to not stand out."
He kept repeating the plan that the abductees reported to him during hypnosis. They say that the aliens refer to it as the Change. Of course, I thought of menopause what with all the sexual business and then there's the obvious, climate change?
"No, the abduction phenomenon can be dated back to the early part of the 20th century. There wasn't a climate change problem when the alien program was already fully established. People thought it was the atomic bomb that led the aliens to intervene. There is absolutely no evidence for that whatsoever. What they are doing in unrelated to human actions."
Was there a time frame for this 'change'?
"I think time is on their side. We do not know how long insectalins live. If they have been doing this since the early 20th century, time is obviously not of major consequence. My sense of it is that time means very little and they and they will finish when their project is ready to be finished."
Ok, maybe there's time to make a survival plan. If the one -percenters haven't bought up all the tickets to the first voyage to Mars, we could leave the earth. The image of waves of refugees pouring into NASA with ruthless ticket scalpers hawking at the launching pad killed that idea. Clearly, there will be no place to hide what with the insects' advanced brain scanning tricks.
Dr. Jacobs added softened the story …he said they might not be cruel, but will definitely take away our will. We will no longer be independent, but subject to the rules and philosophy of a sort of cosmic fascism. Where have I heard that before?
What of inter-species marriage? They say you never really know your partner, really. How many are already here? Did we marry them? Do they live next door? Will they rebel from the mother planet once they get a taste of Netflix and chipolte?
Invasion by another country or planet isn't funny. If the accounts of the aliens' shameful probings are any indication of their health care policies, I'd rather keep Obama Care. We citizens just don't know enough to discount this information. The government may know more and aren't saying. Dr. Jacobs hopes to continue his research and helping abductees. Perhaps one of his patients will eventually remember something…something that a hubrid or a hybrid or even a grey slipped out when they had had too much oxygen…something that we can do to save ourselves and the earth. Maybe time will be on our side, too.
Source www.huffingtonpost.com
---

Also published on Medium.
Another TR-3B? Huge triangular UFO flew over New York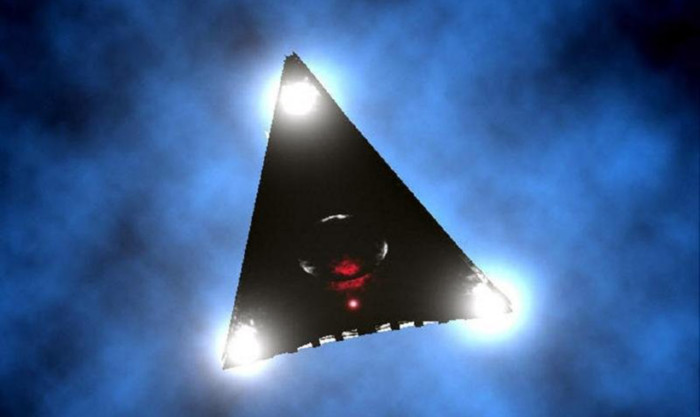 A resident of Bronx, New York, on January 16, 2021, saw three UFOs above the houses in his area, moving synchronously in the form of a huge triangle. The brightly shining points were very clearly visible in the night sky.
The man managed to capture a triangle slowly floating in the sky on video (see below) and posted it on his YouTube channel.
Since he was a very modest blogger who had only a few subscribers, his video went unnoticed for several days by UFO lovers, until finally it was re-posted on social networks, and from there it got to news sites.
The video shows how the author of the video is very surprised by what is happening, he looks up into the sky and says:
"They fly nearby and look like stars. It's a triangle and I don't know what it is."
Then he tried to ask someone from the passers-by about whether they knew that it was in the sky, but they could not answer either.
On social networks, this video caused a lot of comments from curious people who offered their versions of what they saw. From the fact that someone has programmed the drones to move in the form of a triangle, to the fact that they are actually Chinese lanterns.
The lantern version was quickly criticized, as the lights move at such a high altitude that Chinese lanterns could not continue to burn so brightly.
The drone version also drew a lot of criticism, because in order to launch several large drones over residential buildings in New York, you need to obtain special permission and it is not so easy.
The most popular was the theory that what he saw was a secret American reconnaissance aircraft TR-3B, about which there have been many rumors for a long time. Allegedly, it was developed on the basis of an alien ship that fell in Roswell, it can move silently and is practically invisible to radars.
Indians and aliens – "I was told that there are four aggressive species in the universe, and humans are one of them."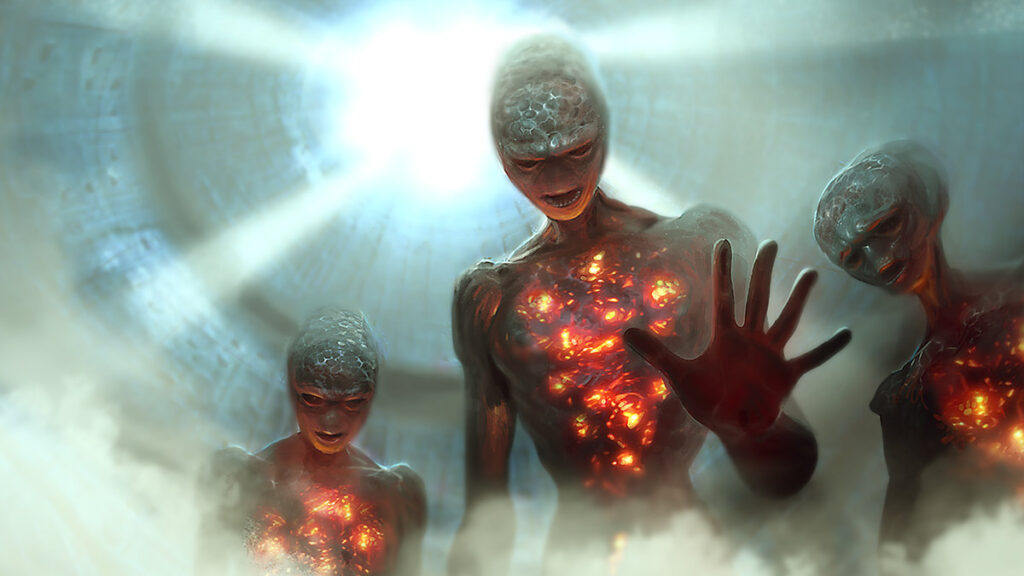 Dr. Ardi Sixkiller Clarke, professor emeritus at Montana State University, who is a native of the Cherokee tribe, has studied Indian stories about the "Star People" and collected stories of encounters between aliens and native Indians over the years.
Here is one of the stories she recorded, which she recorded from the words of a female elder named Tali:
I have seen star creatures all my life. The first time I was about 8 years old. I picked berries by the river. I watched the ship descend and land across the river. I crossed the river, stepping carefully over the rocks so as not to get my feet wet. I was curious; I've never seen anything like it.
As I approached, the door opened and I went inside. I remember that the star beings greeted me. There were two women. One combed my hair and said that I was beautiful. After that, I often met with them.
Sometimes I brought them flowers, sometimes stones. My grandmother told me that stones have a soul, and I tried to explain it to them. I don't think they understood. But they taught me to heal with my hands. Star doctors taught me how to treat diseases with my hands. They taught my grandmother how to heal.
When my grandmother died, the star beings were very saddened and I was tasked with continuing her work and learning about herbs and healing people naturally and metaphysically.
They are light, tall and thin. They are much smarter than us, but they are interested in our development. They travel the stars and learn from others throughout the star system. They collect information about the aging process of earthlings. They are trying to understand why we die so young.
Star people live much longer than we do. The normal age for them is 1000 Earth years. They do not have such diseases as we do. Their civilization does not consume alcohol and tobacco.
They choose who they will be, their job and stay on it forever. They become experts in their field, which leads to many discoveries that improve their lives. Star physicians visit Earth constantly. They mostly watch, but all over the world there are "helpers" who serve them. Both my grandmother and I were their assistants.
Star people call themselves observers.
They weren't cruel. I was told that there are four aggressive species in our universe. People are one of them."
Dr. Clarke ends the story like this:
"For the next five plus years, I frequently visited the reservation to meet Tali. She remained strong and mobile until her death at 95. On the day of her funeral, several people saw a UFO appear and hover in the sky. I was one of them."
Observers
In the stories of many people who have come into contact with representatives of extraterrestrial civilizations, there are references to the fact that they are just observers. It seems that some of these creatures are just curious observers of planet Earth, collecting data, as if some of them are carrying out scientific missions to bring information about other planets and civilizations back to their planet.
We are not alone in the universe. Perhaps one day we ourselves will become aliens for someone exploring another planet.
Can we change?
As for the fact that humans are one of the most violent species in the universe … We are empathetic beings with tremendous potential for good. We really can, but we do not change, and if you were an alien watching what is happening on our planet, you would probably be intimidated by how aggressive and cruel we are …
It is a pity that we are in a group of worlds characterized as aggressive, but I really hope that we will change. People can change, but only by standing at the edge of the abyss and realizing that if they do not change, human civilization will simply disappear. We are already on the edge of the abyss. We have actually destroyed the house we live in and the name of this house is Earth.
Humanity has only two ways – to change or die out.
The CIA has laid out all its information about UFO's in the public domain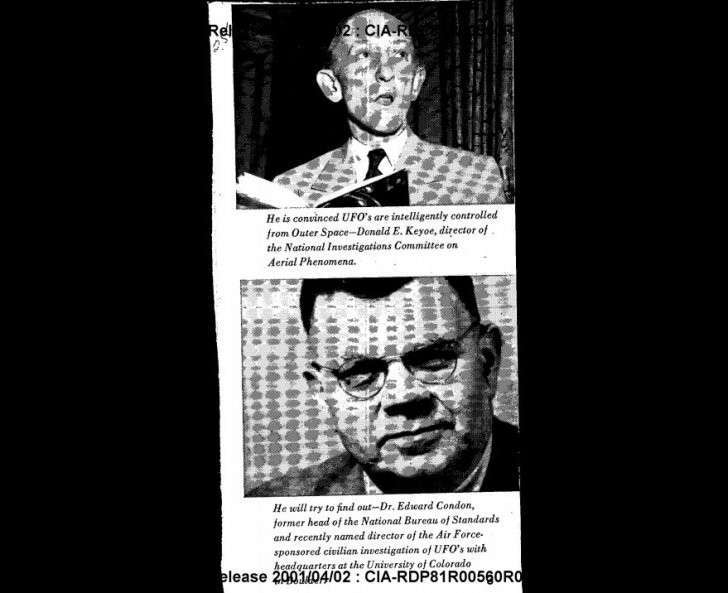 The Black Vault, which publishes declassified data, has posted on its website an impressive archive of CIA documents related to UFOs. The founder of the project, John Greenwald, says that he received all the documents by official means from the hands of the organization's employees.
And suddenly, the CIA declassified its entire database of UFOs. That is, the secret service has documents from the 1980s and everything shows that conspiracy theories are becoming a reality. Already, the "Black Vault" website contains several relevant documents, which can be downloaded by anyone.
The term "Unidentified Flying Objects" is commonly used in the documents.
Some of these may be due to light reflections or errors in the pilot instruments. However, some are objects of inquiry by the Pentagon.
The CIA claims that they have nothing else, but it is not possible to verify this statement.
It was possible to obtain information thanks to the Law on Freedom of Information, and the process itself was launched at the turn of the 70-80s of last century.
The representatives of the special services had to admit that the public ultimately has the right to find out the secrets of the government, but the process of transferring information is not really regulated. According to Greenwald, he spent 25 years in endless meetings, disputes and bickering with the CIA, until he finally got what he wanted.
But not everything is so simple – the researcher was handed a box with about 10,000 printed sheets of very low quality. He had to scan them manually, some things could not be disassembled at all, many documents were scattered. 
"Starting about 20 years ago, I struggled for years to get additional UFO records from the CIA," Greenwald said in an email to Motherboard. "It was like pulling teeth! I went around with them to try and do it, finally achieving it. I received a large box with a couple of thousand pages, and I had to scan them one page at a time."
The CIA used the rather outdated .tif format, so software processing is also difficult. Ufologists don't have to talk about a gift, it's more like trying to get rid of garbage in order to get rid of annoying researchers. 
"Researchers and curious minds alike prefer simplicity and accessibility when they look at such data dumps," says Greenwald. "The CIA made it INCREDIBLY difficult to use its archives in a sensible way. They offer a very outdated format (multi-page .tif) and offer largely unusable text output, which I think they intend to use as a "search" tool. In my opinion, this outdated format makes it very difficult for people to view documents and use them for any research purposes."
However, there are also enough mysterious stories there.
Thousands of files were uploaded in the first 24 hours after release, Greenwald said. Some documents are crisp and clear, while others are almost impossible to decipher.
According to Greenwald, one of the most interesting documents in this article relates to the fact that the Assistant Deputy Director of Science and Technology passed on some serious information about UFOs to the CIA back in the 1970s. After that, it became extremely difficult to obtain information from the government about extraterrestrial phenomena.
The release of the documents comes six months before the UFO report to be released by the US government. This means that the revelations are not made at this time randomly.
In particular, intelligence experts have 180 days to formulate an official report on signs or secret aircraft near US military bases, which will be released later.
Greenwald posts the files in the Black Vault, as he claims that publishing the files is a matter of public interest and notes that citizens have a right to know.
"The public has a right to know!" Greenwald says. "When I started my research almost 25 years ago, at the age of 15, I knew there was something about this topic. Not from viral online pranks, not from secret meetings with insiders that no one has ever seen. No, this is all UFO evidence straight from the CIA and NSA. I feel like I've almost achieved what I set out to do – give people easy access to important material so that people can form their own opinion about what's going on."
The aliens are already among us.