People are going crazy with a conspiracy theory about Anne Hathaway, her husband and Shakespeare.
People on the Internet think that the husband of actress Anne Hathaway, Adam Shulman, is a reincarnation of the late poet and playwright William Shakespeare.
At this point you have moved enough through this post to be thinking, This is the dumbest thing I've read.
People are really supporting the theory that today's couple are direct reincarnations of the couple that married in 1582 – and that since then they have "(returned) to each other."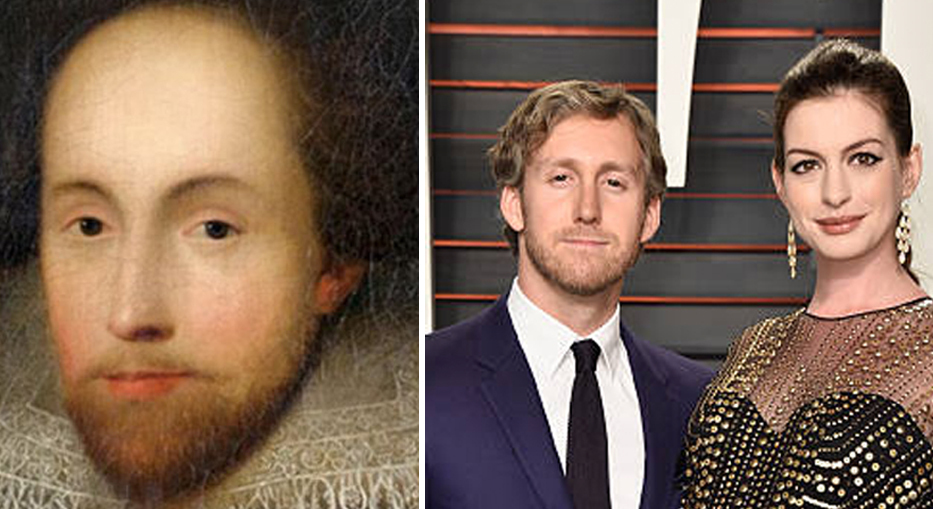 People are idealizing the conspiracy theory in its true Shakespearean form.
Like the idea that Shakespeare reached an agreement with his wife that she would be the most famous couple in their next life together.
Anne Hathaway may have been out of the network for a while, but she has returned – and since "Ocean's 8" hit theaters, it has become a great topic of conversation. But now fans are talking about her for a different reason, and it all has to do with William Shakespeare.
"There is talk of Anne Hathaway for her beauty, but the fact that her husband looks a lot like William Shakespeare and the name of William Shakespeare's wife was literally ANNE HATHAWAY …………"
Oddly enough, all this is true. Obviously there is no real photograph of Shakespeare, but the existing work of art that shows how he was is very similar to Hathaway's real husband, Adam Shulman. And as for Shakespeare's wife? In fact, her name was Anne Hathaway. Creepy, right?
Maybe not. According to an article published in 2008 in The Telegraph, Hathaway received the name of Shakespeare's wife, but the actress herself has not yet confirmed it, which does not explain why her husband looks so much like a poet.
And of course, many people have turned to Twitter to share how much their heads have blown because of this connection.
Do you believe in reincarnation? Anne Hathaway addresses the internet conspiracy theory that she and husband Adam Shulman are actually William Shakespeare and his wife (also Anne Hathaway) reincarnated! https://t.co/AHdXvv7HFt pic.twitter.com/LtjMPvehXY

— The View (@TheView) 10 May 2019
anne hathaway is being talked about for her beauty but what about the fact that her husband looks very similar to william shakespeare and william shakespeare's wife's name was literally ANNE HATHAWAY…… pic.twitter.com/UR0x4bnL8N

— 🍑 (@PEACHYBLACKG0RL) 1 July 2018
What about Hathaway and Shulman? Are they really time travelers, or is all this just a big coincidence? Either way, it's great that she and the legendary poet (and his wife) share these similarities.