They Might Seem Useless, But These 8 Body Parts Actually Have Surprisingly Cool Functions
As the Ancient Greeks used to say, "Know Thyself." It probably was meant a little more philosophically that we're choosing to interpret it, but learning about how your body is put together and why is some seriously fun stuff.
We've all marvelled at our fingers and toes, wrinkling into prunes in the bath. We've all stared at that weird fleshy appendage hanging down in the back of our throats.
We've all known someone – or been that someone – with an emergency appendectomy. "It's fine," they say, "the appendix is completely useless anyway."
But our bodies are amazing machines, and, while we may not need some of its features any more, there's very little in our anatomies with no purpose whatsoever.
And about those things we don't need any more? They're evidence of where we've been – and that we continue to evolve even to this day.
Your appendix
Turns out the human appendix – that weird structure attached to the colon that seemed to have little purpose but to occasionally inflame – isn't just an evolutionary vestige after all.
Recent research has found that it might play a key role in our immune systems by harbouring good bacteria that help fight infection. Good work, little buddy!
That extra ear hole
(Smooth_O/Wikimedia Commons)
If you look carefully at your ears, you might notice you have a tiny additional hole just where the helix meets the side of your head.
This is called the preauricular sinus, and only a tiny percentage of people have them. It's actually a rare birth defect first documented by Van Heusinger in 1864.
We don't know why we have them – but evolutionary biologist Neil Shubin of the University of Chicago and the Field Museum of Natural History has hypothesised that they're an evolutionary remnant of fish gills.
Wrinkly fingers
(Brenderous/Flickr/CC-BY-2.0)
If you spend too long in the swimming pool, you're going to notice that your fingers and toes start to look a little like raisins. This might not be pointless, according to a paper published in the journal Biology Letters in 2013.
They conducted experiments and found that underwater objects were manipulated much more adroitly by wrinkled fingers than unwrinkled fingers – suggesting that the feature exists to give us improved grip in both handling objects and walking when wet surfaces are involved.
Makes sense, doesn't it?
Junk DNA
We have a lot of DNA in our body that, until recently, didn't really seem to do anything.
It doesn't create proteins, and it seems to make us more susceptible to damage and disease – but it makes up a significant part of our genome. If it wasn't somehow beneficial, evolution would have at least started phasing out this so-called "junk DNA," but that hasn't happened.
Recently, researchers may have figured out what it's for – it plays a critical role in holding out genome together by ensuring that chromosomes bundle correctly inside the nuclei if our cells. Without that function, cells die – so it seems like "junk" DNA is not so junky after all.
"Useless" immune cells
We have these immune cells in our bodies that nobody could figure out what they were for.
It was a real head-scratcher, because these "silenced" lymphocytes are present in our bodies in large numbers and only seemed to emerge to attack the body in autoimmune diseases. It looks like a liability, right?
But it ain't. It turns out that the cells represent a new type of immunity that we didn't know about before – they attack dangerous infections that otherwise evade the immune system by disguising themselves as part of the body. A pretty useful line of defence to have, wouldn't you say?
Gut bacteria
There's a reason that experts have recently suggested that we all start referring to ourselves using the royal "we".
In recent years, research has found that the microbes that live inside of us, especially our intestines (our microbiome), are symbiotic – and they have far more of an effect on our lives than we realised.
They have been implicated in such illnesses as multiple sclerosis, Parkinson's disease, cancer and chronic fatigue syndrome, which means they may be pretty danged important. But they also seem to play a role in regulating other things, too – such as our appetites, and even our moods.
Interstitium
Turns out we may have an organ wrapped around our other organs, and it's been hiding in plain sight for all this time. The newly classified organ is called the interstitium, and previously scientists had just thought it was relatively unremarkable, relatively solid tissue to fill the space between our organs.
It's actually filled with fluid, supported by a collagen lattice, and it helps protect our organs from external shocks as we move around, much like air cushions in running shoes.
The pink bit in your eye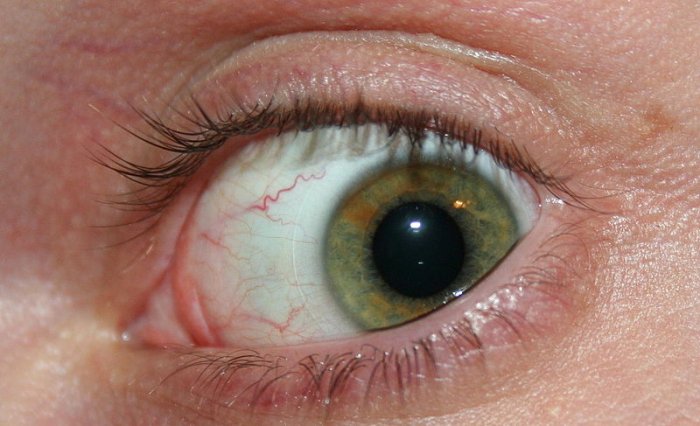 (Peter Clarke/Wikimedia Commons/CC-BY-SA-4.0)
If you look in the mirror, you'll see a little pink bit of conjunctival tissue in the corner of your eye. This is called the plica semilunaris, and these days its primary function is to help with tear drainage and eyeball mobility.
But once upon a time it was a nictitating membrane – what we call a third eyelid, a translucent eyelid that can be drawn over the eye to keep it moist and protected while maintaining a measure of vision.
If you have a cat or a dog, you may have seen their third eyelid while they're sleeping. Humans and most other primates don't need this feature any more, so it evolved away a long time ago – but we still have that vestigial lump of tissue.
Last year, doctors reported the second known case of a nictitating membrane in a human. A nine-year-old girl had a persistent membrane across her left eye that could not be retracted. It was surgically excised, and her eye underneath was fine.
A version of this article was first published in June 2018.
Watch the Trailer for the New Peculiar Children Book 'Map of Days'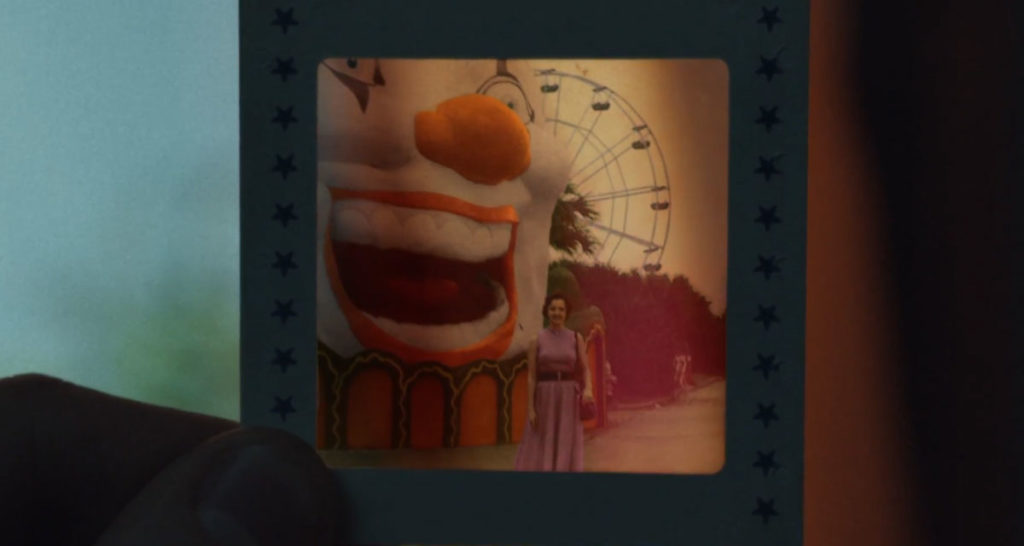 The peculiar children come to America and encounter unimaginable new dangers in Map of Days, the new novel in the Miss Peregrine series from Ransom Riggs.
Jacob uncovers new secrets about his grandfather's double life, leading the peculiar children on a dangerous new adventure in Map of Days, the latest book in the Miss Peregrine's Home for Peculiar Children series by Ransom Riggs.
Map of Days is part of the 2018 Cult of Weird Fall Reading List.
From the description:
Having defeated the monstrous threat that nearly destroyed the peculiar world, Jacob Portman is back where his story began, in Florida. Except now Miss Peregrine, Emma, and their peculiar friends are with him, and doing their best to blend in. But carefree days of beach visits and normalling lessons are soon interrupted by a discovery—a subterranean bunker that belonged to Jacob's grandfather, Abe.

Clues to Abe's double-life as a peculiar operative start to emerge, secrets long hidden in plain sight. And Jacob begins to learn about the dangerous legacy he has inherited—truths that were part of him long before he walked into Miss Peregrine's time loop.

Now, the stakes are higher than ever as Jacob and his friends are thrust into the untamed landscape of American peculiardom—a world with few ymbrynes, or rules—that none of them understand. New wonders, and dangers, await in this brilliant next chapter for Miss Peregrine's peculiar children. Their story is again illustrated throughout by haunting vintage photographs, but with a striking addition for this all-new, multi-era American adventure—full color.
Map of Days hits shelves on October 2.
13 spooky vintage board games to play this Halloween
Battle monsters, ghosts, voodoo curses, boobytrapped mansions, haunted carnival rides, and more with these vintage spooky board games.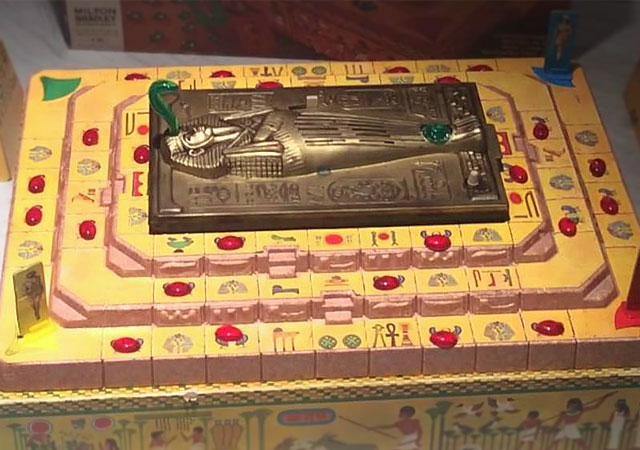 Voice of the Mummy board game
The Ouija board is the only board game known to cause so much fear that people refuse to touch it. But these vintage board games from the 1960s, 70s, and 80s are considerably spookier. We're talking about games where a mummy's voice echos from its tomb, an electronic Deathhead determines if you win a battle against demons or perish, a game where you put voodoo curses on the other players, and plenty of haunted mansions with traps, treasures, and monsters lurking around every corner.
With their eerie box art and creepy themes, these board games will add some spooky fun to the Halloween season without putting your mortal soul in danger.
1. Seance (1972)
Your dear Uncle Everett has died in this rare board game from Milton Bradley. According to the directions, Everett was a spiritualist. He believed his spirit would return from the grave to guide the distribution of his wealth.
Although he left the bulk of his estate to his parrot, players (his nieces and nephews, of course) gather in his creepy Victorian mansion to hold a seance and bid on his remaining possessions of unknown value. Everett's ghostly voice emanates from an actual record player hidden inside the seance table. When everything has been bought, Uncle Everett reveals how much each item is worth, or how much each player owes in taxes.
The player with the most money wins.
"When the game is over and the room is plunged into darkness," the instructions read, "it is said that the image of Uncle Everett may be seen."
2. Ghost Castle (1985)
Based on Milton Bradley's earlier Which Witch? and Haunted House (The Real Ghostbusters board game was also a re-themed version of this), players had to collect ghost card and avoid traps as they made their way up the stairs to close the coffin lid and "lay the ghost."
3. Mystic Skull: The Game of Voodoo (1964)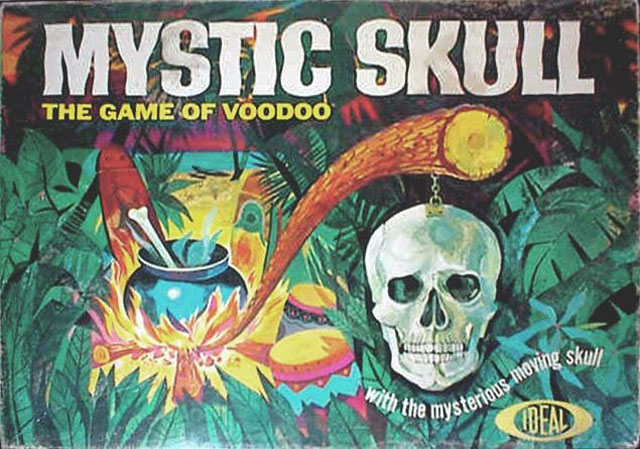 Each player is a witch doctor with a voodoo doll. When you stir the cauldron, the Mystic Skull spins and determines where you will place the next pin in your opponents doll.
4. Escape from Frankenstein (1983)
Players move around Frankenstein's castle looking for the key that matches their color, hoping to reach the laboratory and shut off the power before the monster comes alive.
5. Green Ghost (1965)

The Green Ghost board is on stilts, players can fall through trap doors, there's keys, bat feathers, bones, snakes, ghost children, pets, and it was the first board game to glow in the dark. I have no idea what you need all of these things, but the inclusion of everything creepy means it's obviously amazing.
6. Alien (1979)
Aliens have invaded the Nostromo. Each player is an astronaut trying to make their escape on the shuttle while using their own personal xenomorph to eliminate other players. While it may seem tempting, please refrain from laying eggs inside your opponents.
7. Ghost Train (1974)
Based on the Ghost Train amusement park ride, this game simulates the experience by including sudden and jolting changes of direction, dead stops, getting stuck, and mechanical ghosts. I'm keeping my fingers crossed for the expansion pack where you have to buy tickets, wait in line, and exit the ride feeling like you got seriously ripped off.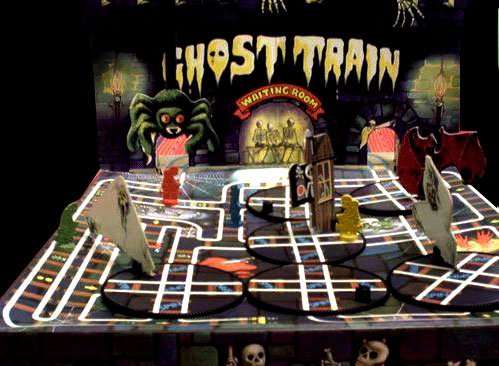 8. Mystery Mansion (1984)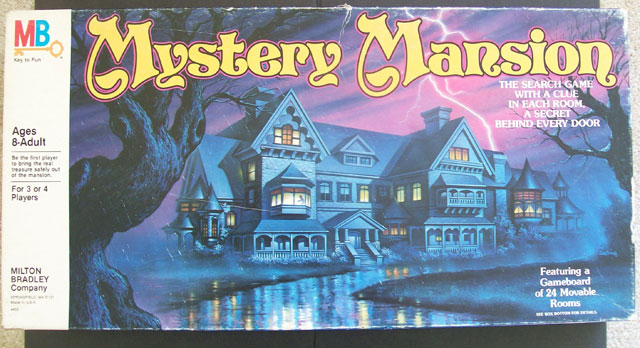 Roll the dice and search for clues as you build a Victorian mansion room by room in hopes of finding a treasure chest filled with gold and jewels rather than cobwebs and dust.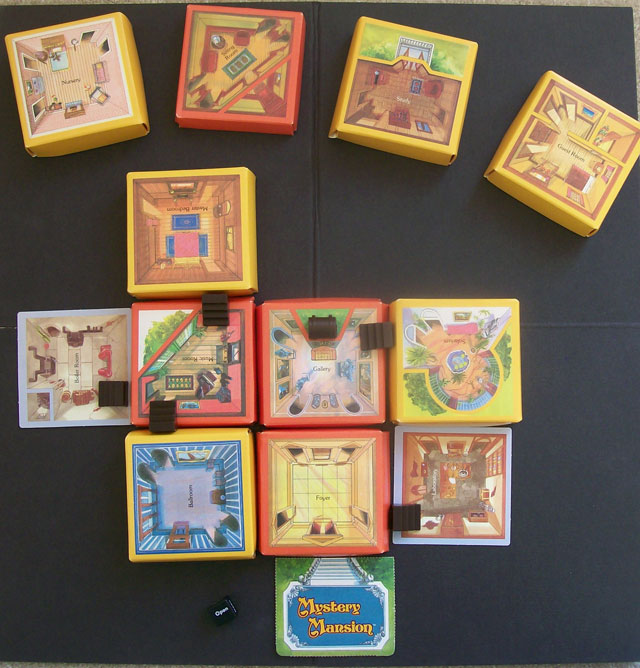 9. Voice of the Mummy (1971)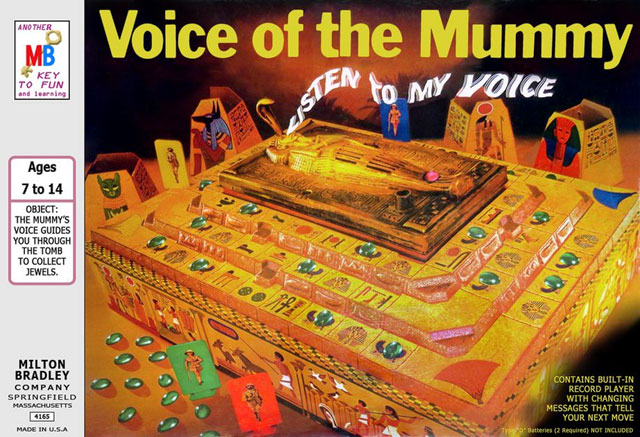 The precursor to Seance, Voice of the Mummy also has a record player inside. The mummy doles out instructions while players race around the three levels of the sarcophagus collecting gems. All the fun of looting tombs without all those pesky death curses.
10. Scream Inn (1974)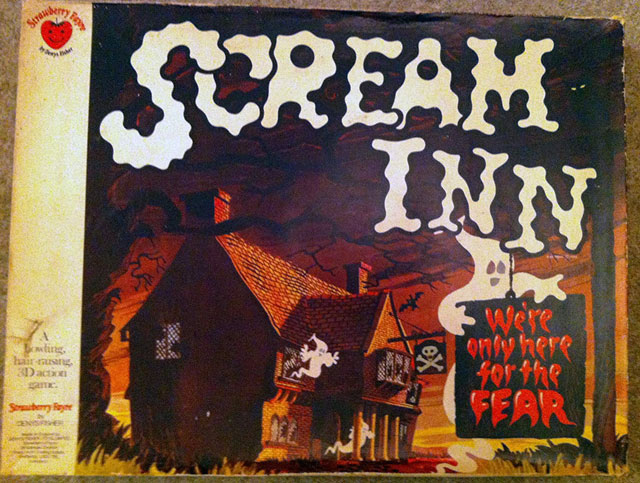 With a slogan like "We're only here for the fear!" this must be the world's first (only?) dark tourism board game. Players spin the wheel and try to get all of their pieces out of the haunted inn without disturbing a ghost.
11. Superstition (1977)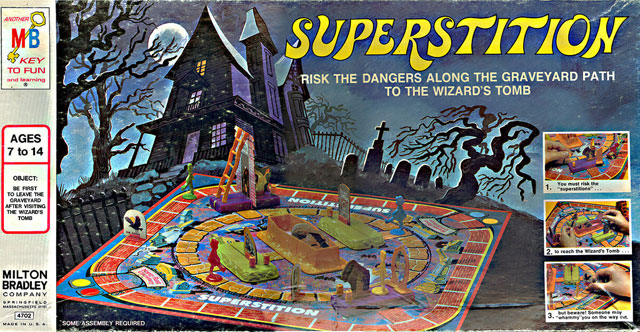 Players wander around a cemetery trying to reach the Wizard's Tomb, but the graveyard is full of rubberband-powered traps with superstitions like a black cat and a broken mirror that may fling your piece off the board.
12. It from the Pit (1992)
Players have to dash for the treasure chest while a giant green mechanical monster tries to pull their tiny plastic explorers into the pit full of bubbling green goo.
13. Horror House (1986)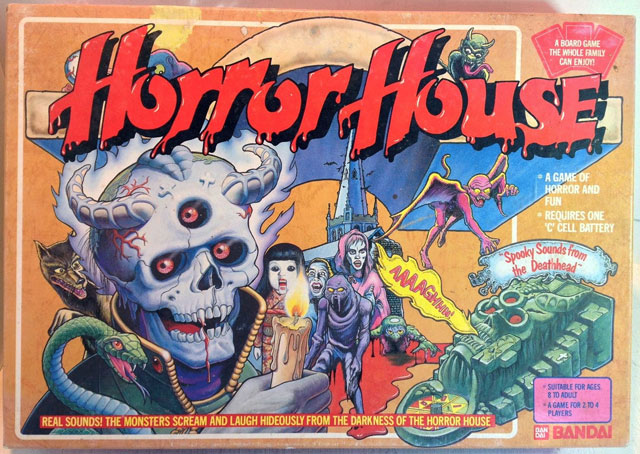 Face off against 45 monsters from around the world (including the dreaded Umbrella Monster!) in this electronic board game from Bandai. Players move through the house fighting these monsters while the Deathhead Roulette determines the outcome of each battle. The demons scream if you win. If you lose, a wicked laugh emanates from the Deathhead.
Be careful with this one, though. Bandai recommends you never play alone.
Which of these spooky board games was your favorite to play when you were young? Let me know in the comments below.
This Newly Approved European Copyright Law Is Going To Break The Internet
The European Parliament just approved a new sweeping copyright law that could make the internet a much worse place for pretty much everyone.
Today, the parliament voted on the "Copyright Directive", a piece of legislation intended to protect the digital property of digital publications. It passed — 438 members of parliament (MEP) for, 226 against. That's a big deal because it includes two extremely controversial provisions: Article 11 and Article 13.
Article 11 is meant to give publishers on the internet the ability to make an extra buck by imposing a "link tax." Put simply, it's supposed to shift some of the massive profits away from powerful news aggregators like Facebook and Google by allowing smaller publishers to charge them each time the aggregators link to their sites.
The problem? Publishers who can afford to charge news aggregators like Facebook and Google lower rates will thrive. Smaller publishers who can't afford the cutthroat rates will be boxed out.
Article 13 forces platforms like YouTube to filter all newly uploaded content for any copyright infringing material using specially implemented algorithms. News outlets have been referring to these as "censorship machines,"; others have declared Article 13 as starting a "war on memes" since these filters could easily end up flagging the endlessly-shared, slightly-altered images.
Unsurprisingly, the internet is not in love with that decision. High-profile internet personalities like Wikipedia founder Jimmy Wales have already voiced their discontent. Article 13 could end up having a direct negative impact on freedom of speech because sites must carefully monitor every upload to ensure they don't infringe any copyright. If YouTube is any example, those kinds of filters aren't exactly foolproof — content creators on the video platform have been complaining for years about how YouTube has been mistakenly flagging their content for copyright infringement.
Even though the European Parliament passed the Copyright Directive, it's not locked into law quite yet. There's still one more Parliament vote in January. If the Directive passes then, it will be up to individual EU member countries to decide on how to put it into practice, and that could open up a huge range of adoption and enforcement. As we have seen with the General Data Protection Act, implementing far-sweeping new rules on the world wide web is far from straightforward, and it will take a lot of time until EU members have decided on how to implement them.
Though we're a long way from a link tax, critics of the new law think the European Parliament's decision sends a strong message: in Europe, free speech might be at risk.
READ MORE: European Parliament Approves Catastrophic Copyright Bill That Threatens the Internet [Gizmodo]
More about EU copyright law: The EU's Proposed New Copyright Laws Show No Government Knows How to Govern The Internet