They Might Seem Useless, But These 8 Body Parts Actually Have Surprisingly Cool Functions
As the Ancient Greeks used to say, "Know Thyself." It probably was meant a little more philosophically that we're choosing to interpret it, but learning about how your body is put together and why is some seriously fun stuff.
We've all marvelled at our fingers and toes, wrinkling into prunes in the bath. We've all stared at that weird fleshy appendage hanging down in the back of our throats.
We've all known someone – or been that someone – with an emergency appendectomy. "It's fine," they say, "the appendix is completely useless anyway."
But our bodies are amazing machines, and, while we may not need some of its features any more, there's very little in our anatomies with no purpose whatsoever.
And about those things we don't need any more? They're evidence of where we've been – and that we continue to evolve even to this day.
Your appendix
Turns out the human appendix – that weird structure attached to the colon that seemed to have little purpose but to occasionally inflame – isn't just an evolutionary vestige after all.
Recent research has found that it might play a key role in our immune systems by harbouring good bacteria that help fight infection. Good work, little buddy!
That extra ear hole
(Smooth_O/Wikimedia Commons)
If you look carefully at your ears, you might notice you have a tiny additional hole just where the helix meets the side of your head.
This is called the preauricular sinus, and only a tiny percentage of people have them. It's actually a rare birth defect first documented by Van Heusinger in 1864.
We don't know why we have them – but evolutionary biologist Neil Shubin of the University of Chicago and the Field Museum of Natural History has hypothesised that they're an evolutionary remnant of fish gills.
Wrinkly fingers
(Brenderous/Flickr/CC-BY-2.0)
If you spend too long in the swimming pool, you're going to notice that your fingers and toes start to look a little like raisins. This might not be pointless, according to a paper published in the journal Biology Letters in 2013.
They conducted experiments and found that underwater objects were manipulated much more adroitly by wrinkled fingers than unwrinkled fingers – suggesting that the feature exists to give us improved grip in both handling objects and walking when wet surfaces are involved.
Makes sense, doesn't it?
Junk DNA
We have a lot of DNA in our body that, until recently, didn't really seem to do anything.
It doesn't create proteins, and it seems to make us more susceptible to damage and disease – but it makes up a significant part of our genome. If it wasn't somehow beneficial, evolution would have at least started phasing out this so-called "junk DNA," but that hasn't happened.
Recently, researchers may have figured out what it's for – it plays a critical role in holding out genome together by ensuring that chromosomes bundle correctly inside the nuclei if our cells. Without that function, cells die – so it seems like "junk" DNA is not so junky after all.
"Useless" immune cells
We have these immune cells in our bodies that nobody could figure out what they were for.
It was a real head-scratcher, because these "silenced" lymphocytes are present in our bodies in large numbers and only seemed to emerge to attack the body in autoimmune diseases. It looks like a liability, right?
But it ain't. It turns out that the cells represent a new type of immunity that we didn't know about before – they attack dangerous infections that otherwise evade the immune system by disguising themselves as part of the body. A pretty useful line of defence to have, wouldn't you say?
Gut bacteria
There's a reason that experts have recently suggested that we all start referring to ourselves using the royal "we".
In recent years, research has found that the microbes that live inside of us, especially our intestines (our microbiome), are symbiotic – and they have far more of an effect on our lives than we realised.
They have been implicated in such illnesses as multiple sclerosis, Parkinson's disease, cancer and chronic fatigue syndrome, which means they may be pretty danged important. But they also seem to play a role in regulating other things, too – such as our appetites, and even our moods.
Interstitium
Turns out we may have an organ wrapped around our other organs, and it's been hiding in plain sight for all this time. The newly classified organ is called the interstitium, and previously scientists had just thought it was relatively unremarkable, relatively solid tissue to fill the space between our organs.
It's actually filled with fluid, supported by a collagen lattice, and it helps protect our organs from external shocks as we move around, much like air cushions in running shoes.
The pink bit in your eye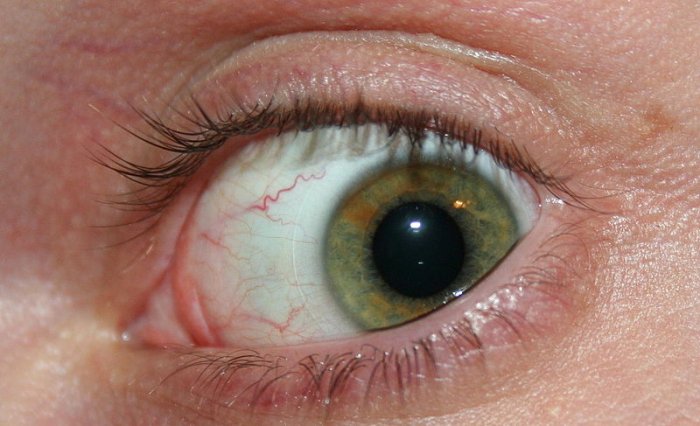 (Peter Clarke/Wikimedia Commons/CC-BY-SA-4.0)
If you look in the mirror, you'll see a little pink bit of conjunctival tissue in the corner of your eye. This is called the plica semilunaris, and these days its primary function is to help with tear drainage and eyeball mobility.
But once upon a time it was a nictitating membrane – what we call a third eyelid, a translucent eyelid that can be drawn over the eye to keep it moist and protected while maintaining a measure of vision.
If you have a cat or a dog, you may have seen their third eyelid while they're sleeping. Humans and most other primates don't need this feature any more, so it evolved away a long time ago – but we still have that vestigial lump of tissue.
Last year, doctors reported the second known case of a nictitating membrane in a human. A nine-year-old girl had a persistent membrane across her left eye that could not be retracted. It was surgically excised, and her eye underneath was fine.
A version of this article was first published in June 2018.
Mysterious and Sinister Black Insects Blanket the Snow in Russian City
When playing a game of "What's the weirdest thing you can imagine happening" (don't tell me I and my friends are the only ones who play this), it pays to google your crazy idea first because 9 times out of 10, it already happened in Siberia or somewhere else in Russia (this isn't cheating, according to the official rule book). Black snow? Check. Green snow? Check. Black living snow? No need to google it … we already did and it's true. Plausible explanation? Safe for humans? Something sinister behind their appearance? Let the game continue!
This story comes from the village of Balasheika (or Balasheyka) in the Samara region, a heavily-populated urban area in the southeastern part of Russia at the convergence of the Volga and Samara rivers near the border with Kazakhstan (in case you want to go and see this for yourself). According to Pravda.Ru, residents of Balasheika awoke on the morning of March 12 to that everything outside looked to be covered with a black snowfall. Fearing it was caused by coal pollution like the black snowfall in multiple places this winter across Russia (some being so embarrassing that local officials painted it white – only in Russia!) and worried their children would run out and taste it, parents went out to inspect it and were confronted with a nightmarish scene far worse … the black snow appeared to be alive and moving! (Watch the video here.)
Upon closer inspection, they saw that the movement was caused by a blanket of insects they assumed had fallen from the sky in the previous night's snowfall. While waiting for an official answer (or for someone to google it), they assumed the tiny bugs were blown in from Kazakhstan (it's always Kazakhstan) during recent heavy "cyclonic" winds. Before you use this in your next game of "What's the weirdest thing?", that's the wrong answer.
"These creatures are known as Collembola springtail insects, and they do not fall down from the sky. They crawl from under the ground to the surface, and they will return there as soon as it gets warmer."
Actually, they're more commonly called "snow fleas," which is a misnomer since they're neither fleas nor snow nor even insects. Collembola are hexapods that are not considered to be insects because they have internal mouthparts. They're omnivorous, free-living organisms that prefer moist conditions and are named Collembola for their collophore (a straw-like body tube used for excretion and maintaining water balance) and their abdominal, spring-like furcula that is used for jumping when threatened. They generally live in decaying matter and one of the world's most abundant tiny creatures, with about 100,000 per square meter of ground. Even in those numbers, their minute size, while visible to the naked eye, still makes them hard to see … except for the snow fleas, which sometimes emerge from winter hibernation when the temperature is warm enough to trick them into thinking it's spring but not enough to melt the snow, giving the contrast that makes them easy to spot.
"These insects are absolutely safe for humans, domestic animals and grain crops. They may emerge on the ground surface too early, when it gets unusually warm for a few days."
Pravda.Ru knows what its readers are thinking. Being wrongly called "fleas" makes Collembola springtails subject to the same fears of fleas, which truly deserve to be feared and avoided by warm-blooded creature. However, Collembola springtails are truly harmless and in fact are beneficial as lab test subjects for the early detection of soil pollution.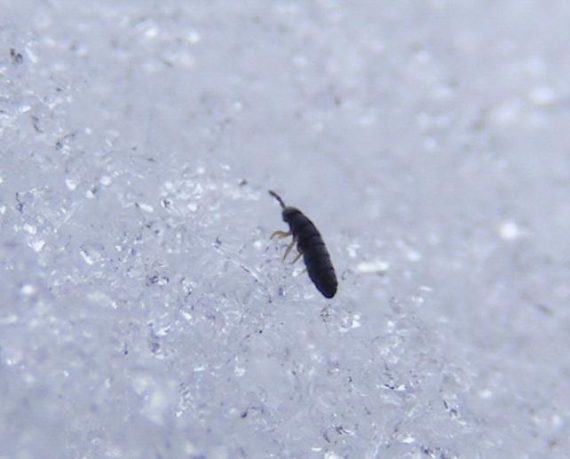 Conspiracy theorists may also know of Collembola springtails for their alleged use as biological weapons during the Korean War. They were rumored to have been infected by the U.S. military with anthrax, dysentery, cholera and small pox and dropped by airplanes on enemy villages. The rumors surfaced again in 1971-72 when the Nixon administration ordered all biological weapons stored at the Pine Bluff Arsenal in Arkansas to be destroyed. The government denied snow fleas were ever used as six-legged biological weapons carriers.
Were they? Are they? Should the good folks of Balasheika be fearful of the sudden appearance of huge numbers of snow fleas? Should they question their government? Our? Anybody's?
It's too bad we can't ask the bugs.
Source: Mysterious Universe
Unipiper Teams up with Portland Brewing to Support Local Weird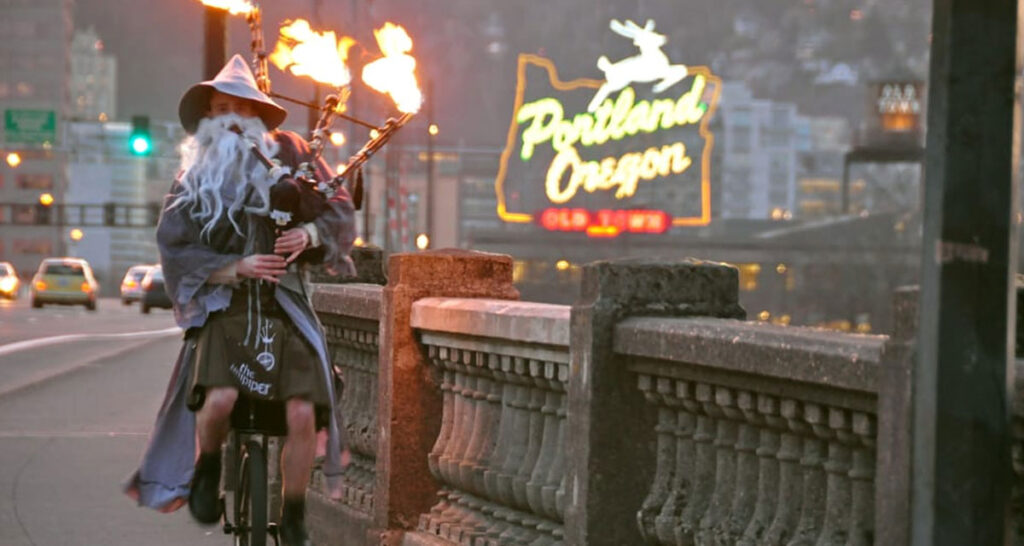 Portland Brewing and the Unipiper join forces to celebrate Portland's weird with a collaborative beer, the Unipiper Hazy IPA.

The Unipiper with his Hazy IPA from Portland Brewing Co.
Just about everything I know about Portland I learned from Chuck Palahniuk's travel guide Fugitives and Refugees. I've never been there, but I know when I finally have a chance to visit, I may not be strong enough to leave it behind. The city has a vibrant culture of weird, and now the Portland Brewing Co. has joined forces with one of the city's most beloved street performers to celebrate it.
Portland is home to the world's smallest park (just two feet in diameter and dedicated on St. Patrick's Day, 1976, as "the only leprechaun colony west of Ireland,"), the shanghai tunnels, the Pecularium museum of the "freakybuttrue," a vegan strip club, the internet's premier "cat rapper" Moshow, and countless other artists, performers, and landmarks.
One of the most well known is the Unipiper, a man who rides around Portland on his unicycle playing flame-throwing bagpipes while dressed as Darth Vader, Bigfoot, and other famous characters.
From the Unipiper's website:
The origin of The Unipiper is shrouded in mystery, but reportedly stems from an incident with local-resident Brian Kidd involving a bite from a radioactive unicycle incurred while playing the bagpipes, granting him the power to make people smile. Ever since, he has roamed the streets of Portland, protecting its citizens from all that is normal and standing up to those that would seek to silence the weird.
Kidd, the mild-mannered alter ego behind the Unipiper's many masks, has teamed up with Portland Brewing Co. to create the first in a series of "Keep Portland Weird" collaborative brews intended to highlight each collaborator's contribution to the city's weird culture.
The result is the Unipiper Hazy IPA, a "smooth and juicy" 6.2% ABV beer with a tangerine citrus and fruit "pop" that, according to Portland Brewing, is "perfect for a couple pints while light enough to not weigh you down on your unicycle ride to goat-yoga class."
But there's more to this beer than drunken unicycling. Proceeds will help launch the Unipiper's new nonprofit that is dedicated to finding and supporting the weird people and places of Portland.

"The Unipiper Hazy IPA is not just another beer though! That would be too normal!" Kidd says. "It also signals the beginning of a new era in Portland's ever evolving weirdness – the founding of Weird Portland United, a charitable effort that has been a dream of mine for years. Thanks to the seed donation from Portland Brewing, Weird Portland United will help create a weirder tomorrow where everyone is inspired to contribute to the city's now famous culture of weird."

And this is why the events of last night are a little hazy.
Unipiper Hazy IPA is now available throughout the Portland region in limited edition 22oz bottles silk screened with an illustration by local artist Beth Kerschen as well as 6-packs of 12oz cans.
Find it here.
Strange Object Spotted on the Surface of Mars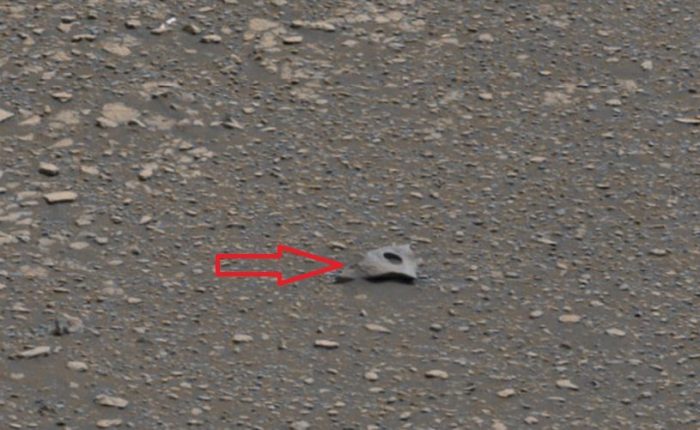 WhatsUpInTheSky37 posted a video discussing an odd piece of metallic looking material found on the surface of Mars which seems to possess manufactured characteristics.
The strange object which has a perfect circular hole in the middle was previously spotted by Neville Thompson who posted it on his Gigapan for SOL 2013.
The object does not appear to be from the rover or other vehicle since there are no obvious tracks around it.
Headline image via credit:
NASA