They have discovered the secret of longevity and it is not a rejection of bad habits
Japanese scientists have examined more than 40,000 cells taken from many older adults over the age of 50.
Among these people are seven "extra-long lives" who have passed their 110th anniversary. A unique immune system has been found in their blood, which effectively fights cancer cells and dangerous infections.
Most often, centenarians wonder what they eat and what their lifestyle is. It usually turns out that neither cigarettes nor alcohol prevent them especially from reaching adulthood. Also, longevity is not affected by special diets.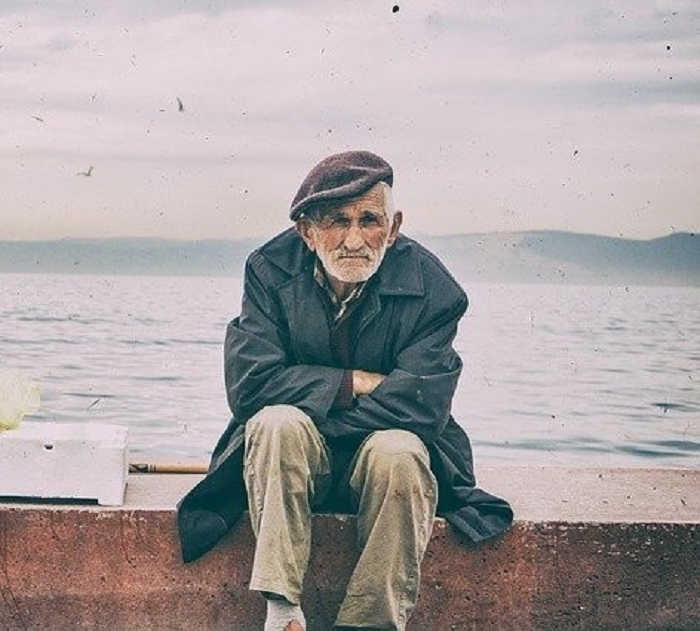 Now, scientists are learning that the key to longevity is not a lifestyle, but the presence of a special immune system. Seven Japanese superlongs have been found in the blood of more than ordinary whites T cells or CD4 cells that "hunt" viruses and cancer cells.
Each has a significant amount of these cells. These are the so-called T-helper or T-lymphocyte. They help other white blood cells fight infections.
But firstly, in the blood of these perennials are found much more than the norm of these T-cells and secondly, they have been so "toxic" that, in addition to infections, they aim to find and destroy potential cancer cells.
Such an immune system has helped these centenarians to live for over a hundred years without any problems. These people do not even have heart diseases.
This important study was conducted by specialists at the RIKEN Center for Integrative Medicine in Japan, Keio University (Keio University).
The lead scientist of the study – Dr. Kosuke Hashimoto says:
"Long-lived people usually spend their entire lives in good health. Their strong immune system protects them perfectly against tumors and infections. "
It seems that having such an immune system in the body is an innate genetic trait that gives these people a great advantage.
Some of the oldest people on the planet, such as Frenchwoman Jeanne Calment and American Richard Overton, have smoked and abused alcohol throughout their lives that has not affected their health.
Jeanne Kalman died in 1997, at the age of 122. You can find her pictures on the internet during her 117th birthday celebration. They are seen smoking as a steam engine and in good health. In addition, Kalman adored wine, olive oil and chocolate, considering these habits as key to her longevity.
Richard Overton died at the age of 112.
Other centenarians say the key to sound health is through special diets, exercise, regular work, regular sex, avoiding stress, praying, observing moral principles, bathing frequently in hot tubs and even eating pig feet. In essence, all this turns out to be self-belief.
Pierre Carnancy, Deputy Director of the RIKEN Center says:
"We believe that the type of cells we find is a true guarantee of many years of life and good health, protecting organs from cancer and other diseases."
That study is published in the journal Proceedings of the National Academy of Sciences (PNAS).
This is the world's first commercial flying car
The world's first commercial flying car is already on sale. It is equipped with two retractable propellers and rear wings.
The vehicle was presented during the Miami Art Week 2019 by the Dutch company PAL-V International. It is called Liberty, and its price is around 600,000 dollars.
It has Dutch engineering and Italian design, it is already in active production and has at least 70 anticipated.
"As soon as Nicolas Cugnot invented the car and the Wright brothers made their first successful flight, people began to dream of combining the two in a flying car."
'It turned out to be more complicated than initially estimated: a complex puzzle. However, once resolved, it would create maximum freedom in mobility', said the executive director of the company, Robert Dingemanse.
When will it be available?
The first units are expected to reach their owners in 2021. However, it must be borne in mind that to handle it, it is necessary to have not only the driver's license, but also the pilot's license.
The new car has two versions, the Pioneer and the sports version. Robert Dingemanse explained that the Pioneer version differs from Liberty by its a complete carbon package. He also revealed that only 90 flying cars will be manufactured in this version.
Features of the flying car
The PAL-V, a three-wheeled vehicle that can carry up to two passengers and 20 kilos of cargo, is basically a hybrid between a car and a helicopter.
According to the company website, the PAL-V has a four-cylinder engine and is capable of flying at an altitude of up to 3,500 meters. The vehicle, which is made with carbon fiber, titanium and aluminum and weighs only 664 kilograms, uses gasoline for cars and can reach maximum speeds of 180 km / h in the air and 160 km / h on land.
It also has both a ground and air system similar to that of a motorcycle in which the pilot-driver tilts the machine with a control lever.
It also stands out that the PAL-V converts from car to gyrocopter in just 10 minutes and can accelerate from 0 to 100 km / h in less than 9 seconds.
Health authorities have confirmed a case of a rare type of smallpox in a UK patient
A patient in England has been diagnosed with a rare case of monkeypox, as reported by Public Health England (PHE).
The rare viral infection is similar to smallpox, and though it is milder, it can be fatal.
It has been reported that the individual was in Nigeria and that he would have contracted the disease there. Later, upon returning to the United Kingdom, he stayed in the southwest of England where the disease occurred.
Upon symptoms, he was transferred to the Guy's and St Thomas' NHS Foundation Trust , a center specializing in infectious diseases in London.
The health authorities have taken the necessary measures to prevent the virus from spreading to other people.
The PHE said in a statement:
As a precaution, PHE experts are working closely with NHS colleagues to implement rapid infection control procedures, including contact with people who may have been in close contact with the individual to provide health information and advice. "
But experts are not very worried about contagion, because monkeypox does not spread easily among people and the risk of affecting the population is quite low, said Dr. Meera Chand , PHE consulting microbiologist.
Although the infection usually occurs mildly and people get better without treatment; Some individuals may develop very serious symptoms, with a percentage of 1 to 10 percent of patients dying from the disease during outbreaks, according to the World Health Organization .
The symptoms presented are similar to those of smallpox but milder. First, fever, headaches, muscle aches, back pain, swollen lymph nodes, chills and exhaustion. Subsequently rashes may appear on the skin , starting on the face and spreading throughout the rest of the body.
This is not the first time a patient has been infected with smallpox in the United Kingdom. In 2018, there were three cases after a person was diagnosed with the disease. The individual had also returned from Nigeria.
Source: Gov.uk / IFL Science
A cold virus can infect a pregnant woman's fetus
The study showed that the expectant mother is able to transmit a respiratory tract infection to her unborn child.
Scientists from Tulane University (Louisiana, USA) received the first evidence that the cold virus, which affects a pregnant woman, can penetrate the placenta and infect the fetus. An article about this has been published in PLOS One .
The placenta, an organ that develops in the uterine cavity of a woman during pregnancy, provides the necessary nutrition from the mother to the embryo and simultaneously performs another important task: it filters out potential pathogenic microorganisms. However, a group of pediatricians led by Professor Giovanni Piedimonte found that this natural "barrier" is not so impenetrable.
Scientists took the placenta from donors, isolated three main types of cells – cytotrophoblasts, fibroblasts and Kashchenko – Hofbauer cells – and in vitro exposed them to the human respiratory syncytial virus, which causes respiratory tract infections. Although cytotrophoblast cells supported a weak process of the spread of the virus, two other types were more susceptible to infection. So, Kashchenko-Hofbauer cells survived and allowed the virus to replicate inside the cell walls. According to scientists, then these cells, moving inside the placenta, are able to transmit the virus to the fetus.
"Such cells do not die after they become infected," Piedimonte explains. – When they enter the fetus, they are comparable to bombs stuffed with a virus. They do not spread the virus in the area of ​​the "explosion", but carry it through the intercellular channels. <…> Thus, our theory is confirmed that when a woman gets a cold during pregnancy, the virus that causes the infection can pass to the fetus and cause a pulmonary infection before the birth of a child. "
Pediatricians also suggested that the respiratory syncytial virus is able to infect the lung tissue of the unborn baby and provoke the development of an infection that will subsequently affect the predisposition to asthma. To confirm or refute their theory, the authors of the study intend to conduct clinical tests.
Last year, scientists from the University of Cambridge created an artificial and functional mini-placenta using trophoblasts, and recently it turned out that particles of air pollution can penetrate the placenta of pregnant women