'They don't want to integrate': Fifth night of youth rioting rocks Stockholm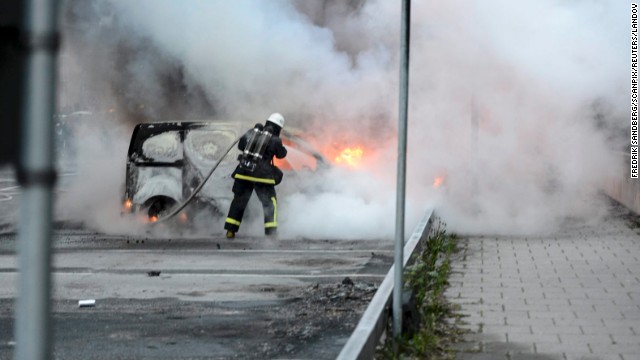 From:  rt.com
Youth gang riots in the Swedish capital Stockholm have entered fifth straight night. Hundreds of mostly immigrant teenagers tore through the suburbs, smashing windows and burning cars in the country's worst outbreak of violence in years.
At least six vehicles were torched throughout the city late on Thursday while the police called for reinforcements from other Swedish cities bracing for further unrest.
Firefighters were putting out flames that engulfed several cars and a school in immigrant-dominated areas of Stockholm.
The night before, the fire brigades were called to some 90 different blazes. On the fourth night of violence, youths torched over 30 cars in 15 neighborhoods along with a restaurant in Skogas, south of Stockholm. Three law enforcement officers were injured, police spokesperson Kjell Lindgren reported.
Stockholm firefighters were busy throughout the night, saying they had "never before seen so many fires raging at the same time." Some 90 blazes were reported in total, most of them reportedly caused by the rioters. Still, the fourth night of violence was relatively quiet compared to the previous three, RT's Peter Oliver reported from Stockholm.
Leaders of immigrant communities were out on the streets in a bid to stop young people from rioting. Despite their efforts, as soon as the night fell, groups of arsonists took to the streets to set cars on fire. RT's Peter Oliver witnessed rioters throwing stones at police and journalists alike.
Civil disorder in Stockholm started on Sunday, when police shot and killed a 69-old-man in his apartment after he confronted officers with a machete; the unrest has since continued throughout week.
Community leaders insist that a main reason for the violence is the high rate of unemployment in immigrant communities, particularly in the suburb of Husby near central Stockholm, one of the worst affected by the nighttime violence, Peter Oliver reported.
Although Sweden's unemployment rate is below the EU average, joblessness among those under 25 has reached nearly 25 percent. The RT crew in Stockholm noted that a majority of those taking part in the violence are young.
"In Sweden you've got welfare, access to the educational system – up to university level, you got access to public transport, libraries, healthcare – to everything. And still they feel that they [immigrants] need to riot through stones and Molotov cocktails. It's ridiculous and a bad excuse," Swedish Democrats MP Kent Ekeroth told RT.
"Police can put down these riots in five minutes – if the politicians were to allow them," Ekeroth added.
Parents of the rampaging teenagers and community religious leaders are now spending sleepless nights on the street in an effort to prevent their children from wreaking havoc.
they did not represent the majority in the rioting neighborhoods.
"I think it's dangerous to draw a picture of Sweden with a capital separated from its suburbs. I don't think that's true. I think the dividing line runs straight through Husby, with a majority population and then a small group of troublemakers," Reinfeldt said.
But the Husby youth taking part in riots told Reuters they are indeed divided from the rest of Stockholm, struggling to find a full-time job with their Husby address. Most of the interviewed rioters were reportedly unemployed.
The claims of social exclusion in immigrant-dominated suburbs have been partly conceded by Sweden's Integration Minister Erik Ullenhag, who said the ministry is aware of "discrimination in these areas." But the riots "don't improve the image of these areas, where there is a lot of positive stuff going on," he added.
For years, Sweden – one of Europe's most tranquil countries, famous for its attractive immigration policies and generous welfare system – has been accepting an influx of immigrants, which now make up about 15 per cent of its population. These migrants have failed to integrate into Swedish society, and are only in the country to enjoy the country's social benefits system, Swedish journalist Ingrid Carlqvist told RT.
"The problem is not from the Swedish government or from the Swedish people," the editor in chief of Dispatch International said. "The last 20 years or so, we have seen so many immigrants coming to Sweden that really don't like Sweden. They do not want to integrate, they do not want to live in [Swedish] society: Working, paying taxes and so on."
"The people come here now because they know that Sweden will give them money for nothing. They don't have to work, they don't have to pay taxes – they can just stay here and get a lot of money. That is really a problem," Carlqvist added.
"The police could do so much, [instead] they have told the public that they mean to do as little as possible. But they could go there and use water cannons, they could not let people out onto the streets at night. There are so many things they could do within the law – but they don't do it," she said.
Young Muslims who enjoy tolerance, social institutions and welfare while living in Sweden nevertheless refuse to integrate into the West, Gerolf Annemans told RT. Annemans is the parliamentary leader of Vlaams Belang ('Flemish Interest'), a Belgian far-right nationalist political party.
"They [Muslim youths] have always sought excuse to show that they are not agreeing with the basic values of Western society," Annemans said, pointing to the recent cases of the Boston Marathon bombing in the US and yesterday's beheading of a British soldier in the UK.
"It's always the same problem. There is a massive refusal by Muslim youngsters of the basics of Western society…  and they take any excuse whatsoever to show that with violence – that is where the problem is," he said.
As rioting continues to rip through Stockholm, some claim the violence has clearly been orchestrated for ulterior motives, Lars Hedegaard, Editor-in-Chief of Swedish newspaper Dispatch International said to RT.
"Some people would like to gain recognition as stakeholder in society. In other words, there are people who would like to be in a negotiating position… that they can make things happen and go away. That they have power in local communities and should be reckoned with," he explained.
"These riots in the country that are spreading and continuing for a long time that the [multiculturalism] success was a fiction, they never succeeded," Hedegaard said.
Hundreds of Birds Die Mysteriously in Rural Area of Wales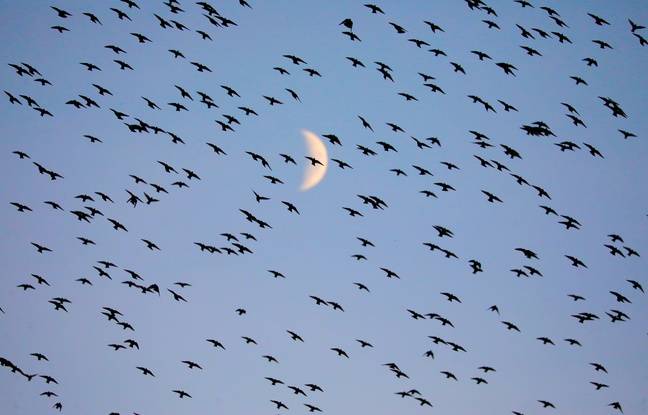 Things mysteriously falling from the sky is one of the classic Fortean phenomena. Birds dying from no apparent cause is another. That winning (or losing) combo occurred this week in a rural town in Wales no one has yet been able to explain the hundreds of dead starlings – many with their internal organs outside their bodies – found on an unclassified road near near Llyn Llywenan in Bodedern on Anglesey, an island off the north-west coast of Wales. With mysterious circumstances and no official explanation, the strange and conspiratorial theories abound.
"There's easily more than 300 of them. I counted 150 last night but I gave up as there's just hundreds of them littered everywhere. It's as if they just dropped down dead from the sky."
Dafydd Edwards reported on social media that his partner, Hannah Stevens, found the birds while driving home. She claimed that on the afternoon of December 10 she had seen a "massive flock" flying overhead before landing to eat something on the road. Less than an hour later, she said they were dead where they had been eating. It's not clear how she arrived at that short timeframe from flying to dead in the road.
"It's very strange, I can't put my finger on it. There are still some alive in the hedges today but it's all unexplained at the moment."
As seen in Edwards' video and photos (see them here and here), the vast majority of dead birds were in the road, where he counted 150 before quitting. North Wales Police's Rural Crime Team counted at least 225 and some witnesses estimated the total to be over 300. They collected the carcasses (identified as starlings) and sent some to a lab for examination and toxicology tests, which means they assume the birds were somehow poisoned. Locals were not so sure.
"It's unlikely that the birds would have been in contact with an aircraft – RAF or civilian. Bird strikes can have quite an effect on aircraft, and can cause severe damage. Even minor bird strikes are reported as a matter of course at RAF Valley, and no such reports have been fed back by our personnel."
The Ministry of Defence answered speculations that the birds had been hit by low-flying planes with that denial. On the act-of-God side, there was talk that the birds might have been caught up in strong winds or stunned by a sudden lightning strike or loud sound, but Hannah Stevens did not report any unusual conditions. The current cause-of-all-bad-things – 5G – was blamed but no other birds or wildlife seem to be affected. A sign of the apocalypse? We're still here and so are the residents of Llyn Llywenan.
"We're hearing one story that it happened in exactly the same place many, many years ago so we're just trying to confirm that as well."
Rob Taylor, Team Manager for North Wales Police's Rural Crime Team, added to the mystery by pointing out that locals claim another similar dead bird incident happened in the same area about 12 years ago, but no details were given and Internet searches turned up nothing.
As of this writing, the North Wales Police indicated they believed they know the cause of this mysterious bird kill but were awaiting the toxicology report. That hints of a suspicion of poisoning of some sort, which would seem to be one of the most likely causes. However, that memory of a previous event makes one wonder if something more sinister – something pre-5G – may be happening underground in Llyn Llywenan. Is anyone checking for unusual human conditions, cancers, deformities or mental illnesses amongst the residents?
Will there be a consensus? Will officials admit it if the cause is not poisoning?
What would Charles Forte think?
Source: Mysterious Universe
Asteroid Will Make Close Fly by of Earth on Friday the 13th
NASA has been monitoring an asteroid which maintains an orbit around various bodies in the solar system and consistently passes through Earth's orbit with the sun. 13 near-Earth objects in total are expected to fly past Earth in December of this year.
Earth is set to have a close encounter with an enormous asteroid which is set to fly nearby Earth on Friday at a speed of almost 18,000 miles an hour (more than 28,000 km/h), according to NASA.
The upcoming pass-by is estimated to happen on 8:25 am on 13 December, the unlucky Friday the 13th. The asteroid's orbit diagram indicates that the near-Earth approach will follow the rock's intersection with Earth's orbit.
According to the space agency's Center for Near-Earth Object Studies (CNEOS), the asteroid has an Earth-crossing orbit with the sun and will not approach from a diagonal or perpendicular direction and instead will flyby perpendicular to earth.
It is expected to pass by earth at a shockingly close 0.03033 astronomical units, around 1.9 million miles (more than 3mn km) away.
NASA has dubbed the asteroid 2019 XO1 and estimate that it is around 243-feet wide, about the width of a Boeing 747 plane.
According to CNEOS, 2019 XO1 is classified as an Aten asteroid, meaning that its orbit circulates around a number of celestial bodies in the solar system including the Sun, Venus, Mercury, and Earth.
The asteroid has a tendency to intersect its orbit with Earth's, typically when it is furthest away from the sun.
3 December marked the first time 2019 XO1 was identified in its frequent encroachment on Earth. It also comes close to Mercury and Venus but, unlike its proximity with Earth, it does not cross the paths of the two other planets.
The body first came near Earth on 17 November 2013, missing the planet by 0.09488 astronomical units, around 8.8 million miles.
Following its passing on Friday the 13th, the asteroid will not come back from Earth's outcrop of the solar system until December 22, 2022, where it will creep as close as 0.09534 astronomical units, up to 8.9 million miles (more than 14Mn km) away.
Sputniknews
Image credit: © CCO
Los Angeles and Chicago Are Readying to Erase 68,000 Nonviolent Marijuana Convictions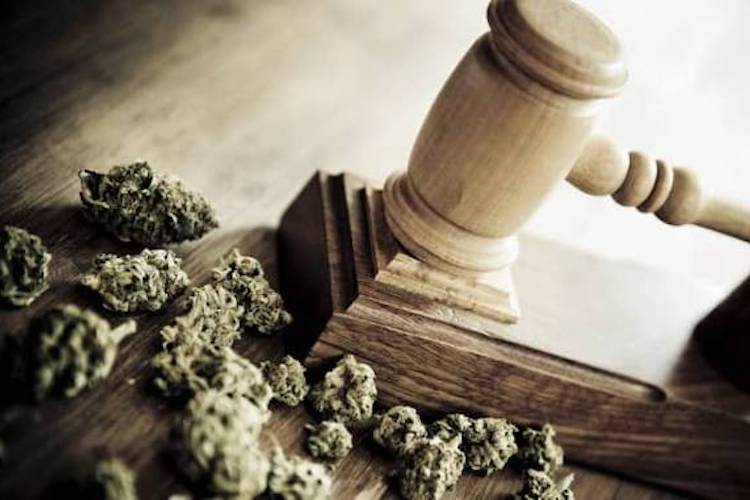 Phillip Schneider, Staff Writer
Waking Times
The cities of Los Angeles and Chicago are taking a big step toward ending the damage caused from the war on drugs by getting ready to expunge nearly 70,000 non-violent marijuana convictions from citizen's criminal records.
Kim Foxx, Cook County's State Attorney in Chicago, is preparing to eliminate misdemeanor convictions of close to 18,000 residents which she argues will help mostly racial minorities get back into the housing and job markets, whereas having these cannabis crimes on their record sets up a barrier between them and these life essentials.