Sixteen years ago this week, the so-called "Phoenix Lights" phenomenon stunned thousands of Arizonans, eventually attracted global media, evoked a belated eyewitness confession from then-Gov. Fife Symington, prompted the USAF to blow off a tepid query from Sen. John McCain with a flimsy flare-drop storyline, and spun itself into books and televised specials. And although UFO sightings continue to unfurl across Arizona, the trail of clues relating to the 1997 incident grows colder with each passing year.
Please, let's not drag HIM into this thing, OK?/CREDIT: news.yahoo.com
That's why it's good to see Grand Canyon State media, at least in a token way, still fanning the dying embers every now and then, especially on anniversaries that don't end with a 0 or a 5. At least one station has promoted the screening of an updated documentary at a Scottsdale multiplex on Sunday, where Navajo Nation Rangers are expected to talk up recent developments over their own territory.
It'd be great if those Rangers had some hard data to share, but lacking that, the burden, as usual, shifts to eyewitness credibility. And as the late Sufi philosopher Idries Shah reminds us, "Opinion is usually something which people have when they lack comprehensive information."
Here's an example of where a credible eyewitness had me until he veered into Opinionworld (courtesy of a recent first-person byline in The UFO Chronicles):
With 12,000 hours flying time, Trig Johnston would appear to have all the credentials. Featured in several related documentaries, the retired commercial airline pilot is a trained observer, which shines through in his recounting of the bizarre events of March 13, 1997, from his home in Scottsdale. "Whatever it was," he wrote of the "huge mass — at least a mile wide" he watched from his driveway, the UFO "seemed to be following the Tonto One arrival, the standard jet arrival routing for instrument traffic in PHX on an approximate heading of 120 degrees.
"I estimate it passed 90 degrees to our position," Johnston went on, "roughly at the intersection of Scottsdale Road and Shea Boulevard, a couple of miles away, at 22:30." He calculated its cruising speed at 30 mph, and "perceived a rounded, almost gondola shaped — what? — what DO you call a semi-transparent thing on the bottom of the craft whose top might have been 10,000 feet in height?"
That's when Johnston lapsed into rhetorical flourishes, wielding the word "they" like a bludgeon, as in: "You see, they [Johnston's emphasis] don't want you to know what we saw on March 13." Which may well be true, but exactly how many of "they" are we talking about here?
"The SR-71 flew in 1958 before they had any real money to play with," Johnston goes on. "Remember, they shot JFK in front of God and everyone else and got away with it. Fried some folks at Waco, but deny it to this day. Do you believe that TWA 800 was brought down by a faulty boost boost pump. Do you really believe the '9-11' story?
There's more: "Is it possible that 'they,' the flight crew of the March 13th UFO are in the service of 'them'? Your tax dollars at work? That would be my guess. But then I have to ask myself why they would parade their new toy down Scottsdale Road, and then deny it? Look up. 'They' [no bold-face emphasis this time, just quotation marks, suggesting a different they] will be back."
OK, now I'm confused. Which "they" will be back? The JFK assassins, the SR-71 people, the Waco people, the "they" who brought down TWA 800, the 9/11 conspirators, the Phoenix Lights pilots or those to whom "they" are in service? I don't like any of them options, and I hope I never see any of they anytime soon.
UFO caught on camera in Kamloops, British Columbia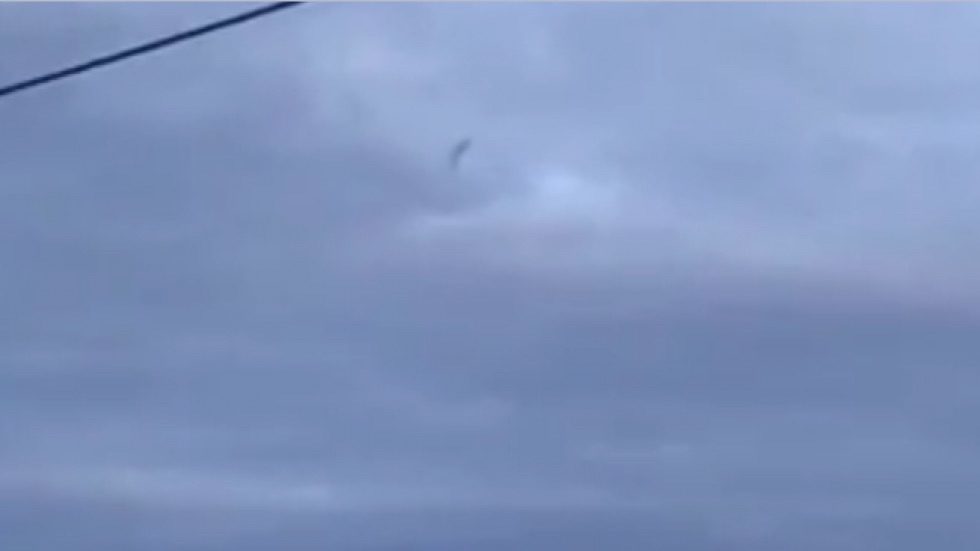 Harprit Singh swears he is not one to make bogus UFO sightings.
That's why what he saw in the sky above Kamloops baffles him.
Singh sent CFJC Today video he recorded at 4:15 p.m. Saturday, Nov. 10, at the New Afton mine just west of Kamloops, where he works.
The video seems to show a strange movement behind the clouds.
WATCH: The strange movement can be seen in the upper half of the frame, near the middle. (Video Credit: Contributed / Harprit Singh) LANGUAGE WARNING
Singh says the disc-shaped object moved upward very quickly, which is when he took out his phone to record what he was seeing.
Singh says the disc-shaped object moved upward very quickly, which is when he took out his phone to record what he was seeing.
"I thought it would be some smoke that would disappear soon," said Singh, "but when I watched continuously, it was something behind the clouds. It didn't disappear and I got shocked when it moved up in a very quick movement."
"At that moment, I realized it was something different; something strange. When it gave some different movements, I started recording this video. It was some sort of disc that moved into a vertical and horizontal position afterward," he said.
Singh is hesitant to call the object a UFO because of the skepticism associated with UFO sightings, but he doesn't know how else to explain what he saw.
"I don't want to say that it's a sort of UFO. But I have seen some videos similar to this kind of thing, that's why I said it's some sort of UFO," said Singh. "I know it's awkward to say this, but seriously, after seeing this… it was really strange."
"I have never seen these things in the sky. Never. This was really something different."
The Extraterrestrial Find Of The Aztecs In Ojuelos De Jalisco (Mexico)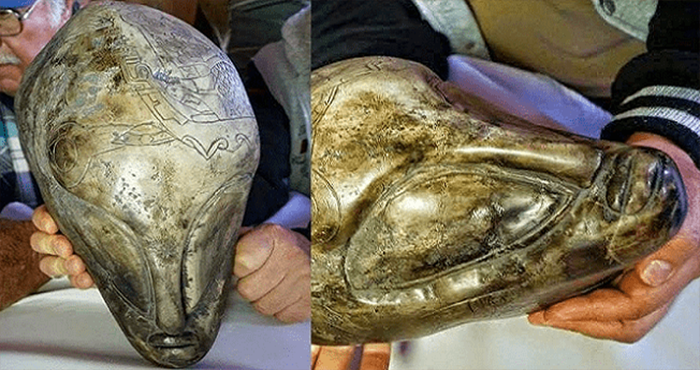 Our ancestors may have had a constant relationship with extraterrestrial beings. We informed you about the material that made one of Tutankhamun's daggers.
However, this is not the only unique discovery, since a surprising series of archaeological objects is the clear proof of the existence of a remote pre-Mayan culture (possibly the ancient gods with elongated skulls or cone-shaped heads), hidden by those who rule the world and forgotten by humanity.
Several families from the city of Ojuelos in the province of Jalisco, Mexico, have been collecting for approximately 50-60 years a total of approximately 400 extraordinary archaeological objects, with the dream of one day opening their own museum and becoming known by the public. said objects.
The Collection Consists Of Tablets:
Knives, plates, figurines, rings and jade pendants, made of stone or metal, which clearly describe how these ancient extraterrestrial extraterrestrial gods (of elongated skulls and large slanted eyes, with a high degree of intelligence).
A high state of consciousness and a deep spirituality and connection with the universe, traveled in their spaceships.
Through the high technological development of their UFOs, they knew very well not only our solar system, in which they traveled between the Earth and their planets of origin, but could also come from beyond our solar system or from our galaxy.
They have also discovered a series of skulls discovered in several Latin American countries, especially Paracas – Peru, called "Paracas Elongatus".
Also in Bolivia, Ecuador, Colombia and Mexico, have been in recent years, a series of skulls and skulls in the shape of a cone, which have left scientists without words.
In the last dates also one was found in Australia, that received the name of "Australian Elongatus".
What do you think? or forget to leave us your comments below and spread the information with your friends
Montana Air Base Suffers Power Outage as Giant Circular UFO Hovers Overhead
You would think events like this would have been all over the news at the time when it had occurred.
According to a report published by The Mutual UFO Network a Montana witness near Great Falls reported that a contact on the Malmstrom Air Force Base described a 10-minute power outage after a circular-shaped object "over a half-acre in size" hovered over the base" on January 24, 2018.
"My base contact described the object only as black," the reporting witness stated. "If contacted, Malmstrom AFB will confirm the power outage but nothing more. Investigators are on their way. Last sighting was in May 2017. This source is reliable and confirmed as am I."
The witness describes himself as a retired police detective "not given to exaggerations."
The filed report indicates the object was black in color with no structural features. The object size was larger than 300 feet. No exterior lights. No emissions. The object was hovering at less than 500 feet in altitude. The object was over one mile away from the witness. No landing was observed.
Investigators contacted the media relations department at Malmstrom and did not receive a reply. The power outage may have been limited to the launch site area and not the entire base. '
MUFON CAG Investigator Marie Cisneros and Montana State Director John Gagnon closed this case as Information Only.
"Ruled out for astronomical or weather anomalies," Cisneros and Gagnon stated in their report. "Ruled out for bolides or fireball activity. Ruled out for obvious hoax.
"Our conclusion: Unidentified object. Size, shape, flight pattern and path does not fit with known conventional aircraft. Because this was reported by someone other than the witness, this case has to be filed as an Information Only unless further information is forthcoming by the witness."
Malmstrom Air Force Base is in Cascade County, Montana, adjacent to Great Falls. It is the home of the 341st Missile Wing (341 MW) of the Air Force Global Strike Command (AFGSC). As a census-designated place, it has a population of 3,472.
ufosightingshotspot