These people woke up in the future. Their memory erased dozens of years of life
Due to the rare form of amnesia, Naomi Jacobs and Kim Denikola forgot their decades of life. From their point of view, they suddenly found themselves in the future and were able to look from the outside at the changed world and at themselves many years later.
Kim did not know how she ended up in the hospital. On the eve in high school there were final exams. She remembered how she left school and headed for her car – and nothing more. Perhaps an accident has occurred? If so, then everything worked out, because she felt no pain.
The nurse noticed that the patient woke up and spoke to her. "Do you know what year it is?" she asked. The question was part of a neurological test for unconscious patients. "Yes, ma'am," Kim replied politely. "It's 1980 now." The world goes crazy with a Rubik's cube, Michael Jackson and Blondie, and in theaters, Darth Vader explains to Luke Skywalker who his father is. Kim was 18 years old, she was finishing school.
The preoccupied nurse asked another standard question: "Who is the president now?" "Ronald Reagan," Kim recalled. In November, a former actor won the Democrat election. Jimmy Carter has been at the head of the country since 1977, however, Reagan will enter into the rights only next year – after the inauguration in January. The answer did not at all have the effect that the girl was counting on.
The nurse left and returned with an unfamiliar old man. He turned to Kim as if he knew her well, although she definitely saw him for the first time. No one ever told her what happened. "I felt completely lost," she says. – I kept waiting and waiting for when mom and dad appear. When you're 18, it usually does. But they did not come."
In the toilet, Kim looked in the mirror and saw herself in horror. "There wasn't the girl I remembered, – "A 56-year-old woman was looking at me." This was, in her words, the beginning of her "awakening." She learned that almost 40 years have passed since school exams from her last memory. The unfamiliar old man is her husband, and they have children and even grandchildren, whom she completely does not remember. And the parents died.
Memory loss
According to the stories of relatives and friends, Kim Denikola restored the latest events before losing her memory. In October 2018, she returned from a weekly circle with her catholic church. On the street, her eyes clouded with a terrible headache. The woman called her husband. "He advised me not to drive, but to ask someone from the circle to take me to the hospital," she says.
On the way, she lost consciousness – and the memory of everything that happened after 1980. Doctors believe that the woman survived transient global amnesia, but so far have not been able to determine the cause. "No one can say exactly what happened," the woman complains. – It could be a microstroke that cannot be seen, or a small traumatic brain injury. Or perhaps a reaction to a cure for muscle pain that I took the night before the incident."
People lose their memory in different ways. Soap opera characters who do not remember their name, past, or other people suffer from retrograde amnesia. With it, access to information about past events is partially or completely lost, but the rest of the memory is not disturbed.
Anterograde amnesia deprives people of the ability to create new memories. They remember everything that happened to them before the illness, but forget about what happened yesterday, an hour or even a minute ago. It was the suffering of the main character of the film "Memento", directed by Christopher Nolan in 2000.
Transient global amnesia, which hit Kim Denikola, has the traits of both retrograde and anterograde amnesia. A person does not forget who he is and does not lose his skills (for example, the ability to drive a car), but loses his memory of the past and for some time loses the ability to create new memories. Fortunately, not forever. In most cases, transient global amnesia passes in a few hours or days, less often – weeks. Everything ends safely.
In 2012, the Dutch writer Daan Heerma van Voss faced transient global amnesia. The loss of memory was so short that it seems almost a curiosity.
"All day friends, relatives and former lovers came to me to talk about what, in their opinion, was part of my life. I listened, nodded and instantly forgot their words, –he told New York Times. Gradually, I calmed down, and all my memories returned to me (however, who can guarantee that it is really all of them?). I was told that I did not have a stroke, there are no signs of permanent brain damage either. According to the doctors, I was in great shape."
Journey to the future
The story of Naomi Jacobs from the UK, who survived transient global amnesia in 2008, is much like the case of Kim Denicola. Once she woke up with full confidence that she was 15 years old – 17 years less than in reality. "I remember looking at myself in the mirror and screaming, –she writes . – From the point of view of a 15-year-old girl, what I saw was horror. Who is this aging woman with wrinkles, spots and bags under her eyes? "
Jacobs compares her feelings with time travel. Everything was new to her – both the world and her own life. But she, unlike Denikola, forgot only 17 years. She was transported into the future by as many as 38 years. "It was very interesting to see how much everything is different now than in the 1980s, how much has changed," she says. – I did not know about Donald Trump, did not know who Barack Obama or Bill Clinton are. "
The only computer that she came across in 1980 was in the school library. "It was a big white box in which you had to insert a floppy disk to record information," the woman says. "The last TV I remember was a drawer on the floor." To switch the channel, I had to get up and go up to it. And now our TV is hanging on the wall, it is very narrow and thin. When you watch it, it's a completely different sensation. " She liked the video chat on the phone, the social networks were rather perplexing (to her taste, there are too many unnecessary disputes), and the television got better, but the dominance of advertising spoils everything.
Jacobs was more shocked by the meeting with himself. In her youth, she had no doubt that she would do something creative. Perhaps she will become a journalist and will travel around the world. "At 15, you don't know who you will be at 32," she admits. – When I woke up in the future, I wanted to say: "Wait, it's not like I wanted." I turned out to be a single mother, who vegetates with a cat in a tiny apartment and drives some kind of pimped. I had no work, I studied as a psychologist and lived on handouts from the state. How could this happen? I was terribly disappointed. "
New life
At first, Jacobs did not want to go to the doctors. It seemed to her that the next day she would wake up in the past, and everything would be fine. When this did not happen, the woman took out a diary that had been kept for almost 20 years and began to read it. There were answers to all her questions.
For Kim Denikola, the diary was replaced by a box of old photographs. "I'm slowly learning to connect names and faces, learning to live in 2019," she says. Her amnesia has not passed for three months, and doctors do not exclude that the memory is lost forever.
Jacobs was lucky: her memory recovered after seven weeks. Seeing herself from aside, she decided to start her life anew. "Now everything is different," she writes. – When I wake up, I focus on what is really important. I try to do something at least once a day that makes me like to be me. I used to be surrounded by people, because of which I thought of myself badly. After amnesia, I realized that you don't need to think like that. This has become the foundation on which I am now building my life. "
Can the Universe consciously imitate its own existence?
According to the new hypothesis, the Universe imitates its own existence in a "strange loop". In an article published by scientists from the Institute for the Study of Quantum Gravity, it is argued that the basis of the hypothesis is the theory of panpsychism, according to which everything in nature is animated. 
The article was published in the journal Entropy and, as the authors of the work write, is designed to combine understanding of quantum mechanics with a non-materialist point of view. In other words, scientists want to understand how real we are and everything that surrounds us. Agree, this is at least an interesting question for modern science and our understanding of the Universe.
What is reality?
How real is reality? What if all that you are, all that you know, all the people in your life, as well as all events do not physically exist in reality, but are a very complex simulation? Like in the series of the animated series "Rick and Morty" when one of the characters got into a simulation and did not even notice it. Our regular readers know that the philosopher Nick Bostrom addressed this issue in the foundational article "Do we live in computer simulation?", Which suggests that our entire existence may be the product of very complex computer models (simulations) controlled by advanced creatures whose the true nature we may never know.
I am not a supporter of this idea, but despite all the seeming madness of Bostrom's assumption, we really don't know what reality is. Modern science is not yet able to cognize the quantum world and understand, for example, why at the atomic level particles change their behavior when they are watched. At a time when physicists are working on building a mission that can figure out if a parallel universe or universes exists, Bostrom's idea does not look extraordinary.
But the new theory takes a step forward – what if there are no advanced creatures, but everything in "reality" is self-imitation that generates itself from "pure thought?"
The Physical Universe is a "strange loop", writes Quantum Gravity Research, a Los Angeles-based Institute for Theoretical Physics, founded by scientist and entrepreneur Clay Irwin. The work is based on the Bostrom modeling hypothesis, according to which all reality is an extremely detailed computer program – and they ask: instead of relying on advanced life forms to create the technology necessary to create everything in our world, is it not better to assume that the Universe itself is a "mental imitation of oneself"? Scientists associate this idea with quantum mechanics, considering the universe as one of many possible models of quantum gravity.
One important aspect that distinguishes this point of view from others similar to it is related to the fact that the initial hypothesis of Bostrom is materialistic and considers the Universe as physical. For Bostrom, we could just be part of an ancestral simulation created by posthumans. Even the process of evolution itself can simply be a mechanism by which future beings experience countless processes, purposefully moving people through levels of biological and technological growth. In this way, they generate the alleged information or history of our world. Ultimately, we will not notice the difference.
But where does physical reality come from that would spawn a simulation? Their hypothesis takes a non-materialistic approach, arguing that everything in the universe is information expressed in the form of thought. Thus, the Universe "self-realizes" into its own existence, relying on the underlying algorithms and the rule that researchers call the "principle of an effective language". According to this proposal, the simulation of everything is only one "great thought".
How could a simulation have arisen on its own?
Surprisingly, the answer is simple: she was always there, researchers say, explaining the concept of "timeless emergentism". This idea says that there is no time at all. Instead, there is a comprehensive thought, which is our reality, offering a built-in semblance of a hierarchical order, full of "sub-thoughts" that extend down to the wormhole to basic mathematics and fundamental particles. The effective language rule also comes into force, which assumes that people themselves are such "emergent sub-thoughts" and experience and find meaning in the world through other sub-thoughts (called "code steps or actions") in the most economical way (well, then) .
In correspondence with Big Think, physicist David Chester said:
Although many scholars advocate the truth of materialism, we believe that quantum mechanics can give a hint that our reality is a mental construct. Recent advances in quantum gravity, such as the vision of spacetime arising from a hologram, are also a hint that spacetime is not fundamental. In a sense, the mental construction of reality creates space-time to effectively understand itself, creating a network of subconscious entities that can interact and explore the totality of their capabilities.
Scientists associate their hypothesis with panpsychism, which considers everything that exists as thought or consciousness, the purpose of which is to generate meaning or information. If all this is difficult to understand, the authors offer another interesting idea that can connect your everyday experience with these philosophical considerations. Think of your dreams as your own personal simulations, the team suggests. Although they are fairly primitive (by the superintelligent standards of the future AI), dreams tend to provide better resolution than modern computer modeling and are a great example of the evolution of the human mind.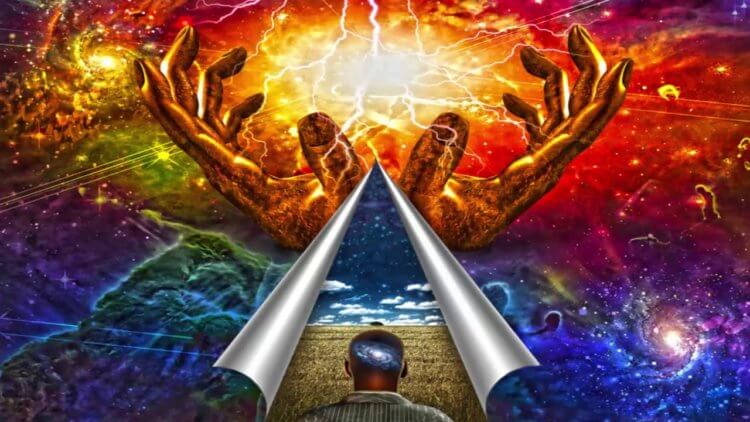 Most notable is the ultra-high resolution accuracy of these mind-based simulations and the accuracy of the physics in them. They point to lucid dreaming – when the dreamer realizes that he is in a dream – as examples of very accurate simulations created by your mind that at times cannot be distinguished from any other reality. So how do you know, while you are reading this article, that you are not in a dream? It turns out that it is not so difficult to imagine that the extremely powerful computer that we can create in the near future will be able to reproduce a similar level of detail.
Of course, some of the ideas of Clay and his team in the academic community are called controversial. But the authors of the work believe that "we should think critically about consciousness and some aspects of philosophy that are inconvenient for some scientists." We can not agree, because in science there are no or, should be no authorities. 
The journalist predicted a cancer-free future and was healed
ABC11 American journalist Michael Perchick predicted on his Twitter account that his future would not be related to cancer. The reporter later reported healing, and the post scored 1.8 million likes.
A 28-year-old North Carolina channel correspondent said in January that he was diagnosed with cancer. However, the journalist did not somehow comment on the current state, but wrote about the future. 
"In four months, I will be the 28-year-old who defeated cancer. To the battle! " – Perchik noted.
Many users supported his entry with comments with words of support. Some users remembered how they themselves fought with a similar diagnosis and they managed to prevail over a deadly disease. 
"I was diagnosed at the same age, two days after my 28th birthday. I'm 34 now. You will succeed, man. Kick your ass cancer," Humphrey03Pat wrote .
In April, Perchik announced that he had completed the necessary course of chemotherapy. 
On June 5, he retweeted his January post and wrote:
"New information about my life: I was right." 
This meant that the journalist was cured. In the comments, he met positive feedback from users. Some responded with a meme about dancing coffin carriers from Ghana, symbolizing a cancer funeral.
Death Angel Drummer talks about meeting with Satan during a coronavirus coma
Will Carroll, a member of the Philippine-American thrash metal band Death Angel, spoke about a meeting with Satan during a coronavirus coma. It is reported by the San Francisco Chronicle.
The 47-year-old drummer is sure he has been to hell. He fell ill with COVID-19 after a European tour of the band and was in critical condition for two weeks at a California medical center. Carroll was connected to a ventilator and was in a coma.
According to a member of the group, in nightmares, he appeared to have Satan in a female guise, who reproached him for being lazy and turned him into a monster resembling Jabba from Star Wars. After that, the drummer decided to abandon the use of strong alcohol and marijuana.
"I will still listen to satanic metal, and I still love Deicide and similar bands. As for my personal life and what I experienced, I don't think that Satan is so cool" Carroll said. 
He explained that he was close to death, but now he feels as if he was born again.