There's a Strange Reason Why Clocks Across Europe Are Running 6 Minutes Slow
Time is a strange thing. As Einstein said, it is a relative concept. He wasn't predicting a bizarre paradox to beset Future Europe in the year 2018, but he may as well have been.
For months, people in several European countries have encountered a strange wrinkle in time: clocks are telling them different things. While many timepieces are as infallible as ever, other clocks have been falling behind, second by second, ever since mid-January.
As of last week, this weird phenomenon accounted for a delay of close to 6 minutes. Not exactly a postponement to threaten the very fabric of the Universe… but a heck of a way to miss your morning bus.
As strange as this timely dilemma is, it's not a distortion of the space-time continuum that's to blame. It's us – or more specifically, it's politics. In this case, European politics.
But before we get into that, it's important to understand there are a number of ways clock keep time. In the olden days – and not-so-olden days – it was mechanical.
Digital clocks are different, and keep time in a few different ways.
Modern internet-connected devices like your smartphone or computer sync up with other clocks over the web, whereas standalone devices like digital watches or many battery-powered alarm clocks use a crystal oscillator.
But there's a whole range of other devices that get their sense of time from mains power, including ovens, alarms, heaters, and microwaves.
These sorts of clocks keep time by counting the number of oscillations in the alternating current they receive, which also powers them; in other words, the number of times the flow of electricity changes directions every second.
In the US, this is 60 times, or 60 Hz. In Europe, it's 50 Hz – or at least, it's supposed to be. And this is where politics comes into it.
The European Network of Transmission System Operators for Electricity (ENTSO-E), which runs the grid powering 25 separate European countries, disclosed recently that "frequency deviations" in power supply have been experienced across the network since mid-January.
This deviation isn't much, but it is noticeable (clearly).
Instead of delivering 50 Hz – which is what mains-powered European clocks expect to get if they're to keep accurate time – the European grid has averaged 49.996 Hz, which is enough of a disruption, over a couple of months, to make all these clocks lose almost 6 minutes.
Have you noticed your clock running late? ! The Continental European Power System is experiencing a continuous system #frequency deviation from the mean value of 50 Hz since mid-January 2018. Why is this happening? Read ENTSO-E press release: https://t.co/6oroH2haNW pic.twitter.com/LnQygS6kvg

— ENTSO-E (@ENTSO_E) March 7, 2018
In this case, the shortfall was due to a disagreement between Serbia and Kosovo, over who was ultimately responsible for the upkeep of a Kosovan power plant (on paper, it appears to have been Serbia, but it's a complicated situation).
The good news is, according to ENTSO-E, the deviations affecting the average frequency in the synchronous area of Continental Europe have now ceased, although the network is still figuring out how to restore the missing energy (some 113 GWh in total) lost since January.
It's not clear how that will be done exactly, but the long and short of it is, as soon as Europeans reset their affected clocks, the oscillations should be purring along nice and regular now.
A woman discovered in a new house a secret room with creepy dolls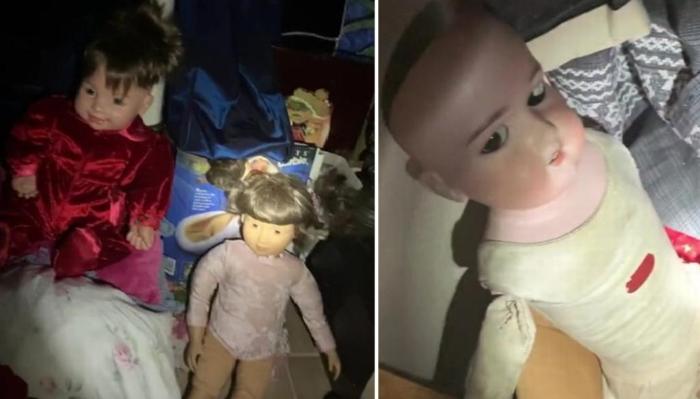 A woman was sorting things out in a newly acquired house and found a secret room filled with creepy dolls. This is reported by The Mirror.
The TikTok user posted several videos on the social network, in which she told how she found a secret room in the house where she moved with her family a few months ago and regretted finding it. She discovered the room when she was taking apart one of the cupboards and noticed that there was space behind it.
"An elderly woman who lived here kept everything. My children said that I should record on video how I move the closet and see what's behind," the author of the video said behind the scenes. 

"There's no one home now, so I don't think this is a good idea, but I'm dying to see what's there," she said.
The cramped space was filled with various knickknacks such as old coins, toys and art. Most of the subscribers of the woman were scared by the numerous dolls.
One TikTok user wrote, "I don't know why, but I feel like it's very bad." 

"Has anyone else noticed a baby's head that looks different from the last video?" another said. 

"When you forgot where you hid your Christmas gifts," a third joked. 

One commentator suggested, "Throw out the whole house."
The owner of the house admitted that she felt uncomfortable in the room and did not know what to do with the find. 
"I decided to lock this room. I think she should go back to who she belongs to. And it should be you girls," she said on one of the tapes and focused the camera on the dolls.
Now you can find out how people will look after the zombie apocalypse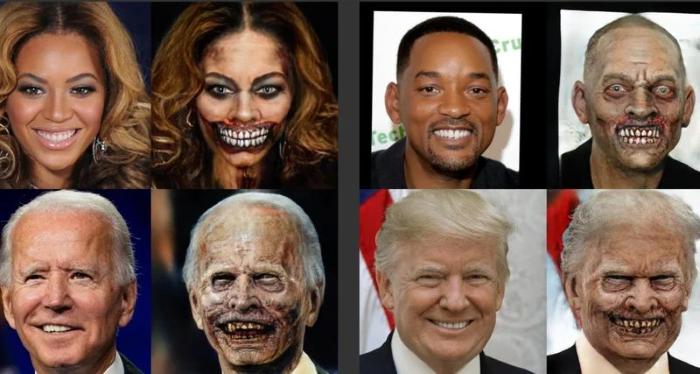 According to the developers of one of the projects of the so-called generative adversarial network (GAN), on the eve of Halloween, they decided to make a modest gift to the global network community.
And now, to the famous toys FaceApp, AI Portraits Art, Toonify HD and others, they have added the makemeazombie.com site, which in two clicks allows you to see how some famous personages will look after being bitten by a walker during a zombie apocalypse:
The service works very simply: use the 1 button to select the desired image
after which, with button 2, we look at the vision of the possible future by the Artificial Intelligence and enjoy the result:
As you can see, the Artificial Intelligence is working and the algorithm that processes the image gives a complete picture of how a person would look if he was made up as a zombie.
What kind of lights appeared in the sky over Hawaii?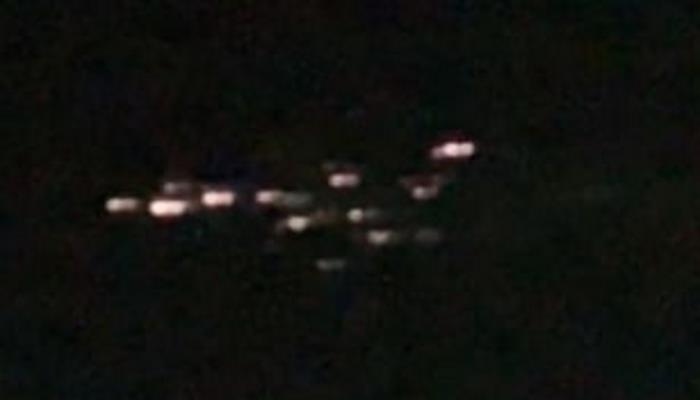 Hawaiians saw bright lights in the sky the size of a football field and decided it was Elon Musk's technique. However, scientists have come to the conclusion that the Starlink satellites have nothing to do with it. The bright lights are already 12 years old, and they revolve around the Earth for completely different reasons.
On the night of October 24, unusual lights appeared in the sky over the Hawaiian Islands, moving eastward. Witnesses of the bright show filmed it and published it on social networks. A group of about ten bright lights the size of a football field moved in the sky after 22:00, Khon2 writes.
People described the group of lights as a massive but transparent flat figure. Some even thought the silhouette was the size of a football field, but the lights did not make any noise.
Many residents were worried about the strange light show and put forward different versions of what was happening.
One of the eyewitnesses, who filmed the lights on camera, said that he was worried when he saw the unusual sight.
I started filming it and when the lights got closer I got worried. I could not understand what it was all about, – says a resident of the island of Molokai Kuyip Kanavalivali.
The lights were visible from the shores of Waikiki to Eva Beach and even on neighboring islands. The brightest show was seen by the inhabitants of the island of Molokai.
We didn't know what to think. We did not know what it was and where it came from, " Sheri English said, who also lives in Molokai. – In fact, it was a very eerie feeling.
On social media, people argued about where UFOs came from. Some people thought it was a meteor shower.
Others decided that the lights belong to the satellites of Elon Musk.
However, experts from Mauna Kea observatories have a simpler explanation for the spectacle. In their opinion, it was a rocket booster launched in 2008.
In all likelihood, what people saw last night was the return of the 2008 rocket booster. It was a Chinese rocket that launched a communications satellite for Venezuela, John O'Meara explained, chief scientist at the Keck Observatory.
According to scientists, over the years, the orbit of the launch vehicle collapsed. Astronomers have found a map of the flight path of the object, which was located near the Hawaiian Islands. She also predicted when the rocket booster would re-enter the atmosphere.
We can't be 100 percent sure because we don't have a single piece of its wreckage. But the pattern of light we saw in our timeline is aligned with this map. This flight path really makes us believe it was Venesat-1 re-entering the atmosphere," Mary Beth Leichuck explained, director of strategic communications for the Canadian and Hawaiian Telescope.
It is believed that such phenomena are not uncommon, as similar objects are constantly launched into space. To spot them, you just need to be in the right place at the right time – right along the flight path. But when the rocket booster enters the atmosphere, people will be able to see an even brighter light show.
It will begin to disintegrate, heat up, and become very hot. And when it reaches the extreme temperature, it will become very bright and fall apart, – O'Meara added.