Everyone has their own hobbies. Some are passionate about collecting, others are gardening, and still others are passionate about sports. But the hero of this article has a special passion. Ra Paulette is an American sculptor from New Mexico who burrows into hillsides and caves to create intricate artistic spaces within mountains. Maybe he is now the only one in the world.
You might think that he is a professional architect or sculptor, but no, it's just that this person has a hobby. Although talent is undoubtedly present, he creates real works of art, sculpts caves like shrines, like sacred places.
He describes his places of work as "a sanctuary for prayer and meditation," while others describe his caves as works of art. The caves are decorated with "scallops, patterns, smooth curved lines, smooth cornices, crisp ledges and inlaid with stones". Its caves attract tourists from all over the world.
He has been hiding in a cave in New Mexico, USA for 25 years and has now decided to showcase the interior of his home.
What he did to the inside of the cave is almost impossible to describe in words, as if we are entering the world of fairy tales.
In ancient times, people made dwellings in caves or dug new rooms in the sandstone, but only for the purpose of living. The works of this artist are more for soul resting.
All this beauty is made in white sandstone cliffs just an hour from Santa Fe. Has anyone from you seen this beauty in real?
Tired of the whims of his bosses and customers, the artist, who was bored with art, began his personal and independent project.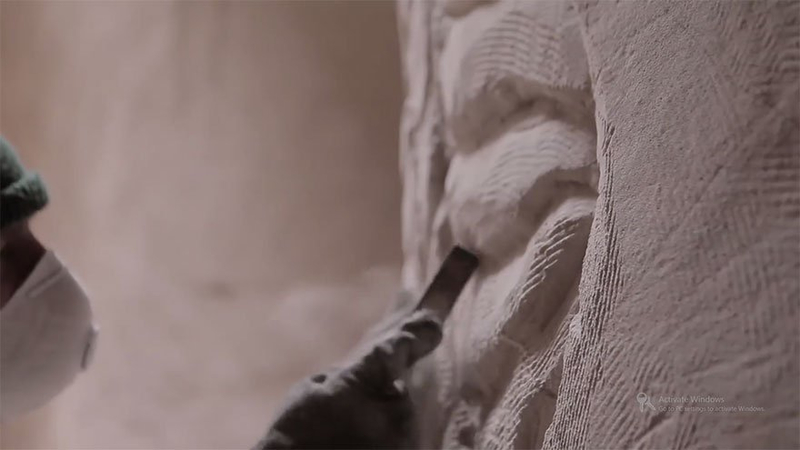 The results of the project, as well as the process itself, are very impressive. Ra Paulette, who spent the last 25 years in the cave, completely alone, apart from his dog, away from society, spent time carving out walls.
He spent his time carving the sandstone cave he found, transforming it into a wonderful underground space full of light.
Paulette created different designs and styles for each cave, giving each one a distinct quality and texture.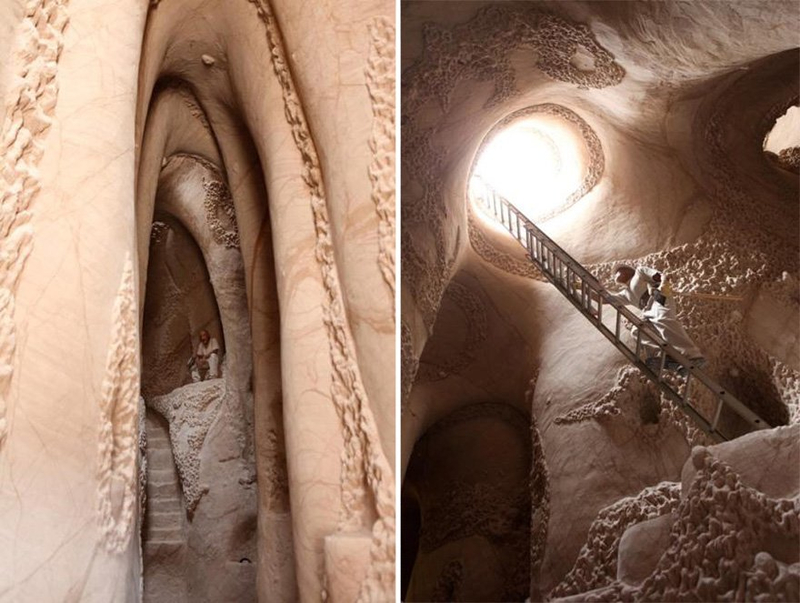 The goal of this gigantic piece of art is to create an environment that inspires "spiritual renewal and personal well-being." It will also serve as a venue for artistic events when its project is completed.
Ra Paulette works exclusively with hand tools, a pick and a shovel. First, he digs in various halls and vaults in any form, not forgetting about ventilation. The artist himself called his style – "dances of the digger" . When he likes what he gets, then he proceeds directly to creativity: decorates the halls and vaults with mysterious carvings and patterns.
In some places, his works look like real natural caves, and in other – like a completely civilized housing

That is, you can wander and relax there.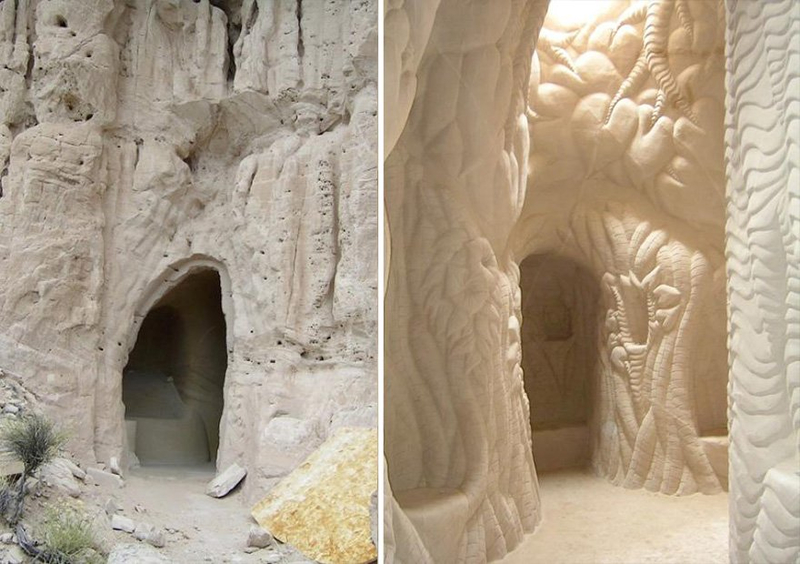 When Ra Paulette made his first cave, it attracted connoisseurs of beauty and tourists. But it was made on state land and, in addition, he could not guarantee the safety of visitors. The cave had to be filled up.
Only later, when he began to make safe projects and all legal issues were met, it was possible to create endlessly. At the moment, 15 underground palaces exist for sure.
A documentary film "Cave digger" was even made about him and this man became even more famous.
In the video below, you can virtually take a trip through one of the caves decorated by the artist.
---
We can only be surprised by such people who just alone create beauty with which, we become kinder and better beings.