There Is A Giant Square Structure Hidden Under The Moon, Says NASA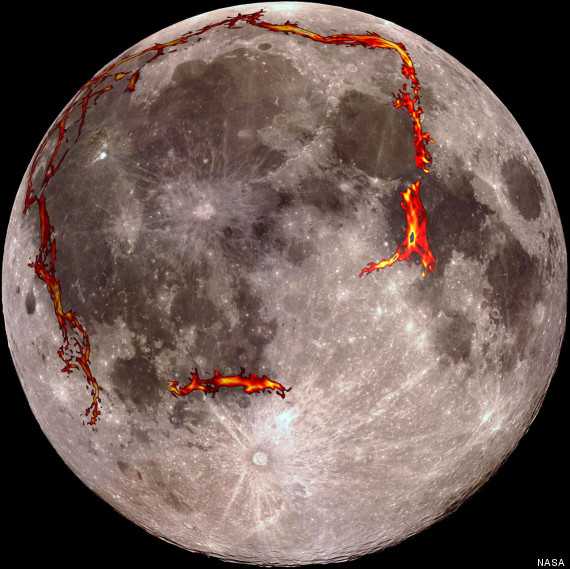 Usually when someone on the internet writes about 'geometric forms' found on the Moon, it's a crazy UFO hunter who doesn't understand pixelation of composite images taken at high altitudes.
This is different.
Scientists report that rifts across large areas of the Moon's surface actually forms an enormous rectangle.
The area in question is the Ocean of Storms, an enormous and obvious feature of the Moon which was once thought to literally contain an ocean.
In the modern era of astronomy it has been understood – of course – that the 'Ocean' is actually just another area of basalt rock (the technical term is 'maria', which is just Latin for 'sea').
But it had always been assumed that the shape was a 2,000-mile-wide crater caused by an asteroid impact – and represented a lucky escape for Earth.
Now they're not so sure. In fact a new study suggests that the ocean was actually caused by cooling lava on the early Moon – and that the satellite was actually far more active and dynamic than we used to think.
The discovery was made using data from NASA's GRAIL mission, which mapped the gravity of the Lunar surface in exquisite detail. The images revealed that the topography of the surface in the area is almost a perfect rectangle – indicating it formed as the Moon's surface moved apart from itself.
"GRAIL has revealed features on the moon that no one anticipated before we had this data in hand," said lead study author Jeffrey Andrews-Hanna, a planetary scientist at the Colorado School of Mines, according to Space.com. "One can only wonder what might lie hidden beneath the surfaces of all of the other planets in the solar system."
This Space Cloud Smells Like Rum And Tastes Like Raspberries
So there's a giant cloud hanging out in the Milky Way galaxy that smells a little bit like rum and tastes a little bit like raspberries. Here's why Sagittarius B2 may be the most delicious cloud in space.
Let's work our way up the ladder on this one. We'll start at the bottom step, where things are unimaginably tiny. A carboxyl group is a group of atoms that looks like this: (C(O)OH). A carboxylic acid is any acid that has a carboxyl group. Glue one single extra atom of hydrogen on that group and you have formic acid, the most simple carboxylic acid. In fact, this acid is so basic that ants' bodies can make it. If you have ever been stung or sprayed with ant venom, you have probably felt the sting of formic acid.
Let's take another step up the ladder and add booze. Mix ethanol with formic acid and you have ethyl formate, which is an ester. Esters are the most famous of the aroma compounds and are responsible for most of the floral, fruit, and wine smells. A good proportion of esters are simply combinations of carboxylic acids and alcohols. To non-chemists who nevertheless paid attention in chemistry class, esters are known as the "smell molecules."
Ethyl formate has a role to play in both fruit and wine. Drinkers know it as the "scent of rum," but it comes wafting out of a lot of alcohols from cognac to whisky. Berry pickers will also know ethyl formate if they get their mouth around it; it's one of the chemicals that gives raspberries their distinctive flavor. So smell it and it smells vaguely of rum; taste it and it tastes vaguely of raspberries.
When we examine ethyl formate on an even larger scale, we get the weird twist — way out in space, a cloud of gas is laden with ethyl formate, which means it smells like rum and tastes like berries.
Or perhaps we have this all the wrong away around. Perhaps we should have started large instead of small, because Sagittarius B2, the dust cloud 400 light-years away from the center of the galaxy, predates both the raspberry and rum. So maybe we should say that rum smells of cosmic dust cloud, and raspberries taste of it.
Source io9.gizmodo.com
Trump just ordered the Pentagon to establish a Space Force 'immediately'
The United States seems to have always been pioneers in the space program. They were the first ones to actually walk on the moon, and they created the first ever reusable space vehicle in the space shuttle.
Now if President Donald Trump has his way, the country will again be pioneers when it comes to outer space exploration. Not only does he want to reignite the space program which has more or less been dormant in the country since the space shuttle program was retired, but he wants to create the first ever space force.
In fact, he has gone as far as to make the request of the Pentagon itself to implement this task force. He has gone as far as to tell their Department of Defense to start to put such a force into effect. In a press, In fact, President Trump has been quoted as saying:
"Our destiny beyond the Earth is not only a matter of national identity but a matter of national security, "
If this program is implemented it will become the sixth branch of the military and actually the only branch of the air force that has been created in 71 years.
According to Trump it is imperative to the nation's security, but is this really true? Well, we never know what could be lurking in space, and no this isn't a reference to extraterrestrials, although you never know. But what about asteroids or comets that could have the ability to cause destruction to the earth, and such a task force could help eliminate this problem not only for the United States but the rest of the world as well.
Whatever, the reasons President Trump could have a point that maybe this is not just an idea to consider, but again the United States could get the wheels in motion. So, perhaps the universe imagined by Gene Roddenberry in Star Trek where there is a branch of the military known as Starfleet could actually be to the point of becoming a reality.
A trip to the ISS will cost you $55 million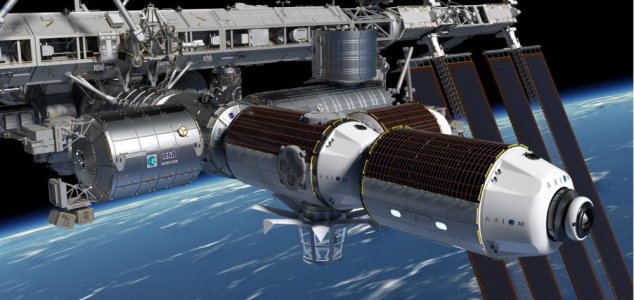 Image Credit: Axiom Space
Space tourism firm Axiom Space is offering people the opportunity to spend ten days aboard the space station.
Based in Houston and founded by former International Space Station manager Michael T. Suffredini, the company has plans to not only offer trips to the ISS but to also build and launch its own modules.
Eventually, these will detach and become an independent facility known as the Axiom International Commercial Space Station.
This week the firm has revealed its price for a full ten-day stay aboard the ISS – $55 million – which will cover, not only the orbital stay, but also transportation and a 15-week astronaut training program.
The goal will be to launch the first module in 2019 and the first commercial customers in 2020.
"It is an honor to continue the work that NASA and its partners have begun, to bring awareness to the profound benefits of human space exploration and to involve more countries and private citizens in these endeavors," Suffredini said in a statement.
The interiors of the new modules will be designed in partnership with French architect Philippe Starck.
"This is a dream project for a creator like me with a genuine fascination for aviation and space exploration," he said. "The greatest human intelligence in the world focuses on space research."
Source: Space.com |