The world lost an area of tropical forest the size of Bangladesh in 2017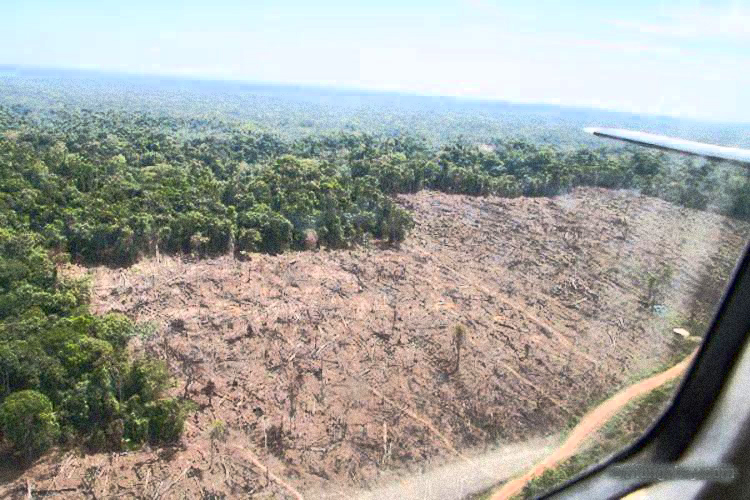 Hans Nicholas Jong, Mongabay
Waking Times
OSLO, Norway — It has been a decade since the United Nations launched REDD+, an ambitious program to incentivize forest restoration and conservation in developing countries, as a part of a global effort to reduce greenhouse gas emissions.
The program has been heralded as an integral part of the solution to climate change as tropical forests and wetlands can deliver 23 percent of the total mitigation needed between now and 2030.
As a result, billions of dollars have been poured into this scheme, and countless projects have been initiated to enable tropical countries to receive money in exchange of them reducing their deforestation rates.
Norway, for instance, has invested about $2.8 billion into the program in the past decade, more than any other wealthy nation.
On the other side of the equation, Brazil in particular has been lauded as a champion in REDD+ as it managed to slow down its deforestation rate nearly 80 percent in 10 years between 2004 and 2014.
This week, representatives from these countries are gathering to celebrate the 10thanniversary of REDD+ at the Oslo Tropical Forest Forum in Norway.
But instead of being celebrated for their achievement, these countries are in the hot seat as the conference came on the heel of new data from the University of Maryland (UMD) showing how tropical tree cover loss in many countries has been ramping up in recent years, including in Brazil.
According to the data, tropical countries lost 158,000 square kilometers (39 million acres) of tree cover in 2017 – an area about the size of Bangladesh. The 2017 number is the second highest since UMD stared collecting data in 2001, and only a bit lower than the record high in 2016.
Frances Seymour, a senior fellow at the U.S.-based think-tank World Resources Institute (WRI), who also serves as the program committee chair for the Forum, said that the conference provides a moment for reflection on what's going wrong with REDD+ in these countries.
"It's a really good opportunity to celebrate all of the many real achievements that have taken place, as well as take stock of where we are, and see the road ahead," she said during the opening of the forum in Oslo on Wednesday. "But it's also important that we pause and reflect for what we haven't achieved."
Seymour then proceeded to cite the new set of data, published on Global Forest Watch, a forest monitoring site run by WRI.
"The 2017 tree cover loss numbers, which were released today by my colleagues at Global Forest Watch are not encouraging. 2017 is only slightly better than 2016, and that was a record bad year," she said. "So you have to pause for a minute and think are we doing something wrong? I think we need to open to that possibility over the next two days."
Commenting on the recent deforestation trend in the tropics, Norway minister of climate and environment Ola Elvestuen said during the opening of the Forum it is "a crisis of existential proportions," and reminded participants that "We either deal with it or we leave future generations and planet in ecological collapse."
Seymour and Elvestuen's opening speeches set the tone for the rest of the forum, where government officials, activists, researchers and indigenous communities will discuss why REDD+ doesn't seem to be working as well as hoped after 10 years despite initial progress made in countries like Brazil.
What went wrong?
Seymour said just because tree cover loss rate is on the rise, it doesn't mean that there's no effort to save intact forests.
"In fact, we implement a number of strategies to address this problem, including offering climate finance, to the Paris Agreement to reward reduced forest emissions," she said. "We're getting companies to stop buying products grown on recently deforested lands. We're cracking down on illegal logging and securing indigenous rights."
But she said these efforts pale in comparison to pressure from the agriculture sector, which is often supported by mainstream policies and financing and which is considered the leading single cause of deforestation worldwide.
According to Seymour, the amount of climate financing committed for forest conservation has averaged about a billion dollar a year over the last decade, while the amount of funding being poured into agriculture and other investments is 100 times greater.
"As long as mainstream policies and finance continue to support deforestation as usual, we're trying to put out a house fire with a teaspoon, even while more gas are being poured on the flames," she said.
Seymour attributed the upward trend in tree cover loss primarily to continued land clearing for agricultural purposes.
"There's really no mystery to the main reason why we're seeing tropical forests disappear," she said. "Vast areas continued to be cleared for soy, beef, palm oil and other globally traded commodities.  Much of this clearing is illegal and linked to corruption."
Seymour also cited lack of protection for environmental activists and indigenous communities as one of the reasons why forest conservation seemed to be failing.
"Forest defenders continued to be murdered when they work to protect forests," she said. "Most indigenous people still don't have secured land rights, even though their territories have the lowest rate of deforestation."
Lastly, she said that other factors such as natural disasters like fires are also playing an increasing role in tree cover loss as climate change makes such events more frequent and severe. Adding to this is political and economic instability that could shift government focus away from conservation, like what's happening in Brazil.
The case of Brazil
In the early 2000s, Brazil's deforestation rates started to decline. However, its tree cover loss began to spike upward in recent years, and in 2017 Brazil experienced its second-highest rate of tree cover loss, losing 45,000 square kilometers of tree cover.
According to Mikaela Weisse, a research analyst at WRI, much of Brazil's tree cover loss can be attributed to a strong fire season in the Amazon, with the region having more fires in 2017 than any year since recording began in 1999.
The UMD data indicate fires caused 31 percent of the South American country's tree cover loss. The university was able to come up with the figure as it recently added a new function that enables researchers to distinguish tree cover loss due to fires.
Weisse said that the fires in the Amazon are mostly caused by humans who clear land using fires as they take advantage of the lack of enforcement on prohibitions of fires and deforestation, political and economic uncertainty, and the current administration's roll-back of environmental protections.
"As climate change and human land use interact to make forests more vulnerable to fire, many are concerned that extensive fires will become the new normal in the Brazilian Amazon," Weisse said during a teleconference last week.
She also pointed out that the blazes are likely to cancel out the climate impact of reduced deforestation in Brazil.
Therefore, analysts believe that tackling forest fires not only in the Amazon, but also in other parts of the world, is crucial.
Carlos Nobre, Brazil's leading climatologist, said during the forum that if no action is taken to address this issue, then Brazil is at risk of going over the tipping point where so many of its forests have been burned and turned into savannas.
And since savannas are much more tolerant to fire, he worries they will remain in that state indefinitely and forests will not return, even if deforestation is reduced to zero.
"If the system tips into this other side of equilibrium, we will have savanna there, with much less biodiversity and carbon," Nobre said during the opening of the forum.
To avoid that from happening, Nobre recommends Brazil's deforested area not exceed 25 percent of the country's total land mass. Currently, Brazil has lost 18 percent of its total area.
"We are very close to the limit because global warming is still operating and deforestation is still going on and forest fires are becoming more serious," Nobre said. "So basically, urgent action is needed to stop Amazon deforestation completely."
New deforestation hotspots and a few bright spots
Besides Brazil, which has historically suffered from high rate of tree cover loss, the data set also shows Colombia and Democratic Republic of Congo (DRC) as emerging hotspots of tree cover loss.
Colombia faced one of the most dramatic increases in tree cover loss of any country, with nearly 4,250 square kilometers (around 1.1 million acres) of tree cover loss in 2017. That number represents a 46 percent jump above to 2016, and more than double the average rate of loss between 2001 and 2015.
Almost half of the increase happened in just three regions on the border of the Amazon biome (Meta, Guaviare and Caquetá), with new hotspots of loss advancing into previously untouched areas.
This sudden spike in tree cover loss coincided with the peace process that happened in the country last year, when the government signed a peace deal with the Revolutionary Armed Forces of Colombia (FARC), the country's largest rebel group.
FARC used to keep tight control over land use and allowed little commercial use of resources. But with the peace deal, FARC was pushed out of large amounts of remote forest they previously controlled.
"The increase seems to be related to the peace process," Weisse said. "The demobilization of the FARC left behind a power vacuum, which has led to illegal clearing for pasture and cocoa, mining and logging by other armed groups, as well as rampant land speculation."
The Democratic Republic of Congo (DRC) also had record high tree cover loss in 2017, with the UMD data indicating 14,680 square kilometers (more than 3.6 million acres) lost, surpassing Indonesia for the first time.
"DRC has had an increasing trend over the past 17 years, which is a cause for concern," Weisse said.
According to Weisse, the main drivers of tree cover loss in DRC include shifting agriculture, artisanal logging that is often illegal, and charcoal production.
"Given the trend in 2017, it's critical that DRC improves land use planning and critical law enforcement moving forward," Weisse said.
A bright spot in the new set of data is Indonesia, which managed to reduce its tree cover loss by a considerable amount, including a 60 percent decline in primary forest loss, bucking the trend in other tropical countries. The University of Maryland registered 13,000 square kilometers of tree cover loss in 2017 compared to more than 24,000 square kilometers of loss in 2016. (It should be noted that the UMD dataset lumps in tree plantations with natural forest cover, so some of this loss may be attributed to plantation clearing.)
While some provinces in Sumatra still saw increased primary forest loss—including 7,500 hectares (18,500 acres) in Kerinci Sebat National Park— provinces in Kalimantan and Papua experienced a reduction.
Weisse said the fact that there was no El Nino in Indonesia last year helped the Southeast Asian country significantly in reducing its tree cover loss rate.
"The decrease can also be related to a national peat drainage moratorium, which has been in effect since 2016," she said. "This year's data shows an 88 percent decrease in tree cover loss on protected peatland, which suggests that the policy may be working."
The Indonesian Ministry of Environment and Forestry said the declining rate of tree cover loss in Indonesia is a proof that the government's set of policies is working.
The ministry's acting director-general for climate change, Ida Bagus Putera Parthama, said that the UMD data is in-line with the deforestation data published by the government, which reported a second straight annual decline in the country's deforestation rate.
The ministry recorded 4,790 square kilometers (1,850 square miles) of deforestation in 2017. That's down 24 percent from the 2016 figure, which in turn represented a 42 percent reduction from 2015.
"It's not surprising because we have data indicating the same figure," Ida said. "It means our efforts are successful. We will maintain the effort and this positive trend, including moratorium of the peat licensing and virgin forest licensing, improvement in peat management and more effective law enforcement and REDD+ implementation."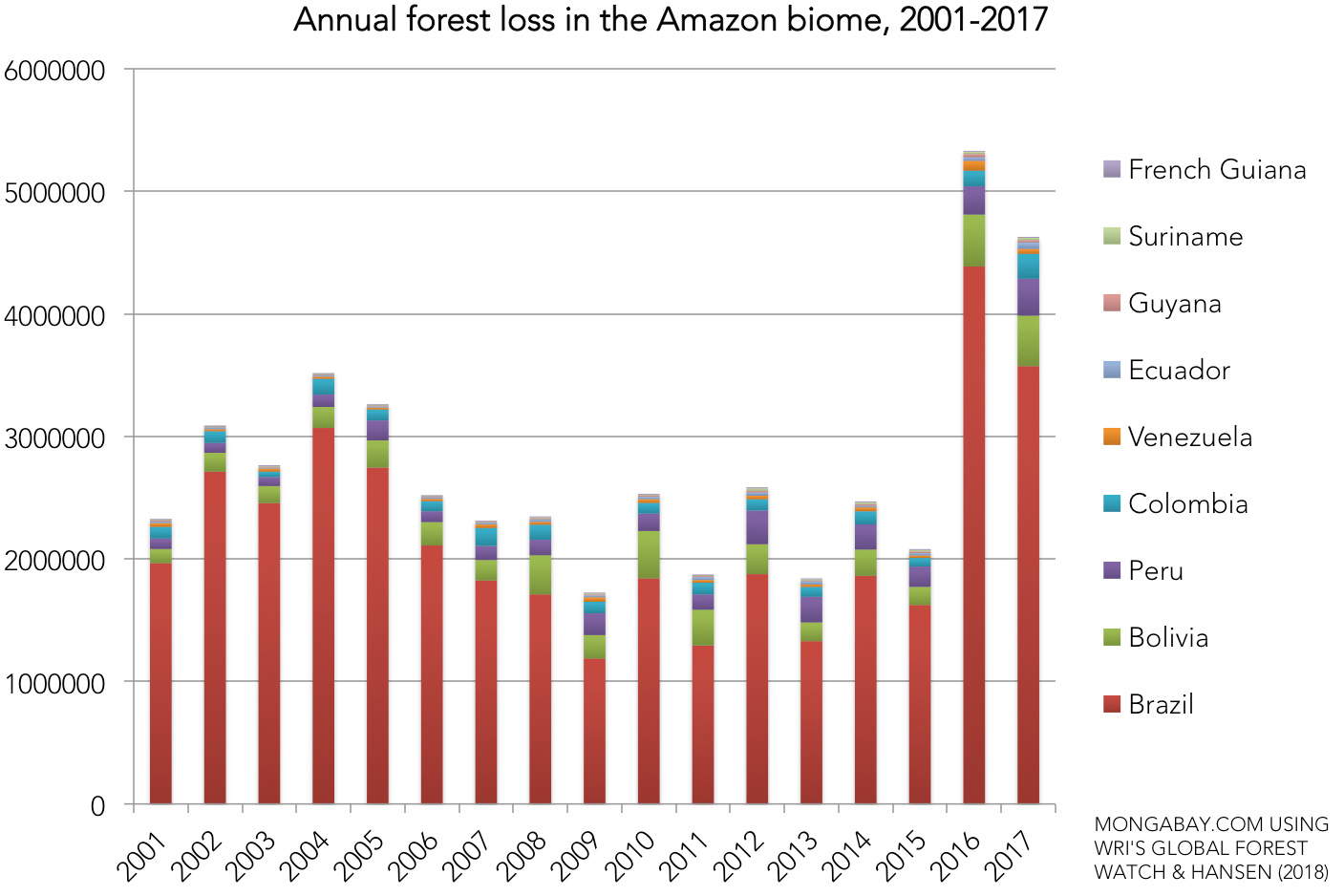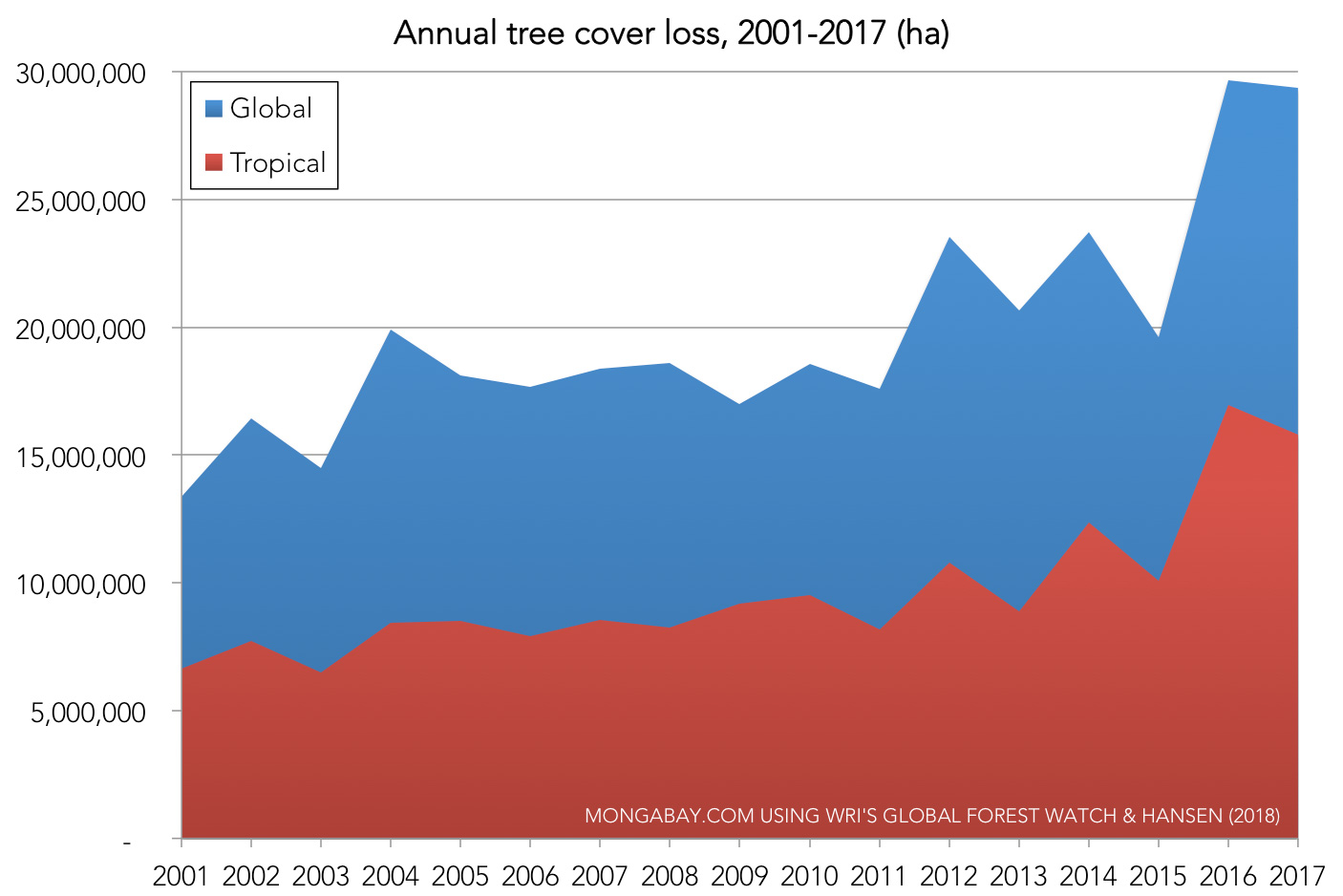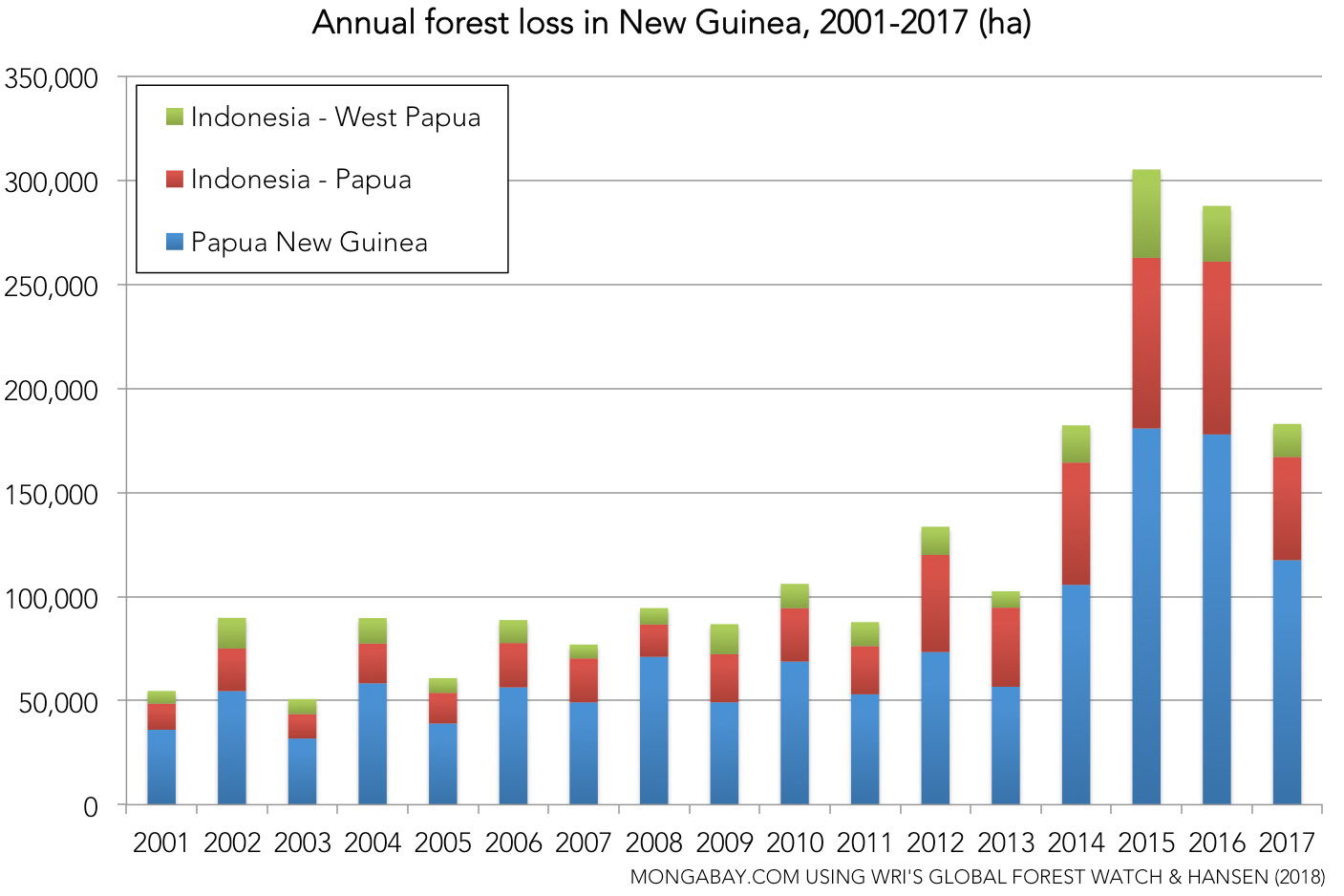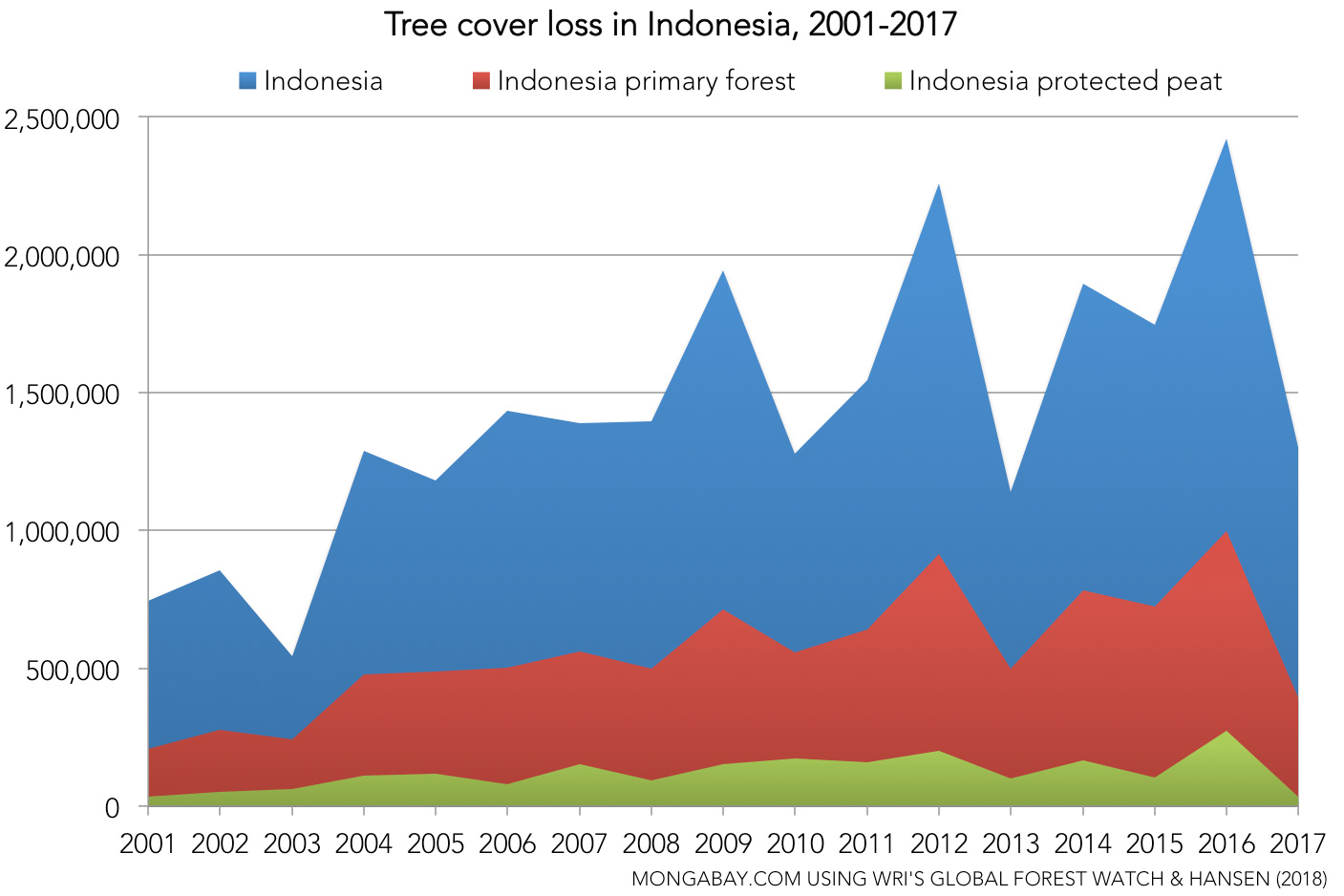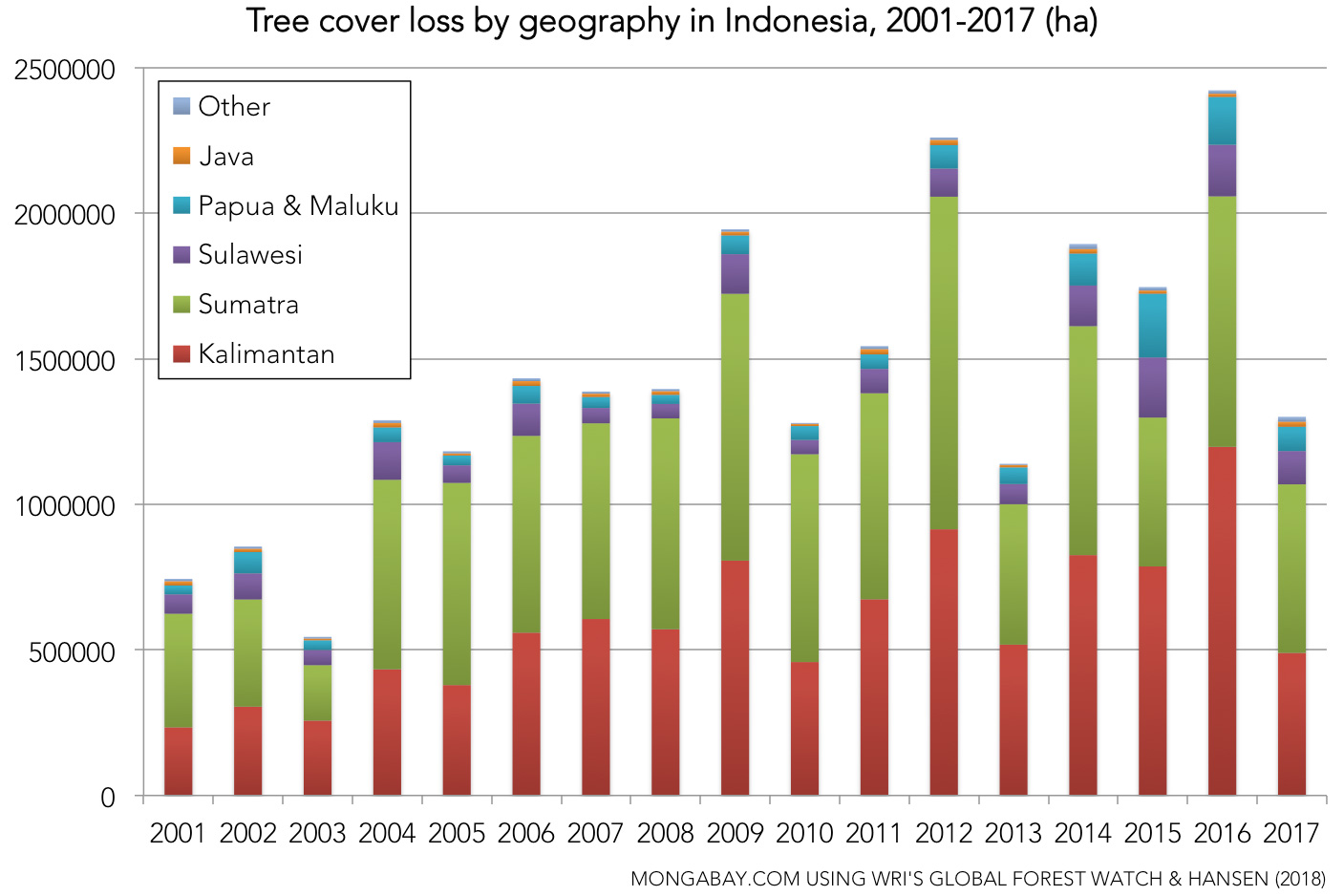 **This article was originally posted at Mongabay.com and is re-posted here with permission.**
Image Credits – Mongabay.com
Volcanologists discover "domed magma uplift" in the Yellowstone caldera
The last time a major eruption of Yellowstone occurred 640 thousand years ago. The supervolcano is currently under close scrutiny by scientists who are trying to recognize the slightest signs of a possible future catastrophe.
According to some experts, the eruption is unlikely to happen again, since the volcano is quite "old", while others are sure that it will definitely happen again, the question is only in time.
Volcanologist Robert Smith of the University of Utah made an amazing breakthrough in understanding the Yellowstone system when he noticed a change in water levels in a local lake. The study focused on looking for signs of deformation in its caldera, which could indicate an impending eruption, Express reports.
"He recognized some of these signs, especially in the changes in the level of Yellowstone Lake, and saw that his basin was tilting, which caused the water level to rise at one end of the lake and fall at the other," geologist Robert Christiansen said.
According to the data received, over the past 50 years, the caldera has risen by about two-thirds of a meter. This was later found to be normal for Yellowstone, as scientists observed periods of upswing followed by declines.
The experts explained that this is a rather impressive "domed uplift", which indicates magmatic activity.
"Either the magma invaded the crust or it heated the hydrothermal system, causing it to expand and lift the crust," Christiansen said.
Later it was found that the periods of rise last for about ten years, then a period of stability begins – about a year, after which the water level falls.
It is currently at a low point. The results were based on an analysis of volcanic deposits scattered tens of thousands of miles across the region.
Piraha – people who live for the day and are considered the happiest on Earth
In the wilds of the Brazilian jungle, the people of Piraha live, which is difficult to understand for a modern person. They do not know the past and the future, consider prolonged sleep dangerous and have no idea what stress is. The missionary who came to the piraha to teach them life, came to the conclusion that these people are the happiest on Earth. And years later, he completely realized that he needed to learn from them, and not vice versa.
We are publishing rare pictures of these mysterious people and also tell the most shocking facts about Pirah people, who see the world absolutely differently from most people on the planet.. And we can also tell the most shocking facts about the people of Pirah, who see the world absolutely differently from most people on the planet.
Live here and now
The essence of the Pirah culture is explained very simply: "Live here and now. " In their language there is only the present tense, because, according to the people, the only important thing that is worth communicating to others is what is experienced at that very moment.
Piraha believe that sleep is harmful
They were shocked when they found out that someone was sleeping for 8 hours. The people are sure that if you fall asleep for a long time, you can wake up as a different person. However, there is also an opinion that such a regime was formed due to the fact that the area where the people live is teeming with snakes. Therefore, they sleep in fits and starts for half an hour and no more than two hours a night.
They only distinguish between dark and light colors. Red and yellow confuse people, as well as green and blue.
The number of Pirah is only 800 people
Usually, representatives of primitive tribes would rather take their own lives than lose their honor and respect. But not a feast. They basically don't understand what anger or despair is . "If Haaiohaaa dropped the fish into the water, that's bad. No fish, no dinner. But what does Haaiohaaa have to do with it? " – they just think.
The concepts of "century", "time" and "history" are empty phrases for pirah, and almost none of them remember their grandparents. When asked what was the tribe before they laconic answer: "Everything is the same'.
Mothers don't tell their children bedtime stories. In addition, here, in principle, no one remembers any stories: collective memory is built only on the personal experience of the oldest living member of the tribe.
Also, the piraha do not know what guilt and shame are. A husband can easily leave his wife if she is no longer young and pretty. Moreover, the woman will not be angry with him and will simply say something in the spirit:
"It happened because it happened, that's all. So, we need to look for a new man."
In their language there are no words for the left and right sides, and the people do not understand why this is necessary.
Piraha mothers do not know how many children they have.
But they distinguish them by their faces. The point is that this nation cannot count. Piraha do not even perceive the word "one". However, they have concepts of "several" and "many". That is, they can say that they have several children, but they cannot give the exact number.
Piraha show no interest in the achievements of modern civilization. Moreover, they completely do not understand the way of life of modern people. " How can you sleep and eat so much? "- this is how the people think about white people. However, they began to wear clothes, and also used aluminum utensils, threads, matches and fishing tackle.
This culture lacks religion and the concept of God. Although belief in the otherworld is common in most cultures, piraha is useless.
Every few years, the inhabitants of the people take a new name for themselves, which corresponds to the next period of their life.
Due to the peculiar perception of time, this unusual people do not see the need to store food for future use. What's more, they don't treat food as significant at all. If you could not find something for lunch, then you can skip lunch and eat the next day.
In the Pirah, everyone is equal
There is no social hierarchy. Perhaps that is why researchers note the amazing vitality of these people. In their tribe there is no envy, anger, theft, conspiracies and intrigues.
They don't say thank you, sorry and please. In other words, they don't have any courtesies. Piraha are perplexed why all this is needed, because they all treat each other so warmly without any formalities.
Missionary and linguist Daniel Everett wanted to teach Pirah all the benefits of civilization and lived for many years among these unhurried, constantly laughing and knowing no sins people. During this time, he suddenly became an atheist and changed his worldview. After all, the Pirahaha absolutely did not understand why to believe in someone whom no one saw, and why this someone influences the happiness and life of an individual.
Piraha do not suffer from mental disorders and depression. According to Everett, this nation has a phenomenal degree of life satisfaction, and without banned substances and antidepressants.
Piraha are sometimes called the happiest people on the planet.
According to some experts, while some people remember the past or spend time studying the features of other cultures, this people simply lives their own lives, smiles, laughs and knows no troubles.
Do you think a person from a civilized society cannot understand the inhabitants of the jungle? Or is there something attractive in their principles of life?
How to create a "heaven on earth" for all mankind?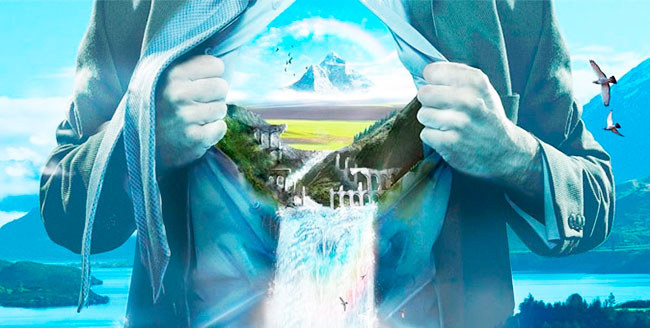 We ask ourselves this question and tried to answer it. Of course, by "paradise" we do not mean "paradise booths" somewhere in the mythical nooks of the past, but a very real place – our home called planet Earth.
Moreover, this is our only home at the moment, since the prospects for the colonization of other planets of the solar system for us are still rather dreams, and very far from being realized.
Two main problems for humanity
Do you know what we like about people? The fact that even being in difficult living conditions, they do not limit their interests only to how to earn a living for themselves – no, they are interested in more global issues: political, social, philosophical or scientific in nature. But what worries them the most?
In our opinion, most people on our planet are preoccupied with two main problems:
1) Security (in every sense of the word, including economic)
2) Happiness (in the broadest sense of the word)
While these problems may seem very different at first glance, they actually boil down to caring for your own well-being.
In this context, it is quite easy to understand why humans do not live in paradise on Earth.
There are many problems that are prevalent all over the world today, such as wars and crime (with all the associated problems), as well as various health problems, both physical and mental.
It seems obvious that no one wants to live in a world where they are constantly under the threat of violent crimes, wars or other disasters, and it is also clear that many people want to find love and happiness not only, and not so much for themselves, but rather for those who are very dear to them.
Hence, the most obvious way to create a paradise on earth would be to increase safety for all people and increase the possibilities for human relationships.
When it comes to security, there are a number of obvious things that can be done. For example, many people are concerned about pollution and environmental degradation, as well as related issues such as global warming and overpopulation.
There is an obvious solution to this in the form of cleaner energy sources (such as solar energy) and more efficient modes of transportation (including space travel). This would help reduce fears about climate change at least partially.
Another issue that is widely discussed is the possibility of a nuclear war between large countries. This could potentially lead to the extinction of all of humanity, if it happened at the moment, given the advances in technology and weapons compared to previous generations.
In addition to these issues, there are a number of other issues that seem to be at least somewhat predominant, such as privacy, economic insecurity and social inequality.
What we can do?
If we digress from philosophical reasoning and look at the real situation that has developed in the world over the past ten years, we can see that the world has ceased to live by the rules.
If earlier, there were official and unofficial rules of "behavior of states in international relations", now these "gentlemen's agreements" are completely ignored.
One possible solution to this could be the creation of a "world government" that would control all aspects of human life (including economy and technology). However, this will almost certainly have some negative consequences.
World government: pros and cons
Pros : One government of all human civilization, by definition, will save us from wars, economic inequality, social inequality and the likelihood of global destruction in the event of a nuclear war. In fact, on planet Earth, there will be one huge country in which the entire population of the planet will live.
Cons : There is a risk that people will come to power who will turn the good goal of "heaven on earth" into the possibility of establishing a dictatorship in which all the disadvantages of the previous type of government will remain, when "everyone was for himself", but already without the opportunity to defend their interests as it was when there was a system of scattered but sovereign states.
How, then, to create a paradise on earth for everyone?
1) Develop future technologies that will help us save the planet and stop global climate change.
2) To develop medicine in the direction of increasing the life expectancy of a person, which will entail an increase in the quality of life, and an increase in "happiness" for each individual citizen.
3) To achieve maximum protection of people from any threats . The safety of citizens in all spheres of life should become a priority for the state.
4) Revive the system of "international rules", which must be observed by all countries, without exception.
5) Limit the proliferation of nuclear weapons in order to increase the overall level of the sense of security of all mankind, and save it even from hypothetically possible mutual destruction in the event of a conflict with the use of nuclear weapons.