The world lost an area of tropical forest the size of Bangladesh in 2017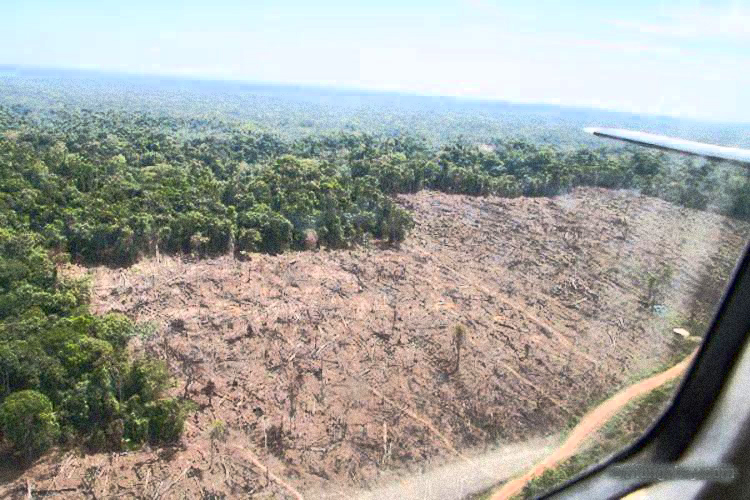 Hans Nicholas Jong, Mongabay
Waking Times
OSLO, Norway — It has been a decade since the United Nations launched REDD+, an ambitious program to incentivize forest restoration and conservation in developing countries, as a part of a global effort to reduce greenhouse gas emissions.
The program has been heralded as an integral part of the solution to climate change as tropical forests and wetlands can deliver 23 percent of the total mitigation needed between now and 2030.
As a result, billions of dollars have been poured into this scheme, and countless projects have been initiated to enable tropical countries to receive money in exchange of them reducing their deforestation rates.
Norway, for instance, has invested about $2.8 billion into the program in the past decade, more than any other wealthy nation.
On the other side of the equation, Brazil in particular has been lauded as a champion in REDD+ as it managed to slow down its deforestation rate nearly 80 percent in 10 years between 2004 and 2014.
This week, representatives from these countries are gathering to celebrate the 10thanniversary of REDD+ at the Oslo Tropical Forest Forum in Norway.
But instead of being celebrated for their achievement, these countries are in the hot seat as the conference came on the heel of new data from the University of Maryland (UMD) showing how tropical tree cover loss in many countries has been ramping up in recent years, including in Brazil.
According to the data, tropical countries lost 158,000 square kilometers (39 million acres) of tree cover in 2017 – an area about the size of Bangladesh. The 2017 number is the second highest since UMD stared collecting data in 2001, and only a bit lower than the record high in 2016.
Frances Seymour, a senior fellow at the U.S.-based think-tank World Resources Institute (WRI), who also serves as the program committee chair for the Forum, said that the conference provides a moment for reflection on what's going wrong with REDD+ in these countries.
"It's a really good opportunity to celebrate all of the many real achievements that have taken place, as well as take stock of where we are, and see the road ahead," she said during the opening of the forum in Oslo on Wednesday. "But it's also important that we pause and reflect for what we haven't achieved."
Seymour then proceeded to cite the new set of data, published on Global Forest Watch, a forest monitoring site run by WRI.
"The 2017 tree cover loss numbers, which were released today by my colleagues at Global Forest Watch are not encouraging. 2017 is only slightly better than 2016, and that was a record bad year," she said. "So you have to pause for a minute and think are we doing something wrong? I think we need to open to that possibility over the next two days."
Commenting on the recent deforestation trend in the tropics, Norway minister of climate and environment Ola Elvestuen said during the opening of the Forum it is "a crisis of existential proportions," and reminded participants that "We either deal with it or we leave future generations and planet in ecological collapse."
Seymour and Elvestuen's opening speeches set the tone for the rest of the forum, where government officials, activists, researchers and indigenous communities will discuss why REDD+ doesn't seem to be working as well as hoped after 10 years despite initial progress made in countries like Brazil.
What went wrong?
Seymour said just because tree cover loss rate is on the rise, it doesn't mean that there's no effort to save intact forests.
"In fact, we implement a number of strategies to address this problem, including offering climate finance, to the Paris Agreement to reward reduced forest emissions," she said. "We're getting companies to stop buying products grown on recently deforested lands. We're cracking down on illegal logging and securing indigenous rights."
But she said these efforts pale in comparison to pressure from the agriculture sector, which is often supported by mainstream policies and financing and which is considered the leading single cause of deforestation worldwide.
According to Seymour, the amount of climate financing committed for forest conservation has averaged about a billion dollar a year over the last decade, while the amount of funding being poured into agriculture and other investments is 100 times greater.
"As long as mainstream policies and finance continue to support deforestation as usual, we're trying to put out a house fire with a teaspoon, even while more gas are being poured on the flames," she said.
Seymour attributed the upward trend in tree cover loss primarily to continued land clearing for agricultural purposes.
"There's really no mystery to the main reason why we're seeing tropical forests disappear," she said. "Vast areas continued to be cleared for soy, beef, palm oil and other globally traded commodities.  Much of this clearing is illegal and linked to corruption."
Seymour also cited lack of protection for environmental activists and indigenous communities as one of the reasons why forest conservation seemed to be failing.
"Forest defenders continued to be murdered when they work to protect forests," she said. "Most indigenous people still don't have secured land rights, even though their territories have the lowest rate of deforestation."
Lastly, she said that other factors such as natural disasters like fires are also playing an increasing role in tree cover loss as climate change makes such events more frequent and severe. Adding to this is political and economic instability that could shift government focus away from conservation, like what's happening in Brazil.
The case of Brazil
In the early 2000s, Brazil's deforestation rates started to decline. However, its tree cover loss began to spike upward in recent years, and in 2017 Brazil experienced its second-highest rate of tree cover loss, losing 45,000 square kilometers of tree cover.
According to Mikaela Weisse, a research analyst at WRI, much of Brazil's tree cover loss can be attributed to a strong fire season in the Amazon, with the region having more fires in 2017 than any year since recording began in 1999.
The UMD data indicate fires caused 31 percent of the South American country's tree cover loss. The university was able to come up with the figure as it recently added a new function that enables researchers to distinguish tree cover loss due to fires.
Weisse said that the fires in the Amazon are mostly caused by humans who clear land using fires as they take advantage of the lack of enforcement on prohibitions of fires and deforestation, political and economic uncertainty, and the current administration's roll-back of environmental protections.
"As climate change and human land use interact to make forests more vulnerable to fire, many are concerned that extensive fires will become the new normal in the Brazilian Amazon," Weisse said during a teleconference last week.
She also pointed out that the blazes are likely to cancel out the climate impact of reduced deforestation in Brazil.
Therefore, analysts believe that tackling forest fires not only in the Amazon, but also in other parts of the world, is crucial.
Carlos Nobre, Brazil's leading climatologist, said during the forum that if no action is taken to address this issue, then Brazil is at risk of going over the tipping point where so many of its forests have been burned and turned into savannas.
And since savannas are much more tolerant to fire, he worries they will remain in that state indefinitely and forests will not return, even if deforestation is reduced to zero.
"If the system tips into this other side of equilibrium, we will have savanna there, with much less biodiversity and carbon," Nobre said during the opening of the forum.
To avoid that from happening, Nobre recommends Brazil's deforested area not exceed 25 percent of the country's total land mass. Currently, Brazil has lost 18 percent of its total area.
"We are very close to the limit because global warming is still operating and deforestation is still going on and forest fires are becoming more serious," Nobre said. "So basically, urgent action is needed to stop Amazon deforestation completely."
New deforestation hotspots and a few bright spots
Besides Brazil, which has historically suffered from high rate of tree cover loss, the data set also shows Colombia and Democratic Republic of Congo (DRC) as emerging hotspots of tree cover loss.
Colombia faced one of the most dramatic increases in tree cover loss of any country, with nearly 4,250 square kilometers (around 1.1 million acres) of tree cover loss in 2017. That number represents a 46 percent jump above to 2016, and more than double the average rate of loss between 2001 and 2015.
Almost half of the increase happened in just three regions on the border of the Amazon biome (Meta, Guaviare and Caquetá), with new hotspots of loss advancing into previously untouched areas.
This sudden spike in tree cover loss coincided with the peace process that happened in the country last year, when the government signed a peace deal with the Revolutionary Armed Forces of Colombia (FARC), the country's largest rebel group.
FARC used to keep tight control over land use and allowed little commercial use of resources. But with the peace deal, FARC was pushed out of large amounts of remote forest they previously controlled.
"The increase seems to be related to the peace process," Weisse said. "The demobilization of the FARC left behind a power vacuum, which has led to illegal clearing for pasture and cocoa, mining and logging by other armed groups, as well as rampant land speculation."
The Democratic Republic of Congo (DRC) also had record high tree cover loss in 2017, with the UMD data indicating 14,680 square kilometers (more than 3.6 million acres) lost, surpassing Indonesia for the first time.
"DRC has had an increasing trend over the past 17 years, which is a cause for concern," Weisse said.
According to Weisse, the main drivers of tree cover loss in DRC include shifting agriculture, artisanal logging that is often illegal, and charcoal production.
"Given the trend in 2017, it's critical that DRC improves land use planning and critical law enforcement moving forward," Weisse said.
A bright spot in the new set of data is Indonesia, which managed to reduce its tree cover loss by a considerable amount, including a 60 percent decline in primary forest loss, bucking the trend in other tropical countries. The University of Maryland registered 13,000 square kilometers of tree cover loss in 2017 compared to more than 24,000 square kilometers of loss in 2016. (It should be noted that the UMD dataset lumps in tree plantations with natural forest cover, so some of this loss may be attributed to plantation clearing.)
While some provinces in Sumatra still saw increased primary forest loss—including 7,500 hectares (18,500 acres) in Kerinci Sebat National Park— provinces in Kalimantan and Papua experienced a reduction.
Weisse said the fact that there was no El Nino in Indonesia last year helped the Southeast Asian country significantly in reducing its tree cover loss rate.
"The decrease can also be related to a national peat drainage moratorium, which has been in effect since 2016," she said. "This year's data shows an 88 percent decrease in tree cover loss on protected peatland, which suggests that the policy may be working."
The Indonesian Ministry of Environment and Forestry said the declining rate of tree cover loss in Indonesia is a proof that the government's set of policies is working.
The ministry's acting director-general for climate change, Ida Bagus Putera Parthama, said that the UMD data is in-line with the deforestation data published by the government, which reported a second straight annual decline in the country's deforestation rate.
The ministry recorded 4,790 square kilometers (1,850 square miles) of deforestation in 2017. That's down 24 percent from the 2016 figure, which in turn represented a 42 percent reduction from 2015.
"It's not surprising because we have data indicating the same figure," Ida said. "It means our efforts are successful. We will maintain the effort and this positive trend, including moratorium of the peat licensing and virgin forest licensing, improvement in peat management and more effective law enforcement and REDD+ implementation."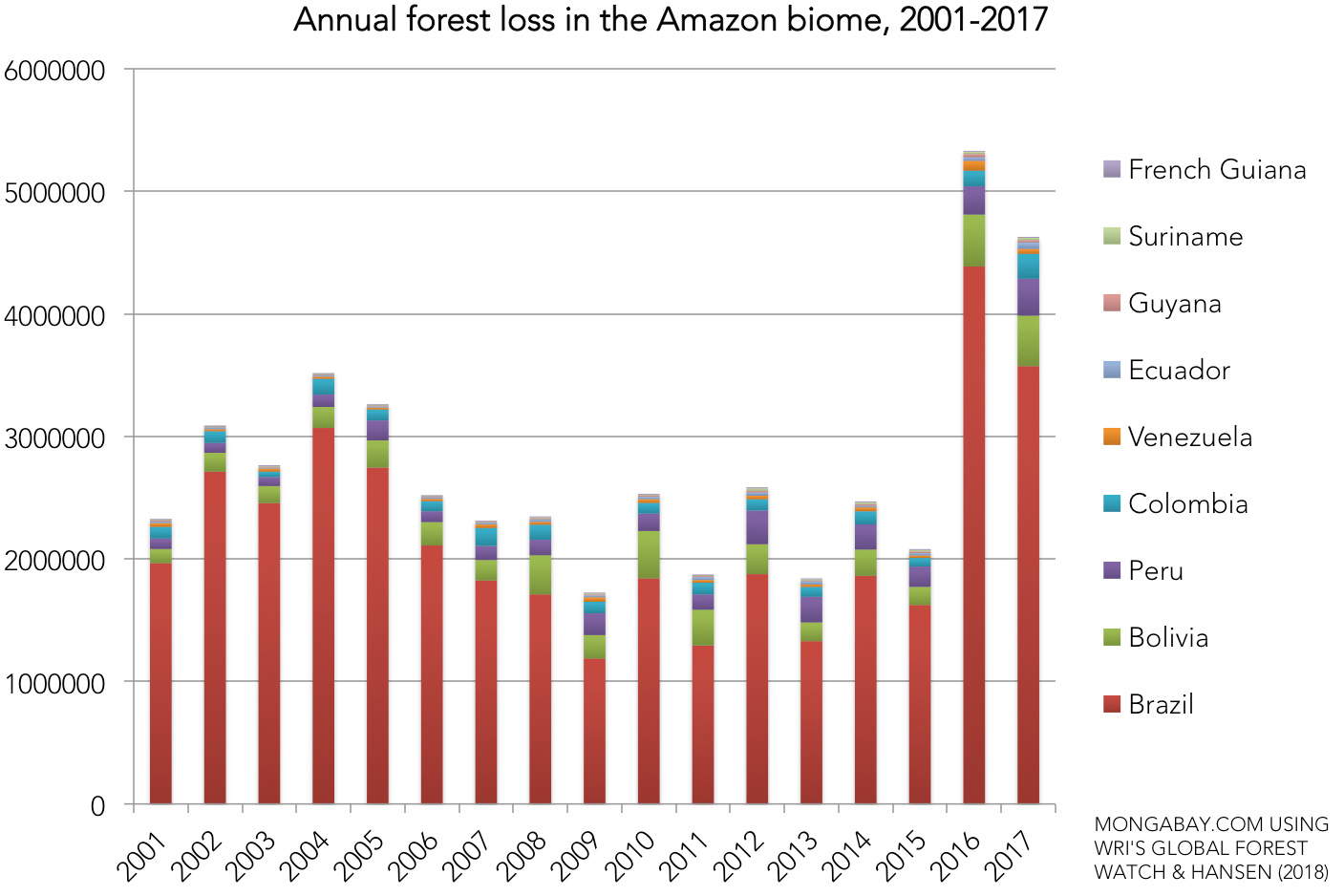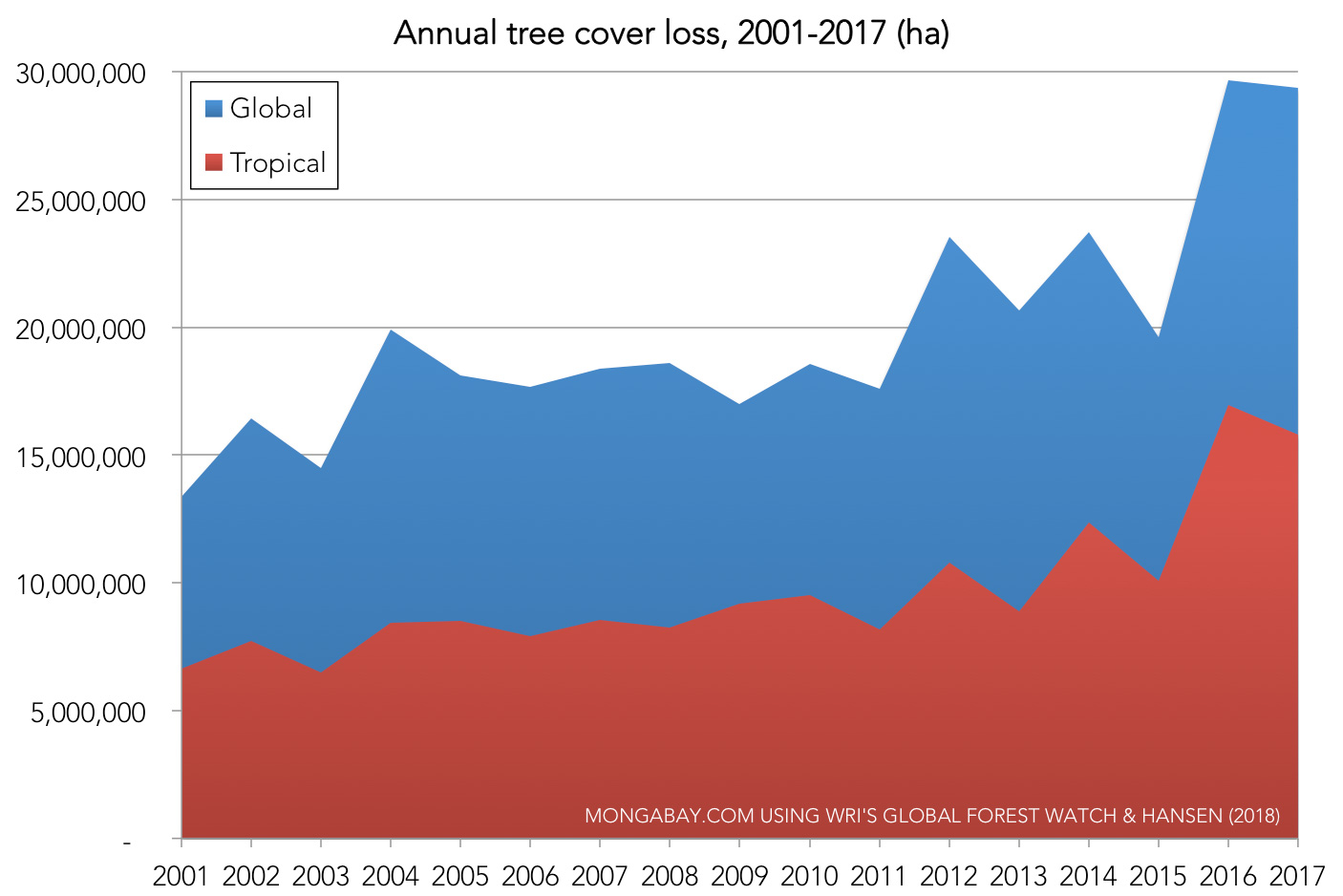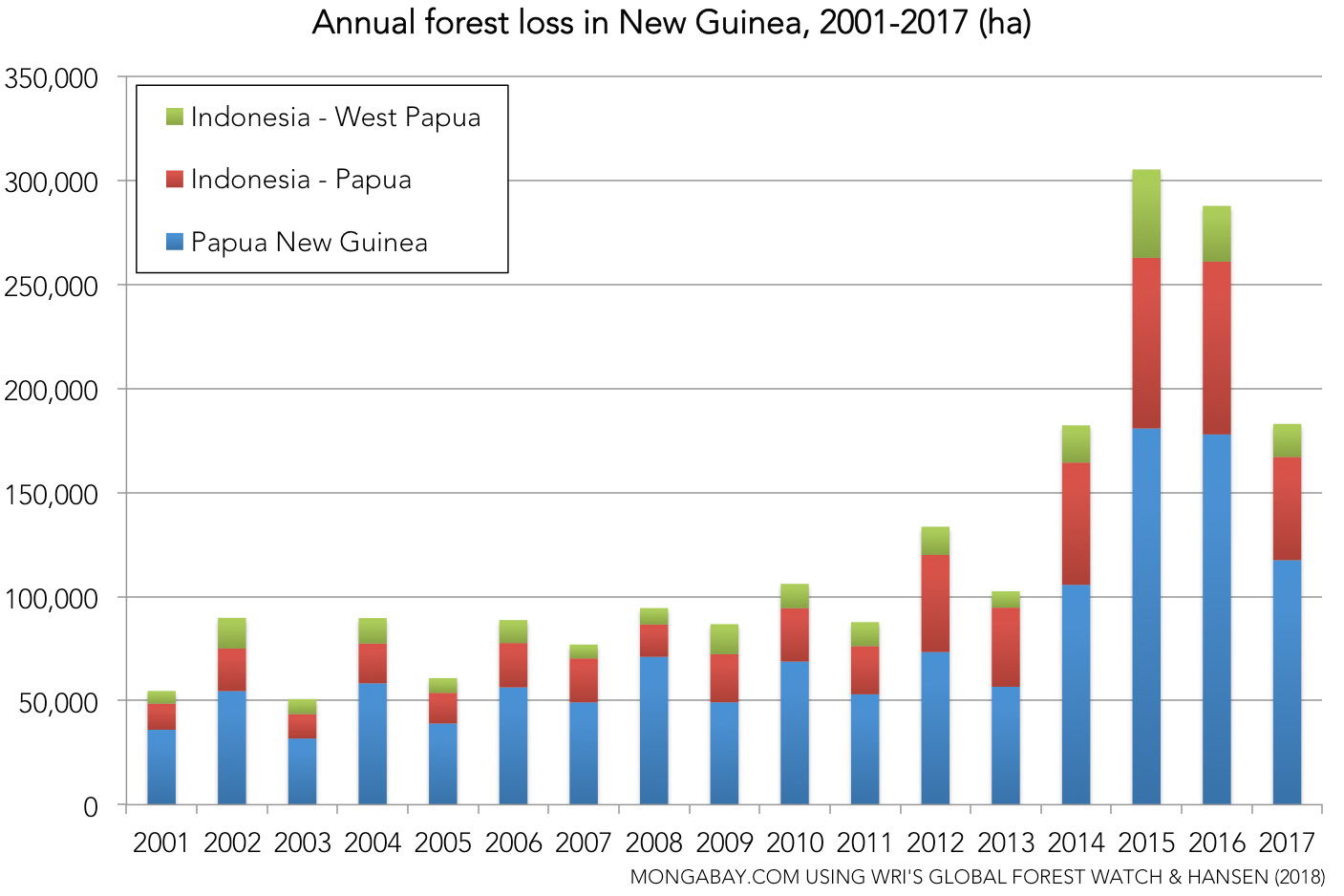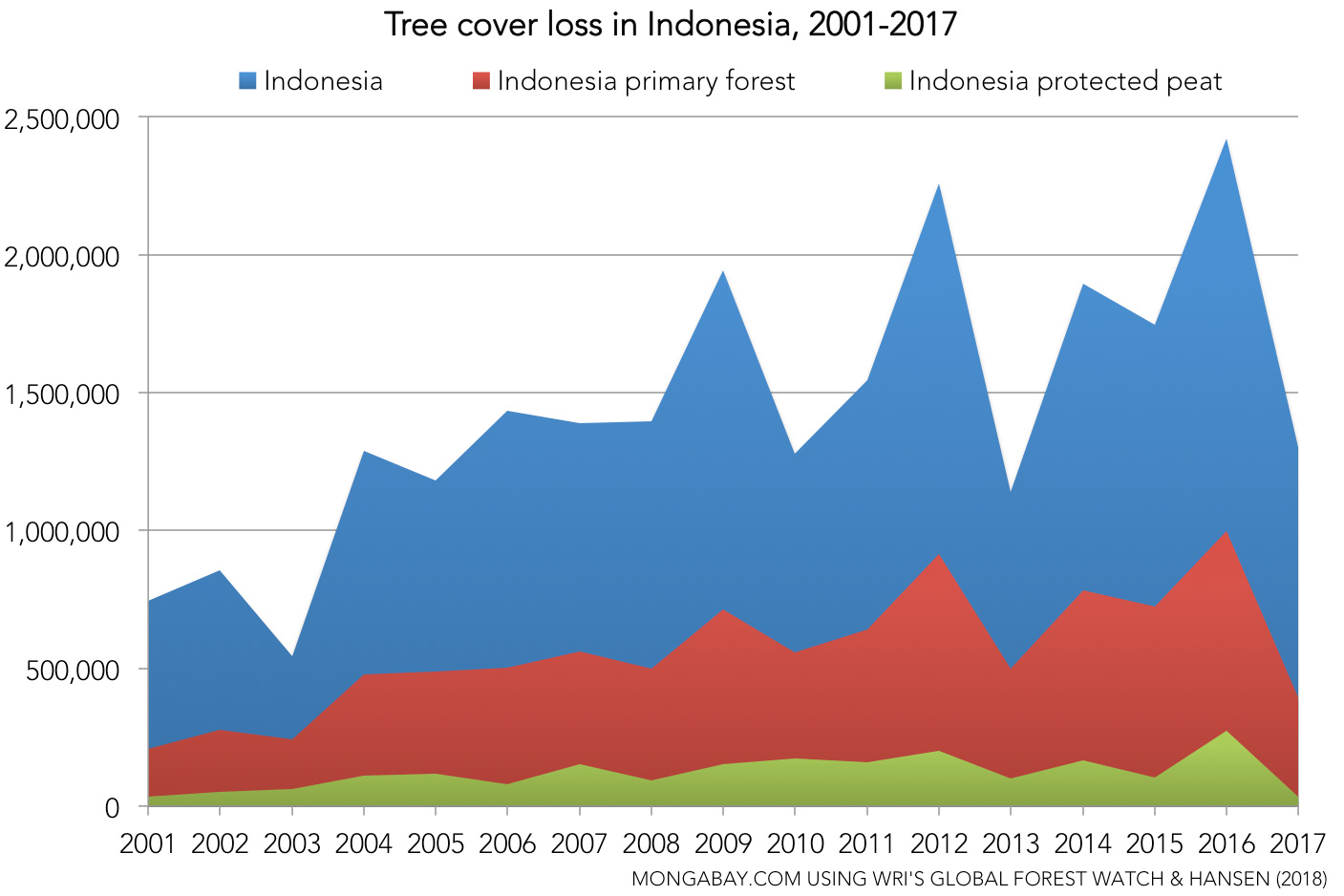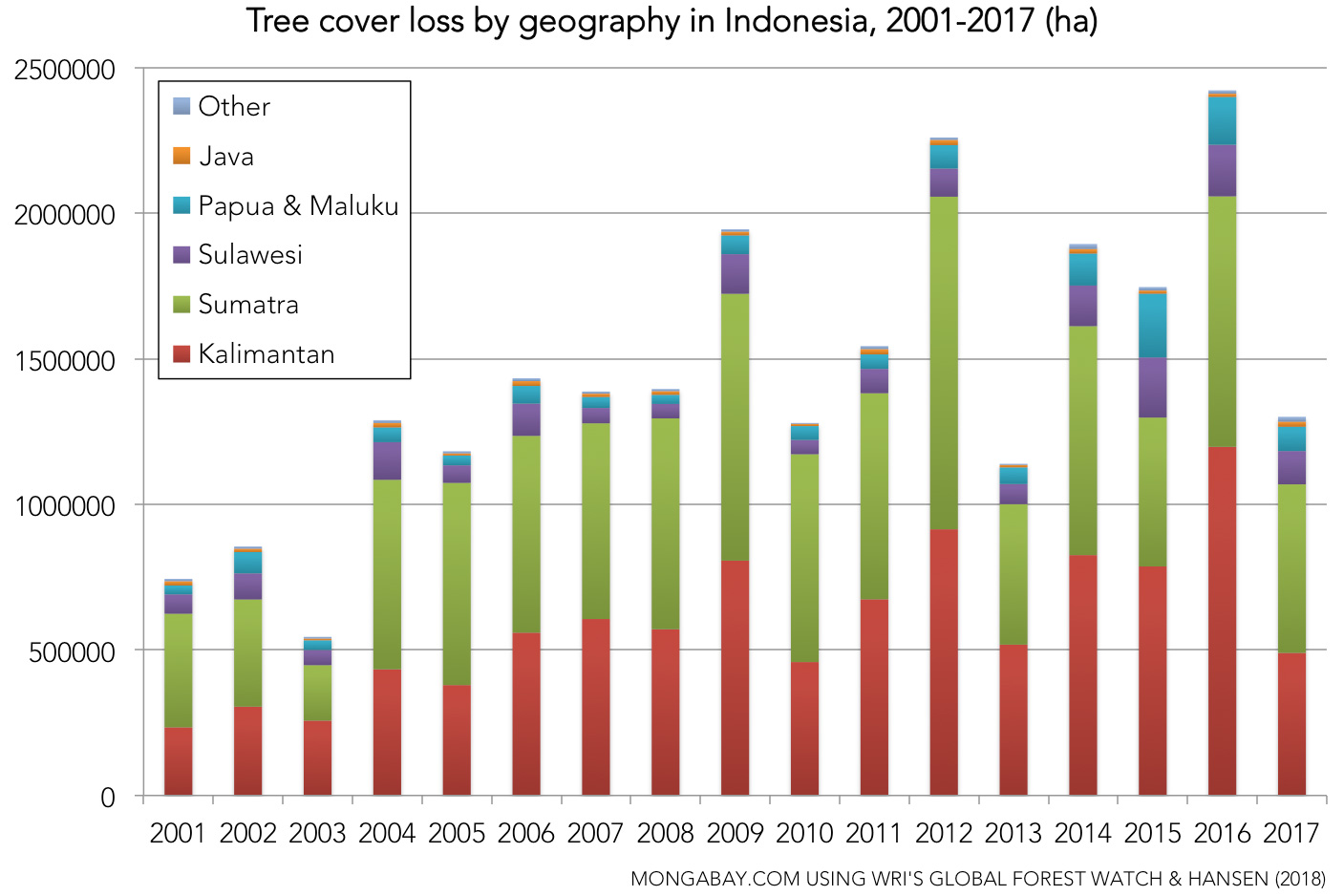 **This article was originally posted at Mongabay.com and is re-posted here with permission.**
Image Credits – Mongabay.com
Polar vortex: "wild" winter is coming in the US, Northern Europe and East Asia after the 16th of January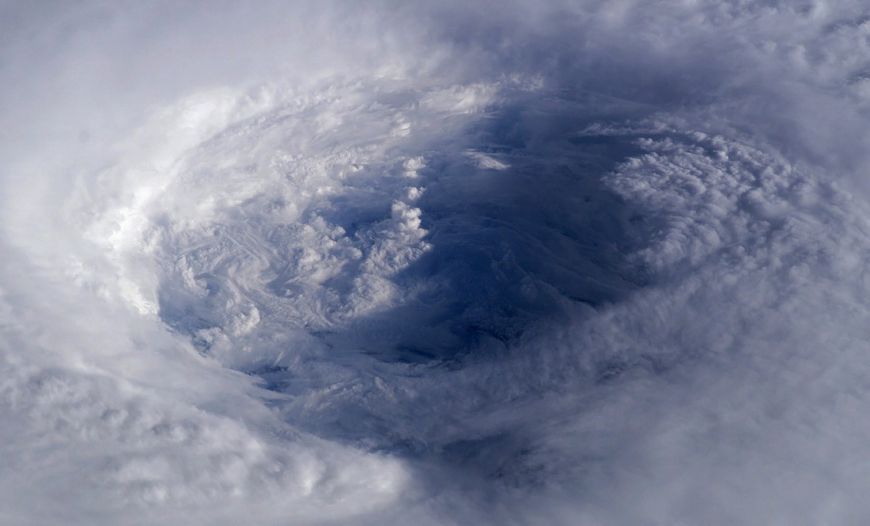 In the upper atmosphere above the North Pole, experts saw a rapidly swirling vortex of cold air that could bring severe frosts to the United States, Northern Europe and East Asia. Serious cold snap and snowy weather are expected after January the 16th.
Snowfalls and a cold snap hit South Korea since the start of 2021, hitting historic snow maximums and temperatures. In the country, for the first time since 1964, television and newer communications are sending people cold snap warnings:
The situation is similar in Japan, where a new snow storm hit historic highs:
On January 7, the thermometer In Beijing dropped to -20 degrees Celsius, breaking the 1966 record. In other regions of China, the temperature is also not sugar, and you can only move around in special uniforms:
The cold even reached Taiwan, where the temperature in some areas dropped below freezing point, snow poured down and people realized that rice terraces can be used as a ski jump:
Even more snow went to Spain, where on January 6, 2021, a temperature of -34.1 ° C was recorded – the lowest on record. After that, a snow storm hit the country, which has not been seen for 80 years:
The same thing happens in Canada and in the northern states of the United States:
It seems that after a stratospheric warming, the subpolar vortex began to split:
The vortex itself is a standard phenomenon. However, this time experts were surprised at his movement. It is possible that in the near future it will be divided into two parts. 
Scientists associate the strange behavior with the changed climate in the Arctic, which has become warmer. From September to December, the amount of ice cover decreased significantly.
The polar vortex is a low-pressure region located in the stratosphere and filled with cold air. When the jet stream of air that holds the vortex weakens, the low pressure area moves south. 
As the ice shrinks, more moisture will move inland. It will turn to snow, so snowfalls are expected. Snow, in turn, reflects heat, leading to a cold snap.
Hospital in Naples was evacuated after a new, huge sinkhole appeared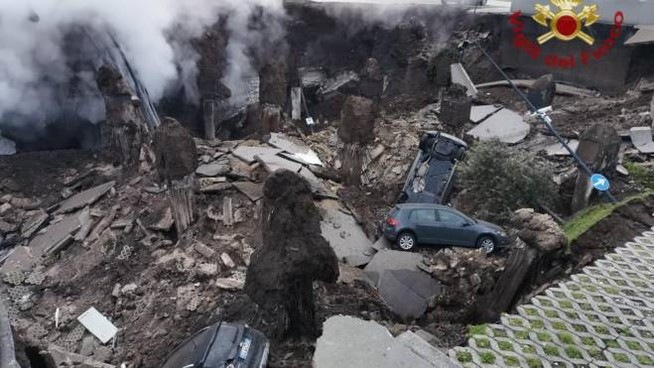 Eyewitnesses said they heard a loud crash at dawn when a huge hole in the ground formed outside the Ponticelli Ospedale del Mare hospital in eastern Naples.
Early in the morning of January 8, 2021, a sinkhole occurred in the parking lot of a clinic in Naples. The depth of the formed cavity is about 20 meters, the total area of ​​the hole is about 2,000 square meters.
No casualties were found at the scene; firefighters say the sinkhole "affected an area of ​​about 500 square meters" and engulfed several cars parked near the hospital.
As the press writes and as a little can be seen from the videos, rescuers and firefighters were running around the pit together with the governor of the area.  But who should be there in the forefront are Italian geologists, since Naples stands in the very center of the volcanic system known as the Phlegrean Fields.
If the surface collapsed, moreover – the surface reinforced with concrete and reinforced from below with some kind of communications, then we are talking about serious soil deformations caused by the activity of magma.
Italy has been in doubt since the summer of 2020, because swarms were observed there in very atypical places in May, and according to the forecasts of old Italian seismologists, who had witnessed many strong earthquakes, it should have boomed in the August region.
Fortunately, nothing bad happened to Italy and there was no big earthquake. But, since there are swarms, it means that something is being prepared, the magma is gathering strength. 
Following this particular sinkhole event – an obvious sign that a major earthquake in Italy is already very close.
A new great pandemic cycle has begun (again) in China
In the first months of 2020, the whole world with a certain fright followed the events unfolding in China, where people fell on the streets during the day and astronauts wandered, and in the evening crematoria began to smoke. And now, with the onset of December, the cycle seems to be repeating itself.
Shunyi area in Beijing, where the authorities announced "wartime status" the day before. As you can see in the videos, thousands of people are lined up in the queue for mandatory testing:
Dalian city, where "wartime" is also declared. Neighborhoods are blockaded, people are walled up in entrances, familiar characters of George Lucas roam the streets:
Chinese 'rescuers', before performing a combat mission:
Chengdu City:
Daluo Port, Yunnan – tourists came for adventure and they received the 'time of their life' after leaving the ramp:
If something happens in Beijing, it does not mean that tomorrow the same will happen everywhere. However, the trend towards such dynamics is observed and, as the practice of the first wave of the pandemic has shown, all countries and people, to one degree or another, have taken into account the 'Chinese experience'.
Therefore, one must think that everything will now be in peace, as in spring – a new global round of the fight against the Covid has begun in China, a new great pandemic cycle!