The woman who shoots ghosts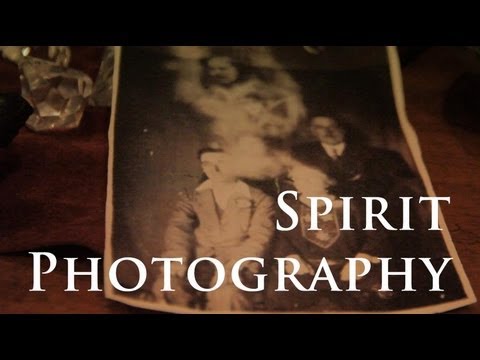 Don Jolly profiles Shannon Taggart, photographer of séances, spirits, and ectoplasm. What is beyond the veil—and what ISO does it look best at?
Picture a photograph of a man with two faces — one grimacing in pain, one open-mouthed in ecstasy. They float in a field of darkness, lit red, connected only by a pale-pink thread of motion-blur. Is this an image of a man jerking his neck wildly, taken with a long exposure? Or is it the image of a physical medium, a person sensitive the invisible world of spirits, channeling an intelligence from beyond the grave?
The answer is yes — to both interpretations. And the photographer behind the enigma is an attractive, auburn haired New Yorker named Shannon Taggart. She's worked for glossy publications like Time, Discover and Newsweek — but for the last ten years, her passion has been photographing American and European Spiritualists, the strange remnants of the 19th century religious movement which brought the world dim-lit seance rooms, ghostly rappings and — most relevant to the present project — spirit photography.
Taggart's particular approach to spirit photography uses what are usually deemed photographic "accidents" to produce striking, supernatural images. Taggart is not a "believer," in the traditional sense, nor does she seem to debunk her subject. Rather, she presents a world where belief and unbelief are radically mediated by technology — and raises the possibility that in the age of omnipresent electronic image what is "true" may be a much harder debate than the skeptics suppose.
One of her recent subjects is an ectoplasmic medium named Gordon Garforth.

Physical medium Gordon Garforth in trance.
Garforth is a spiritualist. His religion, a product of the American nineteenth-century, holds that death is not the end of consciousness. For him, there is an eternal world of "spirit," and certain gifted individuals, mediums, are capable of conveying messages and energy from the other side. For some can even manifest various physical substances and effects, broadly identified as "ectoplasm." When he enters a trance, Garforth told Taggart, "You'll see masks spilled over my face. You'll see my hands change." It was just how the spirits worked for him.
Taggart was skeptical. "I'm thinking, 'Okay. Well that could mean many things," she said. "I didn't go into his séance expecting anything. I got to sit in the front row, about six feet away from him."
She kept a camera on her lap.
"He was seated in front of a low red light," she said. The room was dark, otherwise. After twenty minutes, the medium's wife announced that spirits were going to begin working with his hands. Taggart remembered the next moment very clearly: "He just brought out his hand. What I saw, with my eyes, was this regular hand just very gently and instantly — skip gigantic."
"I screamed out loud," she continued. "Which is very impolite in a séance situation."
Taggart's photographs have appeared in outlets such as Readers Digest, Discover Magazine and the New York Times. She's captured dance auditions and artists' portraits. Her approach is often unusual, and frequently relies on long exposure times, producing hallucinatory doublings, strange auras and smears of motion as her subjects move. When she photographed Garforth, the long exposure was mostly done to compensate for a lack of light. The resulting images are jittery and blurred — Garforth moved around. They also show the medium holding up a single, grotesquely inflated hand.

Physical medium Gordon Garforth with enlarged hand.
"I had that experience of seeing that hand get large," she explained. "I don't know how it happened. Whether it's a hand actually getting large in front of my face and I was creating a photograph that documented it, or whether it's that I was tricked somehow or I had a hypnotic experience and then my camera, through its dysfunction, mimicked that experience… I mean, all of those are interesting perspectives. I love that they're all there." She's been catching similarly ambiguous situations for over a decade.
Taggart grew up in Buffalo, New York. From an early age she was attracted to the nearby town of Lily Dale — a spiritualist community which has, since 1879, played host to many of the movement's most prominent thinkers and mediums. "I was raised Catholic," she continued. "A lot of Catholics actually go to Lily Dale for readings, because Catholic belief doesn't dismiss what is happening in spiritualism, necessarily."
Taggart's cousin once attended a "message service" in Lily Dale, a public assembly where mediums provide scattered communications to a curious crowd. "You don't know even which medium is going to be there that day," Taggart said. "Whoever it is stands in front and they pick people out with their finger. Then they give a short message from someone who's died." Taggart's cousin was picked out. The medium told her a secret, something nobody outside the family could have possibly known. At this point in the story she wrinkled her nose. "I don't know if I want to put all the details about this in the article – if you don't mind," she said. "You could say it's a secret."
"Of course," I agreed.
Driven by this strange incident, Taggart had a formal meeting with Lily Dale's Board of Directors in 2001, asking to make the town the subject of a long photographic project. "I don't know why, but they just welcomed me with open arms," she said. Her work in Lily Dale is still ongoing, and many of her images of the place are available on her website shannontaggart.com. From there she branched out into similar projects covering Vodou rituals in Brooklyn and working with mediums like Garforth. She's even taken a paranormal investigation course at Arthur Findlay College in England, "the world's foremost college for the advancement of spiritualism and psychic services" — at least according to its website. Still, Taggart doesn't consider herself a "believer" — or an "unbeliever," for that matter. When it comes to spirits and blurry photographs, the discourse often revolved around proof. Both spiritualists and skeptics want for documentary photographers.

Physical medium Gordon Garforth attempts to enlarge his hand.
Taggart, however, refuses such classification. "Purely as an artist, going through all the development courses with the spiritualists opened me up immensely," she said. "I could not wrap my brain around how you could be a sane person and talk to dead people." At the same time, however, she didn't enter this new world with an intent to debunk. "I didn't not believe," she said. Whether her images are of ghosts or frauds or camera errors doesn't matter much to Taggart — what counts isn't the exterior world they capture, but the interior world they provoke.
"When I first got interested in photography, it was through the work of Diane Arbus," Taggart said, referencing the famous photographer of twins, giants and dwarfs. "The first time I saw a Diane Arbus image, I was 16 years old and seeing her work, I was like, 'Oh, I get – you can put your thoughts into a picture.' I felt like I was seeing into her mind in some way, through her images."

Physical medium Kai Muegge with ectoplasm.
It's this occult perspective she tries to capture in her images of spirit visitation. "It's impossible to photograph this stuff conventionally because the interior element is so huge," she said. "It's unphotographable." Nonetheless, lengthening exposures and allowing other products of "accident and error," into the work allowed Taggart to photograph it. "I'm not really looking for proof," she said. "I'm looking to go deep into the experience." Think of Garforth and the big hand — whatever explanation you prefer, Taggart's images capture her experience precisely. I found them deeply unnerving.
This artistic approach makes Taggart an enigma to skeptics and spiritualists alike. According to her, trusting photography to either prove or disprove the existence of spirits — or anything else, for that matter —is wrongheaded. "Photography is much too complicated of a medium," she said. "It's a trickster medium. It can be two things at once. That's what I love about it." For her, deliberate distortions "give your mind, or the photographic mechanism, something to play with." They invite interpretation.
At the beginning of her work in Lily Dale, Taggart photographed a woman named Dorothy. "A lovely lady, working in the museum," she recalled. "She was so helpful to me and showed me all around the museum. She was the first person who told me about spirit photography," the tradition of spirit photographs dating to the earliest days of the medium. "So," Taggart continued. "I took some pictures of her. One inside the museum and one when she was outside."

Dorothy with Bob's orb, Lily Dale Museum.
"There was a huge purple orb right on her right shoulder, in both pictures," she said. "Just for kicks I brought the picture back to Dorothy. She held it in her hand and said, 'Oh, that's Bob.'"
"Bob?" I asked.
"Bob was her deceased husband," Taggart explained. "A week later, I was walking around the town and she drove by me and I heard her telling people, 'that's the girl who photographed Bob in the museum.'" Taggart smiled. "I love seeing that as the point where my camera started showing me things – handing me a language to refer to the immaterial." For Taggart, the images were flawed and forgettable. For Dorothy, however, they had become thick with meaning. A purple splotch had soaked up all her memory and faith and knowledge of the world to come. Who am I, Taggart thought, to get in the way of that?
Shortly afterward, she recalled photographing another medium who, like Garforth, operates under a dim red light, necessitating a long exposure. In the séance, "everyone was saying, 'Oh, I see a woman who looks just like you right next to you, I think it's your grandmother.' And then other people were saying, 'She looks like you, but it's not you,'" and so on. Taggart didn't see anything.

Woman channeling her grandmother.
Later, developing images from the session, a perfect duplicate of the medium's face appeared, connected by a thin, night-highway line of red to the original. Taggart recalls her excitement at the find. "Isn't that funny? Isn't that weird? Isn't that coincidental?" she asked. It was a distortion produced by motion and the long exposure, sure — but it was something else, too. Since then, Shannon has maintained her photographs' two faces in parallel. Artistically speaking, it's paid dividends. Some of her most arresting images will see print this month in the first Morbid Anatomy Anthology . Her lectures on the topic are in high demand.
"It must be hard to find other interesting subjects," I observed. "After all that. What could be as ambiguous as life, death and haunting?"
Taggart thought for a moment. "Well," she said, "I've been working on a book about Michael Jackson."
The ghost of a deceased guy walked on the water: an eyewitness filmed him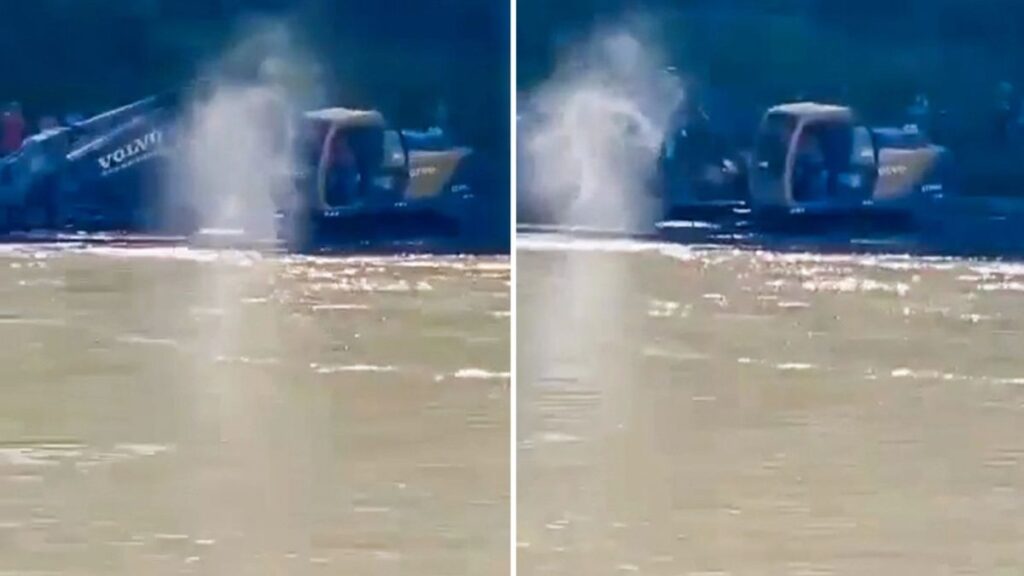 The incident took place in the province of Davao del Norte (Philippines), where a resident, seeing a drowning dog, rushed to save him. The dog was pulled out to a safe place, but the man himself was pulled into the depths. Everything that happened was recorded on camera by a woman named Chanel.
When Dondon (that was the guy's name) went to the bottom, one eyewitness immediately called for rescuers. While the brigade was doing their job, it became clear that the man was already dead. They searched for his body for several hours. What is surprising in the story is that suddenly a silhouette of a man came to the camera, he appeared right above the water. Chanel, who records the video, believed it was the spirit of Dondon.
During the video recording, the eyewitness did not expect to see anything like this, because she does not really believe in ghosts. The entity had obvious human features, so it definitely had a spirit. For several hours they searched for the body of the drowned man and pulled it out with an excavator.
It's pretty creepy to look at the tape. According to an eyewitness, goosebumps ran over her, especially after seeing the spirit. It should be noted that not all users believe in the authenticity of the video. Some people think that the footage may well have special effects. Chanel refutes any such claims: the video is original. She understands the doubts of people, because the shots are really 'out of this world'.
Special skills and abilities are required to distinguish the edited video from the original. Of course, hardly anyone will devote time to study the presented video. We can only hope that the woman did not actually use editing software.
The footage confirms the existence of the human soul and gives hope that life after death does not end.
Reality show to be filmed in medieval "haunted castle" in Wales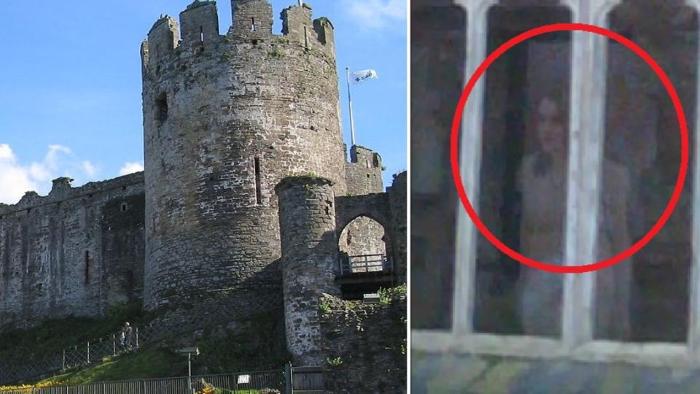 British celebrities will take part in a reality show at the medieval castle of Grich in the city-county of Conwy (Wales), which, according to legend, is full of ghosts. It is reported by The Sun.
According to data from open sources, the castle was built in 1283-1289 by order of Edward I of England. For four years one and a half thousand people erected the fortress and walls. The castle is surrounded by a stone wall with round towers and loopholes.
According to local residents, the ghost of the previous owner, Countess Dandonald, who died in 1924, wanders around the castle. According to legend, the woman's spirit is angry because her husband took the valuables out of here. 
About ten years ago, a mysterious silhouette appeared in the photo, which was noticed on the first floor of the castle in the former banquet hall. In addition, it is rumored that objects are moving mysteriously in the castle. Also, fans of everything mystical believe that there you can meet the ghosts of gamekeepers and a maid who died after falling from a horse.
The creators of the reality survival show I'm a Celebrity … Get Me Out of Here! Became interested in the legends of the ancient castle, in which celebrities perform creepy tasks. 
The producers are delighted with Greich Castle. It is planned to spend almost 1 million pounds and six weeks to prepare the location for filming.
Loftus Hall is the most famous haunted house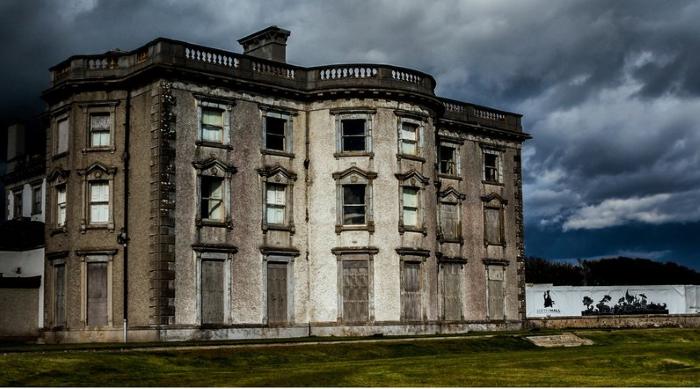 Almost any house built 150 years ago is tempting to think of ghosts. Of course, if it was not restored beyond recognition. But a special pleasure is to visit, or at least look at photographs of a house in which ghosts are definitely found. Well, exactly: in the opinion of its owners and those who live nearby.
Loftus Hall is one of those. Even if, in the opinion of the locals, ghosts were not found in it, they would be worth inventing again – this is how the atmosphere of this gloomy house located on the windswept and washed by waves of the Hook Peninsula in the Irish County of Wexford has to do this.
But, before we tell you what is so paranormal in this Loftus Hall, we suggest that you familiarize yourself with real historical events related to the house. Moreover, they are worthy of attention without any devilry.
We can say that the history of the house began in 1135, when the Norman knight, Raymond Le Gros, landed on the peninsula. To assimilate faster, the knight renamed himself the more familiar to the Irish ear by the name Redmond.
The castle, built by the knight, stood for two centuries, until in 1350 the descendants of Redmond built a new house in its place. It is interesting that they were building right during the Black Death – a plague pandemic that arrived in Ireland by ship from Bristol a year earlier. The new house, Redmond Hall, was named.
Three centuries later, in 1650, the house became the site of one of the fiercest sieges of the Irish Uprising. The owner of the house, 68-year-old Alexander Redmond, with his two sons, a couple of local activists and a tailor who happened to be in the house at an unfortunate time, barricaded himself and bravely repulsed the attack of almost 90 British for several days.
In all fairness, most of these Englishmen have crawled into neighboring villages, indulging in robbery and violence, instead of laying siege to an impregnable home.
The attack was repulsed with the help of the Irish forces arrived in time, which attacked the British under the cover of a thick fog, which in time fell on the Hoek Peninsula.
According to local chronicles, Alexander repelled several more attacks. When the British nevertheless conquered Ireland in general, and Redmond Hall in particular, Cromwell even let Alexander die in peace in his own house – for his courage.
Well, after the death of Redmond, his relatives were evicted from the house and soon the house was sold to a family of Englishmen named Loftus, who live nearby.
Subsequently, the Redmond repeatedly tried to sue Loftus Hall back, but to no avail. But as compensation, they were given land in the neighborhood.
The Loftuses moved rapidly up the court stairs. If in the 18th century the head of the family was called Baron Loftus of Loftus Hall, then already in 1800 the title of Marquis of Eli was created especially for the Loftus.
Actually, the 4th Marquess of Ely gave the modern look to Loftus Hall. A major renovation was undertaken by the Marquis in the second half of the 19th century: he very much hoped that Queen Victoria would come to visit. After all, the Marquis's mother was her maid of honor!
The Queen never came. But the 4th Marquis of Ely became the owner of a luxurious house with such unprecedented conveniences as flush toilets at that time. And, alas, the owner of huge debts. Soon the house had to be sold and its wanderings began among different owners.
In 1917, the house was sold to the monastery order of the Sisters of Providence. In 1983, the house was converted into a hotel. Well, in the early 2000s, it was acquired by the Quickly family. In 2020, it became known that the house was again put up for sale. Moreover, Quickly emphasize that they will not choose a new owner, but "the house will choose him." And that's why…
The story of how the devil sailed to Loftus Hall and what happened after his visit dates back to the 19th century. It sounds like this.
On a cold rainy night, a dark-robed rider rode up to Loftus Hall on a dark horse. He said that his ship was caught in a storm and had to dock in a nearby bay. The Loftuses were away, the family of their distant relatives, the Tottenham, lived in the house. They sheltered the rider and offered him shelter and bread.
Tottenham's daughter, young Anna, immediately fell in love with a mysterious stranger. A couple of days later, in the evening, everyone sat down to play cards. During the game, Anna dropped the map and, bending down to pick it up, saw that the stranger had cloven hooves instead of legs.
The stranger realized that he had been discovered. He immediately soared up, surrounded by devilish flames – and, as expected, made a huge hole in the roof.
It would seem that the devil is expelled, you can live on. But Anna, after the disappearance of the stranger, became not herself. She went crazy by leaps and bounds. The family, frightened by this development of affairs, locked the girl in her favorite sewing room.
There Anna sat, almost motionless, clasping her knees with her hands and soon died.
According to another version of the legend, before her death, she managed to give birth to a child – that is, the devil did not lose time during two days in the house.
Anna was not buried in an ordinary coffin: they could not straighten her and buried her in a sitting position, in which she spent the last months of her life.
Since then, according to numerous testimonies of guests and owners of the house, ghosts of a girl have been walking around the house. And the house itself has become a place of attraction for lovers of everything paranormal and creepy – excursions, especially popular on Halloween, are regularly conducted in Loftus Hall.
If you consider yourself a mystic, but do not have the opportunity to visit Loftus Hall yet, we recommend watching the gothic horror film The Lodgers 2017. It is filmed entirely in the luxe and eerie interiors of Loftus Hall, and has received excellent critical reviews. Here's the trailer: