The Unsolved Mystery Of The West Mesa, New Mexico Bone Collector
Between 2002 and 2005, a serial killer who became known as the West Mesa Bone Collector murdered and buried 11 women in the outskirts of Albuquerque, New Mexico. To this day, law enforcement officials have been unable to discover the true identity of the murderer, despite the fact that they have a list of potential suspects, two of whom are already dead. The stuff of a mystery television show, the Bone Collector's saga will leave you with goosebumps.
All of the West Mesa Bone Collector's victims fall between the ages of 15 and 32, fit a specific profile, were suspected to be involved in the Albuquerque drug scene, and worked as prostitutes. Like many other infamous unsolved murders, the true identity of the West Mesa Bone Collector remains a mystery due to a lack of new evidence, and it's likely that these crimes will remain unsolved until someone comes forward. Until then, this is everything we know about the West Mesa Bone Collector.
Eleven Bodies Were Found Scattered Over The 92-Acre Site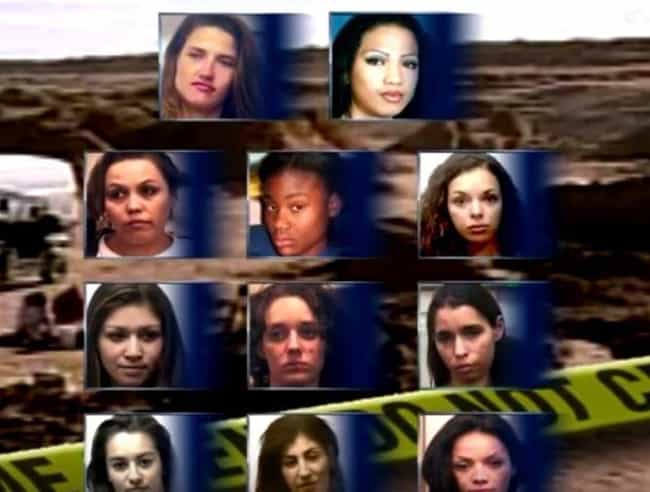 When a collection of bodies was discovered in the desert outside of Albuquerque, NM, it wasn't just the number of bodies that were found that stunned investigators, but the way in which they were buried. The bodies of 11 women and one unborn child were found not in a single mass grave, but rather they were found scattered across a desolate, empty plot of land.
Because of this, it took law enforcement officials quite some time to recover all of the bodies. Then, they started the arduous process of identifying each of them, quickly coming to realized that many of them had been missing for years. By the end of their investigation, the bodies of 11 women had been identified: Jamie Barela, Monica Candelaria, Victoria Chavez, Virginia Cloven, Syllania Edwards, Cinnamon Elks, Doreen Marquez, Julie Nieto, Veronica Romero, Evelyn Salazar, and Michelle Valdez.
One Suspect, Lorenzo Montoya, Died In 2006, At Which Point The Murders Mysteriously Stopped
Lorenzo Montoya had a rather suspicious criminal background. He not only lived near the burial site, but he was arrested in 1999 for attempting to strangle a prostitute that he'd picked up and taken to a secluded area. In 2006, Montoya died after the boyfriend of Sherick Hill, another prostitute, murdered him. Montoya had hired Hill, and then tied her up and strangled her. But when she didn't emerge from Montoya's home at the time she said she would, her boyfriend, whom she'd brought with her, approached the house and killed Montoya in self-defense. Suspiciously, the West Mesa murders stopped after Montoya was killed, leading the authorities to conclude that he may have been the killer.
Police Believe That The Killer Might Also Be Responsible For The Disappearance Of Six Other Women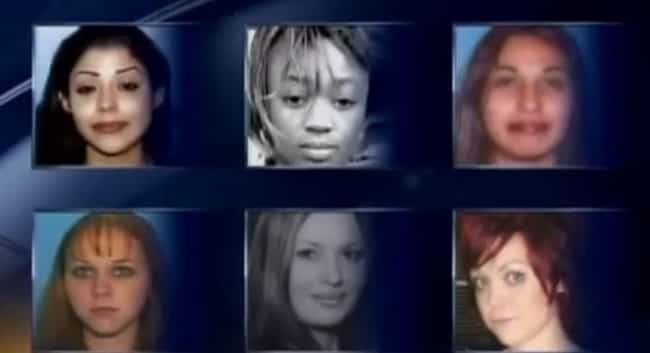 When law enforcement officials began searching for other bodies strewn across the plot of land in West Mesa, they had compiled a list of 20 potential victims. All of those women had been missing for some time, and they all shared characteristics with the known victims. Of that list, 11 were found buried in the serial killer's dumping ground, and 3 others were luckily found still alive. However, the remaining 6, all of whom remain unnamed even though their pictures are available, are still missing, and might have fallen prey to the murderer as well.
The Mass Grave Was First Discovered By A Woman Who Was Out For A Walk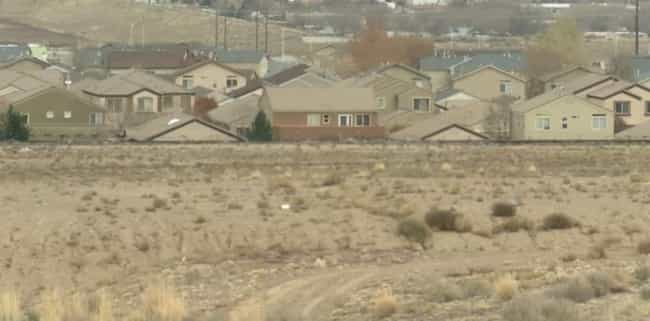 The West Mesa burial ground was first discovered in February, 2009, by a woman who lived in the area. Allegedly, she had been out walking her dog in this particular 92-acre deserted scrubland known as West Mesa – a section of Albuquerque, NM – when she came across a bone sticking out of the ground and promptly called the police.
Joseph Blea Was Another Potential Suspect, According To His Current Wife And His Ex-Wife
Two things led Cheryl Blea, Joseph Blea's wife, to suspect that he may have been the West Mesa Bone Collector. First, there was a large collection of jewelry found in their home that didn't belong to either her or their daughter, and then a stash of women's underwear was found in their backyard shed.
Blea had already been on law enforcement's radar thanks to his habit of stalking prostitutes in Albuquerque's East Central neighborhood. Plus, he had also been arrested for exposing himself in public. When the police finally caught up with him to bring him in for questioning, they discovered electrical tape and rope in his car. In fact, after the bones were found in West Mesa, Blea's ex-wife, April Gillen, promptly called the police to inform them that she believed her ex-husband was the killer. However, so far nothing has definitively connected him to the crimes.
Blea is currently in prison serving a 36-year sentence for raping a 13-year-old girl.
A Lack Of Evidence Has Hindered The Progress Of The Case
The main obstacle in the West Mesa Bone Collector case is that there is a surprising lack of evidence. The bodies decomposed drastically while they were buried, and any reliable physical evidence, including DNA, decomposed right along with them. In fact, the coroner couldn't even definitively tell how the victims were killed, beyond defining it as "homicidal violence." Additionally, no one has come forward with any eye-witness testimonies that suggest the victims were ever seen with the murderer.
Scott Lee Kimble, A Former FBI Informant And Top Suspect, Had Ties To The Albuquerque Area
In 2002, Scott Lee Kimball was released from prison early after having agreed to work for the FBI as an informant, but instead he went on a killing spree causing him to wind up back in prison by 2005. Since then, he has been accused of murdering his former cellmate's girlfriend, Jennifer Marcum, as well as a 19-year-old woman named Kaysi McLeod, who would have technically been his stepdaughter, as he married her mother after she "vanished." Kimball also reportedly killed his uncle, Terry Kimball, and a woman named LeAnn Emery. He is currently serving a 70-year prison term.
In 2011, the authorities listed Kimball as a suspect in the West Mesa killings. He allegedly visited the area regularly between 2002 and 2005 for his job, and has a history of violence. However, he denies being the killer, and no direct connections have been made between him and the victims.
Many People Blame The Lifestyle Led By The Victims For The Lack Of Attention Given To The Case
Unfortuntely, this case has gotten little attention from media outlets, and many suspect that this could have to do with the occupation of the victims. All of the victims were known to work as prostitutes and others had known drug problems. Each of these factors are believed to have played an important part in the amount of attention that the case has so far received. People living in the area continue to be dismayed that the police haven't given more attention or provided more answers and continue to hope for a future break in the case and peace for the women who were killed.
26 electricity poles in a row collapse on a street in Seattle for no apparent reason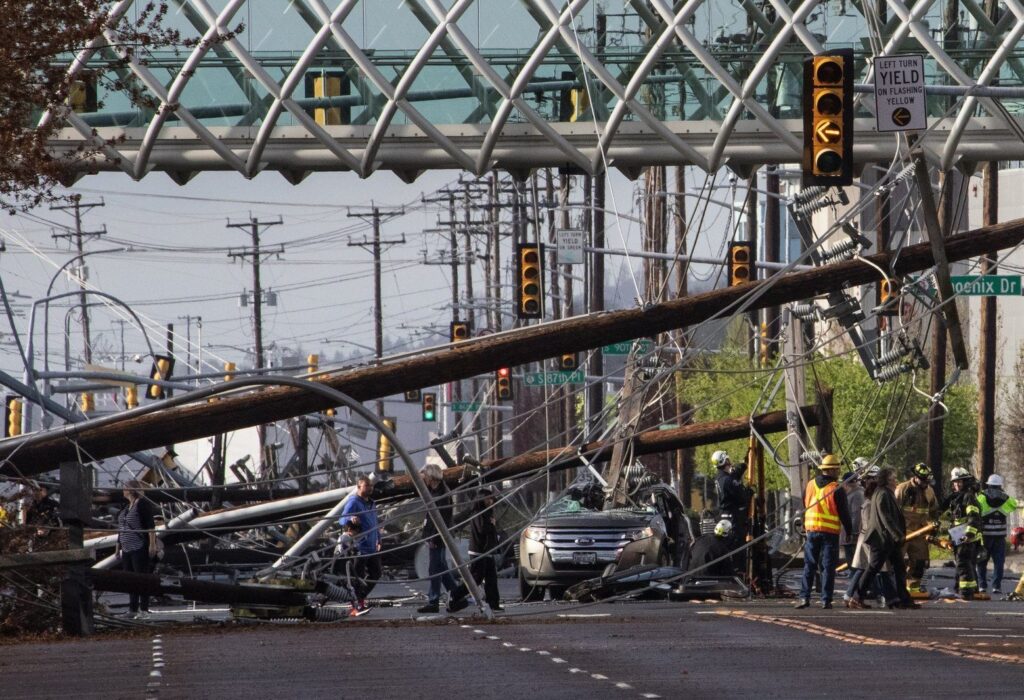 © Ellen M. Banner / The Seattle Times
Mike Lindblom
Seattle Times
Two people were trapped in their car, center, for more than an hour after 26 power poles came crashing down on East Marginal Way on Friday afternoon. The two were discharged from the hospital late Friday.
The more than two dozen power poles that collapsed near the Museum of Flight on Friday underwent a "full inspection" three years ago, and showed no risks of a mass failure, said Debra Smith, the recently-hired CEO of Seattle City Light.
Some were replaced in 2016 as a result, some were due to be replaced within five years, and others had many years remaining, "but there were none that were outside of the identified life span," Smith said in an interview Saturday.
Engineers this weekend are examining the 26 snapped wooden poles for clues, and walking East Marginal Way South to determine how and where to rebuild lines west of the huge roadway, she said.
City Light doesn't have an explanation yet about why any of the poles suddenly toppled at 4 p.m. Friday, causing a domino effect where not just one but an entire row snapped.
The incident – which included the astonishing rescue of two people trapped inside a car by a tangle of live wires and a pole that had smashed through the windshield – raises questions: Why did poles break on the west side of the six-lane road but not the east side? Why would so many topple together? Were they carrying an excessive weight or number of distribution lines?
Some people who work nearby, or took photos, have conjectured that rotten wood succumbed during spring gusts.
Weather may have triggered the failure, but the showers and wind Friday weren't unusual for spring in Seattle. According to the National Weather Service, gusts reached 30 mph. Further review didn't show strong evidence of any freak "microburst," and no other structures near Boeing Field were damaged, said meteorologist Carly Kovacik.
A witness reported seeing lightning, but that may have been a spark near a pole, a City Light spokesman said. The weather service said there were no lightning strikes.
The Tukwila Police Department released video of power lines striking a car in Tukwila on Friday, April 5, 2019. A couple in the car suffered minor injuries.
A possible factor, Smith said, is the posts are 90 feet tall to allow Boeing to roll airplanes out of hangars and cross the road to King County International Airport. If a pole falls, the torque is much greater than with shorter utility poles, she said. In addition, they carry large, heavy distribution lines from Tukwila toward central Seattle.
Utility workers quickly cleared the tangle of wires and broken posts overnight, and by Saturday only 13 customers remained without electricity. Power was out at some Boeing offices and buildings, while a few businesses in the area were using temporary generators, said City Light spokeswoman Julie Moore.
The street was fully reopened around 2:30 p.m. Saturday, with four-way stops replacing some traffic signals, Tukwila police said. The corridor is within Tukwila city limits but supplied by Seattle's electric utility.
On Friday, officials reported 24 poles fell, but increased the count to 26 on Saturday.
Some metal streetlights and traffic signals were also pulled or knocked down, pictures show. For a time, live wires draped the museum's tubular pedestrian bridge. The two people trapped in the car Friday were discharged from Harborview Medical Center late Friday, and Smith said she's thankful they weren't hurt seriously.
Read the rest here
About the author

Mike Lindblom: 206-515-5631 or mlindblom@seattletimes.com; on Twitter: @MikeLindblom. Staff reporter Mike Lindblom covers transportation for The Seattle Times.
Comment:
Ok, now that is weird.
Some kind of power surge? Perhaps not via the power grid per se (which utilities and companies would have noticed), but from the atmosphere? From below ground? But then why would such an externally-sourced surge snap strong wooden poles in the same manner along a discrete, specific area?
An eyewitness in this King 5 Seattle News report describes seeing "a flash of light" and hearing "an explosion" just before "they all came tumbling down…"
This ABC News report includes footage from people's camera-phones, recorded shortly aft it happened. The weather doesn't look particularly windy, though there could still have been a super-brief meteorological micro-burst moments before…
Here's CCTV footage of the moment it happened. It is overcast, raining, and somewhat windy, but the trees in the background don't move as much as one might expect during the intensity of a micro-burst:
Also notice how, in the second angle CCTV view, beginning at 00:35, there's a flash, followed by the pole in view beginning to keel over. Note also that it broke right at its base, at ground level…
More info from another Seattle Times report:
Meteorologists at the National Weather Service in Seattle said there were no Boeoi strikes in Western Washington on Friday.

There was a decent burst of wind accompanied by moderate rain earlier in the day, but nothing particularly alarming, said Carly Kovacik, a meteorologist with the National Weather Service in Seattle.

Around 16,500 customers in South Seattle, Tukwila, Burien and White Center lost power as a result of the incident, but power was restored to all but 300 of them by 6 p.m., according to Seattle City Light. Some Boeing offices in the area lost power, White said.

David Drum, a structural engineer who works at Boeing, said he left his office around 4:15 p.m. and saw at least 10 poles on the ground on the west side of the street.

"It was really dramatic. Really dystopian. The poles were snapped. They hit the ground with enough force and splintered," he said. "It must have taken a lot of force to do what I saw."
Indeed, it's as if some powerful EM force bent everything – power poles, street signs, a couple of trees, street lights – over, in one direction and on one side of the street.
Also, Seattle City Light power company has announced that an unnamed "third party" will be conducting an "independent" investigation into what happened. Hmmm…
It's very interesting that Boeing HQ is located nearby… in fact, it's located RIGHT THERE!

Rough location of downed power poles in red. Known Boeing, Inc. facilities marked in yellow…
The mile-long stretch where these poles broke corresponds more or less exactly with the stretch of East Marginal Way in Seattle where Boeing offices, hangars and testing centers are located. Boeing Field airport, named after the founder of the major airplane and weapons company, runs parallel to this stretch of road…
Boeing's run of bad luck continues…
Mystery Booms Continue Around the US and Nobody Knows Why
(Brett Tingley) Another month has passed, and the mystery boom phenomenon continues without a definitive explanation. Throughout March, several incidents of unexplained explosion noises have added to the already large and still growing body of evidence suggesting either an unknown natural occurrence or some type of unidentified man made activity is leading to these loud, powerful, and anomalous noises.
I've collected hundreds of reports of these mystery booms over the past few years in an attempt to discover what may be behind the phenomenon, but so far an explanation remains elusive. Are these separate events actually related? And why aren't they receiving more attention?On March 7, residents of Block Island in the U.S. state of Rhode Island were rattled by what was described as an "unexplained boom" early in the morning of Friday, March 1. Sound familiar? Some Block Islanders reported the noise was so loud that they thought something could have exploded inside of their own homes. While scores of residents reported being terrified by the noise, The Block Island Times reports that theories put forth on local social media sites "were mostly whimsical," with most eyewitnesses choosing to crack jokes about the sky-splitting noise. As has been noted throughout ufology circles for years, joking about something being "aliens" is a great way to discredit those who take the phenomenon seriously. Could someone be leveraging social media to actively discourage serious research into mystery booms?
A few days later on March 6, another eerily familiar boom shook the northern Outer Banks off the coast of North Carolina. The U.S. Geographical Survey said the event was not an earthquake, while meteorologists with the National Weather Service reported that there were no weather conditions that could explain the boom. According to the Coastal Review Online, the boom was heard over a broad area, making it unlikely that a singular sonic boom from an aircraft overhead could have caused it. As in many other cases, some type of unknown atmospheric temperature inversion was cited as a possible cause, although there is little hard evidence to support that speculation.The next day on March 8, another mysterious boom described as a "loud explosion" was heard throughout Liberty, Ohio. "You could feel it like a shock wave," one Liberty resident told emergency dispatchers after calling 911. "It knocked me out of bed." Fire crews at the Liberty Fire Station also felt the boom, reporting that the entire fire station shook. So far, the cause of the boom has not been found.
No further booms were reported until March 22, when several cities near Birmingham, Alabama were rattled by a massive explosion in the sky. Like in North Carolina, the U.S. Geological Survey and National Weather Service were baffled. The typical hypotheses were put forward, after which the story was buried by the news cycle as in so many other cases.
In Sacracmento, California, residents of Fair Oaks report they've have been shaken from their beds at night in recent months by powerful, unexplained booms strong enough to set off car alarms. With no official explanation, people are throwing around all sorts of theories including weather phenomena and secret SpaceX launches. Meanwhile, local police believe the booms are being caused by illegal fireworks.
On March 26, a loud boom shook southern Idaho, the latest in a recent spate of similar booms. According to local radio station KEZJ, the booms are being caused by munitions testing at the nearby Mountain Home Air Force Base.
Also on March 26, North Carolina experienced another mysterious event, but this time whatever happened was powerful enough to register on seismographs. Several counties in the Piedmont Triad area of North Carolina were rattled by an eerily familiar boom. "I'll tell you right now, that was the loudest — it shook the whole damn house partner," one frightened caller told police dispatchers as emergency services in the area were inundated with calls about the boom.
Shortly thereafter, the USGS reported recording two separate 2.6-magnitude earthquakes throughout the state, one of which was not far from the site of several other mysterious booms heard throughout 2018 for which conflicting explanations were offered. While this most recent boom could possibly be explained by seismic activity, there is always the possibility that whatever caused the boom wasn't an earthquake per se but was powerful enough to rattle the ground and register on seismographs.
While I normally wouldn't jump to conclusions without evidence, the spate of other similar events in recent weeks makes this earthquake explanation seem incomplete to me. Then again, sometimes I feel like I'm going crazy, seeing things in the cracks between seemingly disparate news stories and trends which may not really be there. Whatever the case may be, I and other Mysterious Universe writers have been tracking these reports week after week for years, and we're not alone. Many readers have reached out to me in recent months with their own experiences with mystery booms or their own theories on the phenomenon. Are these incidents in fact related, or could many separate phenomena or forces be causing these booms? If that's the case, why are so many reports so similar, and why are they occurring with such frequency lately?
So many questions. Are unknown seismic events violently rattling the Earth, or could unknown aircraft be wantonly breaking the sound barrier over residential areas? Is an unknown atmospheric or meteorological forces causing 'skyquakes' or other anomalous disturbances, or could industrial operations be to blame? Meteors? Psychological warfare? Aliens? Anybody's guess is as good as anyone else's at this point (but it's likely not aliens).
Someone, somewhere has to know something. Right?
Brett Tingley is a writer and musician living in the ancient Appalachian mountains.
The Unsolved Mystery of the Lubbock Lights UFO Sightings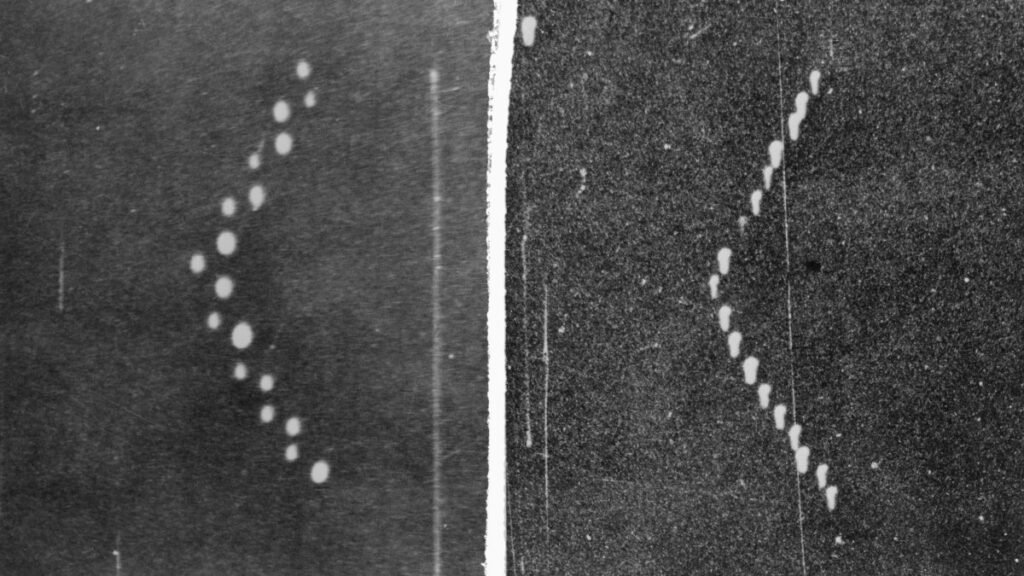 Hundreds of people, including several university scientists, witnessed the flying blue-green lights in August 1951. One person even took photos.
August 25, 1951 was a quiet summer night in Lubbock, Texas. That evening, a handful of scientists from Texas Technical College were hanging out in the backyard of geology professor Dr. W.I. Robinson, drinking tea and chatting about micrometeorites. It was quite the brain trust: chemical engineering professor Dr. A. G. Oberg, physics professor Dr. George and Dr. W. L. Ducker, head of the petroleum-engineering department.
Which made the story of what they witnessed that night all the more curious.
"If a group had been hand-picked to observe a UFO, we couldn't have picked a more technically qualified group of people," wrote U.S. Air Force Captain Edward J. Ruppelt later in his definitive 1956 casebook, The Report on Unidentified Flying Objects.In the early 1950s Ruppelt served as lead investigator for Project Blue Book, the official Air Force investigations into UFO sightings, after working on its precursor effort, Project Grudge.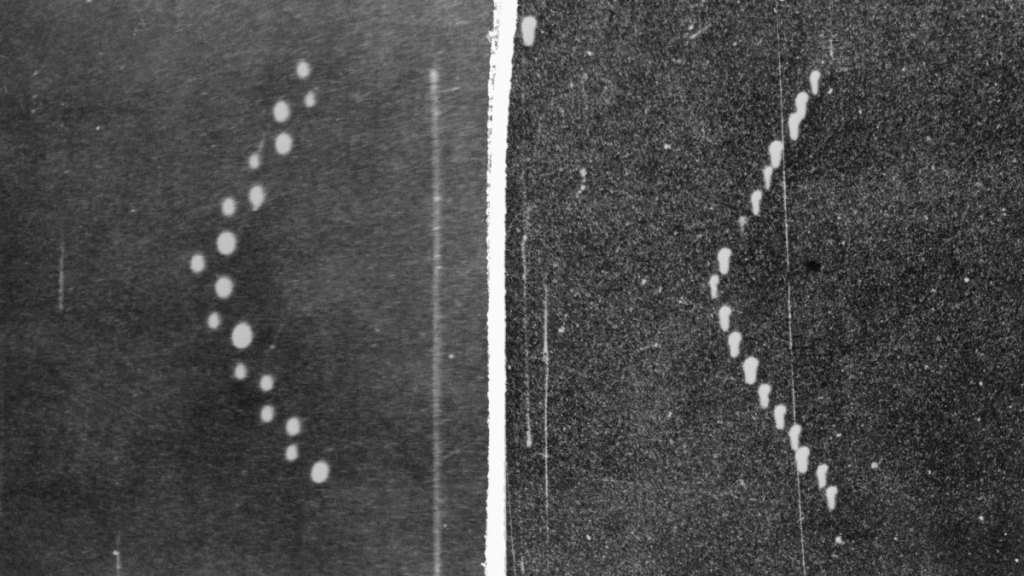 Sightings of the blue-green lights kept growing
Around 9:20 p.m., the university colleagues saw something otherworldly in the expansive Texas sky: a V-shaped formation of 15 to 30 blueish-green lights passing overhead. Stunned, but still using their trained scientific reasoning, they figured the lights would reappear. And they did, about an hour later, in a more haphazard formation. The scientists were all in agreement: They had witnessed something fantastic—but what was it?
The professors weren't the only credible witnesses to the mysterious blue-green lights that night. At dusk, in Albuquerque, New Mexico (about 350 miles away from Lubbock), an employee of the Atomic Energy Commission's top-secret Sandia Corporation—a man with a high-level "Q" security clearance—had been sitting outside with his wife. According to Ruppelt:
They were gazing at the night sky, commenting on how beautiful it was when both of them were startled at the sight of a huge airplane flying swiftly and silently over their home… On the aft edge of the wings, there were six to eight pairs of soft, glowing, bluish lights.
An hour or so after, according to a retired rancher from Lubbock, his wife had seen something terrifying in the night sky. Ruppelt described it this way: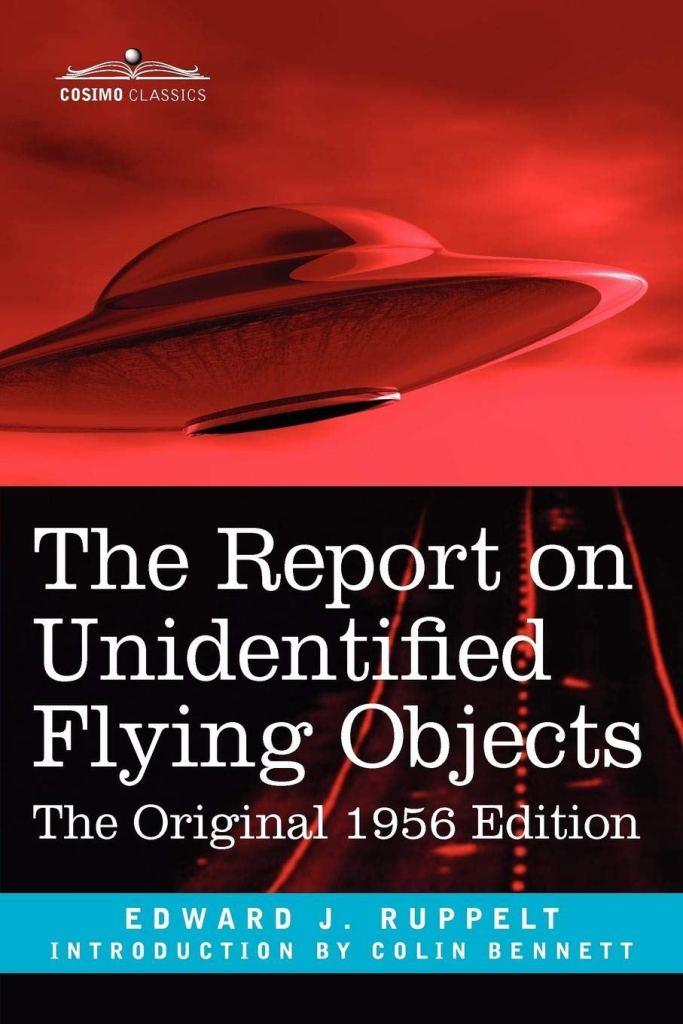 Just after dark, his wife had gone outdoors to take some sheets off the clothesline. He was inside the house reading the paper. Suddenly his wife had rushed into the house…"as white as the sheets she was carrying." The reason his wife was so upset was that she had seen a large object glide swiftly and silently over the house. She said it looked like "an airplane without a body." On the back edge of the wing were pairs of glowing bluish lights.
By the time Ruppelt flew into Lubbock to investigate the sightings in late September, hundreds of residents had seen the lights over a period of two weeks.
Locals investigate, and even snap some photos
But not everyone had waited for the government to start looking into the matter. After alerting local papers like the Lubbock Avalanche-Journal, the Texas Tech professors started their own informal investigation. In the weeks after their initial August 25sighting, they and their friends observed the lights 12 more times. They measured the lights' angles, roughly calculated their speed and noted that they always traveled from north to south. Armed with walkie-talkies, the scientist-sleuths and their friends formed two teams and attempted to measure the UFO's altitude, with little success.
As the days went on, more and more Lubbock residents claimed to have seen the lights. And when the professors cross-checked these reports against what they themselves had seen and recorded, many of the facts lined up, Ruppelt wrote. Of course, few if any had recorded the phenomena with the same level of detail as the professors.
But while many observers offered incomplete or poorly expressed recollections, there's little doubt that whatever people were seeing was something real. UFO sightings are usually one-off events, but these blue-green lights were observed multiple times, by hundreds of people.
Plus, for many, there was physical proof: black-and-white photos taken by a Texas Tech freshman named Carl Hart, Jr. On August 31—the same night an Air Force wife and her daughter claimed to have seen a UFO while driving northwest from Matador, Texas, to Lubbock—Hart was keeping vigil in his bedroom, looking out for the infamous lights. According to Ruppelt:
It was a warm night and his bed was pushed over next to an open window. He was looking out at the clear night sky, and had been in bed about a half hour, when he saw a formation of the lights appear in the north… cross an open patch of sky, and disappear over his house. Knowing that the lights might reappear as they had done in the past, he grabbed his loaded Kodak 35, set the lens and shutter at f 3.5 and one-tenth of a second, and went out into the middle of the backyard. Before long, his vigil was rewarded when the lights made a second pass. He got two pictures. A third formation went over a few minutes later, and he got three more pictures.
These hotly debated images, which show a cluster of dim lights in a V-formation moving through the night sky, are the only visual representation of what hundreds were now claiming they saw.
Was it birds? Or planes? The government's investigator goes coy
As Ruppelt began his formal investigation, he found that the lights had affected all who saw them, including a hardened old man from Lamesa, who had witnessed them with his wife. "He broke off his story of the lights and launched into his background as a native Texan, with range wars, Indians and stagecoaches under his belt," Ruppelt recalled of their interview session. "What he was trying to point out was that despite the range wars, Indians and stagecoaches, he had been scared. His wife had been scared, too."
The old Lamesa man had suggested that the lights were actually plover birds, a theory to which Ruppelt would lend some credence. But just like many people Ruppelt interviewed, the old man admitted he and his wife had been looking for the lights after reading about them in the paper. This was a common thread tying together many of the witnesses. "One point of interest was that very few claimed to have seen the lights before reading the professors' story in the paper," Ruppelt wrote. "But this could get back to the old question, 'Do people look up if they have no reason to do so?'"
So, what exactly did all these people witness? In The Report on Unidentified Flying Objects, Ruppelt—by all accounts an honorable and fair man who oversaw what many describe as the "golden age" of the government's official UFO investigations—offers a strangely evasive explanation:
I thought that the professors' lights might have been some kind of birds reflecting the light from mercury-vapor street lights, but I was wrong. They weren't birds, they weren't refracted light, but they weren't spaceships. The lights that the professors saw…have been positively identified as a very commonplace and easily explainable natural phenomenon…I can't divulge exactly the way the answer was found because it is an interesting story of how a scientist set up complete instrumentation to track down the lights. Telling the story would lead to his identity and, in exchange for his story, I promised the man complete anonymity… With the most important phase of the Lubbock Lights "solved"—the sightings by the professors—the other phases become only good UFO reports.
And so, the mystery of the Lubbock Lights remains unsolved.
"The Lubbock Lights incident persists in the memory of many older citizens, and to this day captivates researchers from across the country," Dr. Monte L. Monroe, Southwest collection archivist at Texas Tech University told Texas Highways Magazine. "Mention the event, and everyone has an opinion. Some believe the bright, semicircular, so-called 'string of beads' crossed the sky at great speed, high in the stratosphere. Few agree with the streetlight-illuminated, migratory duck-bellies theory ventured at the time by skeptics or in the Air Force report."
According to Monroe, the professors and other witnesses—tired of explaining themselves and what they saw—almost totally ceased giving interviews by the 1970s. In a rare informal interview, more than 40 years after the sightings, Carl Hart, Jr. reportedly told author and UFO researcher Kevin D. Randle he still had no idea what he had photographed that pleasant August night many moons ago. But like hundreds of others witnesses in and around Lubbock that strange Texas summer, he saw something he would never forget.
Source www.history.com