The Unsolved Mystery Of The West Mesa, New Mexico Bone Collector
Between 2002 and 2005, a serial killer who became known as the West Mesa Bone Collector murdered and buried 11 women in the outskirts of Albuquerque, New Mexico. To this day, law enforcement officials have been unable to discover the true identity of the murderer, despite the fact that they have a list of potential suspects, two of whom are already dead. The stuff of a mystery television show, the Bone Collector's saga will leave you with goosebumps.
All of the West Mesa Bone Collector's victims fall between the ages of 15 and 32, fit a specific profile, were suspected to be involved in the Albuquerque drug scene, and worked as prostitutes. Like many other infamous unsolved murders, the true identity of the West Mesa Bone Collector remains a mystery due to a lack of new evidence, and it's likely that these crimes will remain unsolved until someone comes forward. Until then, this is everything we know about the West Mesa Bone Collector.
Eleven Bodies Were Found Scattered Over The 92-Acre Site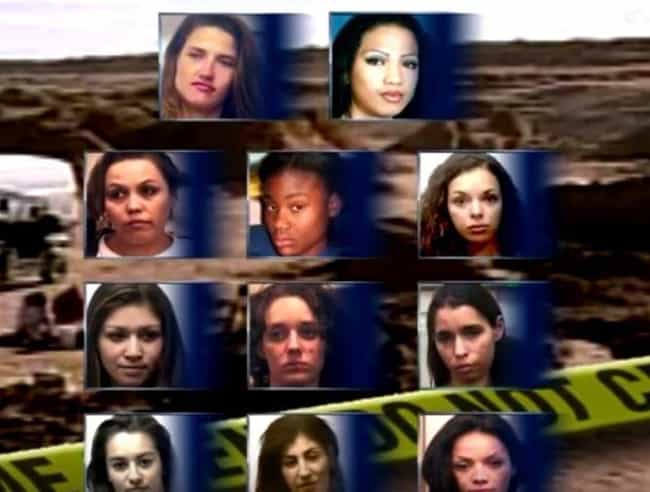 When a collection of bodies was discovered in the desert outside of Albuquerque, NM, it wasn't just the number of bodies that were found that stunned investigators, but the way in which they were buried. The bodies of 11 women and one unborn child were found not in a single mass grave, but rather they were found scattered across a desolate, empty plot of land.
Because of this, it took law enforcement officials quite some time to recover all of the bodies. Then, they started the arduous process of identifying each of them, quickly coming to realized that many of them had been missing for years. By the end of their investigation, the bodies of 11 women had been identified: Jamie Barela, Monica Candelaria, Victoria Chavez, Virginia Cloven, Syllania Edwards, Cinnamon Elks, Doreen Marquez, Julie Nieto, Veronica Romero, Evelyn Salazar, and Michelle Valdez.
One Suspect, Lorenzo Montoya, Died In 2006, At Which Point The Murders Mysteriously Stopped
Lorenzo Montoya had a rather suspicious criminal background. He not only lived near the burial site, but he was arrested in 1999 for attempting to strangle a prostitute that he'd picked up and taken to a secluded area. In 2006, Montoya died after the boyfriend of Sherick Hill, another prostitute, murdered him. Montoya had hired Hill, and then tied her up and strangled her. But when she didn't emerge from Montoya's home at the time she said she would, her boyfriend, whom she'd brought with her, approached the house and killed Montoya in self-defense. Suspiciously, the West Mesa murders stopped after Montoya was killed, leading the authorities to conclude that he may have been the killer.
Police Believe That The Killer Might Also Be Responsible For The Disappearance Of Six Other Women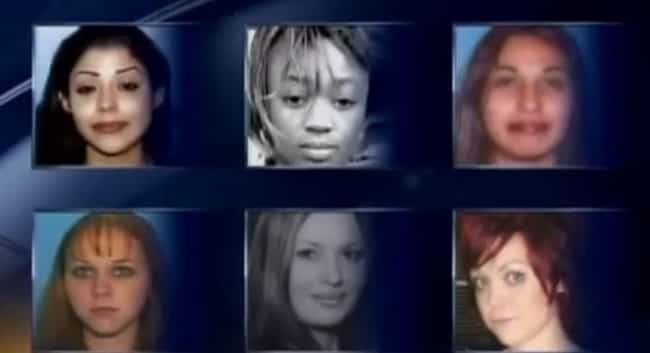 When law enforcement officials began searching for other bodies strewn across the plot of land in West Mesa, they had compiled a list of 20 potential victims. All of those women had been missing for some time, and they all shared characteristics with the known victims. Of that list, 11 were found buried in the serial killer's dumping ground, and 3 others were luckily found still alive. However, the remaining 6, all of whom remain unnamed even though their pictures are available, are still missing, and might have fallen prey to the murderer as well.
The Mass Grave Was First Discovered By A Woman Who Was Out For A Walk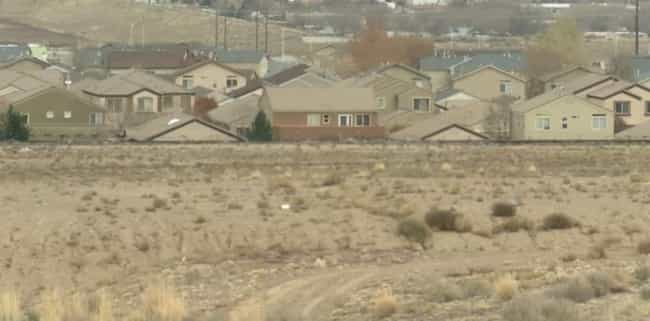 The West Mesa burial ground was first discovered in February, 2009, by a woman who lived in the area. Allegedly, she had been out walking her dog in this particular 92-acre deserted scrubland known as West Mesa – a section of Albuquerque, NM – when she came across a bone sticking out of the ground and promptly called the police.
Joseph Blea Was Another Potential Suspect, According To His Current Wife And His Ex-Wife
Two things led Cheryl Blea, Joseph Blea's wife, to suspect that he may have been the West Mesa Bone Collector. First, there was a large collection of jewelry found in their home that didn't belong to either her or their daughter, and then a stash of women's underwear was found in their backyard shed.
Blea had already been on law enforcement's radar thanks to his habit of stalking prostitutes in Albuquerque's East Central neighborhood. Plus, he had also been arrested for exposing himself in public. When the police finally caught up with him to bring him in for questioning, they discovered electrical tape and rope in his car. In fact, after the bones were found in West Mesa, Blea's ex-wife, April Gillen, promptly called the police to inform them that she believed her ex-husband was the killer. However, so far nothing has definitively connected him to the crimes.
Blea is currently in prison serving a 36-year sentence for raping a 13-year-old girl.
A Lack Of Evidence Has Hindered The Progress Of The Case
The main obstacle in the West Mesa Bone Collector case is that there is a surprising lack of evidence. The bodies decomposed drastically while they were buried, and any reliable physical evidence, including DNA, decomposed right along with them. In fact, the coroner couldn't even definitively tell how the victims were killed, beyond defining it as "homicidal violence." Additionally, no one has come forward with any eye-witness testimonies that suggest the victims were ever seen with the murderer.
Scott Lee Kimble, A Former FBI Informant And Top Suspect, Had Ties To The Albuquerque Area
In 2002, Scott Lee Kimball was released from prison early after having agreed to work for the FBI as an informant, but instead he went on a killing spree causing him to wind up back in prison by 2005. Since then, he has been accused of murdering his former cellmate's girlfriend, Jennifer Marcum, as well as a 19-year-old woman named Kaysi McLeod, who would have technically been his stepdaughter, as he married her mother after she "vanished." Kimball also reportedly killed his uncle, Terry Kimball, and a woman named LeAnn Emery. He is currently serving a 70-year prison term.
In 2011, the authorities listed Kimball as a suspect in the West Mesa killings. He allegedly visited the area regularly between 2002 and 2005 for his job, and has a history of violence. However, he denies being the killer, and no direct connections have been made between him and the victims.
Many People Blame The Lifestyle Led By The Victims For The Lack Of Attention Given To The Case
Unfortuntely, this case has gotten little attention from media outlets, and many suspect that this could have to do with the occupation of the victims. All of the victims were known to work as prostitutes and others had known drug problems. Each of these factors are believed to have played an important part in the amount of attention that the case has so far received. People living in the area continue to be dismayed that the police haven't given more attention or provided more answers and continue to hope for a future break in the case and peace for the women who were killed.
Mysterious lights in the sky scare Arizona city dwellers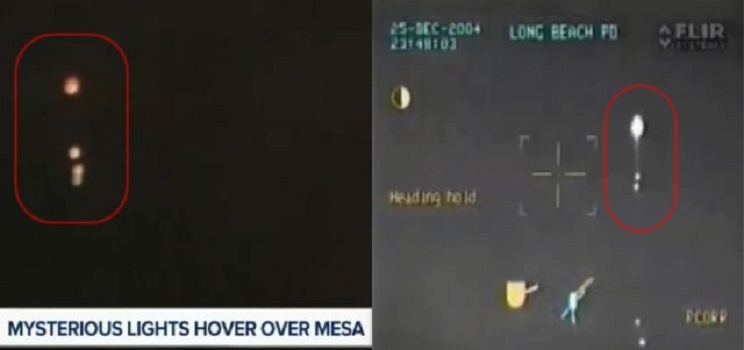 Mysterious lights hovering over the valley east of Mesa, Arizona, make residents wonder if they had a close encounter.
D.J. Maier and Kerri Burnett describe what they saw:
It started moving kind of diagonal across, I was trying to figure out which way it was heading, and that's when we noticed it started dropping things from it.
The couple say they saw the phenomenon outside their home in Mesa on Sunday around 9 pm.
They say the object seemed to come from the southeast.
Burnett said:
Began to move diagonally, I was trying to figure out where it was going, and that's when we realized that it started dropping things from it.
The object captured on two cell phones looks like a bright orb hovering silently in the sky. Every few moments, the object appears to drop what looks to be flares towards the ground
Maier said:
And it wasn't just us, our neighbors next door they were out, they weren't even filming. They were more in amazement, like statues, just watching it.
And it wasn't just us, our neighbors next door they were out, they weren't even filming. They were more in amazement, like statues, just watching it.
Maier said:
Some said it may be an aircraft, others said aliens or a comet.
The whole event dates back to 1997 and the mysterious phenomenon known as The Phoenix Lights – a mystery that remains debated today.
The ABC15 channel team contacted several aviation experts who theorized that the lights seen on Sunday could be from parachute flares used by the military or even helicopters or other aircraft dropping flares during training.
In fact, the Outlaw Military Operations Area sits not far from where the video was shot. But video found online of those types of exercises just doesn't seem to match.
Meier said:
There were no navigation lights. Even the military has to have navigation lights on. That's an FAA rule.
ABC15 contacted the Federal Aviation Administration, Luke Air Force Base, and the Army National Guard, but no one knew for sure what it was.
This leaves the answer to what was captured on camera for anyone.
Maier also said:
I know what I saw, and I don't think it was from here, and I think it was definitely something else.
NASA has photographed a UFO in Antarctica
This new discovery is undoubtedly of great global impact for those who believe in the existence of UFOs and Extraterrestrials on our planet. The image of NASA depicting a UFO on the Antarctic continent was published on Google Earth. Antarctica has constantly aroused many mysteries, from the entrance to the Hollow Earth to the discovery of alien bases and the discovery of pyramid structures.
Even so, today all its secrets are hidden, although it begins to reveal some clues that amaze geologists, archaeologists, scientists, popularizers and even great personalities of the world. Whatever the mysteries of Antarctica, they will have to be discovered little by little. Who is not fascinated by the secrets of the most arid, windy and cold continent in the world? What is the truth about this unexplored and frozen continent? In the images provided by Google Earth we can see a silver circular object that has nothing to do with the rest of the surface.
It is clearly an artificial object and very similar to the classic flying saucer. This discovery was made by Argentine researcher Marcelo Irazusta and published by Sandra Andrade on her YouTube channel. This new discovery is undoubtedly of great global impact for those who maintain the existence of UFOs on our planet. The image is from NASA published on Google Earth. With this new discovery no doubt, it is of great global impact for those of us who believe in UFOs and extraterrestrials on our planet. We know that they discovered internal structures similar to the ruins of a technologically advanced ancient civilization, and it was also leaked that some frozen bodies of non-human beings appeared.
The Mystery of the Taman Shud Case
The mystery of the Taman Shud case has puzzled law enforcement and intelligence agencies all over the world for more than half a century now.
Also referred to as "The Mystery of the Somerton Man", this unsolved case refers to an incident that took place on December 1, 1948 where and unidentified male body was found dead at 6:30 a.m. on the shore of Somerton Beach in Adelaide, Australia.
Police found his body after a handful of various witnesses reported what they suspected was a man who was either drunk or asleep, reclining on the sand with his head resting against the seawall.
He was clothed in fine European attire, but all of the labels had been deliberately torn off from his clothing, indicating a possible attempt to conceal his identity. His dental records did not match any known individual in Australia.
Police searched his pockets in an attempt to find some type of identification, but to no avail; their search only produced a redeemed bus ticket, an unused second-class railway ticket, a half-empty pack of Juicy Fruit gum, some cigarettes, and a partially empty box of matches.
After several unsuccessful attempts to confirm the man's identity and potential cause of death, police turned to an autopsy.
According to Sir John Burton Cleland, a noted University of Adelaide pathologist, the man's body had all of the signs of a death by poisoning, including severe congestion in the liver, kidneys and brain.
The man's spleen was enlarged about three times the normal size, and a significant amount of blood was located in his stomach as well.
Interestingly enough, several toxicology experts attempted to determine what type of poison was used, but it was completely undetectable in his body.
Authorities ruled the death a suicide by an unknown poisonous substance, but after a careful re-examination of the body by Sir Cleland, a small rolled-up piece of paper was discovered deep within a small fob pocket inside of the deceased man's trouser pocket.
The paper contained the words "Taman Shud" (meaning "ending", "finished" or "the end" in Persian) printed on it, and the reverse side was blank.
Public library officials were able to determine that the phrase came from the text of a collection of poems known as The Rubaiyat by Persian philosopher Omar Khayyam.
Police conducted a widespread campaign to find the book that the text was torn from, circulating images of the piece of paper in the press all over Australia.
A man whose identity has been kept anonymous by the police came forward and revealed that he had discovered a very rare copy of The Rubaiyat in the backseat of his parked, unlocked car on Jetty Road in Genelg about two weeks prior to the discovery of the body.
The man said that he had no idea that the book had any connection to the case until he read about it in the newspaper.
The book was missing the phrase "Taman Shud" on the very last page, and microscopic tests confirmed that the small piece of paper found in the Somerton man's trouser pocket was indeed torn from the final page of the book.
Five lines of all-capital letters were scrawled in pencil in the very back of the book, delineating what authorities have ruled as some type of code.
Investigators first conjectured that the lines represented a foreign language, but that was later ruled out in favor of some type of cipher or cryptographic message. The five lines are as follows:
WRGOABABD
MLIAOI (this second line was struck through in the original message, indicating a possible mistake due to its similarity to line 4)
WTBIMPANETP
MLIABOAIAQC
ITTMTSAMSTGAB
A phone number was also written in the back of the book, which police later discovered belonged to a woman who resided on Moseley Street in Glenelg, only about a quarter of a mile from the location where the body was discovered. (Side note: Glenelg was also the destination listed on the bus ticket found in the Somerton man's pocket.)
After being questioned by police, she stated that she did own a copy of The Rubaiyat during the time when she worked as a nurse at the Royal North Shore Hospital (in Sidney) during the second World War, but that she had given her copy to an Australian Army lieutenant named Alfred Boxall in 1945.
Police were now certain that the dead man could be identified as Alfred Boxall, until the real Alfred Boxall surfaced later with a different copy of The Rubaiyat (a 1942 edition), with the last page containing the phase "Taman Shud" intact!
The woman and did not claim to have any connection to the dead man discovered at Somerton beach. She asked to remain anonymous since she was newly married with a toddler, and did not want to be associated with a murder mystery or Boxall.
Amazingly, the police agreed to grant her anonymity, although she was considered to be the best lead in the case.
To this day, the identity of the Somerton man has not yet been confirmed, and the meaning of the cipher (if any) has not been determined.
Many have speculated that the mysterious man may have been some type of spy since his death occurred during a particularly intense period of the Cold War.
Several intelligence specialists, cryptanalysts, mathematicians and astrologers have attempted to decipher the code, but no one has been successful as of yet.
Perhaps the enigma of the Taman Shud case will never be solved, but it still carries an air of mystery and intrigue that fascinates people all over the world.