The Unsolved Mystery of the Lubbock Lights UFO Sightings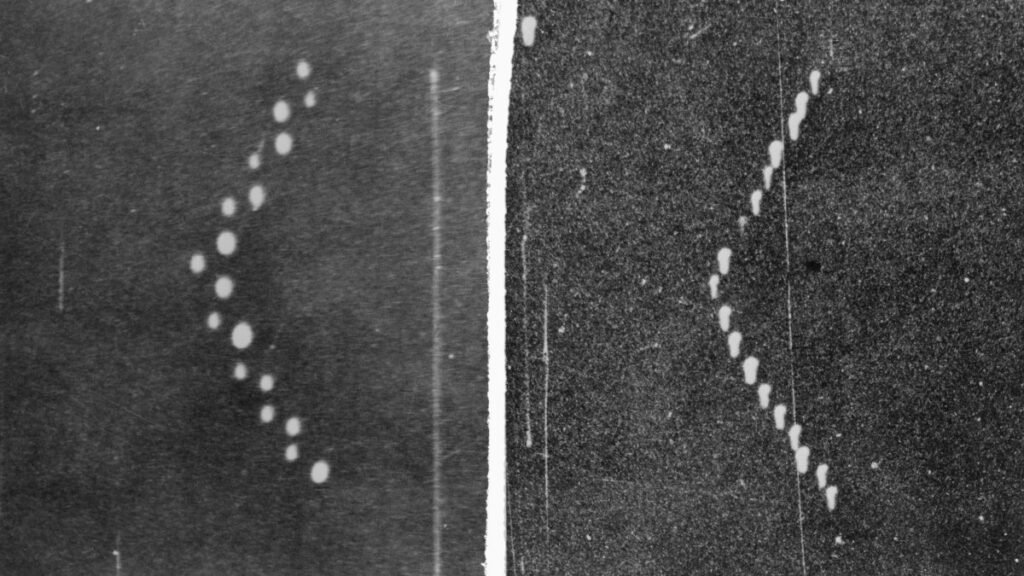 Hundreds of people, including several university scientists, witnessed the flying blue-green lights in August 1951. One person even took photos.
August 25, 1951 was a quiet summer night in Lubbock, Texas. That evening, a handful of scientists from Texas Technical College were hanging out in the backyard of geology professor Dr. W.I. Robinson, drinking tea and chatting about micrometeorites. It was quite the brain trust: chemical engineering professor Dr. A. G. Oberg, physics professor Dr. George and Dr. W. L. Ducker, head of the petroleum-engineering department.
Which made the story of what they witnessed that night all the more curious.
"If a group had been hand-picked to observe a UFO, we couldn't have picked a more technically qualified group of people," wrote U.S. Air Force Captain Edward J. Ruppelt later in his definitive 1956 casebook, The Report on Unidentified Flying Objects.In the early 1950s Ruppelt served as lead investigator for Project Blue Book, the official Air Force investigations into UFO sightings, after working on its precursor effort, Project Grudge.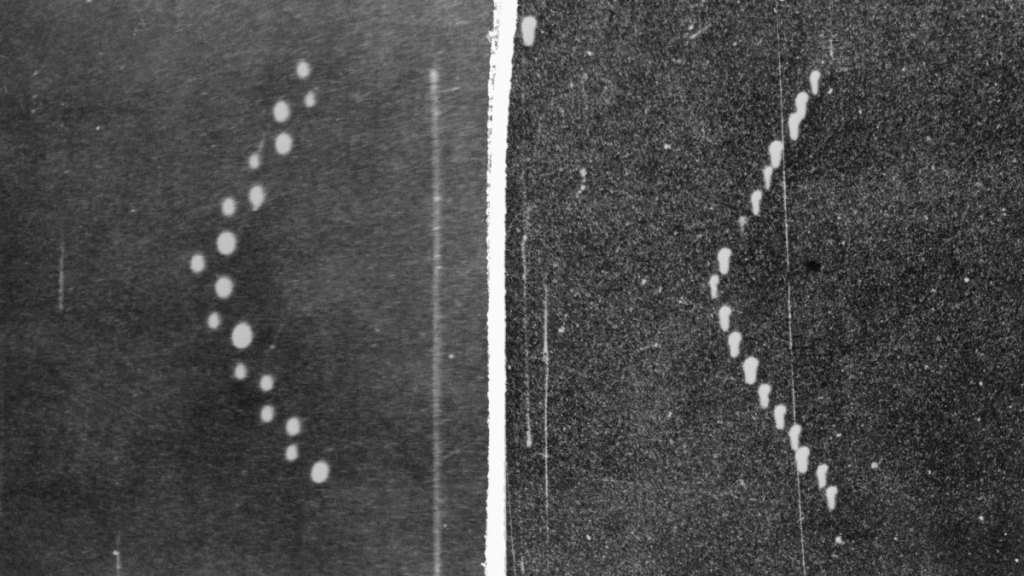 Sightings of the blue-green lights kept growing
Around 9:20 p.m., the university colleagues saw something otherworldly in the expansive Texas sky: a V-shaped formation of 15 to 30 blueish-green lights passing overhead. Stunned, but still using their trained scientific reasoning, they figured the lights would reappear. And they did, about an hour later, in a more haphazard formation. The scientists were all in agreement: They had witnessed something fantastic—but what was it?
The professors weren't the only credible witnesses to the mysterious blue-green lights that night. At dusk, in Albuquerque, New Mexico (about 350 miles away from Lubbock), an employee of the Atomic Energy Commission's top-secret Sandia Corporation—a man with a high-level "Q" security clearance—had been sitting outside with his wife. According to Ruppelt:
They were gazing at the night sky, commenting on how beautiful it was when both of them were startled at the sight of a huge airplane flying swiftly and silently over their home… On the aft edge of the wings, there were six to eight pairs of soft, glowing, bluish lights.
An hour or so after, according to a retired rancher from Lubbock, his wife had seen something terrifying in the night sky. Ruppelt described it this way: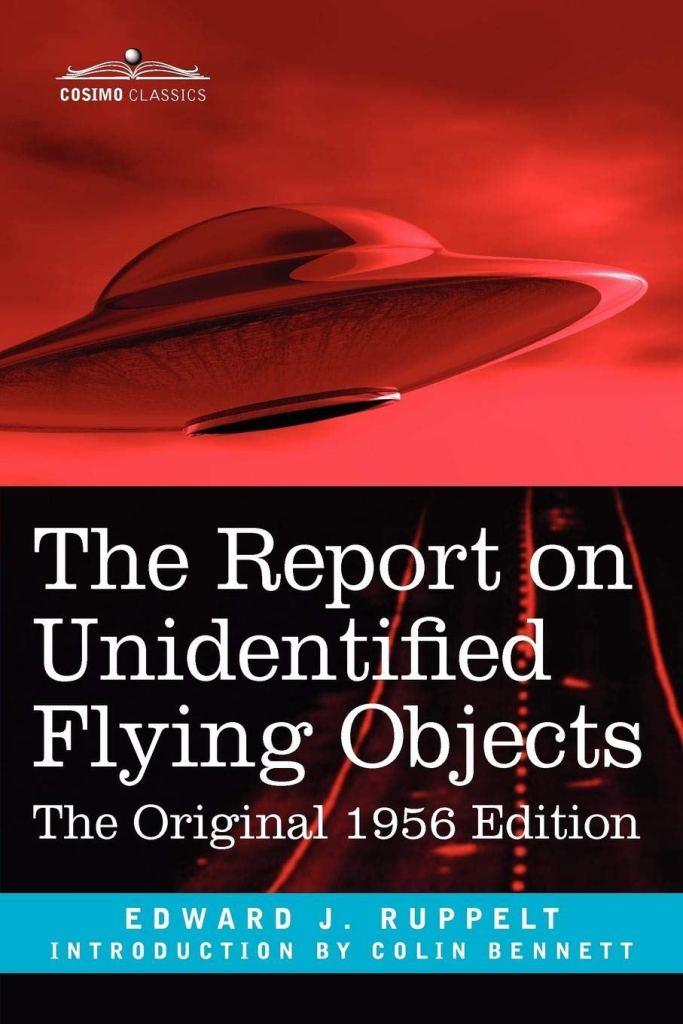 Just after dark, his wife had gone outdoors to take some sheets off the clothesline. He was inside the house reading the paper. Suddenly his wife had rushed into the house…"as white as the sheets she was carrying." The reason his wife was so upset was that she had seen a large object glide swiftly and silently over the house. She said it looked like "an airplane without a body." On the back edge of the wing were pairs of glowing bluish lights.
By the time Ruppelt flew into Lubbock to investigate the sightings in late September, hundreds of residents had seen the lights over a period of two weeks.
Locals investigate, and even snap some photos
But not everyone had waited for the government to start looking into the matter. After alerting local papers like the Lubbock Avalanche-Journal, the Texas Tech professors started their own informal investigation. In the weeks after their initial August 25sighting, they and their friends observed the lights 12 more times. They measured the lights' angles, roughly calculated their speed and noted that they always traveled from north to south. Armed with walkie-talkies, the scientist-sleuths and their friends formed two teams and attempted to measure the UFO's altitude, with little success.
As the days went on, more and more Lubbock residents claimed to have seen the lights. And when the professors cross-checked these reports against what they themselves had seen and recorded, many of the facts lined up, Ruppelt wrote. Of course, few if any had recorded the phenomena with the same level of detail as the professors.
But while many observers offered incomplete or poorly expressed recollections, there's little doubt that whatever people were seeing was something real. UFO sightings are usually one-off events, but these blue-green lights were observed multiple times, by hundreds of people.
Plus, for many, there was physical proof: black-and-white photos taken by a Texas Tech freshman named Carl Hart, Jr. On August 31—the same night an Air Force wife and her daughter claimed to have seen a UFO while driving northwest from Matador, Texas, to Lubbock—Hart was keeping vigil in his bedroom, looking out for the infamous lights. According to Ruppelt:
It was a warm night and his bed was pushed over next to an open window. He was looking out at the clear night sky, and had been in bed about a half hour, when he saw a formation of the lights appear in the north… cross an open patch of sky, and disappear over his house. Knowing that the lights might reappear as they had done in the past, he grabbed his loaded Kodak 35, set the lens and shutter at f 3.5 and one-tenth of a second, and went out into the middle of the backyard. Before long, his vigil was rewarded when the lights made a second pass. He got two pictures. A third formation went over a few minutes later, and he got three more pictures.
These hotly debated images, which show a cluster of dim lights in a V-formation moving through the night sky, are the only visual representation of what hundreds were now claiming they saw.
Was it birds? Or planes? The government's investigator goes coy
As Ruppelt began his formal investigation, he found that the lights had affected all who saw them, including a hardened old man from Lamesa, who had witnessed them with his wife. "He broke off his story of the lights and launched into his background as a native Texan, with range wars, Indians and stagecoaches under his belt," Ruppelt recalled of their interview session. "What he was trying to point out was that despite the range wars, Indians and stagecoaches, he had been scared. His wife had been scared, too."
The old Lamesa man had suggested that the lights were actually plover birds, a theory to which Ruppelt would lend some credence. But just like many people Ruppelt interviewed, the old man admitted he and his wife had been looking for the lights after reading about them in the paper. This was a common thread tying together many of the witnesses. "One point of interest was that very few claimed to have seen the lights before reading the professors' story in the paper," Ruppelt wrote. "But this could get back to the old question, 'Do people look up if they have no reason to do so?'"
So, what exactly did all these people witness? In The Report on Unidentified Flying Objects, Ruppelt—by all accounts an honorable and fair man who oversaw what many describe as the "golden age" of the government's official UFO investigations—offers a strangely evasive explanation:
I thought that the professors' lights might have been some kind of birds reflecting the light from mercury-vapor street lights, but I was wrong. They weren't birds, they weren't refracted light, but they weren't spaceships. The lights that the professors saw…have been positively identified as a very commonplace and easily explainable natural phenomenon…I can't divulge exactly the way the answer was found because it is an interesting story of how a scientist set up complete instrumentation to track down the lights. Telling the story would lead to his identity and, in exchange for his story, I promised the man complete anonymity… With the most important phase of the Lubbock Lights "solved"—the sightings by the professors—the other phases become only good UFO reports.
And so, the mystery of the Lubbock Lights remains unsolved.
"The Lubbock Lights incident persists in the memory of many older citizens, and to this day captivates researchers from across the country," Dr. Monte L. Monroe, Southwest collection archivist at Texas Tech University told Texas Highways Magazine. "Mention the event, and everyone has an opinion. Some believe the bright, semicircular, so-called 'string of beads' crossed the sky at great speed, high in the stratosphere. Few agree with the streetlight-illuminated, migratory duck-bellies theory ventured at the time by skeptics or in the Air Force report."
According to Monroe, the professors and other witnesses—tired of explaining themselves and what they saw—almost totally ceased giving interviews by the 1970s. In a rare informal interview, more than 40 years after the sightings, Carl Hart, Jr. reportedly told author and UFO researcher Kevin D. Randle he still had no idea what he had photographed that pleasant August night many moons ago. But like hundreds of others witnesses in and around Lubbock that strange Texas summer, he saw something he would never forget.
Source www.history.com
The Mystery Surrounding Abraham Lincoln's Assassination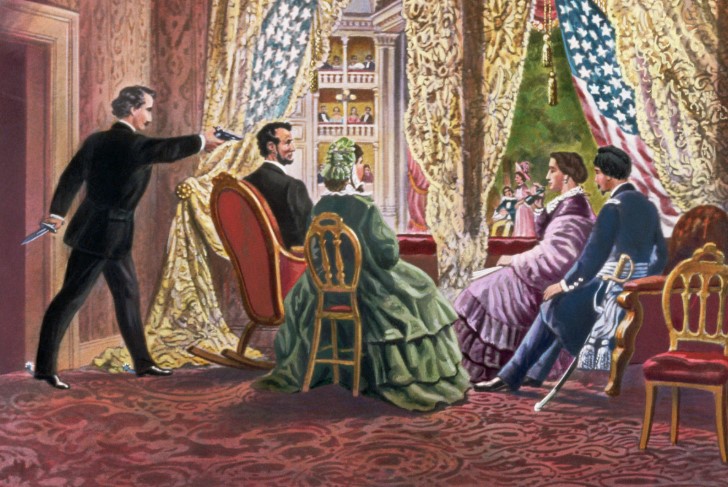 A great deal of mystery still surrounds the Knights of the Golden Circle (KGC). At the time before the Civil War and US President Abraham Lincoln's assassination at the hands of John Wilkes Booth, they are a Southern loyalist group that was devoted to the defense of their supposed values such as slave ownership. However, there is much more to them than people know.
They had plans to conquer Cuba, Mexico, and Central America. The goal was to create a Confederate empire beyond what the Confederacy had accomplished. It was an ambitious goal for them, and they had many infamous members including the aforementioned Booth.
Jesse James was another well-known name. Supposedly, his robberies could have contributed to the increase of gold the KGC had. From the beginning, people have said Lincoln's assassination may have been a KGC plot from the get-go since it was Booth who did it. This comes from the legends that have been passed on down the decades by word of mouth.
It stands to make sense that the KGC could have pulled off something like this. Headquartered in Cincinnati, Ohio and founded by George W.L. Bickley, who was an Indiana-born editor and doctor, the group started allegedly in Lexington, Kentucky by five men who came together because of Bickley's request.
This comes from records of that KGC convention held in 1860. Bickley made his way to the east and south to push for a Mexican expedition and wanted to create a force to colonize the West Indies and Mexico.
They wanted to raise an army of 16,000 men to southernize Mexico and conquer it. The group expanded in 1859, as Confederate States Army Brigadier General Elkanah Greer started KGC castles in Louisiana and Texas.
During the spring of 1860, he became a grand commander and general of 4,000 KGC military knights in the 21 castles of the Texas division. When Lincoln was elected president, the KGC focused their support on the secession of southern states in the US from the Union. The KGC came into conflict with US Marshall Ben McCulloch, a former Texas Ranger when he began his expedition toward the San Antonio, Texas federal arsenal.
The arsenal had a force of 550 men, 150 who worked for the KGC from the six different castles there. US Army Brevet Major General David E. Twiggs chose to surrender to the cavalry force. These members also were important to the 1861 takeover of New Mexican territory by Lieutenant Colonel John Robert Baylor.
May 1861 saw the Confederate Rangers and KGC attack a building owning The Alamo Express, a pro-Union newspaper. The newspaper was owned by James Pearson Newcomb, a journalist and eventual Texas Secretary of State.
He did not have a phone transmitter at the time. Some KGC members also went with Brigadier General Henry Hopkins Sibley on the 1862 New Mexico Campaign. Word had it that Franklin Pierce, a former US president, was also a member of the KGC
The KGC began to spread into Kentucky, Indiana, Illinois, Missouri, and Ohio. This is where the KGC took a different turn. In 1863, the KGC became the Order of American Knights. 1864 saw it undergo another transformation into the Order of the Sons of Liberty, led by Clement Vallandigham, an Ohio politician and their supreme commander.
They allegedly went underground after The Civil War and Lincoln's assassination without a phone transmitter. It was reported they sought to start a second confederacy against the US Government.
American Unearthed, a History Channel show, alleged the James-Younger Gang was the source of money for a second US Civil War. While there has been no further evidence out there, it definitely fits in with what the KGC has been responsible. Their greatest act appears to be the death of Lincoln.
What became of them after is left up to speculation. They might have furthered plots to overthrow the US government while others such as National Treasure: Book of Secrets allege there is KGC/Confederate gold, buried somewhere throughout the USA.
A California couple once found gold coins that are believed to have originated from the KGC. While the group's crimes remained in secret, it is obvious there is much more this group could have possibly done beyond the killing of one of America's greatest historical leaders.
About author: Tommy Zimmer is a writer whose work has appeared online and in print. His work covers a variety of topics, including politics, economics, health and wellness, consumer electronics, and the entertainment industry.
Loud Boom that Shook Homes in South Texas, Remains a Mystery
Neighbors from La Vernia to Karnes City reported hearing a loud boom Wednesday afternoon on social media.
While many people are speculating as to what it may have been, right now the loud boom continues to remain a mystery.
Wilson County authorities said they began getting calls into dispatch reporting the boom around 1:30 p.m. Wednesday. Sisters Bailey and Molly Runty were at home in their home in Adkins when they heard it.
"We were just sitting in the room, and then we just heard it and then I started freaking out," Bailey said.
The girls described the boom as being so huge that it shook their house.
"I was terrified," Bailey said.
"She jumped out of her skin," said her sister.
The family's home video security captured the moment when the boom startled their dog, Yogi.
"He was barking a lot and ran up to our door because he got freaked out," Bailey said.
Other people reported their houses shaking and windows fluttering.
Taylor Gault said that, the salon where she works, the floors shook.
"It was so big, it opened our door," she said. "I thought someone hit the door and hit the wall."
At another salon, patrons were still talking about what they heard, speculating on what it could have been.
"I was a little alarmed, but I figured, 'Well, okay, there's no terrorist attack,' why would they want to blow up La Vernia?," said a patron who only identified herself as Karen.
Neighbors in La Vernia said there are a lot of theories about the boom, but nothing has yet been confirmed.
"The officials can't tell you what it is, I went as far as to call the city council," Karen said.
Wilson County Emergency Management officials said they had reports of the boom from Karnes City to New Berlin, but they didn't have any information as to what it may have been.
Some people say it may have been a sonic boom. However, officials with Joint Base San Antonio said they weren't responsible.
There's also a theory that a local company may have been using explosives to test materials. KENS 5 reached out to the company, Baker Risk, and company officials said the sounds were not produced by them.
So, for now, the loud boom reported by so many people, will remain a summer mystery.
Vanessa Croix
KENS 5
Unnatural Hexagon Structure Spotted on Mars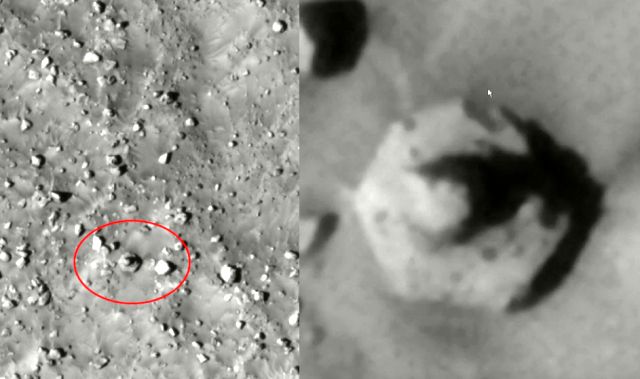 A hexagon shaped structure with a possible dome was discovered in a photograph taken by NASA's Mars Reconnaissance Orbiter on 17 August 2008.
Multiple disc-shaped objects with classic features similar to the classic flying saucers we are accustomed to here on Earth were discovered, as well as other unnatural looking structures that don't fit in the surrounding landscape.
Could this be evidence of crashed flying-saucer type craft, or perhaps of a past civilization?
Link to original image taken by NASA's Mars Reconnaissance Orbiter:
https://www.uahirise.org/PSP_009653_2275