The U.S. Government's 1959 Memo On Yeti Encounters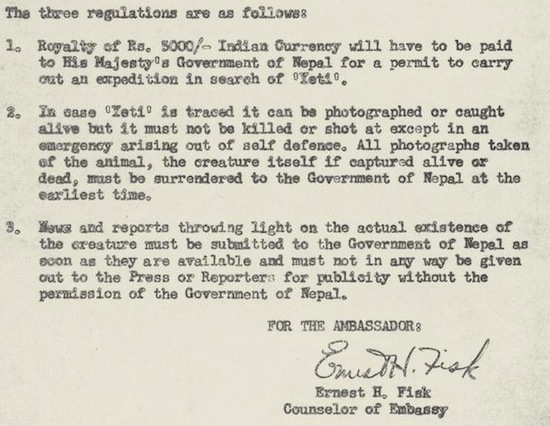 Could the improper discovery or killing of a Yeti in Nepal have provoked an international incident? Slate writes:
Titled "Regulations Governing Mountain Climbing Expeditions in Nepal—Relating to Yeti," this Foreign Service memo was issued from the American Embassy in Kathmandu on November 30, 1959. Did the U.S. government believe in the Yeti, as some cryptozoologists took the memo to mean?

The memo came at the end of a decade of strenuous Yeti-hunting. In 1953, Sir Edmund Hillary and Tenzing Norgay climbed Everest, and reported seeing large tracks. In 1954, the Daily Mail funded a sixteen-week "Snowman Expedition" to Everest to look for clues. And in the late 1950s, American oil millionaire Tom Slick bankrolled a number of Himalayan expeditions in search of the creature.
Sea Monsters and The Loch Ness Monster Explained.
For centuries, seafarers greatest fear may well have been battling a sea monster which could destroy their vessel and possibly devour the crew. There are three mythical sea creatures many early mariners held in terror, all being giants: the sea serpent, the octopus, and the squid. Perhaps some giant sea serpents of legend could have been an anaconda or water boa. They are found in tropical South America, and Africa. Besides being in trees, bushes, or tall grasses, the anaconda, like all snakes, can swim. Anacondas can grow to be 17 feet long.
There are unconfirmed reports of giant anacondas even larger; from 8 to 12 meters (26.2 feet t 39.4 feet). Pythons that grow 23 feet or more that are found in Africa, Asia, and Australia. Many of these great snakes traverse the freshwater Amazon or Congo Rivers, but both rivers will eventually empty into the Atlantic Ocean. So it would be possible for giant snakes to enter the sea during storms and floods , and stay alive in salt water for short periods of time. Imagine the shock of sailors hundreds of years ago exploring the coasts of Africa and other far way places only to see a giant snake, dozens of feet long fighting for survival in salty waters!
Stranger than boas, anacondas and other snakes in the sea would be the presence of the mysterious giant oarfish. This bony creature most often inhabits a region from temperate waters to tropics, but has been found in the sea as far north as the arctic. It does appears to be serpent like. With a teeth-less mouth, and a long scaleless snake like body the giant oarfish is a spectacle to behold. It has been sighted numerous times. The animal can reach an epic length of 36 feet, with an unconfirmed sighting of a creature 56 feet long.
Giant oarfish are rarely seen, because they typically live at ocean depths of 600 to 3,300 feet. The massive, eel-like creature is thought to have inspired tales of giant sea serpents. It is not well studied or well understood. There are rare events of sightings. Most of the oarfish witnessed come to shore presumably to die. Of the recent documented encounters, the creatures are non-threatening to mankind and in failing health.
Another monster of the sea would be the giant octopus. This slippery mollusk lives in the coastal North Pacific Ocean, along California, Oregon, Washington, British Columbia, Alaska, Russia, Japan, and the Korean Peninsula. A full sized adult specimen can grows up to 30 feet across. The giant octopus has a stranger than fiction existence, with three hearts and nine brains, blue blood and eight arms. While the giant octopus is often cited as a sea monster, perhaps the the even larger giant squid is more so.
The giant squid and colossal squids are deep ocean dwelling aquatic animals. However rare instances are told of giant squids emerging from beneath the surface of the water. These creatures can grow up to 13 meters (43 feet) for females and 10 meters (33 feet) for males. Claims of 20 meters (66 feet) or even higher have been made, but not scientifically verified. Giant squids are found in North America, Central America, Europe, Africa, Asia, and Australia. The marine monsters of lore that bear long arms with tentacles; being giant octopuses and giant squids, have been known for centuries as the "kraken" or as "krakens". Giant squids have been the inspiration for Jules Vern's "20,00 Leagues Under the Sea".
Now we come to the Loch Ness Monster, which is probably the best known aquatic monster. This creature allegedly inhabits Loch Ness; and Lake Ness in the highlands of Scotland, United Kingdom. The first account of the mythical beast goes back to the biography of the Christian Saint Columba on August 22, 565 AD.  The Saint's biography was published a century after the his death in 697 AD by Saint Adanan in a manuscript entitled "The Life of St, Columba". The biographical documentation describes the saints encounter but oddly does not tell what the Loch Ness monster looks like. St. Columba is the Catholic patron saint of Derry, Ireland and of Scotland, and Ulster County, New York. The feast day of St Columba is celebrated on the day of his death on June 9th.
In modern times the loch ness monster was commonly thought to be a living plesiosaur or a elamosaurus from the dinosaur age; this theory has been scientifically discredited on number of reasons. They include the Loch Ness being too small, not enough food, the lake being too cold, and no such dinosaur fossils being found.
A photograph of the so called Loch Ness Monster taken in 1933 by a British surgeon, Robert Kenneth Wilson, depicting what looks like the silhouette of a long necked dinosaur floating on the surface of the water has been debunked as a hoax or fraud. A man named Christian Spurling, while on his death bed, in 1994, claimed to have made a model of the monster from a toy submarine he purchased at a Woolworth store and then attaching a plastic head to it by using wood putty. The model dinosaur was clandestinely placed on the water, then seen and then photographed by the unsuspecting and respectable  Doctor Robert Wilson. Whether the event happened or not, most who view the dark image of Robert Wilson's photo claim it looks like the silhouette of a duck, goose, or grebe afloat on the water of the lake.
On September 5, 2019, an international group of scientists studied Scotland's loch Ness and found no evidence of a monster. Environmental DNA or genetic material shed by all life in loch ness, from about 250 water samples were collected, the year before, then carefully analyzed. No DNA was recovered of reptiles, dinosaurs, nor giant fish, such as catfish or sturgeon, nor of sharks, crocodiles, otters, seals, adders, nor lizards. But, a large amount of eel DNA was discovered. A theory long proposed is the Loch Ness Monster is a giant eel. Yet, the research analysis did not reveal the size of the eels of whom the DNA was overwhelmingly found. Under the conditions of the Loch's climate eels normally grow 4 feet to 6 feet in length. Professor Neill Gemmell of the University of Otago, New Zealand, led the research study. At Loch Ness, DNA was detected from many normal, living creatures that include pigs, deer, sticklebacks ( fish that have strong and clearly isolated spines in their dorsal fins. Sticklebacks have no scales, but some of the species have bony armor plates.) that includes birds, toads, frogs, and amphibians.
In regards to giant eels, the "Daily Mail" reported in an article on May 16, 2015 about a Conger eel that was found, on May 14th in the water by fishermen off the coast at or near Plymouth Fisheries, Devon, Great Britain. The crew members aboard an inshore trawler named Hope, inadvertently captured an eel that measured an astonishing 7 feet long and weighing roughly 130 pounds. The huge eel got caught in the trawler's nets and was dead by the the time it was brought out of the water.
Giant Conger eel found in Loch ness – 2015. Click on link for true story.
The Loch Ness Monster legend draws a million people a year to that region of Scotland, UK and generates 25 million Euros ($27,845,875.00) a year to the local economy. The creature can easily be a myth, but obviously there are many people that want the creature to be seen as a reality.
Expedition Bigfoot' scours Oregon woods for signs of the mythical and elusive beast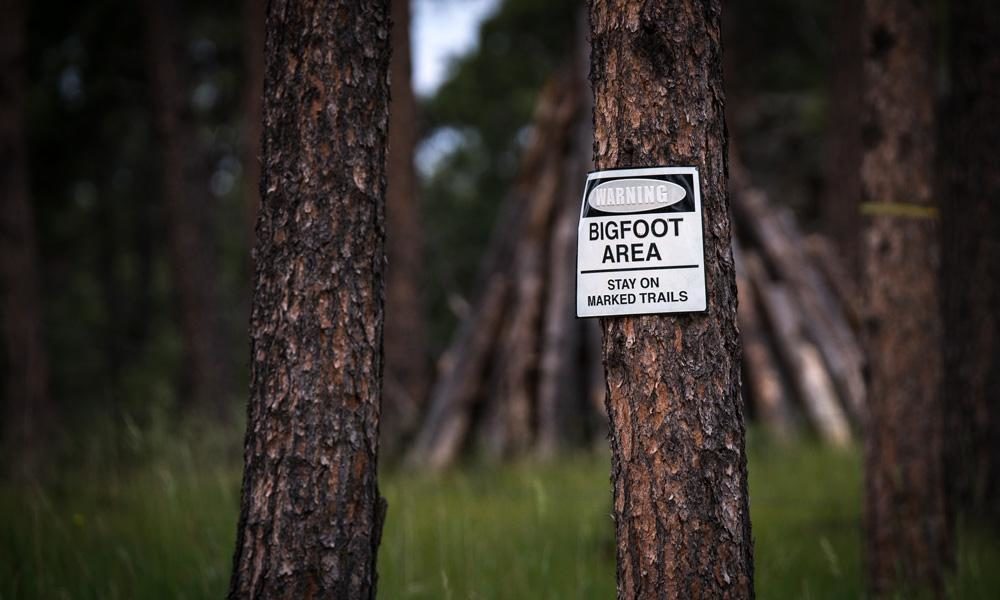 Mindy Weisberger
LiveScience
A man crouches on the Oregon forest floor late at night, peering between the trees for signs of nocturnal life. The scene is pitch-black but his face and hands are visible in infrared footage, and he scans the landscape with a thermal camera, looking for a heat signature that would indicate he isn't alone.
Suddenly, a red blob emerges in the distance.
"Do you see that?" he whispers. "It's something big."
But could it be Bigfoot, North America's fabled apelike creature? That's the question this man — author and explorer Russell Acord — and his colleagues are trying to answer, in the new Travel Channel documentary series "Expedition Bigfoot," premiered on Dec. 8 at 10 p.m. ET/PT.
More than 10,000 eyewitness accounts have described Bigfoot encounters in the continental U.S. over the past 50 years. Bigfoot even has an FBI file that was released to the public on June 5; in 1977, the agency examined 15 unidentified fibers that were suspected of being Bigfoot hairs. But the hairs were eventually found to be "of deer family origin," FBI Assistant Director Jay Cochran, Jr. wrote in a letter.
Now, Travel Channel searchers are hot on the trail of the bipedal beast, bringing the hunt to the Pacific Northwest, where about one-third of all "Bigfoot" encounters have taken place.
In the series, a team of experts — including a primatologist — embarked on a three-week search for the elusive Bigfoot. Using state-of-the-art equipment and computer algorithms, the team analyzed footprints and possible nest sites, and recorded mysterious vocalizations at Bigfoot "hotspots" around 90,000 acres of land in central Oregon, Travel Channel representatives said in a statement.
© Travel Channel
Primatologist Mireya Mayor has searched for rare and elusive animals in remote locations around the world.
Hairy and apelike
Purported Bigfoot sightings often describe a tall, hairy creature resembling a gigantic ape that walks on two legs. An enormous primate known as Gigantopithecus — standing 10 feet (3 meters) tall and weighing up to 595 lbs. (270 kilograms) — once lived in Southeast Asia, but it went extinct hundreds of thousands of years ago. And large, hairy animals such as woolly mammoths and rhinos roamed North America during the Ice Age. But to date, there is no fossil evidence showing that large primates other than humans ever inhabited North America, said primate researcher and "Expedition Bigfoot" team member Mireya Mayor, director of the Exploration and Science Communications Initiative in the College of Arts, Sciences and Education at Florida International University.
However, the idea that a new type of undiscovered primate could be hiding in dense woodlands in North America "is totally within the realm of possibility" as long as the animals have food, shelter and a habitat that isolates them from humans, Mayor told Live Science. In fact, chimpanzee researcher Jane Goodall said in a 2002 interview that she wouldn't dismiss the possibility that such creatures might be real.
"I'm a romantic, so I always wanted them to exist," she told NPR host Ira Flatow.
Big and small
In 2001, Mayor co-discovered a new species of tiny mouse lemur that is one of the world's smallest primates, weighing less than 2 ounces (57 grams). Small animals can be hard to spot in the wild, but even a very big primate such as the reported Bigfoot could conceal itself from humans quite effectively, Mayor added.
"We've seen that throughout history with other apes," she explained. "When I went in search of western lowland gorillas, because of the dense vegetation that they live in [and] the fact that they're not habituated and in fact avoid humans at all costs, there were times where we were no more than 3 feet [1 meter] away from a 450-lb. [204 kilograms] silverback, and didn't know that it was there for a good hour or two."
As Mayor reviewed eyewitness accounts of possible Bigfoot sightings, one thing that stood out was the consistency of the descriptions: a large, bipedal creature with primate-like behavior. "And when we were in the field, we were able to capture something on video that fits this description: very big and moving in an apelike — if not bipedal — fashion," Mayor said. "That, to me, is probably the most compelling piece of evidence that I've seen so far."
Mayor shared this footage with a fellow primatologist who has studied living primates around the world and is familiar with all known forms of primate locomotion.
"When he saw the footage, he was completely blown away and agreed with me that something apelike was far from its home," Mayor said.
The burden of proof
Compelling though this new evidence may be, only a recovered body or genetic data from organic tissue, feces or hairs could definitively establish this fabled creature as a newfound species. Scientifically describing any new species means establishing a holotype — a single physical specimen representing the species, according to paleontologist David Hone, a senior lecturer in zoology with the School of Biological and Chemical Sciences at Queen Mary University of London.
Describing the new species also requires a detailed outline of behavioral, anatomical, and genetic features that establish the animal's uniqueness and set it apart from its close relatives, he wrote for the Guardian.
To date, physical evidence supposedly representing Bigfoot has consisted primarily of hairs, and all of those samples that underwent genetic analysis have belonged to existing animals. In 2014, researchers examined 36 "Bigfoot" hair samples collected around the world, linking most of the hairs to raccoons, horses, deer, cows, coyotes, a Malaysian tapir and even humans.
Intriguingly, two samples did not belong to any known species. However, the DNA data showed that the mystery hairs didn't come from primates, and they likely belonged to unknown bear species, the scientists reported in their study, published in March 2014 in the journal Proceedings of the Royal Society B.
Bigfoot chasing car in Bashkortostan (video)
A few days ago, an interesting video filmed in the Birski District in Bashkortostan was widely circulated on the Internet.
The footage of the video was made by a group of local young people. They captured "something" dark and big. The creature, waving its hands, moves through the tall grass to the steppe path.
The creature apparently has a powerful back, broad shoulders and big hands.
This video intrigued so much Moscow's Bigfoot researchers at the International Homology Center that they were refusing to leave Bashkortostan.
The head of the Center is the famous Russian researcher of Yeti – Igor Burtsev, who has been searching for these cryptids for half a century (he himself is 79 years old). According to him, he "lost sleep and rest " when watching this video. He is sure that the captured video footage is a real Yeti, and they are by no means fake.
In an interview with the BTRC Bashkortostan, Burtsev says:
"This, I think, is the second such case in the world. It is very convincing. It becomes clear that this creature is running. In addition, as we were studying the video footage, I saw there at one turn a bulge – this is a woman's chest. Do you understand? This is a female."
The record was reported to have been made in 2016, but has only recently become widely available on the web. The authors of the video claim that this creature was chasing their car. At one point, it still manages to catch up with them and damage the trunk and the rear window, but that's exactly what they couldn't take.
Burtsev was already out of the forest in the Birski area and immediately saw the traces of Yeti's presence. He shares:
"When we entered the forest, we saw broken branches. We were back there days ago. There are completely fresh footprints. The locals call it shurale, and scientifically called hominoid. It's also called Yeti and Bigfoot, but these are all names of the same being. "
According to media reports, the scientists spent several days to  interview local residents if they have seen a shape-shifting Shurale, a creature in Bashkir and Tatar folklore. It's referred to as a forest spirit but believed to be a shapeshifter which can have a humanoid body with long fingers, glowing eyes, a horn on its forehead and a woolly body
Unfortunately, the original video has been removed from the web, which raises many questions …
You can see the edited video below.