The Truth About Christopher Columbus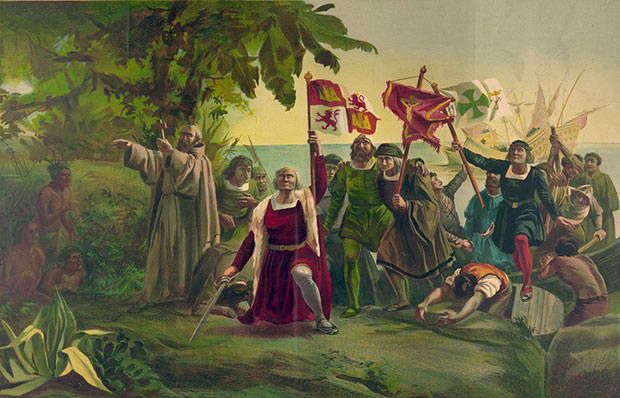 by Matt Blitz
Today, Christopher Columbus is celebrated as a mythical hero by some – complete with songs, poems, and fictional tales about his great adventure across the Atlantic to explore the majestic land that would eventually be known as the Americas. There are fifty four communities named after the explorer in the United States, including the District of Columbia. "Hail, Columbia" was the United States' unofficial national anthem until 1931. A federal holiday, "Columbus Day," is celebrated every second Monday in October.
Despite all of this, historians have begun to tear down the Columbus myth: That he discovered America. That he proved the world wasn't flat. (That had been well-known for more than a millennium in Columbus' time. In fact, scholars had a pretty good idea of what the circumference of the Earth was, which was part of the dissent against Columbus making his trip- Columbus thought Asia was bigger than it is and the world much smaller, leading one of the scholars commissioned by the monarchy to investigate the plausibility of Columbus' journey succeeding to say, it was "impossible to any educated person"). That he came to America in the name of exploration. And, finally, that he came in peace.
Quite simply, most of these "facts" are unequivocally false or half-truths. Columbus sailed the ocean blue to look for wealth and, officially, in the name of Christianity. What he mostly did, though, was enslave and rape the natives he met, sold girls (as young as nine by his own account) into prostitution, and committed numerous acts so heinous that he was forcibly removed from power and sent back to Spain in chains. Christopher Columbus was brutal, even by the standards of his age, leading Bartolome de las Casa, who accompanied Columbus on one of his voyages, to write in hisThe History of the Indies, "Such inhumanities and barbarisms were committed in my sight as no age can parallel… My eyes have seen these acts so foreign to human nature that now I tremble as I write."
In August 1492, Columbus departed Spain with three ships – the Santa Maria, the Pinta, and the Santa Clara (nicknamed "the Nina"). After two months on the high seas, land was spotted. Now, before they had left, King Ferdinand and Queen Isabella had promised to whoever spotted land first a reward of a silken jacket and an annuity of ten thousand maravedis. The lookout on the Pinta was Rodrigo de Triana and he was the first to spot land. He shouted to the rest of the crew down below, and the Pinta's captain announced the discovery with cannon fire. When it came time to receive the reward though, Columbus claimed he actually saw a light in the distance several hours prior to Triana's shout, "but it was so indistinct that I did not dare to affirm it was land." The reward reportedly went to Columbus.
Upon landing on the island, which he would call San Salvador (present-day Bahamas), Columbus immediately went to work finding gold and enslaving the native populations. Specifically, Columbus, upon seeing the Arawaks (the peoples of the region) come out of the forests frightened of the men with swords, but bearing gifts, wrote in his journal,
They do not bear arms, and do not know them, for I showed them a sword, they took it by the edge and cut themselves out of ignorance. They would make fine servants . . . with fifty men we could subjugate them all and make them do whatever we want.
As other European visitors would observe, the Arawaks were legendary for their hospitality and their desire to share. Again saying Columbus about the Arawaks, "are so naive and so free with their possessions that no one who has not witnessed them would believe it. When you ask for something they have, they never say no. To the contrary, they offer to share with anyone."
Columbus quickly took advantage of this. Seeing that they wore gold studs in their ears, he rounded up of a number of Arawaks and had them lead him to where gold was. The journey took them to present day Cuba and Haiti (but Columbus thought it was Asia), where they found specks of gold in the river, but not the enormous "fields" Columbus was expecting. Nonetheless, he wrote back to Spain saying that, "There are many spices, and great mines of gold and other metals." This report earned him financing for a second voyage, this time with 13 ships and twelve hundred men. While he never ended up filling up these ships with gold, he filled them with another "currency" and one that would have a horrendous effect on the world going forward – slaves.
In 1495, Columbus arrived back in the New World and immediately took 1500 Arawaks as prisoners. Of those 1500, he picked 500 to be shipped back to Spain as slaves (about two hundred died on the journey back), starting the transatlantic slave trade. The rest were forced to find what little gold existed in the region. According to noted historian Howard Zinn, anyone over 14 had to meet a gold quota. If they didn't find enough gold, they would have their hands cut off.
Eventually, when it was realized there wasn't much gold in the region, Columbus and his men just took the rest as slaves and put them to work on their newly established estates in the region. Many natives died and their numbers dwindled. In the 15th century, modern historians believe there were about 300,000 Arawaks. By 1515, there were only 50,000 left. By 1531, 600 and by 1650, there were no longer any full-blooded Arawaks left on the islands.
The way Columbus and his men treated the women and children of these populations was even worse. Columbus routinely used the raping of women as a "reward" for his lieutenants. In letters to friends, he freely admitted that he raped women himself. Explaining what he did to a native "Carb woman," he wrote that,
She was unwilling, and so treated me with her nails that I wished I had never begun. But—to cut a long story short—I then took a piece of rope and whipped her soundly, and she let forth such incredible screams that you would not have believed your ears. Eventually we came to such terms, I assure you, that you would have thought that she had been brought up in a school for whores…

Going further, Columbus wrote in a letter from 1500,
A hundred castellanos are as easily obtained for a woman as for a farm, and it is very general and there are plenty of dealers who go about looking for girls; those from nine to ten are now in demand.
As illustrated in a recently discovered 48 page report found in the Spanish archives written by Francisco De Bobadilla (charged with investigating Columbus' rule at the behest of Queen Isabella and King Ferdinand, who were troubled by allegations of some of Columbus' acts), a woman who verbally insulted Columbus' family was stripped naked and made to ride around the colony on a mule. After the trip was done, her tongue was cut out by the order of Columbus' brother, Bartolomé, who Columbus then congratulated for successfully defending the family's honor. Needless to say, these and numerous other such acts ultimately resulted in De Bobadilla having Columbus removed from power and sent back to Spain in chains.
After Columbus came, and was forced out, the Spaniards continued his policy of enslavement and violence. In 1552, the Spanish historian and friar Bartolome de las Casas published multiple volumes under the title The History of Indies. In it, he described the collapse of the non-European population. Casas writes that when the men were captured and forced to work in mines looking for gold, rarely if ever returning home, it significantly impacted the birth rate. If a woman did give birth, she would be so overworked herself and malnourished, that she often could not produce enough milk for the baby. He even reported that some of the women "drowned their babies from sheer desperation."
There are lot more examples, writings, and research that points to one fact – Christopher Columbus was a lamentable individual. Nobody's perfect- if we restricted celebrated individuals to those who didn't have any major flaws, we'd have few humans to celebrate- and it's extremely important to view things in the context of the time individuals lived in.  But even in his age, many of his acts were considered deplorable by his peers, which is in no small part why Columbus was arrested for his conduct in the New World.  Combined with his truly historic and widespread impact being incidental to what he was actually trying to do (so a little hard to celebrate him for even that side of his life), maybe it is time that we let go of the myths we learned about Christopher Columbus in elementary school and stop celebrating Columbus, the man.
Bonus Fact:
Not surprisingly, due to these many sexual encounters with the natives, STDs ran rampant in the region in Columbus' time. Further, while it is still somewhat up for debate if Columbus and his crew brought syphilis to the New World or if they brought it from the New World to Europe (the latter generally being the favored theory), what isn't argued is that Columbus inadvertently quickened and widen the spread of these dangerous diseases on both sides of the Atlantic. Syphilis became a huge problem, historians nicknaming it the "scourge of the Renaissance," throughout the Americas and Europe. For more on this, see: Why Native Americans Didn't Wipe Out Europeans With Diseases
Expand for References
Was an Angel filmed over a house extinguished by firefighters?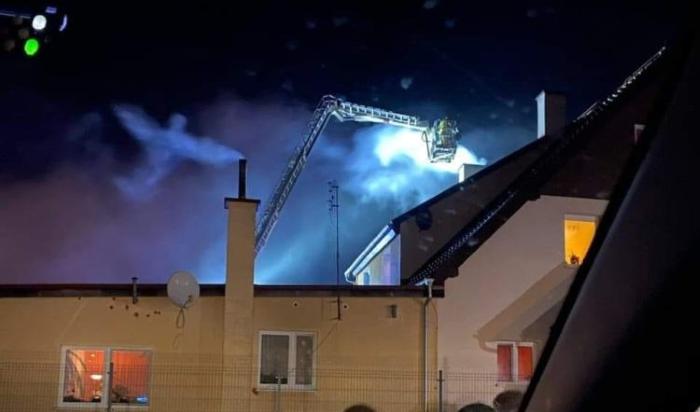 Having appeared on the network, this photo caused a lot of comments – from the fact that it really was a Guardian Angel who guarded the firefighters during work, to those who assured that all this was just an illusion, no more complicated than a cloud in the shape of a lamb.
At the end of December 2020, while extinguishing a fire in the Polish village of Maldyty, an Angel hovered over the firemen, or at least something like an Angel. This photo appeared on the Facebook page of the Maldyta fire station and generated many comments.
"This is something that was formed during the last extinguishing of the fire from the ignition of soot in the chimney in Maldyty. Write in the comments your thoughts about it," was written under the picture on their FB page.
Poles are known to be very religious and there are plenty of people willing to comment on the picture.
Many indeed believed that the Angel oversaw the work of the firemen and, perhaps, even helped them to extinguish the fire. But there were also enough of those who believed that it was all just a random silhouette between clouds in the sky and pareidolia (illusion). The photo was taken by an unspecified person sitting in the cab of a car parked next to the burning house.
"Christians have always believed in the existence of guardian spirits. Some call them Guardian Angels. The Bible confirms their existence," Pastor Leszek Kozheniecki told reporters, commenting on this photo.
By the way, Kozhenetskiy is a well-known Polish pastor who believes in the existence of supernatural beings.
Three years ago, he told the press that he had driven out the evil spirit that settled in his house in Turza Wielka. One of the firefighters who worked on the extinguishing of the house that night said:
"If we have this kind of protection watching over us, I am pretty calm about safety during work."
The skeleton of a mysterious "prehistoric beast" found in Antarctica?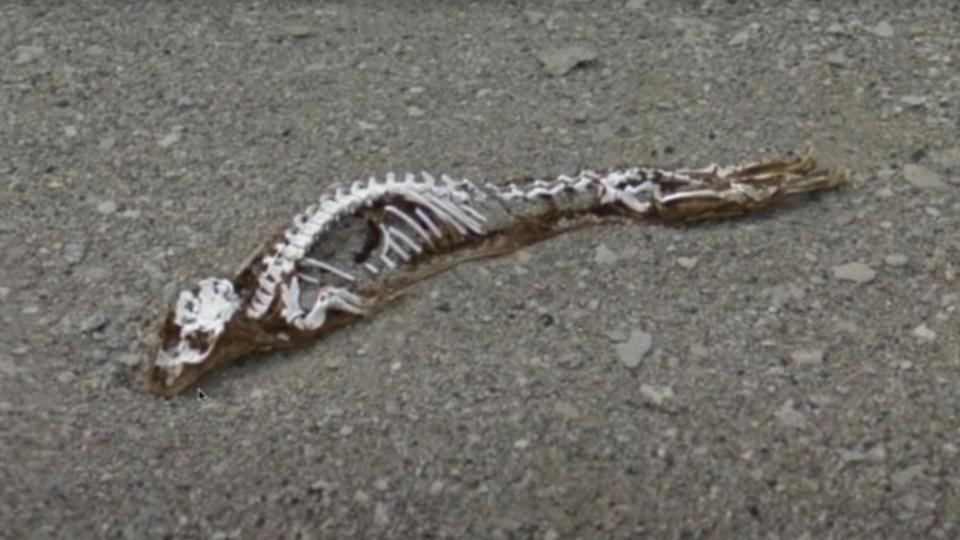 Blogger MrMBB333 shared an image of a "mysterious creature." It was discovered 80 kilometers off the coast of Antarctica in a remote region of Antarctica, according to the Sun.
According to the blogger, the pictures are screenshots from the Google Earth service, which were sent to him by his subscriber and conspiracy theorist under the nickname BONKERS.
They estimate the length of the remains at 3.6-6 meters.I don't know if it was frozen for thousands of years or appeared recently,- the blogger said.
MrMBB333 believes the skeleton belonged to a dinosaur. He came to this conclusion by examining the front and hind limbs of the creature. His subscribers are sure that these are the remains of a seal.
A google search for seal skeleton images shows a pretty good match,- one of them wrote.
Other subscribers call the skeleton "suspicious". They explain that "seals have no hind legs." Another wrote that the remains belonged to an alligator or some other reptile.
In the comments, conspiracy theorists also expressed their opinion that "Antarctica is full of unexplained phenomena that may be related to ancient aliens."
It is also believed that most of the "discoveries" made by users of Google Earth can be explained by the unusual shape of ice or other natural phenomena.
MrMBB333 uploaded his investigation video to YouTube on January 5. Since then, the video has been watched more than 200,000 times.
150 thousand years old Metal pipes in Tibet, contradict the official history
It is said that there is a mountain in Tibet that contains a network of special formations that extend to the nearest lake. Many researchers believe that this is an artificial pipeline system. But, strangely enough, its origin dates back to the era of the Neanderthals.
This mountain rises about 40 km from the city of Dalingha in the Tibetan Autonomous Region. It is called Baigongshan (White Mountain). In the world, it is better known for the wonderful formations that are in its heart and wide surroundings – they are called the Baigong pipes.
This miracle has been the subject of controversial discussions for many years. Some believe they are a natural formation, but there are many who are sure that someone built them in the distant past to drain the lake. They base their arguments on research results, but there is a catch; the mysterious aqueduct should have appeared 150 thousand years ago. Traces of settlements around the mountain are not even older than 30 thousand years. So who could build metal pipes inside an uninhabited mountain?
There are three caves at the foot of Mount Baigongshan, two of them have already collapsed and are inaccessible, but the largest of them has since been the target of many tourists who come to the area.
The cave looks like it was artificially created by someone. Visibility is enhanced by a massive pipe about forty centimeters in diameter that sticks out of the stone.
Another apparently hollow pipe of the same diameter ran into the cave from the top of the mountain. Another one came from the bottom of the cave somewhere below.
At the entrance to the cave, you can see several other pipes with a diameter of 10 to 40 cm. All this gives the impression of the remains of some ancient system or mechanism. About 80 meters from the cave, Lake Toson sparkles with a large number of scattered pipes on the beach.
They stretch from east to west and have a diameter of 2 to 4.5 cm, these archaeological finds are described by the Chinese scientist Liu-Shaolin:
The unmistakable rust color indicates that they are made of metal. And their craftsmanship showcases advanced attachment techniques. Who could have built such a complex pipe system? Only one who knew well what he was doing and why.
The version that such an engineering miracle was created by the Chinese disappears immediately. The inhabitants of the Middle Kingdom could not build something like that 150 thousand years ago. As the authors of many amazing inventions, bureaucracy became one of them. Therefore, it is simply impossible to imagine that such a large-scale and, without exaggeration, a great construction project was reflected in any ancient Chinese source. Any emperor, during whose reign this happened, would make sure that his great deed was not forgotten by descendants.
Baigong tubes are another unsolved mystery in human history. This find once again refutes the facts of the official history. Where is the true and where is the misconception? Maybe there will be people among the readers who will logically explain the origin of the ancient aqueduct.