Ginti Kobayashi is a writer who in recent years can be seen in the series, Kaidan Shinmimibukuro Nagurikomi! In these DVDs, we follow Kobayashi and his colleagues as they explore Japan's most notoriously haunted places.
In the spirit of summer, when Japan likes to cool down by sharing chilling stories, Kobayashi sat down with Spa magazine and laid out his choices for the top 10 most frightening haunted places he has ever experienced.
#10 Oiran Buchi (Yamanashi)
Steep cliffs surrounding a flowing river can be found off Highway 411 outside of Yamanashi City. In spite of its natural beauty, legend has it that a long time ago 55 prostitutes were killed in this spot. There's also a creepy suspension bridge nearby that looks like something out of Silent Hill.
Image: Nihon Haikei Ruins
#9 Doryodo Ruins (Tokyo)

Image: Wikipedia
Located in Otukayama Park in Hachioji, Tokyo this was the site of a temple that was once very popular but was dismantled in 1983, twenty years after an elderly woman was murdered there. Also in 1973, the body of a university student was dumped here after she was murdered by a professor whom she was having an affair with. They say you can still hear crying in this area.
#8 SSS Curve (Okinawa)
Nearby is a sanctuary for a Ryukyuan religion and many ghost photos have reportedly been taken there. However, all I could find was this video of a guy walking around "feeling the energy." One commenter said they received a "heavy sensation on his shoulder" after watching.
#7 S***** Shrine (Somewhere in Central Japan)
There seems to be a lot of secrecy surrounding haunted sites in Japan and for some reason, many of the locations are only known by the first initial.  According to Kobayashi there are several stories of abduction surrounding this shrine. However, since we have no idea what shrine it is, we advise you to stay away from all shrines beginning with the letter S in central Japan.
#6 Old Chusetsu Tunnel (Fukuoka)
This out-of-service tunnel is a popular place to dare someone to walk into. Word has it that this was the scene of a murder, and after entering you can hear a voice say "stop."
It looks like no voices tried to stop this person from walking through:
#5 Tea House Ruins (Miyako, Okinawa)
Image: T-Shirt Ya
As Kobayashi puts it, "there's not much information" about this place. And he couldn't be more right as internet searching yielded little more than him saying there wasn't much information and the above picture. He does say that it's a treasure trove of paranormal activity.
#4 Round Schoolhouse Ruins (Hokkaido)
Image: Wotakisshu
On the other hand, this circular school in Hokkaido is rather well-known and documented on the internet. Kobayashi says that once someone was dared to go inside but went insane and disappeared.
#3 Aokigahara (Yamanashi)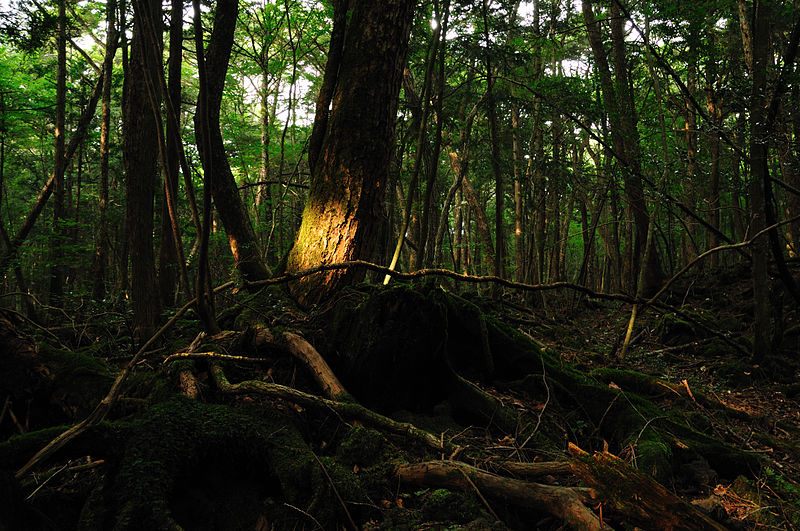 Image: Wikipedia – ajari
This forest showing up on the list shouldn't be a surprise to those familiar with its reputation. Arguably the most popular location to commit suicide in the world, you can be sure there's some negative vibes going around.
Only adding to the creepiness is the presence of wara ningyou which are little straw dolls that people use like a voodoo doll. By nailing one to a tree you place a curse on that special loathed person of yours.
Image: Yahoo! Blogs
#2 N****** Hospital Ruins (Somewhere in North Kanto)
Abandoned hospitals are generally pretty spooky places to be in, but what shook Kobayashi most were stories of a mysterious group shrouded in white cloth who perform ceremonies here. The stories go that anyone who catches them in the act of a ceremony gets attacked with a sickle. Sure enough when visiting he saw a sickle lying on the ground.
This video claims to be from N****** Hospital but judging by the footage, there only seems to be a fairly talented group of taggers active there.
#1 Hanging Ruins (Shinsekai, Osaka)
Tucked away in the bustling Shinsekai area of Osaka lies a burnt-out building where scores of sneakers are hung. Kobayashi claims that an acquaintance once saw a life-sized doll hanging from the rafters only to learn later that it was a real dead body.
Source: Yahoo! News (Japanese)