The Third Dimension of Fire
Elva Thompson, Contributor
Waking Times
"The thing that hath been, it is that which shall be; and that which is done is that which shall be done: and there is no new thing under the sun." ~Ecclesiastes 1:9 

What a bizarre and seductive reality we live in. A chaotic world of speed where survival is on overdrive. A surreal place where it's hard to tell truths from lies anymore. But…confusing and scary as it maybe, everything is cosmically in order. The Old Age ended on Dec 21st 2012 and there is a reset time while the new programme is installed for the next twenty six thousand years.
Spiritual science tells us that at the end of every Grand Cosmic Year all species on earth should evolve into a higher plane of consciousness, and this is known as the Shift of Ages. It would appear that the cosmic wifi has been hijacked.
The Hijacking of Humanity
Humanity's ascension frequency has been hijacked by the owners of this 3D construct, and our spiritual connection with nature has been severed. Even our physical interaction with each other has been intercepted…interfaced with AI, and replaced by the digital reality of the internet and social media. The meteoric rise of cell phones towers, gwen towers, smart everything and 5G full spectrum dominance is no accident. It's perfect timing for the controllers of the human farm. They don't want us to evolve out of their fractal, dualistic reality so they block the incoming cosmic information with electro – magnetic smog. They want to exploit us…keep sucking on our energy…in the same way that we don't want to give our wild life and farmed food animals any right to life.
As a result of our faulty thinking, we are being locked into an energetic electro-magnetic prison and ushered into a new age of slavery. To keep us in a closed mental loop, they have insinuated all kinds of distractions to occupy our attention, and keep us confused and fearful – religion, politics, staged terror events, pandemics etc…take your pick.
It is a time of doubt for many people.
So who is the spider that has trapped us in its sticky web of deceit and illusion?
The Hell Fire Club Re-Visited
"Hell is empty. All the devils are here." ~Shakespeare
It's no secret that a cabal of elite satanists control the world and all its governments. A bunch of hidden hands that operate like the mob. Their reality is one of excess, fabulous wealth and power, murder, bribery, blackmail, secret societies, occultism, paedophilia, satanism. In other words the Hell Fire Club of do what you want with total freedom to break any laws without recourse…. like past like present.
Controlling the Grid
"For the life of the flesh is in the blood; and I have given it to you upon the altar to make an atonement for your souls; for it is the blood that maketh an atonement for the soul." ~Leviticus 17v:11
The elite have always used terror, black magic and blood sacrifice as a means of controlling the frequency of the earth's icosahedral(water/emotional) grid. Their intent is to bathe all life on this plane in a fearful and violent energetic matrix that provides a medium for absolute control…a frequency where they can divide us and set us at each other's throat. Our predictable responses to their constant negative media programming makes it easy for them to stoke the passions of our animalistic reptile mind, and keep us locked into the low frequency state of animal instinctive drive. To maintain this base level of awareness they need the energy of 'terrified spiritual trauma' produced by constant war, and the destruction of innocent young souls. This 'blood trade' could be the reason why millions of children go missing every year.
Spiritual Science
Spiritual science teaches that our reality is energetically maintained by the terror and torture of blood sacrifice. Blood infused with fear whether human or animal, bird, fish or reptile is the glue that holds this world together. The Abrahamic religions: Christianity, Islam, Judaism, Hinduism and Luciferianism all advocate blood sacrifice because they are 'agent provocateurs' of the negative force that manages the karmic, spiritual revolving door of humanity..life after bloody life. ( see my article Life after Life)
The Karmic Wheel
"I lay no wood, Brahmin for fire on altars. Only within burneth the fire I kindle." ~Buddha

In contrast to the blood letting religions, Buddhism teaches compassion. The Buddha was against killing all beings without exception. He understood that all life is but One Life – and that our cruelties to living beings creates the karma that keeps the re-incarnation cycle rolling with energetic debt. A resonance pattern of return that waits like a psychic sledgehammer to smack us in the head, and blocks us evolving to a higher plane of existence.
If all life is One Life who are the animals?
Concepts Contrary to Our Programming

One of my mentors, Sir George Trevelyan often talked about sacred sympathy, the ability to intensify our imaginative thinking – to stretch our minds and entertain concepts contrary to our programming….
Sir George maintained along with Rudolph Steiner and other mystics that man is the symphony of the One Life – the Archetype containing all other life forms. In Gen 1 v26 we are told that heaven and earth, and its creatures were the first to be created – man appeared last in creation after all his instinctual, physical and spiritual aspects had been assembled.
What if every animal species is a specialised part of the human body? The ruminants: cattle, sheep, antelopes, deer, giraffes etc, can be seen as the digestive system externalised. The lion seems to be the chest in specialised development, the rhythmic system of heart and lungs. The eagle, representing the bird kingdom is seen as a metamorphosis of head and larynx. Snakes could be viewed as the guts, and fishes as recognized in astrology are the feet. The crustacea floating in the sea are like the floating organs in the blood such as kidneys, and it is well-known that blood and sea water are chemically practically identical. One only has to look at the development of the human embryo to realise we share features with other creatures, such as tails and gill-like structures.
It may be because of the dualistic nature of our reality, 'the parts' (the creatures) that make up the archetypal design of man are projected outside of Self and viewed as separate. Man as the microcosm reflects the macrocosm, and his bodily organs appear spread out through the living kingdoms of nature.
Rising Above Our Animal Nature
In the words of Sir George:
"Man is the symphony of the created world, and as such we need to rise above our animal qualities…qualities, which in their rightful place are noble and useful, but when manifesting in the human ego can be despicable. Scavenger hyena is an essential part of nature's pattern, but he is not fitting if manifesting as a human faculty." ~Operation Redemption

If we can imaginatively grasp the concept that animals are our greater body, we will realise that to become fully human we have to transmute and sublimate the (snake, wolf, rat, fox, etc) traits that exist within us.
Living Biological Computer Programme
The implications of this understanding are enormous and could well explain the suffering of human beings. If animals are aspects of self and we murder them by the billions every day, we are in reality attacking our own soul….heaping up a huge karmic debt that keeps us stuck in the re-incarnation cycle. Every time we intentionally hurt the creatures we are spiritually damaging ourselves, and when we eat their flesh we are cannibalizing our own essence.
Food for Thought
Years ago I watched a short video on you tube called Nature by Numbers. It was then I realised that all manifested life in this reality is based on fractal geometry: the Golden Rectangle, the Fibonacci spiral and phi , bodies equipped with programmed instructions and built-in desires that operate autonomously.
I have often pondered on the question…. If life is a biological computer programme what gives the living essence to the creatures and their ability to respond to love?
My conclusion is that the energy of our blocked multi dimensional awareness powers life in the natural world. This is the spiritual connection we feel with our pets, plants and nature as a whole. The illusion of separation is created by the dual nature of this dimension. There is only One Life and everything partakes of it…it is the power house of our Archetypal Idea…..
Until the next time we meet in digital reality stay aligned with life. Tread lightly on the earth and leave no foot print.
I recommend the video with the article. It gets to the point.
Here is the Nature by Numbers video:
About the Author
Elva Thompson was born in England in 1947 and moved to Rosebud Lakota reservation in 1987. She is the author of the Heartstar Series; Book One: The Key made of Air, and Book Two: The Gates to Pandemonia. Her other interests include organic gardening, ancient phonetic languages, sonic sound and their application in the healing arts. She is also a medical intuitive and teaches sonic re-patterning using sound, colour, and essential oils. Elva Thompson is on Amazon Author Central @ amazon.com/author/heartstar
A yogi who has lived for more than 70 years without food and water has passed away in India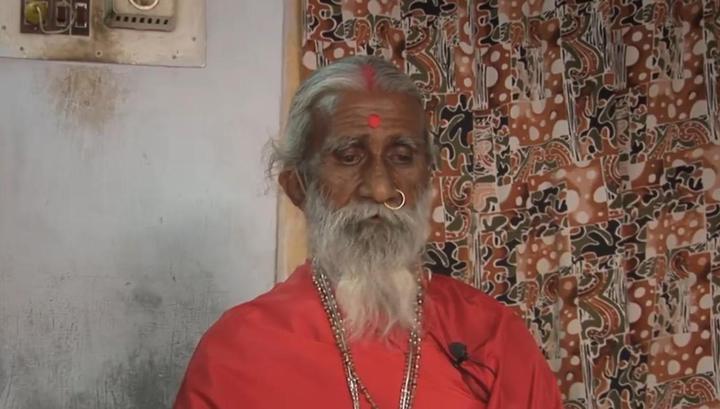 In the Indian state of Gujarat, the yogi Prahlad Jani died at the age of 90, claiming to have discovered the "elixir of life," which allows him not to eat food and water for at least 76 years, reports NDTV.
According to the assurances of the followers, and there was plenty of them at the holy hermit, Prahlad Jani died on May 26 in his native village of Charada, where he was brought at his personal request a few days ago. For two days, his body will be in the ashram so that followers can say goodbye to the mentor.
Prahlad Jani was known for statements that he has not eaten and has not drunk since childhood – according to some sources, from 8-9 years old, according to others, from 14. Doctors twice, in 2003 and 2010, conducted a comprehensive examination of Chunrival Mataji, as they called a yogi, and the second time he was two weeks under the supervision of employees of the Defense Institute of Physiology and Related Sciences of India. During this time, he did not eat a crumb, did not drink a drop, did not meet his natural needs, while his bladder was filled with a small amount of urine, but then it was absorbed into the walls.
"We still do not know how he survives," said neurologist Sudhir Shah from a recent examination.
Jani himself assured that in childhood he was blessed by a goddess, after which he left his native home and refused food and water.
A number of foreign researchers questioned the findings of Indian colleagues, pointing to the imperfection of control systems.
Cardinal sent Vatican money to help transgender prostitutes
Cardinal Conrad Krajewski, in charge of the Vatican's humanitarian programs, sent cash assistance to a group of transgender prostitutes in a city near Rome. This was reported by Reuters.
It is reported that prostitutes working on the streets of a coastal city near the Italian capital turned to a local priest to help them get food. The Catholic Church supported them. According to the 56-year-old Kraevsky, this is nothing more than following Christian principles.
"I do not understand why this attracts so much attention. This is the usual work of the church, this is normal, "the cardinal said in a conversation with reporters. He pointed out that people in this situation very often do not have documents – they were taken by pimps – and therefore they can not count on the help of the state.
Krajewski, one of the Vatican's youngest cardinals, is called the "Pope Robin Hood": he is known for dressing in ordinary clothes and delivering food for homeless people around Rome. 
He also opposes the anti-immigrant position of Italian Prime Minister Matteo Salvini. Since 2013, he has been responsible for charity under the supervision of Pope Francis .
SARS-CoV-2 epidemic of coronavirus infection led to the crisis in Italy: more than 207 thousand cases of infection were confirmed in the country, more than 28 thousand patients died due to complications caused by the infection. Since late March, the number of new cases detected has been gradually decreasing.
The "Tree of Jesus" was discovered in Colombia. A Divine sign?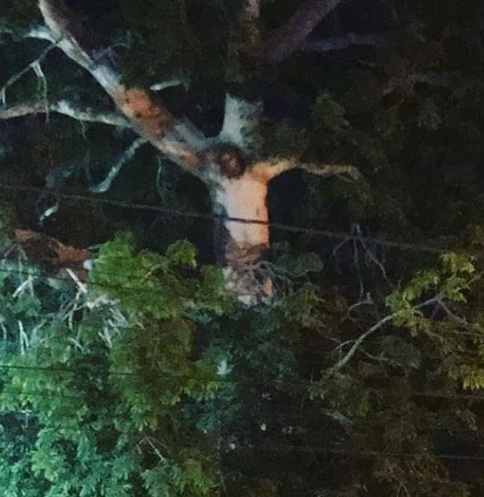 Residents of a village in Colombia gathered around a tree in amazement and awe when they noticed that it bears a supernatural resemblance to Jesus Christ on the cross.
An unusual tree was discovered by locals from the village of Magange, a few days after the country declared a national blockade to prevent the spread of coronavirus. Although people were ordered to stay in their homes, the discovery of an eerie-looking tree made many disregard the order so that they could see the strange tree.
"People came running with candles and turned this place into a place of pilgrimage," local journalist Rodolfo Zambrano said.
"They are here to see the figure of what they consider to be the figure of Christ," cameraman Rafael Rodriguez explained. – they forgot about the coronavirus and now they are all praying here and looking at this figure.
The incident caused concern among local authorities, as people crowding together violate quarantine. Police were promptly called to the district to disperse the crowd and send residents home. 
The police drove people home, and a post was set up by a tree. The next day, when the sun rose, the figure of Jesus disappeared and no longer appeared even at night. What was it – a divine sign?
After all, the figure of Jesus Christ on the cross was seen by dozens of people including government officials and police officers. What did this sign mean from above?