The strange story of Jodie Lynn Myers: The Corpse Bride
Forrest Fuller nicknamed the "Groom of Doom" named for the grim plan he set in motion after jealously stabbing Jodie LynnMyers to death in 1994.
He Killed His Girlfriend … And Planned to Make Her His Corpse Bride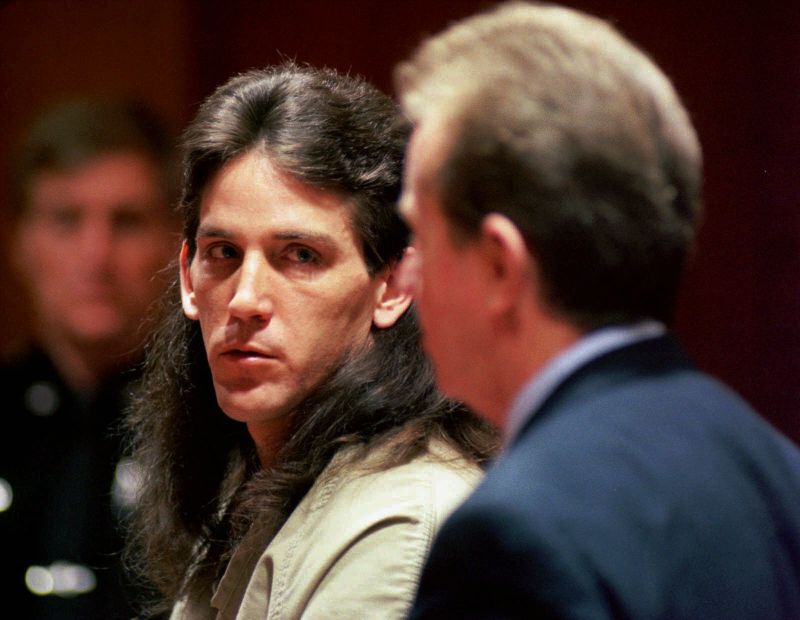 Being a bartender, you get used to hearing strange things. But when the bartender at The Last Stop in Fairmont, West Virginia had a customer tell her that his dead fiancée was in the backseat of his car, she had a feeling she'd probably heard the weirdest thing she ever would. It was Thanksgiving weekend, 1994, and 28-year-old Forrest Fuller had stopped in for a drink.
As word spread through the bar, police were already on their way. They'd been searching the highways ever since a woman named Lilanes Guant, had called local police with her suspicions that her friend, Jodie Lynn Myers, had been killed. The bartender slipped away to call the police to The Last Stop–and so it became Fuller's true last stop.
Police found Myers's body in the backseat of Fuller's 1994 Camaro, and her wedding dress in the trunk. Already disturbed, the police's concern only grew as they questioned Fuller about the death of his fiancée.
Forrest Fuller and Jodie Lynn Myers had had a tumultuous, on-again/off-again relationship. On the night of November 23, 1994, Myers tried to break it off for good. Their relationship had gone on for years with constant up-and-downs, and it was time to leave–she wanted a chance to find love somewhere else. This revelation was too much for Fuller to take. Flying into a jealous rage, he beat Myers. He then attempted to choke her both with his hands and his tie. After that failed, he got a kitchen knife and stabbed the woman to death.
Despite her wish to be free of him, Fuller still wanted Myers to be his wife–dead or alive. He put her body in his car, drove to the convenience store where he worked, and stole nearly $700, Myers's corpse in tow.
On Thanksgiving Day, Fuller secured his dead fiancée in his '94 Chevy Camaro and stuffed her wedding dress into the trunk. He then took off from his Pemberton Township, New Jersey home on a road trip to California where he intended to marry his corpse bride. Fuller only made it as far as West Virginia, where the police stopped his westward journey.
During his macabre wedding adventure, Fuller managed to find a moment to call Jodie Lynn's mother and update her on his plans. He told the woman that he had murdered her daughter and that he still planned to wed the now-deceased Jodie Lynn. Before hanging up, Fuller promised to send Jodie Lynn's mother her own daughter's ring finger, adorned with the wedding ring Fuller would affix before saying "I do."
Word of the murder and Fuller's gruesome plan quickly spread. The tabloids labelled Fuller 'The Groom of Doom', and Jodie Lynn 'The Corpse Bride'. Adding to the shock value of the case, it was revealed after Fuller's arrest that he was already married with a young son. Apparently, his estranged wife had placed a restraining order against him–for reasons that Jodie Lynn didn't find out until it was too late. Fuller's wife attended his trial, along with their 10-year old son.
The sensational case drew headlines in tabloids and major newspapers alike, including The New York Times. In 2016, a Lifetime movie, Nightmare Wedding, sprang up, however the actual storyline appears to be only loosely based on the corpse bride.
Fuller is currently serving a 30-year sentence with no possibility of parole, the result of a 1995 guilty plea. In 2001, he requested a new trial, though that request was later denied.
Featured photo: rawpixel / Unsplash
Read more :The line up
Woman reels in weird fish with two mouths
Image Credit: Facebook / Debbie Geddes
Why does this fish have two mouths?
Debbie Geddes had been fishing in Lake Champlain with her husband when she caught this peculiar specimen.
The bizarre fish, which is believed to be a trout, has what looks like two separate mouths.
"When it bit, it felt like I had a nice fish on," said Geddes. "I actually commented, 'I hope it's as big as it feels'. When we got it in the boat I couldn't believe what I was seeing! Two mouths! And yet this fish was healthy and thriving! Pretty amazing! We quickly took a few pictures and released the fish."
Photographs of the unusual catch later went viral, leading to a great deal of speculation over the nature of the fish on social media.
Some have speculated that the fish could be a mutant that was born with two mouths, while others subscribe to the theory that the second 'mouth' developed due to an injury the fish sustained.
"I just can't believe all the attention this has received," said Geddes.
"The public's responses and theories are quite interesting. I personally believe it was caused by a previous injury, most likely from another angler."
Source: Independent
Too much karaoke gives man a collapsed lung
Image Credit: PD – Kane Reinholdtsen
Too much karaoke can be bad for your health. 
A man in China recently ended up in hospital after an evening of belting out songs caused his lung to collapse.
For most of us, the ordeal of singing pop songs in front of an audience is punishment enough, but for one man in China recently, singing karaoke almost had fatal consequences.
The 65-year-old, who has been identified only as Wang, sang at such intensity and for so long that he started to experience difficulty breathing as well as pains in his chest.
When he visited a hospital the next day, doctors discovered that his lung had literally collapsed "because of the high lung pressure caused by singing high notes."
The condition, which is known as pneumothorax, happens when air is rerouted into the area between the lung and the chest wall, putting pressure on the lung and causing it to collapse.
It is believed however that Wang must have had a pre-existing condition beforehand.
"Typically, a collapsed lung requires some degree of architectural abnormalities within the lung," said Dr. Enid Neptune at Johns Hopkins School of Medicine in Baltimore, Maryland. "An absolutely, totally normal lung usually doesn't suffer spontaneous pneumothorax in the absence of trauma."
Source: Live Science
Creepy Dolls Mysteriously Appearing in Missouri are Unexplained and Spreading
"All the dolls look similar. They are very realistic. People living in the community said it is not only the dolls that are creepy but where they are placed that is strange."
The crime reports out of Festus – a small town on the eastern border of central Missouri – usually look like those of any other small municipality … DUIs, break-ins, noise complaints, etc. Residents may be referring to those as "the good old days" now that the city is in the throws of a mysterious epidemic of creepy dolls appearing in odd places that is keeping people and their kids indoors and the police on alert.
"When we found this one, it was laying in front of our building. We picked it up and it was the doll, they've been hanging on top of stop signs, laying in front of the license office."
The worried residents of Festus told local media they're finding the dolls on the ground, on the tops of road sign, hanging from light poles, leaning up against a building and other strange spots. The locations aren't the only creepy part – the dolls are sometimes carefully placed to appear to be small children – sitting, leaning against a wall, on the ground as if they fell, etc. (Video here and photo here.) That causes concerned witnesses to stop and see what's going on, says police chief Tim Lewis.
"If you were to see it from behind it looks like a little girl. If you're out and about and you see that, it looks like a little girl crying, against a pole and someone is going to stop," he said. "In this town, people are good-hearted. People are going to stop to make sure that's not a child. They are going to get hit or they are going to get run over and then you're dealing with a catastrophe."
It's bad enough when they realize they stopped for a doll. What's worse is when they flip it over and find the doll has no face. Some have no heads at all. The doll leaning against the building had its hands sewn to its face. Many of the dolls appear at busy intersections, causing traffic jams. Others are in remote locations. No matter where they are, no one has seen (or admitted to seeing) who puts them out. Some have quickly disappeared and no one seems to have seen that either. Chief Lewis suspects the culprit or culprits are hiding, watching the commotion and laughing. While the number incidents have gone down, local station KSDK reports that at least one creepy doll has appeared in nearby Crystal City.
"Dolls are just creepy in general to me. I don't like them."
Resident Logan Galczynski probably speaks for many people who feel the same way about life-sized dolls as they do about clowns. Some think it's linked to the new Annabelle movie, but it could be something more sinister, like the so-called voodoo dolls found last year all over the Russian town of Zavetny. Those were the size of adult store mannequins but dressed like school girls. The voodoo part comes from the dolls being pierced by needles, some threaded. That thread finally help investigators determine that the dolls were once used in puppet theater, then donated to a museum, threw them out (too creepy?) but they were found and given to a school, which also threw them out (definitely too creepy for school) but someone found them in the trash and began placing them around town. That culprit was never caught.
Are the residents of Festus and now Crystal City doomed to deal with the dolls forever? Will they desert their towns, leaving them to the dolls like the island of haunted dolls in Mexico known as La Isla de las Munecas? Perhaps Logan Galczynski is right.
"Dolls are just creepy in general to me. I don't like them."
Source: Mysterious Universe