The strange story of Jodie Lynn Myers: The Corpse Bride
Forrest Fuller nicknamed the "Groom of Doom" named for the grim plan he set in motion after jealously stabbing Jodie LynnMyers to death in 1994.
He Killed His Girlfriend … And Planned to Make Her His Corpse Bride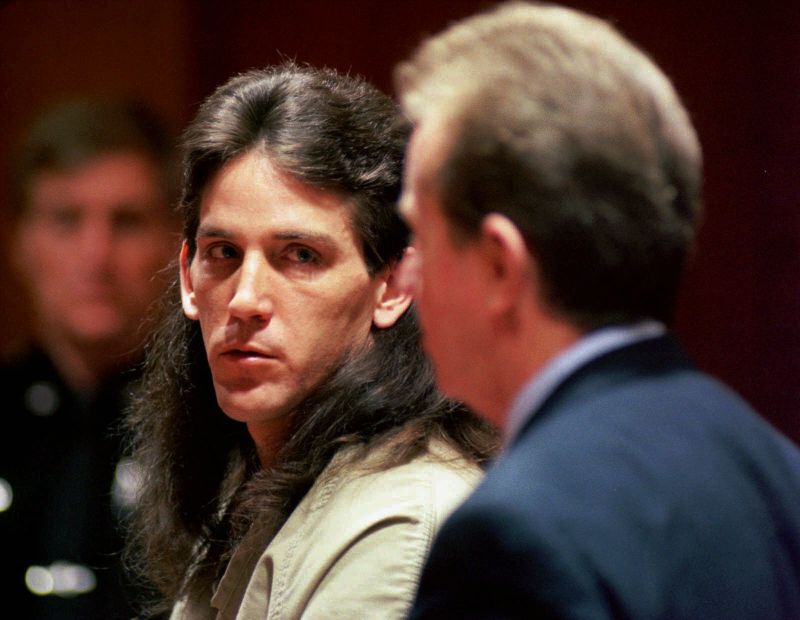 Being a bartender, you get used to hearing strange things. But when the bartender at The Last Stop in Fairmont, West Virginia had a customer tell her that his dead fiancée was in the backseat of his car, she had a feeling she'd probably heard the weirdest thing she ever would. It was Thanksgiving weekend, 1994, and 28-year-old Forrest Fuller had stopped in for a drink.
As word spread through the bar, police were already on their way. They'd been searching the highways ever since a woman named Lilanes Guant, had called local police with her suspicions that her friend, Jodie Lynn Myers, had been killed. The bartender slipped away to call the police to The Last Stop–and so it became Fuller's true last stop.
Police found Myers's body in the backseat of Fuller's 1994 Camaro, and her wedding dress in the trunk. Already disturbed, the police's concern only grew as they questioned Fuller about the death of his fiancée.
Forrest Fuller and Jodie Lynn Myers had had a tumultuous, on-again/off-again relationship. On the night of November 23, 1994, Myers tried to break it off for good. Their relationship had gone on for years with constant up-and-downs, and it was time to leave–she wanted a chance to find love somewhere else. This revelation was too much for Fuller to take. Flying into a jealous rage, he beat Myers. He then attempted to choke her both with his hands and his tie. After that failed, he got a kitchen knife and stabbed the woman to death.
Despite her wish to be free of him, Fuller still wanted Myers to be his wife–dead or alive. He put her body in his car, drove to the convenience store where he worked, and stole nearly $700, Myers's corpse in tow.
On Thanksgiving Day, Fuller secured his dead fiancée in his '94 Chevy Camaro and stuffed her wedding dress into the trunk. He then took off from his Pemberton Township, New Jersey home on a road trip to California where he intended to marry his corpse bride. Fuller only made it as far as West Virginia, where the police stopped his westward journey.
During his macabre wedding adventure, Fuller managed to find a moment to call Jodie Lynn's mother and update her on his plans. He told the woman that he had murdered her daughter and that he still planned to wed the now-deceased Jodie Lynn. Before hanging up, Fuller promised to send Jodie Lynn's mother her own daughter's ring finger, adorned with the wedding ring Fuller would affix before saying "I do."
Word of the murder and Fuller's gruesome plan quickly spread. The tabloids labelled Fuller 'The Groom of Doom', and Jodie Lynn 'The Corpse Bride'. Adding to the shock value of the case, it was revealed after Fuller's arrest that he was already married with a young son. Apparently, his estranged wife had placed a restraining order against him–for reasons that Jodie Lynn didn't find out until it was too late. Fuller's wife attended his trial, along with their 10-year old son.
The sensational case drew headlines in tabloids and major newspapers alike, including The New York Times. In 2016, a Lifetime movie, Nightmare Wedding, sprang up, however the actual storyline appears to be only loosely based on the corpse bride.
Fuller is currently serving a 30-year sentence with no possibility of parole, the result of a 1995 guilty plea. In 2001, he requested a new trial, though that request was later denied.
Featured photo: rawpixel / Unsplash
Read more :The line up
Did Angels visit a farm in Slovenia after Jerusalem?
A few days ago, a UFO hovered over the city of Podkoren in Slovenia, the appearance of which was recorded on Google Earth maps. The famous Taiwanese ufologist Scott Waring suggested that it could be an angel, given its bright glow and peculiar shape.
On his YouTube channel, Waring posted a photo of an unidentified object that glowed very brightly. The ufologist examined a number of photographs in the same area at different times and made sure that there was nothing reflecting there, which means that it is quite possible that these were events of biblical significance.
The researcher stressed that the trees are not lit. Consequently, the object is well above them. Given the brightness of the glow, it is likely that we are talking not only about UFOs, but also about angels that can visit people living in this area.
He recalled that similar objects were recorded in Jerusalem above a stone dome. The Bible tells a similar story. The author emphasized that he is not a religious person, and the conducted research only confirms his theory.
Halloween 2020 is expected to have a full moon that hasn't been seen since World War II
Astronomers claim that the full moon on October 31 will be visible throughout the world with the exception of parts of Australia.
In 2020, the world's population is waiting for a very unusual phenomenon that will be seen in almost all corners of the planet as reported by Cnet.
According to experts, this year on Halloween (October 31), the full moon will rise and will be visible to the whole world. Such an event will happen for the first time since the Second World War.
Astronomy expert Geoffrey Hunt says the last full moon seen on the entire planet occurred in 1944. He notes that there was also a full moon on Halloween in 1955, but was not visible to residents of western North America and the western Pacific.
In the same year, residents of North and South America, India, all of Europe and most of Asia will see the full moon for the holiday. Also, the full moon will be visible in Western Australia, but not in the central and eastern parts of the country.
Scientists remind that in its full phase the moon will be visible to the naked eye, but for high-quality images, you still have to use additional equipment.
"Photos of the moon with a smartphone are likely to be substandard. A telephoto lens will help you capture the moon in all its glory. Adjust the camera brightness so details are visible and not drowned out by the brightness of the moon," Hunt says.
He also emphasizes that the next full moon, which will be visible from all corners of the planet, will not happen soon – in 2039.
"Of course, in the coming years, the full moon will be in October, but not on Halloween," the expert notes.
A full moon on Halloween is a rare coincidence. We will be able to enjoy it very soon.
A tourist found a thousand-legged creepy beast washed up on the coast of Wales
A traveler walked along the coast of the Irish Sea in Wales and found a creature similar to the mythical Cthulhu – with a thousand tentacles and a keen interest in people.
The man was preparing to call the ufologists, but the Internet suggested: you need not be afraid, but rejoice, because the monster costs a fortune. The sea world still remains largely unknown for the inhabitants of the land, and in fact there is a lot of interesting things in it: from an iguana that looks like a real Godzilla to real mutants. True, according to The Sun, the underwater kingdom still has something to surprise people with.
A tourist named Martin Green was vacationing with his family in North Wales on the coast of the Irish Sea and one evening decided to walk with his son along the water. The man was walking slowly along the shore when he saw an unusual creature on the sand. At first, Green decided that he saw a large snag from a fallen tree, then, approaching it, he thought that it was a piece of a large fin that washed ashore, but here Martin was not right. When the travelers approached the find, they felt uneasy – a large and living creature with thousands of tentacles looked at them.
Looking closely, the man saw that the find consists of many white many-legged shells. Perhaps at first Martin was ready to call Scully and Mulder, but the internet helped him figure out what was going on. Green's son uploaded a photo of the unknown creature to Google and realized that he and his father were very lucky. It turned out that the creepy sea creatures are the so-called Gooseneck Barnacles, crustaceans. They live by attaching themselves to hard surfaces, usually rocks.
Martin and his son were lucky not only because they personally saw unusual creatures, but also because the find could enrich a family. In Portugal and Spain, shells are considered a delicacy and are sold for £ 25 apiece. Considering that, according to the family's estimates, there were about two thousand shells on the snag found on the snag, the potential cost of the find is about 50 thousand pounds. Green did not elaborate on how he was going to deal with the shells – send them back to the ocean or sell them to Spain.