The Strange Mystery of ALFRED LOEWENSTEIN
In the early evening of 4 July, 1928, a fabulously wealthy businessman named Alfred Loewenstein boarded his private plane at Croydon Airport.
It was a routine flight that would take him across the English and French coastlines before landing at Brussels, where Loewenstein lived with his wife, Madeleine.
Vanished Into thin air: Loewenstein
But he also had many enemies. In 1926, he established International Holdings and Investments Ltd. that raised huge amounts of capital from wealthy investors. By 1928, these investors wanted some return on their money.
Loewenstein was pleased to be flying home on that July day in 1928. It was a fine evening for flying with scarcely a cloud in the sky. The pilot, Donald Drew, was able to assure him that it would be a smooth flight.
It was to prove smooth for everyone except Alfred Loewenstein himself. He was to vanish in mid-flight and mid-air, one of the strangest disappearing acts in history.
Suicide? Murder? Or unexplained mystery?
Some 85 years after Loewenstein's disappearance, the jury is still undecided.
There were a total of six people on that ill-fated flight in addition to Loewenstein himself.
The pilot, Donald Drew, stood by the doorway of the plane as the passengers boarded. He was joined in the cockpit by Robert Little, the mechanic. The cockpit was a sealed unit with no connecting door to the rest of the plane. Once the Fokker had taken off, Drew and Little had no access to the cabin.
The other people on board included Fred Baxter, Loewenstein's loyal valet, who accompanied him everywhere, and Arthur Hodgson, his male secretary. There were also two women, Eileen Clarke and Paula Bidalon, his stenographers.

Shortly after 6pm, the Fokker FVII, a small monoplane, set off down the grass runway. Within minutes the plane was airborne and climbing to its cruising altitude of 4,000 feet.
Before long, everyone on board could see the Kent coastline below. A minute or so later, they were flying over the English Channel.
At the rear of the Fokker's cabin there was a windowless door that led into a small toilet. This room also had an exterior door – the only means of entrance and exit to the plane.
The door was clearly marked EXIT and was equipped with a spring-loaded latch controlled from inside. It took two strong men to open in mid-air, due to the slipstream pressing against it.
Loewenstein spent the first half of the flight making notes. Then, as the plane headed out over the Channel, he went to the toilet compartment at the rear.
According to statements later made by Baxter, his valet, ten minutes passed and he had still not returned to his seat. Baxter grew concerned and knocked on the toilet door. There was no answer.
Worried that Loewenstein might have been taken ill, he forced open the door. The toilet was empty. Alfred Lowenstein had disappeared into thin air.
An obvious course of action would have been for the plane to divert to St. Inglevert airstrip which lay between Calais and Dunkirk. Here, they could alert the coastguard to Loewenstein's disappearance.
Instead, the pilot landed on what he believed to be a deserted beach near Dunkirk.
In actual fact, the beach was being used by a local army unit. When they saw the plane landing, they rushed to meet it.
It nevertheless took them six crucial minutes to arrive at the stationary plane. By that time, both passengers and crew were standing on the sand.
They were questioned by Lieutenant Marquailles. Pilot Donald Drew behaved strangely, evading his questions for half an hour until admitting that they'd lost Alfred Loewenstein somewhere over the English Channel.
Next to question the pilot was a professional detective, Inspector Bonnot. He was puzzled by what he was told.
'A most unusual and mysterious case,' he said. 'We have not yet made up our minds to any definite theory, but anything is possible.'
He arrested no one and even allowed the plane to continue its flight to St Inglevert and thence back to Croydon.
The ensuing investigation was bungled from the outset. Loewenstein's body was finally retrieved near Boulogne on 19 July, more than two weeks after his disappearance. It was taken to Calais by fishing boat where his identity was confirmed by means of his wristwatch.
An autopsy revealed he had a partial fracture of his skull and several broken bones.
Forensic scientists concluded that he had been alive when he hit the water.
The mystery of how he fell to his death remained unanswered, though there were many theories.
Some said the absent-minded Loewenstein had accidentally opened the wrong door and fallen to his death. This was most unlikely, given that it was virtually impossible to open the cabin door in mid-flight.
Others said he'd committed suicide, perhaps because his corrupt business practices were about to be exposed.
A far more plausible (and sinister) explanation is that Loewenstein was forcibly thrown out of the plane by the valet and the male secretary, possibly at the behest of Loewestein's wife, Madeleine. She had a very frosty relationship with her husband and was desperate to get her hands on his fortune.
One thing is clear: all six people on board were almost certainly privy to the murder. Indeed, they had almost certainly planned it carefully in advance.
One theory as to why the Fokker landed on the beach was in order that a new rear door – already stowed on board the plane – could be fitted to replace the one jettisoned over the Channel.
The Vampire Murder of Lilly Lindeström
On May 4, 1932, a 32-year-old prostitute, Lilly Lindeström, was found murdered in her small apartment in the Atlas area of Stockholm near Sankt Eriksplan in a crime that became known as the Atlas Vampire Murder.
She had been dead for between two and three days before police broke into her apartment, after a neighbor called Minnie had notified them that she hadn't seen Lilly for a few days and wasn't answering the door. Lilly had suffered repeated blunt force trauma to her head, and was found naked and faced down on her bed.
Her clothes were neatly folded on a nearby chair. A used condom found in her body suggested that she had engaged in sexual activity before her death.
What soon became apparent to the officers at the scene though was the complete lack of blood in Lindeström's body, it had been almost entirely drained of all her blood.
They found saliva on Lilly's neck, but reports do not mention any of the puncture wounds normally associated with vampire stories.
A blood-stained gravy ladle was found nearby, and investigators believe it was used by the perpetrator to drink Lilly's blood. No fingerprints were found at the scene.
Various clients fell under suspicion but after a lengthy investigation, none were charged with her murder. The murder remains unsolved.
By Paul Middleton, source: Ghosts, the paranormal, myths and legends
The mystery of the disappearance of Granger Taylor, who established contact with aliens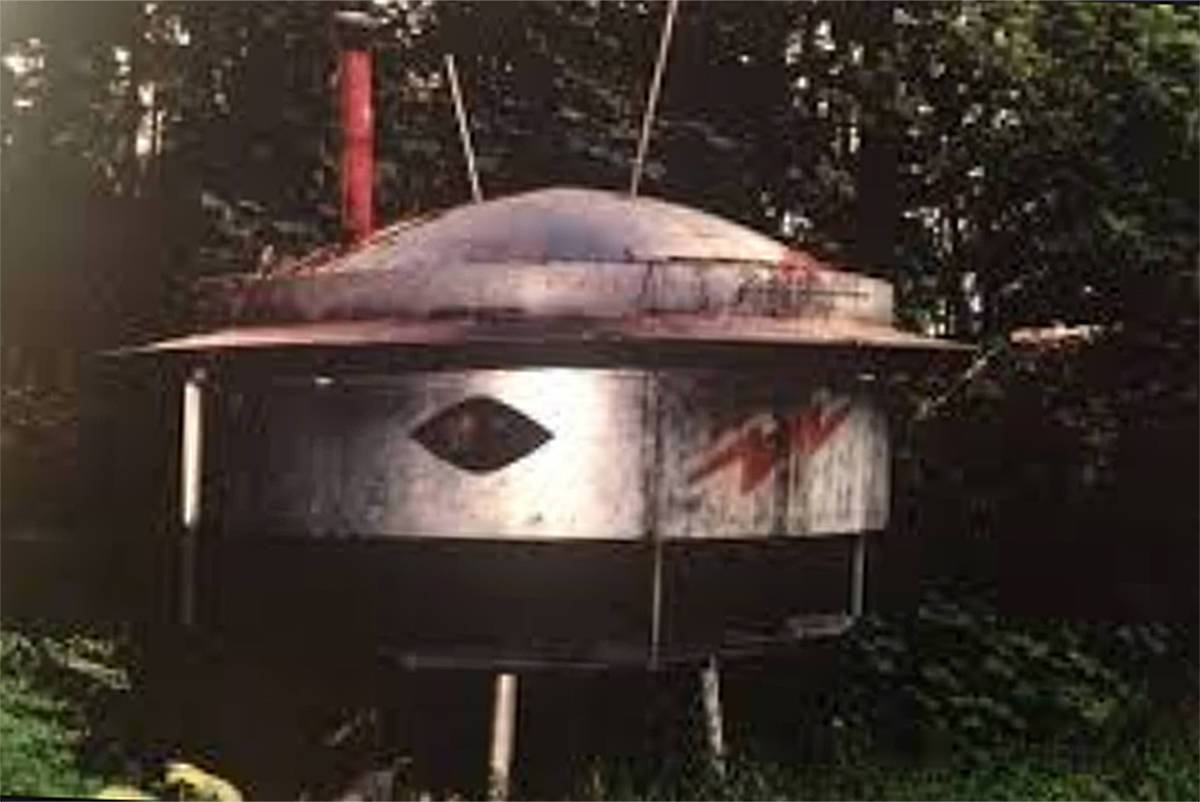 Canadian Granger Taylor lived in the town of Duncan. that on the island of Vancouver, and from childhood was obsessed with mechanics and digging in all sorts of glands. At the age of 14, he dropped out of school to build an old single-cylinder car from scratch, which is now in the local forest museum.
There is also a locomotive in the museum, which Taylor found abandoned in the forest and restored to working condition. At 17, he rebuilt a bulldozer that none of the adults could repair, and years later built an exact copy of the fighter from the Second World War, which was then sold to a private collection for 20 thousand dollars.
In general, Granger Taylor was definitely a unique person, very talented, diligent and collected. But then he became interested in UFOs. He was so absorbed by the question of what principle of flying a flying saucer, that he devoted himself to his decision.
Soon, he built his own "plate" on the site of his parents, which he built from two satellite dishes. This "plate" became his "dacha", when he equipped a wood-burning stove there, put a sofa and a TV set. He often spent time there, sometimes he slept at night.
This "plate" and now stands in the same place as a kind of monument to Granger Taylor.
Shortly before his strange disappearance, Taylor began to talk about how he made contact with aliens and they should tell him about their technology. And after a while he began to tell all his friends and acquaintances that he would soon go on a trip on a spaceship to newcomers.
According to one of his friends, Taylor contacted the aliens through mental contact and immediately received an invitation from them to explore the Solar System with them.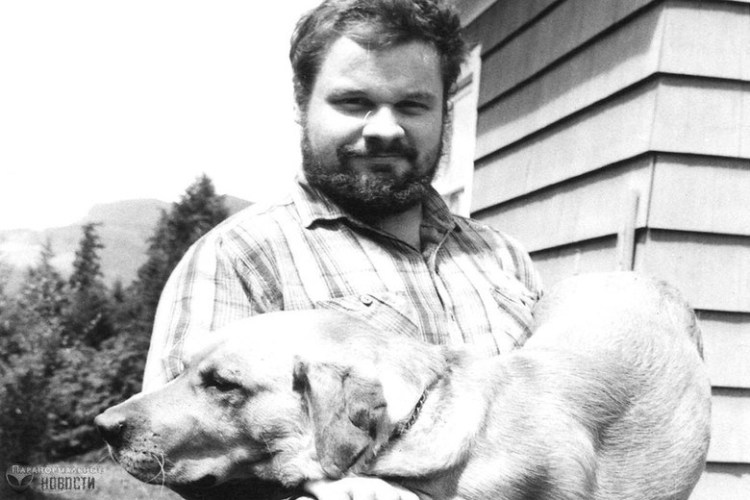 One night in November 1980, he left a note for his parents and disappeared without a trace. Despite the investigation, he was never found alive or dead, and there was no clue what happened to him.
And in his note it was written this:
"Mom and Dad, I went aboard the spacecraft, as repeated dreams show, for 42 months of interstellar travel, to explore the vast universe, and then return. I leave all my things to you, since I will not use them anymore. Please use instructions in my will if you need help. With love. Granger. "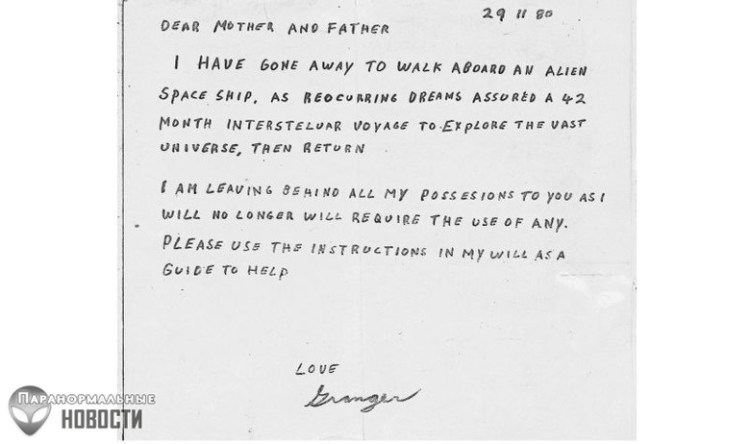 Taylor's things mainly consisted of old cars and tractors that forced the entire yard.
On the night Granger disappeared, a violent storm raged on the island of Vancouver with hurricane winds. This subsequently radically complicated the search for a man and not even a trace of his pickup truck was found, on which he left home.
The term of 42 months expired in May 1984, but Taylor never returned. Ufologists believe that Taylor was indeed taken voluntarily by aliens, and he could not return for various reasons – maybe he was so struck by what he saw, and he decided to continue traveling around the universe, or maybe he had died somewhere by accident.
Skeptics were convinced that after a storm, Taylor could have an accident, roll into a ditch, or crash, falling off a cliff.
In 1986, a place was found on Mount Prevost, near Duncan, where some explosion had occurred several years earlier. And in its center were found the bones of an unknown man. Unfortunately, DNA tests in those years were not yet so common, but the coroner for bone analysis concluded that the deceased was of the same age, sex, race, and height as Granger Taylor. A piece of cloth among the bones was very similar in pattern to Taylor's favorite shirt.
Next to the bones were found the remains of a truck and it was identified as similar to the Taylor pickup. Thus, the Taylor case was officially closed.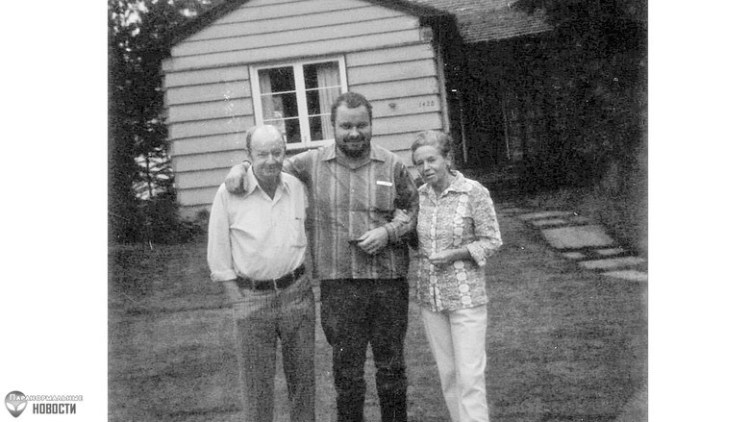 However, many Taylor's friends did not agree with this, they are confident that the police's findings are only indirect, and their friend either stayed in space or was abducted by the US government.
The cause of the explosion on Mount Prevaux remains unclear. Taylor knew how to handle explosives, so this could be a suicide, but friends and parents assured that Taylor had no inclination to this and nothing in his appearance and behavior in the days before his disappearance indicated depression.
Taylor's best friend, Robert Keller, says that the police worked very carelessly and that they wrote that the remains of the truck found on the mountain are Taylor's blue pickup truck. However, Keller assures that the Taylor pickup was not at all blue, but with pink stripes.
"What they found there was not Granger's truck and they have no idea whether it's bones or someone else's," Keller sums up.
Mystery Of The Black-eyed People – Why Are They So Different From The Rest Of Us?
There are many stories of encounters with strange beings who appear to be inhuman because of their unusual eye color and odd behavior.
People who met these individuals had a weird sense of dread. Are there rational explanations for these remarkable encounters or do perhaps aliens walk among us? Can you judge a person by looking in his eyes?
Some say that your eyes are the window to your soul. Have you ever met anyone whose eyes are nothing but complete darkness? Those who encountered black-eyed people say not only are their eyes dark, but their whole beings as well. It is, as if the their souls are enveloped in darkness.
In the world of paranormal, we often hear of people who had encounters with the most remarkable beings.
Perhaps the most bizarre and uncanny stories involve the mysterious black-eyed people.
There are of course many people who have dark eyes.
We often meet people who have dark brown eyes and we certainly do not find these persons strange.
However, black is not a natural eye coloration. The white part of a human eye is called the sclera and it comprises 5/6 of the outer surface of the eye. Every healthy person, regardless of race has a white sclera. Animals, on the other hand can have a very dark sclera. Dogs, horses and lizards for example often have a black sclera. Health problems can sometimes cause the sclera to become yellow. Certain medication like eye drops can result in that the sclera becomes transparent. When the appropriate administration of medication form has been completed the sclera returns to white again.
People who met black-eyed beings claim these individuals had solid black eyes with no sclera at all! In other words, these beings' sclera, pupils and iris are completely black!
What is most interesting is that people are not only affected by the black color of the eyes, but also these beings' peculiar attitude and behavior. They are different…
Based on eyewitnesses' descriptions we learn that the black-eyed beings share some common characteristics:
People who had encounters with black-eyed beings were overwhelmed with a sense of intense fear. It was as if these beings should be avoided at all cost.
Another common characteristics often reported by witnesses is a sense of evil.
In some cases, people reported that the black-eyed individual had olive colored skin.
It seems difficult to determine a pattern in their clothes. Sometimes they are dressed in black, and on other occasions they wear various colors. In some reported incidents, the black-eyed people were dressed in clothes that appeared old-fashioned.
Let us examine what some who met the black-eyed people had to say. One of the eye-witnesses, Chris and her husband were traveling on I-75 in Michigan when they decided to make a stop at a rest area. Coming out of the women's room, Chris came face to face with a thin, dark-haired woman with black eyes staring directly at her.
"My husband and I were on our way up north on I-75 during the afternoon. Luckily, it was not at our normal time in the evening. We have a little place in northern lower Michigan, and often go up there for the weekends. As was our custom, we pulled in at our usual rest stop, and I went into the women's restroom.
As I was preparing to leave the room, I suddenly noticed a thin, dark-haired woman standing alone and starring directly at me. I instantly felt a terrible sense of dread, as though there was something deeply unnatural about her. I then noticed the eyes which had been staring coldly at me, and they were completely black. I saw no color whatsoever, and no pupils. I felt an extremely strong need to get away from her as quickly as possible, as there was something quietly threatening about her. Her stare was devoid of any emotion other than something very cold and disconnected.
My instant and unwavering feeling during this whole experience was that she was not human. I don't know what me made feel this so strongly, but it was my most singular, strongest sense while looking at her. There also was something almost predatory about her, as though she was homing in on prey while she stood there so still. I also had a strange sense of her feeling superior or stronger in some way. Again, the sense of a predator watching its prey.
I left as quickly as possible, showing as little reaction to her as possible. It seemed important, for some unknown reason, for me to act unaffected by her while in her presence. I felt a huge sense of relief as I got back into the car and left. I have to say that this was one of the most memorable brief experiences I've ever had around a person, especially a stranger. I have never been able to shake the inexplicable feeling that she wasn't human," said Chris.
Another curious account comes from Tee, a 47-year-old apartment manager in Portland, Oregon.
Tee who worked for 20 years is used to meet people of all races and ages, and yet when he encountered a young black-eyed man, she simply could not come to terms with the stranger's eyes… According to Tee, the man was not a normal person.
"He was young boy of about 17 or 18, approximately. He asked me about an open apartment for rent. I remember feeling very scared and shaken by his appearance.
He did not look weird by his dress or such. It was his eyes.
I remember feeling the hair on my neck stand up, and I was shaking just from looking in his eyes." Like Chris, Tee also felt that deep sense of malevolence. "I could not look him straight in the eyes. I felt like I was about to die. Now, some people may think that I was just over- reacting or something, but the eyes were completely black like there was no real pupil. He spoke normally to me, but I had to just shut the door in his face and get as far from him as I could. I felt like I was in extreme danger," Tee. explained.
A very interesting case comes from Australia. This story is about a strange man seen in an elevator in a bank building, as told by the bank executive who worked late that evening:
"I found to my surprise that a few people have had similar experiences regarding people with pitch-black eyes. Unlike some, though, I didn't feel a sense of dread or a feeling that I was about to die. I felt more an awareness and discomfort, like when you see someone advance angrily toward you only to walk past you.
Anyway, it was September 2, 2000, and one of the roles as an executive is you sometimes have to put in really late nights. My office was on the fifth floor and it was coming up to 12 in the morning. I was the only employee, as far as I know, on the first five floors apart from Ben, another fellow banker on my floor and Stan, who is a security officer.
The elevator stops at floor 2 and in comes a tall man with more or less a black crew-cut. The first thing I did was open my mouth to ask what sector he was from and who gave himpermission, but as I looked into his eyes they where entirely black. The pupils, the retinas everything. I remember not really being spooked about his eyes. To be honest, I just thought he might've had a disability in his eyes. As the elevator slowly starts up moving back on route, he asked me where I was going, and I simply replied, "home." He then asked why, and I more or less laughed and just said I want to go to sleep and see my wife. He then just mummered very softly, like he was talking to himself, "It must be nice to have a home."
I figured he was just being friendly and that he must be renting. As we got to B1, I realized he hadn't pushed the button on where he was going, so I asked, "Where are you going?" to which he replied rather angrily looking at me with his creepy eyes, "Nowhere."
At this point, the eyewitness stated he ran to his car. When he looked behind him, he noticed the strange man in the elevator did not get out. He continues on with his account:
"Now the real freaky part. As I drove down the street, all the lights were out – and this is in Sydney (city of NSW). Then I turn… and guess who is walking just ahead of the car – our favorite black-eyed man! No need to say, I sped home, probably breaking five road laws. How could he have left the building and be ahead of me when he had no car, and went up to floor 6?
It gets weirder. On the videotapes and records, there shows no one using the elevator at that time apart from me."
In many cases people who encountered black-eyed children feel an almost indescribable sense of fear. These children appear to be different from other normal kids.
This incident took place in Abilene, Texas. A journalist was sitting in his parked car late at night writing a check to pay an internet bill. Suddenly, two children approached him for help, knocking on his car window. They were asking for a ride home to retrieve money from their mother to see a popular movie, at the movie theater close to the parked vehicle. Only one of the boys spoke to the journalist.
But why were the children asking for a ride home when the final showing of the film was already half over?
According to the eye-witnesses statement:
"C'mon, mister. Let us in. We can't get in your car until you do, you know.
Just let us in, and we'll be gone before you know it. We'll go to our mother's house." We locked eyes. To my horror, I realized my hand had strayed toward the door lock (which was engaged) and was in the process of opening it. I pulled it away, probably a bit too violently. But it did force me to look away from the children. I turned back. "Er … Um …,"
I offered weakly and then my mind snapped into sharp focus.
For the first time I noticed their eyes. They were coal black. No pupil. No iris, just two staring orbs reflecting the red and white light of the marquee. At that point, I know my expression betrayed me. The silent one had a look of horror on his face in a combination that seemed to indicate: A) The impossible had just happened and we've been found out!" The spokesman, on the other hand, wore a mask of anger. His eyes glittered brightly in the half- light. "Cmon, mister," he said. "We won't hurt you. You have to LET US IN. We don't have a gun."
That last statement scared the living hell out of me, because at that point by his tone he was plainly saying, "We don't NEED a gun." He noticed my hand shooting down toward the gear shift. The spokesman's final words contained an anger that was complete and whole, and yet contained in some respects a tone of panic:
"WE CAN'T COME IN UNLESS YOU TELL US IT'S OKAY. LET … US …. IN!"
I ripped the car into reverse (thank goodness no one was coming up behind me) and tore out of the parking lot," recalled the man from Texas.
A woman called Adele also experienced an interesting and scary encounter involving black-eyed children who appeared out of nowhere late at night:
"I was sitting in my bedroom reading a book when at about 11:00 p.m. I heard a knocking… a slow, constant one. I got up out of bed to see what it was. I looked out of the window and to my surprise saw two children. I opened the window and asked them what they wanted at this time of night. They replied by saying simply, 'Let us in.' I said no and asked what for. 'We want to use your bathroom.'
I was quite shocked that children of about 10 years old wanted to use a stranger's bathroom at this time of night. I told them no, closed the window, but looked at them through the glass. I glanced at their eyes… and I have never ever seen eyes like them. They were black, completely black. I got the feeling of evil and unhappiness. It surrounded me. It was horrible," Adele said.
Undoubtedly, strange encounters with black-eyed people are a very interesting phenomenon.
In our lifetime, we do meet people we consider to be different and not normal. Although, it must be added that the definition of "normal" varies from person to person. What is "normal" to one person is abnormal to another.
However, to be strange and different cannot be compared with being not human. Those who encountered the black-eyed people believe these individuals are either extraterrestrials or inter-dimensional beings.
Is it really possible that aliens walk among us or is only a psychological reaction to a person who has simply an unusual appearance and behavior?
Perhaps it sounds farfetched, but if aliens wanted to infiltrate our society they could in fact pose as human beings. Perhaps the old saying is true after all – your eyes are the window to your soul. Perhaps the black eyes reveal who these beings really are..
Who are the black-eyed people? We leave it up to our readers to think and judge these accounts for themselves.