The Strange Mystery of ALFRED LOEWENSTEIN
In the early evening of 4 July, 1928, a fabulously wealthy businessman named Alfred Loewenstein boarded his private plane at Croydon Airport.
It was a routine flight that would take him across the English and French coastlines before landing at Brussels, where Loewenstein lived with his wife, Madeleine.
Vanished Into thin air: Loewenstein
But he also had many enemies. In 1926, he established International Holdings and Investments Ltd. that raised huge amounts of capital from wealthy investors. By 1928, these investors wanted some return on their money.
Loewenstein was pleased to be flying home on that July day in 1928. It was a fine evening for flying with scarcely a cloud in the sky. The pilot, Donald Drew, was able to assure him that it would be a smooth flight.
It was to prove smooth for everyone except Alfred Loewenstein himself. He was to vanish in mid-flight and mid-air, one of the strangest disappearing acts in history.
Suicide? Murder? Or unexplained mystery?
Some 85 years after Loewenstein's disappearance, the jury is still undecided.
There were a total of six people on that ill-fated flight in addition to Loewenstein himself.
The pilot, Donald Drew, stood by the doorway of the plane as the passengers boarded. He was joined in the cockpit by Robert Little, the mechanic. The cockpit was a sealed unit with no connecting door to the rest of the plane. Once the Fokker had taken off, Drew and Little had no access to the cabin.
The other people on board included Fred Baxter, Loewenstein's loyal valet, who accompanied him everywhere, and Arthur Hodgson, his male secretary. There were also two women, Eileen Clarke and Paula Bidalon, his stenographers.

Shortly after 6pm, the Fokker FVII, a small monoplane, set off down the grass runway. Within minutes the plane was airborne and climbing to its cruising altitude of 4,000 feet.
Before long, everyone on board could see the Kent coastline below. A minute or so later, they were flying over the English Channel.
At the rear of the Fokker's cabin there was a windowless door that led into a small toilet. This room also had an exterior door – the only means of entrance and exit to the plane.
The door was clearly marked EXIT and was equipped with a spring-loaded latch controlled from inside. It took two strong men to open in mid-air, due to the slipstream pressing against it.
Loewenstein spent the first half of the flight making notes. Then, as the plane headed out over the Channel, he went to the toilet compartment at the rear.
According to statements later made by Baxter, his valet, ten minutes passed and he had still not returned to his seat. Baxter grew concerned and knocked on the toilet door. There was no answer.
Worried that Loewenstein might have been taken ill, he forced open the door. The toilet was empty. Alfred Lowenstein had disappeared into thin air.
An obvious course of action would have been for the plane to divert to St. Inglevert airstrip which lay between Calais and Dunkirk. Here, they could alert the coastguard to Loewenstein's disappearance.
Instead, the pilot landed on what he believed to be a deserted beach near Dunkirk.
In actual fact, the beach was being used by a local army unit. When they saw the plane landing, they rushed to meet it.
It nevertheless took them six crucial minutes to arrive at the stationary plane. By that time, both passengers and crew were standing on the sand.
They were questioned by Lieutenant Marquailles. Pilot Donald Drew behaved strangely, evading his questions for half an hour until admitting that they'd lost Alfred Loewenstein somewhere over the English Channel.
Next to question the pilot was a professional detective, Inspector Bonnot. He was puzzled by what he was told.
'A most unusual and mysterious case,' he said. 'We have not yet made up our minds to any definite theory, but anything is possible.'
He arrested no one and even allowed the plane to continue its flight to St Inglevert and thence back to Croydon.
The ensuing investigation was bungled from the outset. Loewenstein's body was finally retrieved near Boulogne on 19 July, more than two weeks after his disappearance. It was taken to Calais by fishing boat where his identity was confirmed by means of his wristwatch.
An autopsy revealed he had a partial fracture of his skull and several broken bones.
Forensic scientists concluded that he had been alive when he hit the water.
The mystery of how he fell to his death remained unanswered, though there were many theories.
Some said the absent-minded Loewenstein had accidentally opened the wrong door and fallen to his death. This was most unlikely, given that it was virtually impossible to open the cabin door in mid-flight.
Others said he'd committed suicide, perhaps because his corrupt business practices were about to be exposed.
A far more plausible (and sinister) explanation is that Loewenstein was forcibly thrown out of the plane by the valet and the male secretary, possibly at the behest of Loewestein's wife, Madeleine. She had a very frosty relationship with her husband and was desperate to get her hands on his fortune.
One thing is clear: all six people on board were almost certainly privy to the murder. Indeed, they had almost certainly planned it carefully in advance.
One theory as to why the Fokker landed on the beach was in order that a new rear door – already stowed on board the plane – could be fitted to replace the one jettisoned over the Channel.
A Mysterious Pillar of light appears over Canada
In recent years they have been reporting a really strange phenomenon all over the world, mysterious pillars of light that appear from nowhere in the sky. As we have seen in the large number of images that show these mysterious rays, usually appear vertically, radiating a strong flash usually red, blue or violet. As a result of numerous Internet users began to share the images of this strange phenomenon, many people began to ask questions: Is it a natural phenomenon? A failure in the camera? Is its origin extraterrestrial or is it perhaps a dimensional portal ?
But it all really started in 2009, when a man named Hector Siliezar visited the ancient Mayan city of Chichén Itzá with his wife and children. Like any other tourist, Siliezar took three photos of the Kukulkan temple with his iPhone, a pyramid that in the past was a sacred temple for the Mayan god Kukulkan. After reviewing the images later, in the first two there was nothing strange. However, in the third photo, you could clearly see a kind of pillar of light that went from pyramid to the sky. Subsequently, similar phenomena began to register in many parts of the world, such as Japan, the United States, Europe, etc.
Many thought that it was a warning about December 21, 2012 , the date that marked the end of the cycle of the Mayan calendar and the end of time. But one such, these pillars of light continued to appear in later years to the present. Like a recent video showing a huge red beam over a residential area in Edmonton, Canada.
The mysterious pillar of light
The popular YouTube channel 'Secureteam10' has recently uploaded a video that shows a mysterious pillar of light falling from the sky . Tyler Glockner, head of the YouTube channel, explained that the strange sighting was recorded in a residential area in Edmonton, Canada, and said that something very sinister is happening in the skies.
For Glockner, this pillar of light is enigmatic and mysterious, but he added that its origin was in heaven. In addition, as can be seen in the images, the light beam remains static at all times, so it was not difficult to see it from the ground. And soon after its publication, the video quickly went viral, causing a controversy in social networks about its true origin. Conspiracy theorists assured that these pillars of light in the sky are of extraterrestrial origin . According to this theory, civilizations from other worlds have been on our planet for centuries, following our evolution and intervening at important moments in our history.
However, there are also those who believe that these columns of light are actually energy weapons aimed at the sky or the atmosphere . As we already published in Esoteric and Paranormal World, directed energy weapons (DEW, for its acronym in English) is a real technology, although supposedly would be in the testing phase. A report prepared for the United States Congress described these weapons as  "that produce concentrated electromagnetic energy and atomic or subatomic particles . "
But there would be a series of logistical problems that would prevent to build a laser system to be operative in wars. Although apparently they would already be using secret government organizations or terrorists to cause fires, like those in California, or to devastate an entire city.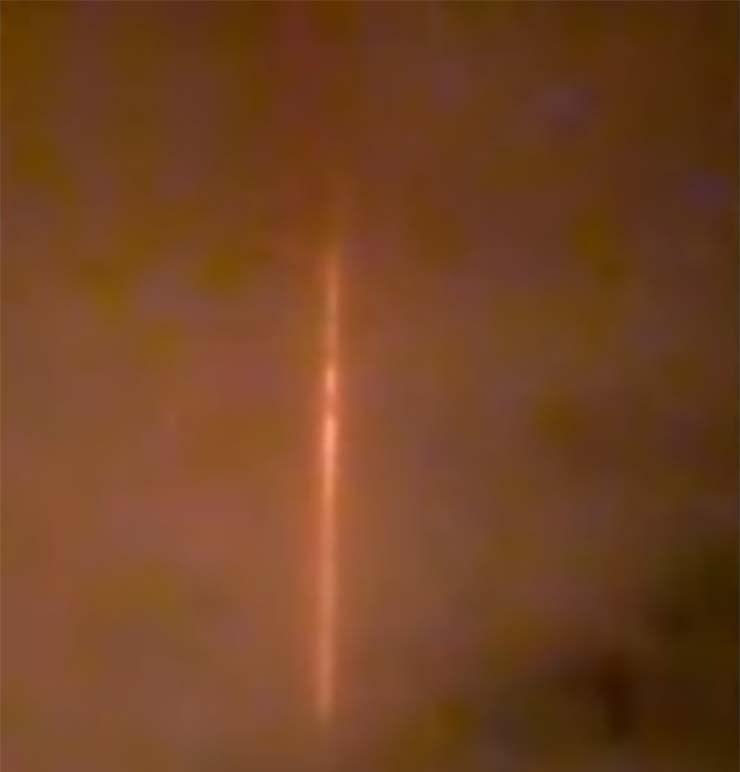 The scientific explanation
However, skeptics have another different opinion. The lights would actually be a fairly common atmospheric phenomenon called pillars of light. Although they look a lot like the aurora, they are not related to the Northern Lights, which are caused by electrically charged particles from the atoms that excite space in the Earth's upper atmosphere, which causes them to release a spectacular light. Instead, these pillars occur in freezing temperatures when hexagonal ice crystals form lower in the atmosphere than they normally would.
When this happens, the crystals essentially form a collective giant mirror, which can reflect a source of light, like the lights of the city and the automobile. The pillars of light are an optical phenomenon that belongs to the halo family, since it is due to the interaction of light with ice crystals. It would simply show that nature tends to be more spectacular than science fiction itself. It is clear that this is the skeptical explanation, but perhaps its origin is not as logical as it seems.
What do you think of the pillar of light on Canada? Is it a natural phenomenon, directed energy weapons or is it of extraterrestrial origin?
Mysterious and Unexplained Booms Have Been Startling Residents of Desert Hot Springs
A big mystery is surrounding Desert Hot Springs after a series of powerful explosions has rocked the city. They shake windows and some residents describe them as small earthquakes.
The blasts began a couple of months ago, the big booms have been shaking the foothill community.
If you live in Desert Hot Springs, you've probably heard the mysterious booms that usually happen during the night.
It turns out that those of us who live in DHS are not alone: A quick Internet search turns up stories about and recordings of unexplained noises being heard around the world. Of course, it's unknown whether what's happening in Desert Hot Springs is related to these weird noises elsewhere.
I've lived in Desert Hot Springs for a while, and anything that goes "boom," night or day, typically becomes part of a game jokingly called "Fireworks or Gunshots?" However, these mysterious booms are unlike the typical noises heard in the night. The first time I heard one, it was late, and I was out on my back porch. It sounded as if a bomb had gone off, echoing throughout the entire city of Desert Hot Springs. Another one, a few nights later, was loud enough that I heard it over the music playing in my earbuds.
It's been a while since I've personally heard one, but other residents are still reporting them, often leading to discussions among the Desert Hot Springs Neighborhood Group on Facebook. People are demanding answers from Desert Hot Springs Chief of Police Dale Mondary.
Unfortunately, Mondary doesn't have any.
"Most of (the booms) don't get called into the police department at all," Mondary said. "I just notice them on social media when I'm tagged in those posts."
Mondary said he has no idea what's causing them.
"We have not been able to pinpoint a specific area," he said. "Honestly, part of it relates to our geographical location: We're surrounded by a mountain range, and the sound reverberates. People will call and say, 'I heard it right here,' or they post on social media, 'I heard it right here.' Then across the town, someone will say, 'No, I heard it from right here.' So that's obviously part of our problem. When we go and check these areas out, we find absolutely nothing—no signs of any explosives going off."
Has Mondary heard any of these booms himself?
"I have not. Some of my officers have," he said. "I talked to one of them one night who was up in the southeast part of town and heard it and thought, 'Ooh, I have to be real close to this, and I'm going to be able to find it!' Someone else was on the west end of town and heard the same thing and thought it came from the west part of town. That's just how confusing it is."
DHS residents have put forth a wide range of theories about the booms, ranging from UFOs to something involving the nearby San Andreas Fault, and from military operations to conspiracies straight out of the Alex Jones/Infowars camp. I thought that perhaps it might involve methane gas escaping from the nearby landfill, but a friend of mine pointed out that such emissions would probably also include a great light show.
Meanwhile, residents keep asking for Mondary to calm their fears by offering an explanation.
"I have no idea what it is. I truly don't," Mondary said. "I can't even speculate as to what I think it is. It can be any number of things."
Desert Hot Springs residents can take some solace in the fact that they're not alone—and law enforcement officials and geographical experts in the other places where similar booms are being heard are just as stumped.
The only consensus right now is: "Nobody knows."
Brian Blueskye
cvindependent.com
How the 40-year-old mystery of a UFO in New Zealand lives on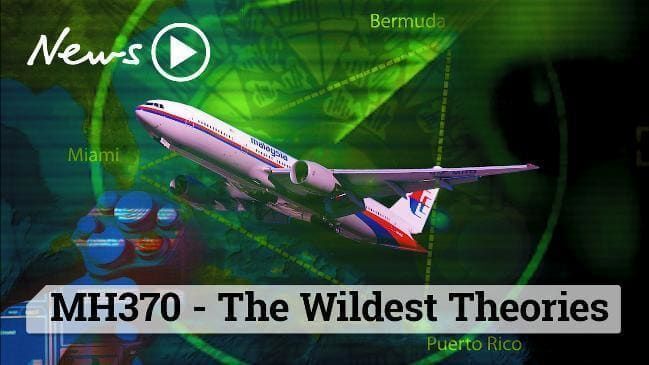 It was New Year's Day, 1979, when the world woke to the news that strange lights had been spotted by six people on a plane off the New Zealand's South Island.
Was it a UFO? No, said the sceptics. It was Venus, it was squid boats, it was radar returns from a field of cabbages.
But 40 years later, the two pilots and four passengers are adamant it was none of the above and are frustrated at being unable to find answers.
New Zealand's The Herald on Sunday tracked down each member of the group around the world. One is a mango farmer in Hawaii, while another is an 80-year-old newlywed after her royal wedding-themed ceremony at her retirement village the night before Meghan and Harry's big day.
The case bought instant fame — but no fortune — for some, before bringing shame and anger when they were accused of hoaxing the sighting. It broke up a marriage.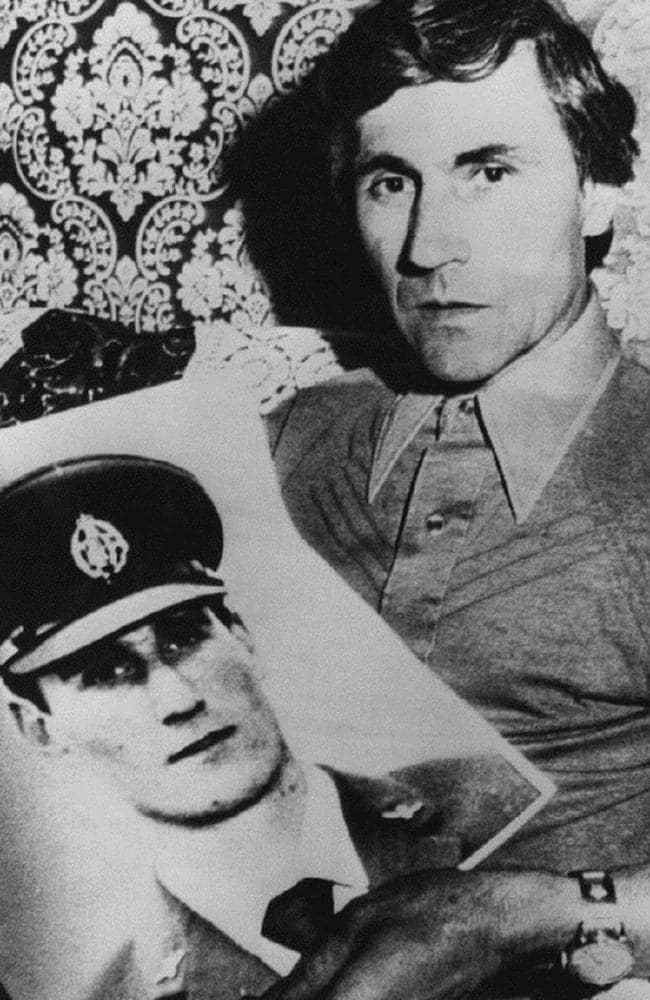 Guido Valentich holds a photograph of his son Frederick, a pilot who went missing while on a flight to King Island in a Cessna in October 1978. Picture: Popperfoto/Getty Source:Getty Images
At the end of 1978, Australasia was in the grip of UFO fever. In October, 20-year-old Frederick Valentich disappeared while piloting a small Cessna 182 aircraft over Bass Strait while heading to King Island in Tasmania. Described as a "flying saucer enthusiast", Valentich informed Melbourne air traffic control he was being accompanied by an unknown aircraft.Two months later across the Tasman, on December 21, Safe Air pilots Vern Powell and Ian Pirie spotted strange lights while flying from Blenheim to Christchurch.
A producer for Melbourne's Channel 0 (now Channel 10), Leonard Lee heard the news and tracked down reporter Quentin Fogarty, who worked for the channel but was on holiday with his wife and children in Christchurch, staying at TV Onejournalist Dennis Grant's home.
Quentin Fogarty presenting the news in 1979 after the sighting. Picture: File Source:NZ Herald
Freelance Wellington cameraman David Crockett was also hired, along with his wife Ngaire, who operated the audiotape recorder.
The group were invited to jump aboard Safe Air's Blenheim-based Argosy plane, named Merchant Enterprise, late on December 30, which pilots Bill Startup and Bob Guard were taking on a newspaper run between Wellington and Christchurch.
Shortly after takeoff, the pilots noticed strange lights appearing and disappearing over the Kaikōura coastline about 30 kilometres west.
"While we were filming a stand-up to camera, Captain Bill Startup shouted to us that we should go to the flight deck immediately as something was happening again," says David Crockett.
He managed to film a rapidly moving, bright white light.
Bob Guard, left, and Bill Startup in 1979. Picture: Paul Davidson Source:NZ Herald
"With the conversation coming through my headphones from the pilots and radar from Wellington, it all started to get very scary," says Ngaire Crockett.
"I was able to stand up a couple of times and was able to see these bright light coming and going. [Quentin] was a real mess and grabbed hold of both my hands and started shaking. I didn't have time to worry about myself, I had to help him."
The plane landed at Christchurch to unload newspapers and the pilots asked the news team if they wanted to go back through the area they had traversed. Ngaire was too frightened so stayed in Christchurch. The others reboarded the plane with Dennis Grant in Ngaire's place.
"David had used up all the film in his 16mm camera," Grant says.
"Quentin called me sometime after midnight from Christchurch Airport to see if I could provide a fresh roll of film. I could — but there was a catch — I wanted to get on the plane for the flight to Blenheim."
The "UFO", captured by cameraman David Crockett in New Zealand.Source:News Corp Australia
The plane took off at 2.16am. About three minutes after takeoff, the group saw a bright, round light to the right. The aeroplane radar showed a target in the same direction about 18 nautical miles.
Fogarty would later be heard saying on camera: "Let's hope they're friendly."
Crockett filmed the light for several minutes as it appeared to travel along with the plane.
When they turned toward it, the light seemed to react by moving away from the aeroplane.
"The experience itself was extraordinary," Fogarty says.
"Just being on the cramped, noisy flight deck of the Argosy barrelling down the coast in the dead of the night was exciting. Factor in a row of pulsating, hypnotic lights hovering outside the window, and it goes to another level."
After landing at Woodbourne Airport at about 3am, the group stayed at the two pilots homes in Blenheim.
Startup's daughter Tracy Moore remembers her father coming home in the middle of the night.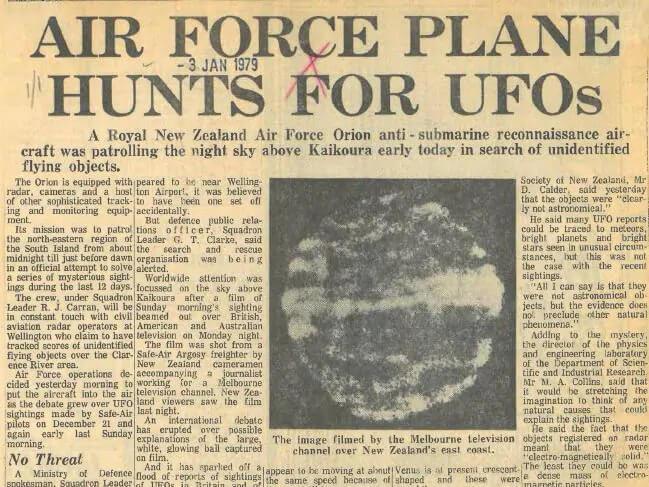 A copy of the New Zealand Herald from January 3, 1979.Source:NZ Herald
This was the copy of the Herald on January 4, 1979. Source:NZ Herald
"Everyone was at our house talking about it in the middle of the night. They were talking about lights, unexplained radar.
"At one point, I remember dad saying it might be a good idea to report it to the police. It was during the Cold War, there was a bit of paranoia around. Mum said: 'You can't sit on this information'.
"It was scary at the time. It was a big unknown thing that had happened and we had all the adults around discussing it. There were certainly no jokes being made."
Fogarty interviewed the pilots before flying to Melbourne to give the recordings to Channel 0. The footage featured on prime time news that night and a longer documentary piece screened later.
The news went around the world and was featured by major news media, including by the Herald and by CBS anchorman Walter Cronkite.
Bruce Maccabee, pictured in 1979, examined footage of the supposed UFO. Source:NZ Herald
The sceptical reaction was immediate. Explanations included that it was Venus, drug runners, light reflected from cabbages or squid boats.
The Robert Muldoon Government ordered an inquiry by the Air Force, which concluded that the sightings could be explained by natural but unusual phenomena.
Leonard Lee travelled to the US to give the film to Bruce Maccabee, an optical physicist who specialised in laser technology and worked for the US Navy in Maryland, Virginia. He was also flown to New Zealand and Melbourne to interview witnesses.
He concluded the event involved unknown objects or phenomena fitting the definition of UFOs.
"One would think that the conclusion that several of the sightings involved unidentified objects flying with impunity in the New Zealand air space would have been sufficient to start an even deeper study of the UFOs," Maccabee says.
Maccabee pictured recently. Source:NZ Herald
"But it wasn't. The sightings were relegated to the dustbin of history, forgotten by all except the witnesses and a few ufologists who discussed the various sighting events for years afterward."
He says that 39 years after the Kaikōura footage emerged, in December 2017, major media carried reports of UFO sightings by US Navy personnel during training exercises.
He says they involved multiple witnesses and multiple sources of information such as battleship radar at sea level, radar in the Navy jet aeroplanes, visible and infra-red video cameras in the aeroplanes.
But the incident appears to have been forgotten.
"History appears to be repeating itself."
WHERE ARE THEY NOW?
The Herald on Sunday caught up with the pilots and passengers.
Journalist Quentin Fogarty, 72
After his world scoop, Dunedin-born Quentin Fogarty suffered from "nervous exhaustion" and ended up in hospital for a couple of weeks.
Quentin Fogarty. Picture: Paul Davidson Source:NZ Herald
"The level of initial scepticism both surprised and, at times, overwhelmed me. I certainly did not expect to be accused of hoaxing the whole thing. That cut deep, it still does.
"The local daily tabloid in Melbourne branded me as the 'UFO Reporter', and that stuck for a short time, but it did not take long for me to be back in my role as a TV journalist reporting on more mundane matters."
Fogarty, a father of four who still lives in Melbourne, says he endeavoured to report the story as accurately and as impartially as he could.
"We had film, our own eyewitness accounts and confirmation from the flight crew and air traffic controllers that we had stumbled into something astonishing.
Fogarty, who started his career at Dunedin's Evening Star wrote a book about the experience in 1982, Let's Hope They're Friendly, and remains convinced that enhanced computer analysis of the film might get closer to finding answers.
"Forty years down the track, this is still unfinished business."
Pilot Bill Startup, 85
Startup now lives in a rest home in Blenheim. He had a stroke a three years after the incident and had to retire from flying.
He wrote a book the following year, The Kaikōura UFOs, his daughter says, to clear up the misinformation doing the rounds. The same year, Startup then took his wife Shirley and children to visit Bruce Maccabee in the US.
Bill Startup in 1978. Source:NZ Herald
Shirley, who died in 2012, was interviewed in 2008 and said a psychiatrist had thought the men had lost their faith in God and were seeing angels.
Startup, who was not well enough to be interviewed by the Herald on Sunday, told a documentary in 2009: "What it was all those years ago … I wish I knew. People can think what they want but they were not in the aircraft."
Startup did not dwell on the experience, Moore says.
"Over the years there has been periodic interest, so he was being visited every one to two years from reporters all over. But he didn't bring it up."
She didn't get the impression he truly believed it was UFO.
"He'd seen something that he did not know what it was, and his colleagues couldn't come up with an explanation. He had no thoughts that he ever communicated to us."
Co-pilot Bob Guard, 73
Guard has never said too much about the strange lights.
"One of the issues for me is we were just doing our job. We suddenly had to justify ourselves. We didn't know what the hell it was.
Bob Guard in 1978. Source:NZ Herald
Bob Guard recounting his experience in Paul Davidson's documentary The Kaikoura UFOs. Picture: Paul Davidson Source:NZ Herald
"We didn't expect to see anything. It was a bit tense as it got closer to the aircraft."
"I got over it. Have I ever seen anything like that again? No I haven't. Do I believe in UFOs? No I don't. Pilots see a lot of unidentified flying things.
"Would I tell anyone if I saw anything like that again? No I wouldn't. It's not worth the hassle."
Research followed the sightings but he says "some were a sham — they used newspaper articles for their research".
Guard stopped working for Safe Air in 1990 and went on to work at Air Nelson. He was the flight operations manager when he retired, aged 65, in 2010.
His children and grandchildren were aware of the story but it is not "something that has taken over their lives".
Sound recorder Ngaire Crockett, 80
The Crocketts, who had five children, separated soon after the incident.
Ngaire is now Ngaire Gilmore after her new marriage to husband Ray Gilmore.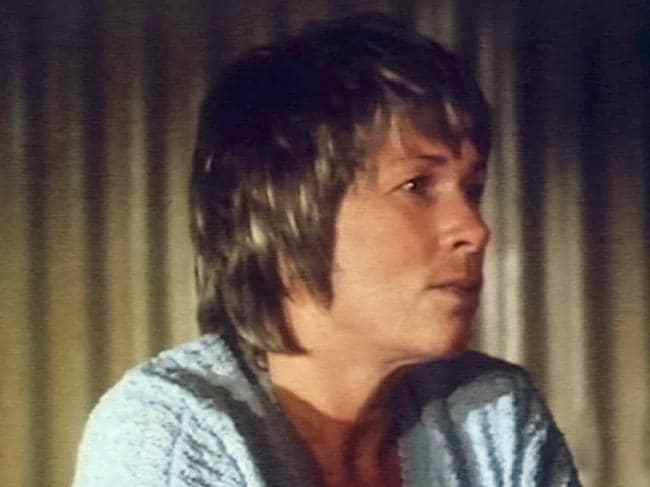 Ngaire Crocket in the 1970s. Source:NZ Herald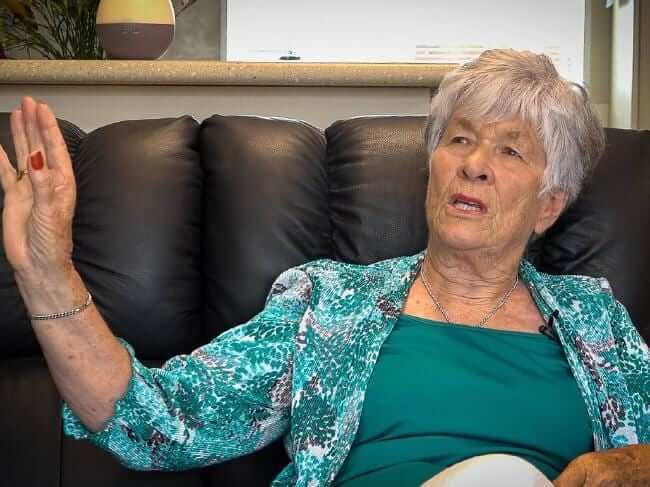 Ngaire Gilmore at her home in Palmerston North. Picture: Alexander Robertson Source:NZ Herald
The pair, who met during a blind date eight years ago, married in a surprise ceremony at the Julia Wallace Retirement Village in Palmerston North the day before Meghan and Harry's nuptials this year.
Residents dressed up in royal wedding theme for happy hour but didn't know they were attending a real wedding.
"Has this film changed my life?" asks Gilmore.
"I guess it did. We had phone call after phone call and people knocking on our door. David and the reporter became so obsessed that the doco was all they talked about. I switched off as we had five children and it was effecting all our lives."
Cameraman David Crockett, 85
David Crockett dealt with health a handful of effects after filming the strange objects.
"To this very day, the incident has never left my mind. I am also reminded of the event by people who come up to me and say, 'I saw you the other night on the Discovery or Science Channel'.
David Crockett in 1978. Source:NZ Herald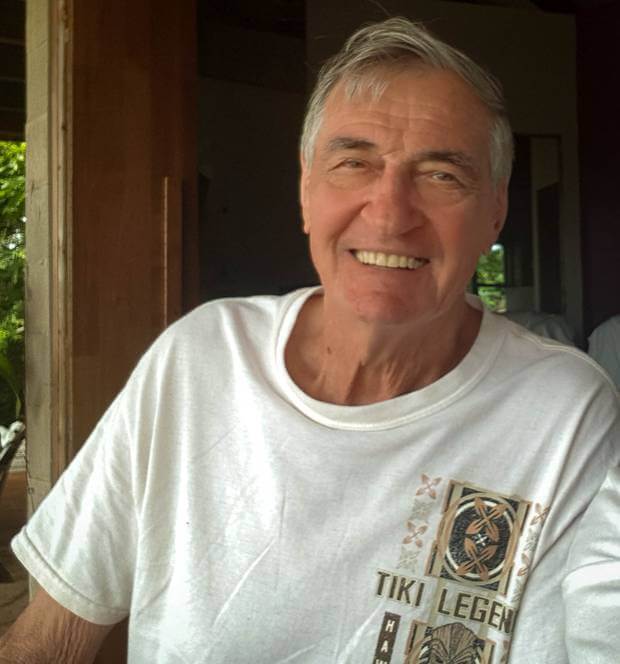 David Crockett. Picture: SuppliedSource:NZ Herald"The effect this historic sighting has had on all of us has certainly included a fair amount of stress. As for me, I was sleepless for several nights, and after having performed several overseas lectures on this sighting, became quite depressed.
Crockett, who now lives in Hawaii where he worked as a mango farmer, made a documentary about the incident, and gave lectures, which took him around the world. He is hoping to make a new documentary to mark the 40-year anniversary.
"It substantially changed my life. At that time in the history of the UFO phenomena, sceptics thought we were crazy, and criticised us in many ways. In 1978, most persons would not seriously consider that these were real object and may even originate from other planets."
TV journalist Dennis Grant, 66
Over the years Grant has amassed a massive collection of a newspaper and magazine stories. He's scoured official records in Australia and New Zealand and lodged official information applications for long-forgotten files.
Dennis Grant. Source:NZ Herald
"The results are overwhelmingly unhelpful in explaining the lights and what they were doing in the lonely summer skies of New Zealand. Forty years on I'm still very curious.
"My grandkids love to hear the story of my brush with UFOs, I just wish I could provide an ending."
Grant was working at TV One (now TVNZ 1) in Christchurch in 1978 and now lives in Australia.
"I was a young journalist back then, fired with the zeal of telling stories untold, and I helped tell this story. But the rest of the world, the scientists, the officials, the military and — saddest of all for me — the media, were all consumed with indifference. Incurious."
So does he believe in UFOs?
"I am entirely sceptical of the notion of little green men, Martian anal probes and all the rest of it. I note that the number of UFO sightings has greatly diminished since video and digital cameras and phone cameras have became readily available. However, what we saw that night over Kaikōura was unidentified and still is."
The Argosy
The decommissioned Argosy now sits on land near the Marlborough Airport owned by Blenheim filmmaker Paul Davidson.
He purchased the aircraft in 1991 after hearing it was to be scrapped, telling the Safe Air general manager he would pay what he would have got from the scrap dealer.
Paul Davidson, of Blenheim, with his Argosy aircraft. Picture: Tim Cuff Source:NZ Herald
The aircraft had special meaning to him — in 2009, Davidson made a documentary, featuring interviews with the pilots and crew from 1978.
Davidson, whose home is on land adjacent to the aircraft, has restored and refurbished the aircraft and runs flight simulation experiences, complete with in-flight movies telling the story of Safe Air — and meals.
Passengers can dine at the Argosy Cafe, next to the plane, which acts as a terminal where they can collect their boarding passes and go to their gate for the experience. There is also memorabilia on display.
"We put it back together and tidied it up. It's unique to Marlborough."
Paul Davidson, of Blenheim, with his Argosy aircraft. Picture: Tim Cuff Source:NZ Herald
From Thursday, to coincide with the first strange sighting, Davidson will be running a UFO-themed experience.
His documentary will be screened, lights will be dimmed on-board and a "spooky atmosphere" created.
"People can sit in actual seat Captain Startup sat in.
"It's the only place in the world where you can do that."
So, does Davidson believe in UFOs?
"I believe in the possibility of them.
"I got to know both pilots with my documentary. They got sick of people saying 'It was probably the lights of cars, or lights of squid boats'. These were professional pilots. 'We know what Venus looks like, this was not Venus'.
"Everyone on board has said the event had a traumatic effect on their lives."
• The accounts were pulled together with the help of Bruce Maccabee.
Source www.news.com.au