The strange activity around these volcanoes attract ufologists from all over the world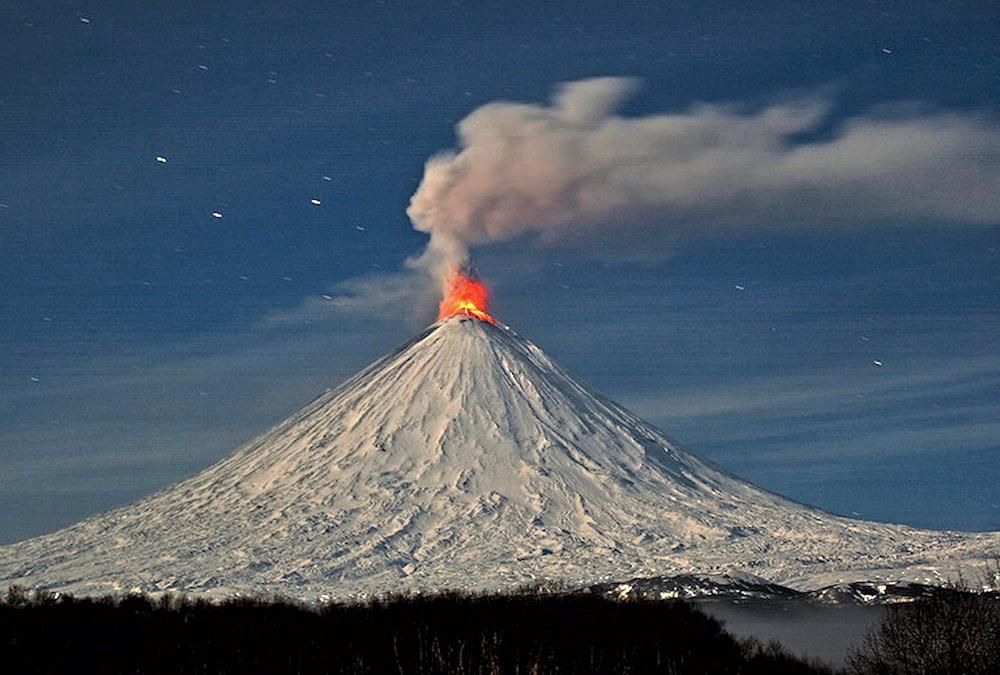 Mexican volcanoes Popocatepetl and Colima from time to time become the focus of attention of the ufological community. This is mainly due to unusual objects flying over their craters, registered there for at least 10 years.
Already on October 26, 2012, a cylindrical object flew into the volcano. The Mexican media could not ignore this phenomenon, but various experts put forward various strange theories, for example, the fact that a meteor flew into the volcano. On November 15, this "meteorite" decided to fly out of the crater.
An unexpected departure of a cylindrical object occurred on November 15 at about 5 a.m. local time. The Popocatepetl Volcano is under close surveillance because its possible eruption or large emissions of ash can cause unrest in the capital, Mexico City. That is why it was possible to fix the moment of entry and exit of the object from the crater.
This case was extremely mysterious, because, as you know, the interior of the volcano is a place where it is difficult to imagine the movement of any land vehicle in such hostile conditions. On the other hand, if you want to hide your presence from people, there are probably no better places than around the Sun, inside volcanoes or undetected depths of the oceans.
Consequently, many theories have emerged that suggest that terrestrial volcanoes are passages for creatures from outside our planet that hide from us below the surface of the earth. Thanks to the observations of people interested in the Popocatepetl volcano, we know that only from October 2012 to June 2013 there were three cases of observation of unidentified objects that entered the Popocatepetl volcano.
Similar observations also related to another Mexican volcano called Colima. Webcams monitoring its activity recorded an almost identical anomaly on February 15, 2016. In this case, only the moment of entry into the volcano was recorded.
In this context, it is probably worth mentioning a series of photographs showing unidentified flying objects seen near the Colima volcano. Presumably, these photographs date back to 1958. This is completely unique, because in those days not everyone had a camera ready to take pictures. Of course, these declarations should be considered approximations, but the pictures are really intriguing. Some say this is the most convincing UFO photograph ever taken around the crater of Colima Volcano.
Returning, however, to the question of the Popocatepetl volcano. It should be noted that this type of observation continued uninterruptedly for many years. Some say that we can see a strange object entering or leaving the crater of this dangerous volcano almost every week. One of these new observations took place in 2015. At that time, on a recording made by webcams tracking the volcano after sunset, you could see an object approaching the crater, and after a while it flies inside.
Another phenomenon of this type occurred on March 11, 2017. The object was recorded by a surveillance camera located about 6 kilometers from the volcano. The live broadcast allowed us to record an extremely fast object that emerges from the crater of the volcano and flies out of the camera frame within 2 seconds.
These types of phenomena are obviously not the only ones that accompany this volcano. Equally unusual (also recorded in the area of ​​the Colima volcano) are the luminous objects that seem to surround this volcano and disappear in no time. These types of lights appear there regularly. A good example is the phenomenon that occurred some time after the eruption of June 19, 2016.
Of course, as always, the first explanations for this phenomenon are related to the forces of nature. It is possible that the a strange object is the result of reflection of sunlight from the camera lens, small molten pieces of lava erupted by the volcano and falling back to Earth, or just regular recorded airline flights. Of course, taking into account the number of such observations, we can also assume that this is something unnatural or even paranormal.
It is difficult to say whether the secret aura covering these volcanoes originates from the real paranormal phenomena occurring in their area, or whether this is just the result of many reports, which are often exaggerated, attributing all the observations near the craters of these volcanoes to aliens. But what is the reason for such great activity near the craters of the Mexican volcanoes Colima and Popocatepetl? Without a doubt, we will be thinking about the answers to this question for many years.
An incredible invasion of Aliens began in the sky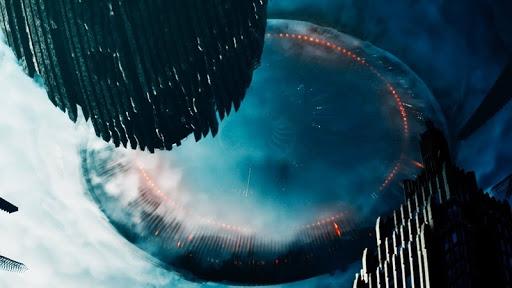 Over the course of two weeks or so there is a tremendous and unprecedented amount of cases with strange multiple lights in the sky. These lights look different each time, but in general terms, something like this:
At first glance, the lights resemble Starlink, as they move synchronously and more or less in one line. However, after a short period of joint movement, they begin to disperse, and very often fly apart in pairs.
With satellites this can not be the case. They are also not drones, since such UAV clusters cannot fly simultaneously all over the world. And this is exactly what happens:
The same scene was seen in Britain, in the South of Europe, in Asia and in America.
Finally, the most amazing thing is that the ISS sends similar frames, which drones cannot see in principle, since UAVs do not fly at such a huge height:
Now some videos from Earth. Colombia:
Mexico:
Peru:
Scotland:
Indonesia:
All the above videos were for the period of March 15-31. They were filmed in different places, but what they have in common – UFOs are grouped in clusters, groups of relatively small vehicles.
Some hefty alien ships are also observed in California on March 31:
Spain, March 15:
ISS, March 24:
As you can see – the situation is somehow very strange, UFOs sharply became frequent and at the same time they gather in groups – like around a shark sinking steamer. On the boat, there is epidemic and the passengers are locked in cabins.
UFO flotillas near ISS and a Black UFO flying over Fairview, Texas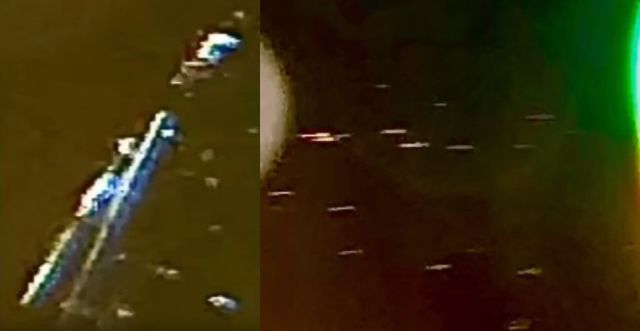 In outer space near the Earth and near the Sun, the incredible activity of entire UFO flotillas continues, which is fixed by cameras installed on the ISS and this has been going on for more than two months. Now, eyewitnesses record the appearance of many UFOs directly in our sky.
Gina Colvin Hill from Salem, Indiana, shared some shots taken on March 24, 2020, showing numerous UFO ships in the sky.
Gina used various filters to capture these ships, otherwise you do not see them, since most of them are hidden by a masking system.
Black UFO flying over Fairview, Texas, USA
A black ship flew over a car standing at a traffic light. An eyewitness took two photographs of clouds and on one of them caught a dark UFO.
The UFO must have moved very fast, because it was not directly visible at first. Many UFO researchers believe that UFOs are all around us on this planet, but they fly so fast that the human eye cannot see them, but the camera lens can.
An eyewitness writes:
"I took 2 photos of the clouds with an interval of a few seconds. The clouds looked strange. The first UFO picture is clearly visible. The second photo taken immediately after that, does not show it. The time noted in both photos is 5: 41pm . It looks like a black Millennium Falcon. This is definitely not something on the windshield or camera lens. That would be in both pictures, but it's only on one! "
A mysterious bright UFO suddenly appeared on the surface of the moon
A mysterious bright object, similar to a UFO, suddenly appeared on the surface of the moon, captured live by the telescope on March 29, 2020.
Strange "lights" have been seen on the moon before, and often this phenomenon is associated with UFOs or extraterrestrial activity on the moon.
A possible explanation for these lights is the so-called "transient lunar phenomenon", which is a short-term light, color, or change in appearance on the surface of the moon.
Allegations of short-term lunar phenomena date back at least 1000 years ago, with some of them observed independently by several witnesses or authoritative scientists. Most lunar scientists acknowledge that transient events, such as gas emissions and the formation of impact craters, do occur over geological time: the contradiction lies in the frequency of such events.
It has been suggested that effects associated with an electrostatic charge may be able to explain some of the transient lunar phenomena.
It is possible that strange light is such a "transentral lunar phenomenon", but it cannot be ruled out that the object is of extraterrestrial origin.