The little Nepalese took part in various television shows, traveled around the world, met with the highest people in the world and enjoyed the attention to his person.
Khagendra's height was only 67 cm and weight 5.5 kg. From a very young age, this little man was of miniature growth, born with primordial dwarfism. When he was a child, he was already known in many countries as the smallest boy in the world, and then as the smallest teenager.
After the official title of the Guinness Book of Records, Khagendra became a living symbol of Nepal, attracting tourists to this poor mountainous country.
Because of his abnormal growth, Khagendra often suffered from many medical problems, ranging from asthma to problems with breathing and bone pain. Shortly before his death, his heart began to ache often, and then he also caught pneumonia and his body simply could not withstand such a load.
Despite all the above problems, Khagendra remained a cheerful and optimistic person to the end. He was completely dependent on his parents and moved with great difficulty, but he had normal mental development and was well aware of his condition and position.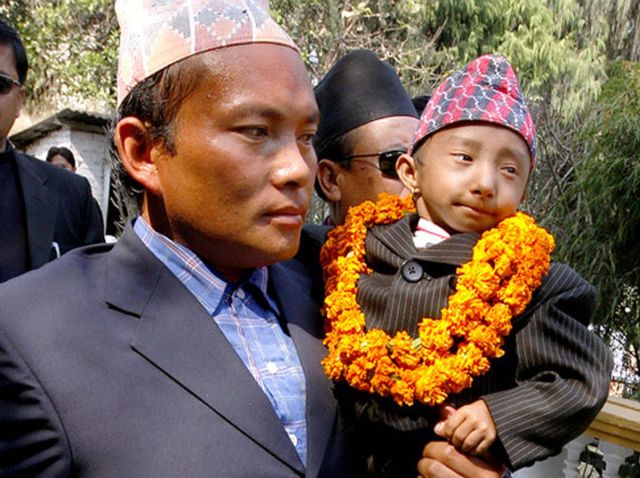 Khagendra had a younger brother, who was born completely normal and then helped Khagendra cope with various domestic inconveniences.
"He was so small at birth that could fit in the palm of my hand and it was very difficult for us to bathe and care for him," says Khagendra's father Rup Bahadur.
Before the death of Khagendra, the official smallest man in the world was recognized as Junrey Balawing from the Philippines, 56 cm tall, but he cannot walk on his own.
Of those dwarfs who can walk, now the smallest is the Colombian Eduardo Nino Hernandez (pictured below), whose height is 70 cm.