The Sideshow Collection of Johnny Fox Hits the Auction Block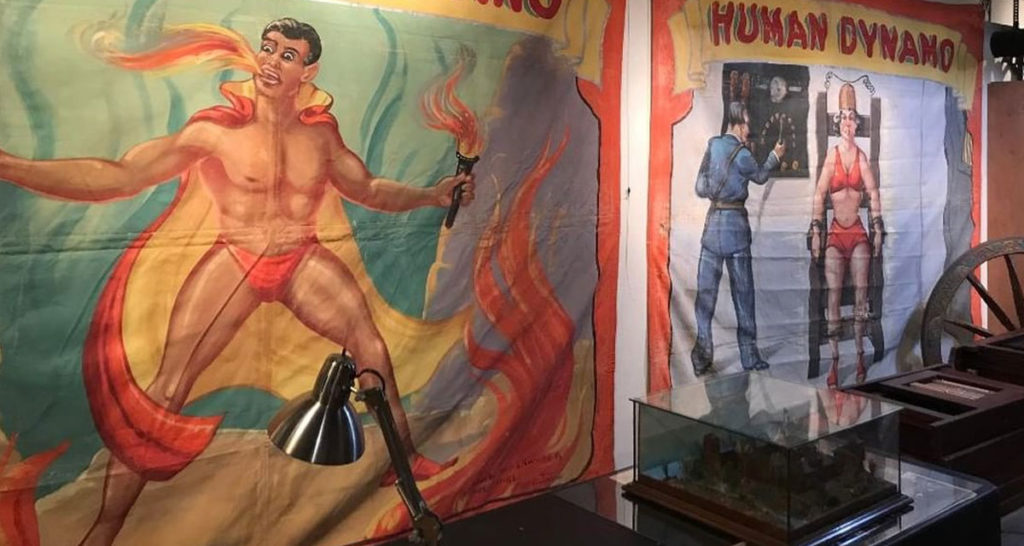 Own some amazing pieces of sideshow history from the collection of sword swallower Johnny Fox.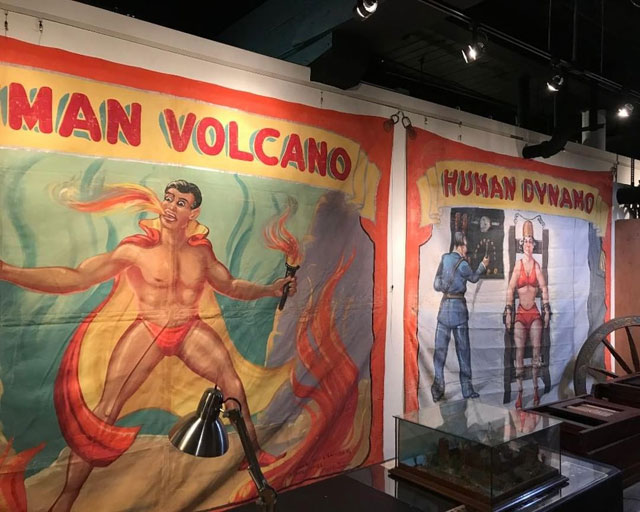 An amazing assemblage of circus sideshow artifacts and memorabilia is hitting the auction block this Saturday at Potter & Potter in Chicago. The collection belonged to sword swallower and magician Johnny Fox, known as the King of Swords, who died in 2017. The items range from cabinet cards, sideshow banners, circus posters, and gaffs like a Fiji Mermaid and furry trout to vintage taxidermy, skulls, and numerous other oddities. Fox displayed his curiosities in his Freakatorium, El Museum Loco, in Manhattan's Lower East Side from 1999 to 2005.
Everything from the museum will be up for auction except a glass eye that supposedly belonged to Sammy Davis Jr., which had been on loan.
Alive! On the Inside! Potter & Potter is pleased to present the over-the-top, one-of-a-kind Barnumesque collection of renowned sword swallower, comedian, magician, and curiosity seeker Johnny Fox.

Expect a sale like no other, populated with sideshow banners (Fred Johnson, Snap Wyatt, Siegler and Meah), tribal art and artifacts, furry mink fish (very rare), magic tricks, swords for swallowing, and oh, so much more!

Fox amassed an amazing assortment of natural and unnatural curiosities which he displayed at The Freakatorium, "El Museo Loco," a singular establishment he operated on the lower east side of Manhattan from 1999 – 2005. The entire contents of the collection will go on the block, from Johnny Eck memorabilia to circus posters, sideshow gaffs, Fiji mermaids, and even the disembodied wax head of Mao Zedong. This is one sale without comparison, filled with a thousand things you never knew existed – or that you wanted.
Here are some of the amazing and bizarre things from the catalog: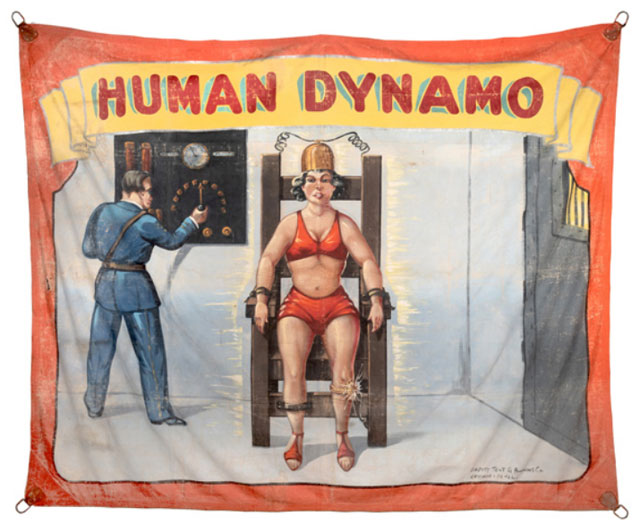 Sideshow banner by Fred Johnson depicting an electric chair illusion c.1950
Sideshow performer CDVs

Spidora sideshow banner by Mark Frierson

The Walter L. Main Circus train wreck in Tyrone, Penn., 1893

Clothing and other items owned by P.T. Barnum performers Tom Thumb and his wife Lavinia

Adelaide Herrmann's Electrocution Illusion c.1910

Life size plaster cast of Lobster Boy Grady Stiles' hand

CDV of Isaac Sprague, the Skeleton Man c.1870s

Mysterious devil fish, also known as Jenny Hanivers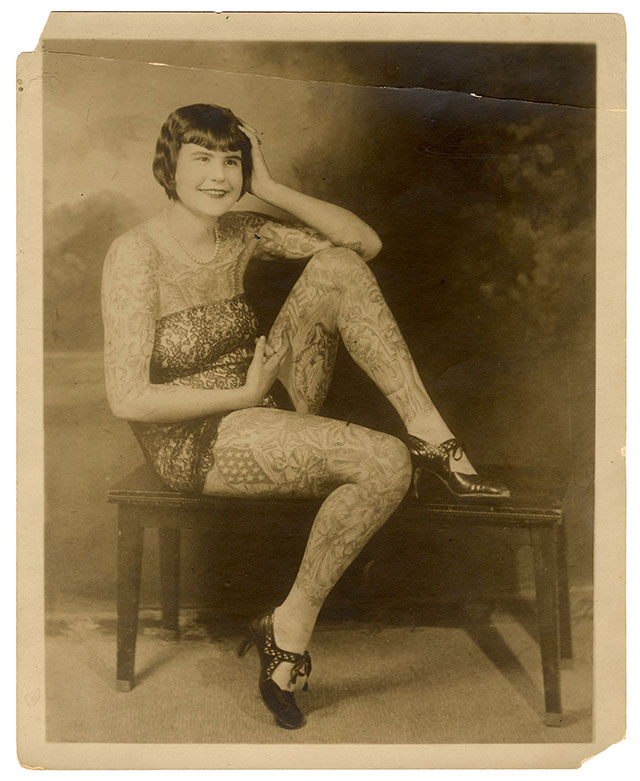 Betty Broadbent, Youngest Tattooed Lady, had 565 tattoos. Photo c.1928

Oil painting depicting Saint Agatha of Sicily having her breasts cut off

Mid-twentieth century painted silk Odd Fellows banner

French mourning hair grave display, 1888

The mummy of Ramses II photograph c.1880s

Chupacabra diorama made by Mark Frierson

Sideshow banners by Snap Wyatt c.1950

A brank scold bridle used to prevent women from gossiping and being a public nuisance

Sharpshooting/trick shot artists c.1900s

Life size sacrificial lamb prop, Valley of Milwaukee, Ancient Accepted Scottish Rite, Wisconsin

Vintage shrunken heads from South America

Kar-Mi buried alive lithograph, 1914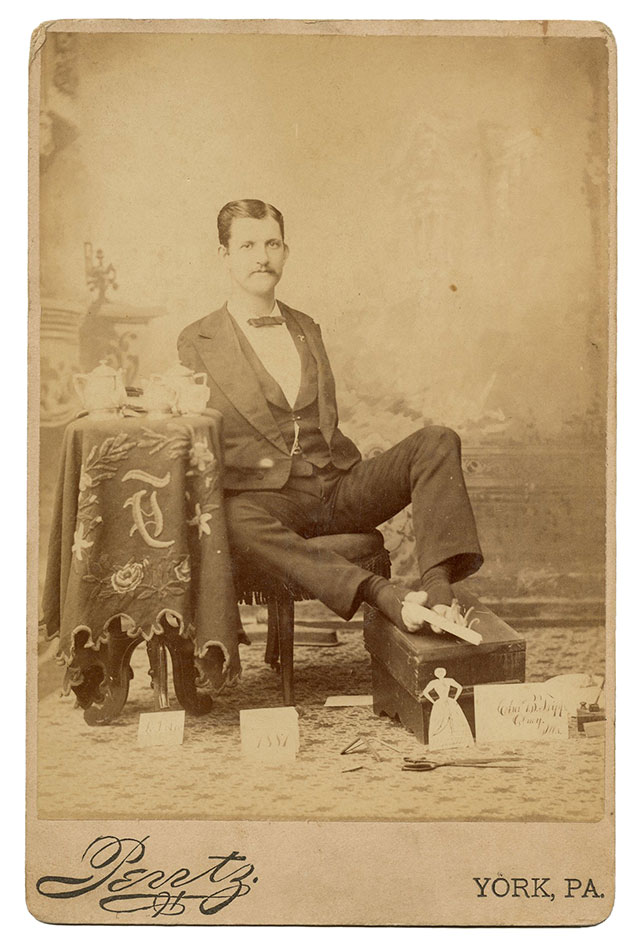 Charles B. Tripp Armless Wonder cabinet card c.1887

Vintage taxidermy

Sideshow performer Laloo and his parasitic twin c.1880s

Baculum (penis bone) of a cave bear

B.F. Gleason embalmer's cooling table c.1886

Bearded Lady Annie Jones c.1890

Furry trout

Four-pronged cannibal fork from Fiji

Atlantica banner for a Girl in Fishbowl sideshow illusion

Contortionist in a bizarre costume c.1940s

Early twentieth century felt-covered wood coffin, Valley of Milwaukee, Ancient Accepted Scottish Rite, Wisconsin

Chastity belt with vicious face to ward off potential sexual activity

Mummified "walled cat" named Fluffy, found in the wall of an old building in New York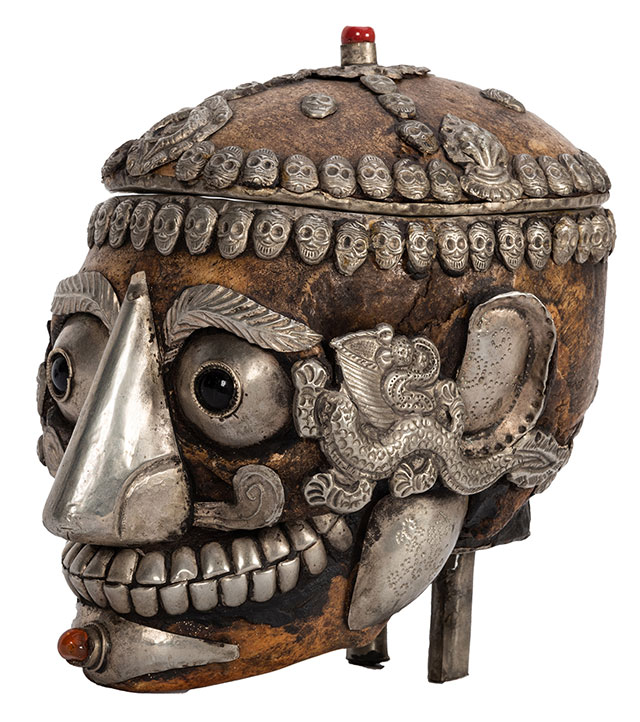 Tibetan kapala skull

Magic tricks and sideshow illusions

Bezoar stone extracted from the intestinal tract of Wexy, the war horse of Prince William of Orange, 1815

Tibetan llama bone necromancer hat

Miniature flintlock pistol with ivory grip, early twentieth century

Erotic optical illusion cabinet card c.1900s

Manfish sideshow gaff created by Mark Frierson

Jerry Pope naval tattoo art c.1940s

Adam and Eve vaudeville pamphlet c.1920s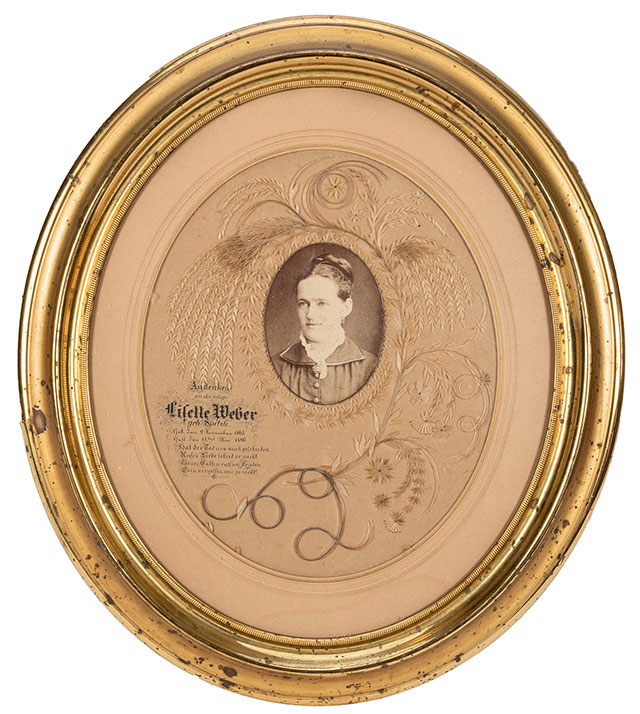 Mourning portrait of Lisette Weber with hair and straw, Germany, c.1886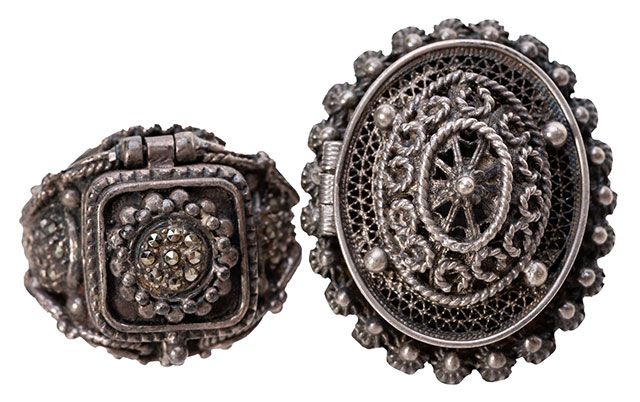 Antique silver poison rings, early 1900s

Pre-Columbian human skull with seashell discs covering eyes from Oaxaca, Mexico believed to be part of the Zapotech culture

Victorian taxidermy bird diorama

Reliquary from Genoa, Italy containing the bone fragment relics of 7 saints, 1763

Zoma the Cannibal sideshow banner c.1930
See more in the Freakatorium auction catalog.
The auction is happening Saturday, November 10th at 10am.
h/t Weird Historian
Tesla autopilot sensor recorded "ghost" in an empty cemetery
A Tesla electric car with an activated autopilot function recorded an invisible person who allegedly moved around the cemetery. Social network users jokingly noted in the comments that, most likely, this is some new function from Elon Musk, which allows you to see ghosts.
In the United States, a Tesla electric car with an activated autopilot function recorded an invisible person who allegedly moved through a cemetery.
The corresponding video was posted by Twitter user Ovidiu Maciuc.
The recording shows how a silhouette of a man appears on the monitor of an electric car, moving around the cemetery. After that, the driver raises the camera and starts filming the graveyard through the windshield, but there are no people there.
After some time, the "ghost" went in the opposite direction from Tesla and disappeared from the on-board computer screen.
Social network users jokingly noted in the comments that, most likely, this is some new function from Elon Musk, which allows you to see ghosts.
For many though, if you take into account the comments, the video seemed rather creepy. Some even tried to guess what the navigation system actually showed.
Some users thought the system could recognize ghosts. Others refuted this version and said that the reason for all this is an insufficiently accurate sensor, which was used for the equipment of the Tesla car.
Earlier it became known that Tesla electric cars in the near future may receive a new function with which they can talk with pedestrians. For this, American cars will be equipped with special external speakers.
In addition, Tesla cars in the future will receive the option to change the horn and sound of movement at low speeds to warn pedestrians. According to Elon Musk, among the sounds of movement there will be the sound of the clatter of a horse's hooves, and as a whistle – the bleating of a goat.
Mysterious energy source melts Tel Aviv sidewalks, leading to the evacuation of several buildings in Israel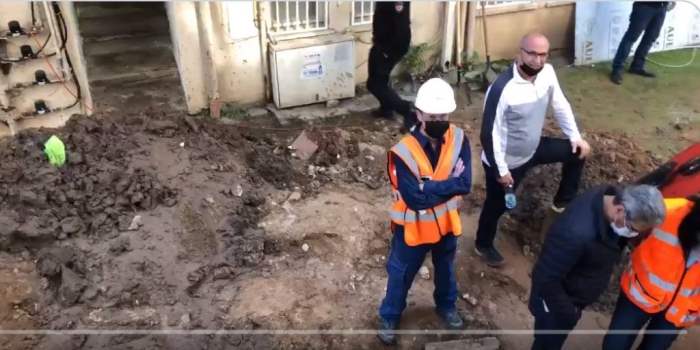 About two weeks ago, Tel Aviv residents noticed that the concrete surface outside their homes was heating up and steam was coming out of the ground. Tests showed that steam that reached 60 ° C (140 ° F) was water based.
The witness explains: "I was afraid that there was a power line in the area and asked a worker to dig out the ground with a shovel. Steam suddenly came out. I imagined it was probably a geyser. It seemed to me that this was a geological incident – also because there were no problems with electricity in the building. "
Although the experts did not find any hazardous substances or any risk to the stability of buildings at the site, residents as well as kindergartens in the area were evacuated.
Officials described the heat source as "trapped energy" of unknown origin.
Work continues, steam is still rising and the ground is still hot. It is currently unclear what is causing the warming. Note the hole dug in the area. The area is still blocked.
Mysterious origins
City officials said they will "continue to monitor the temperature of the earth, which is expected to cool down for a long time, and will continue to investigate the causes of the unusual event."
Israel Electric Corporation has not found a connection between heat and power in the area.
The Israel Geological Survey confirmed the rise in temperature after testing ground and water temperature levels, but said it has not yet found an explanation.
Despite their best efforts, municipal officials, the fire department, Israel Electric Corporation and the Ministry of the Environment have yet to find a source of heat.
Meanwhile, the Tel Aviv municipality has informed dozens of evacuees that they can return to their homes. However, residents are not going to return until they receive a detailed account of the source of the mysterious event.
"They evacuated us because they were concerned about our safety, and now they are urging us to return without any convincing explanation. How can you be sure that there is no more danger? "
The night sky in southern Taiwan shows a weird red moon alarming netizens: 2021 disaster year omen?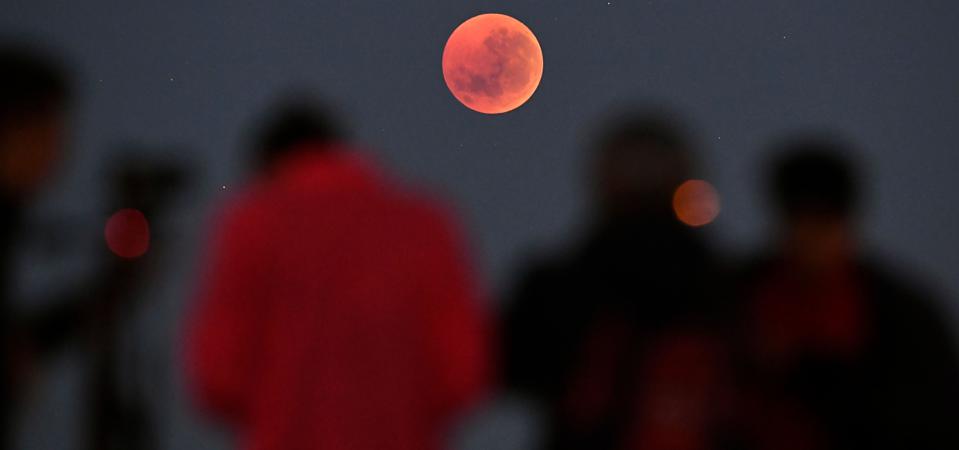 Some people in Chiayi, Taiwan took pictures of a large dark red moon hanging in the night sky on the first night of 2021 and uploaded them to Facebook. There are also people in Tainan who have photographed the rare "red moon". The weird scene has aroused heated discussions among netizens. Some people worry that an earthquake may occur, while others suspect that this is a precursor to the year of disaster in 2021?
Yesterday, on January 1 at about 8:00 in the evening, Chiayi residents shared a photo of "2021's first red moon" on Facebook. As you can see in the photo, the weather was quite good at that time. There was a clear big round moon in the night sky, but it was a dark red moon, which was very different from the usual moon.
Later, people in Kaohsiung and Tainan also posted photos of the red moon they had taken.
The weird and rare "big red moon" immediately attracted the attention of netizens. Some people think that such a sight is caused by air pollution, and some people think that the red moon is "extremely beautiful", but many people worry about whether it is a harbinger before the disaster ?
"Hope is not a harbinger of disaster~", "A harbinger of disaster in 2021???", "It looked uneasy", "After seeing the red moon, I hope everyone will be safe".
Some netizens worry that this is a pre- earthquake omen.
"Remember the red moon before the 921 earthquake (omen)", "earthquake precursors", "I feel that there will be an earthquake again recently", and "It seems that 2021 will be another year of bloody disaster."
The British clairvoyant Craig Hamilton-Parker published his prediction for 2021 on YouTube in December last year, stating that, as far as the world is concerned, 2021 will be a year full of social unrest, armed conflict and political changes. There will be difficult times right now until 2025.
He also predicted that the biggest worry is climate and earthquakes. A tsunami will occur near Japan. Large earthquakes will occur in the Himalayas, Iran and the Americas. There will also be problems such as floods, dams bursting, and huge icebergs obstructing shipping. Until 2025, the severity of environmental problems will gradually increase.