The Sideshow Collection of Johnny Fox Hits the Auction Block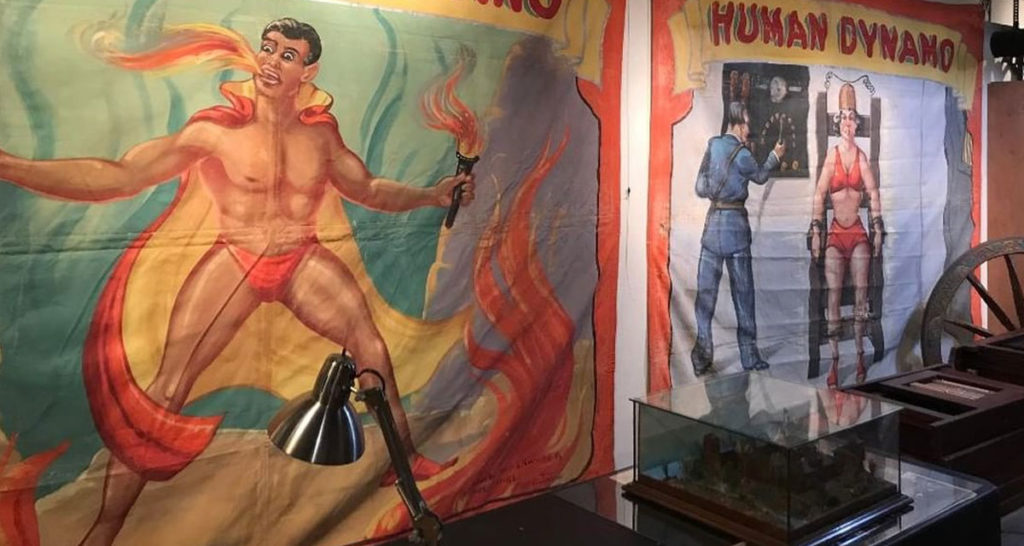 Own some amazing pieces of sideshow history from the collection of sword swallower Johnny Fox.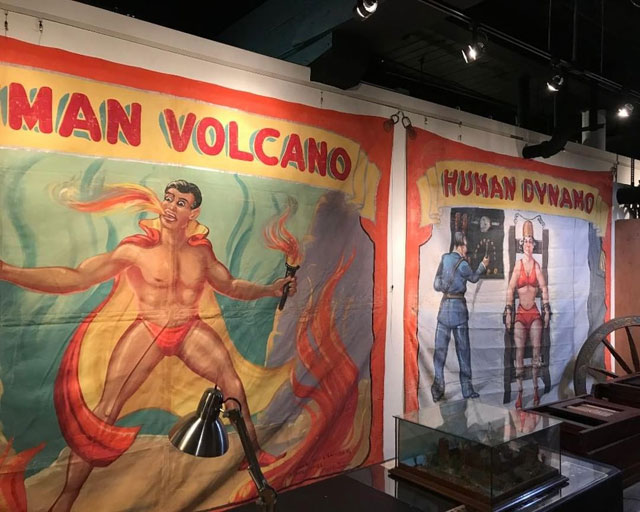 An amazing assemblage of circus sideshow artifacts and memorabilia is hitting the auction block this Saturday at Potter & Potter in Chicago. The collection belonged to sword swallower and magician Johnny Fox, known as the King of Swords, who died in 2017. The items range from cabinet cards, sideshow banners, circus posters, and gaffs like a Fiji Mermaid and furry trout to vintage taxidermy, skulls, and numerous other oddities. Fox displayed his curiosities in his Freakatorium, El Museum Loco, in Manhattan's Lower East Side from 1999 to 2005.
Everything from the museum will be up for auction except a glass eye that supposedly belonged to Sammy Davis Jr., which had been on loan.
Alive! On the Inside! Potter & Potter is pleased to present the over-the-top, one-of-a-kind Barnumesque collection of renowned sword swallower, comedian, magician, and curiosity seeker Johnny Fox.

Expect a sale like no other, populated with sideshow banners (Fred Johnson, Snap Wyatt, Siegler and Meah), tribal art and artifacts, furry mink fish (very rare), magic tricks, swords for swallowing, and oh, so much more!

Fox amassed an amazing assortment of natural and unnatural curiosities which he displayed at The Freakatorium, "El Museo Loco," a singular establishment he operated on the lower east side of Manhattan from 1999 – 2005. The entire contents of the collection will go on the block, from Johnny Eck memorabilia to circus posters, sideshow gaffs, Fiji mermaids, and even the disembodied wax head of Mao Zedong. This is one sale without comparison, filled with a thousand things you never knew existed – or that you wanted.
Here are some of the amazing and bizarre things from the catalog: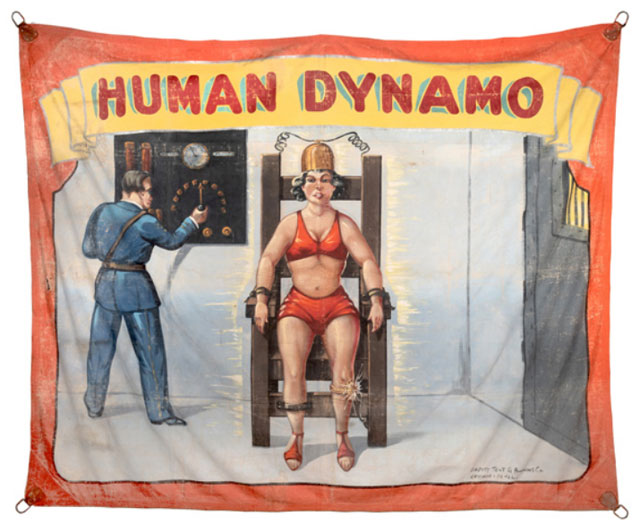 Sideshow banner by Fred Johnson depicting an electric chair illusion c.1950
Sideshow performer CDVs

Spidora sideshow banner by Mark Frierson

The Walter L. Main Circus train wreck in Tyrone, Penn., 1893

Clothing and other items owned by P.T. Barnum performers Tom Thumb and his wife Lavinia

Adelaide Herrmann's Electrocution Illusion c.1910

Life size plaster cast of Lobster Boy Grady Stiles' hand

CDV of Isaac Sprague, the Skeleton Man c.1870s

Mysterious devil fish, also known as Jenny Hanivers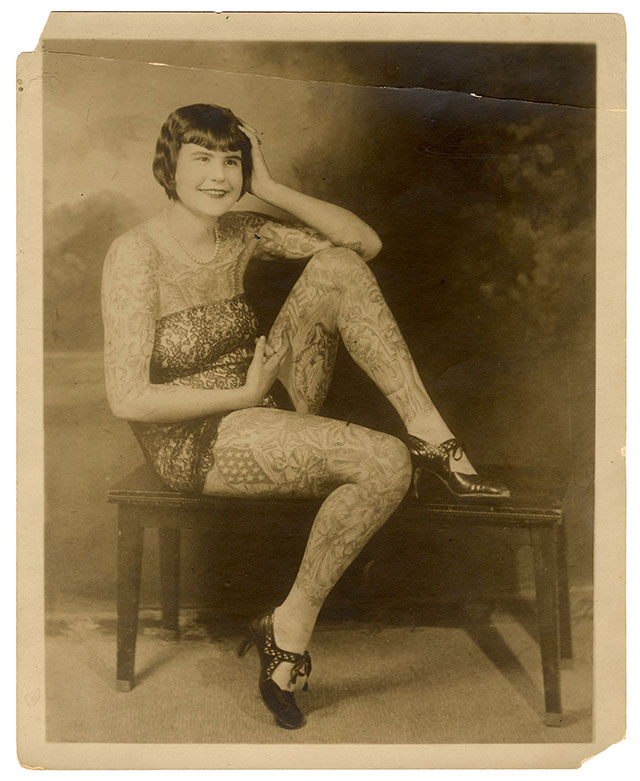 Betty Broadbent, Youngest Tattooed Lady, had 565 tattoos. Photo c.1928

Oil painting depicting Saint Agatha of Sicily having her breasts cut off

Mid-twentieth century painted silk Odd Fellows banner

French mourning hair grave display, 1888

The mummy of Ramses II photograph c.1880s

Chupacabra diorama made by Mark Frierson

Sideshow banners by Snap Wyatt c.1950

A brank scold bridle used to prevent women from gossiping and being a public nuisance

Sharpshooting/trick shot artists c.1900s

Life size sacrificial lamb prop, Valley of Milwaukee, Ancient Accepted Scottish Rite, Wisconsin

Vintage shrunken heads from South America

Kar-Mi buried alive lithograph, 1914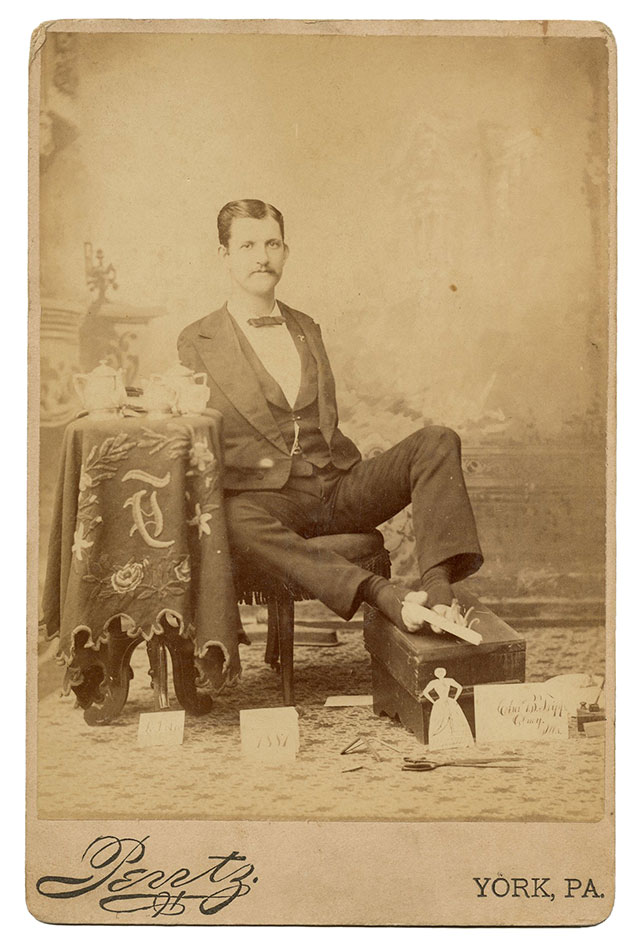 Charles B. Tripp Armless Wonder cabinet card c.1887

Vintage taxidermy

Sideshow performer Laloo and his parasitic twin c.1880s

Baculum (penis bone) of a cave bear

B.F. Gleason embalmer's cooling table c.1886

Bearded Lady Annie Jones c.1890

Furry trout

Four-pronged cannibal fork from Fiji

Atlantica banner for a Girl in Fishbowl sideshow illusion

Contortionist in a bizarre costume c.1940s

Early twentieth century felt-covered wood coffin, Valley of Milwaukee, Ancient Accepted Scottish Rite, Wisconsin

Chastity belt with vicious face to ward off potential sexual activity

Mummified "walled cat" named Fluffy, found in the wall of an old building in New York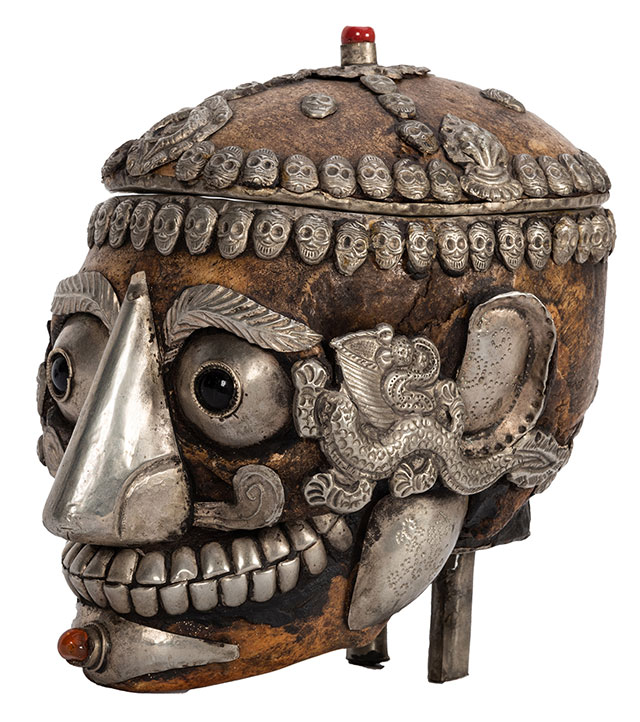 Tibetan kapala skull

Magic tricks and sideshow illusions

Bezoar stone extracted from the intestinal tract of Wexy, the war horse of Prince William of Orange, 1815

Tibetan llama bone necromancer hat

Miniature flintlock pistol with ivory grip, early twentieth century

Erotic optical illusion cabinet card c.1900s

Manfish sideshow gaff created by Mark Frierson

Jerry Pope naval tattoo art c.1940s

Adam and Eve vaudeville pamphlet c.1920s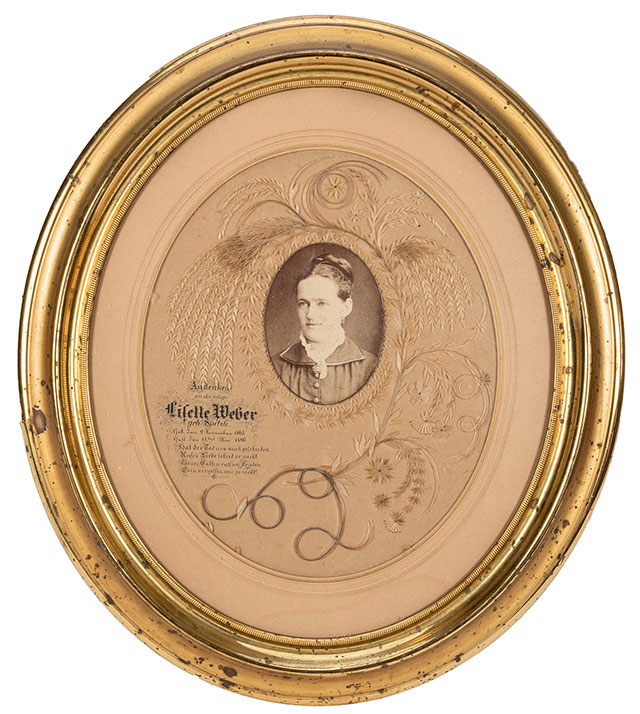 Mourning portrait of Lisette Weber with hair and straw, Germany, c.1886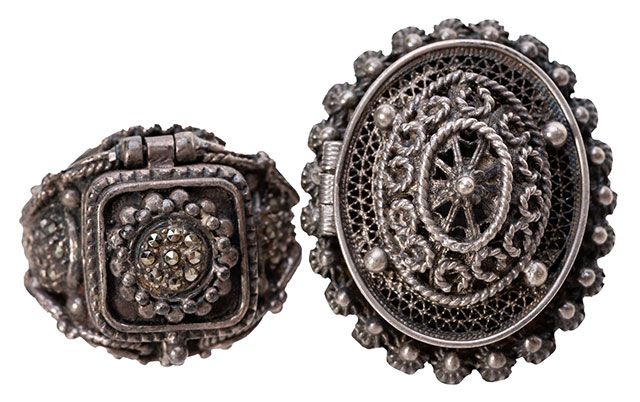 Antique silver poison rings, early 1900s

Pre-Columbian human skull with seashell discs covering eyes from Oaxaca, Mexico believed to be part of the Zapotech culture

Victorian taxidermy bird diorama

Reliquary from Genoa, Italy containing the bone fragment relics of 7 saints, 1763

Zoma the Cannibal sideshow banner c.1930
See more in the Freakatorium auction catalog.
The auction is happening Saturday, November 10th at 10am.
h/t Weird Historian
A woman discovered in a new house a secret room with creepy dolls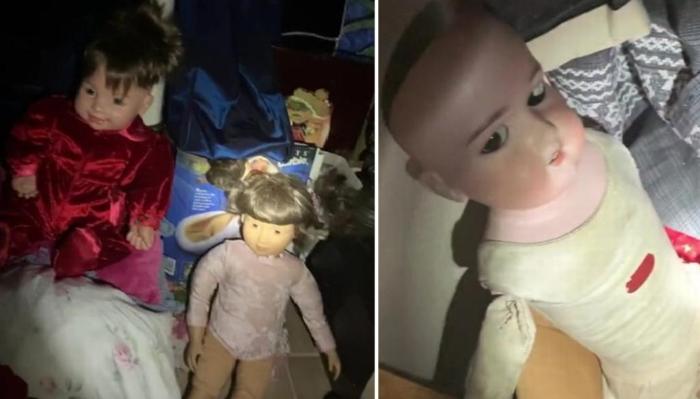 A woman was sorting things out in a newly acquired house and found a secret room filled with creepy dolls. This is reported by The Mirror.
The TikTok user posted several videos on the social network, in which she told how she found a secret room in the house where she moved with her family a few months ago and regretted finding it. She discovered the room when she was taking apart one of the cupboards and noticed that there was space behind it.
"An elderly woman who lived here kept everything. My children said that I should record on video how I move the closet and see what's behind," the author of the video said behind the scenes. 

"There's no one home now, so I don't think this is a good idea, but I'm dying to see what's there," she said.
The cramped space was filled with various knickknacks such as old coins, toys and art. Most of the subscribers of the woman were scared by the numerous dolls.
One TikTok user wrote, "I don't know why, but I feel like it's very bad." 

"Has anyone else noticed a baby's head that looks different from the last video?" another said. 

"When you forgot where you hid your Christmas gifts," a third joked. 

One commentator suggested, "Throw out the whole house."
The owner of the house admitted that she felt uncomfortable in the room and did not know what to do with the find. 
"I decided to lock this room. I think she should go back to who she belongs to. And it should be you girls," she said on one of the tapes and focused the camera on the dolls.
Now you can find out how people will look after the zombie apocalypse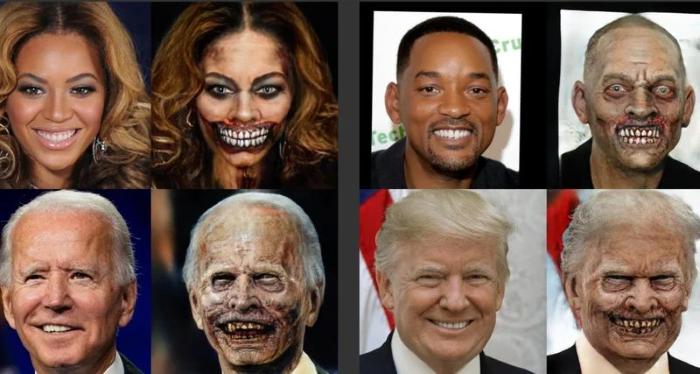 According to the developers of one of the projects of the so-called generative adversarial network (GAN), on the eve of Halloween, they decided to make a modest gift to the global network community.
And now, to the famous toys FaceApp, AI Portraits Art, Toonify HD and others, they have added the makemeazombie.com site, which in two clicks allows you to see how some famous personages will look after being bitten by a walker during a zombie apocalypse:
The service works very simply: use the 1 button to select the desired image
after which, with button 2, we look at the vision of the possible future by the Artificial Intelligence and enjoy the result:
As you can see, the Artificial Intelligence is working and the algorithm that processes the image gives a complete picture of how a person would look if he was made up as a zombie.
What kind of lights appeared in the sky over Hawaii?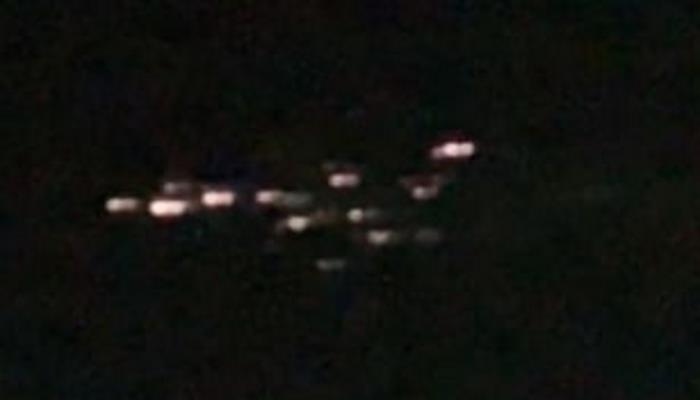 Hawaiians saw bright lights in the sky the size of a football field and decided it was Elon Musk's technique. However, scientists have come to the conclusion that the Starlink satellites have nothing to do with it. The bright lights are already 12 years old, and they revolve around the Earth for completely different reasons.
On the night of October 24, unusual lights appeared in the sky over the Hawaiian Islands, moving eastward. Witnesses of the bright show filmed it and published it on social networks. A group of about ten bright lights the size of a football field moved in the sky after 22:00, Khon2 writes.
People described the group of lights as a massive but transparent flat figure. Some even thought the silhouette was the size of a football field, but the lights did not make any noise.
Many residents were worried about the strange light show and put forward different versions of what was happening.
One of the eyewitnesses, who filmed the lights on camera, said that he was worried when he saw the unusual sight.
I started filming it and when the lights got closer I got worried. I could not understand what it was all about, – says a resident of the island of Molokai Kuyip Kanavalivali.
The lights were visible from the shores of Waikiki to Eva Beach and even on neighboring islands. The brightest show was seen by the inhabitants of the island of Molokai.
We didn't know what to think. We did not know what it was and where it came from, " Sheri English said, who also lives in Molokai. – In fact, it was a very eerie feeling.
On social media, people argued about where UFOs came from. Some people thought it was a meteor shower.
Others decided that the lights belong to the satellites of Elon Musk.
However, experts from Mauna Kea observatories have a simpler explanation for the spectacle. In their opinion, it was a rocket booster launched in 2008.
In all likelihood, what people saw last night was the return of the 2008 rocket booster. It was a Chinese rocket that launched a communications satellite for Venezuela, John O'Meara explained, chief scientist at the Keck Observatory.
According to scientists, over the years, the orbit of the launch vehicle collapsed. Astronomers have found a map of the flight path of the object, which was located near the Hawaiian Islands. She also predicted when the rocket booster would re-enter the atmosphere.
We can't be 100 percent sure because we don't have a single piece of its wreckage. But the pattern of light we saw in our timeline is aligned with this map. This flight path really makes us believe it was Venesat-1 re-entering the atmosphere," Mary Beth Leichuck explained, director of strategic communications for the Canadian and Hawaiian Telescope.
It is believed that such phenomena are not uncommon, as similar objects are constantly launched into space. To spot them, you just need to be in the right place at the right time – right along the flight path. But when the rocket booster enters the atmosphere, people will be able to see an even brighter light show.
It will begin to disintegrate, heat up, and become very hot. And when it reaches the extreme temperature, it will become very bright and fall apart, – O'Meara added.