The secret séance rituals of America's largest Spiritualist community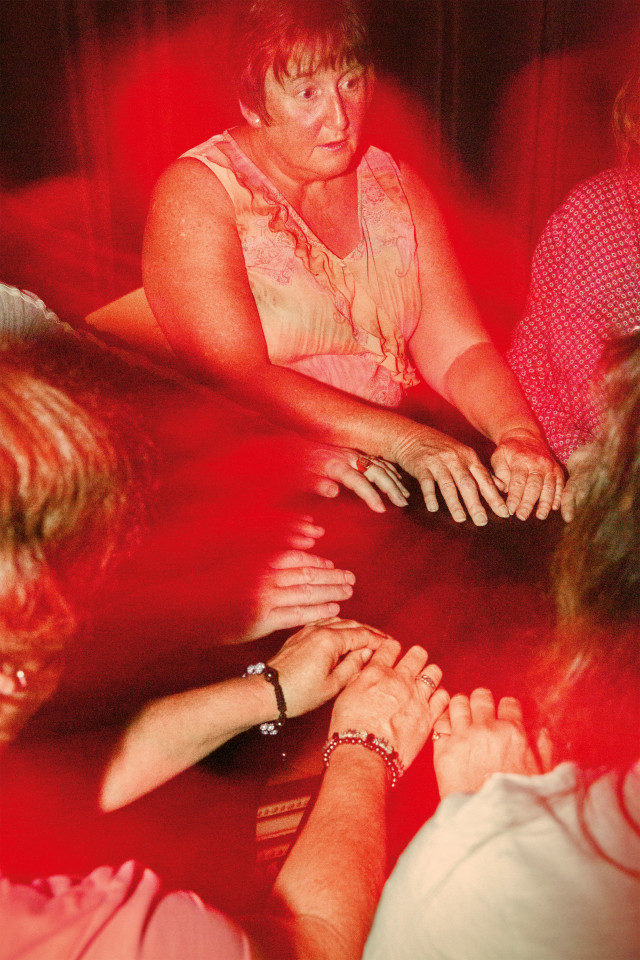 Eric Spitznagel
NY Post
Shannon Taggart was never a big believer in ghosts. But that changed in 2001, during one of her first visits to Lily Dale — a hamlet in southwestern New York state that's home to the world's largest spiritualist community.
The Brooklyn photojournalist was taken by surprise while watching a private reading with Gretchen Clark, a fifth-generation medium.
"All of a sudden, she started laughing at nothing," Taggart tells The Post. "Apparently the spirit of her brother was in the room and told her a joke."

"I told him not to interrupt me while I'm working," Clark explained to her client and then turned to an empty spot and yelled, "Chapman, we've talked about this!"
She composed herself and returned to the reading and then just as quickly turned back to Taggart.
"Margaret's here," Clark announced.
"Margaret? I don't know any Margaret," Taggart insisted.
Clark closed her eyes and listened. "She says 'Texas.' What does 'Texas' mean?"
Taggart instantly knew. "My great aunt Margaret lived in Texas and she'd died a few months earlier," Taggart says. "I'd totally forgotten. My whole body just tensed up. It was truly spooky."
That encounter was just the beginning of a spiritual awakening for Taggart, who would spend the next 18 years documenting mediums in New York as well as Essex, England, and Antequera, Spain. More than 150 of her photographs, many never before seen, are published in her new book Séance (Fulgur Press).
Taggart didn't set out to prove or disprove spiritualism. Rather, she says, she was driven by "a sinking feeling that these mediums knew something about life that I didn't."
When she first traveled to Lily Dale, it was out of curiosity.
Years earlier, her cousin had learned from a medium that their grandfather hadn't died from heart disease — as Taggart had always believed — but by asphyxiation. She laughed off the story, until her parents confirmed it.
"Someone at the hospital put food into his mouth and left him alone," her father had said, "and he choked."
This story stayed with Taggart over the years, and she became consumed with "how a total stranger could have known the details of this tragedy."
In 2001, at age 26, she decided to visit Lily Dale despite knowing nothing about the place except that it was a short drive from Buffalo, where she grew up, and the medium who revealed her grandfather's secret had lived there.
The town was founded as a gated spiritualist summer retreat in 1879, and not much has changed since then. With a population of some 275 residents — many of whom are practicing mediums — it looks like a town frozen in the mid-19th century. Narrow roads are lined with old-fashioned houses, many adorned with signs announcing "the medium is in." A rickety wooden auditorium in the center of town is typically "papered with flyers advertising trumpet séances, past-life regressions, astral-travel workshops, spoon-bending classes and circles to develop mediumship," Taggart writes.
She arrived with no plan and was initially too nervous to do anything but drive around.
But Taggart eventually wrote a letter to the Lily Dale Assembly's board of directors asking permission to take photos during what she first thought would be "one summer making a photo essay about this quirky little town."
"I would just wander around and literally knock on people's doors and say, 'Would you talk to me? Would you teach me about spiritualism?' " she recalled. "And they very graciously did."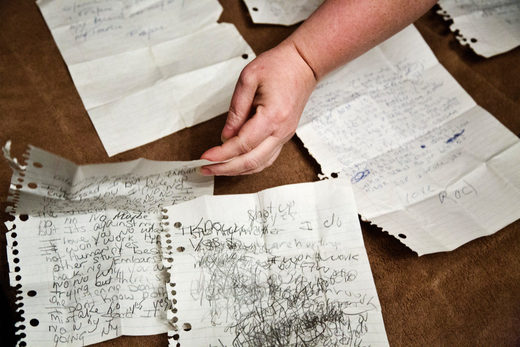 A medium claims to have received letters under her pillow from a man who lived in the 1800s after meeting him through a Ouija board.
What she learned from them wasn't necessarily how to communicate with ghosts. It was a peek into a shadowy subculture that "was once a seminal force in Western culture," Taggart writes. "A legacy that was absent from every textbook I had ever studied, including my histories of photography."
Spiritualism — a belief system based not just on the existence of spirits, but the idea that they want to stay in contact with the living — was once part of the mainstream. It was embraced by public figures like psychoanalyst Carl Jung, evolutionary biologist Alfred Russel Wallace, poet William Butler Yeats and even Abraham Lincoln. But today, it's almost entirely hidden.
"It flourishes in fiction and entertainment but is marginalized by academia and the media," Taggart writes. The contemporary Western worldview is that spiritualism is the stuff of fiction. But after what Taggart witnessed, and photographed, she wasn't so sure.
As her exploration took her overseas, she learned that not all mediums started out wanting to be mediums.
Reverend Jane from Erie, Pa., found the calling at age 6, when "she saw a spirit standing inside her grandmother's closet," Taggart writes, and discovered she could make supermarket cans fly across shelves and candles do somersaults in the air.
Others came to it after being triggered by the grief of losing a loved one.
British medium Simone Key, a lifelong atheist, was drawn to spiritualism after her mother passed and she began getting messages, on her long-broken word processor, that read: "We must communicate."
Annette Rodgers of Essex, England, felt the calling after her 16-year-old daughter, Lauren, died from a heroin overdose. Two years later, still deep in depression, Rodgers attended a spiritualist church "on a whim and immediately felt 'Yes, this is what I need,' " she told Taggart.
She now runs a spiritualist center in Spain and says her dead daughter visits regularly.
Dorothy Pries works at the Lily Dale Museum
"I once saw Lauren turn Annette's iPhone around on a table," a fellow medium recounted to Taggart. "Her connection to her mother is that strong."
But mediumship isn't limited to communication with dead loved ones. Sometimes things get awkward.
Lily Dale medium Betty Schultz recalled a reading she had with a Catholic priest who was a regular client. "The spirits showed Betty a baby who had died and told her the priest was its father," Taggart writes. Betty silently insisted to the spirits that there was no way she'd be sharing this information.
Without explaining why, she sent him to another medium — who later scolded Schultz: "Why didn't you give that man the message from his baby?"
Taggart developed close friendships with some of her photo subjects, like Lauren Thibodeau, a longtime Lily Dale resident who found her way to spiritualism without any warning. She explained how she first went into a trance on New Year's Eve 1989 in front of her husband and his friend, the best man from their wedding, "who never came to their home again," writes Taggart.
Thibodeau shared one of the biggest headaches of spiritualism: uninvited famous people. Most mediums want nothing to do with celebrity ghosts — there's no faster way to drive away an on-the-fence skeptic than "I have a message from Albert Einstein" — but Thibodeau says it's sometimes unavoidable.
She remembers a session in which Elvis Presley's ghost showed up unannounced.
"No!" Thibodeau shouted at the ghost. "I'm not doing this, get out of here!"
When the spirit refused to leave, Thibodeau apologized to her clients. "I'm sorry, I have Elvis here and I don't know why," she said. She then learned that the mother of the woman she was doing a reading for had been a housekeeper at Graceland.
For Thibodeau, it was a lesson in not being too quick to cast judgment. "Now, any time a spirit comes, regardless of who they are, I'll give a message," she told Taggart. "I don't shoo them away. We communicate with dead people, and a dead celebrity is still dead."
Even after almost two decades following mediums, Taggart isn't sure she'd call herself a believer just yet. "I no longer subscribe to the popular belief that spiritualists are charlatans just trying to make money off of people," Taggart says. "For the most part, I found them to be very sincere."
But as for whether she believes in ghosts and life after death, the now 44-year-old is still on the fence. The closest she comes to sounding like a convert is when discussing an unsettling experience from 2013. It happened while she was visiting Sylvia and Chris Howarth, a married medium couple in England.
The morning after watching Sylvia do a séance in the dark — something the experienced spiritualist rarely did because "sometimes the phenomena continued into the next day" — Taggart was making tea in their kitchen and reached to open a cupboard.
"The ceramic knob exploded in my hands," Taggart remembers. "Half of it shot into the air and crashed to the floor. The other half became razor-sharp and cut into my hand, and it started gushing blood." Chris ran into the room, reached for the broken knob, and soon he was bleeding too.
"Just telling that story again, it gives me chills," Taggart says.
So was it a paranormal encounter? She isn't sure.
"All I know is, I still have a scar because of what happened that day," she says. "And I still think about it all the time. So who knows?"
Taj Mahal – An Amazing Love Story
The construction of the Taj Mahal (literally translated from the Persian language as "Crown of the Mughals") was associated with the name of the beautiful woman – Arjumand Bano Begum, or Mumtaz – "Queen of the Soul".
At 200 kilometers from the capital of India, Delhi, on the high bank of the Ganges tributary – the Jamna – is the five-domed Taj Mahal mausoleum. The white-stone structure surprises and delights with its perfect proportions, an elegant mosaic of colored precious and semiprecious stones, and skillful carving.
The Taj Mahal is a whole complex of buildings. Taj – white, and around the fortress and minarets of red sandstone. The mausoleum has absolute proportions: on the base and height – an exact square, each side of which is 75 meters. Several paths stretch to the Taj Mahal, between them there is water in the pools, first the entire mausoleum is reflected in it, and as it approaches, its individual details.
Local architects worked together with artists from Damascus, gardeners from Constantinople and Samarkand to create the Indian pearl. When creating the interior, interior decoration of the mausoleum, the craftsmen used the best varieties of white, occasionally yellow and black marble, mother of pearl, jasper, agate, emeralds, aquamarines, pearls and hundreds of other stones.
QUEEN OF THE SOUL
Arjumand Bano Begum was only 19 years old when she became the second wife of Prince Guram (future Shah-Jahan). And although the prince had several more wives and many concubines, Mumtaz won the heart of her husband and undividedly owned him until the end of his days. It was an unusually romantic and poetic love. Mumtaz was not only his most beloved wife, but his most faithful companion since the turbulent times when Prince Guram wandered around the world, pursued by his father Jahangir, when he obtained his throne in a fierce struggle with his brothers. In 1627, Guram, having gained a final victory over them and seized his father's throne, assumed the title of emperor, Shah-Jahan – "ruler of the world". Mumtaz finally became the queen of India.
Shah Jahan adored his wife and each time he honored her, held lavish receptions and grandiose celebrations in her honor, without her any important ceremony would begin, and not a single state act would be adopted. Mumtaz was present at the meetings of the State Council; her opinion was almost never disputed by anyone.
The portrait of the queen, painted by her contemporary, has been preserved. Violating one of the strictest prohibitions of Islam – to draw portraits of animals and people, an unknown artist skillfully conveyed the beauty of Mumtaz, a white-faced Persian, a pearl of the East.
A happy life together ended abruptly. In the spring of 1636, Mumtaz suddenly fell ill: before dying, she turned to her husband with a request to take care of their eldest daughter, Jahanara Begum, and took an oath from him – to build a tomb worthy of their love, their joint nineteen-year-old married life. Mumtaz's death shocked Jahan.
WHITE AND BLACK PALACES
Widowed, he commanded the construction of an unprecedentedly beautiful mausoleum. Shah was presented with many different projects, the authors of which were the best of the best architects of the East. Of these, he chose a project created by Indian architect Ystad Khan Effendi. Following this, a twenty-thousand army of builders was driven into Agra: masons, marble cutters, jewelers and handymen. Marble was brought from Makran near Jaipur, sandstone from Sikri, gems from India, Afghanistan, Persia and Central Asia.
The entire complex of the mausoleum was created over twenty two years. Having fulfilled the mandate of "the queen of her soul", Jahan proceeded to a new, no less grandiose construction – exactly the same mausoleum, but only of black marble, for himself – on the other (left) bank of the Jamna River. According to the Shah's plan, both mausoleums, like marital chambers, were to be connected by a high lace bridge of black and white marble. Preparatory work has already begun, but this plan, unfortunately, was not destined to come true.
While Shah Jahan was building a new tomb, his sons fought among themselves. Having defeated the brothers, one of them – Aurangzeb – seized power in 1658, killed the brothers, arrested his father and imprisoned him in the Red Fort under reliable guard along with his beloved daughter Jahanara Begum. Shah Jahan spent the last years of his life in the marble palace that he had once built for Mumtaz, from where he could constantly see the Taj Mahal. Here he died on January 23, 1666. Fulfilling the last will of his father, Aurangzeb the next day ordered his body to be transported to the Taj Mahal and to be buried next to Mumtaz without any ceremony or honor.
UNSOLVED SECRET
The Taj Mahal mausoleum stands alone in its inexpressible beauty on the banks of the blue Jamna, reflecting its clean, proud appearance. He appears as a vision from another, better, cleaner world. "The Taj Mahal has a secret that everyone feels, but no one can interpret."
"The Taj Mahal attracts you like a magnet. You can stand for hours and all look and look at this marvel, at this fabulous ghost, ascending into a bottomless azure sky. The illumination of the Taj Mahal changes like a mirage. It glows from the inside, changing hues depending on the position of the sun: it suddenly turns light pink, then bluish, then pale orange. At night, under the moon, against a black sky, it looks dazzling white. Just coming very close, you notice that he is covered in the finest patterns woven over white marble, the marble blocks are encrusted with gems and seem to shine through, emitting a flickering light."
The dazzling white walls of the mausoleum are covered with mosaics – garlands of flowers made of precious stones. Branches of white jasmine from mother-of-pearl shimmer with red pomegranate flower from carnelian and delicate tendrils of grapevine and honeysuckle, and delicate oleanders peek out from the lush green foliage. Each leaf, each petal is a separate emerald, yacht, pearl or topaz; sometimes there are up to one hundred of such stones for one branch of flowers, and there are hundreds of similar ones on the panels and grids of the Taj Mahal!
DEATH NOT SHARED
In the central hall of the mausoleum are two sarcophagi sculpted from white-pink rocks of marble, decorated with floral ornaments. These are the cenotaphs of the dead, symbolic projections of those who are in the lowest part of the mausoleum. There, in the underground vaulted room, dusk reigns. Both tombs with the remains of the royal spouses, Mumtaz and Jahan, like a screen, are surrounded by a white marble carved fence about two meters high, decorated with fabulous flowers – red, yellow, blue, along with green garlands, interlacing of marble leaves and flowers.
What is the power of the impression made by the Taj Mahal? Where does the insurmountable impact on everyone who sees it come from?
"Neither marble lace, nor the thin carving covering its walls, nor mosaic flowers, nor the fate of the beautiful queen — none of this alone could make such an impression. There must be a reason for something else. However, something in the Taj Mahal fascinated me and thrilled me. … It seemed to me that the mystery of the Taj Mahal is connected with the secret of death, i.e. with that secret, regarding which, in the words of one of the Upanishads, "even the gods were at first in doubt." Above the tomb, where the queen's body lies, a light burns. I felt that this is where the beginning of the clue lies. For the light shimmering over the tomb, where its dust lies, this light … is a small transient earthly life. And the Taj Mahal is a future eternal life."
PLACE OF PILGRIMAGE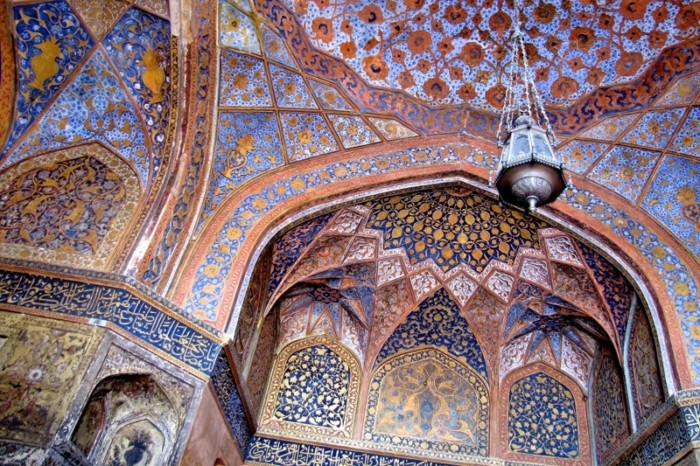 The creation of the Taj Mahal dates back to the time of the conquest of India by Muslims. The grandson of padishah Akbar Jahan was one of those conquerors who changed the face of a vast country. A warrior and statesman, Jahan was at the same time a fine connoisseur of art and philosophy; his courtyard in Agra attracted the most prominent scientists and artists of Persia, which at that time was the center of culture throughout West Asia.
The son of Jahan Aurangzeb ("the beauty of the throne," 1665-1706) was nothing like his father. He was a stern, withdrawn and ascetic-religious monarch. While still a prince, he disapproved of the useless and devastating, as he believed, activities of his father. Aurangzeb spent his entire long and hectic life in military campaigns aimed at maintaining power over the empire.
Aurangzeb raised a rebellion against his father, accusing him of spending all the state revenue on the mausoleum. He imprisoned the former lord in an underground mosque in one of the inner palaces of the Agra fortress. Shah Jahan lived in this underground mosque for seven years; sensing the approach of death, he asked him to be transferred to the so-called Jasmine pavilion in the fortress wall, to the tower of lace marble, where was the favorite room of Queen Arjumand Bano. There, on the balcony of the Jasmine Pavilion overlooking the Jamna, from where the Taj Mahal was visible at a distance, Shah Jahan died.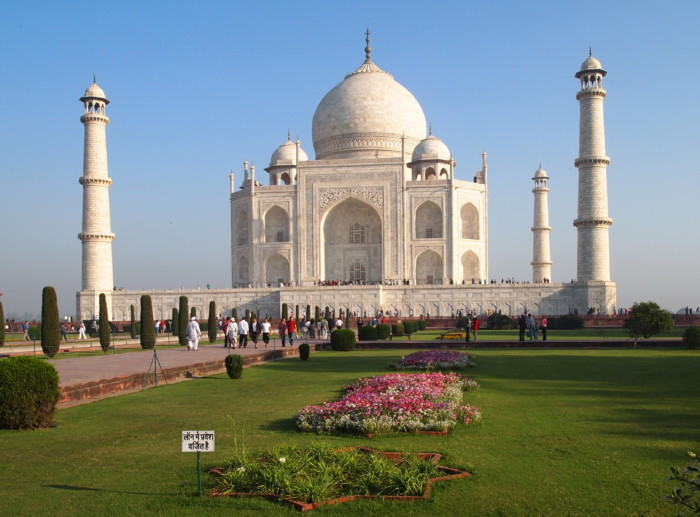 This is the brief history of the Taj Mahal. Since then, the mausoleum of Queen Mumtaz has gone through many vicissitudes. During the wars that continued in India in the 17th and 18th centuries, Agra repeatedly passed from hand to hand and was often plundered. The conquerors removed the large silver doors from the Taj Mahal, carried out precious lamps and candlesticks, and tore ornaments from precious stones from the walls. However, the building itself and most of the decoration remained intact. The Taj Mahal is now restored and carefully guarded.
But today, the Taj Mahal is partially dressed in scaffolding due to the fact that cracks appeared on the walls. The marble Taj Mahal weighs many hundreds of thousands of tons. A huge mass presses on the soil, and it gradually settles. Over the past centuries, as a result of soil displacement, the mausoleum leaned toward the river, although it is invisible with a simple eye. Once the high-water Jamna came close to the building, but then the river became shallow and receded. This last circumstance changed the structure of the soil and also affected the stability of the mausoleum. Now it is decided to plant trees on the banks of the Jamna in order to stop soil erosion.
Image of the Antichrist on a 14th-century fresco – who painted it and why?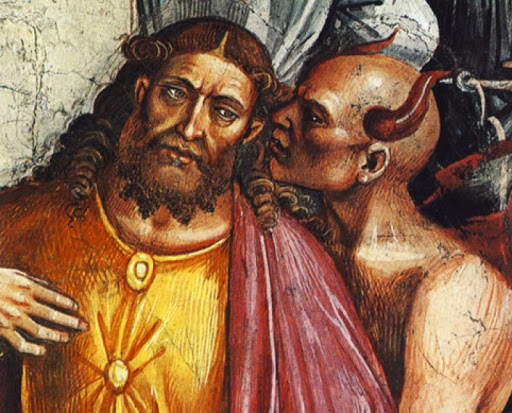 The Antichrist, unlike Christ, the Son of God, is not the son of Satan, but a simple man. In Christian ideology, the Antichrist will appear shortly before the end of the world. Antichrist will be descended from Dan. This is one of the so-called 12 Tribes of Israel – the descendants of the sons of Jacob, who formed the Israeli people.
Antichrist will become an authoritative ruler of people, will arrange persecution of the righteous. This period in the Revelation of John the Theologian is called the Great Tribulation.
There was no specifics in the Bible about the Antichrist, so all further assumptions are futurism based on treatises of symbols and various interpretations. In particular, Calvinist Anthony Hoekema in his book "The Bible and the Future" believes that up to 75% of people will die during the Great Tribulation and this period will last for seven years.
And then, all Christians are united in this, there will be the Second Coming of Jesus Christ and the Last Judgment. When all sinners – both living and dead – will get what they deserve, the righteous will receive eternal paradise.
Christians were afraid of the Antichrist, so he was like Voldemort in Harry Potter – the one whose name cannot be called. Well, to portray him was generally forbidden.
The first image of the Antichrist appeared already in the XIV century. And its bold author – Vitale da Bologna – lived a transitional period from the Middle Ages to the Renaissance. It was during this period that it became possible to show freedom of creativity.
In northern Italy there is the Pomposa Monastery, which in the 9th century was founded by Benedictine monks. Over time, the monastery turned into a party place for people of art. The walls in the cathedral of this monastery were painted by Vitale da Bologna.

Even closer to the wall … Look at the bottom right … Take a closer look.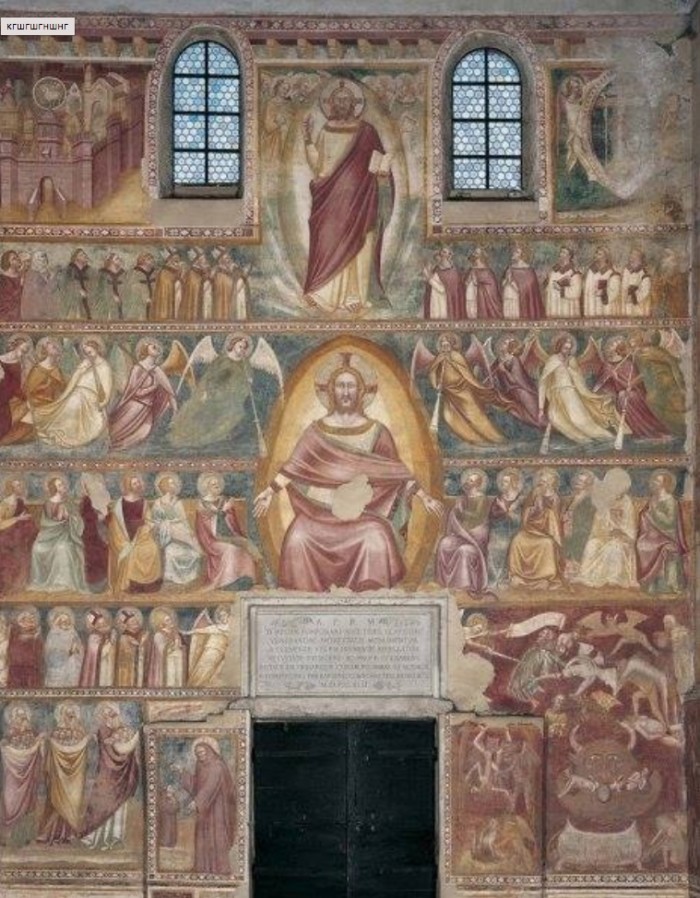 Here is the image of the Antichrist on the wall from an old Italian mural of the 14th century.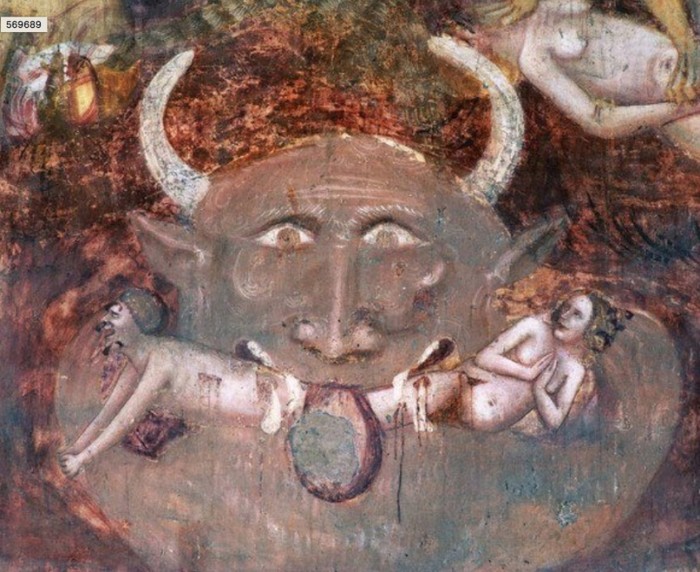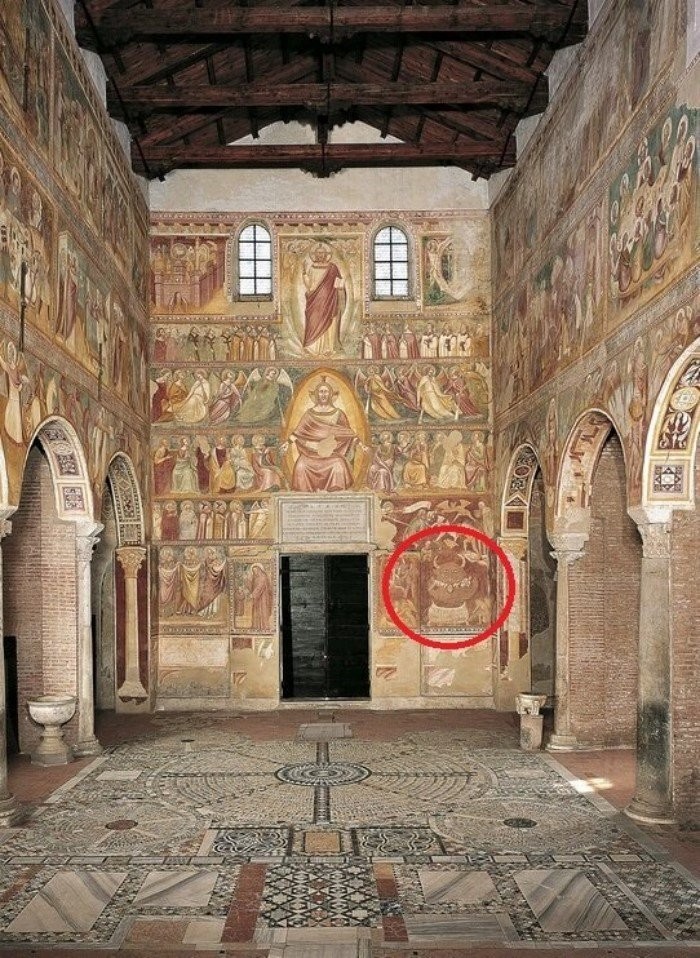 Frescoes in the Cathedral of Pomposa, the image of the Antichrist is highlighted in red
Here lived the famous medieval musician Guido d'Arezzo. He reformed musical notation, prescribed a new scheme for the designation of keys and intervals. It's d'Arezzo that we owe modern letter designations in music, for example C sharp major.
The famous Petr Damiani, a poet, philosopher and theologian, worked a lot in the monastery. Despite the fact that all art was saturated with Christianity (the culture of scholasticism of the Middle Ages!), creativity found its way. People tried to realize bold ideas for their time.
As often happens, where there is art and creativity, freedom of morals arises there. After all, art must be true. Art must find paradoxes in our reality, notice inconsistencies and vividly declare them! But art in the service of the state, in the strict framework of those in power, is already PR propaganda.
But back to our hero. He really wanted to add brightness to his religious canvases and he was drawn to ominous plots. After all, there you can truly imagine the whole storm of emotions!
The monks ordered the painting "The Last Judgment" from him. And Vitale da Bologna painted the walls of the cathedral at the request of the customer, and on the pretext of realism added the Antichrist there. And so this first image of the chief man who was in the service of Satan appeared.
However, customers demanded to depict it as disgusting as possible. The image of the Antichrist turned out to be some kind of fictional, phantasmagoric – more reminiscent of the devil from fairy tales. But the antichrist, as we recall, is a man!
Attempts to portray the Antichrist were made in the future, but these were more episodes. So, for example, the Antichrist was seen by another Renaissance artist Luca Signorelli.
Luca Signorelli. Fragment of the painting "The Sermon and Works of the Antichrist", 1500
Here, the Antichrist looks like Christ, only with an ominous expression. And Satan whispers his thoughts, who looks like an ordinary petty demon.
And it is this picture of Signorelli, in our opinion, which better illustrates the real image of the Antichrist. He is an ordinary person. Which, most likely, will consider that it is doing the right thing and for the good of mankind. After all, logic is a double-edged weapon, it is always ready to justify any crime with great reasonable goals.
14th century fresco called "The Funeral of Satan"
In the Middle Ages, striped clothing was treated extremely negatively, there was even a case when a shoemaker was sentenced to death for wearing striped clothing. It happened in 1310 in the French city of Rouen. In those days, striped clothing was considered devilish.
Among the many excellent medieval frescoes in the Verona Cathedral, there is one especially curious. It is called "The Funeral of Satan" and depicts an enemy of the human race lying under a striped veil on his deathbed. Actually, it is the color of the veil and the appearance of Satan that attracts attention.
A yogi who has lived for more than 70 years without food and water has passed away in India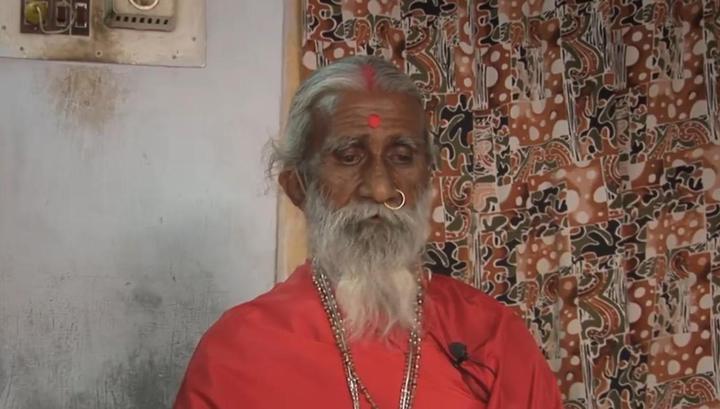 In the Indian state of Gujarat, the yogi Prahlad Jani died at the age of 90, claiming to have discovered the "elixir of life," which allows him not to eat food and water for at least 76 years, reports NDTV.
According to the assurances of the followers, and there was plenty of them at the holy hermit, Prahlad Jani died on May 26 in his native village of Charada, where he was brought at his personal request a few days ago. For two days, his body will be in the ashram so that followers can say goodbye to the mentor.
Prahlad Jani was known for statements that he has not eaten and has not drunk since childhood – according to some sources, from 8-9 years old, according to others, from 14. Doctors twice, in 2003 and 2010, conducted a comprehensive examination of Chunrival Mataji, as they called a yogi, and the second time he was two weeks under the supervision of employees of the Defense Institute of Physiology and Related Sciences of India. During this time, he did not eat a crumb, did not drink a drop, did not meet his natural needs, while his bladder was filled with a small amount of urine, but then it was absorbed into the walls.
"We still do not know how he survives," said neurologist Sudhir Shah from a recent examination.
Jani himself assured that in childhood he was blessed by a goddess, after which he left his native home and refused food and water.
A number of foreign researchers questioned the findings of Indian colleagues, pointing to the imperfection of control systems.