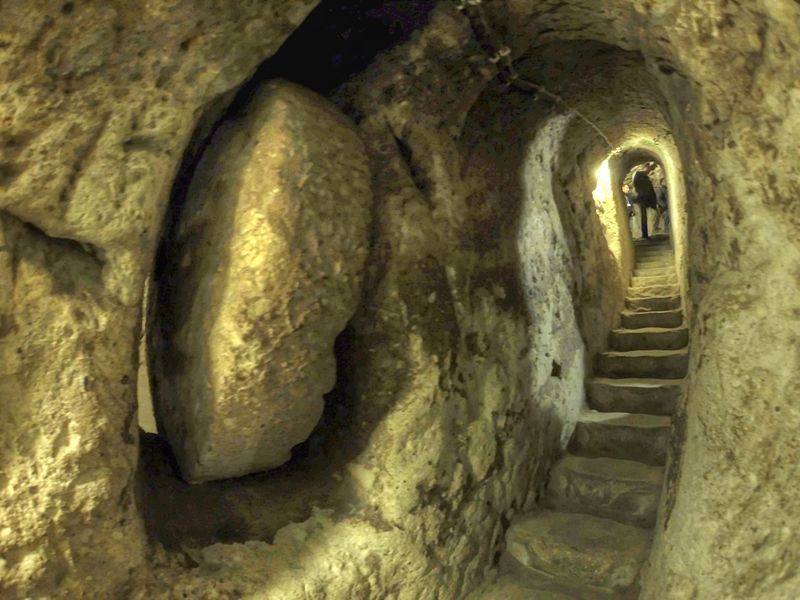 Who built the underground City of Derinkuyu?
The worldwide known region of Turkey – Cappadocia it has magical beauty not only on its surface but also in the bottom. Every part of this region is magical. Above ground, there are ancient volcanic stone chimneys, known as "fairy chimneys". There are no words to describe this excellence. Оr as someone once said: Cappadocia – it looks like Mars but it's in Turkey. Over the years, generations and cultures have changed, but they all contributed to the unique appearance and structure (in and out) of these chimneys today. The "fairy chimneys" have very impressive architecture.
But Cappadocia is not just what we see on the surface. In the heart of Cappadocia lie hidden places. Also it has beauty inside, within, like a human being you know. The underground city of this region number about 200 and they are spread across the entire region. It's assumed there could be more lying below the surface, waiting to be discovered. Of all the underground cities discovered so far, the most interesting story brings the city of Derinkuyu. The city was discovered by accident. when a local family decided to renovate their home. Suddenly a wall gave way to reveal a room and passage that led to this underground network. Derinkuyu it's like a huge building.
According to some research, it is on 11 floors or levels descending about 280 feet, with an area of a little over 4 miles squared (10.4 kilometers squared). Inside there are many chambers for everyday activities, tombs, temples, living quarters etc. This underground city can also be connected to other local underground networks as well as wineries, underground water well systems providing fresh water, and a security system made up of enormous stone doors that can close the city from the inside. Each section, or level, can be separated from the following. Heavy stone doors could close Derinkuyu from the inside in order to fend off intruders, and each story could be shut off individually.
The most frequent guests throughout the years are tourists and archaeologists. The place by itself it's safe considering its solid structure. The underground rock is very strong. Despite the good structure of the stone, there are no signs of the existence of any cave-ins. Furthermore, the engineer of this masterpiece had a good knowledge of the stone, stonework, architecture, and the local geography.
And the real question is: Who built this underground kingdom and why?
It is really difficult to determine the age of the structure. Furthermore, there is no recorded documentation of the construction and the people who lived there moved over the years. Common assumptions are that they are built by the early Christians but later research has shown that early Christians were only temporary residents. According to UNESCO, the first signs of monastic activity in Cappadocia date back to the 4th century, at which time, acting on the instructions of Basil the Great, Bishop of Caesarea, small anchoritic communities began inhabiting cells dug into the rock. It is believed that these underground premises were mostly refugee shelters.
There are many theories about who built the underground city. There are beliefs that the caves were constructed by the Persian King Yima. But in fact, he was more a mythological figure than a real king. The story of the king Yima is similar to the story of Noah in the Bible: The king built an underground city on the orders of the god Ahura Mazda, to protect his people from a catastrophic winter. He collects pairs of the best animals and people as well as the best seeds in order to reseed the Earth after the winter cataclysm.
The story of the 'winter' it's in fact maybe the period of the ice age. And the last ice was between 110,000 to 10,000 years ago. The diverse labyrinths, so many floors and security doors point to the fact that these rooms are built to protect something or someone. The most impressive fact is that the network would have taken an immense amount of time to construct without advanced tools. The mystery of who built these underground networks is huge and heavy as the rolling stones on the doors of Derinkuyu.
Previously Hidden Ancient Sites Emerge Across Britain Due To Hot Weather
Previously hidden archaeological sites have emerged in fields across Britain after the hot, dry summer exposed some of new cropmarks.
Aerial photographs have exposed patterns which reveal the sites of prehistoric settlements, burial mounds and Iron Age, Bronze Age and Roman farms.
Among the new discoveries are two Neolithic monuments near Milton Keynes in central England.
These are rectangular-shaped constructions believed to have been enclosed paths or processional ways, usually dating from between 3,600 and 3,000 BC.
One monument was recently mapped, but until this year another one next to it was hidden beneath a bank of earth that is being gradually ploughed away.
Several of the finds are in the south-west region of Cornwall, including an Iron Age round – a settlement surrounded by a circular ditch – in St Ives.
Crops planted above ancient ditches or other earthworks often flourish because the disturbed ground retains more moisture than undisturbed soil. As a result, in drought conditions, they stay green longer.
In contrast, crops planted above the remnants of ancient stone walls grow less well, and after a dry spell are often more bleached in colour.
When viewed from above, both can give a clear outline of what lies beneath.
"This spell of very hot weather has provided the perfect conditions for our aerial archaeologists to 'see beneath the soil' as cropmarks are much better defined," said Duncan Wilson, chief executive of Historic England.
"The discovery of ancient farms, settlements and Neolithic cursus monuments is exciting.
"The exceptional weather has opened up whole areas at once rather than just one or two fields and it has been fascinating to see so many traces of our past graphically revealed."
Historic England also discovered an Iron Age burial site in Yorkshire, northern England, with cropmarks representing square ditches surrounding a burial mound.
Further details have also emerged of existing sites, including lost Elizabethan buildings and gardens associated with Tixall Hall in Staffordshire.
source: Independent 
featured image: Aerial view from 500ft of cropmark at Grange Farm © Copyright Chris
The Book of the Giants: Text with 2,000 years of Antiquity describes the Nephilim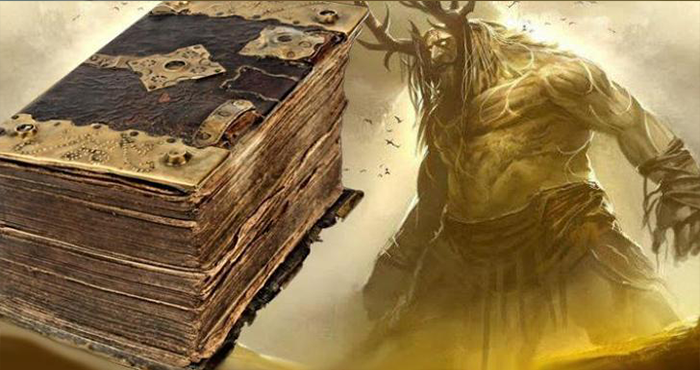 More than 60 years ago, excavations at the Qumran Caves (Dead Sea) revealed almost a thousand ancient scrolls that offered important glimpses of humanity's past.
Archaeologists were surprised to find so many unusual texts and among them, a roll of paper that offers clues about the Nephilim.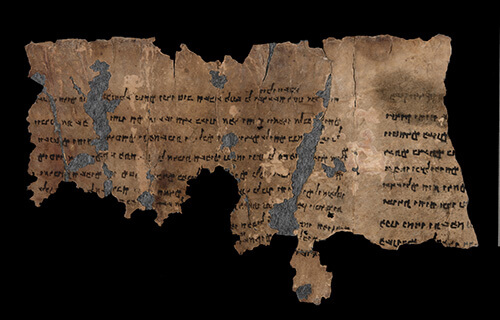 It's called The Book of the Giants. Let's review the ancient stories about these beings.
The Bible makes several references to the Nephilim and most can be found in the book of Genesis. Most of the information concerning these giants of antiquity come from the apocryphal book of Enoch. This ancient Jewish religious work is attributed to Noah's great-grandfather, although some scholars date parts of it to around 300 BC.
Enoch is a disconcerting character. The book of Genesis tells us that he lived on Earth for 365 years, before being taken by God; "He walked with God, and he was gone; because God took him. "During his time here, our planet was also inhabited by" angels "who interacted freely with humans, and eventually crossed paths with the" daughters of men "and gave birth to a race of abnormally strong hybrids and giant called Nephilim.
The origin of the word Nephilim is not fully understood, but scholars have proposed several etymologies: "The fallen", "apostate", or "these that cause others to fall." Regardless of their name, the Nephilim have always been a synonym for giants.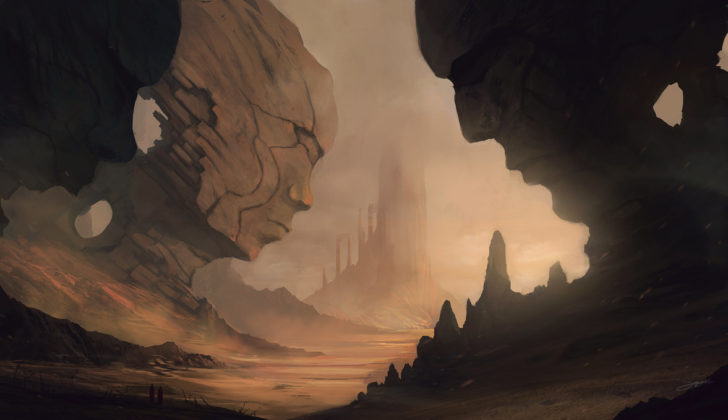 The Book of Giants found in the Qumran caves offer a different perspective from that of the Enoch book. Although incomplete, the fragments of the scrolls paint a grim picture: the Nephilim became aware that, as a result of their violent and deviant forms, they faced imminent destruction, and that it scared them enough to ask Enoch to speak in his name before God.
The text begins by detailing how the Nephilim plagued the Earth and everything that lived in it. But once everyone begins to receive the prophetic dreams of fate, fear seeps into their hearts. The first to have these dreams was Mahway, the titan son of the angel Baraquel. In his dream, he saw a tablet being submerged in the water. When the tablet emerged, all but three names had been removed. This symbolizes the flood and subsequent destruction of all, except the children of Noah.
At that time, this fact had not become evident to the Nephilim so they debated the meaning of Mahway's dream, but they were not successful in interpreting the signs. Soon after, two more giants, Ohya and Hahya, the children of the fallen angel Shemihaza began to have similar dreams; They dreamed of a tree being uprooted except for three of its roots.
After this, the rest of the group of giants began to have apocalyptic dreams:
Then two of them had dreams and the dream of their eyes had fled before them, and getting up, he came to [… and told him] his dreams, and told him in the assembly of [his companions] the monsters [… En] my dream I was seeing this night [and there was a garden …] the gardeners and those who were watering [… two hundred trees and] great buds came out from its root […] all the water, and the fire burned all [the garden … ] They found the giants to tell them the dream … "
The giants have realized the prophetic nature of their dreams and sought the help of Enoch. Unfortunately, Enoch had already disappeared from the face of the Earth so the chosen Nephilim, one of its members, made a cosmic journey in order to find it.
[Mahway] poured into the air like strong winds, and flew with his hands like eagles [… left behind] the inhabited world and passed over desolation, the great desert […] and Enoch saw it and greeted it, and Mahway said to him […] here and there for the second time for Mahway […] the giants await his words, and all the monsters of the Earth. If it has been taken […] from the days of […] its and that would be added […] we would like to hear from you its meaning […] two hundred trees that came down from heaven … "
Unfortunately, parts of the rolls were damaged without possibility of repair, but the description of the text is obvious. One of the Nephilim traveled off the Earth in search of Enoch and his powers of vision-interpretation. The text becomes very interesting if we substitute some terms and consider it not as an allegorical story, but as the description of an actual event whose meaning became confused in time.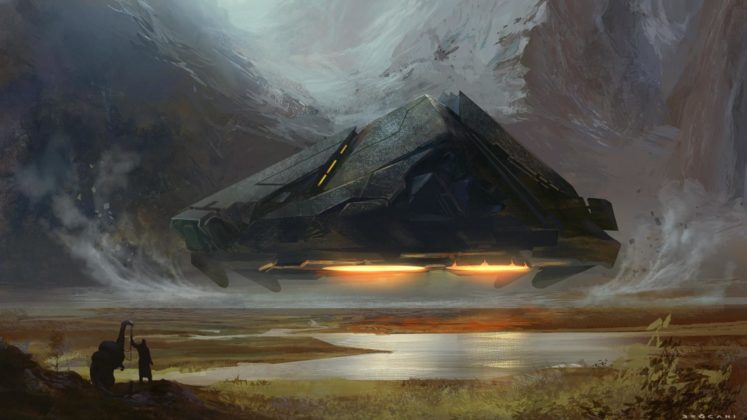 If we consider flying "hands like eagles" a metaphor, can we hypothesize that Mahway took off from Earth in a spaceship? In this case, does "desolation, the great desert" refer to interstellar space? It depends on how far we are willing to interpret a fragment of a 2,000-year-old scroll.
Enoch sends Mahway back from where he came from, promising that he will speak to God on his behalf. Unfortunately for the Nephilim, the Enoch tablets sent to them did not bring them good news:
The Enoch scribe […] a copy of the second tablet that [Enoch] sent in the same part of Enoch the scribe observed [… In the name of God the great] and a saint, for Shemihaza and all his companions […]
Let it be known that you have not […] and the things you have done, and that your wives […] them with your children and the wives of [your children] for your debauchery on Earth, and there has been over you […] and the earth is crying out] and they complain that you and your children's acts […] the harm you have done to him.
[…] Until Raphael appears, behold, the destruction [is approaching, a great flood, and will destroy all living beings] and what is in the deserts and the seas. And the meaning of matter […] about you as evil. But now, untie the bonds [that tie you to evil …] and pray. "
VIDEO:
1000 Pillar Temple – Impossible Ancient Technology Found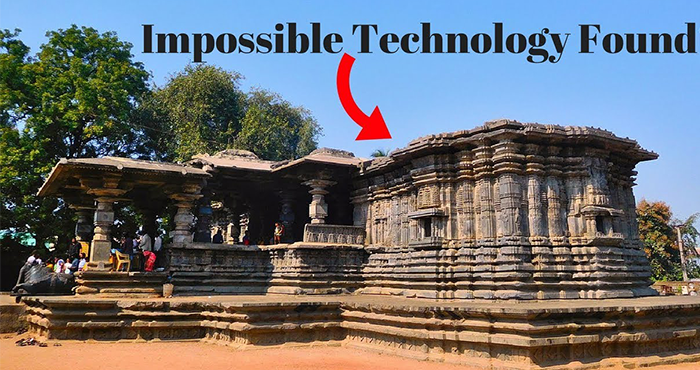 Today we are going to look at one of the strangest ancient sites in India – this is the Thousand Pillar Temple which is at least 750 years old. On first sight, it looks like a regular temple, but there is something fundamentally different about this temple, because there are no visible joints at all between the stone blocks in the walls of this temple.
This is a large temple, but look carefully as I go from the ground to the top, do you see any joints? This makes people wonder if this entire temple is made of one solid rock, like the Kailasa Temple, but archeologists confirm that it is in fact made of many many blocks of stone.
In 1300 A.D , an army of the Muslim King Allauddin Khalji tried to demolish this temple, and they took out many of the stone blocks from the ground and the ceiling, because it was easier to dismantle them, but they could not dismantle the blocks on the walls. If you look at the floor, these are newer stone slabs placed by the Archeology department, and you can see how these blocks are loosely connected.
If you compare the modern day stone masonry with the ancient technique, modern technology appears quite primitive, because you can clearly see the joints. The archeology department has been trying to restore the temple from the destruction and graffiti by Allauddin Khalji's army.
Now, why is this temple called 'The thousand pillar temple'? Most visitors wonder why this is known as the thousand pillar temple because it doesn't have a thousand pillars. It is called so because it is made of one thousand blocks of stone, this is the actual reason why this name is used. But even in most sophisticated temples like the Lepakshi temple, we can see clear evidence of joints between the blocks, but in this temple, the joints are not visible.
What is fascinating is that there was no cement, mortar, or glue used to join these blocks. How did ancient builders achieve such an extraordinary level of jointing, many centuries ago? What kind of technology existed and how was such a temple built?
The underlying technology is this:
Ancient builders created a complex interlocking system with at least a dozen different cuts in each stone block. These complex cuts maximize the amount of surface area shared by the connecting blocks, and will create an extremely tight fit.
This is hard enough to do between 2 stone blocks, but imagine using several stone blocks on all sides and how many cuts would have been needed to connect 4 or 5 blocks together. I mean, this is just an extraordinary technology. This can be done on wood, but how did they manage to make these cuts on large stone blocks many centuries ago? Making these cuts is one thing, but the level of precision, to make these joints invisible can be achieved only with advanced machines.
We can clearly see that building a massive temple with no visible joints is impossible with primitive tools. Did ancient builders use cutting, drilling and polishing tools, just like today? If so, do we have any evidence of these tools in the temple itself?
How about these carvings which resemble modern drilling and polishing tools? In most temples, we usually see carvings of Gods, but in this temple, we can see these tool like carvings, with a conical, striated top with a long shaft, which is remarkably similar to modern day tool bits.
Just compare these carvings with today's tool bits side by side. You have to admit there is an uncanny similarity. Is this a coincidence, or did ancient builders use tool bits just like us, to make these precise interlocking system?
The pillars in the temple confirm that drilling machines were in fact used. There are very tiny holes drilled on these pillars. My friend is struggling to send a thread through the small holes, but these holes are too small even for a thread. The priest is happy to help us, he picks up something thinner than a thread and inserts it successfully through these holes.
If you think these carvings are not drill bits, how do you explain such tiny holes carved on the pillars? How do you explain the construction of an entire temple with no visible joints? Were they created with advanced machines, or with simple tools like chisels and hammers?
VIDEO: