The secret history of the Reptilians : their agenda uncovered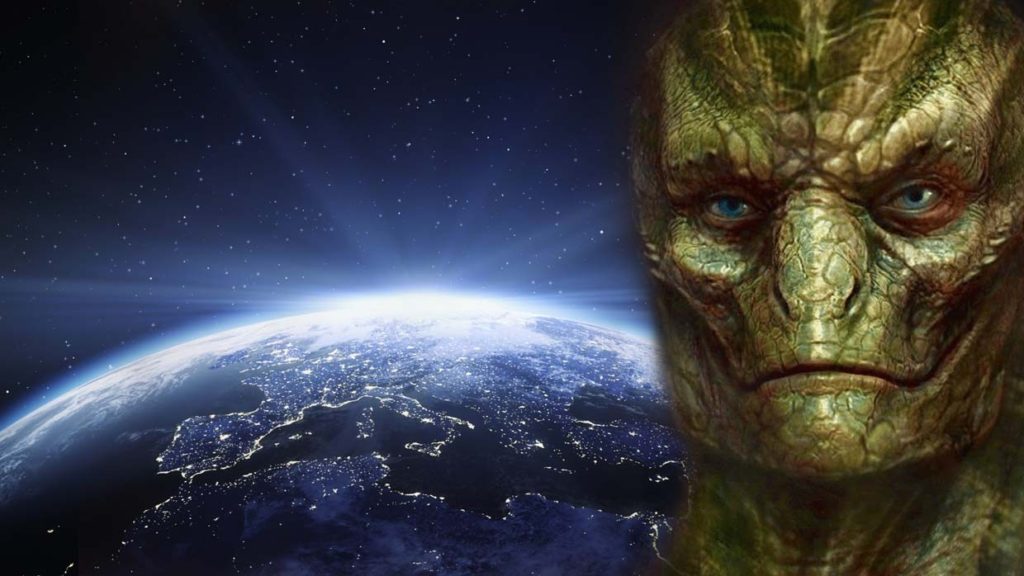 The possibility that nonhuman intelligences have visited our planet, and even copulated with primitive human beings, is found in many of the ancient cultural and religious records of our civilization. There are historical records that reveal, in addition, that these intelligences were reptiles in their nature or, at least, have been represented throughout human history as reptilian beings.
From the Serpent Nahash, in the Garden of Eden, to Atum, the Egyptian serpent-man, or Quetzalcotl, the serpent god of the Mayans, to the double-helix serpent of Enki / Ea in ancient Sumerian literature, the serpent has been the omnipresent link between humans and the gods of all cultures.
Archaeologists and explorers discovered in 1951 a library with more than 22,000 ancient tablets in what is now Iraq. These tablets contain what we know to be the earliest writings of the Earth and date back to about 6,000 years ago when this region of the earth was known as Mesopotamia, Sumerian and Babylon.
On the tablets a story is told that is also reflected in the book of Genesis of the Bible. The tablets tell the story of a great flood that changed the face of the earth and its inhabitants, and tell the construction of a tower and the creation of the spoken word. What in the Bible is related as the tower of Babel and the great flood.
On the tablets and scrolls found there was included a star map of what appears to be our sun and its planets, since the parchment also includes detailed descriptions of our solar system that corresponds to what we know of it today.
The funny thing is that this map includes a planet (or spacecraft) that orbits between Mars and Jupiter, which they call Nibiru . According to the texts found, Nibiru entered our solar system and collided with the planet Tiamat. The remains of Tiamat became Eridu which is the earth as we know it today and the rest left over from the explosion became the asteroid belt. Nibiru took an orbit around our sun that took 3,600 years to pass between Mars and Jupiter.
In recent years and based on patterns of our solar system, some astronomers have been looking for a planet with this same orbit, which led to the discovery of the planet Pluto. The search for Nibiru continues.
According to the found texts, this detailed information was given by the Annunaki and they are described as a race of Reptilian Gods who came to Earth. It is written that they came to extract gold and other elements to use them to protect the atmosphere of their planet.
This theory of Reptilian Gods of the heavens creating man is not at all unusual and we can find traces of reptilian history in most regions of our planet.
In Japan the emperors claimed to descend from Dragon Gods who came from heaven. Australian Aborigines teach about a Reptilian race that lives under the earth and rules over men, they believe they are descended from a race of human dragons. In China, theybelieve that Serpent Queen Nu Kua interbred with men.
In India these Reptilian Gods, the Nagas, are called and claim that they planted their royal families. In Eastern countries there are traces of a serpent race that created man. In the book of Genesis speaking about giants that came from the heavens to reproduce with the daughters of man, they were called the Nephilim .
In Africa they are called Chitauri , children of the serpent, and the kings of Africa claimed that they descended from serpent gods that came from heaven. The Mayans spoke that their ancestors were snake people, and the Aztecs said they were created by a female snake. The American Hopi Indians believed that the gods of heaven came down to reproduce with their wives, and referred to them as their snake brothers.
Reptilians live in long underground tunnels and can inhabit other dimensions. The reptilians have constituted the group of the Illuminati , beings of human aspect but under the orders of the reptilians who follow very specific political agendas to perpetuate themselves in power and control the world through media manipulation, genetics and the search for a government centralized world The Illuminati would have as mission the establishment of a New World Order. Is there a possibility that we may be or that we have always been enslaved by these "leaders"?
David Icke Has Finally Revealed Reptilians Evidence!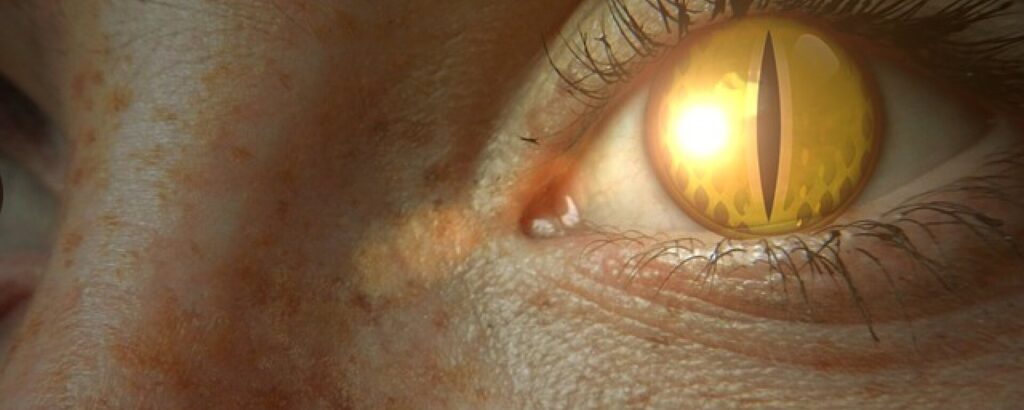 First things first! You need to learn about this world known theory that reptilians are mixed with people of the elite of our planet and they are ruling it by their desires.
Secondly, you need to know that this theory doesn't belong you David Icke but thanks to him, it has been made popular all around the world. And now, he claims that he has reptilians evidence and it is time for the world to know the truth!
We advise you to continue reading this text with an open mind and actually be amazed at how deep it really goes.
This all connects with Pope's Audience Hall which reveals designs and discoveries that have been made upon 10 years of research of the elite and the Illuminati. This hall is located in Vatican as you may know and it partially lies in Rome, Italy. This all may sound pretty normal to you but there is a great number of things that make this building strange.
The construction of the building is strong and made to last because the architect Pier Luigi Nervi has used reinforced concrete to design it.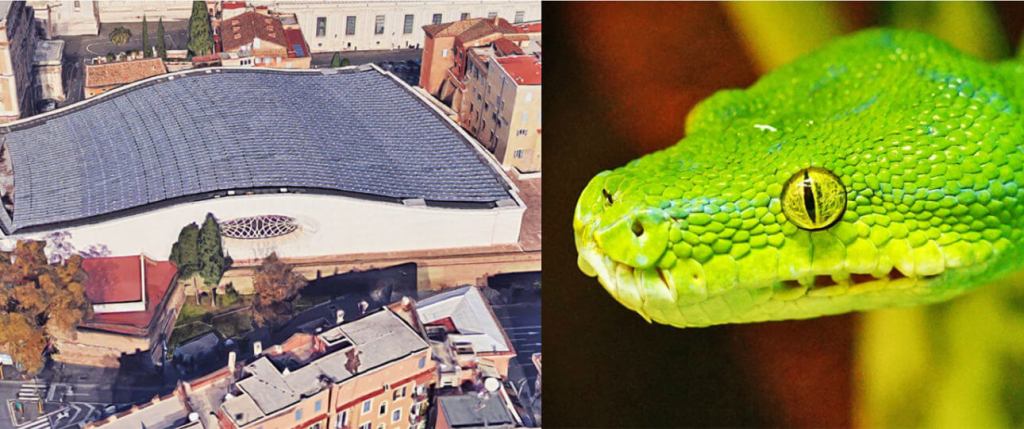 The simple form of the building that has a curve may not be that astonishing but what if you compare it with a head of a snake? The overall shape, the wide back, the rounded front and the curved top are exactly like the shape of a snake's head. Just look at the photos side by side and you will need no further explanation.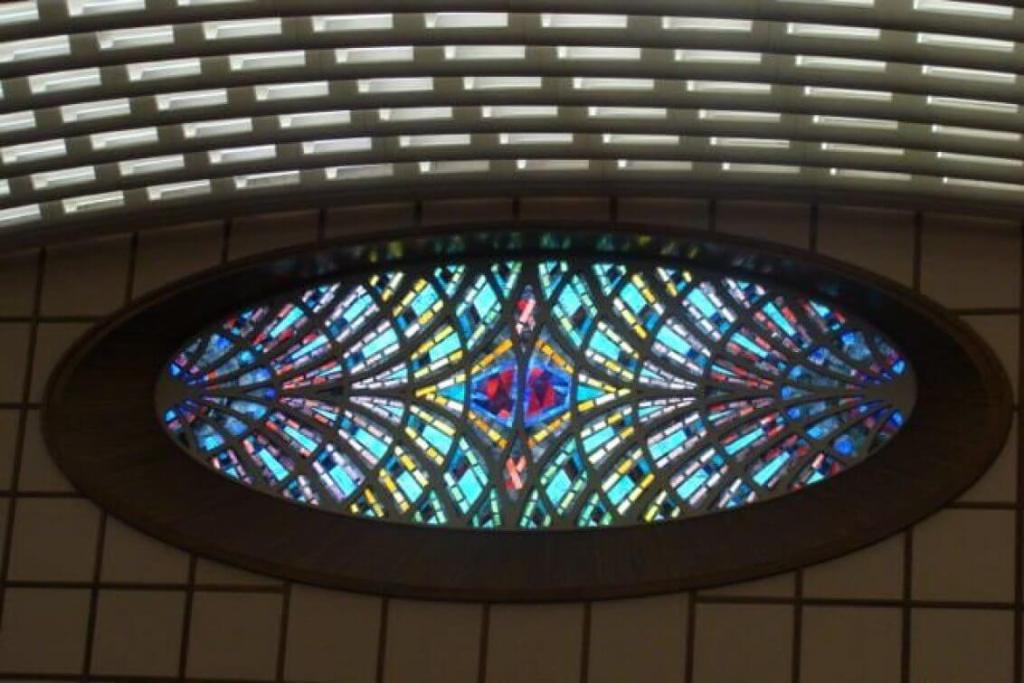 If you are still not convinced by looking at the window one by one, try looking them both from inside and be amazed! You are observing the stage and there are two reptilian eyes staring at you! Once you see it, it is kind of creepy.
Also, you should be able to notice the scale and the fangs now. In the middle of the stage there is a statue and on both of the sides, there are two sharp pointed fangs.
If you are not yet convinced just look at this photos side by side. The interior of the hall and a snake's head. The stage the eyes, you just can't deny these reptilians evidence.
Again, if you take a closer look at the statue, in the middle you will see Christ rising and if you just focus on the shape of his head you will be astonished. It is very difficult to see this from the front so you should take a left and then a right look. You will feel goosebumps when you see that his head is actually a head of a snake!
Just think about this and try to figure out the reason for such metaphor of a building and a snake? The craziest thing about it is that when the Pope is speaking from the stage, it looks like the snake is speaking! Wow.
Aliens, UFO bases, Nazi Bases, or Trapped Fallen Angels?
Antarctica is most likely the whitest region on earth, with a ridiculous amount of ice that is too harsh humans. Yet, this white mass might be burying some of the darkest mysteries about the world. Every day, more research is being done about this place and what secrets it holds.
Antarctica has been home to a lot of mysteries for long. For one, we have the incident of Operation Highjump.
It is believed by some that about 250,000 senior officers belonging to the Nazi Party managed to escape in U-boats from Germany towards the end of the Second World War.
Some even believed that Hitler was one of the escapees.
If those many people ran away during a war that got the whole world at attention, where would they have escaped to?
Some say it must be Argentina, but is this really feasible? 250,000 men can't be hidden in plain sight…
Unless we are talking of the plain rarely visited by humans. Deep in Antarctica.
According to some theories, the German Nazi had been building powerful weapons here at their secret base in Antarctica. These weapons are well ahead of their time, with possible help from alien intervention.
This would seem far-fetched until you consider what happened just before the Second World War ends. The United States decided on a huge expedition to Antarctica while the war was still going on. This expedition is known as Operation Highjump.
Expeditions are not a new thing, but why then?
Maybe more surprising is the number of U.S. personnel and machinery on this expedition. Over 4,000 U.S. personnel led by Adm. Richard Byrd on dozens of aircraft and ships went on this expedition.
No other U.S. expedition to Antarctica had been so massive.
Even if there is a hurry to dominate this place, is there something in particular to dominate?
Wait for it.
This expedition was supposed to last for 6 – 9 months. After just one month, the expedition was ended abruptly, and it had nothing to do with the cold.
According to a report by the Chilean Press, there is a high probability that there were other more powerful people waiting.
Many conspiracy theorists today believe they had been bombarded by artillery, forcing them to retreat after sustaining heavy casualties.
From what must have happened there, the personnel on the expedition couldn't have had a chance. It was a massacre.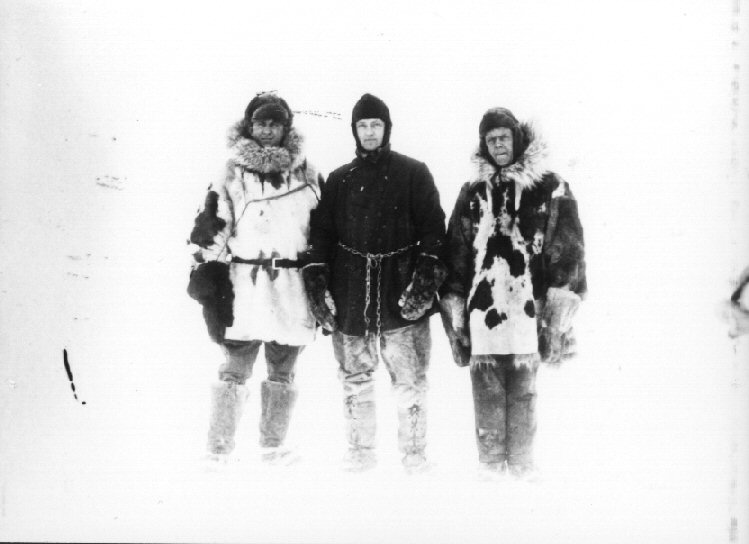 Even though the U.S. would not confirm this, Adm. Richard Byrd was quoted in the Chilean Press talking about how they were confronted by a new enemy that "could fly from pole to pole at incredible speeds."
This could only have been or at least inspired by alien technology. As at that time, it was basically impossible to travel at such speed.
But this was not just about Byrd. There are several other reports of pilots who saw flat disc-shaped UFOs chasing them, even though they were not shot at.
These pilots also reported how their planes were being followed by balls of light. Yet, even though these UFOs, which the pilots called "foo fighters," didn't attack them, it somehow was able to disable the pilots' plane' bombing capabilities.
According to the United States, all these didn't happen. Only one plane crashed, killing 3 pilots. If this were true, was that why the expedition was canceled?
And, let's say it wasn't true. Who was behind those UFOs?
Could it have been the German or were those extraterrestrial?
There seemed to be more to Antartica, any way you look at it.
Speaking of extraterrestrials, the more Antarctica is examined, the more the mysteries that crop up.
An example is the huge electromagnetic anomaly that was detected by NASA satellites in 2006. This anomaly wasn't lying on the surface either. It was buried deep underneath 151 miles of ice. What a beautiful way to confuse researchers. Over a decade later, they are still left with questions.
But then, turning to an ancient scroll dated millennia ago, the Book of Enoch, some interesting passages seemed to have something to say about this.
Enoch was the man who was reported to have escaped death. He was the great great grandfather of Noah.
He wrote about how he was taken to the place where the corrupted angels who disobeyed God and came to earth were imprisoned.
In his book, he had talked about the 200 fallen angels who had lived among men, teaching men advanced technologies for their time and sleeping with the women and fathering the Nephilim, thereby genetically modifying men and leading mankind astray.
The book talked about where they were imprisoned, until the appointed day. This place was supposed to be lit by the sun both during the day and at night.
In his words, [the Sky] was burning day and night.
As it turns out, this fits perfectly with the Southern Hemisphere during the summer season in Antarctica. At this time, there is daylight for 24 hours.
This phenomenon, known as Aurora Australis, or Southern Lights, can be visible from high southern latitudes in Antarctica, Australia, New Zealand, Chile, and Argentine.
Let's say that was a coincidence. Enoch went further in his book by mentioning "seven mountains of precious stones, three towards the east and three towards the south." This is where it gets more interesting. Mt Vinson fits the description of the central mountain. After all, it is the highest mountain in Antarctica.
As for the other six, there were there, just not aligning as specified. This could signify that there had been a shift in the Earth's axis of rotation.
This is not uncommon. These shifts are known to cause such calamities as floods and tectonic events.
Then, it gets even more interesting.
If we consider the research conducted by Sir Charles Hapgood, in which he proposes that the last pole shift could have happened about 11,000 years ago, just at the end of the last ice age, we can begin to question if this has any relevance to the biblical flood.
This would perfectly explain why these angels would be moved at this time and imprisoned. It would place their whereabouts firmly somewhere in Antarctica.
Could they be imprisoned at the summit of the gigantic Mt. Vinson or could they be hidden right under the 151 miles of ice mentioned earlier?
While these are exciting thoughts, there is really no solid proof of this, but we can continue to dig more. A journey of 151 miles has to start with a question.
References:
NASA scientist admits that aliens have already visited Earth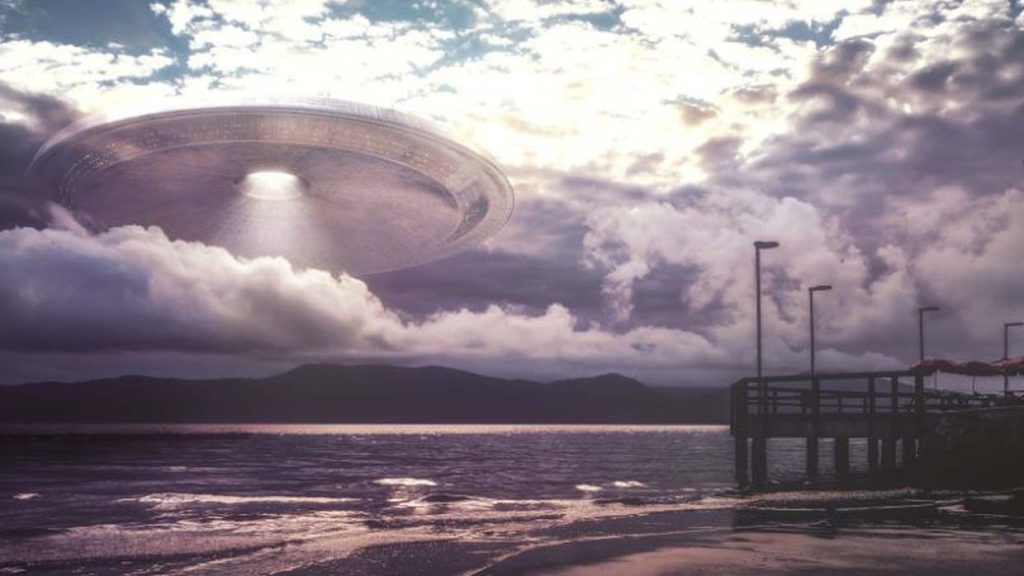 For all we know, we are alone in the universe. Earth is the only planet inhabited by life, and human beings are the only intelligent beings. Of course, this is what scientists tell us, however, there are many who believe that there have already been contacts with beings from other worlds. There is Area 51, the base of the Air Force in Nevada, where the US government allegedly stores extraterrestrials in freezers. And there was a mysterious incident in Roswell, New Mexico, in 1947, and mutilated cows in Colorado.(aliens have already visited Earth)
Although it can be said that the idea that there could be other creatures in the universe has existed since, at least, the fifth century BC, when the Greek philosopher Democritus postulated "innumerable worlds of different sizes" , and not all were lifeless. Four hundred years later, the Roman poet Tito Lucrecio Caro wrote about "other worlds" with "different tribes of men and wild beasts"".In the seventeenth century, the German astronomer Johannes Kepler wrote of a trip to the moon in which travelers encountered creatures resembling reptiles.(aliens have already visited Earth)
At the end of that century, the Dutch mathematician Christiaan Huygens wrote a book that speculated about the conditions of other planets and concluded that some of them had to harbor life. Pointing his telescope to Mars in 1894, the American astronomer Percival Lowell saw a network of what he thought were channels, structures so elaborate that they could only have been built by beings with intelligence.
And it would not just be stories and theories from the past, as some researchers are taking that possibility seriously and are tracking beyond our planet for evidence of extraterrestrials. But the last thing we would expect is for a NASA scientist to reveal that it is possible that we have already been visited by civilizations from other worlds.(aliens have already visited Earth)
Extremely intelligent super-small entities
In new research , Silvano P. Colombano, a professor and scientist working in NASA's Division of Intelligent Systems, has revealed that extraterrestrial life may already have visited Earth . He also assures that it is possible that it is very different from what humanity is used to, the carbon-based organisms that are currently found on our planet, reports MailOnline .
"I simply want to point out the fact that the intelligence we could find and could choose to find us (if it has not already done so) may not be produced at all by carbon-based organisms like us," Colombano wrote in a document.(aliens have already visited Earth)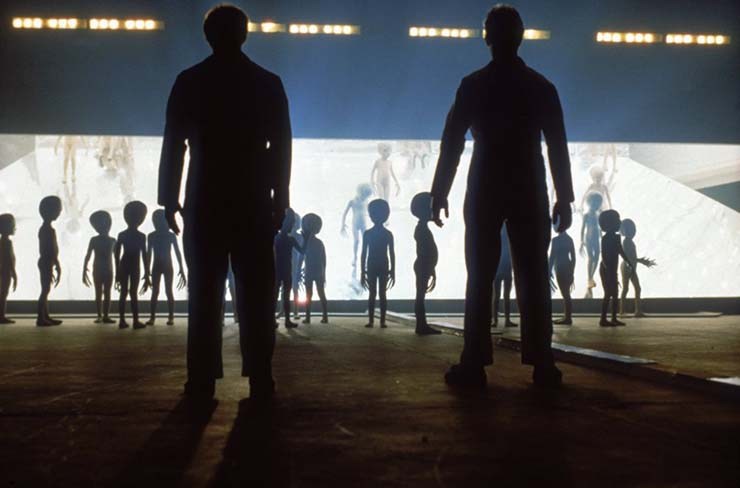 Colombano added that scientists should revisit the assumptions, from the life of an extraterrestrial to its height since the size of an intergalactic explorer could be that of an extremely small super intelligent entity .
"Our typical lives would no longer be a limitation (although even these could be dealt with multigenerational missions or suspended animation), and the size of the 'explorer' could be that of an extremely intelligent super-intelligent entity ," Colombano added.(aliens have already visited Earth)
But Colombano goes further, assuring that the aliens may have discovered a technology that humans can not yet understand , which makes missions such as interstellar travel possible.
"If we adopt a new set of assumptions about what higher forms of intelligence and technology we could find, some of those phenomena could fit with specific hypotheses and we could start a serious investigation , " suggested the NASA scientist.
Even so, the scientist admits that interstellar travel could be an unbreakable barrier, in a lapse of thousands of years, although he added that it could be possible depending on what we assume about various life forms.
"Taking into account also that the technological development in our civilization began about 10 thousand years ago and has seen the emergence of scientific methodologies only in the last 500 years, we can suppose that we could have a real problem to predict the technological evolution even during the next a thousand years, "he concluded.(aliens have already visited Earth)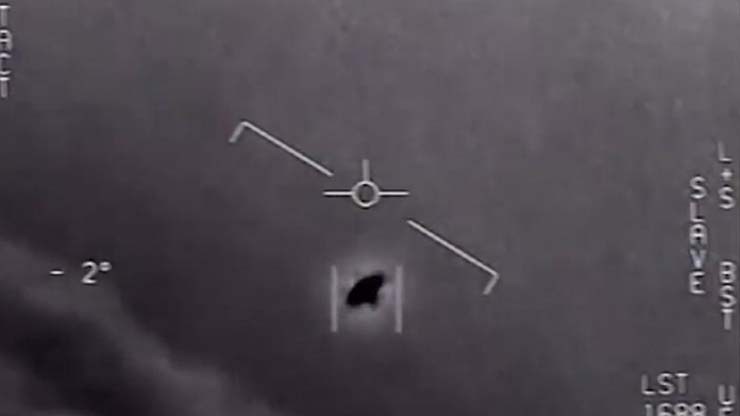 And if someone thinks that Colombano, who has a doctorate in biophysical sciences, has ended his surprising study, he is very wrong. In addition, he has called on other scientists to seriously investigate UFO sightings . And this is precisely what the experts in the field of ufology have been requesting. But what is most striking is that it is a NASA scientist who makes this revelation and call to his colleagues.
Are they preparing us for extraterrestrial contact?