The Real Reason America Dropped The Atomic Bomb. It Was Not To End The War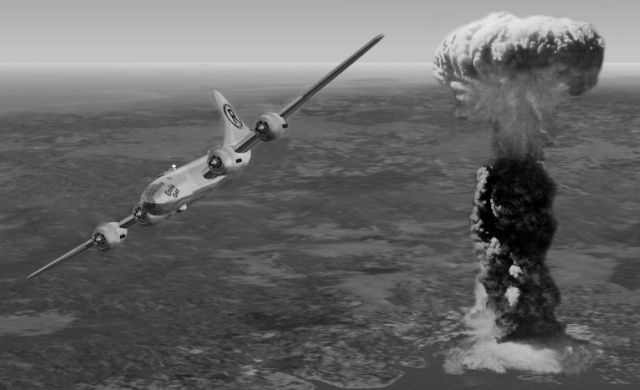 by Arjun Walia
On August 6, 1945, the world (unfortunately) entered the atomic age. Without warning, a single nuclear bomb on the Japanese city of Hiroshima killed about 90,000 people instantly and injured many others – who then died from radiation sickness. Three days later, a second atomic strike on the city of Nagasaki killed some 37,000 people and injured another 43,000. Together the two bombs eventually killed an estimated 200,000 Japanese civilians.
"The Library of Congress adds roughly 60 million pages to its holdings each year, a huge cache of information for the public. However, also each year, the U.S. Government classifies nearly ten times that amount – an estimated 560 million pages of documents. For scholars engaged in political, historical, scientific, or any other archival work, the grim reality is that most of their government's activities are secret." – Richard Dolan, historian, author (source) (you can read more about what is known as the "black budget" here)
A very important point made above, how can we really know anything about American history if a significant portion of it remains classified? That being said, how can we really know anything about American history when we have so many examples of dishonesty and misinformation? What will the history books say about 9/11? We will have to wait and see, but what our history books tell us about the atomic bomb and why it was dropped seems to be a complete lie, according to what are some very credible sources.
We are often taught that yes, use of the atomic bomb was necessary to end the war with Japan at the earliest possible moment, but judging by the statements of many high ranking political and military personnel this is simply not the case.
Here's what General/President Dwight Eisenhower had to say about it in his 1963 memoir, The White House Years: Mandate for Change, 1953-1956 (pp. 312-313):
"Japan was already defeated and that dropping the bomb was completely unnecessary, and secondly, our country should avoid shocking world opinion by the use of a weapon whose employment was, I thought, no longer mandatory as a measure to save American lives. It was my belief that Japan was, at that very moment, seeking some way to surrender with a minimum loss of "face." (source)
"The Japanese were ready to surrender and it wasn't necessary to hit them with that awful thing… I hated to see our country be the first to use such a weapon." (source)
Given what I mentioned at the start of this article, I think it's also important to note that Eisenhower also said (in his farewell address) that:
"In the councils of government, we must guard against the acquisition of unwarranted influence, whether sought or unsought, by the military industrial complex.  The potential for a disastrous rise of misplaced power exists, and will persist. Only an alert and knowledgeable citizenry, can compel the proper meshing of the huge industrial and military machinery of defense, with our peaceful message and goals."  (source)
Did this "misplaced power" influence the decision to drop the atomic bomb? It's impossible to say for sure, but it seems absurd to not consider the possibility.
"Since I entered politics, I have chiefly had men's views confided to me privately. Some of the biggest men in the U.S., in the field of commerce and manufacturing, are afraid of somebody, are afraid of something. They know that there is a power somewhere so organized, so subtle, so watchful, so interlocked, so complete, so pervasive, that they had better not speak above their breath when they speak in condemnation of it." – Woodrow Wilson, from his book entitled The New Freedom (1913).
Another great example comes from General Douglas MacArthur, who sent a 40-page memorandum to President Roosevelt that clearly outlines five different surrender overtures from high ranking Japanese officials. This memo was also revealed on the front page of the Chicago Tribune and the Washington Times on August 19th, 1945.
Again, the memo unequivocally states that the Japanese were offering to surrender. What is even more eye opening is the fact that the surrender terms were practically identical to what was ultimately accepted by the Americans after the bomb had dropped. The memo (source) stated these terms:
Complete surrender of all Japanese forces and arms, at home, on island possessions, and in occupied countries.
Occupation of Japan and its possessions by Allied troops under American direction.
Japanese relinquishment of all territory seized during the war, as well as Manchuria, Korea, and Taiwan.
Regulation of Japanese industry to halt production of any weapons and other tools of war.
Release of all prisoners of war and internees.
Surrender of designated war criminals
Japan also made multiple attempts to end the war through Sweden and Portugal, who were neutral at the time. They also approached Soviet Russia's leaders "with a view of terminating the war if possible by September." (source)
Here is a quote from Deputy Director of the Office of Naval Intelligence, Ellis Zacharias:
"Just when the Japanese were ready to capitulate, we went ahead and introduced to the world the most devastating weapon it had ever seen and, in effect, gave the go-ahead to Russia to swarm over Eastern Asia. Washington decided that Japan had been given its chance and now it was time to use the A-bomb. I submit that it was the wrong decision. It was wrong on strategic grounds. And it was wrong on humanitarian grounds." (source)
Similarly, Admiral Leahy, Chief of Staff to presidents Roosevelt and Truman, later commented:
"It is my opinion that the use of the barbarous weapon at Hiroshima and Nagasaki was of no material assistance in our war against Japan… The Japanese were already defeated and ready to surrender because of the effective sea blockade and the successful bombing with conventional weapons… My own feeling was that in being the first to use it, we had adopted an ethical standard common to the barbarians of the Dark Ages. I was not taught to make war in that fashion, and wars cannot be won by destroying women and children." (source)
There have also been some disturbing remarks like this one:
On September 9, 1945, Admiral William F. Halsey, commander of the Third Fleet, was publicly quoted extensively as stating that the atomic bomb was used because the scientists had a "toy and they wanted to try it out…" He further stated, "The first atomic bomb was an unnecessary experiment… It was a mistake to ever drop it." (source)
He said this despite the fact that most prominent scientists were completely against it. The scientists involved with the Manhattan project even wrote to the Secretary of Defense to try and encourage him not to drop the bomb.
So ask yourself, why did they really drop the bomb? A number of theories have been purposed; history.com outlines how it could have been dropped to demonstrate a new weapon of mass destruction to the Soviets. In 2005, new scientist alluded to the same thing, claiming that it was done to kick start the Cold War.
"The conventional wisdom that the atomic bomb saved a million lives is so widespread that… most Americans haven't paused to ponder something rather striking to anyone seriously concerned with the issue: Not only did most top U.S. military leaders think the bombings were unnecessary and unjustified, many were morally offended by what they regarded as the unnecessary destruction of Japanese cities and what were essentially noncombat populations. Moreover, they spoke about it quite openly and publicly."  Gar Alperovitz, University of Maryland professor of political economy – and former Legislative Director in the U.S. House of Representatives and the U.S. Senate, and Special Assistant in the Department of State (source)
What's My Point?
What I am trying to do here is get readers to think. If it was clearly unceccessary to drop the bomb, if it didn't have to be done, then what is the justification? Despite the fierce opposition from various military and political leaders, and the fact that Japan was ready to surrender, it was still dropped.
War is completely unnecessary, and there are always those who seem to thrive off of creating conflict. 9/11 is a perfect example, a supposed "terrorist" attack used to justify the infiltration of the Middle East.
There are more oddities, like the information suggesting that both sides of the war were funded by the same group. You can read more about that here.
Have we learned from our mistake? The fact that nuclear weapons even exist is a discouraging fact, and I am ashamed to be a part of a race who has developed so many of them. It would be great if we could use our brilliant minds/science to advance ourselves as a civilization, not destroy it.
We need to learn from our history, not accept textbook explanations that paint a false picture of it. That being said, we have come a long way since 1945; it's clear that the majority of people on this planet prefer to live in a peaceful world, so why are there so many obstacles in place preventing us from doing so?
Related CE Article:
Why Are UFOs Shutting Down Nuclear Missles
Sources:
http://www.colorado.edu/AmStudies/lewis/2010/atomicdec.htm
http://www.history.com/this-day-in-history/atomic-bomb-dropped-on-hiroshima
http://www.garalperovitz.com/2011/08/on-the-sixty-sixth-anniversary-of-the-bombing-of-hiroshima/
http://www.theguardian.com/commentisfree/2008/aug/06/secondworldwar.warcrimes
http://www.ihr.org/jhr/v16/v16n3p-4_Weber.html
http://www.globalresearch.ca/the-real-reason-america-used-nuclear-weapons-against-japan-it-was-not-to-end-the-war-or-save-lives/5308192
http://www.huffingtonpost.com/sheldon-drobny/god-damn-americas-media-r_b_91773.html
Area 51 raid: US military apologises for tweet about stealth-bombing 'millennials'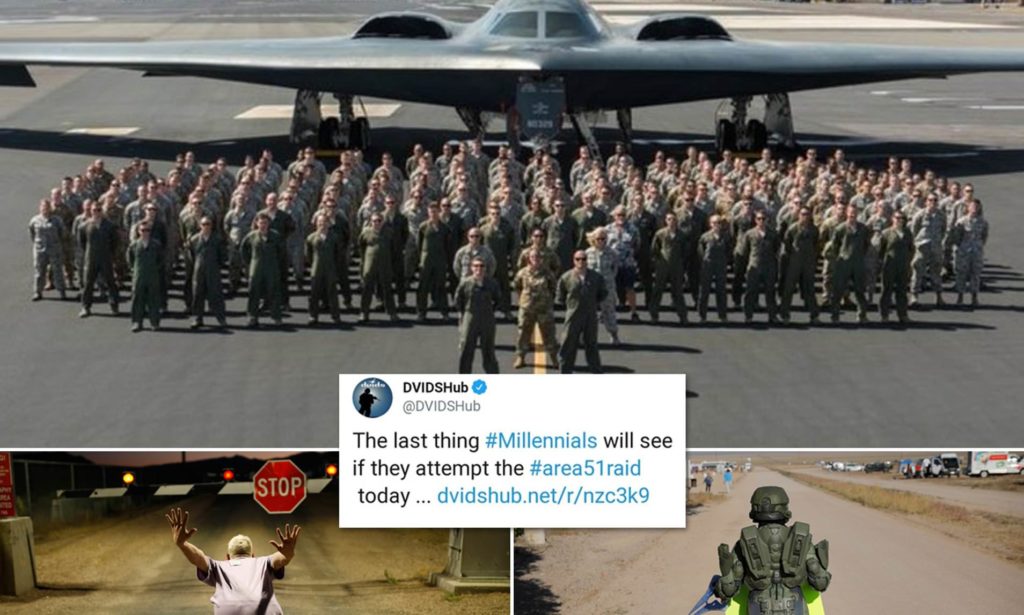 More than two million UFO fans signed up to 'see them aliens' by storming Area 51 base.
The US military has apologised over a tweet saying it would fight "millennials" with stealth bombers if they attempted to enter Area 51, saying it "in no way" reflects their stance.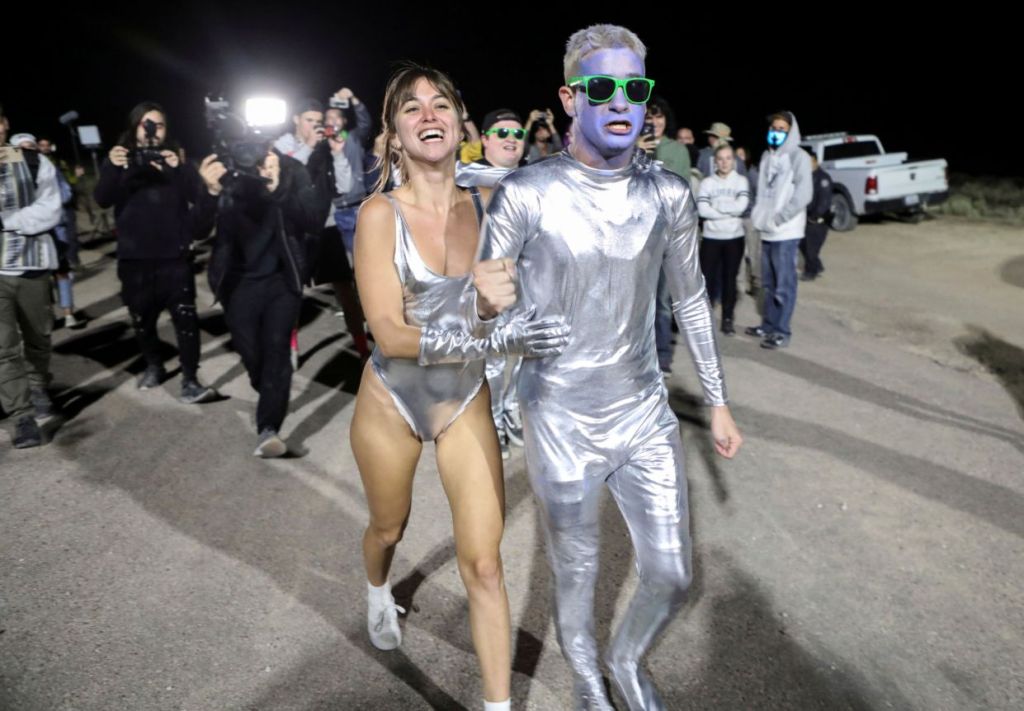 More than two million UFO fans signed up to "see them aliens" by storming the Area 51 base which has long been rumoured to house government secrets about alien life.  However, only a few thousand UFO enthusiasts turned up in rural Nevada for the 'pilgrimage' on Friday.
The tweet – which was posted on Friday and has since been deleted – was done by the PR arm of the US military, called the Defence Visual Information Distribution Service (DVIDS).
It stated: "The last thing #Millennials will see if they attempt the #area51raid today" with a picture of military officers in front of a stealth bomber.
The following day the unit apologised. A spokesperson tweeted: "Last night a DVIDSHUB employee posted a tweet that in NO WAY supports the stance of the Department of Defense.  It was inappropriate and we apologize for this mistake."
Area 51 tested aircraft ranging from the U-2 in the 1950s to the B-2 stealth bomber in the 1980s. The government spent decades refusing to acknowledge the site even existed, before releasing documents confirming it in 2013.
Its secrecy still fuels speculation that it's where the government studies aliens.
Visitors descended on the tiny desert town of Rachel, a short distance from the military site, in response to a recent, viral social-media invitation to "storm" Area 51, raising concerns by local authorities of unruly crowds overwhelming the community.
The US Air Force issued stern warnings for people not to approach the gates of the Nevada Test and Training Range, where Area 51 is located.
However, crowds were significantly smaller than expected.
Around 1,000 people visited gates on Thursday and Friday, and more made the trek on long dirt roads near Rachel on Saturday.
Officials reported six arrests overall, mostly for misdemeanour trespassing on base property, a $1,000 (£800) fine. One man was arrested for disorderly conduct at a festival venue and one for public urination at a base gate.
In Nye County, west of Las Vegas, authorities reported no arrests after a total of about 200 people showed up early on Friday at two remote gates to the once-secret Area 51 facility.
In Lincoln County, Sheriff Kerry Lee said about 20 people broke from among revellers early Saturday and "acted like they were going to storm, but stopped short."
On Friday, one man was treated for dehydration by medics at the Rachel festival.
While costumed space aliens were a common sight in events that began on Thursday, no one has reported seeing actual extraterrestrials or UFOs.
Source www.independent.co.uk
The 5G Roll Out of 20,000 Telecom Satellites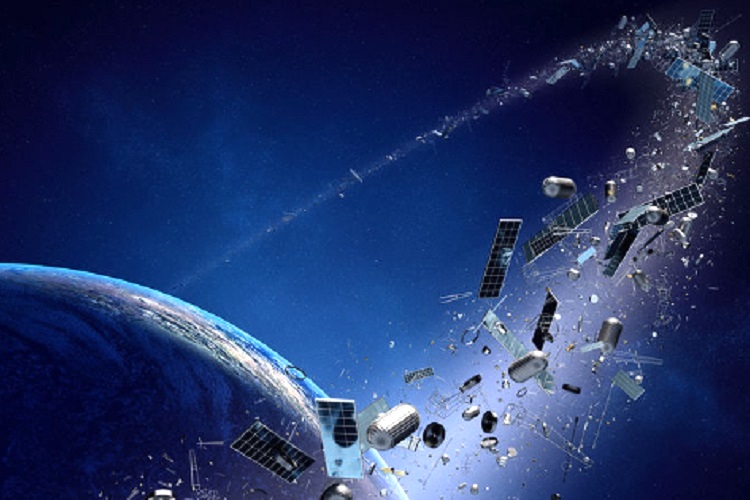 Gary Null, PhD, GreenMedInfo
Waking Times
For years, scientists have warned about the dangers of enormous amounts of debris orbiting our planet. Aside from wrenches and other tools used by astronauts, plastic bags, and yes even a toothbrush, according to the federally-funded Aerospace organization, the greater dangers are obsolete spacecraft, portions of damaged and disabled satellites, rocket fragments, flywheels, and nuclear reactor cores that have broken up or collided with various other objects. Yet even a screwdriver traveling at an average of 17,500 mph, with an impact velocity of 21,000 mph, can be very destructive if it were to crash into a satellite, rendering it inoperable. And this simply adds to more useless junk, now estimated at 128 million small bits of debris under 1cm and the 34,000 larger pieces, floating above our heads. Imagine being hit with a piece of space scrap the size of a sugar cube is "equivalent of standing next to an exploding hand grenade."
A Business Insider story about space debris noted that the US government already tracks 23,000 objects regularly, including China's bus-size Tiangong-1 space station that incinerated in orbit. In February of 2011, a Russian military satellite collided with an American Iridium commercial satellite. The former disintegrated into hundreds of thousands of pieces of debris while the latter spun out of control. Approximately 2,000 of these larger objects are being tracked regularly. Three thousand large objects from the Chinese anti-satellite weapon FY-1C, which the Chinese military deliberately blew up, also have to be routinely monitored. As more and more satellites, space stations, rocket and missile remains, and a variety of other orbiting technologies are shot into space, the more frequent these accidents will occur.
Julian Assange, a life that slowly fades (Video)
Julian Assange's father says his son may not be released from prison after revealing criminal acts perpetrated by the US.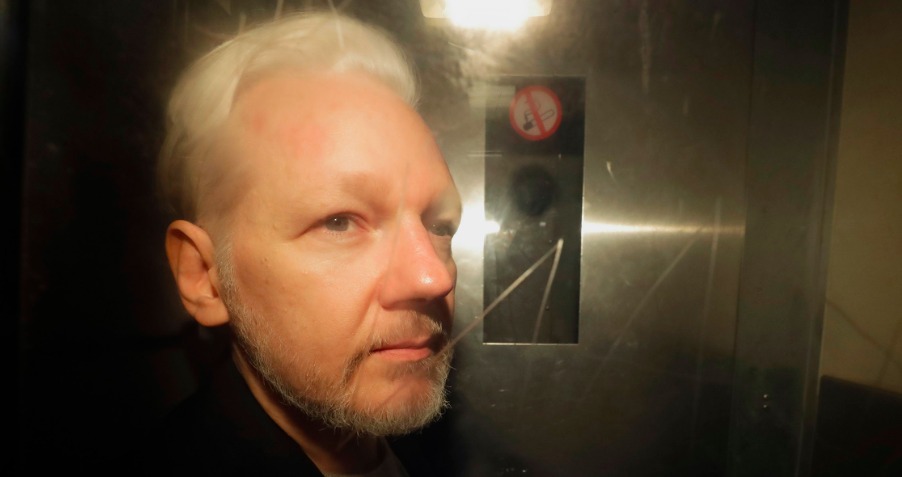 Australian journalist Julian Assange, founder of the WikiLeaks platform, which unveiled, among others, crimes committed by the United States (USA), is increasingly at risk of dying in jail, his father, John Shipton warned.
"Julian can die in jail after a 9-year persecution for revealing the truth of war crimes (in the US)," Shipton told reporters in London on Friday.
He said that this is the "bitter truth" after hearing the testimony of a United Nations (UN) rapporteur who visited Assange a few days ago in Belmarsh prison, southeast London, where he has been since last April, and who said that the life of the activist is in danger.
The UN special rapporteur on torture, Nils Melzer, said that Assange is suffering from an "inhuman situation" in Belmarsh, where he hopes the British justice will decide whether or not to request an extradition made by the United States, to respond to the alleged crime of conspiracy, among other charges.
On October 26, musician Roger Waters, founder of the progressive rock band Pink Floyd and known for his activism, said in an interview with RT that "they are clearly trying to kill Assange as much as they can."
"Julian Assange is becoming a warning to other journalists that if they tell the truth -particularly to power-' we will catch them, "Waters said.
On Monday, October 21, Assange appeared at a London court hearing, and seemed confused, as it was hard to remember his name and age, according to a report by Reuters.
According to that testimony, the judge asked the activist at the end of the hearing if he was aware of what was happening and replied: "not exactly."
Under normal circumstances, the Australian must have been released on bail after 50 weeks in prison and while his trial is taking place, but British justice chose to keep him in jail.
Judge Vanessa Baraitser, of the Court of Magistrates of the Westminster district of London, decided that Assange remains imprisoned due to his "history of evasion", as there are "substantial indications" to fear that he can again evade the action of justice.
The founder of WikiLeaks will face an extradition hearing to the United States on February 25 for 17 counts of espionage and one of conspiracy, which can lead to a sentence of up to 175 years in prison.