The people who think they tune into dead voices
Advocates of Electronic Voice Projection (EVP) claim they can use radio equipment to communicate with the dead. But are they just hearing what they want to hear?
In 1969, a mysterious middle-aged Latvian doctor turned up in Gerrards Cross with a large collection of tape recordings.
He had, he said, been conducting experiments in communication with the dead, and had established contact with Hitler, Stalin, Mussolini and many other deceased 20th Century statesmen. The recordings – 72,000 of them – contained their voices.
His name was Konstantin Raudive, and he called his technique Electronic Voice Projection, or EVP.
It wasn't real-time interactive communication. You asked your questions, and then left the tape running, recording silence.
But listening back, through the mush and static, you could sometimes just about make out people speaking.
Gerrards Cross was the home of a publisher, Colin Smythe, whom Raudive hoped would publish a book on his findings.
Smythe was keen, but he needed to persuade the chairman of the publishing company, Sir Robert Meyer, that this wasn't all a hoax. So Raudive laid on a series of electronic seances in Gerrards Cross, one of which Sir Robert attended.
As luck had it, the late pianist Artur Schnabel was on the line, and spoke – at least to the satisfaction of Lady Mayer, who was also present and had known Schnabel. The book, called Breakthrough, went ahead, and EVP was on the scene.
More technologically up-to-date than spirit slate-writing and less messy than ectoplasm, it dragged the world of spiritualism into the late 20th Century.
Nowadays, EVP is a standard tool of ghost hunters worldwide. There are hundreds of internet EVP forums and many serious and well-educated people who see it as proof positive that the dead are trying to talk to us.
For example, Anabela Cardoso, a former Portuguese career diplomat who lives in Spain and publishes the Instrumental Transcommunication Journal. She has a well-equipped recording studio and claims to have replicated the Gerrards Cross findings.
"My voices are not little voices," she says. "They are loud and clear and totally understandable." She offered to send me a CD.
Meanwhile, Smythe is still living in Gerrards Cross.
Raudive had wanted us to believe that Hitler spoke to him in Latvian, not a language he ever mastered while alive. He said things like "kindle willingly", and "you are a girl here, or else you are thrown out".
I put it to Smythe that these were surely not the kind of utterances we associated with the Fuhrer. But, he points out, it could be identity theft.
"A communicator is not necessarily going to be truthful. They could be using the names of famous people in the hope of that they will be taken notice of."
So what happened to the Raudive tapes?
In a store room in Smythe's house, almost impossible to get into for boxes, we finally found seven quarter inch reel-to-reel tapes, probably unplayed for four decades. And on one was Raudive, summoning up the dead.
According to a book published at the time by Smythe's partner, a Russian voice at that session said "Stefan is here. But you are Stefan. You do not believe me. It is not very difficult. We will teach Petrus." But on the tape there was nothing, just hiss.
On another occasion, the broadcaster Gyles Brandreth was present when Raudive produced the voice of the late Winston Churchill, speaking what everyone present agreed were words from Land of Hope and Glory. "It was, credibly, Winston Churchill," Brandreth remembers.
Churchill: 'recorded' speaking lines from Land of Hope and Glory
But when we listened together to the tape, he had to agree that it sounded nothing like Churchill – it was far lighter than the familiar gravelly voice. "Maybe it's the young Winston," Brandreth suggested. "Or a Churchill impersonator?"
But who impersonates the young Churchill? We couldn't think of anyone.
When Cardoso's CD arrived I was disappointed that the voices, in Spanish and Portuguese, were not really very clear. According to her translations, they said things like "There is a rabbit on your head". But Dr Cardoso was, like other EVP investigators, definitely recording voices.
So what's going on?
The simplest explanation is that EVP voices are just stray radio transmissions. Usually they are so faint and masked by static interference that it's hard to make out what they are saying, and the EVP investigator has to "interpret" them for you.
That might seem like a weakness but that's also their power. As Joe Banks, a sound artist, points out, a dead person speaking in studio quality wouldn't be nearly so convincing as a voice you must strain to hear.
Banks has an ongoing project called Rorschach Audio. He suggests that the voices are the aural equivalent of inkblot tests devised by Swiss psychologist Hermann Rorschach. He argues that while the EVP experimenters think they are doing parapsychology, they are actually unwittingly carrying out psychology experiments.
For example, if you take recorded speech and replace every sixth of a second with white noise, the speech is still comprehensible. But if instead of white noise you use silence, it's much harder to understand.
We are naturally well-adapted by evolution to imaginatively reconstruct speech against a noisy background – imagine trying to whisper in a windy forest to your hunting companions.
EVP enthusiasts, Banks thinks, aren't idiots. They are just being fooled by audio illusions that take us all in.
But once you start experimenting with EVP, it's hard to stop. After Breakthrough was published, Raudive progressed from voices captured on tape to voices coming from animals, in particular a budgerigar named Putzi, who spoke in the voice of a dead 14-year-old girl.
Similar work today is being done today by EVP researcher Brian Jones in Seattle.
He records the noises made by seagulls, dogs, cats, and even squeaky doors and crunching pebbles. They all contain voices. One dog says, "Where's Sheila?" referring to its owner. Another complains of its owners, "they always sail away".
Jones thinks he can capture thoughts that somehow are in the air. "I have documented a lot of things that are pretty stunning that way," he says.
He would like to use his techniques to help solve crime, or to pick up the thoughts of stroke victims who have lost the power of speech. So far, he has been shunned by private detectives and doctors.
But the EVP community really want to believe they are onto something. And many of us find the idea of communicating with the dead so tantalising, so appealing, and yet so elusive that it's easy to see how normal psychological mechanisms can be co-opted into making us believe in the unbelievable.
Self Proclaimed 'Time-traveller' claiming to be from 2030 PASSED lie detector test –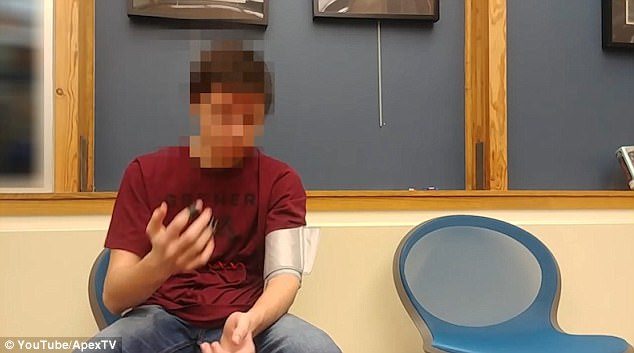 A 'time-traveller' who says he is from the future has passed a lie detector test after claiming Donald Trump will be re-elected and Artificial Intelligence will take over.
In a startling YouTube video posted by Apex TV the man, whose face and voice have been distorted to hide his identity, claims he has risked his life to travel back in time.
Apex TV says it is 'one of the biggest voices of paranormal content on YouTube', with over 56 million views and 100,000 subscribers.
His mission, he says, is to tell those alive now what the world has in store.
Among his predictions is the claim that Google Glass-style robotics will spread across the globe.
Technology will also have developed to the point where it will be able to independently run a home.
Bitcoin will be increasingly popular but pennies and cents will still be in use.
In 2030 he says the US president is a mysterious figure called Ilana Remikee.
He also suggests global warming has caused temperatures in North America to increase while Europe has cooled.
Humans will reach Mars in 2028 and, the same year, time travel will be discovered.
He states that electric cars will be able to travel as fast as diesel and petrol ones (despite many already being able to do so) and many forms of cancer have been cured.
In a previous interview with Paranormal Elite, Noah said he had anorexia and is in fact 50-years-old, but that he had taken an age rejuvenation drug which had transformed him into a 25-year-old.
Of course, his claims have attracted scepticism. In response, he agreed to take a lie detector test on camera.
In the footage from ApexTV the would-be oracle is seen sitting on a chair with what appears to be a polygraph lie detector wrapped around his bicep.
He is asked to predict some of the future's major events – and confirm he really is who he says he is.
The interview begins and Noah is asked a simple question: 'Are you an actual time traveller from the year 2030?'
He responds with a yes and 'TRUE' appears in large green letters superimposed on the video. However, the results on the machine are not shown.
Noah then claims he has 'hard evidence' to back up his predictions but isn't sure that he can say what that it because it might cause a paradox.
Once again, the word 'TRUE' appears on screen again.
Read More On This At:http://www.dailymail.co.uk/
The Top 5 Scariest Places in the Philippines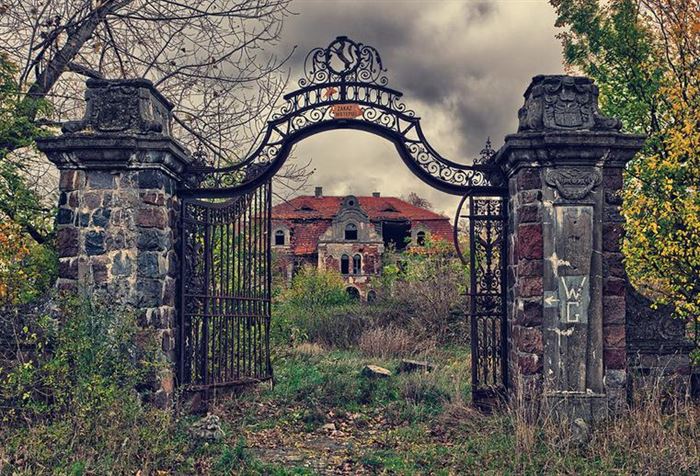 Discover the top 5 scariest places in the Philippines and learn the truth about them. If you're looking for spine-chilling places to explore while staying in the Philippines for vacation, then let me walk you through the top 5 scariest places in the Pearl of the Orient Seas.
Haunted places like streets, buildings, and houses usually have a rich history of bloody past. Most of the paranormal activities that are happening in these places came from morbid and tragic events in the old times. Some scary stories take root in legends and mythical characters that people talked about for many years.
In the Philippines, where history and culture mostly developed because of its rich antiquities during the war era and invasion period, many haunted places now were remnants of the past. While other spooky places were brought by tragic events from unfortunate accidents.
In this article, let me take you to the scariest places in the Philippines that will surely raise your curiosity if you're into ghostly and eerie adventures. Check them out below.
List of Top 5 Scariest Places in the Philippines
Balete Drive
First on our list of top 5 scariest places in the Philippines is one of the most famous ghost area in Manila, the Balete Drive. Located in New Manila, Balete drive is said to be haunted by a white lady (a popular ghost in the Philippines, which means a female soul or spirit dressed in white. According to commuters and drivers specifically taxi drivers, at around 12 midnight and 3 am, a bloody white lady shows up to either ask for help or look for her murderer.
Back in the past, it was said that a female student was raped and murdered in Balete Drive. During those days, Balete trees surrounded Balete Drive. This is the main reason the street was called Balete Drive. The alleged murderer was said to be a taxi driver and according to the reports, that woman was buried under a Balete tree. In addition, according to folklore, Balete is housed with mysterious creatures and this contributes to the already haunted street of Balete Drive.
Clark Airbase Hospital
Hospitals are the common lounge of spirits and abandoned hospitals are even worse. In Angeles City, Pampanga, an abandoned hospital was featured in the horror documentary; "I wouldn't Go in There" of National Geographic back in 2013 and this was the Clark Airbase Hospital. In the past, it was a refuge site to soldiers during World War II and the Vietnam War.
According to the Ghost Hunters International group, Clark Airbase Hospital was one of the most haunted places in the world because the spirits who are residing here are reported as violent and rude to visitors. Based on some personal accounts of explorers and paranormal investigators, spirits and the unknown threw rocks and other objects to them when they visited the place. Paranormal activities like screams, howls, and apparitions are also common in this hospital.
Pindangan Ruins
Third on our list of top 5 scariest places in the Philippines is the Pindangan ruins, in San Juan City, La Union. This place is the remnant of an old church that was built in 1786. In the past, it was a place for unity between two villages (San Vicente de Balanac Village and Guillermo de Dalagdang Village) under the protection of Father Jose Torres. Now, the place is full of spirits and the most popular spirit was said to be the headless stabbed priest who was allegedly seen searching and calling for his lost head.
Moreover, this place is also haunted by spirits that are called "Pasatsat" which comes from the word "satsat" that means, "to stab." They were the people who died in World War II when coffin and graveyards were too expensive so people wrapped their dead in reed mats. According to locals, these spirits will haunt you and in order to stop them, you have to stab open their makeshift caskets and cut it in half.
Ozone Disco
One of the terrifying fire accidents in the Philippines took place in Ozone Disco in Quezon City. On March 18, 1996, a massive fire engulfed the small nightclub. The disco was approved for occupancy of only 35 people, but during that time, around 350 patrons and 40 club employees were said to be enjoying the night in the Ozone disco. Based on the accounts of the surviving victims, light sparked flying inside the disc's jockey booth and shortly after that smoke followed and people thought it was just a party plan. To their horror, the electrical system shut down and flame erupted.
According to the court, 162 people died in the Ozone disco and most victims were graduating students from Universities. These days the disco is already an abandoned place but many ghostly sightings were reported within the area especially at night. Some locals said that they could hear music and see disco lights. Others claimed seeing silhouettes of dancing people and hearing screams and moaning. Moreover, families of the victims were occasionally seen in the place with spirit mediums to contact their dead loved ones. In one occasion, a spirit of a boy named "Ed" was contacted and according to the reports, he wanted to say goodbye to his family.

Diplomat Hotel
In the popular city of Pines, Baguio, there is this haunted place called the Diplomat Hotel or also known as Dominican Hill Retreat House. This structure was built in 1911 for the American Friars of the Dominican Order. It was originally constructed as a retreat house for relaxation, a monastery, and a school all-in-one. In the height of the World War II, the Japanese attacked the hotel and many people were ruthlessly killed. This includes ordinary children, priests, nuns, families and even babies.
The Diplomat Hotels, Inc., revived the place in 1973 and according to the staff of the hotel; the place is indeed haunted and scary. Years later, the owner died and the hotel stopped operating.
Many ghost sightings have been reported in the area. Some claimed that headless priests and nuns, who were victims of the World War II, haunt the Diplomat Hotel. Others heard moaning and crying of babies at night. Moreover, paranormal activities like the banging of doors, screaming people in pain and ghostly apparitions were said to occur in this haunted hotel.
If you're brave enough to visit these places, then I suggest you don't go alone. You may encounter bad spirits or ghosts that can harm you. Alternatively, If you're scared and couldn't imagine yourself traveling these scariest places, then I suggest you focus on exploring the wonders of the Philippines.
Interesting Links:
https://en.wikipedia.org/wiki/Ozone_Disco_Club_fire
https://en.wikipedia.org/wiki/Clark_Air_Base
https://en.wikipedia.org/wiki/List_of_haunted_locations_in_the_Philippines
https://www.buzzfeed.com/isabellelaureta/haunted-places-philippines?utm_term=.stYMVQ1gm#.xcAaKXAVM
http://business.inquirer.net/238610/haunted-structures
https://philnews.ph/2017/10/31/top-10-terrifying-scariest-places-philippines/
Related
How Scientists Found "Paranormal Perception" Channels Within Human Beings
In 1976, a presentation was given at the Institute of Electrical & Electronics Engineers (IEEE) on a paper published by the Institute on behalf of Hal Puthoff (now part of the To The Stars initiative that received and released the recent UFO Pentagon footage) and Russell Targ.
The paper was titled "A Perceptual Channel For Information Transfer Over Kilometer Distances: Historical Perspectives and Recent Research."
Puthoff, who held a PhD in electrical engineering from Stanford, at the time was commissioned by the CIA/DIA and Stanford Research Institute to direct the Stargate project, which was one of many secret government programs that remained hidden from public knowledge for more than 20 years.
Russell Targ is a physicist and author, originally known for his work pioneering the development of the laser and laser applications, and a co-founder of the Stanford Research Institute's (SRI) investigation of psychic abilities in the 1970s and 1980s.
The Stargate Project examined human psychic abilities; today it's known as the study of parapsychology.
The paper was the first and only publication of this program before it became classified in the late 70s, and it presented scientific evidence for the existence of a perceptual capacity channel whereby certain individuals are able to perceive and describe remote data not perceivable to any known sense.
In fact, by 1975 the funding clients had agreed that this subtle perception channel existed in both experienced and inexperienced individuals. (source, a lecture from Ingo Swann, one of 500 highly skilled participants within the program).
In the program, participants were able to successfully identify buildings, roads, and laboratory apparatus, but more than two decades later, parts of the program were declassified and we found out that it was much more than just that.
This is outlined in a statement made by Puthoff from a paper published after the declassification in 1995:
"To summarize, over the years, the back-and-forth criticism of protocols, refinement of methods, and successful replication of this type of remote viewing in independent laboratories has yielded considerable scientific evidence for the reality of the [remote viewing] phenomenon. Adding to the strength of these results was the discovery that a growing number of individuals could be found to demonstrate high-quality remote viewing, often to their own surprise. . . . The development of this capability at SRI has evolved to the point where visiting CIA personnel with no previous exposure to such concepts have performed well under controlled laboratory conditions." (source)(source)
Participants in the program were able to remote view objects in other rooms, to buildings, and places all over the world.
For example, a Soviet Tu-22 bomber, one that was outfitted as a reconnaissance aircraft and lost in Zaire in 1979, was located by an Air Force remote viewer. President Jimmy Carter was aware of this, admitting to national press that the CIA, without his knowledge, once consulted a psychic to locate a missing government plane. According to CNN, he told students at Emory University that the "special U.S. plane" crashed somewhere in Zaire. The only thing is that it was a Russian, not American plan.
According to Carter, "the woman went into a trance and gave some latitude and longitude figures. We focused our satellite cameras on that point and the plane was there."  (source)
According to Paul H. Smith, PhD, and one of the participants in the Stargate project (now a retired U.S. army major), gives us more detail from his book that is sourced below:
"In March 1979, a young Air Force enlisted woman named Rosemary Smith was handed a map of the entire continent of Africa. She was told only that sometime in the past few days a Soviet Tu-22 bomber outfitted as a spy plane had crashed somewhere in the continent.  The United States desperately wanted to recover the top secret Russian codes and equipment the Tu-22 carried. Using their remote viewing skills, she pinpointed the wreckage, even though it had been completely swallowed by the jungle canopy into which the jet had plunged nose first. (source, pg. 31)
Another example would be the rings around Jupiter. Prior to the flyby of Jupiter by Pioneer 10, a spacecraft launched in 1972 and the first to fly directly through the asteroid belt and make observations of Jupiter, a gentleman by the name of Ingo Swann was able to successfully describe and view a ring around Jupiter, which scientists had no idea even existed. This took place precisely before NASA's Pioneer 10 spacecraft flyby, which confirmed that the ring did actually exist. These results were published and they are linked earlier in this article.
"To determine whether it was necessary to have a 'beacon' individual at the target site, Swann suggested carrying out an experiment to remote view the planet Jupiter before the upcoming NASA Pioneer 10 flyby. In that case, much to his chagrin (and ours) he found a ring around Jupiter, and wondered if perhaps he had remote viewed Saturn by mistake. Our colleagues in astronomy were quite unimpressed as well, until the flyby revealed that an unanticipated ring did in fact exist." (source)
Pretty fascinating, isn't it? Swann went on to write about the Moon, and other strange factors that are associated with space that we have yet to become aware of.  You can access those books here.
The shutdown of the program was fishy. According to Ingo, human telepathy came into play and that's when the men in suits walked in and shut the program down.
Below is one of many talks given by Russell Targ talking about the program more.